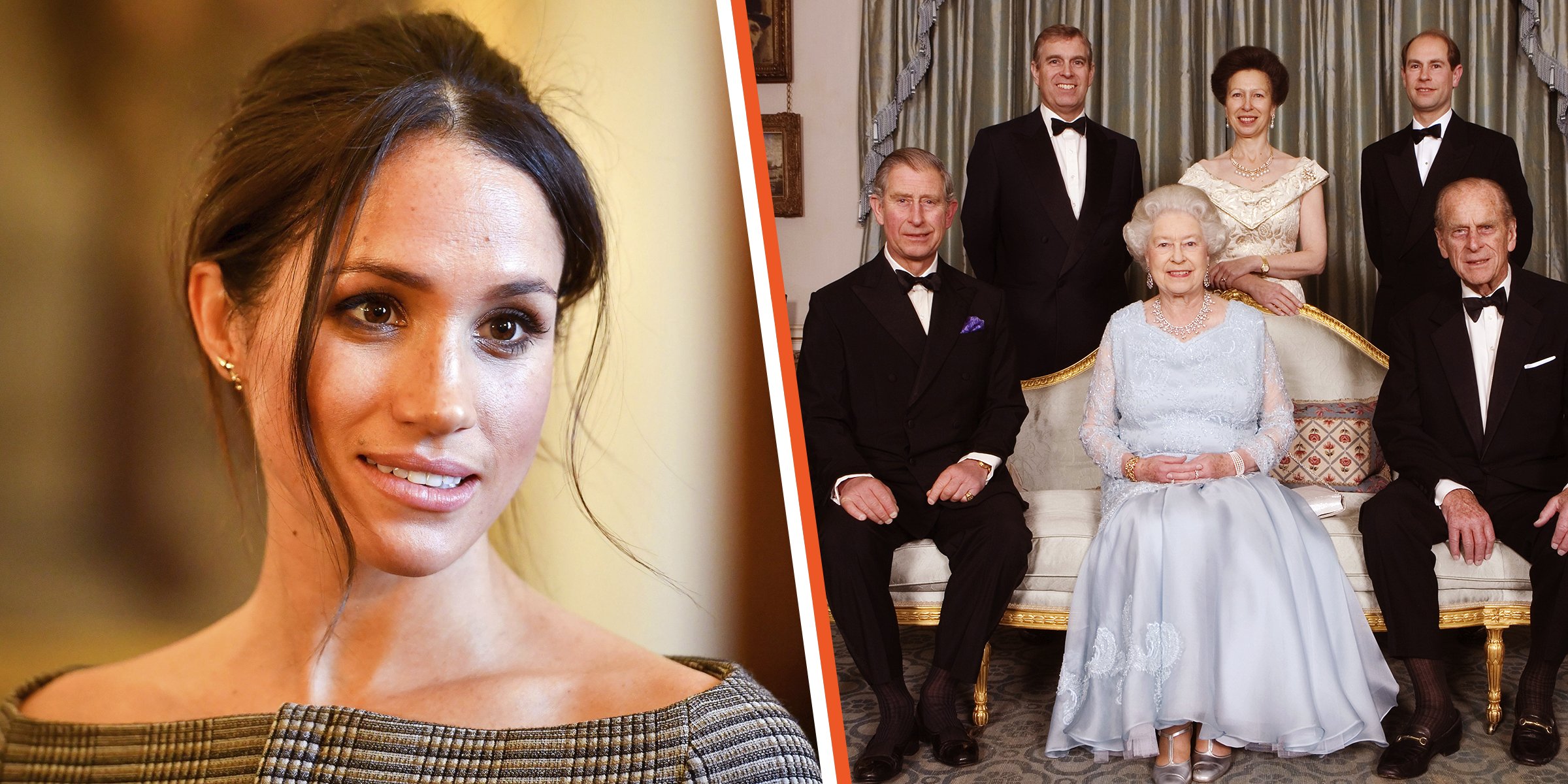 Getty Images
Meghan Is 'Almost More Unmanageable' to Royal Family Than Diana & They 'Had It All Over Again', Claimed Royal Expert
Duchess Meghan is a part of the Royal Family, but some find her difficult to manage compared to the late Princess Diana. She appears to be strong-willed and sure of herself and led her husband to leave the UK.
According to journalist Tina Brown, Duchess Meghan was set to face many of the same issues Princess Diana, her late mother-in-law, had to tackle while a part of the Royal Family. The journalist delved into the matter in her book, "Diana Chronicles."
Brown said when Diana was married to Prince Charles, the palace allegedly had a phrase they used regarding the pair called "The Upstage Problem." The term noted how people only wanted to hear from the Princess of Wales and not her husband.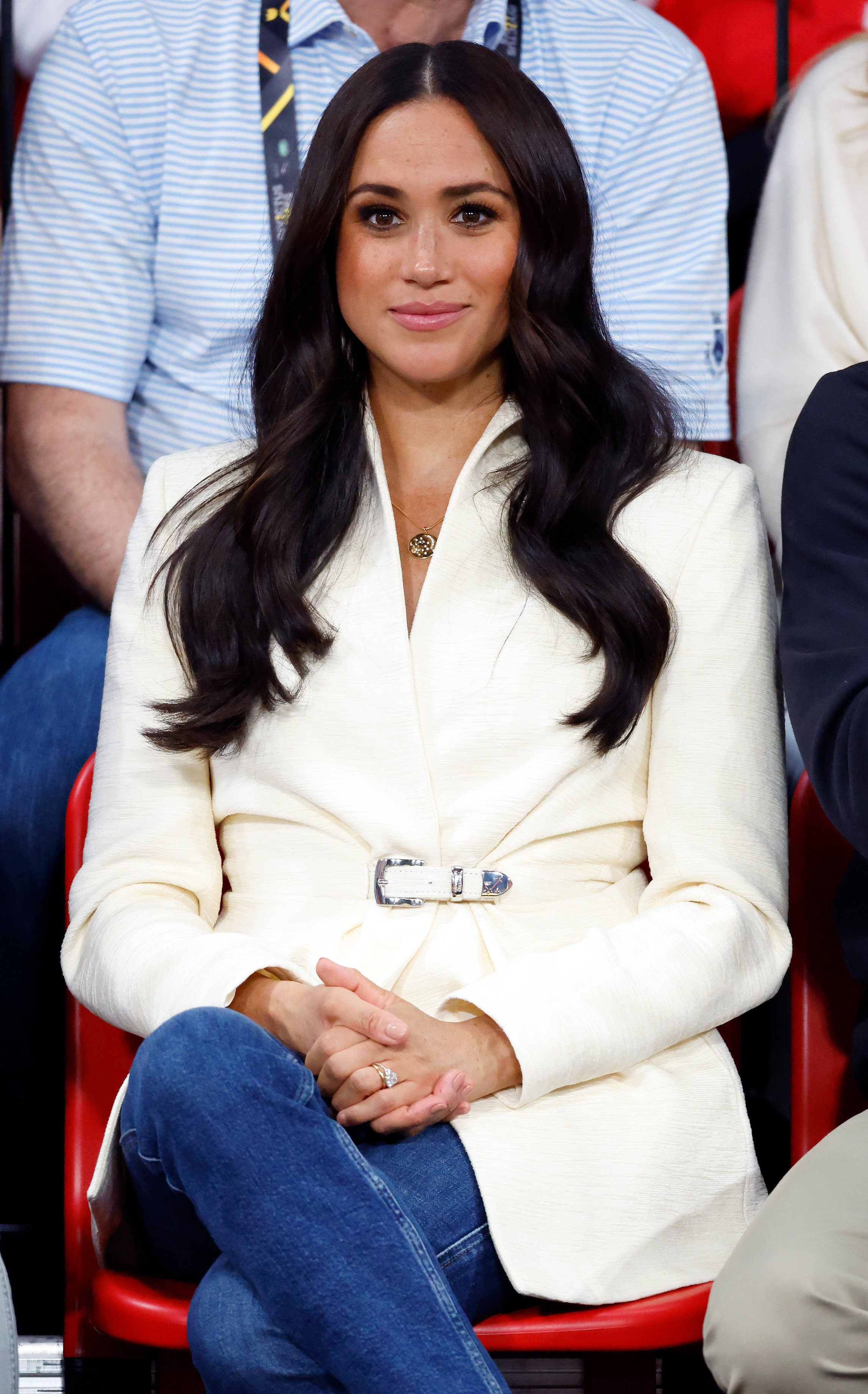 Duchess Meghan at a volleyball competition on day 2 of the Invictus Games on April 17, 2022, in The Hague, Netherlands. | Source: Max Mumby/Indigo/Getty Images
In Prince Harry and his wife, Duchess Meghan's case, things differed because the former was quite charismatic, and people loved him. However, some royals became obsessed with the couple and how Meghan was getting a lot of the spotlight.
Just like in Charles and Diana's marriage, the "outsider" or wife seems to be the one who is reported on. The Royal Family hoped this wouldn't have been the case with Harry, but history seems to be repeating itself.
FALLING IN LOVE QUICKLY AND GETTING MARRIED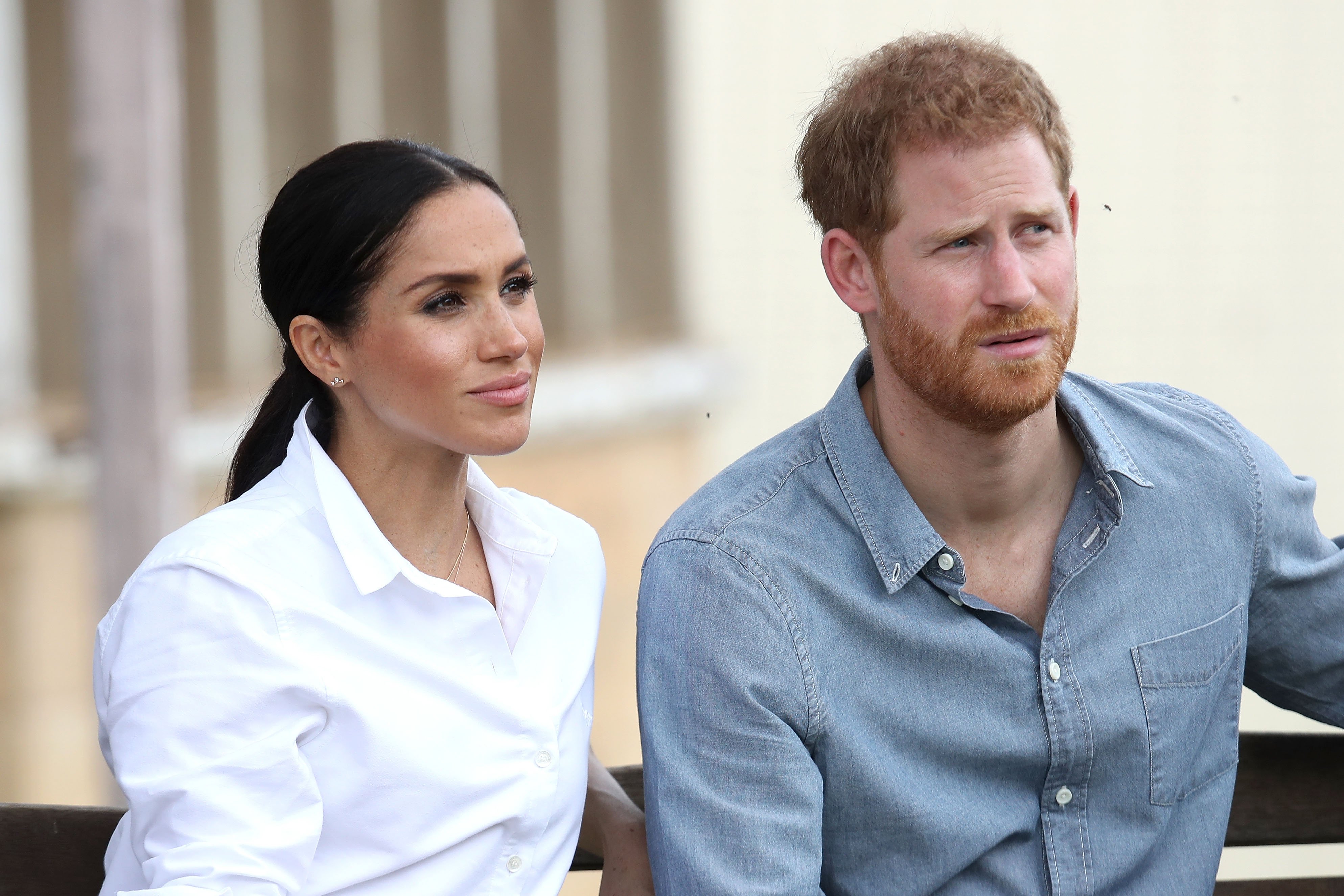 Duchess Meghan and Prince Harry visit a local farming family on October 17, 2018, in Dubbo, Australia. | Source: Chris Jackson - Pool/Getty Images
In Brown's other book, "The Palace Papers," she mentioned how Meghan was captivated and dazzled by royal life. The Duchess of Sussex didn't know that she was ill-equipped when she joined the Royal Family,
Her former "Suits" co-stars were surprised that Meghan hadn't prepared adequately for the new role. They recalled that she'd always done "her homework" and even took notes for her role in the series.
The book "Finding Freedom" revealed how things moved quickly between Harry and Meghan. The Duke of Sussex went on two dates with his new girlfriend before taking her on a surprise tour of Botswana in Africa.
Harry began dating Meghan in 2016 after they were set up on a blind date. Their initial meeting was at Soho House Dean Street Townhouse, and they connected so well that they chose to have their official date the following night at the same place.
A friend of the pair claimed that "almost immediately, they were almost obsessed with each other." The second date was at Kensington Palace, where Meghan got to see Harry's Nottingham Cottage home for the first time.
Six weeks after their first date, on August 4, Harry invited his girlfriend to Botswana for their third outing. The following summer, in August 2017, the couple returned to Africa for another birthday safari for Meghan.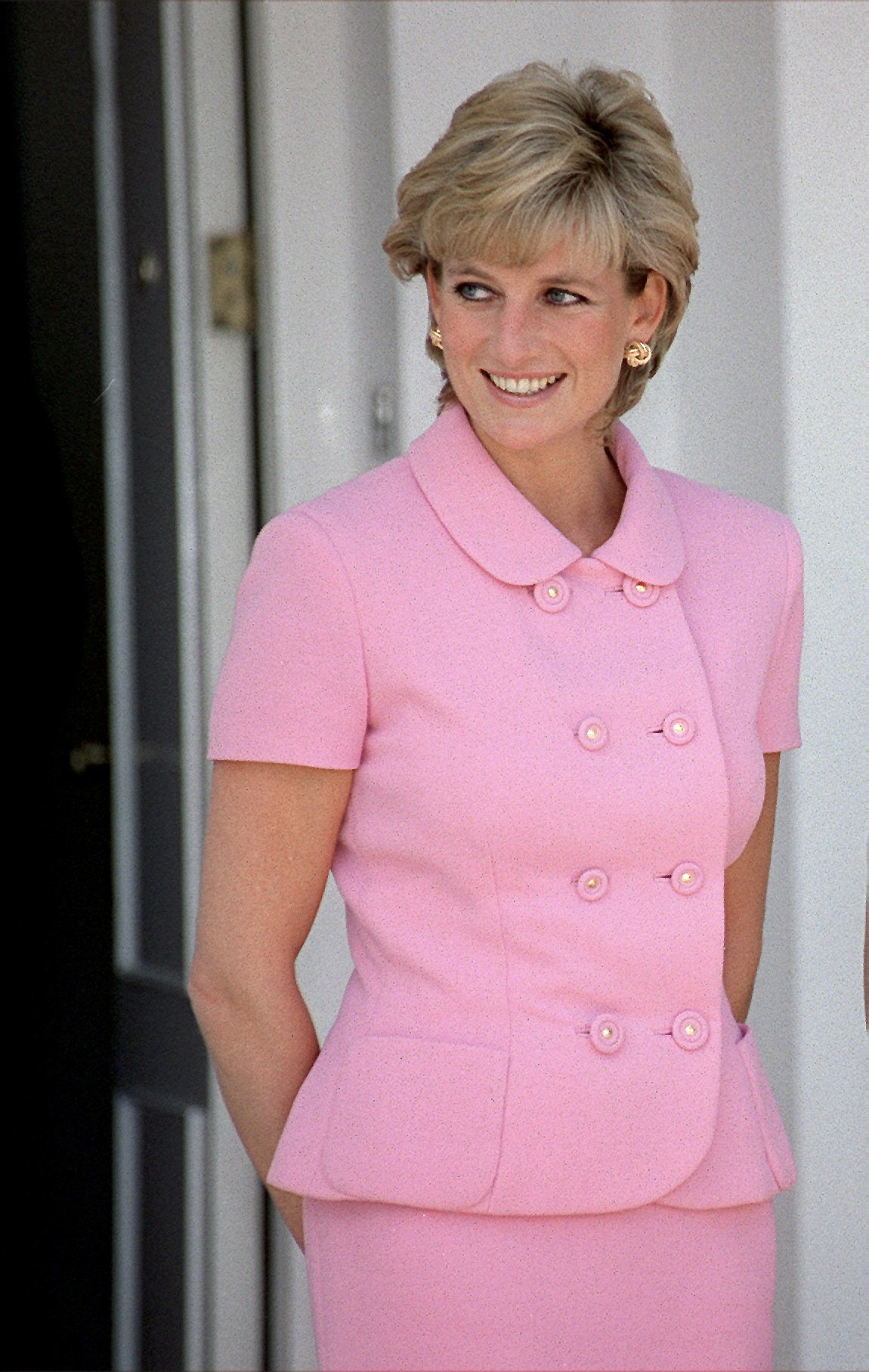 Princess Diana in Argentina on November 24, 1995. | Source: Tim Graham Photo Library/Getty Images
By that fall, the public knew Meghan and Harry were a couple. After the Duke of Sussex proposed in a romantic setting, the duo announced their engagement in November 2017, after being together for over a year.
Ironically, Harry's mother once revealed that she and Charles only met 13 times before he proposed marriage! When Meghan and her fiancé got married, the Royal Family tried to avoid having another Diana situation on their hands.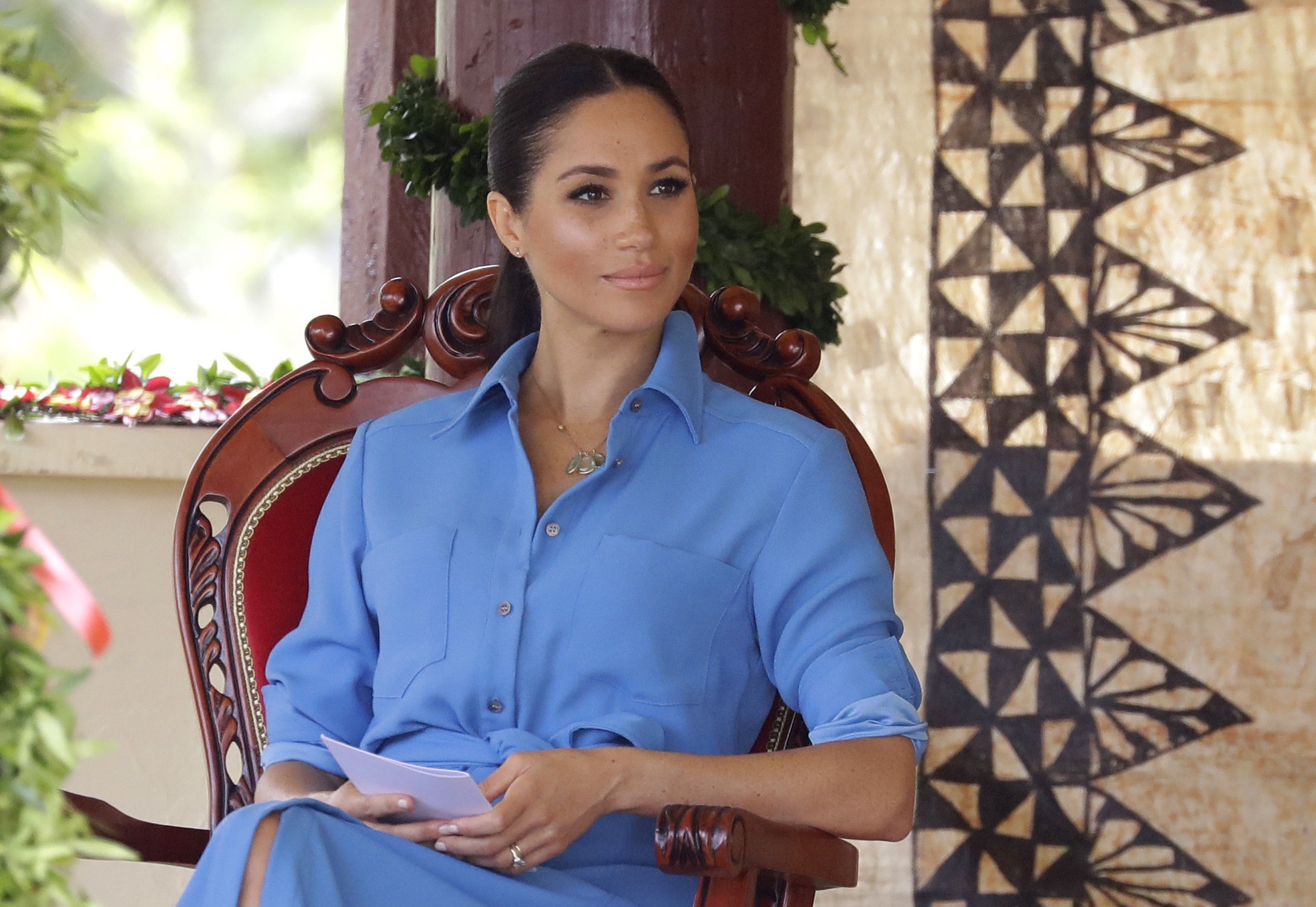 Duchess Meghan during a visit to Tupou College in Tonga on October 26, 2018. | Source: Kirsty Wigglesworth - Pool/Getty Images
After Diana passed away in 1997, the Queen made it clear that the "explosive celebrity" status her late daughter-in-law had "could never happen again." The monarch didn't want to get upstaged again.
The Royal Family didn't anticipate that compared to Diana, a 20-year-old young woman when she joined the family, Meghan was a grown, 36-year-old strong and independent woman.
In turn, the Royal Family found that the Duchess of Sussex was "almost more unmanageable" as she was free-spirited. Despite not wanting another "Diana," the monarch had to deal with the situation.
MEGHAN'S STRUGGLES IN THE ROYAL FAMILY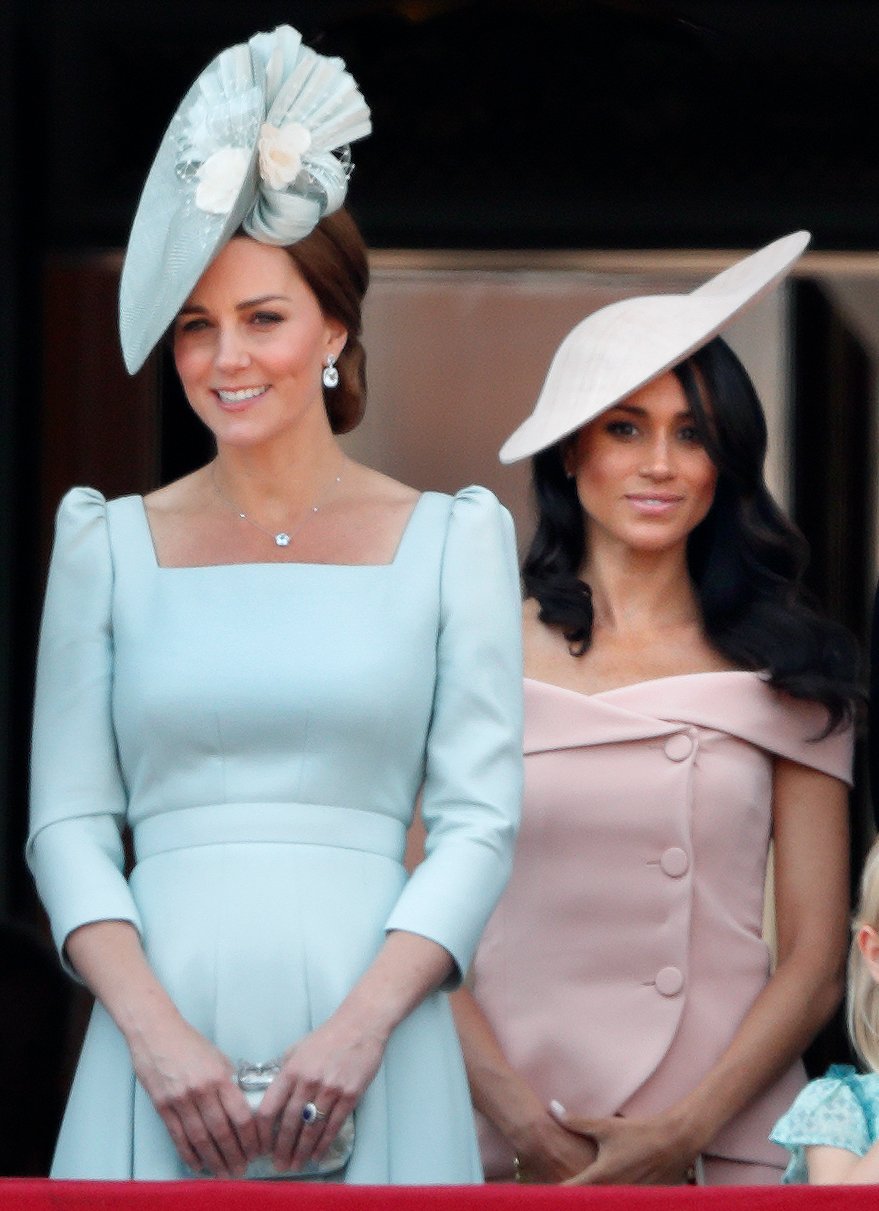 Duchess Kate and Duchess Meghan on the balcony of Buckingham Palace during Trooping The Colour on June 9, 2018, in London, England. | Source: Max Mumby/Indigo/Getty Images
"It didn't have to be this way."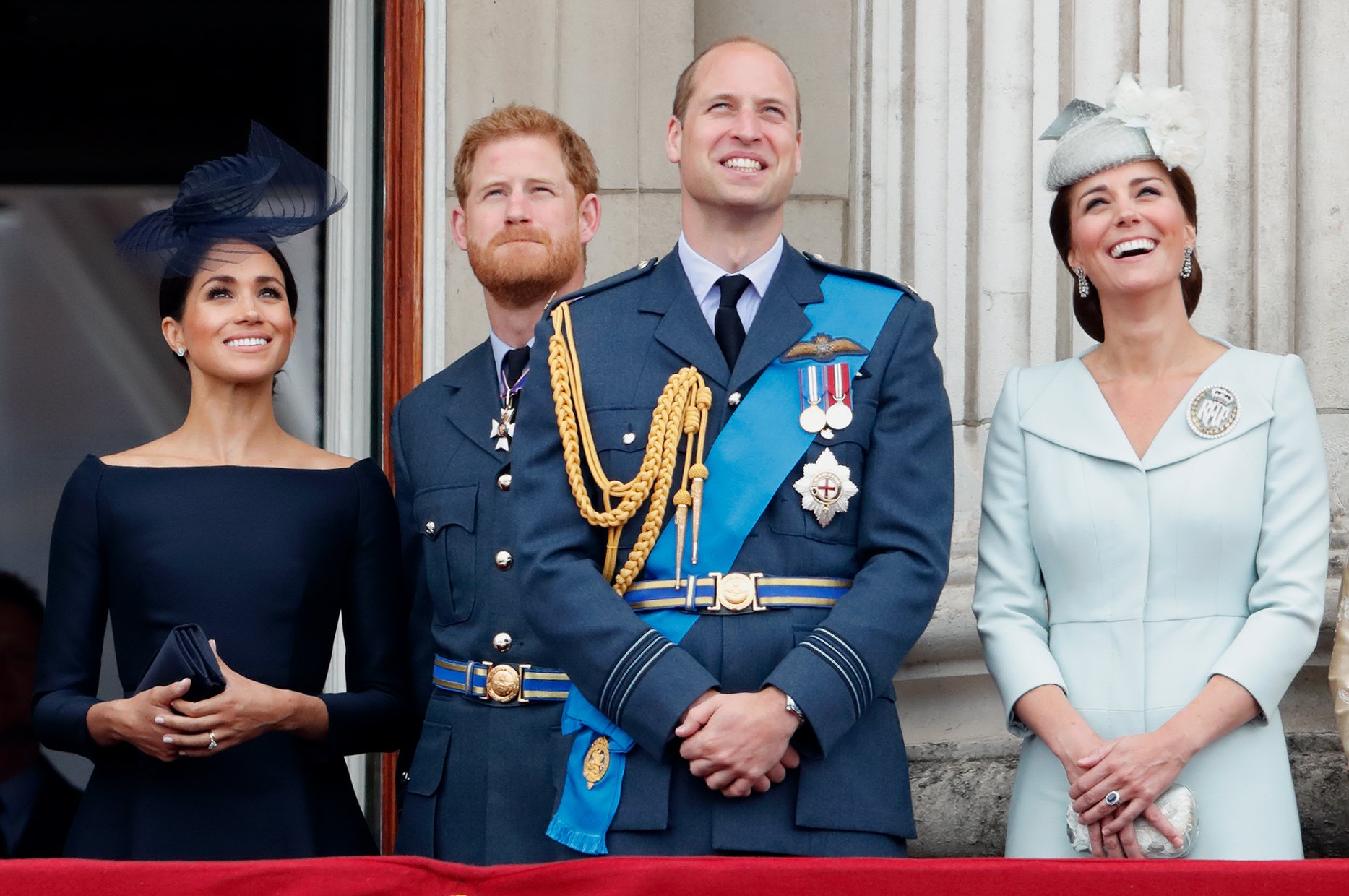 Duchess Meghan, Prince Harry, Prince William, and Duchess Kate marking the centenary of the Royal Air Force from the balcony of Buckingham Palace on July 10, 2018, in London, England. | Source: Max Mumby/Indigo/Getty Images
Things initially started well for Meghan as everyone loved her. She and her husband knew they were stars and deserved more than being sixth in line to the British throne.
In comparison, Duchess Kate, Prince Williams's wife, took things slowly as she entered the public life as a new royal. However, Meghan allegedly came out "with guns blazing as the new global royal" before understanding the monarch's culture.
Ultimately, the Sussexes couldn't make it work in the Royal Family and stepped down from their senior roles and relocated from Harry's birth country. The couple moved with their son to the US, Meghan's country of residence.
DOING WHAT DIANA FAILED TO DO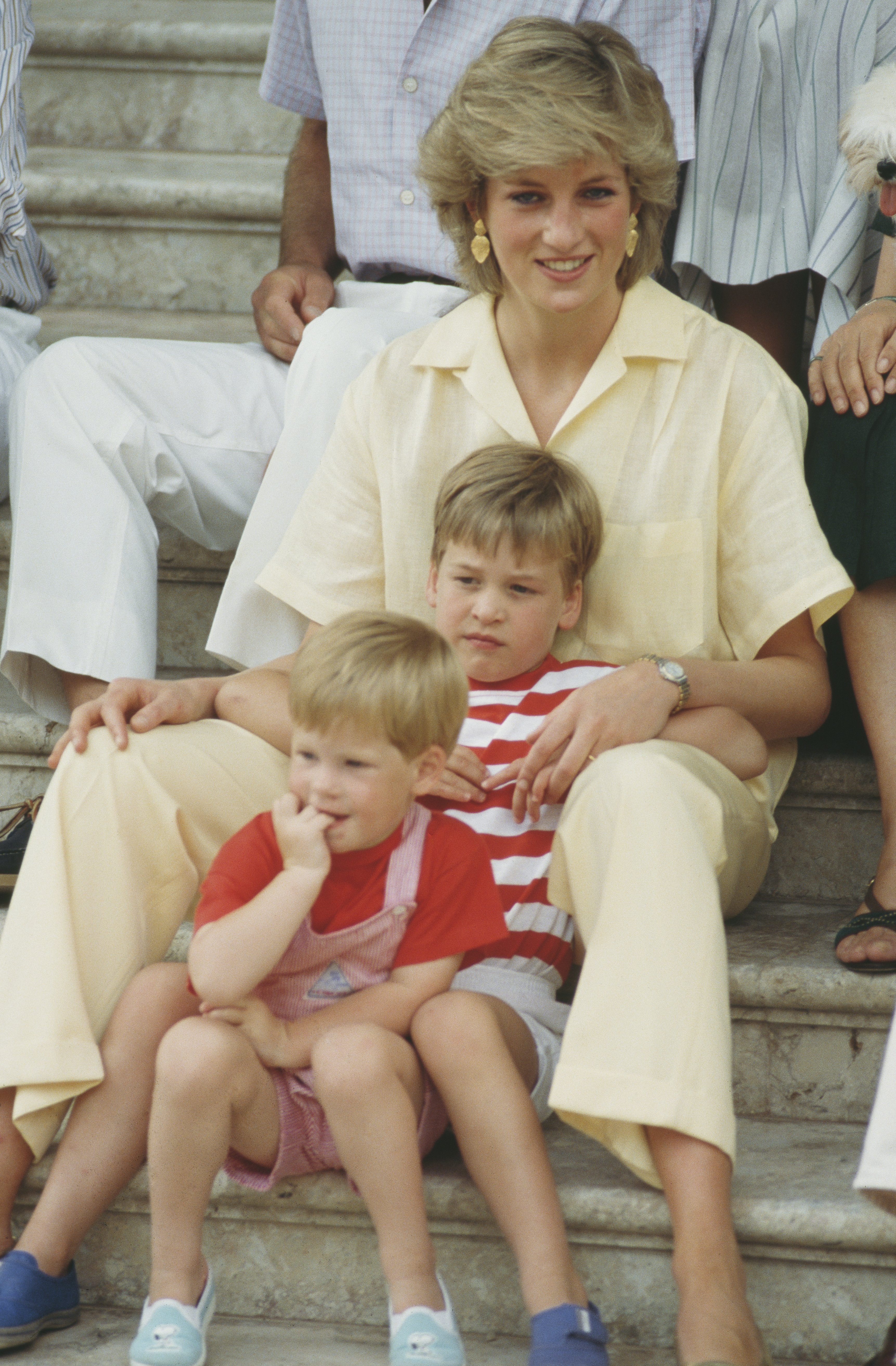 Princess Diana with her sons Princes William and Harry during a holiday with the Spanish royal family in Palma de Mallorca, Spain, in August 1987. | Source: Terry Fincher/Princess Diana Archive/Getty Images
Harry and Meghan managed to fulfill Diana's wish of relocating from the UK. In the book "A Royal Duty," Paul Burrell, a royal butler, revealed that the Princess of Wales wanted to relocate to Malibu, California, before her death.
Burrell shared how the People's Princess had intended to take her sons, Princes Harry and William, along with her. The family of three was going to live with actress Julie Andrews, hoping to find freedom and comfort.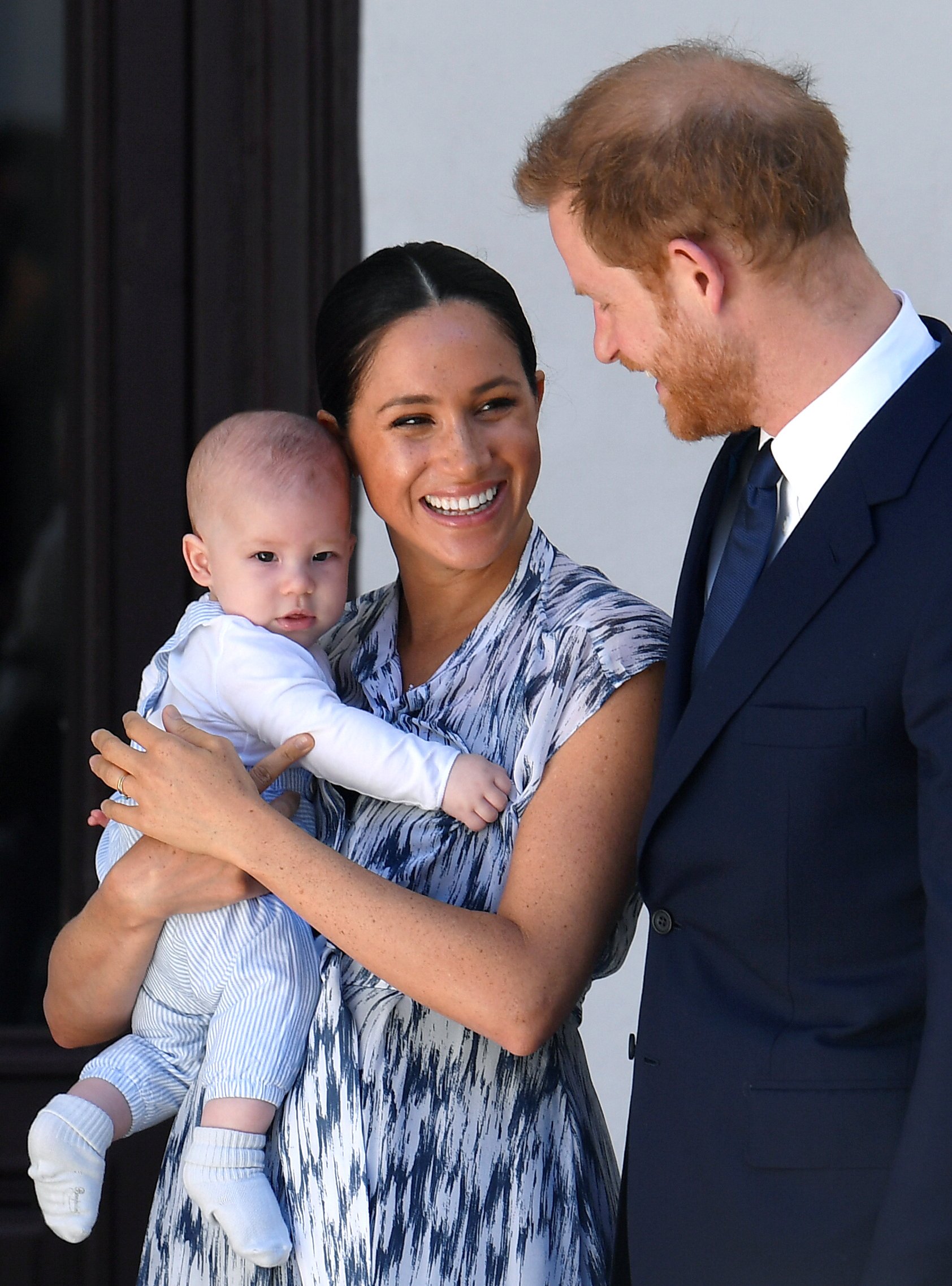 Prince Harry, Duchess Meghan, and their baby son Archie Mountbatten-Windsor at the Desmond & Leah Tutu Legacy Foundation during their royal tour of South Africa on September 25, 2019, in Cape Town, South Africa. | Source: Toby Melville - Pool/Getty Images
It seemed Diana also planned on having her own house in the new country, something her son, Harry, did in 2020. Burrell allegedly saw the plans while sitting on the floor with the royal with maps and the home's layout.
[Prince] Harry's mother [Princess Diana] reportedly had fantasies about redecorating the White House but she died before she could realize any of her dreams.
The former butler said William and Harry's mother thought they would have better lives in California. Burrell recalled the late princess's words about the relocation plans, where she said:
"This is our new life, just won't it be great, think of the lifestyle the boys — nobody's judgmental here in America, you don't have the class system, you don't have the establishment."
The other reason for Diana wanting to move to the US was that she desired to become the first lady. Burrell shared how his former boss once dreamed of following in other first ladies' footsteps in the mid-1990s.
Charle's wife was allegedly a big fan of Jackie Onassis and admired Hillary Clinton, and Nancy Reagan. Harry's mother reportedly had fantasies about redecorating the White House, but she died before she could realize any of her dreams.
Please fill in your e-mail so we can share with you our top stories!