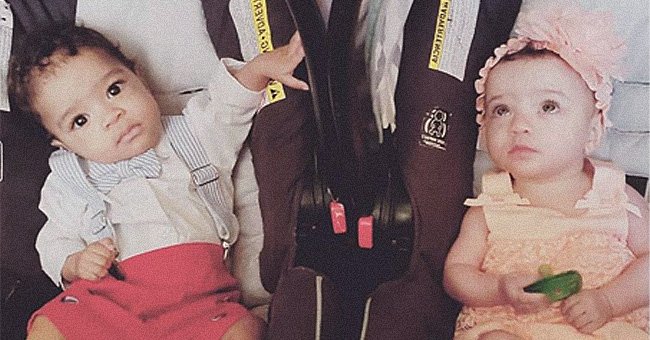 instagram.com/chi_aysia_jones
Single Mom Gives Birth to Twins, Notices That One of Them Is Black Weeks Later
A woman welcomed two identical twins one day at the hospital. However, some weeks later, they suddenly developed fraternal features that had even the experienced nurses shocked and baffled.
Many people have approached their mother with peculiar questions, and her answer has always been the same — it's a miracle.
January 25, 2018, may have been just another day in the life of many other people. However, for Jones, it was one of significant meaning because it was on that fateful day that she found out that she was pregnant with twins, son Malachi and daughter Malaysia, after having endured two miscarriages within six months.
At first, the mother had been scared, afraid that it would become another miscarriage. Nevertheless, she got prepared to have the child, but she started having some issues amidst all of that.
She rushed to the ER, where the doctor promised nothing was wrong but that she was pregnant with fraternal twins. She was stunned, but it was only the beginning.
The pregnancy term was rough on Sarah; her cervix got shorter, and her job as a full-time care worker at a nursing home was not helping in any way, especially since she was also a single mother of two already.
There was also the matter of how active baby one was compared to baby two, and at some point, she even feared that one would not survive because the other seemed to be getting more nutrients. For all these reasons and more, the day she welcomed them safely became a special one for Sarah.
In the first few weeks after they arrived, nobody could see the difference between them, but as time passed and they started looking more healthy, it became evident that they were perfect opposites.
Indeed, where one was a fair-skinned blondie with gorgeous blue eyes, the other was dark-skinned with brown eyes. Sarah said:
"They couldn't be any more different from their hair color to their skin, eyes, their attitudes and little personalities."
It shocked a lot of nurses, and many approached the mother to confess their confusion and ask questions. According to the proud mom, one nurse said:
"I've been a nurse 23 years and have never worked with twins like them. Is it weird having a white twin and a black twin?"
In the months that followed, things were not easy for Sarah and her kids as they had been born at 28 weeks, with the first child, Malaysia, weighing 1-pound and 15 ounces, and the second baby, Malachi, weighing 2 pounds, 7 ounces.
The daughter she named Malaysia gave up the fight a few times, but she always returned.
When Sarah finally got to take the kids home, none of her friends and family could believe it. They had never seen such a thing, and they all started fighting for a chance to spoil them with love and gifts.
According to Sarah, Malachi and Malaysia's peculiarities have made random people who see them on the street do a double-take. If they're even brave enough, some of those people will walk up to her with questions like "Are they adopted?"; "Are they twins?" and "Do they have the same father?"
Of course, Sarah is more amazed by the questions rather than bothered, especially because she also knows that her twins are adored for that very peculiarity.
Nevertheless, the proud mom described the experience as the "best journey in life" and declared that she "wouldn't change it or them for anything in the world."
According to Sarah, all four of her kids are total opposites of each other, and the cause of this can be traced down to gene variants that control the amount of melanin or pigment produced in the skin.
The phenomenon involves a parent passing down a larger percentage of one variant to one child and more of another to the other, which happens on very rare occasions.
Indeed, they say it has a one in 500 chance of happening, which leaves Malachi and Malaysia somewhere in the range of miracles.
Sarah has also said that even though all four of her kids are polar opposites, they all have a deep bond and are best friends.
Please fill in your e-mail so we can share with you our top stories!