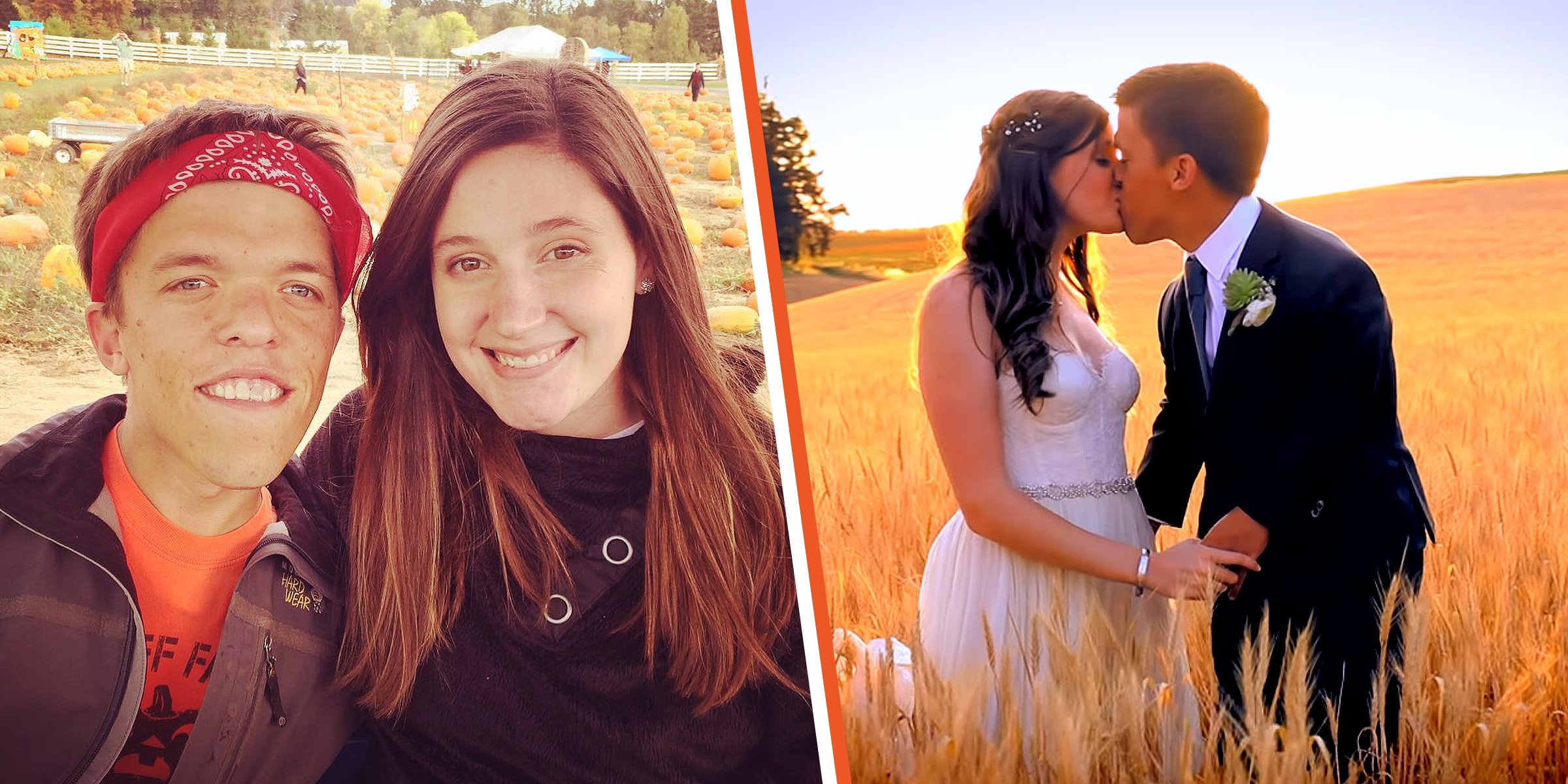 Instagram/Tori Roloff | YouTube/TLC
Tori & Zach Roloff's 1st Date Lasted for 5 Hours - They Are Parents of Three Now
"Little People, Big World" star Zach Roloff never paid much mind to marriage until he met the beautiful Tori Patton. Their "unique" love story brought many to tears, and they have been going strong since.
Like his parents, Matt and Amy, Zach Roloff was born with achondroplasia, a common form of dwarfism. Growing up on a family farm in Hillsboro, Oregon, he did not picture himself going on a date or having his own family.
However, things changed in 2010 when Tori Patton spent the pumpkin season working at the Roloff farm as a greeter and picking squash with the family, including Roloff's twin brother and two younger siblings who are of average height.
A coworker introduced the pair to each other, and as Roloff would disclose on an episode of "Little People, Big World," they started talking, and she kept going over to his place.
After doing that for a while, Roloff realized he had a crush on Patton, but he did not think he had a chance with her, so he never voiced his attraction. However, one of Tori's coworkers told her about Roloff's crush, and to his delight, she felt the same way.
"Tori brought me out of my shell and made me more social. She gave me confidence." Zach told People, as Tori shared the details of their first real-time date:
"Our first date lasted five hours, and we've been together ever since."
Do not be mistaken. Despite Patton and Roloff's mutual attraction, Roloff was quite hesitant about dating Patton. She was of average height, and people often thought Roloff was her younger brother and kept staring. Roloff would share, according to Good Housekeeping:
"So, I was really skeptical to make sure that is she really mentally that strong to get over that."
THE HIGHLY AWAITED ENGAGEMENT
The two love birds began dating and became Instagram official in 2012. One evening in April 2014, Patton was resting after a long day's work at the farm when Roloff insisted she get dressed as he wanted them to go out for a while.
Half-heartedly, she got all dressed up and out the door. But as they approached the firepit at the camp spot, Patton realized the site appeared different than it usually was. Roloff assured her that his brother, Jeremy, had made the unusual arrangement on the camp spot to test it out.
He had moved it across the road and wanted Patton's opinion. Upon getting there, Patton realized how weird it seemed that Jeremy would move the whole firepit and put a platform and perfectly placed firewood to get a "feel" of it. She shared, as Distractify reports:
"It was at that moment that Zach stepped up on the platform and asked me to join. He got down on one knee and asked me to be his wife."
It was a special moment for them both, and they could not stop gushing over how happy they felt now that they were on their way to becoming man and wife. Patton shared:
"It was really special. It was a really nice moment. And I said yes."
Following their engagement, Roloff and Tori set their wedding for July 25, 2015. Venue? The Roloff farm where they first met, fell in love, and got engaged.
However, their big day almost did not come to fruition after heavy rains started pouring in the morning. Patton was stressing about the possibly ruined wedding, while Roloff could not believe that the downpour would spoil their decorations worth thousands. Despite stressing, Amy comforted her son and daughter-in-law, saying:
"Rain or shine, it's going to be a beautiful day."
Luckily, the rains stopped just in time for the ceremony. Roloff, looking dapper in a suit, waited patiently as a made-up Patton, looking gorgeous in her simple but elegant wedding gown, walked down the aisle with her father, and after she got to the front, she began sobbing.
She disclosed that she could not hold her tears after seeing how stunning Roloff looked. They exchanged vows that they wrote themselves, as Roloff promised always to hold Patton's hand and continue pursuing her even well into their 80s.
Patton, sobbing, promised Roloff she would commit fully to him and continue giving him neck rubs. Afterward, the newlyweds took some alone time in the cornfield and later shared the delicious-looking white five-tier cake with their guests.
And despite the farm being the perfect venue for their wedding, Patton and Roloff seemed to be on the fence about it being the best venue for Amy — who was since divorced from Matt — and her new beau, Chris, to have their wedding.
When they announced they wanted to get married, Matt offered the Roloff farm, but Patton and her husband did not think it was a good idea.
PATTON AND ROLOFF ARE NOW PARENTS OF THREE
The couple welcomed their first child, son Jackson Kyle Roloff, on May 12, 2017, followed by a second, Lilah Ray, born on November 19, 2019. Her second pregnancy was, however, hard on her.
In a caption accompanying her pregnancy photoshoot, she shared that she was not one of those women who "love being pregnant" but added, according to The List:
"My growing bump is a symbol of a healthy girlsie. It's a reminder that I'm in a position that many women dream of and trust me. I do not take it for granted."
After the birth of their second child, Patton did not think they would be trying for another child but was ecstatic when she found out she was pregnant. Unfortunately, she lost the pregnancy. She shared of the challenging period, saying she had never felt loss like she did at that moment, adding, as US Weekly reports:
"I've never felt so sad, angry, and scared in a single moment. I had no symptoms of losing [our] sweet angel baby, and nothing could have prepared me for hearing our sweet baby was gone."
However, the couple would smile again when Patton discovered she was pregnant again less than a year later. The couple welcomed their third child, Josiah Luke, on April 30, 2022, and are now a happy family of five.
Please fill in your e-mail so we can share with you our top stories!