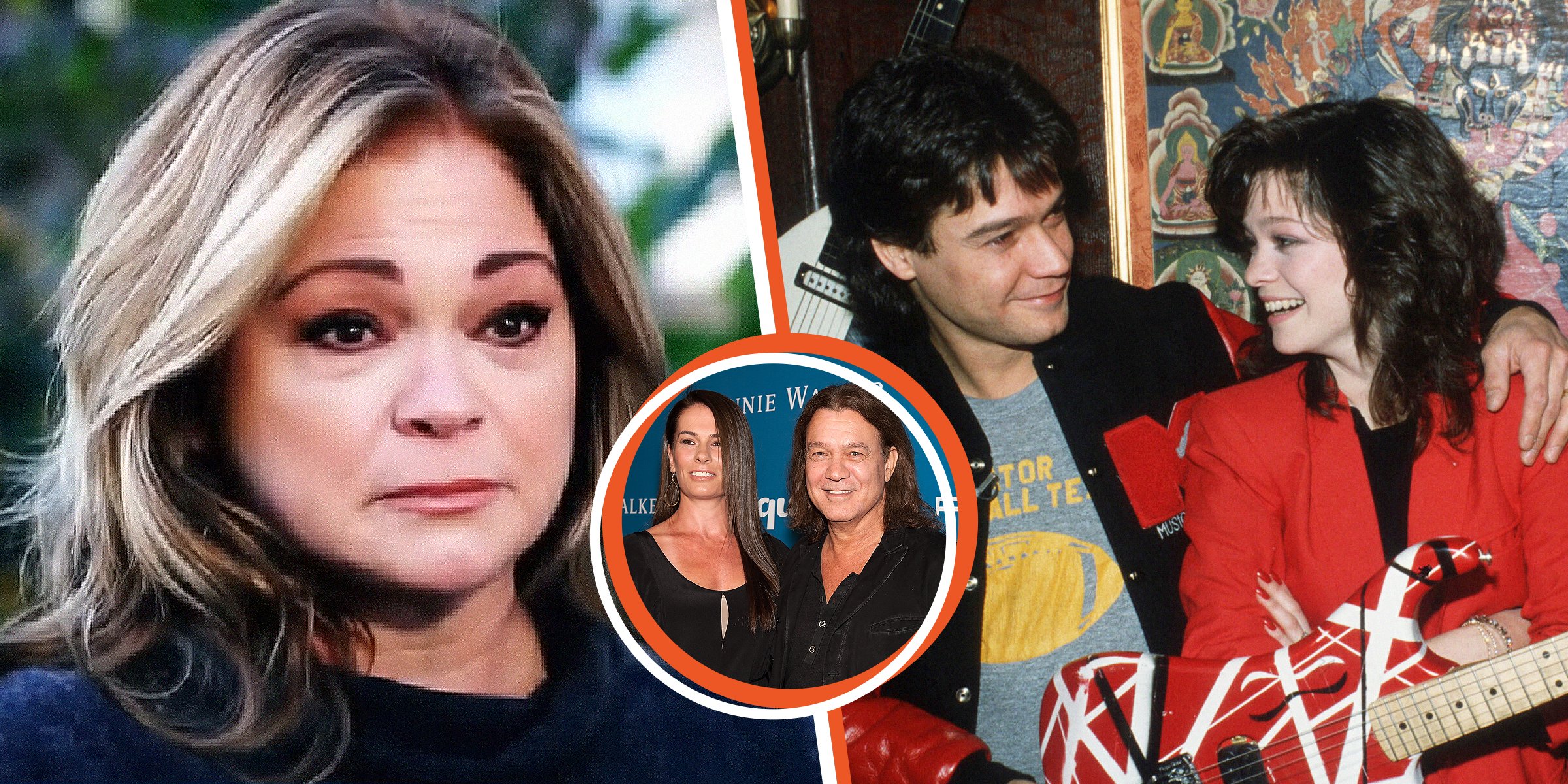 Getty images | YouTube/Today
Eddie Van Halen Brought Ex Valerie Bertinelli a Gift Yet His Wife Got Nothing from Trip before His Death
Legendary rocker Eddie Van Halen and Valerie Bertinelli's marriage may have ended, but their love for each other superseded their failed union. So much so that Halen got Bertinelli a special gift, while his wife got nothing.
Valerie Bertinelli was the favorite girl next door, starring in "One Day at a Time." At only 20, during a visit to her parents in Shreveport, Louisiana, her brothers invited her to the Van Halen concert so she could use her connections to help them get backstage.
She remembers looking at a cassette with a picture of Van Halen and thinking he was cute. Upon meeting him in person, she instantly fell in love.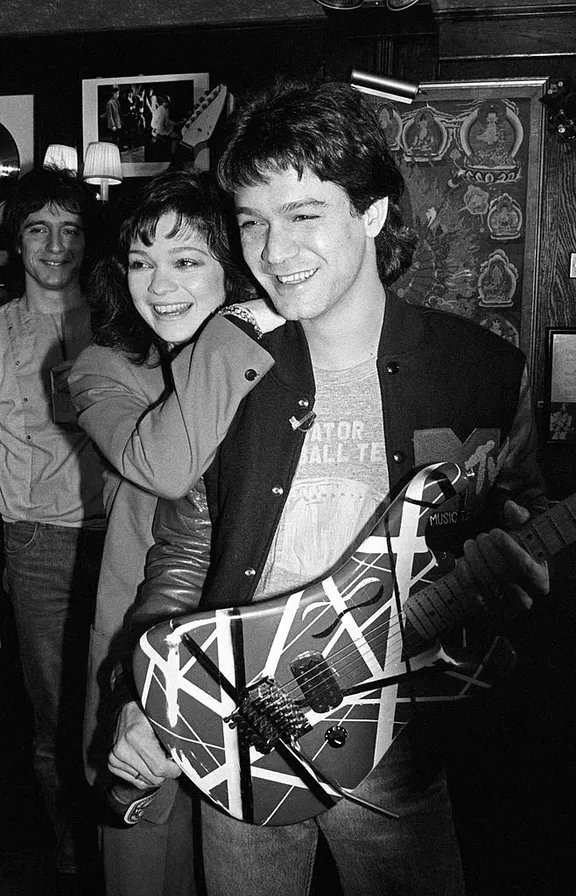 American married couple, actress Valerie Bertinelli and musician Eddie Van Halen at the Hard Rock Café in February 18, 1995. | Source: Getty Images
Three days later, Van Halen called her asking if she could go out with him, and eight months later, they married at St. Paul's Catholic Church in Westwood, California, surrounded by friends and family.
The first few years of their marriage were blissful, and they were so in sync that they would mirror each other's gestures in interviews. Ten years into their marriage, they welcomed their son, Wolfgang.
Despite experiencing a gleeful first couple of years of marriage, Bertinelli struggled a lot. Being the rockstar he was, her husband was always on the road, and Bertinelli tried keeping up with his lifestyle to no avail.
On days when she wasn't working on her popular sitcom, including weekends, she would try to stay up with her husband. She was ready to make her marriage work because she had won the prize so desired by many others. She would say:
"I'm the wife of this amazing musician, and lots of girls want him, and I got him."
Besides taking pride in her marriage to the rockstar, Bertinelli disclosed that she felt sad and had no connection with her husband. In everyone catering to their responsibilities, they hoped they would find a spark, but sadly, it never happened.
And yet, that was just part of their troubles. Bertinelli soon discovered that her husband was cheating on her when she overheard a phone conversation where Halen told the other party he wanted out of the marriage.
Years later, an angry man called to say that his wife was cheating on him with Van Halen, and only then did Bertinelli confirm her worst fears. Halen was, however, not the only one to blame for their failing union.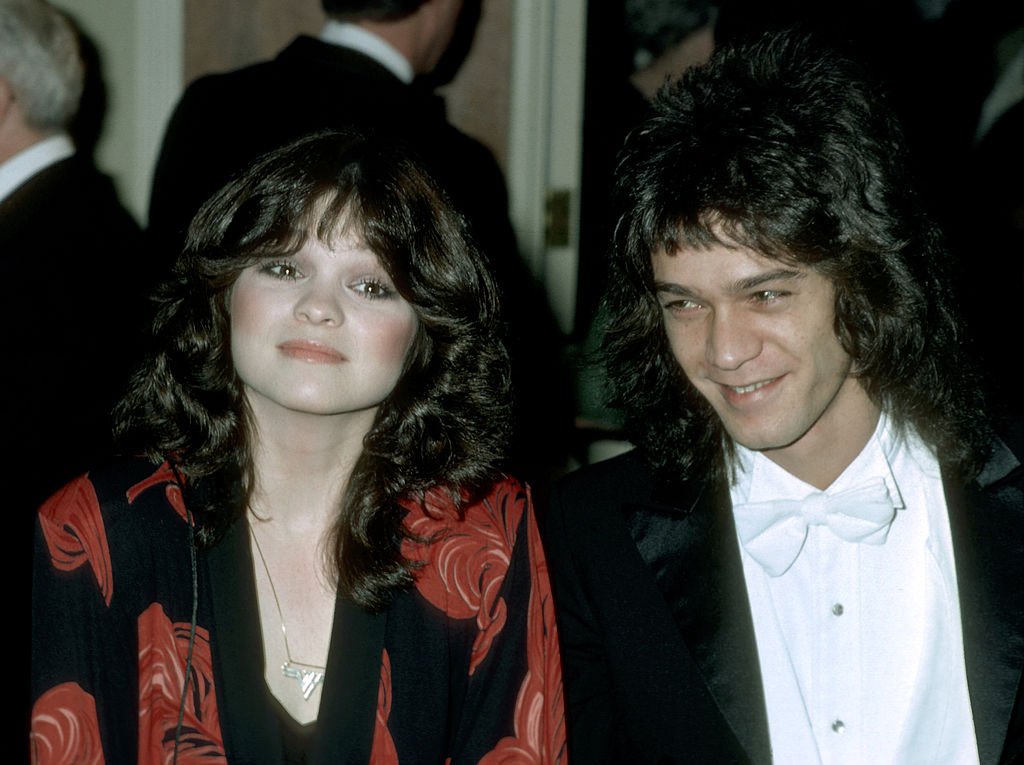 Valerie Bertinelli and Eddie Van Halen | Source: Getty Images
Bertinelli also admitted to cheating on Van Halen a few years into their marriage, saying she was looking for the love and attention she missed at home. She also confessed to kissing a woman years later.
Despite not being an ideal husband, Halen excelled in one aspect. He was a good father to Wolfgang, and as Bertinelli would later confess, he was "over the moon proud of Wolfie."
DIVORCE AND FINDING LOVE AGAIN
Eventually, after 21 years of marriage, Bertinelli and Van Halen decided to end their marriage, and in 2001, they separated. They would, however, get divorced years later.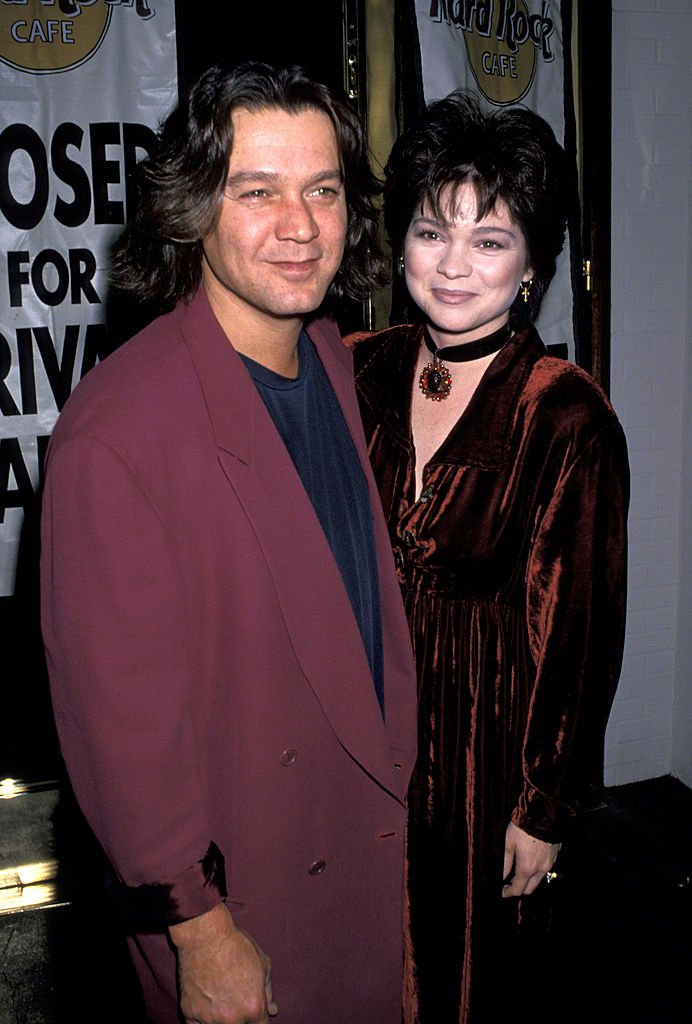 Eddie Van Halen and Valerie Bertinelli at Hard Rock Cafe in West Hollywood, California, United States.| Source: Getty Images
Bertinelli shared that what influenced her decision to get away from her unhealthy marriage was that she did not want her son to grow up with a skewed idea of marriage. Luckily, the duo remained great friends and successfully co-parented their son, Wolfgang.
After their divorce became final, they both moved on, finding love with other people. Bertinelli met and married entrepreneur Tom Vitale at a beautiful January wedding in Malibu that Van Halen attended.
And when Van Halen met Janie Liszewski after she began working as his publicist, Bertinelli also attended their wedding. However, Halen and Bertinelli's love for each other did not fade.
Sadly, in 2019, Van Halen was diagnosed with cancer, and one of Bertinelli's regrets is that she restricted herself from getting close to him as he fought the sickness.
But during the final days of Van Halen's life, Bertinelli and Wolfgang devoted all their time to keeping Van Halen company, and in his very last moments, he told them he loved them.
A SECOND DIVORCE FOR BERTINELLI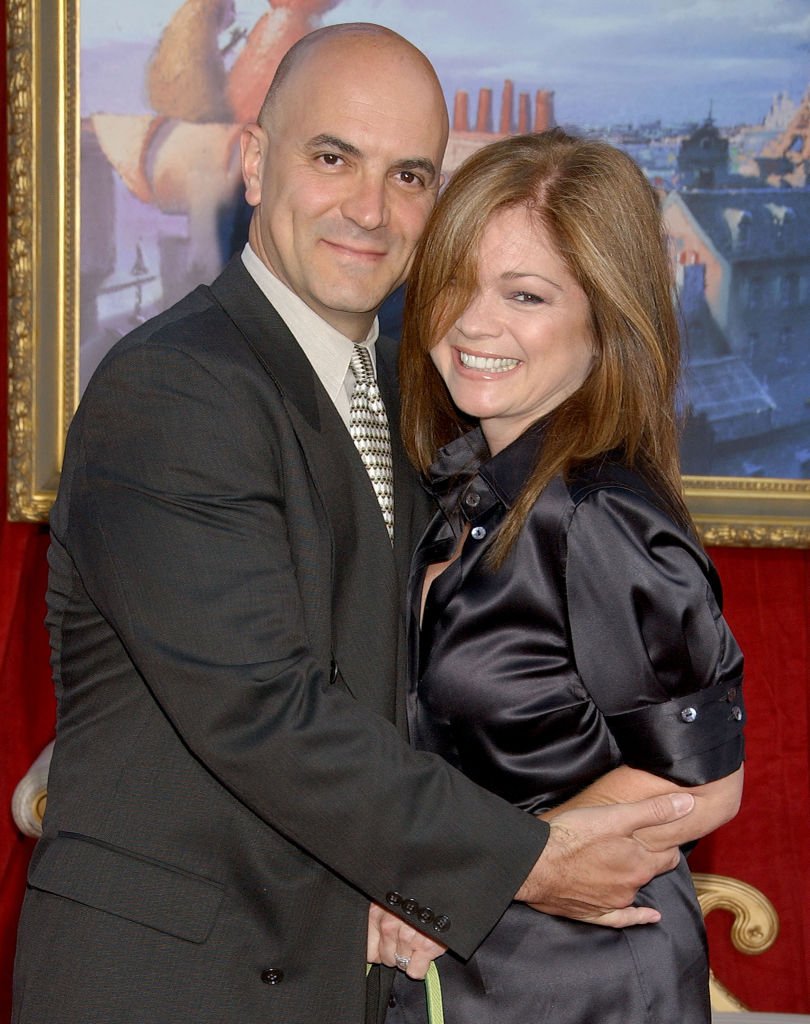 Tom Vitale and Valerie Bertinelli | Source: Getty Images
While Bertinelli has denied the claims, many speculate that her close bond with Van Halen may have caused the rift between her and her second husband of ten years.
When filing for divorce in a Los Angeles County Superior Court, the "Hot In Cleveland" actress cited "irreconcilable differences," but the real reason behind their split remains unclear.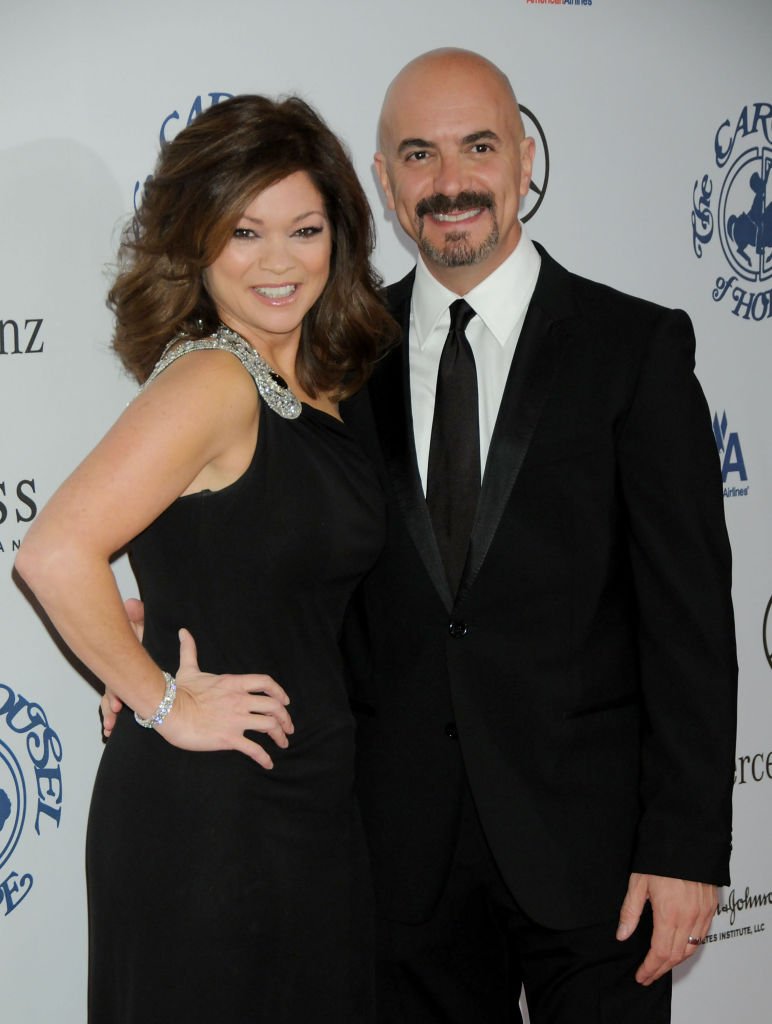 Actress Valerie Bertinelli and Tom Vitale arrive at The 30th Anniversary Carousel Of Hope Ball at The Beverly Hilton Hotel on October 25, 2008 in Beverly Hills, California. | Source: Getty Images
However, the actress would disclose that it had been "rough" and "very bittersweet since her ex-husband's passing." She also said, as Etonline reports:
"It's hard. I've gone to text [Eddie] a few dozen times. It's like, 'Oh, no, I can't text him right now.'"
A SPECIAL GIFT FOR BERTINELLI
On his last Thanksgiving alive, Van Halen went by Bertinelli's house, and after feasting heartily on the exquisite meal she had prepared for her guests, he asked to speak to her privately.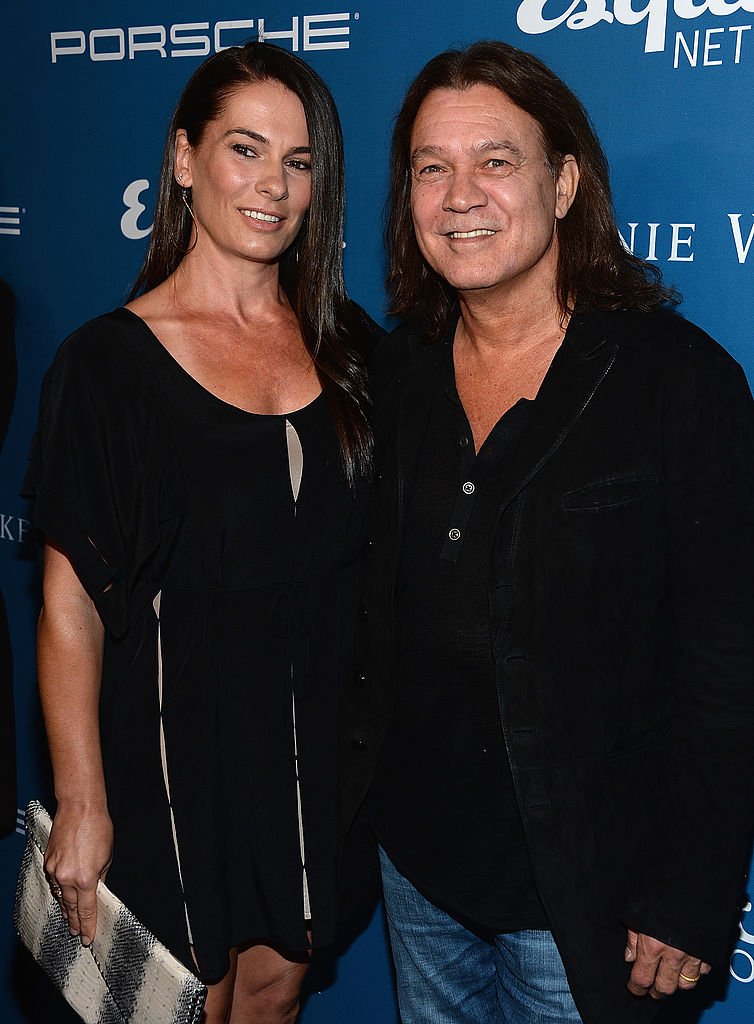 Janie Liszewski and Eddie Van Halen attend Esquire 80th Anniversary And Esquire Network Launch Celebration at Highline Stages on September 17, 2013 in New York City. | Source: Getty Images
As all the rooms in the house were packed with people, the pair went out and sat in a friend's car. Once settled inside, Van Halen handed Bertinelli a smooth black box with a plain pendant-sized pure gold bar.
He had bought the gift on one of his trips to Germany, where he went to receive treatment for his cancer. As tears welled in his eyes, he told Bertinelli he had thought of her in Germany instead of his wife. He said:
"I hope you don't think it's weird, you know, that I bought my ex-wife this gift and didn't get my wife anything. I just love you."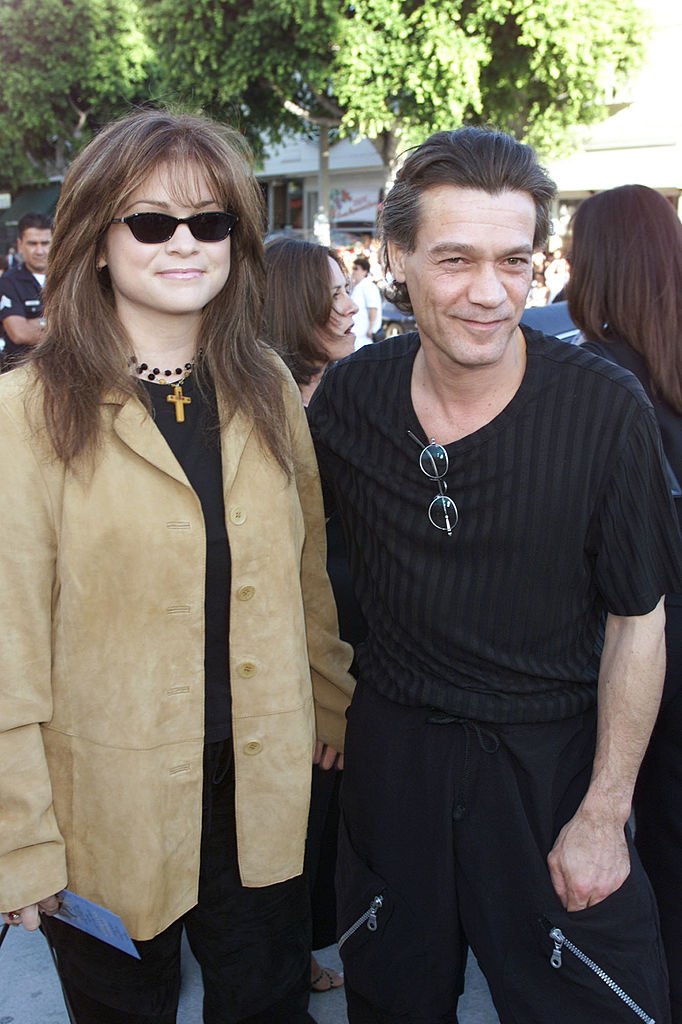 Valerie Bertinelli and Eddie Van Halen at the premiere of 'America's Sweethearts' at the Village Theater in Los Angeles on July 17 2001 | Source: Getty Images
He confessed to having messed their marriage up with his wayward ways, and to that, Bertinelli responded: "I contributed to our troubles too, and I am also sorry."
WAS VAN HALEN'S WIFE JEALOUS OF BERTINELLI'S BOND WITH VAN HALEN?
Bertinelli shared that despite their marriage failing, they had an amicable divorce and remained loving and respectful of each other. She would say:
"We always had that love for one another."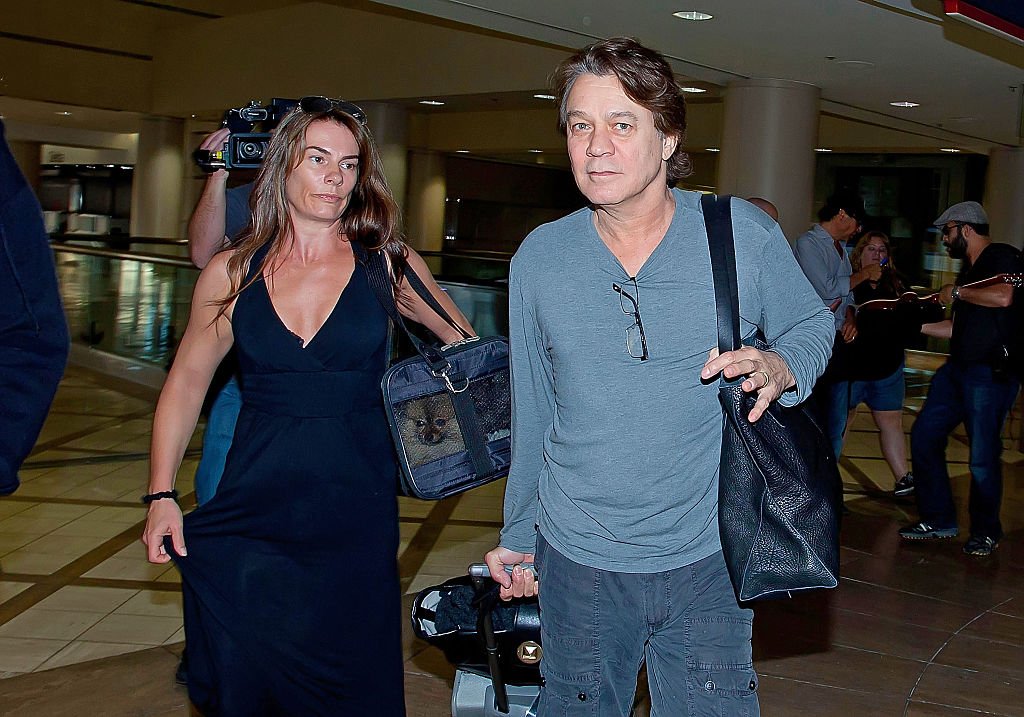 Eddie Van Halen and Janie Liszewski are seen at Los Angeles International Airport on June 27, 2012 in Los Angeles, California. | Source: Getty Images
Asked if their bond caused Van Halen's wife, Liszewski, to get jealous, she said: "I know that she still loved him as well and, you know, she was there the day that Ed died. They were still trying to stay close and be in each other's life."
Please fill in your e-mail so we can share with you our top stories!