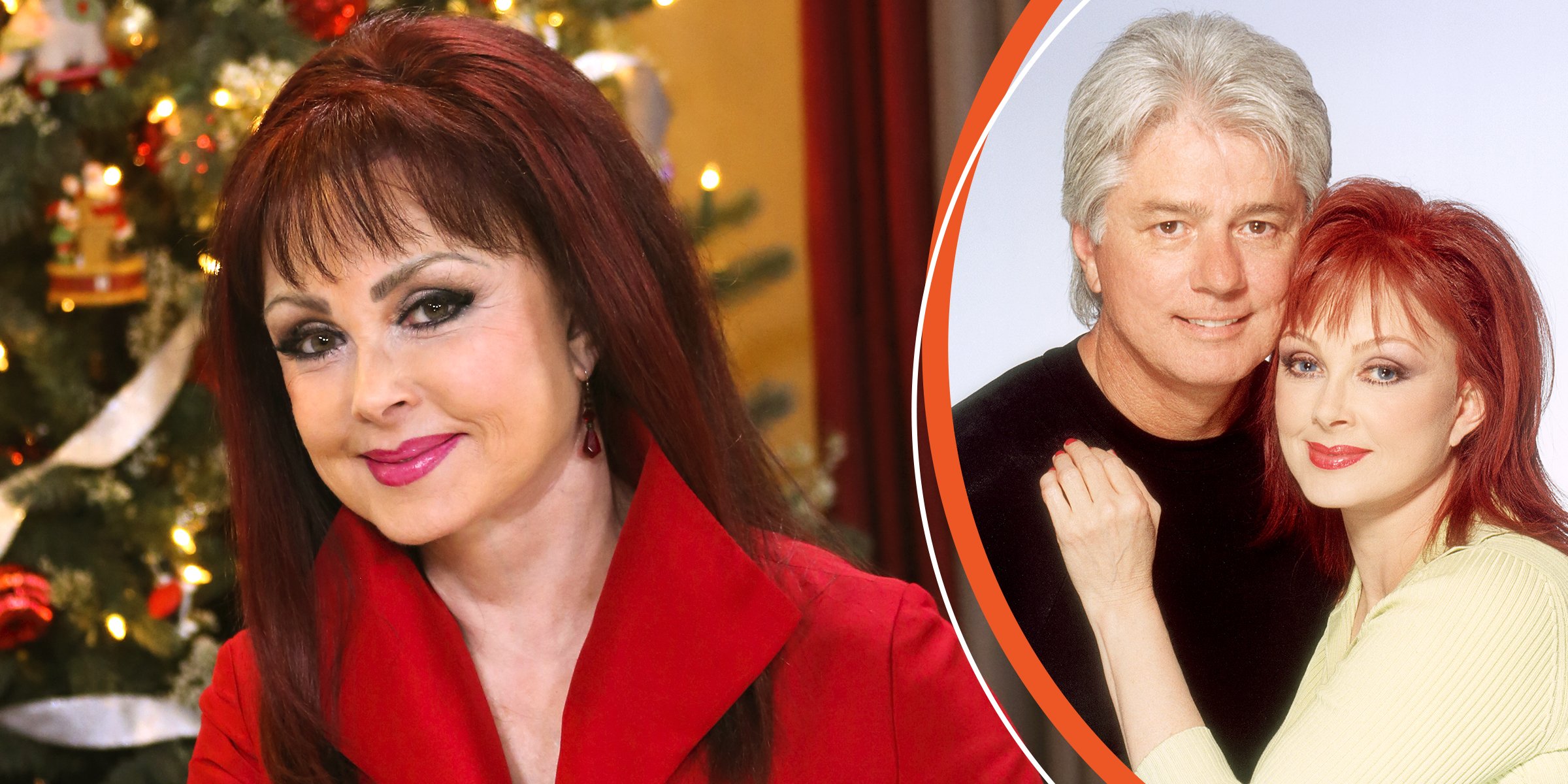 Getty Images
Naomi Judd's Spouse of 34 Years Recalls Story about Her Generosity from Her Final Days
Despite a sad ending by her own hands, country music icon Naomi Judd was blessed with a happy spouse who still carries with him the sweet memories of the deceased, created even during her final days.
The world was privileged to witness spectacular music from a former struggling mom who formed a family-oriented-country-music band, "The Judds," in the 1980s.
Many marveled at how Naomi Judd and her eldest daughter Wynonna impressively sang well-balanced lyrics to their fans, spiced with rhythmic tunes.
As Naomi's music grew, her love life witnessed a dramatic change. She went from being a single mother of two to one of the industry's power couples with Larry Strickland, her husband of thirty-three years.
One of the reasons these two found each other irresistible was that they shared some similarities. They were both singers, but they also had common backgrounds, including large families with blue-collar jobs.
Nearly a decade after meeting, the duo shared their vows and would have been married for thirty-four years a few weeks ago had Naomi not taken her life.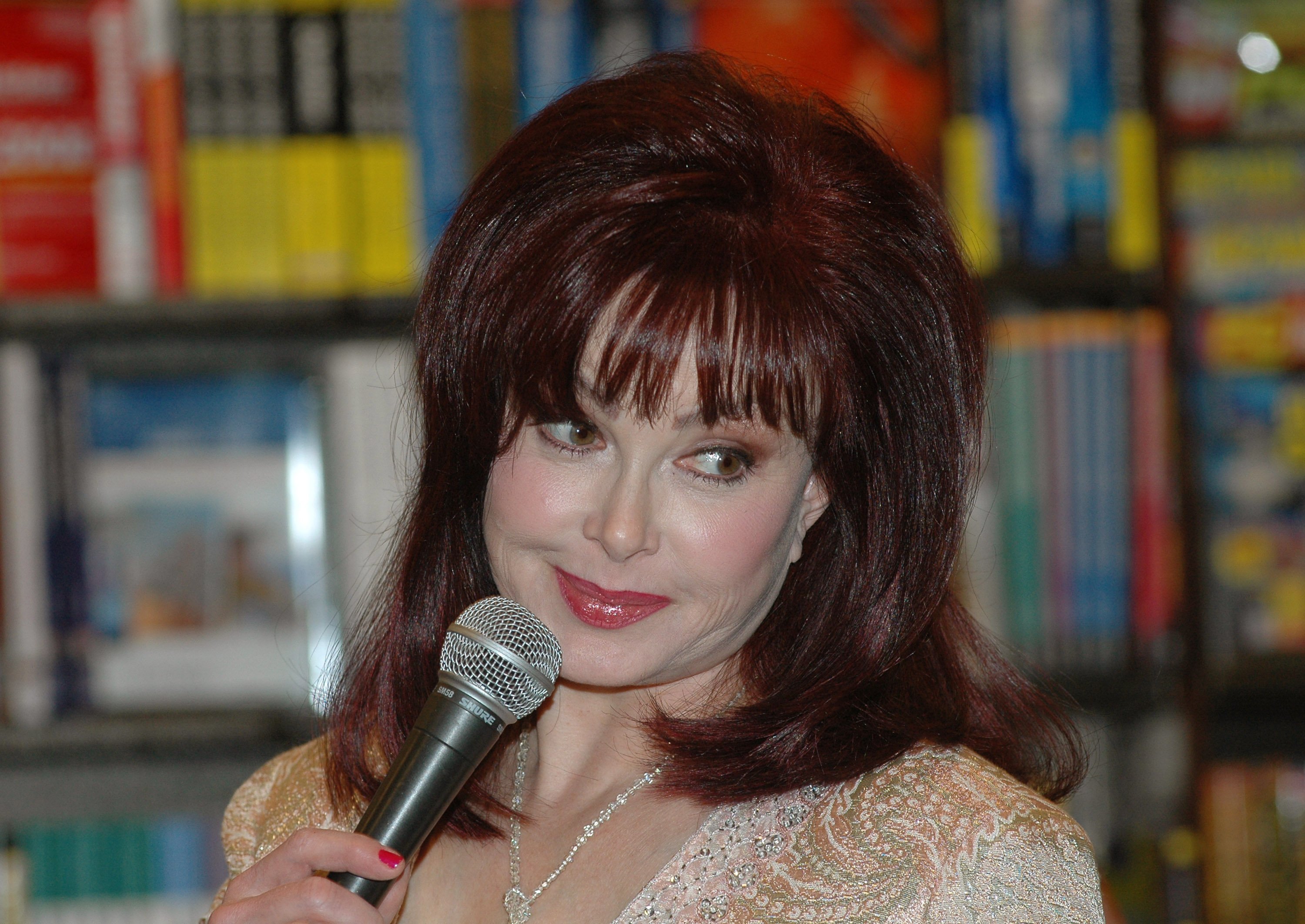 Naomi Judd during Naomi Judd Book Signing: "Naomi's Guide to Aging Gratefully" at Barnes & Noble in Freehold, New Jersey, United States. | Source: Getty Images
Still, these two were a loving couple till death did them part. They enjoyed life as a typical couple without being overwhelmed by the luxury their fame afforded, and it satisfied enough.
In 2013, when addressing the secrets to their strong bond, Naomi jokingly mentioned that they have separate bathrooms. But, in the end, she admitted that the simplicity made them last. In her words:
"We are so normal. Right now he's out on a Bush Hog on the farm and the big excitement is he found a rattler last week. That's how we live."
WHO IS NAOMI JUDD'S HUSBAND?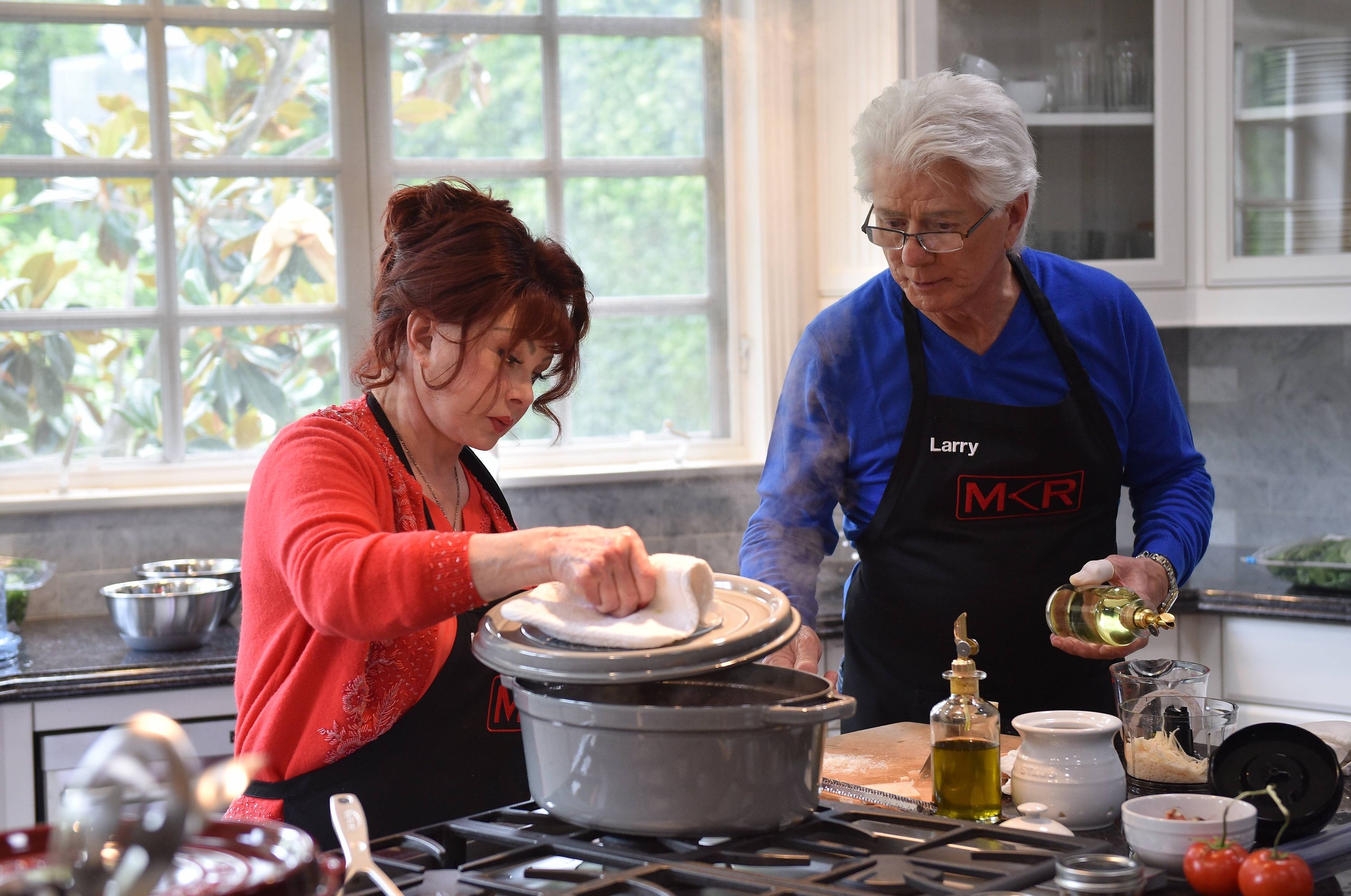 Naomi Judd and Larry Strickland in the Naomi Judd, Brandi Glanville Dinner Parties episode of MY KITCHEN RULES airing Thursday, Jan 19 (9:01-10:00 PM ET/PT) on FOX. | Source: Getty Images
Larry Strickland came from a religious background. His dad was a preacher, and as he grew, the singer became acquainted with gospel music which has formed a large part of his musical career.
At a young age, he began touring with gospel quartets. Then, in 1974, after the iconic JD Sumner and the "Stamps Quartet" recognized his talent, they brought him on board, and he started making music with Elvis Presley.
Following Presley's death, Strickland maintained his status with the "Stamps Quartet." He still performs with them and has never given up on his love for gospel music.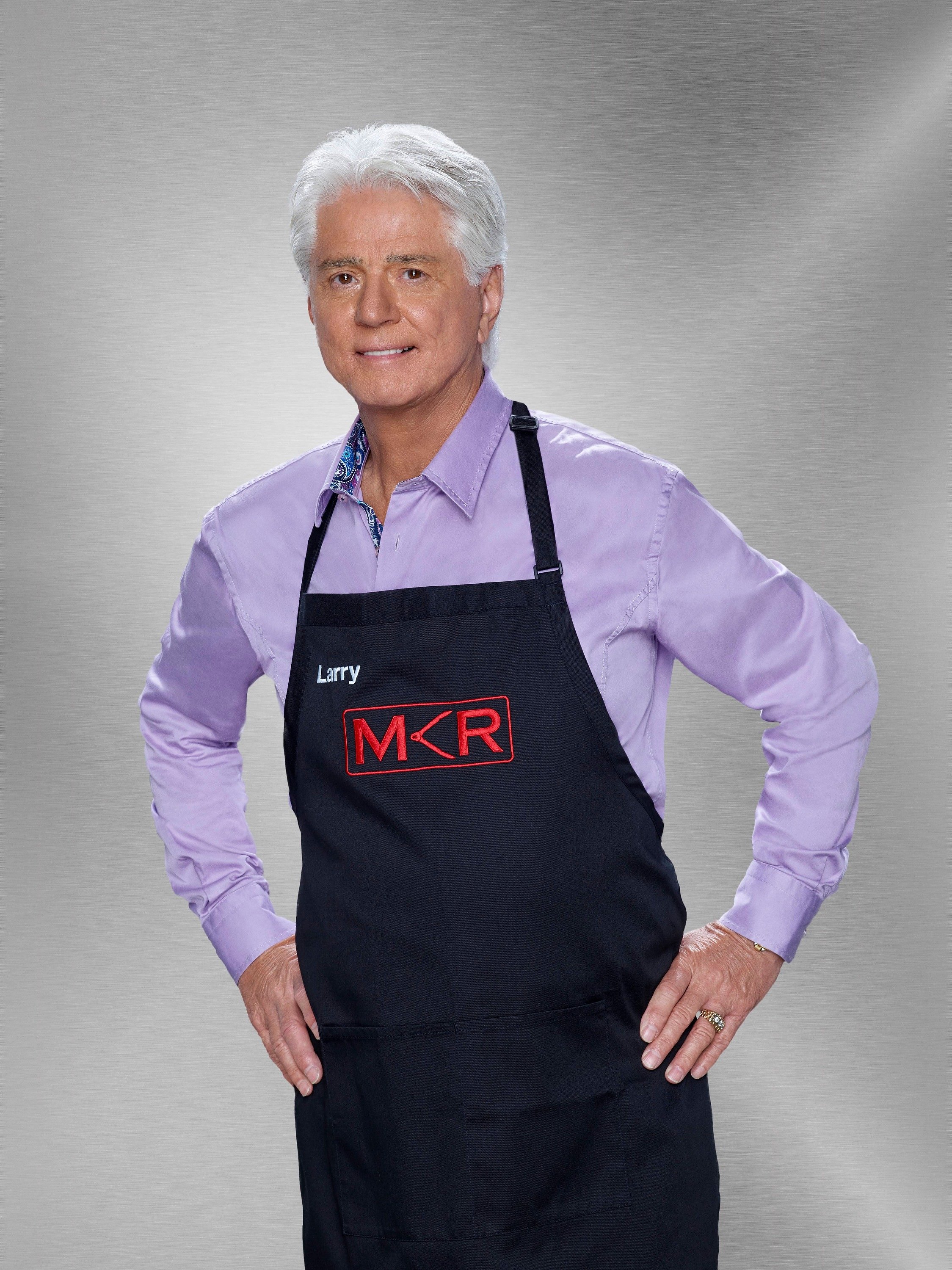 Larry Strickland. MY KITCHEN RULES premieres Thursday, Jan. 12 (9:01-10:00 PM ET/PT), on FOX. | Source: Getty Images
Apart from singing, Strickland contributed immensely to his wife's progress as a singer and family by showing concern and support whenever she needed him the most.
When Naomi began to feel depressed, he was heartbroken but opted to get her professional help. At first, Strickland did not know how severe the condition was, but his wife understood it and never shared it with him, as she felt she could handle it alone.
However, at the psychologist's office, Naomi opened up about her prognosis and diagnosis, which all came as a shock to the gospel singer.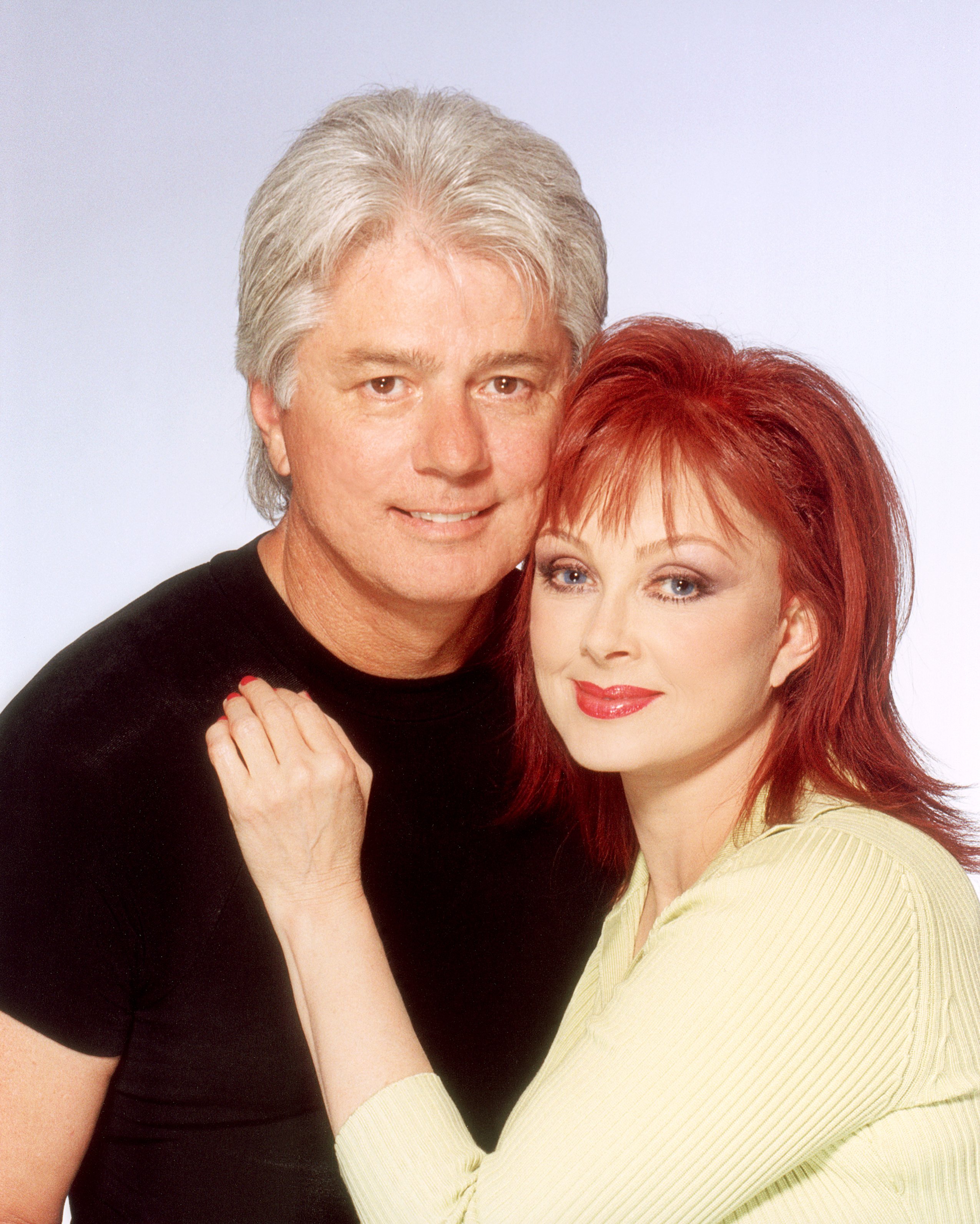 Singer Naomi Judd plus her husband Larry Strickland-pose for a portrait in 2005 in Los Angeles, California. | Source: Getty Images
Immediately as he heard the details of what his wife dealt with, Strickland began to cry, confessing that he was in oblivion.
Thankfully, he did not dwell on the secrecy. Instead, he chose to act as a shield for his wife, who suffered from depression, making the "The Judds" singer regret her actions.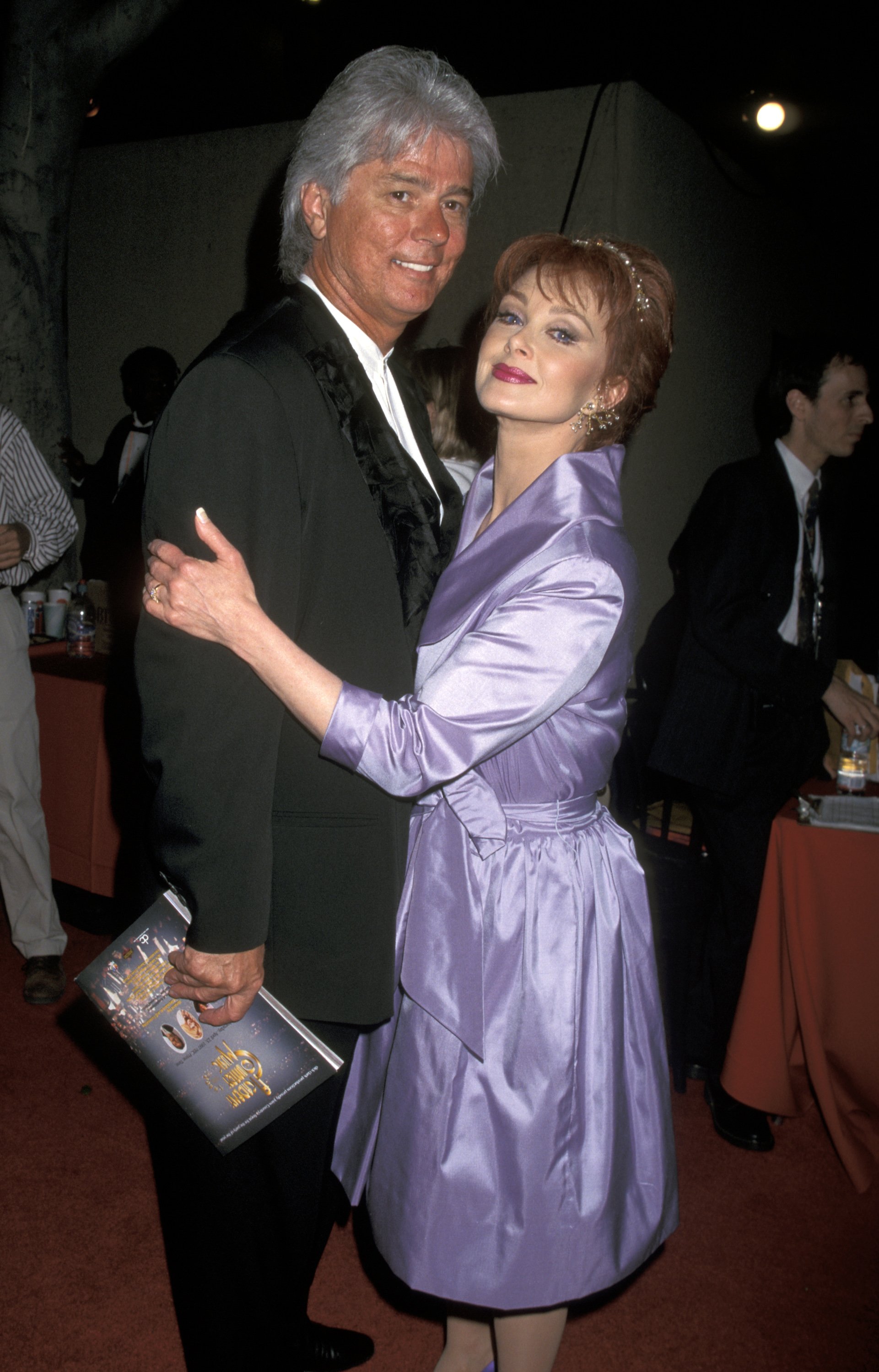 Larry Strickland and Naomi Judd during The 32nd Annual Academy of Country Music Awards - Arrivals and Pressroom at Universal Amphitheatre in Universal City, California, United States. | Source: Getty Images
While describing her husband, Naomi mentioned that he is the perfect and standard man who does not need to be kept in the dark. According to her:
"Larry is an extremely quiet man— what every woman wants, all man…He's hard-working, honest and at that church every time the doors are open…I realized it was not right for me to try to shield him."
HOW LARRY STRICKLAND DESCRIBES HIS DECEASED WIFE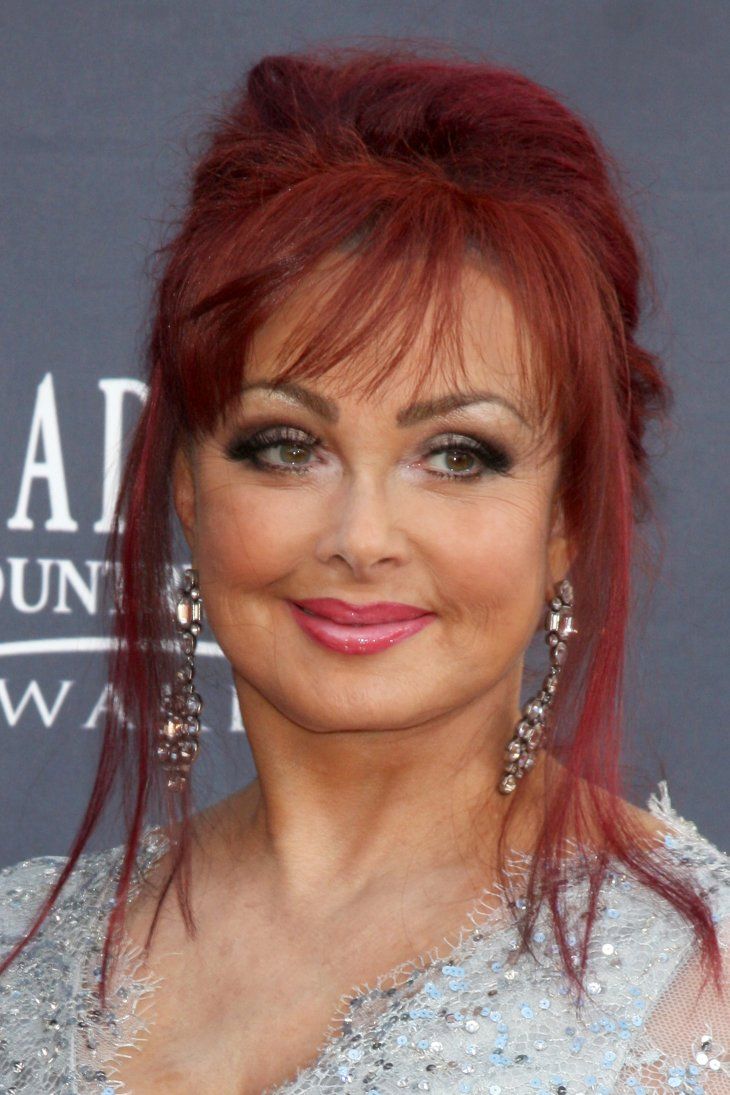 Naomi Judd at the 2011 Academy of Country Music Awards at MGM Grand Garden Arena on April 3, 2011 in Las Vegas, NV. | Source: Getty Images
Losing Naomi to her mental illness following her suicide was a painful experience for her family, including her husband and two daughters, Wynonna and Ashley.
However, her surviving relatives continue to remember her for the kind-hearted woman that she was and all the values she represented.
Strickland shared an emotional tribute during his first public appearance after his wife's death (The Naomi Judd: A River of Time Celebration— memorial service).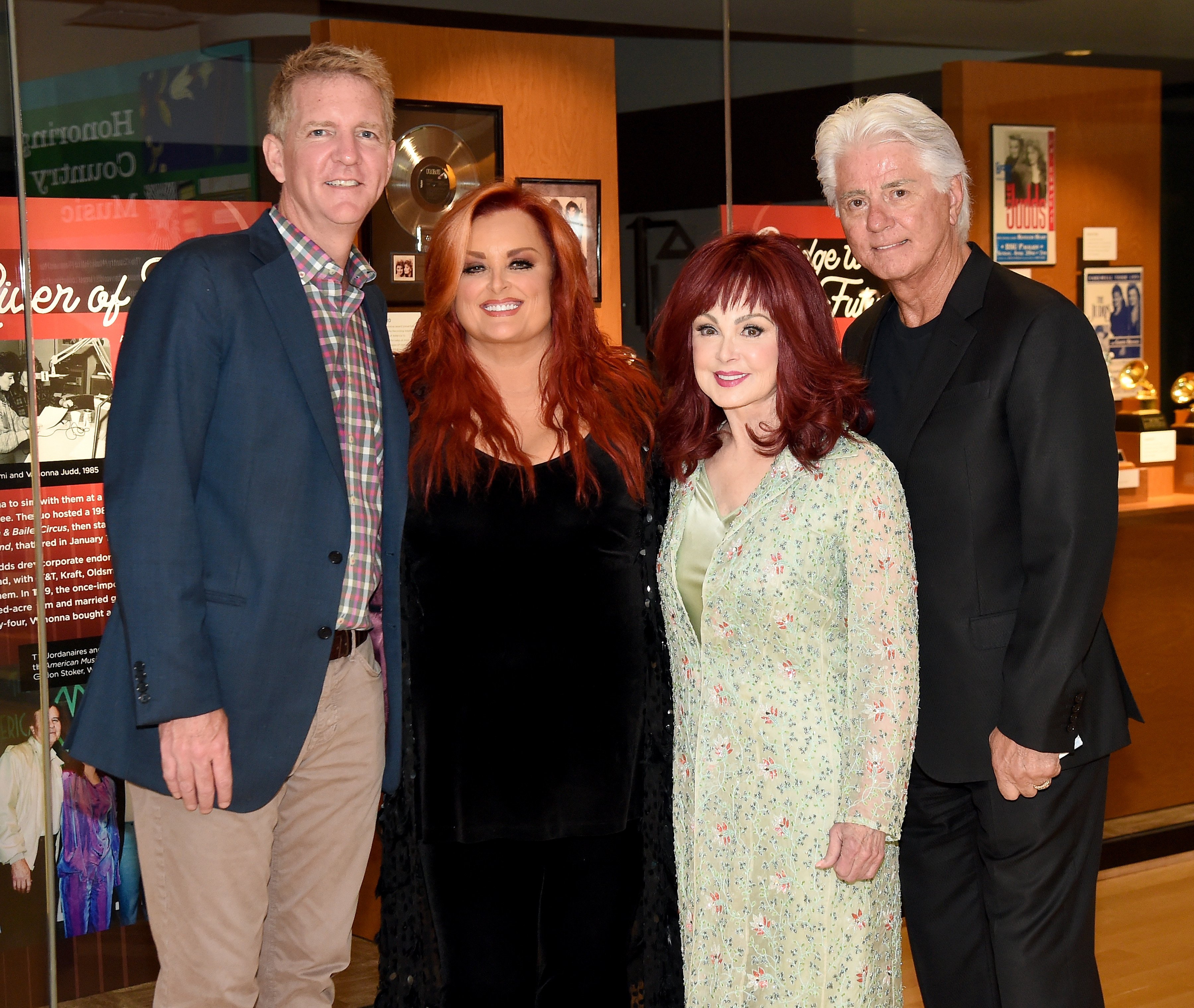 Greg Hill of Hill Entertainment Group, Wynonna Judd, Naomi Judd and Larry Strickland attend the new exhibition debut, The Judds: Dream Chasers, at The Country Music Hall of Fame and Museum on August 8, 2018 in Nashville, Tennessee. | Source: Getty Images
Naomi's widower shared a message he received from a stranger who had met his wife while on a plane.
The writer gushed about how entertaining their conversation was, adding that the singer was generous enough to share details of her husband with him.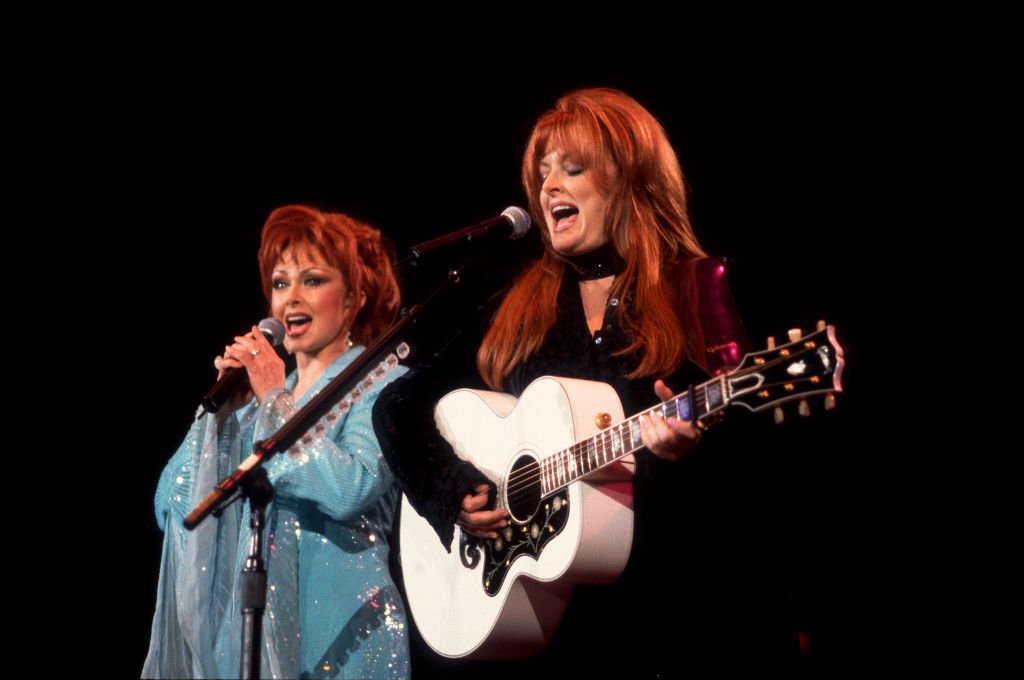 Naomi Judd and her daughter Wynonna, perform onstage at the Rosemont Horizon in Rosemont, Illinois, February 1, 1991 | Source: Getty Images
In the end, the person spoke highly of Strickland, confirming that his wife loved him endlessly. The point of the email was to help the gospel singer bear the pain of his loss. Fortunately, it worked its magic, as Strickland said after reading the email:
"I was really scared to death about her flying all the way along home from Vienna back to Nashville because I knew how fragile she was. This email was such a relief and comfort to me."
HOW NAOMI'S SURVIVING RELATIVES FEEL ABOUT HER DEATH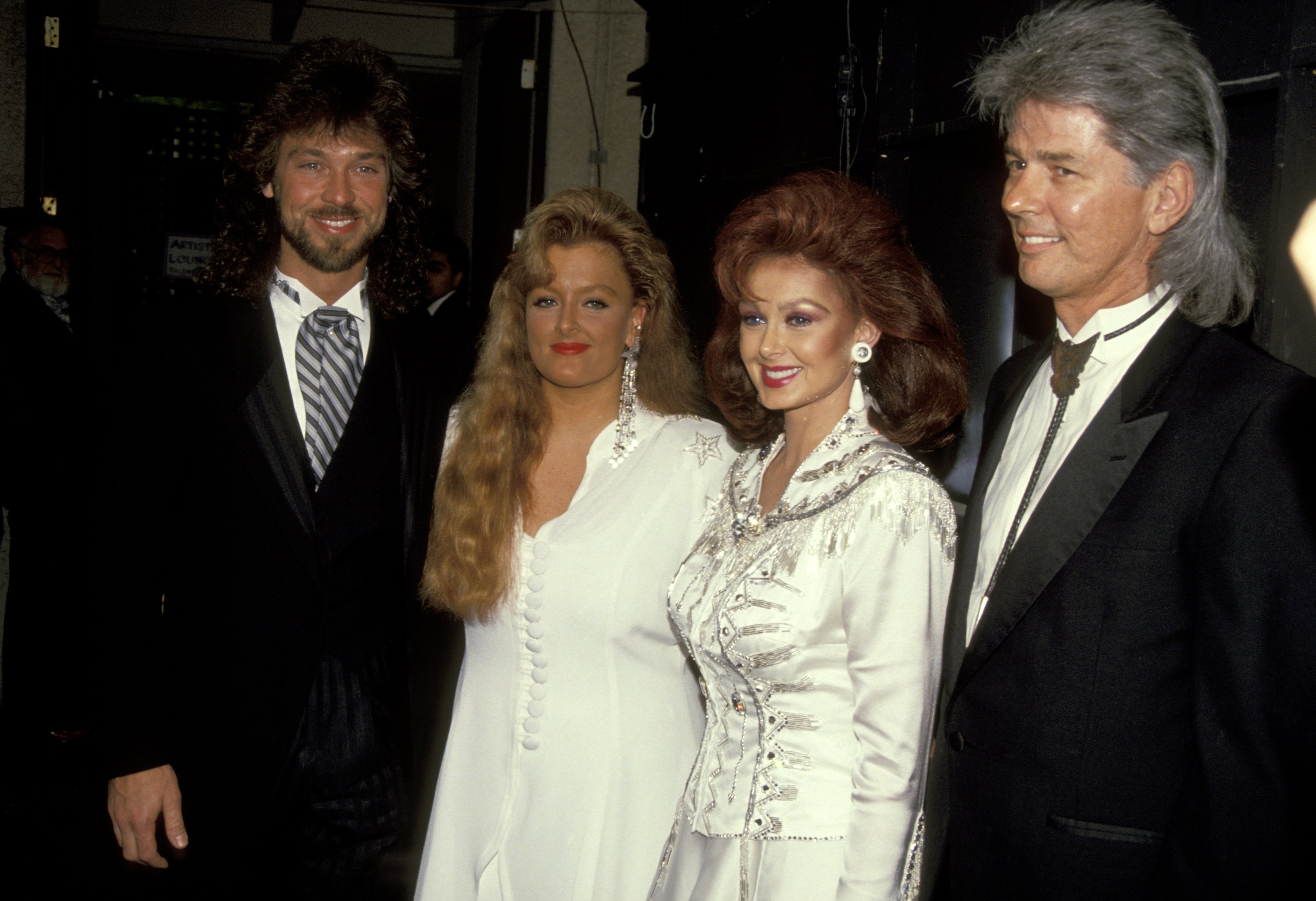 Wynonna Judd and fiance Tony King and Naomi Judd and Husband Larry Strickland. | Source: Getty Images
Naomi was 76 when she decided that taking her life was a better option. Sadly, despite the love and admiration from family and fans, her mental illness had eaten deep and told a convincing lie.
Her daughter, Ashley, explained that the songstress used a firearm in the suicide act and that she was "seen and heard in her anguish."
It was a devastating moment for the singer's youngest child, who teamed up with her older sister, Wynonna, to accept the honors of having their mother inducted into the Country Music Hall of Fame.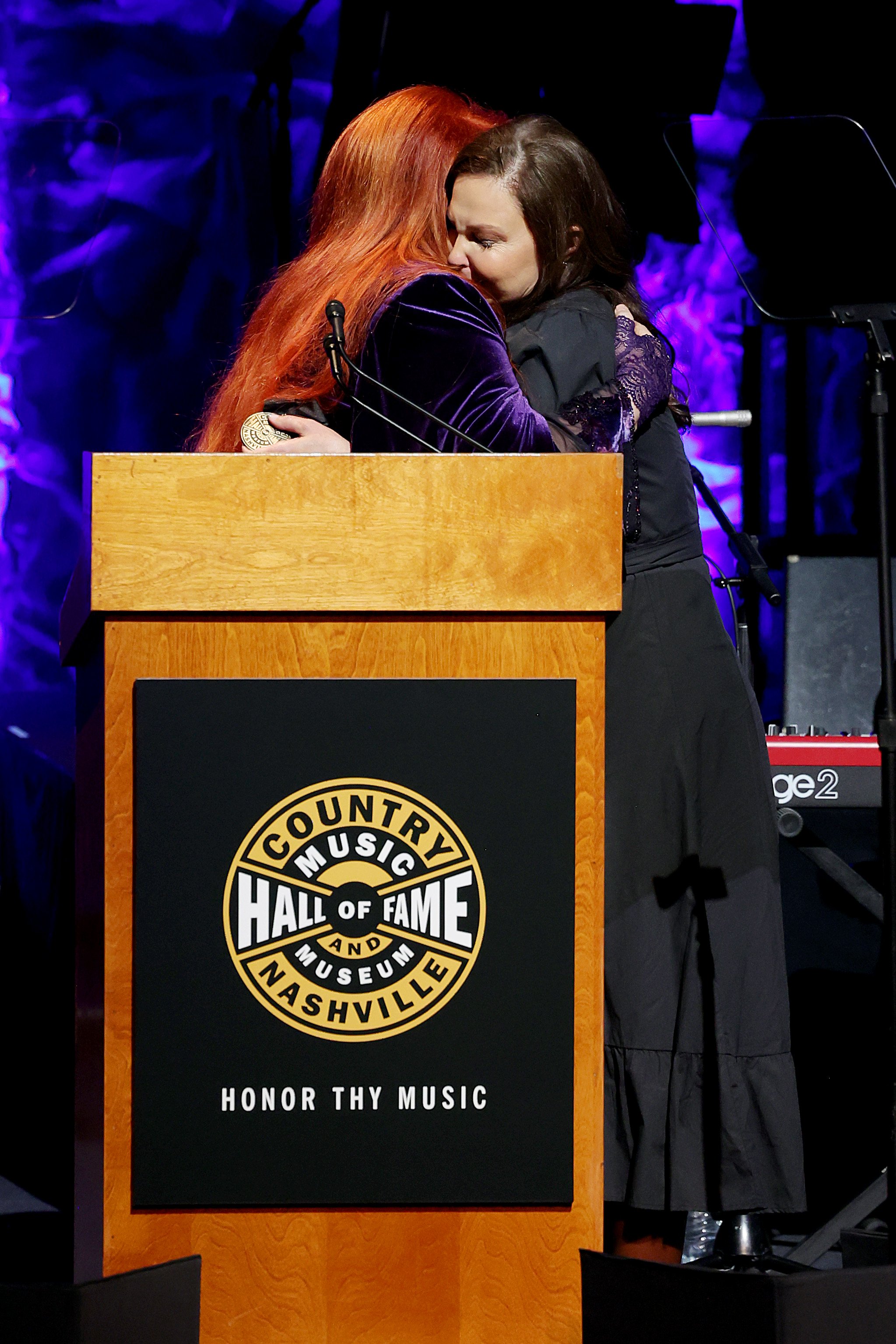 Inductee Wynonna Judd and Ashley Judd speak onstage for the class of 2021 medallion ceremony at Country Music Hall of Fame and Museum on May 01, 2022 in Nashville, Tennessee. | Source: Getty Images
It would have been Wynonna and Naomi on the stage that day, but twenty-four hours before the award, the other half of "The Judds" took her life.
The Country Music Hall of Fame inductee admitted that she felt broken and blessed at the same time, adding that it was sad to have her mother absent at such a milestone.
Apart from planning her death, Naomi also planned her funeral. She had it all spelled out in black and white: a service filled with gospel music and an orderly manner in which family members would speak.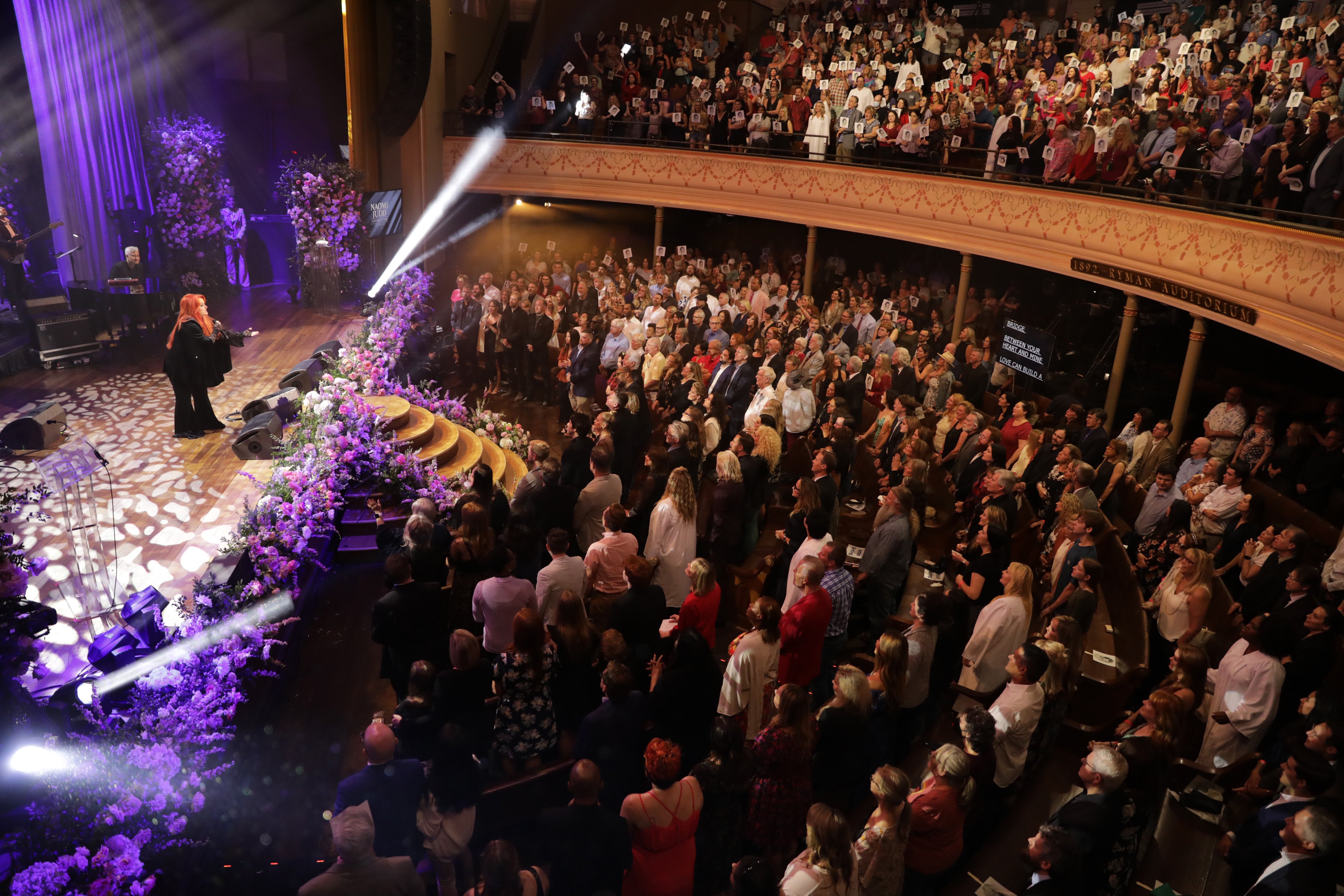 Wynonna Judd performs onstage during CMT and Sandbox Live's "Naomi Judd: A River Of Time Celebration" at Ryman Auditorium on May 15, 2022 in Nashville, Tennessee. | Source: Getty Images
First, her brother, Mark, took to the stage before her daughter. Ashley later revealed that it was all Naomi's idea. She said:
"This is very much the service she wanted. She had it all written down, and so she took the guesswork out of it for us, which we thank her for."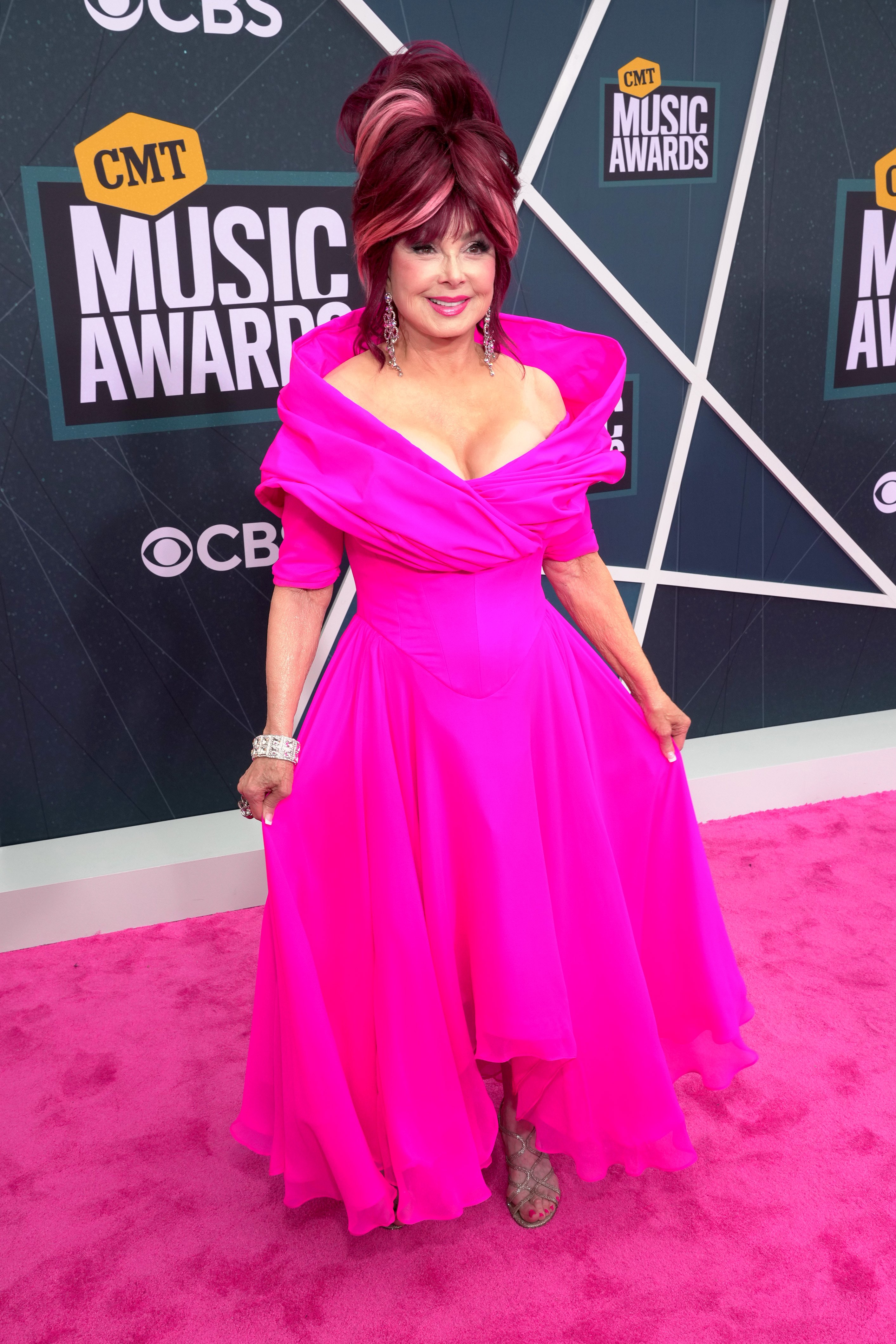 Naomi Judd of The Judds attends the 2022 CMT Music Awards at Nashville Municipal Auditorium on April 11, 2022 in Nashville, Tennessee. | Source: Getty Images
Apart from family, friends and fans have celebrated the icon by honoring her life's work and memories. This was done two weeks after her death at the "Naomi Judd: A River of Time Celebration."
The memorial service was held at Nashville's Ryman Auditorium. Many celebrities, including Morgan Freeman, Reese Witherspoon, Oprah Winfrey, Salma Hayek, Bette Midler, Brad Paisley, and Carly Pearce, showed up.
The National Suicide Prevention Lifeline is 1-800-273-8255. Other international suicide helplines can be found at befrienders.org.
Please fill in your e-mail so we can share with you our top stories!
The information in this article is not intended or implied to be a substitute for professional medical advice, diagnosis or treatment. All content, including text, and images contained on news.AmoMama.com, or available through news.AmoMama.com is for general information purposes only. news.AmoMama.com does not take responsibility for any action taken as a result of reading this article. Before undertaking any course of treatment please consult with your healthcare provider.