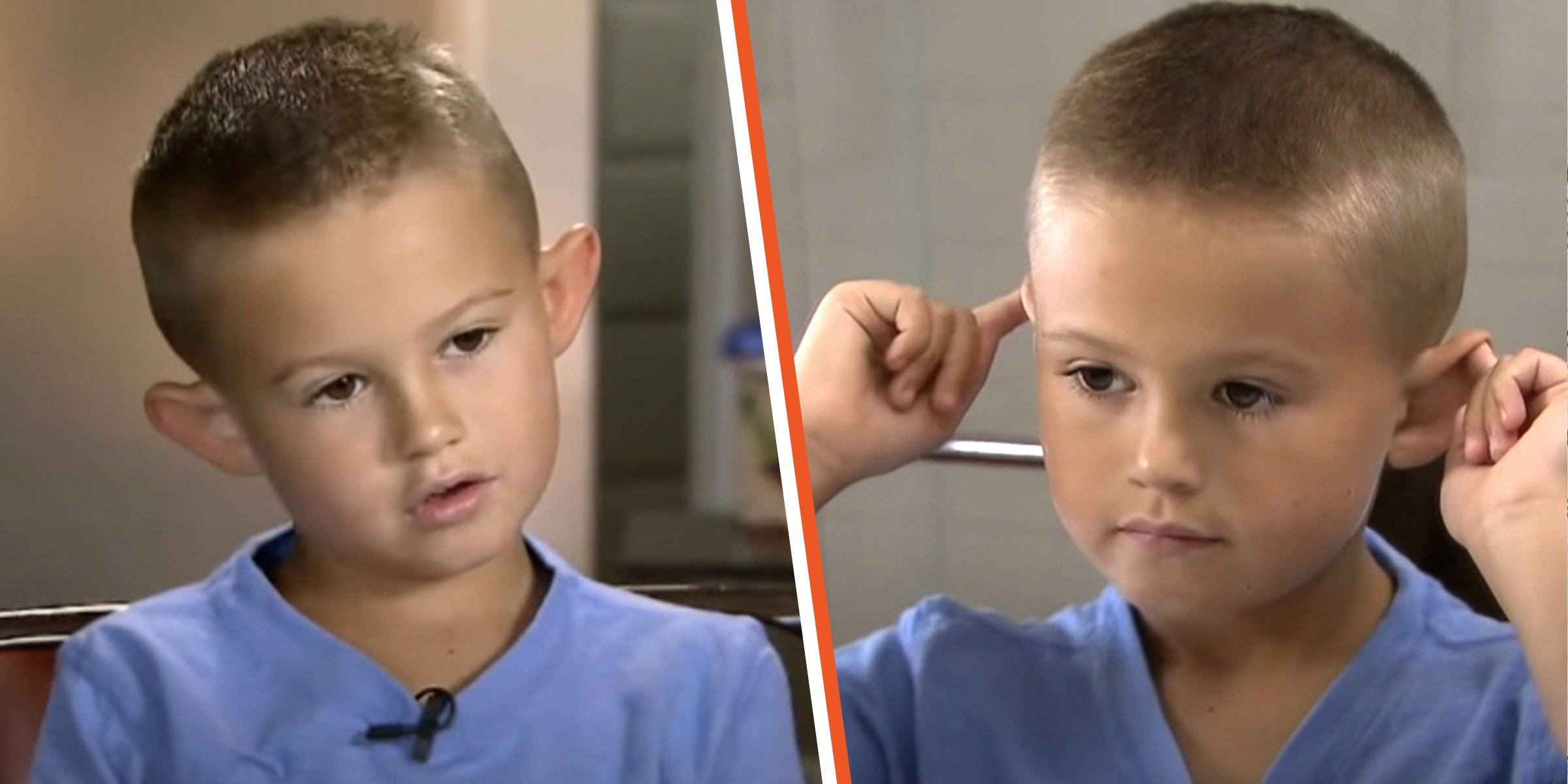 youtube.com/Inside Edition
Boy Is Bullied for 'Elf Ears,' Finally Smiles after Seeing Them Fixed in Just 2 Hours
To date, bullying remains one of society's most significant problems, and it has driven many people, including kids, to make terrible decisions. However, the little boy in this story was fortunate enough to smile again after being mocked several times.
Bullying is perhaps one of the most destructive experiences anyone can encounter. While some people are confronted with bullying during their youth or at an older age, others, unfortunately, experience it in their early years.
No matter where a person comes in contact with bullying, it is always soul-crushing. Sadly, it is never a pleasant experience and can destroy one's self-esteem, especially for children. Indeed, bullying can have a devastating effect on someone's life, but it does not always have to be that way.
Sometimes, people build up the courage to stand up to bullies, while others fix the aspects of their lives that make them a constant subject of ridicule. The latter was the case for a six-year-old who had been bullied for a long time and was on the verge of losing his self-esteem.
However, with encouraging words from his parents and help from a doctor, the little boy regained his confidence, having nothing but a big smile on his face. Here are the details of the little boy's experience, especially his journey to smiling again.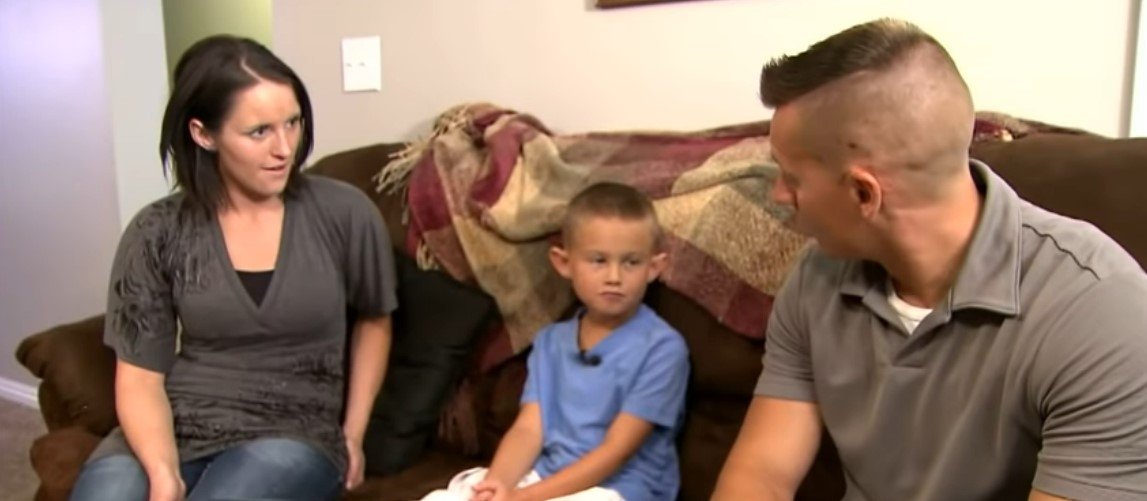 Picture of six-year-old Gage Berger with his parents, Timothy and Kallie. | Source: Youtube/Inside Edition
INSIDE GAGE'S BULLYING EXPERIENCE
For some time, first-grader Gage Berger was mocked and bullied by kids at his school because of his ears. The little boy, who had protruding ears, told Inside Edition that his schoolmates often said mean things to him. In Gage's words:
"They say I look like an elf and that I have weird ears."
As time progressed, the bullying got to Gage, and his character changed. The little boy's father, Timothy Berger, explained that his son, who used to be full of life and outgoing, started keeping to himself and dreaded going to school.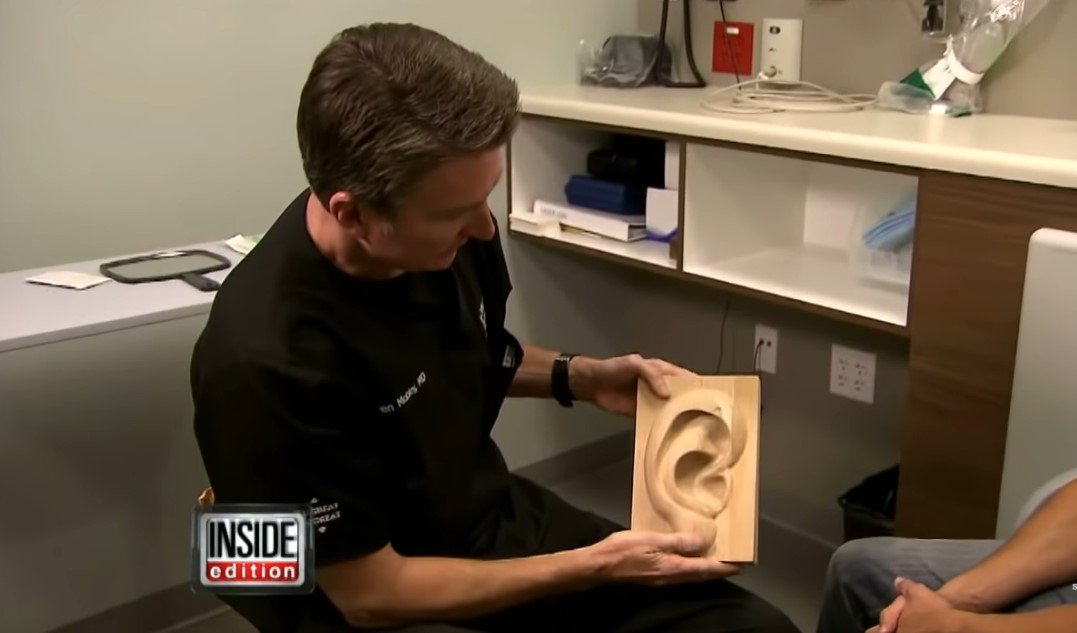 Picture of six-year-old Gage Berger with plastic surgeon, Dr. Steven Mobley. | Source: Youtube/Inside Edition
"I'd catch him looking in the mirror and trying to pin them back, and when he got nervous or upset or when he was in trouble, he'd physically grab his ears," Timothy confessed. He continued:
"It was subconscious. It was him thinking that his ears were the problem, and that was why he must be in trouble."
Sadly, Timothy and his wife Kallie tried to encourage their son, but the little boy wanted only one thing — not to be made fun of. Scared that the mean words would have a long-lasting effect on Gage, the couple decided to try other options.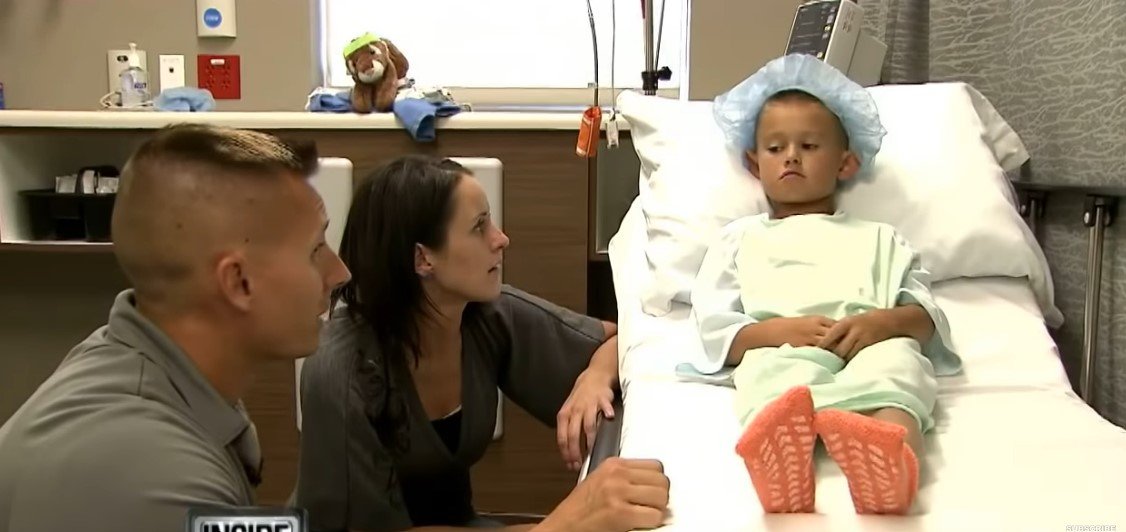 Picture of six-year-old Gage Berger with his parents, Timothy and Kallie before his surgery. | Source: Youtube/Inside Edition
GAGE'S PARENTS SEARCH FOR AN ALTERNATIVE
They started researching cosmetic ear pinning surgery, and after ensuring that it would end their son's misery, Timothy and Kallie told Gage about it.
"We explained to him the surgery, which is only a short two-hour procedure. He was so excited for it. Obviously, if he wasn't on board with it, we wouldn't have touched him," Timothy said.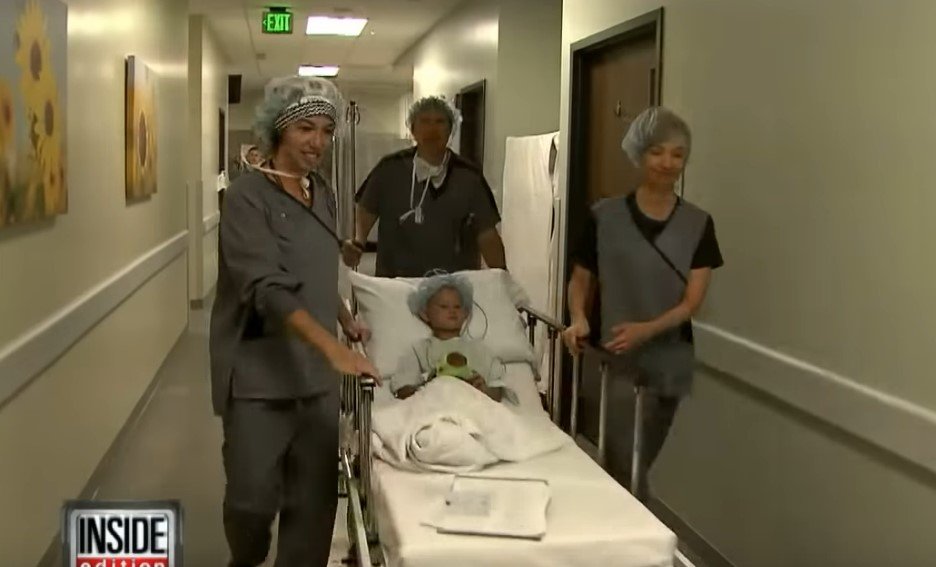 Picture of six-year-old Gage Berger on his way to surgery. | Source: Youtube/Inside Edition
So, Gage's parents contacted Dr. Steven Mobley, a plastic surgeon who runs the Mobley Foundation for Charitable Surgery in Salt Lake City, Utah. Then, they booked the little boy for a consultation.
In an interview with ABC News, Mobley made it known that it was not the first time he had had a patient as young as Gage.
While some objected to getting surgery, as their strengths were enough to withstand the bullying, others had their spirits crushed and could only rely on the surgery to make them feel better.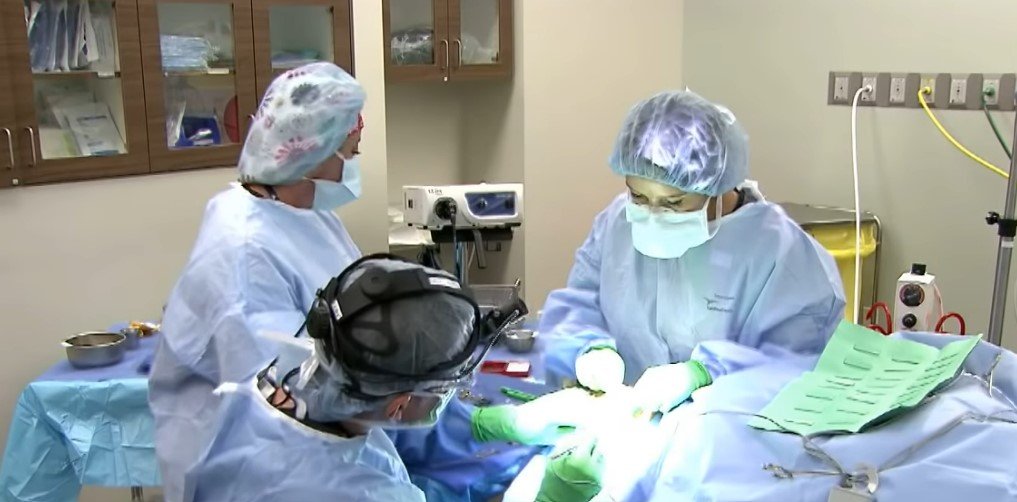 Picture of doctors during the surgery. | Source: Youtube/Inside Edition
DETAILS OF THE SURGICAL PROCESS
After the consultation, Mobley booked Gage for the life-changing procedure, scheduled to take place in September 2015. A video, which Inside Edition shared on their YouTube Channel, captured a part of the process, including Gage's reaction after the surgery.
Timothy and Kallie were beside their son's bed in the clip, giving the little boy some encouragement and reassurance before he was rolled into the theatre. After two hours, Mobley and his medical practitioners successfully finished the surgery.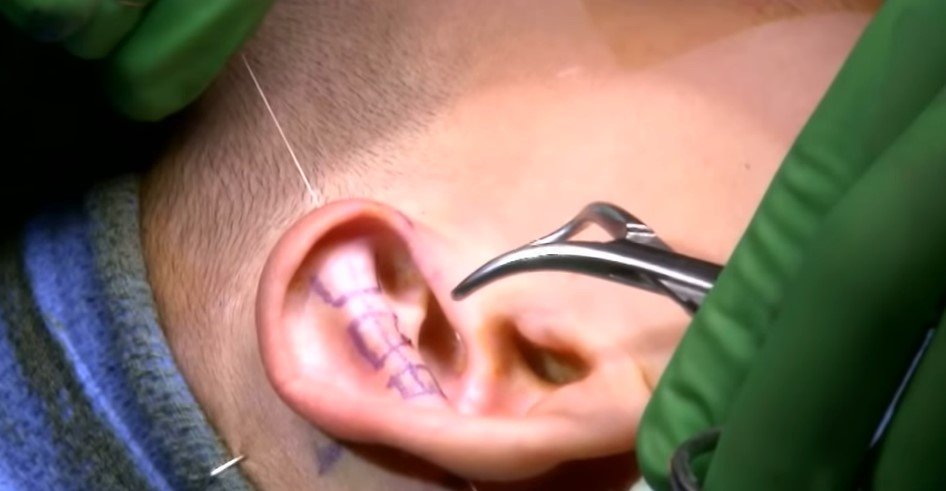 Picture of Gage's ear during the surgery. | Source: Youtube/Inside Edition
WHAT HAPPENED AFTER THE SURGERY?
Two days later, Gage was finally ready to see his new ears. Mobley carefully cut off the bandages from the little boy's ears and gave him a mirror.
Upon seeing his new ears, Gage's expression showed how happy he was with the transformation. With a big smile from ear to ear, the little boy gushed: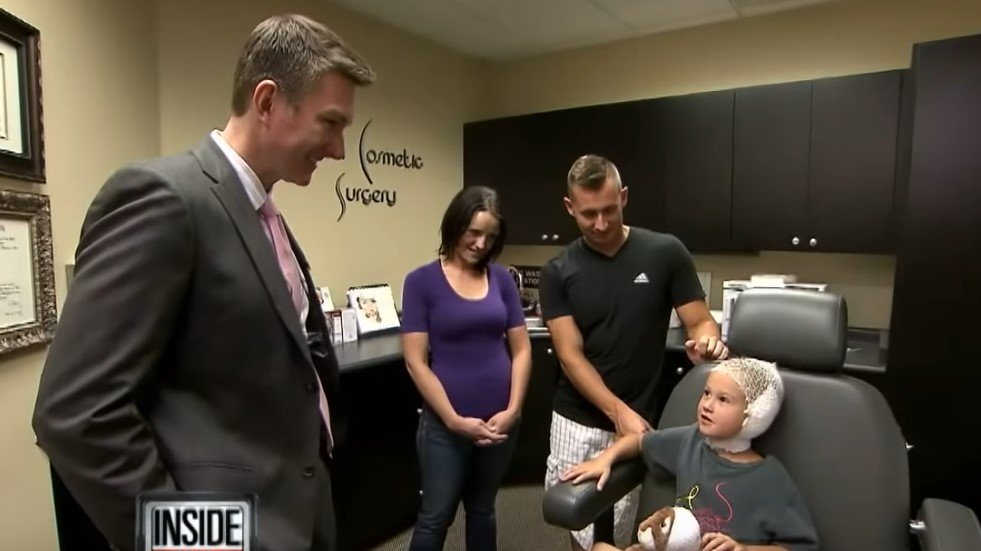 Picture of six-year-old Gage Berger with his parents and surgeon after the surgery. | Source: Youtube/Inside Edition
Then, Timothy made Gage feel even better by noting that his new ears looked "really good." Following the surgery, Timothy revealed that Gage had returned to his old playful self and could not be happier. According to the proud dad:
"He's so much more confident. If anyone's picking on him for any other reason now, he'll go up to them. When he comes home from school, and I ask him how his day went, he isn't telling me no one wants to play with him anymore."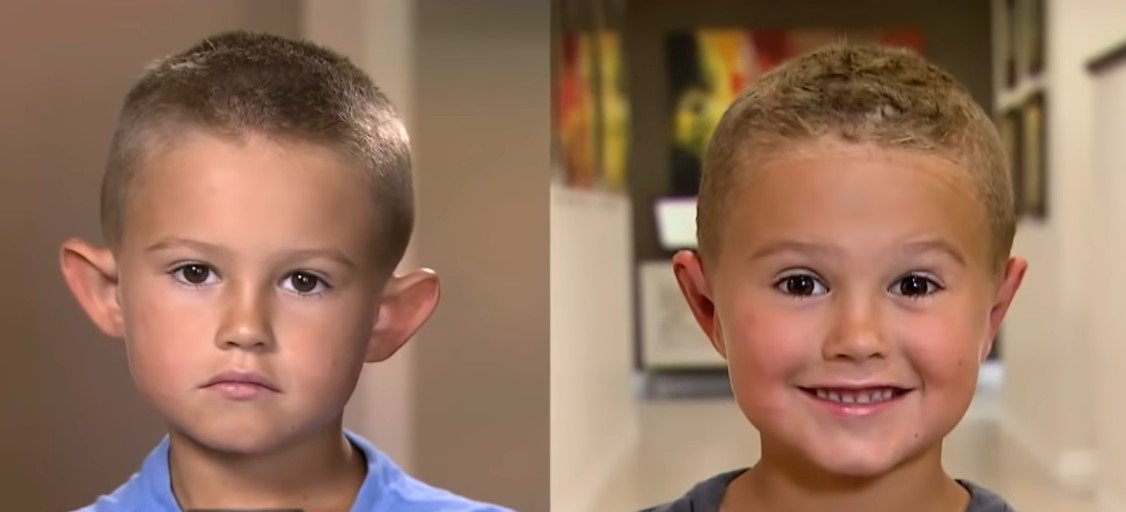 Picture of six-year-old Gage Berger before and after the surgery. | Source: Youtube/Inside Edition
"He'll say things like, 'Everything was good! We played outside, and I made like 10 new friends,'" Timothy added. Indeed, it is joyful that Gage will continue living happily without being called "elf ears" again.
At the same time, the importance of teaching bullies about the negative impacts of bullying cannot be overemphasized. Some children might not be as fortunate as Gage to go under the knife, hence the need to educate people, especially children, on the importance of spreading love.
Please fill in your e-mail so we can share with you our top stories!
The information in this article is not intended or implied to be a substitute for professional medical advice, diagnosis or treatment. All content, including text, and images contained on news.AmoMama.com, or available through news.AmoMama.com is for general information purposes only. news.AmoMama.com does not take responsibility for any action taken as a result of reading this article. Before undertaking any course of treatment please consult with your healthcare provider.