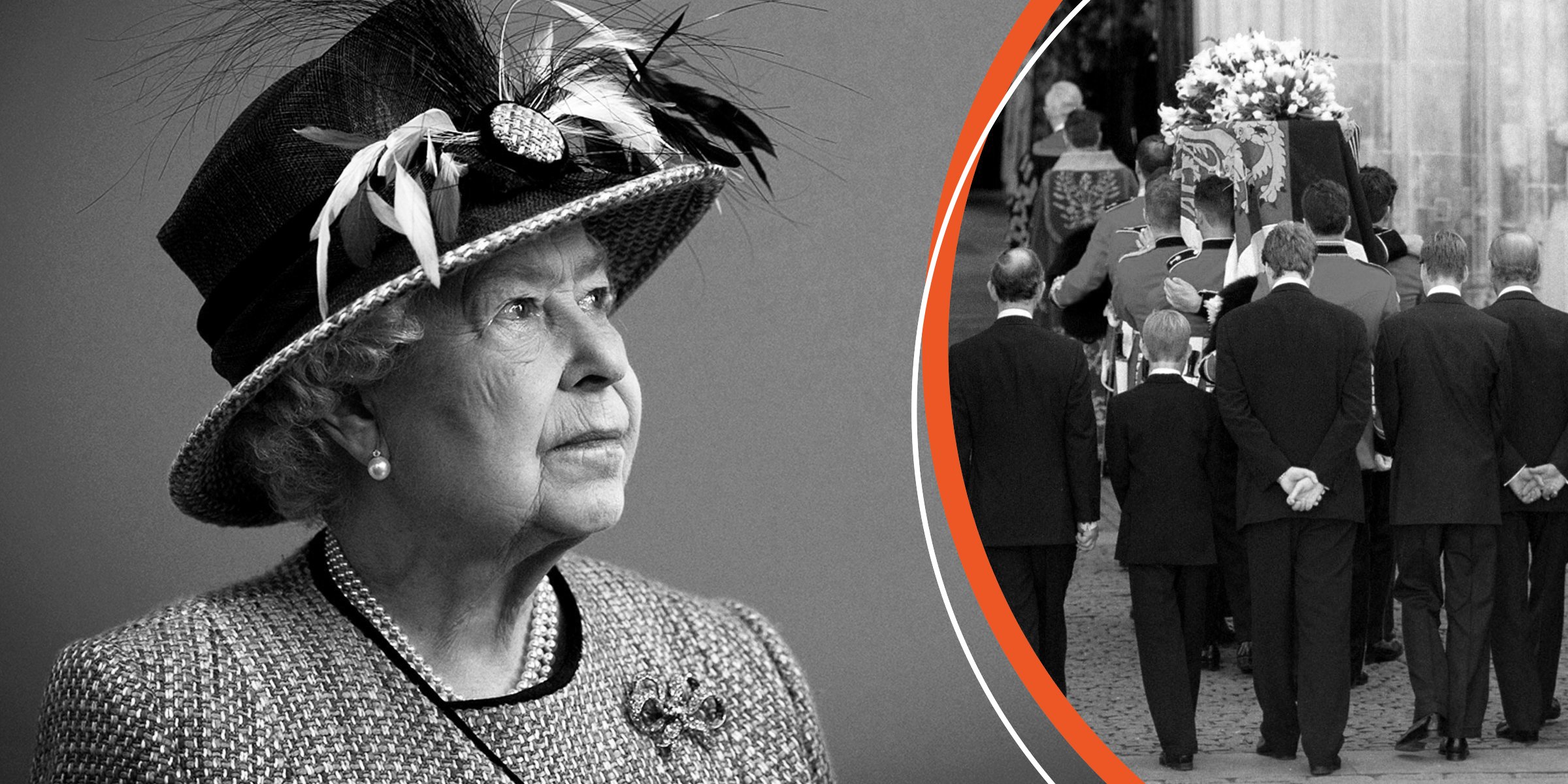 The Queen | Princess Diana's Funeral procession | Getty Images
Queen's Death: Unpacking 'Operation London Bridge' & the Plans Royals Must Initiate
The royal monarch has made British history, having served Britons for seventy years on the throne. But with her long reign comes health concerns, and as such, there are already measures in place for when she dies.
Queen Elizabeth II is the longest-reigning monarch in British history, but her health has repeatedly made headlines over the past few months.
In May 2022, E! News reported that the royal matriarch would be absent from the State Opening of Parliament, making it the first time in over 50 years that she would miss a historical event.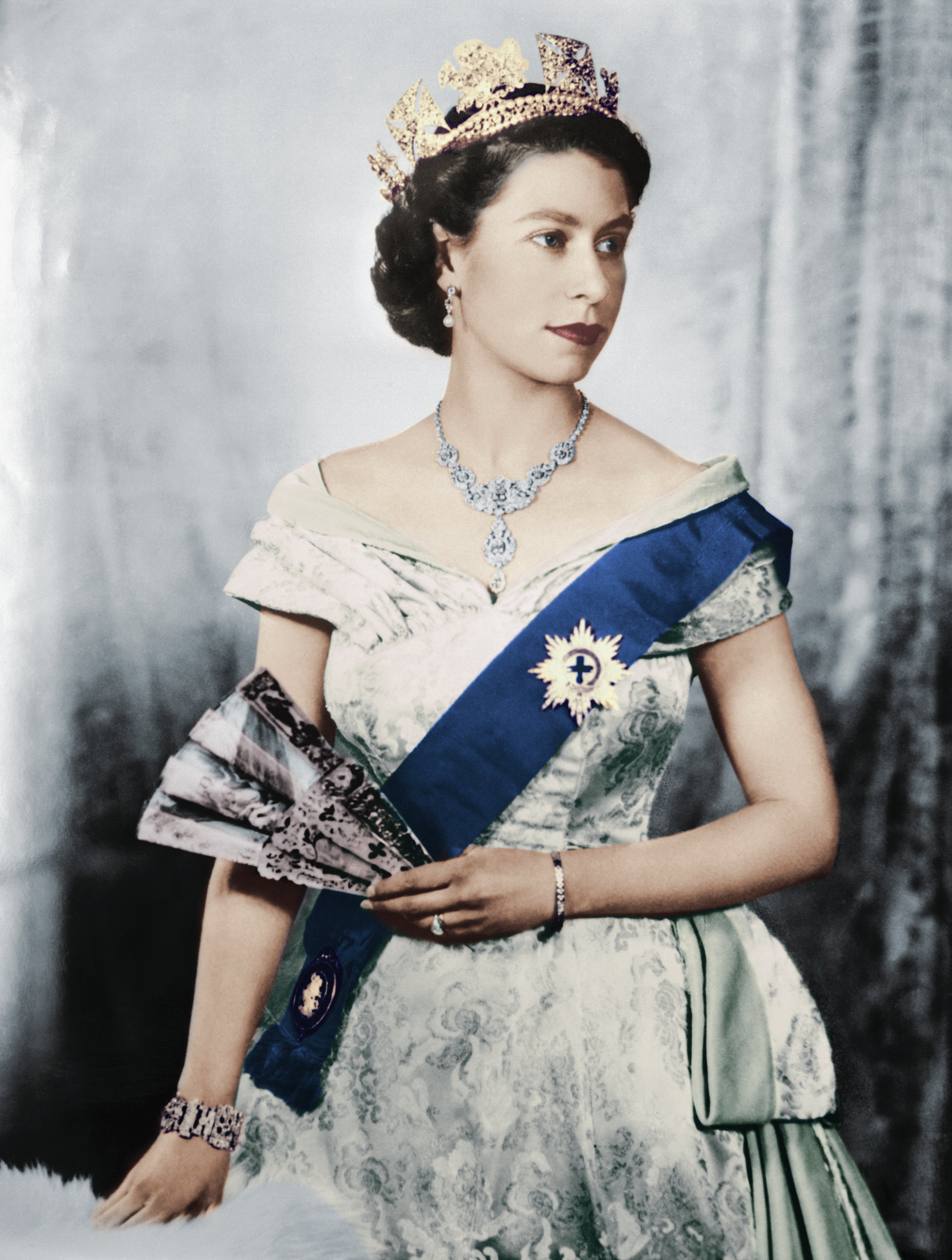 A portrait of young Queen Elizabeth II of England donning regal attire paired with a tiara. / Source: Getty Images
A day ahead of the occasion, Buckingham Palace announced in a statement that Her Majesty would be missing at the event, revealing that she continues to endure mobility issues.
The statement further explained that at the monarch's request, her son, Prince Charles, would read her speech on her behalf with her grandson, Prince William, in attendance.
The Queen missed another important event in April 2022 when she was not present for the Easter Sunday Mattins Service with the Royal Family.
The event took place at St. George's Chapel at Windsor Castle, and a senior Buckingham Palace source revealed the 96-year-old would not be expected to attend. The palace did not provide a reason for her absence at the time.
Another absence from the monarch occurred in November 2021 when she missed the Remembrance Sunday Service at the London war memorial after sustaining an injury. Her absence was amid growing concerns over her health following hospitalization.
Just hours before the service, Buckingham Palace released a statement revealing the Queen sprained her back and decided she would not attend the ceremony at Cenotaph.
More Concerns about the Queens Health
For the past year, the Queen has endured an array of medical issues, ranging from mobility troubles to Covid. The Sovereign looked frail yet bright during her Tuesday, September 6, audience with Prime Minister Liz Truss, then later with outgoing prime minister Boris Johnson.
On Wednesday, September 7, the Queen postponed a Privy Council meeting as a last-minute decision after her doctors told her to rest and on the morning of Thursday, September 8, Buckingham Palace revealed that doctors had come to Balmoral after the Queen's health became more alarming.
Shortly after, at 12: 40 p.m, BBC interrupted its usual programming for Buckingham Palace to inform viewers about the concern for her majesty's health.
Following the news, the Sussexes, who are still on their UK tour, and were due to attend the WellChild Awards in London, had to cancel their plans and make a trip to Scotland to be with the Queen.
Daily Mail reports that other royal family members, including Prince Andrew, Prince Charles, Camilla, William, and the Earl and Countess of Wessex also headed to Balmoral to be by the Queen's bedside. However, the Duchess of Cambridge remained behind as her children were on their first day at their new school.
Early in the afternoon, the new prime minister Miss Truss received a note about the Queen's health even as Commons Speaker Sir Lindsay Hoyle sent his best wishes to the Queen, declaring that she and the royal family were in their thoughts and prayers.
More good wishes kept trickling in, with the Archbishop of Canterbury, Justin Welby, saying that the "prayer of the nation" was with the Queen. He tweeted, as DailyMail reports:
"May God's presence strengthen and comfort Her Majesty, her family, and those caring for her at Balmoral."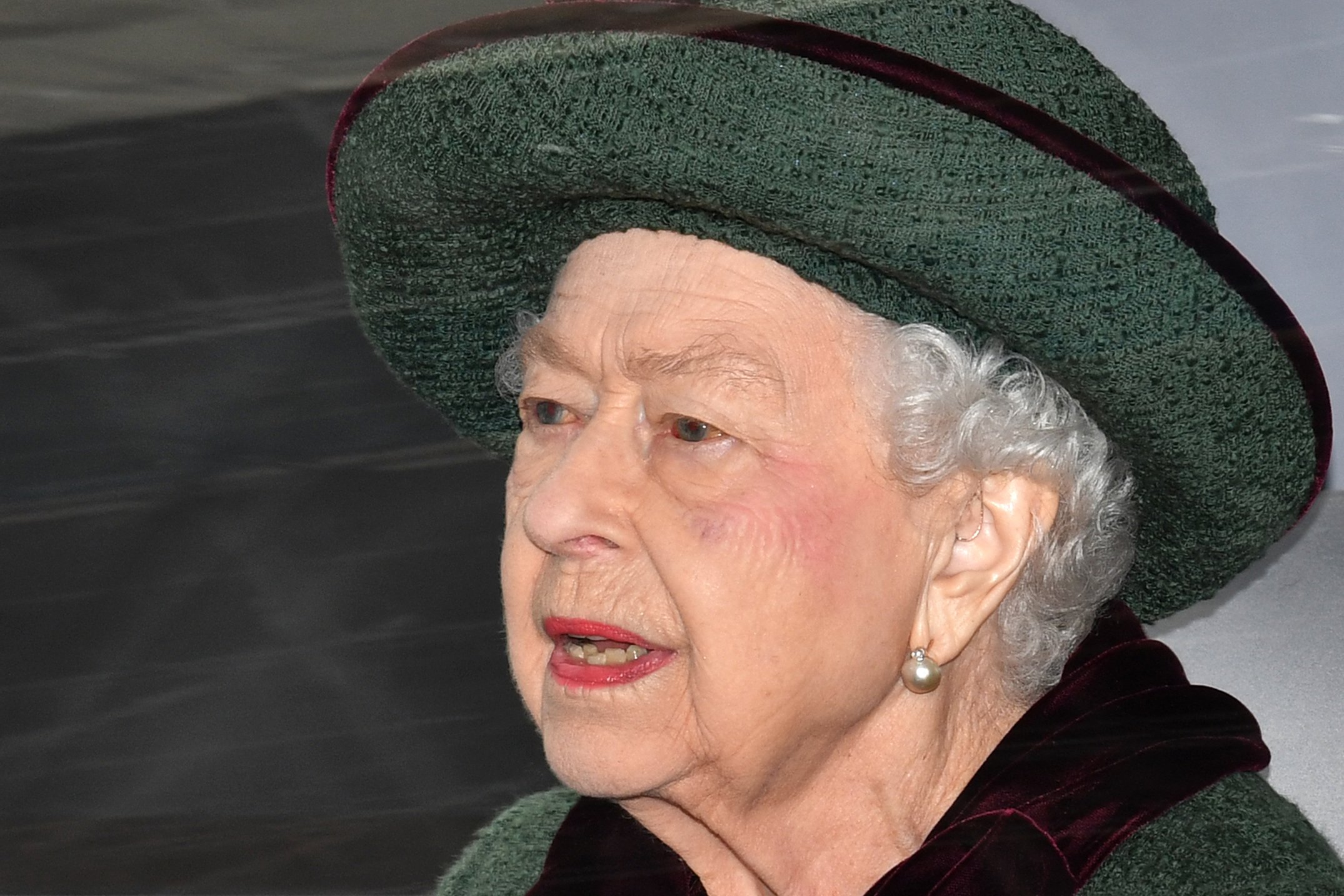 Queen Elizabeth II leaves after attending a Service of Thanksgiving for Britain's Prince Philip, Duke of Edinburgh, at Westminster Abbey in central London on March 29, 2022. | Source: Getty Images
Labour leader Sir Keir Starmer expressed his concerns after the news from Buckingham Palace and hoped for the Queen's recovery, with many others, including Wales' First Minister Mark Drakeford and Scotland's First Minister Nicola Sturgeon echoing the sentiments.
Plans for after the Queen's Death
In September 2021, Politico revealed the United Kingdom's government plan for what will occur in the days following the sovereign's death – codenamed "Operation London Bridge."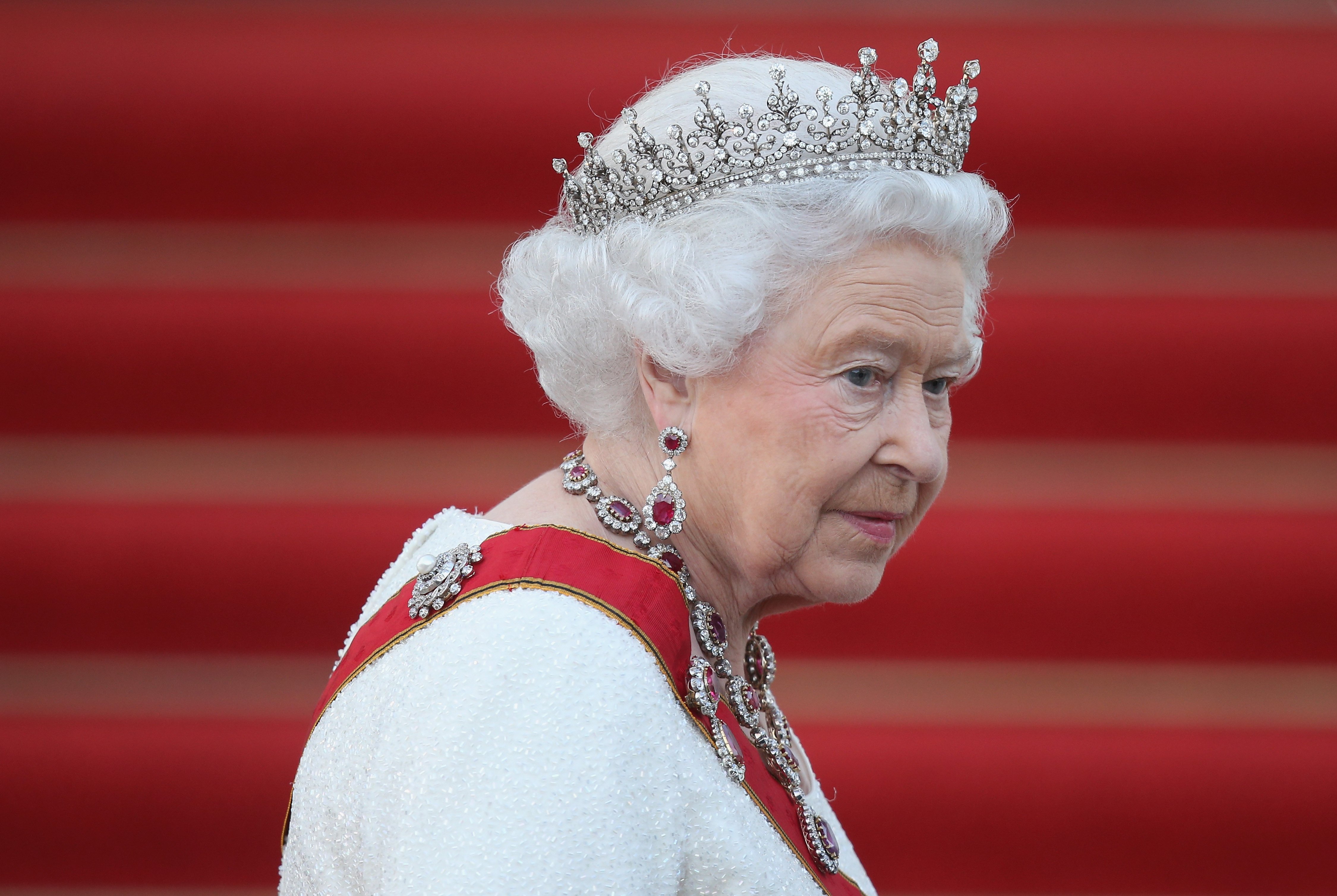 Queen Elizabeth II arriving for the state banquet in her honour at Schloss Bellevue palace on her fourth-day visit to Germany on June 24, 2015 in Berlin, Germany. / Source: Getty Images
Initial plans for the operation date back to the 1960s before being refined in detail. Since then, meetings have been held more than once a year for the various roleplayers involved, including several government departments, law enforcement, and broadcasters in Church House and Whitehall.
Leatherworks will manufacture more muffles for church bells that will be rung for the Queen's death. Central Council Church Bell Ringers spokeswoman Vicki Chapman shared they spent time communicating with the Royal Household about the day the matriarch passes on, hoping it would not be anytime soon.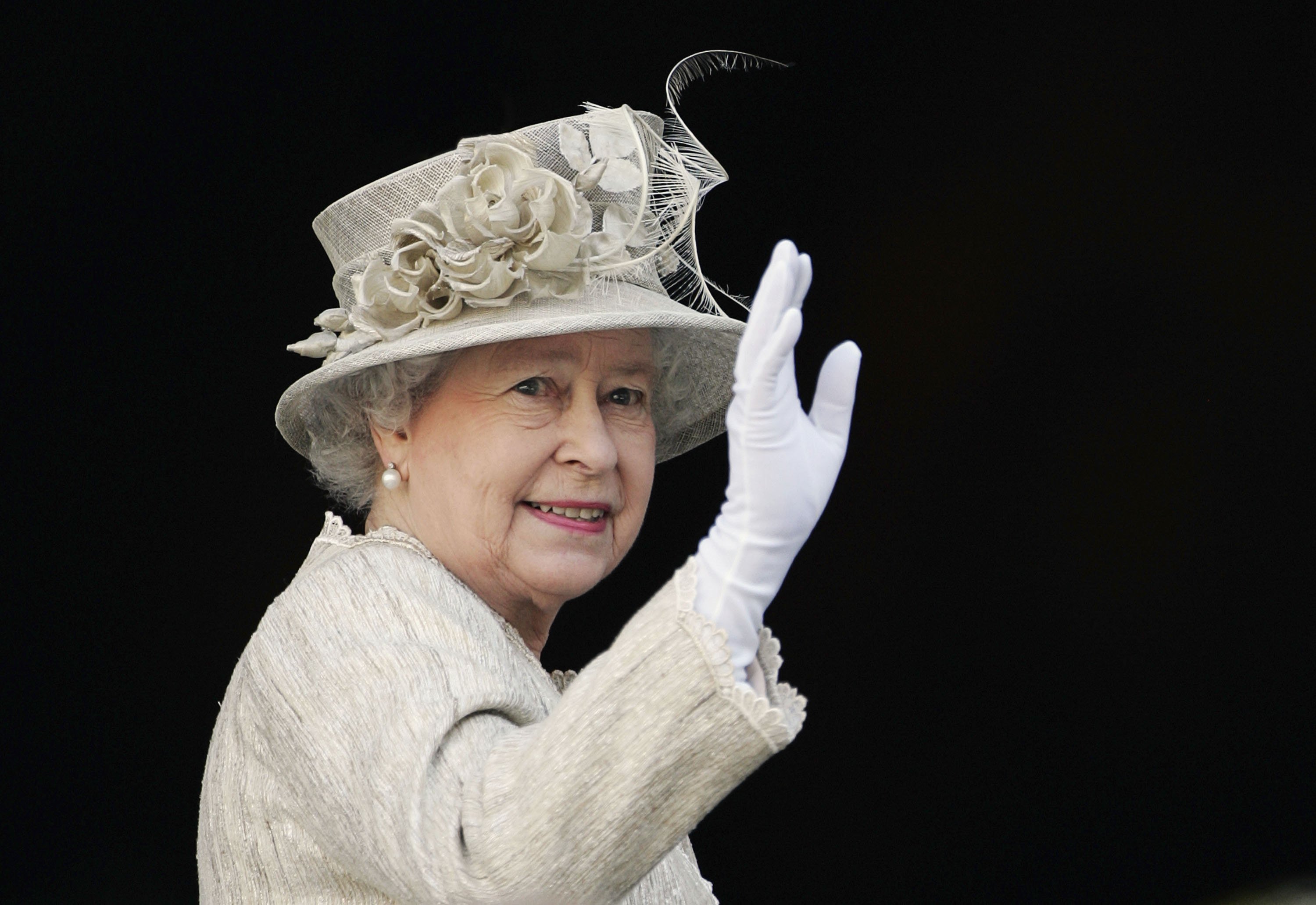 Queen Elizabeth II arriving at St Paul's Cathedral for a service of Thanksgiving held in honour of her 80th birthday on June 15, 2006 in London, England. / Source: Getty Images
Moreover, one of the participants revealed to the Guardian that all eyes would be on them to orchestrate the said ceremony and assured the public that everyone will be looking up to them to do everything faultlessly and they will.
Plans are reportedly updated, and old ones get destroyed. New details for "Operation London Bridge" were revealed for churches across Britain. The said plans for the Queen were revised in April 2022, when she recovered from COVID-19, and are also updated throughout the year.
How People Will Be Notified of Her Passing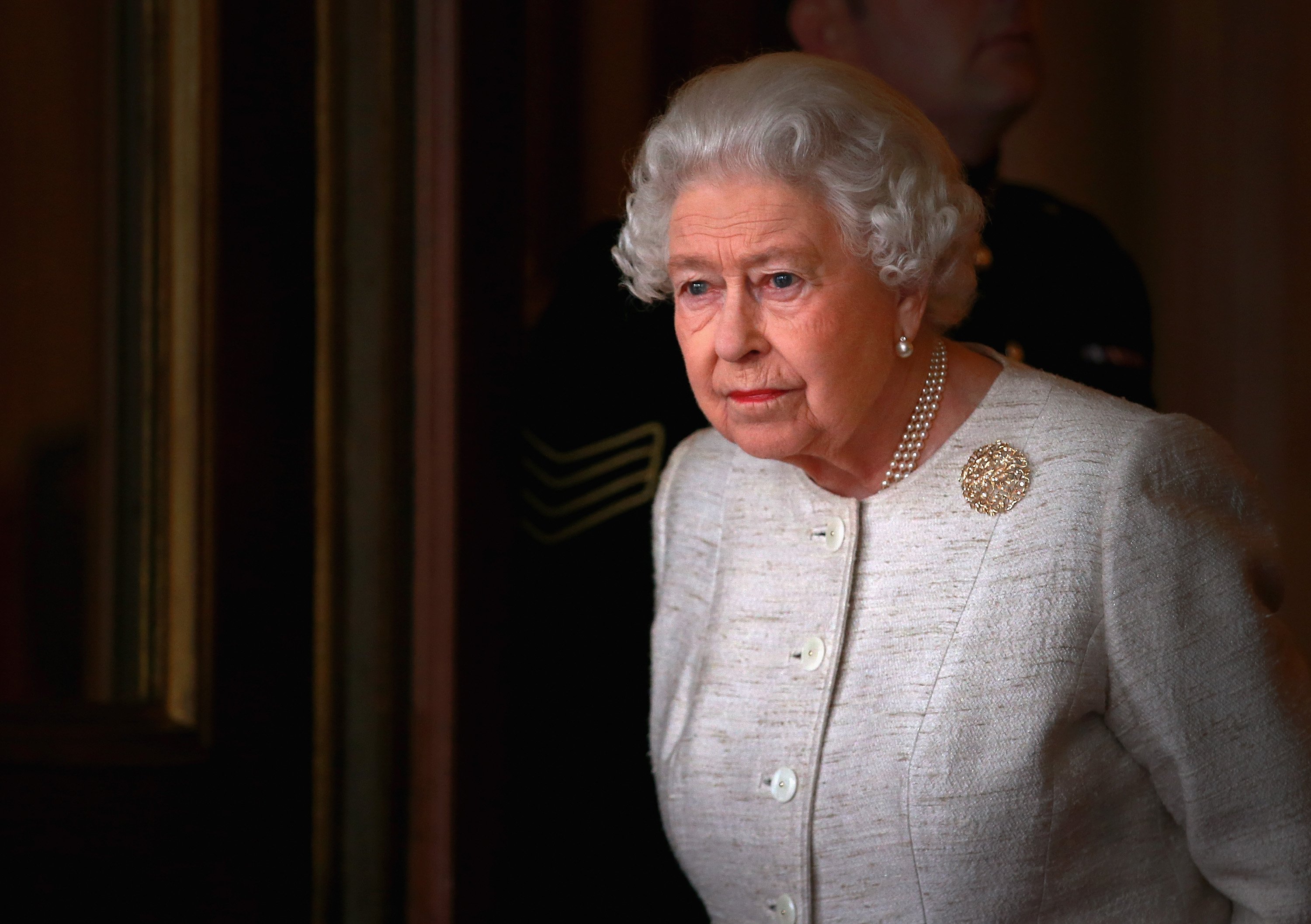 Queen Elizabeth II at Buckingham Palace on November 4, 2015 in London, England. / Source: Getty Images
The Firm informed the BBC about royal deaths first for years, but things have changed. When the head of state passes on, the pronouncement will go out as a newsflash to the Associated Press and the worldwide media houses simultaneously.
Camilla, Duchess of Cornwall Kate Middleton, and Sophie Countess of Wessex during the annual Remembrance Sunday service at The Cenotaph on November 14, 2021 in London, England. / Source: Getty Images
All media houses will compete to get films on air and obituaries online. Sky News and ITN will ring royal experts who will comment on the event of the Queen's death and have already signed contracts to speak exclusively on those channels.
Britain's commercial radio stations have a network of blue "obit lights," which are supposed to light up in the event of a national catastrophe. When the news of the Queen's passing breaks, the lights will begin to flash to alert radio DJs to switch to the news. Suggestions state the prime minister will be informed via a phone call from a civil servant alerting them that "London Bridge is down."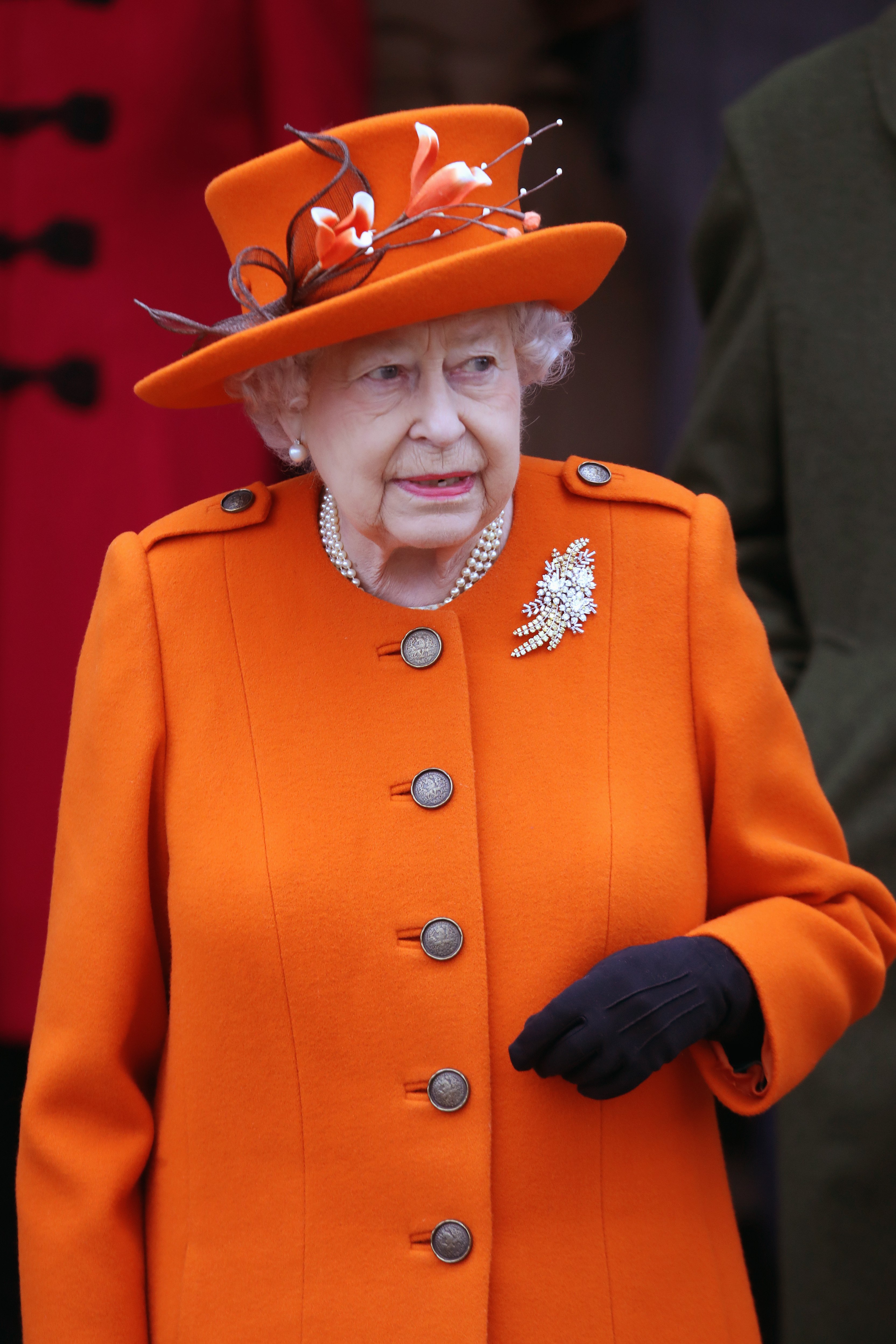 Queen Elizabeth II during Christmas Day Church service at Church of St Mary Magdalene on December 25, 2017 in King's Lynn, England. / Source: Getty Images
There are terms for the mourning period. D-Day means the date of death, D+1 is Proclamation Day, D+2 is also Proclamation Day, D? is Middle Sunday for Civic Services, D4-6 to D9 is Lying in State, and D10 is the Date of the Funeral.
How People Will Be Notified of Her Passing
Queen Elizabeth II and Prince Charles during the State Opening of Parliament at the Palace of Westminster on October 14, 2019 in London, England. / Source: Getty Images
An official revealed that in the hours following the monarch's passing, there will be intricate details that only her son, the Prince of Wales, can decide.
Her Majesty's eyes will be closed, and Prince Charles will be king and his siblings will kiss his hands. In addition, the official to handle the news will be the royal matriarch's private secretary, Sir Christopher Geidt, a former diplomat given a knighthood in 2014.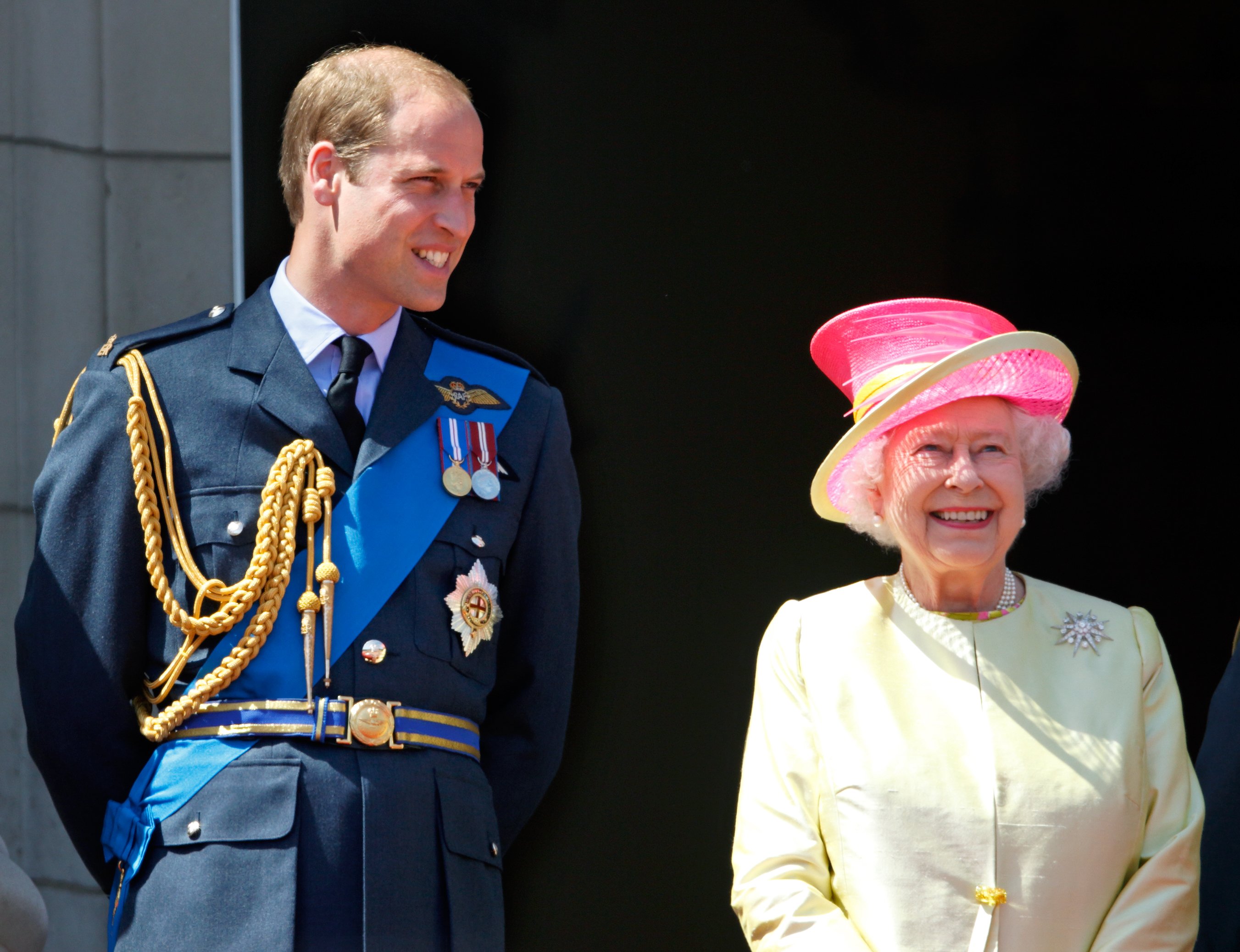 Prince William and Queen Elizabeth II watching a flypast of Spitfire & Hurricane aircraft from the balcony of Buckingham Palace on July 10, 2015 in London, England. / Source: Getty Images
Prince Charles will be proclaimed the new sovereign after her death when the Accession Council meets at St. James' Palace. As for what he would call himself, the heir to the throne may not call himself King Charles III, per The Mirror.
It is because of the "negative connotations" brought on the name regarding his two predecessors, King Charles I and King Charles II. With that said, the Prince of Wales may choose a different name entirely.
His full name is Charles Philip Arthur George, and the royal could opt to use any of the four names that he has as his regal name.
Codenames Other Royal Members Have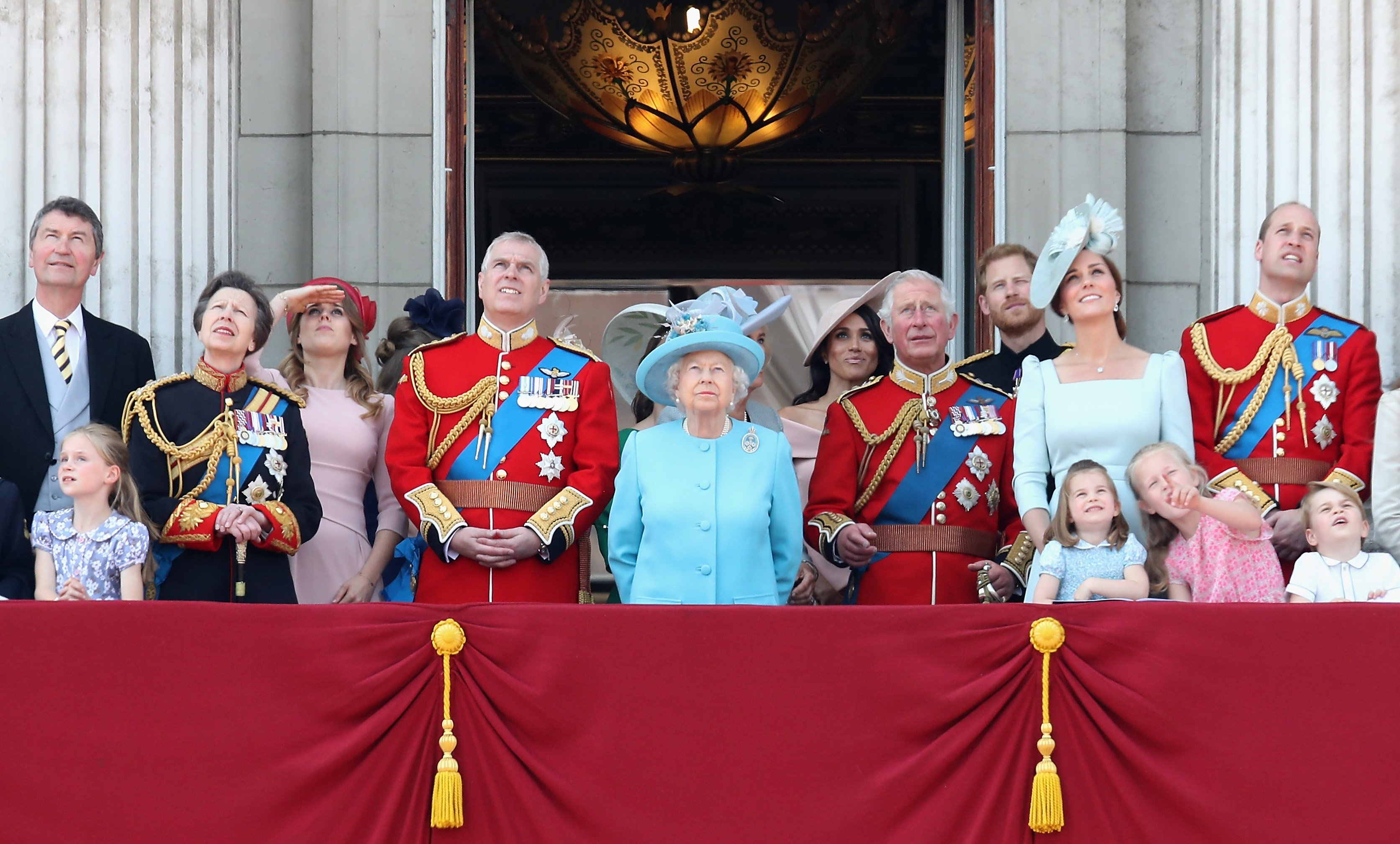 Princess Anne, Princess Beatrice, Prince Andrew, Queen Elizabeth II, Meghan Markle, Prince Charles, Prince Harry, Kate Middleton, Prince William, Princess Charlotte, Savannah Phillips, Prince George, and Isla Phillips during Trooping The Colour on June 9, 2018 in London, England. / Source: Getty Images
Like the Queen, other royal members have code names for plans when they die. The Queen Mother passed away at age 101, and her code name was Tay Bridge.
Meanwhile, the Duke of Edinburgh, Prince Philip's death was referred to as "Operation Fourth Bridge," and his son, Prince Charles, will be Menai Bridge.
In addition, the Duke and Duchess of Cambridge are known as "Danny Collins" and "Daphne Clark." Though the Sussexes no longer serve as royal members, they were reportedly known by "David Stevens" and "Davina Scott."
On the Day of Queen Elizabeth's Funeral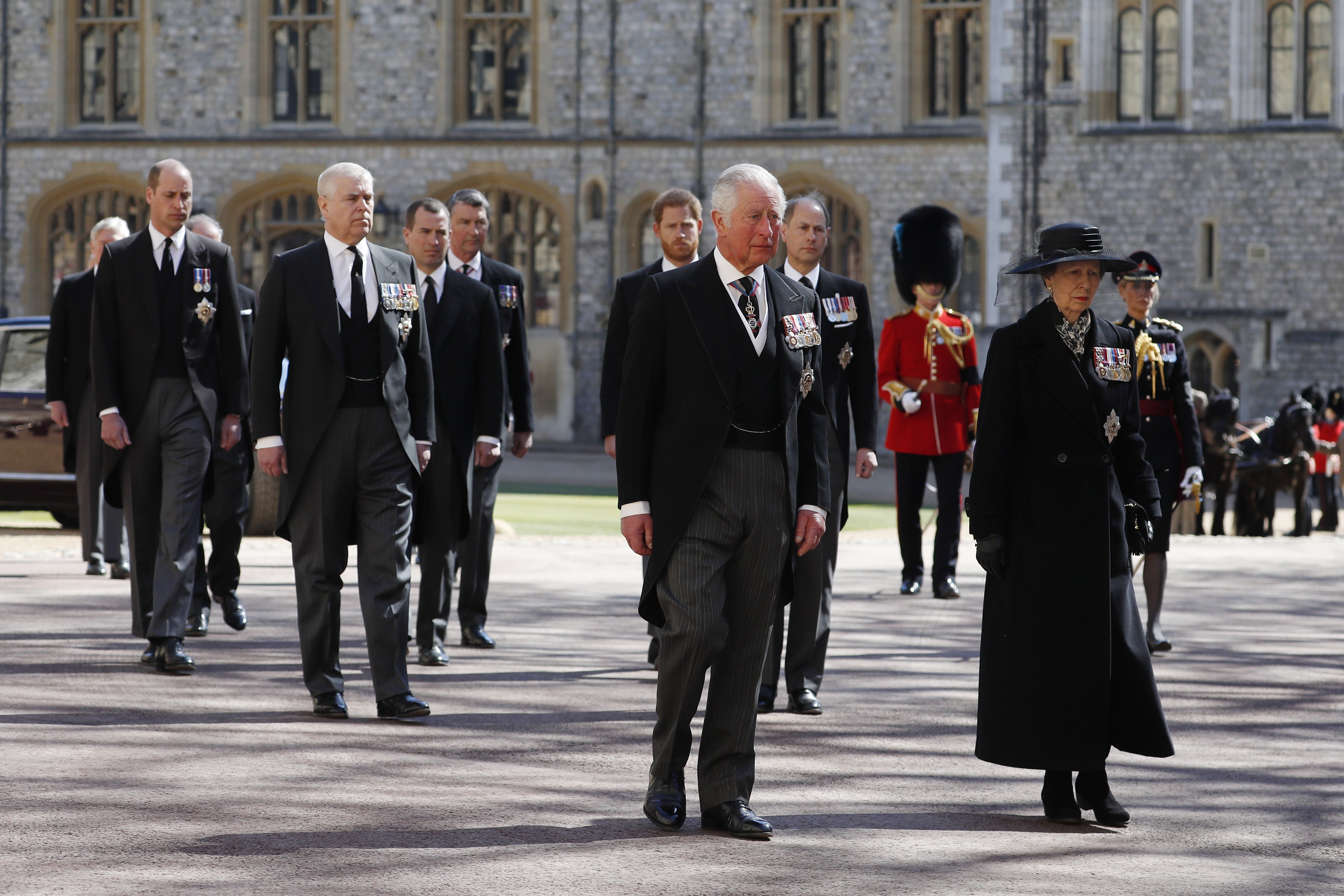 Princess Anne, Prince Charles, Prince Andrew, Prince Edward, Prince William, Peter Phillips, Prince Harry, Earl of Snowdon David Armstrong-Jones and Vice-Admiral Sir Timothy Laurence during the Ceremonial Procession during the funeral of Prince Philip, Duke of Edinburgh at Windsor Castle on April 17, 2021 in Windsor, England. / Source: Getty Images
On the day of the Queen's state funeral, it will be a Day of National Mourning held at Westminster Abbey that could be declared a public holiday. There will be two minutes of silence at midday across the nation.
Processions will take place in London and Windsor, and there will be a committable service at St. George's Chapel at Windsor Castle.
Her Majesty's coffin will be carried by the Royal Mile to St. Giles's cathedral for a service reception before being placed on the Royal Train at Waverly station for sad progress. The Queen of England will be buried in her final resting place -- the King George VI Memorial Chapel.
Please fill in your e-mail so we can share with you our top stories!
The information in this article is not intended or implied to be a substitute for professional medical advice, diagnosis or treatment. All content, including text, and images contained on news.AmoMama.com, or available through news.AmoMama.com is for general information purposes only. news.AmoMama.com does not take responsibility for any action taken as a result of reading this article. Before undertaking any course of treatment please consult with your healthcare provider.