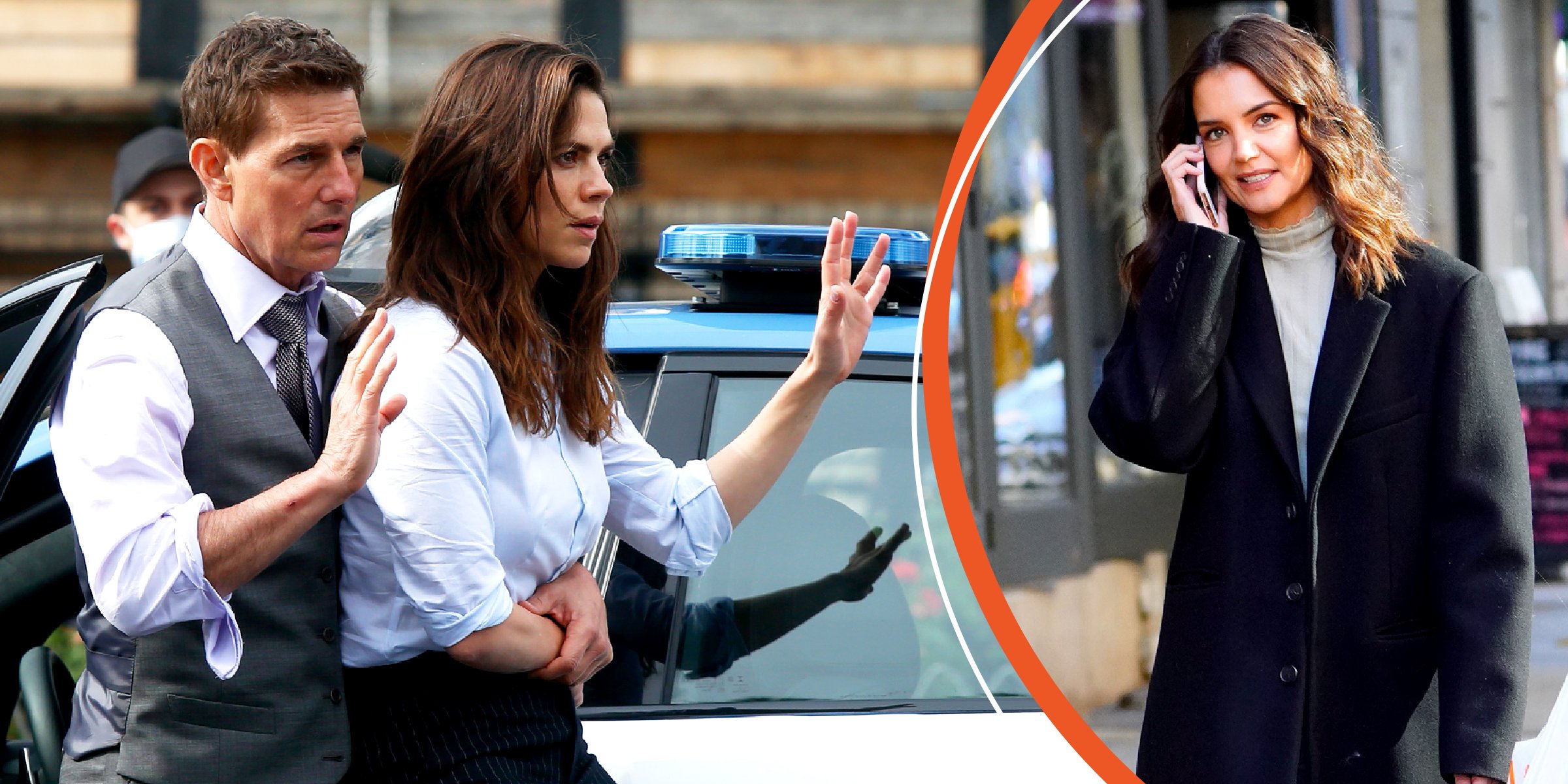 Tom Cruise and Hayley Atwell | Katie Holmes | Source: Getty Images
Tom Cruise's 1ST 'Genuine' Relationship since Katie Holmes Left Him via a Phone Call a Decade Ago Ended
Tom Cruise and Katie Holmes' love story was one that burned bright due to being highly publicized, but the anti-climax was an abrupt end.
Even before they met, Hollywood actress Katie Holmes knew every line across Tom Cruise's face. Holmes watched him on TV as a young girl, and after seeing his 1986 blockbuster "Top Gun," she let her friends know she had a huge crush on him.
Holmes also said at the time, in her young girl naivety, that she would marry him. Her pals laughed it off, but a second look at the youngster's set jaw showed them that she wished for it to come true.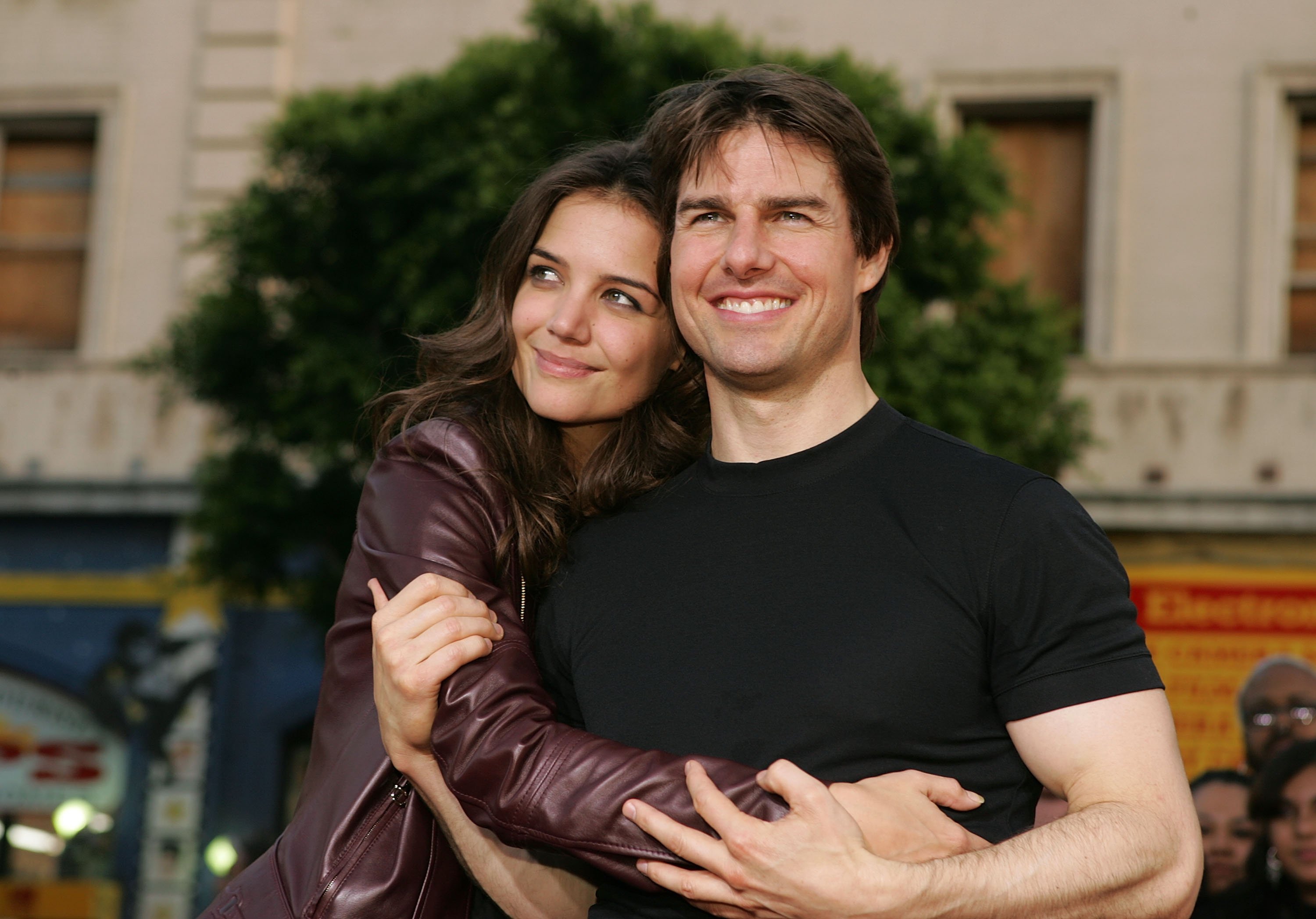 Actor Tom Cruise (R) and actress Katie Holmes arrive at the Los Angeles Fan Screening of "War of the Worlds" at the Grauman's Chinese Theatre on June 27, 2005 in Hollywood, California. | Source: Getty Images
Fast forward to some years later when Holmes was all grown. She met Tom, and the mutual connection was instant. The duo started dating without minding their 16-year age difference.
This raised concerns among spotlight watchers and fans, but the lovebirds remained unperturbed. Once speaking about Holmes, Tom described her as "an extraordinary woman," while adding that he was happy and enamored.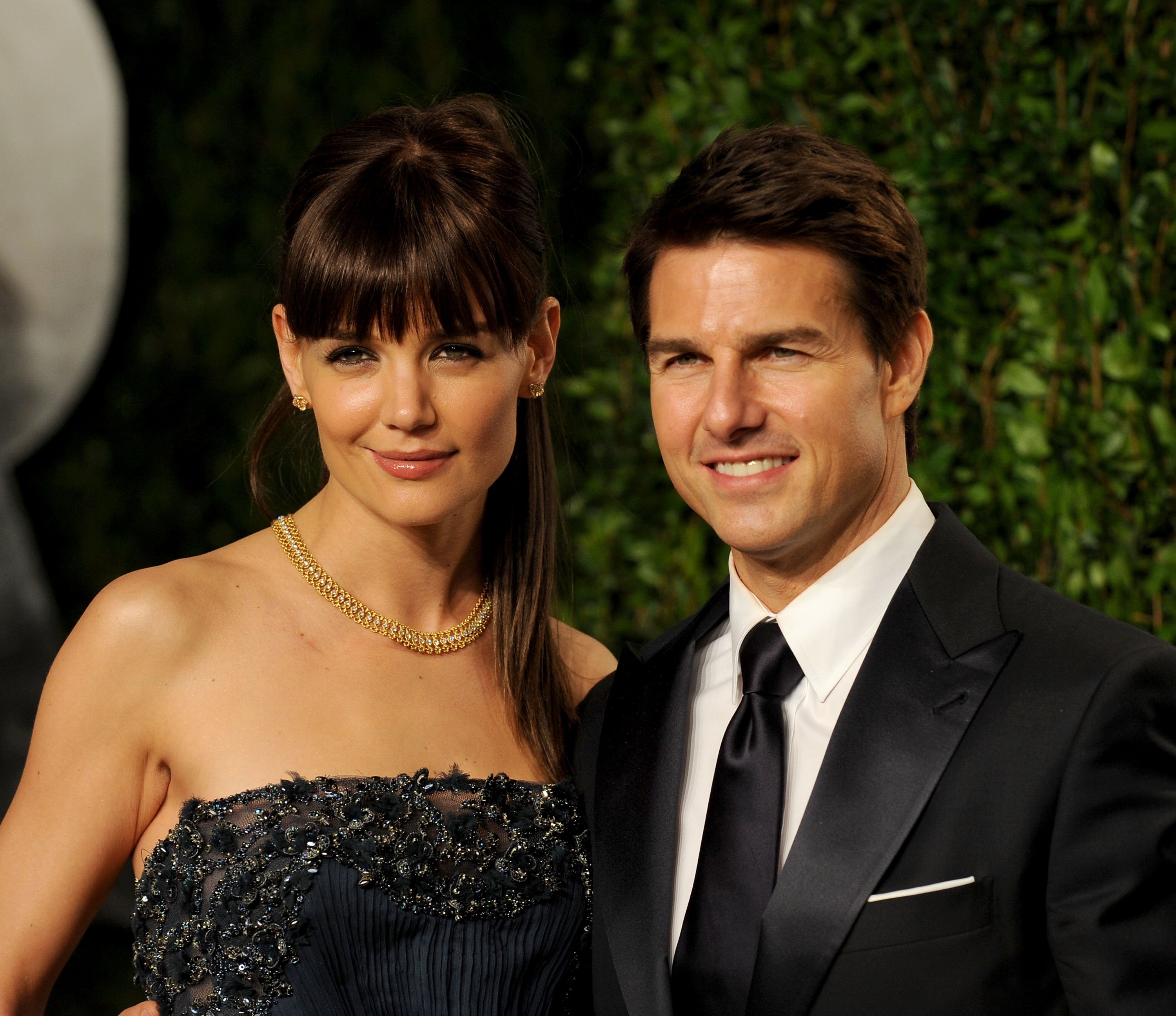 Katie Holmes and Tom Cruise on February 26, 2012 in West Hollywood, California | Source: Getty Images
Tom and Holmes continued their blissful relationship, and in 2005, they were in the news again. The couple was expecting their first child together. Tom's sister, Lee Ann, who was also his publicist, shared that their family was thrilled about the news.
While it was Holme's first pregnancy, Tom was already dad to two kids, Isabella and Connor, from his marriage to Nicole Kidman. The couple's daughter Suri Holmes joined them the following year in 2006.
INSIDE THEIR LIVES AS A MARRIED COUPLE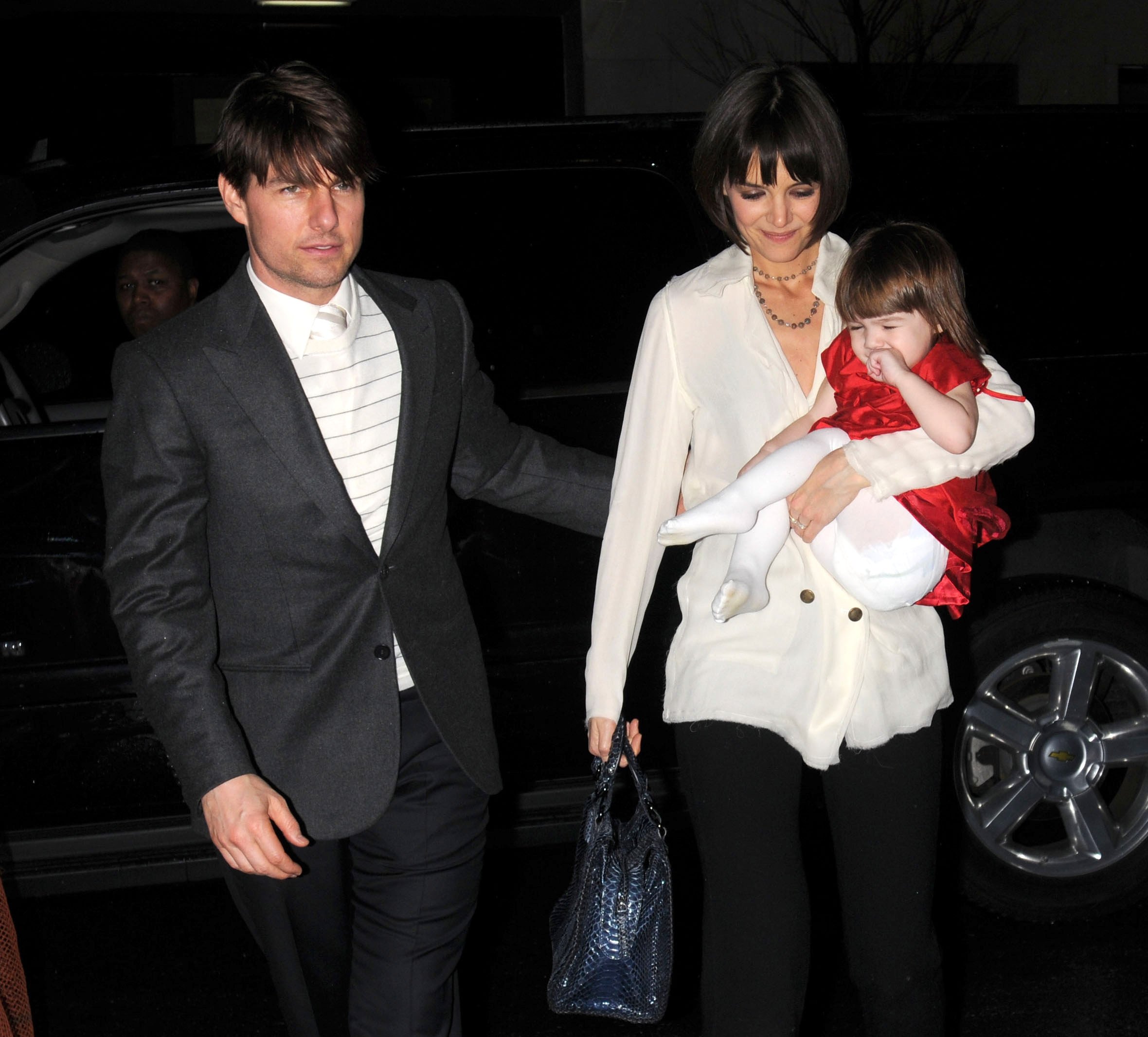 Actors Katie Holmes and Tom Cruise and their daughter Suri leave the midtown hotel on their way to dinner January 14, 2008 in New York City. | Source: Getty Images
In the same year that Suri was born, Tom and Holmes thought it was time to take their relationship a notch higher. When the baby became seven months old, they walked down the aisle.
The "Jack Reacher" actor and "Dawson's Creek" actress honored the traditional Church of Scientology rule and got married. Their wedding ceremony was an elaborate affair that took place in a medieval castle In Italy.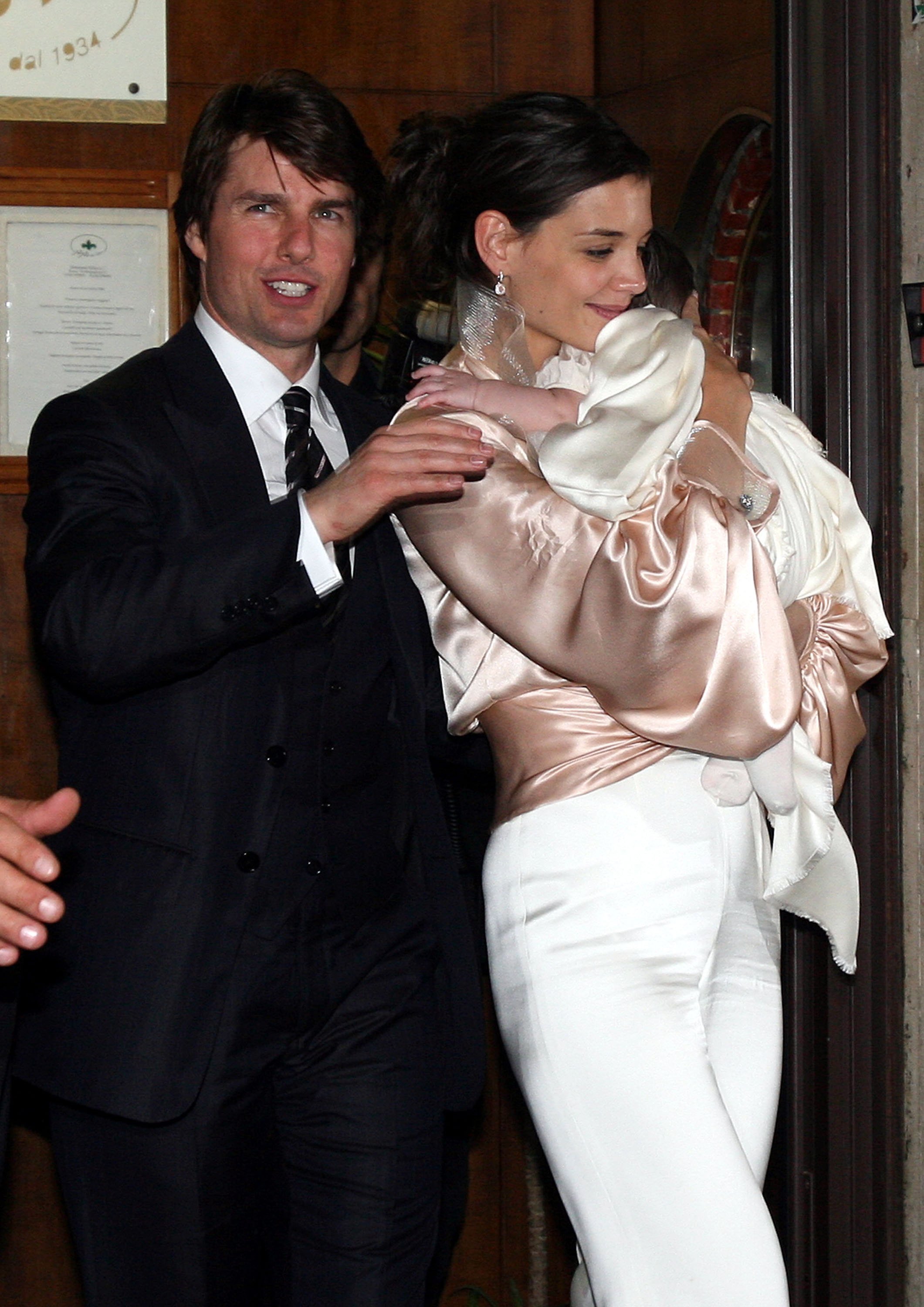 Tom Cruise, Katie Holmes, and Suri Cruise leaving a restaurant in Rome on November 17, 2006 | Source: Getty Images
Holmes and Suri matched in ivory tulle dresses while Tom's son, Connor, held the little girl in his arms. The lavish affair was memorable, but the highlight was when Tom and Holmes took their vows and soaked in the one meaningful moment.
The couple's family, friends, and well-wishers could not help but attest to the flow of love and affectionate energy coursing through the Hollywood stars.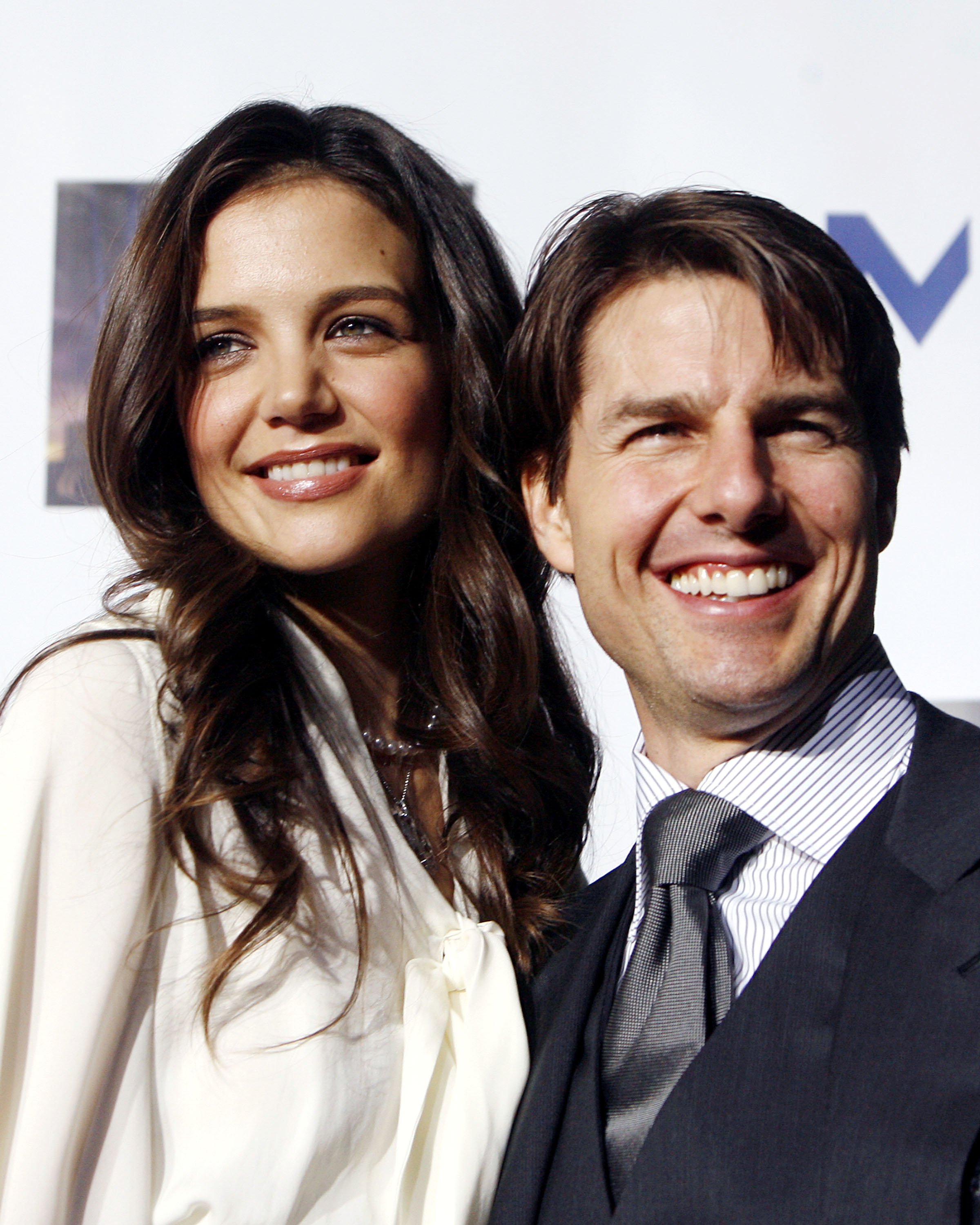 Katie Holmes and Tom Cruise at MENTOR LA's Promise Gala on March 22, 2007 in Los Angeles. | Source: Getty Images
Their parents hosted them the next day in a wonderful family gathering. Holmes's dad shared a toast to the new couple, while Tom's mom said she had never seen her son so happy. They jetted off to the Maldives the following day for their honeymoon.
After the honeymoon era passed, Holmes and Tom settled into family life and parenthood. The couple kept it relatively tame regarding their fame, but that did not stop fans from gushing over them during family outings.
TOM AND HOLMES ENDED THEIR UNION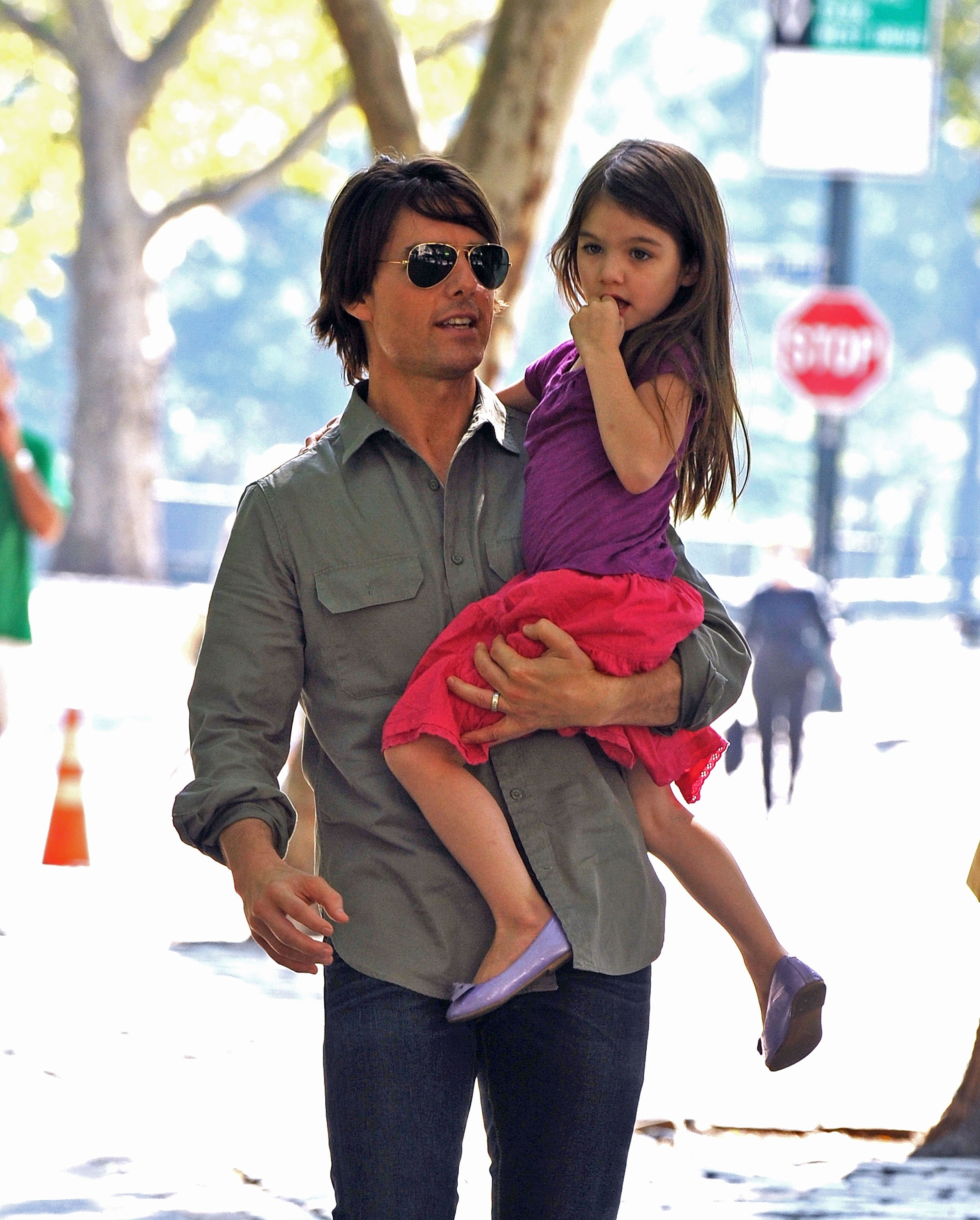 Tom Cruise and Suri Cruise on September 7, 2010 in New York City | Source: Getty Images
A few months into their marriage, Tom and Holmes experienced a love life with rumors. The side talks largely insinuated that the couple's marriage was unstable due to Cruise's Scientology beliefs.
However, the actor's close pal, Jenna Elfman, rose to the occasion in an interview with People and debunked the rumors. Elfman stated that the couple had a lovely relationship as they were also good friends. Elfman added that Tom's relationship with his wife was exciting.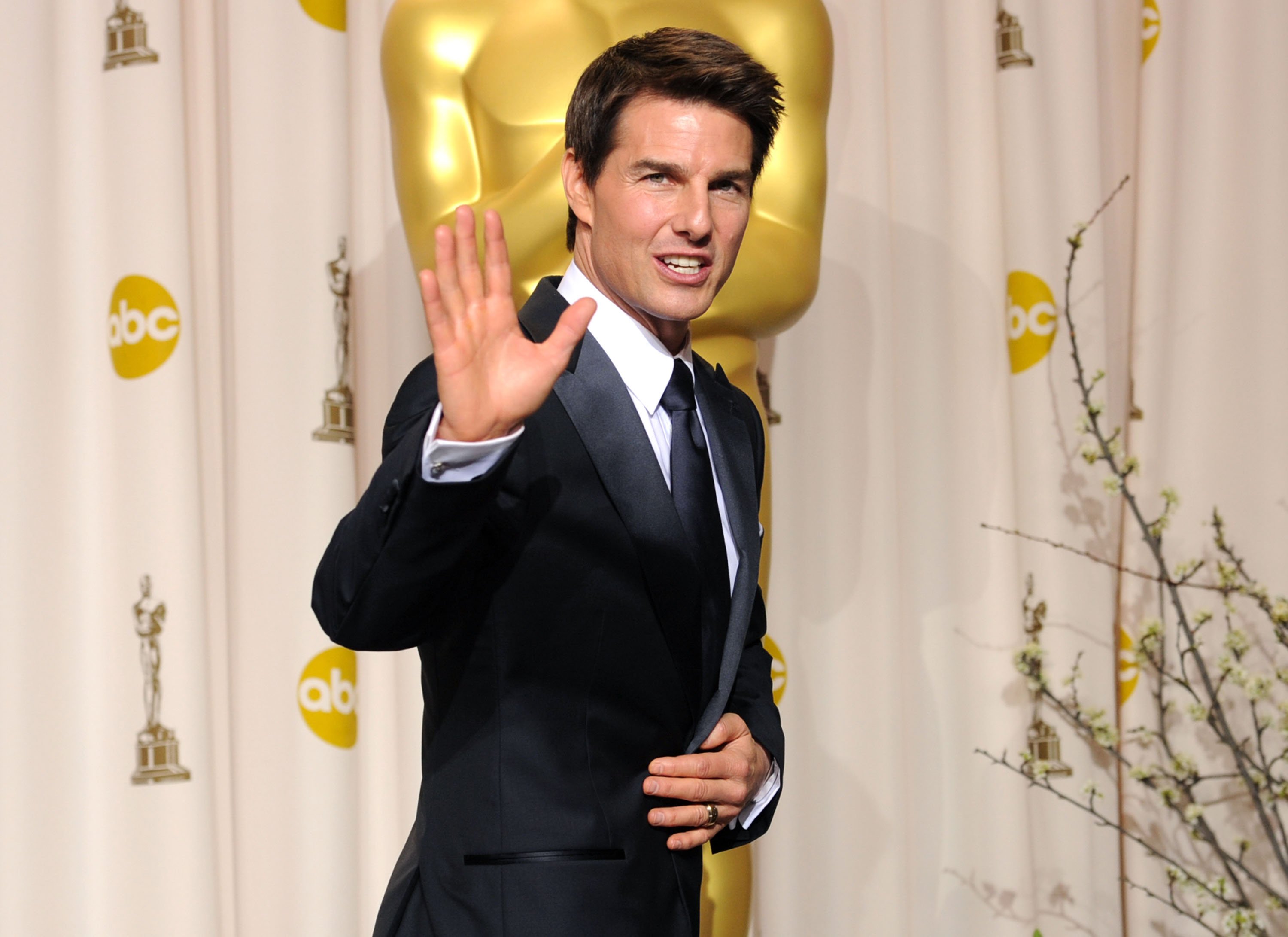 Actor Tom Cruise poses in the press room at the 84th Annual Academy Awards held at the Hollywood & Highland Center on February 26, 2012. | Source: Getty Images
However, five years into their marriage, the rumors turned out to be true. In what appeared to be bombshell news to Tom, Katie filed for divorce.
Holmes' attorney shared at the time that it was a personal and private matter as the actress's main focus remained on her daughter. Tom's rep also confirmed the news stating how shocking it was for him. The rep added:
"Tom is deeply saddened and is concentrating on his three children."
According to insiders, Tom had been on the set of an adrenaline-pumping upcoming movie when he took a break to receive Holmes's call. The star who was about to take a stunt would come to realize that call changed his life forever.
Tom was utterly shocked when Holmes dropped the bombshell she wanted out of their marriage. An insider revealed that Holmes was pushed to make the swift decision because she no longer had the life she used to live.
The actress was said to have resolved things and started afresh with Suri in New York. The "First Daughter" actress did not want a "long, drawn-out battle." The insider included:
"She wanted this to happen fast, and severing all ties in one fell swoop was the best way for that to happen."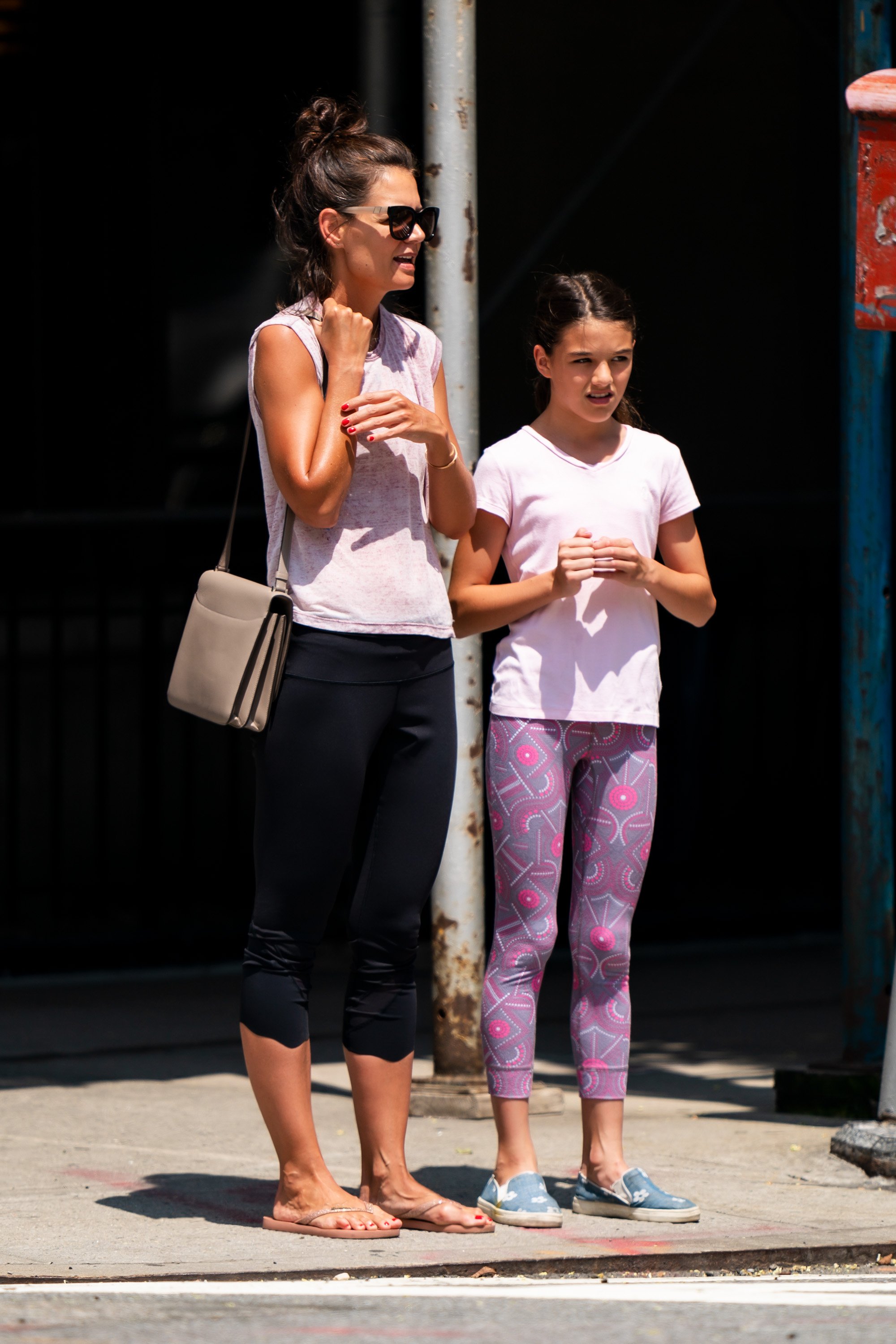 Katie Holmes and Suri Cruise are seen in the Upper West Side on July 22, 2019, in New York City | Source: Getty Images
The divorce proceedings were swift, with Tom and Holmes agreeing to a generous amount of visitation for the former and concluding the separation within two weeks. A close friend of the couple would later affirm that Tom and the "Batman Begins" actress were still in love.
TOM'S LOVE LIFE AFTER DIVORCE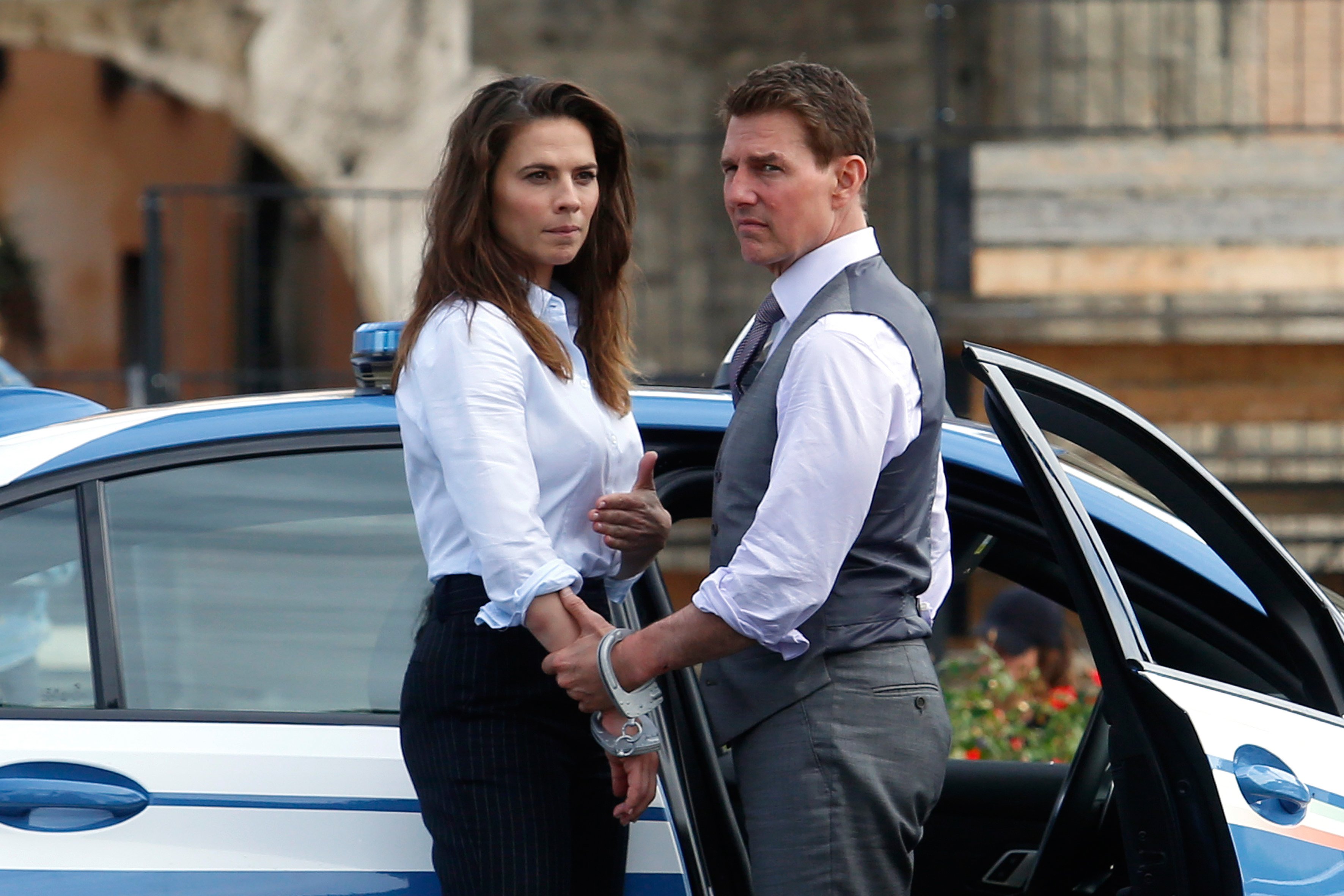 Actor Tom Cruise and actress Hayley Atwell handcuffed together on the set of the film Mission Impossible 7 at Imperial Fora in Rome, on October 13th 2020 | Source: Getty Images
Tom was out of the dating circle for years, as he reportedly did not dabble in a serious relationship. However, he and his "Mission Impossible 7" fellow star, Hayley Atwell, got fans talking in 2020.
The pair were sighted at different locations enjoying each other's company while working. Atwell and Tom were spotted at Wimbledon, Birmingham, and on a train in Yorkshire.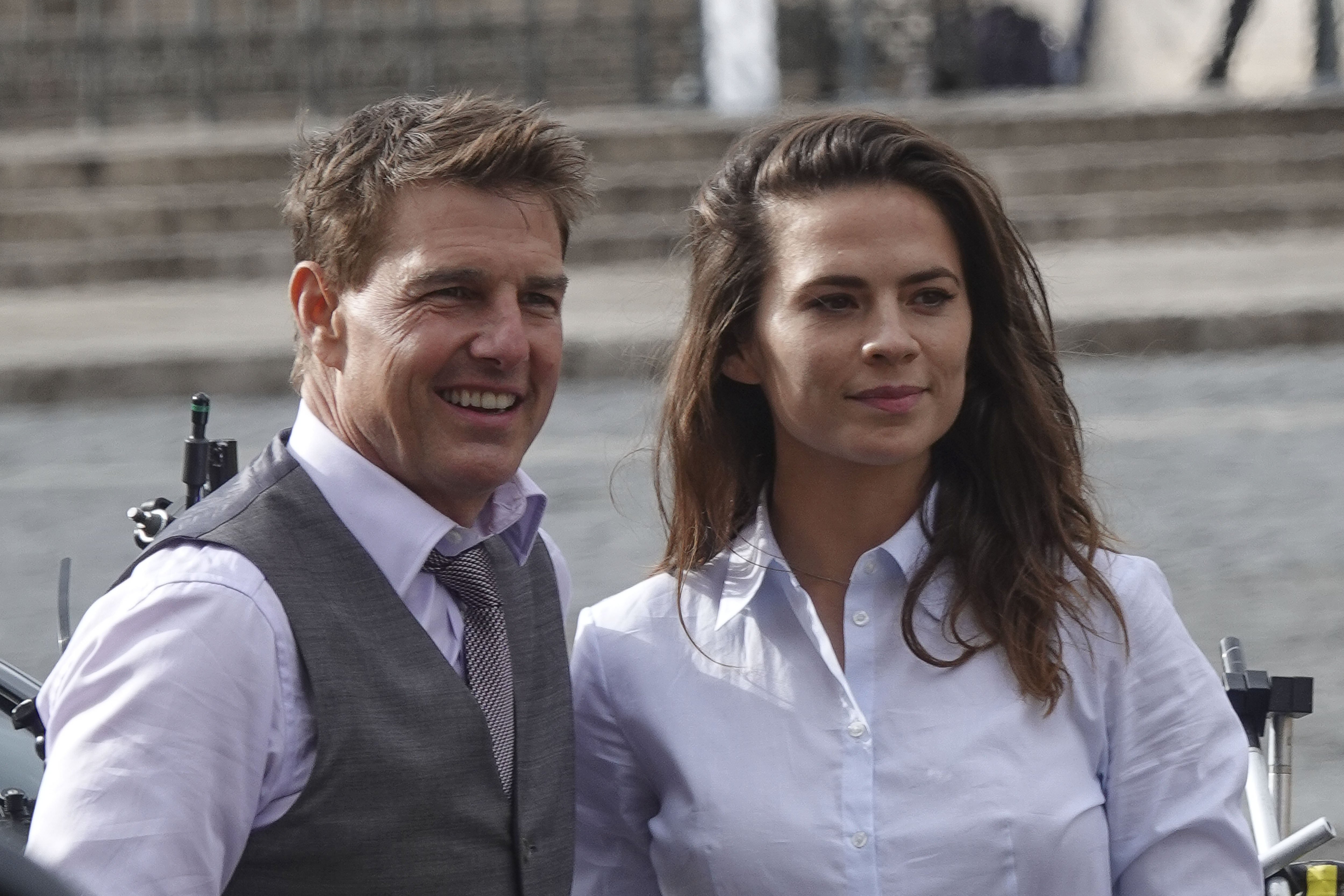 Tom Cruise and Hayley Atwell on the set of Mission Impossible 7 on October 11, 2020 in Rome, Italy | Source: Getty Images
Insiders claimed they hit it off right from the start and had been chummy since then. The duo was said to have intense moments on set, and the coronavirus pandemic lockdown deepened this.
Tom and Atwell later decided to call things off and remain friends. Atwell was back by Tom's side during the May 2022 "Top Gun: Maverick" premiere, showing support at the star-studded event. An insider shared:
"She's purely there to support him. It's a big step for them."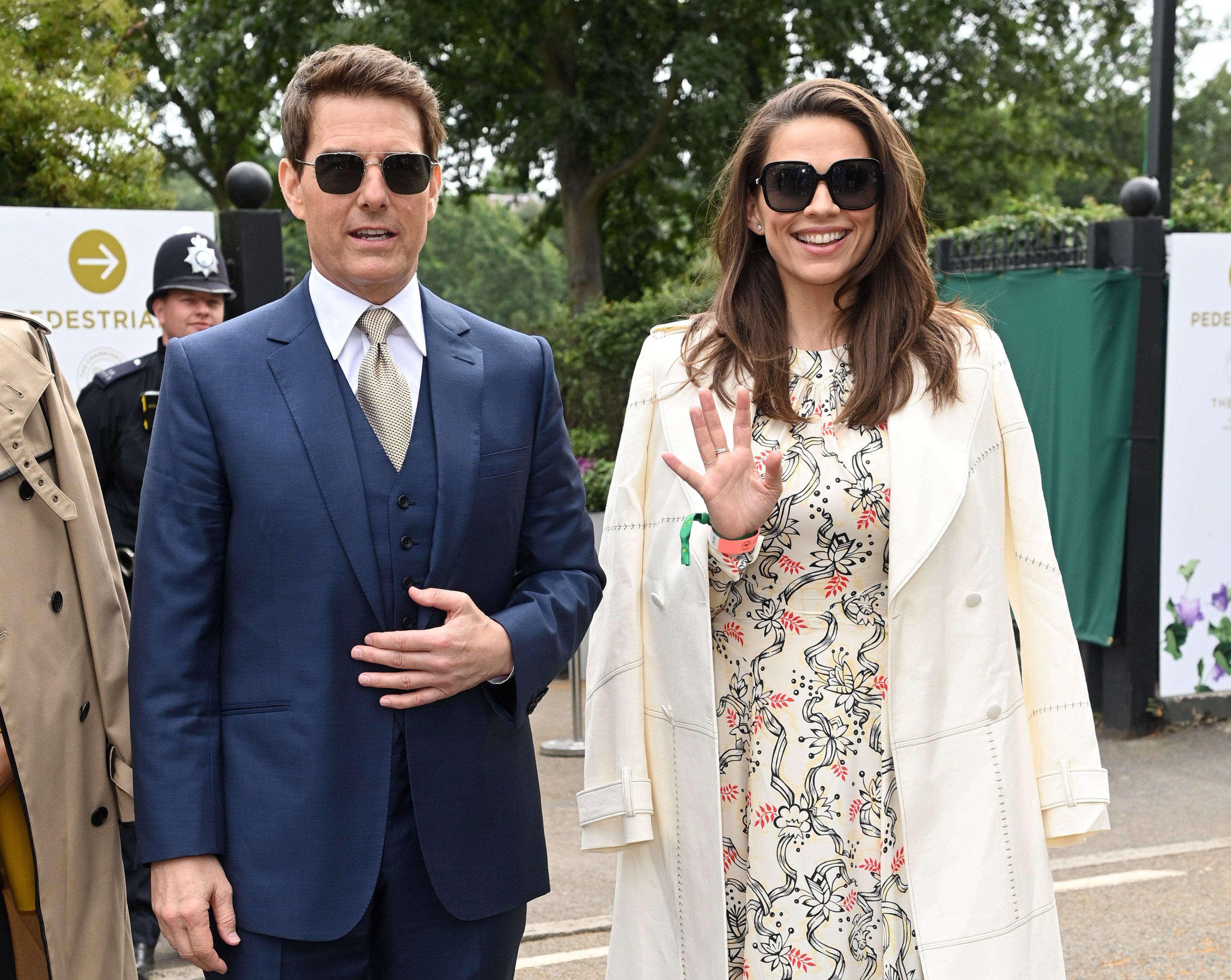 Tom Cruise and Hayley Atwell attend day 12 of the Wimbledon Tennis Championships at the All England Lawn Tennis and Croquet Club on July 10, 2021 in London, England. | Source: Getty Images
She was said to have made a last-minute appearance by donning an evening dress that included a cropped top and a floor-sweeping skirt. What appeared to be a rekindled relationship made it to the news again in June 2022. A source shared:
"Tom and Hayley's relationship was genuine. In spite of some rumours to the contrary, it was never just for the cameras."
The source stated that it was unfortunate their relationship did not work. Tom and Atwell are said to get on well. However, their cordial affection for each other could not move past friendship.
Please fill in your e-mail so we can share with you our top stories!