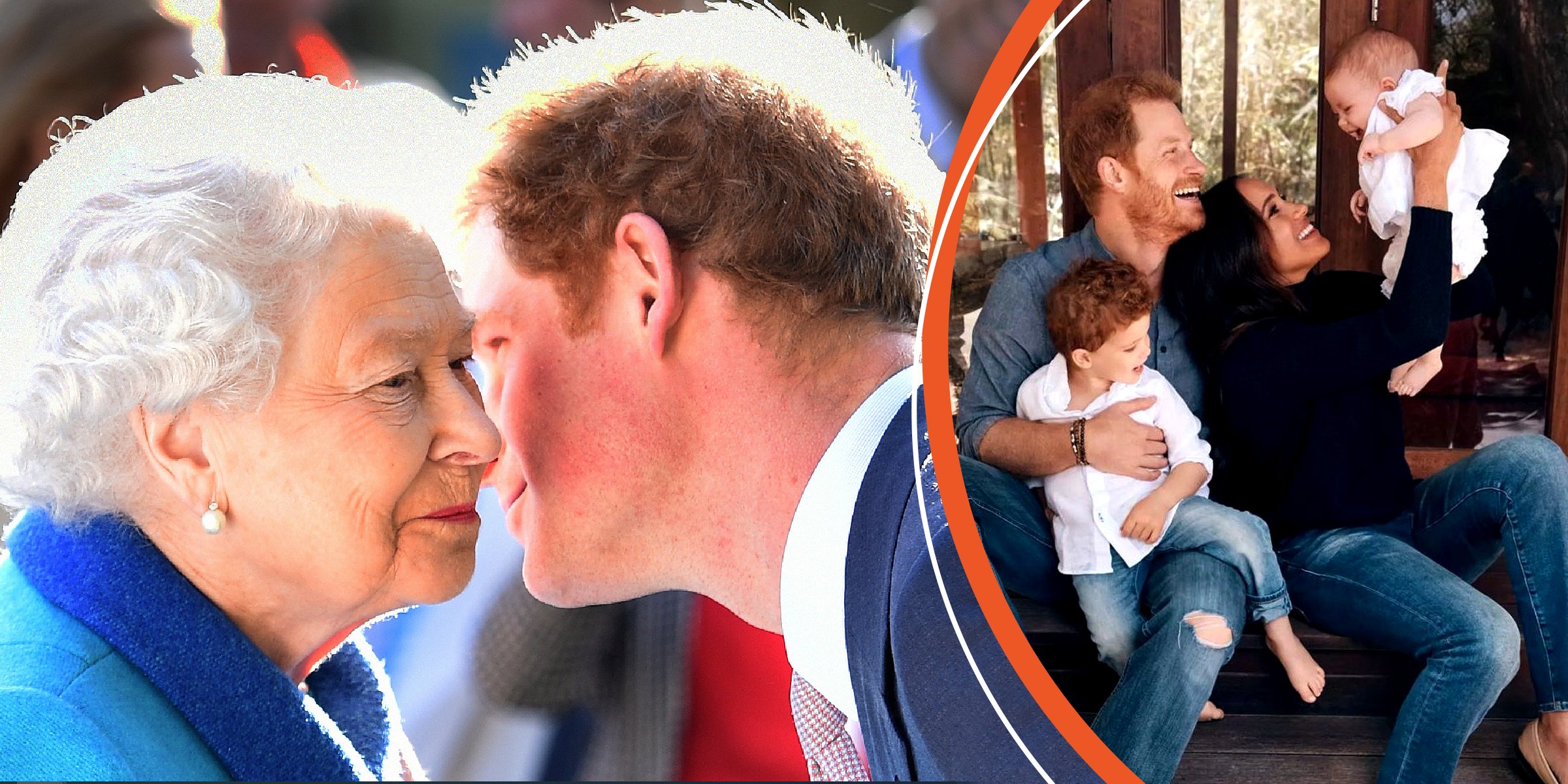 twitter.com/OfficialPLT / Getty Images
Queen Takes 'Baby Steps' to Bring Lilibet, Archie & Their Parents Back into the Family Fold, Expert Claims
Tensions have been high between the Royal Family and the Sussexes since they moved to the US more than two years ago. However, according to a royal historian, there have been developments regarding reconciliation from the monarch's side.
The Daily Mail reported in July 2022 that a socialite and a friend to the Royal Family, Nicky Haslam, claimed Queen Elizabeth II was stunned to learn the Sussexes named their daughter with her nickname.
Haslam spoke on The Third Act podcast and speculated that Her Majesty was under the impression that her grandson, Prince Harry, and his wife, Meghan Markle, would name their daughter Elizabeth.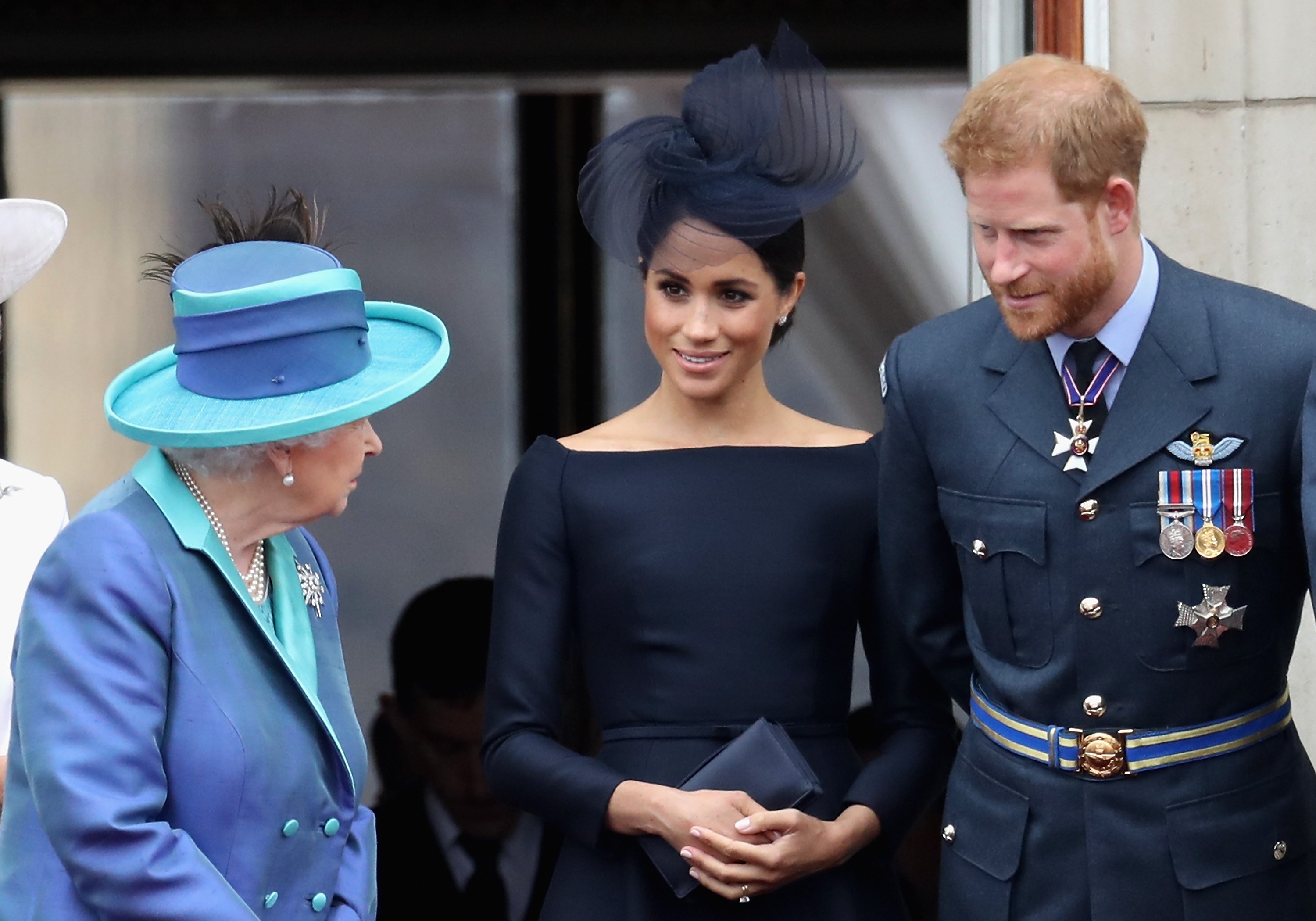 Queen Elizabeth II, Meghan Markle and Prince Harry pictured watching the RAF flypast on the balcony of Buckingham Palace on July 10, 2018 in London, England. │ Source: Getty Images
The monarch was reportedly surprised to learn that the royal couple named their second child Lilibet instead, said Haslam. She disclosed that the Duke of Sussex informed his grandmother via phone call that they would name their child after her:
"I heard he rang her and said: 'We want to call our daughter after you, Granny.' She said: 'How charming of you, thank you.'"
Haslam mentioned that even though the Duke and Duchess of Sussexes received permission, they omitted to state what name they would be going with.
The interior designer also questioned why the pair did not name their daughter after Markle's mother, Doria Ragland, asking:
"Why on earth didn't they call that baby Doria? It's the prettiest name ever."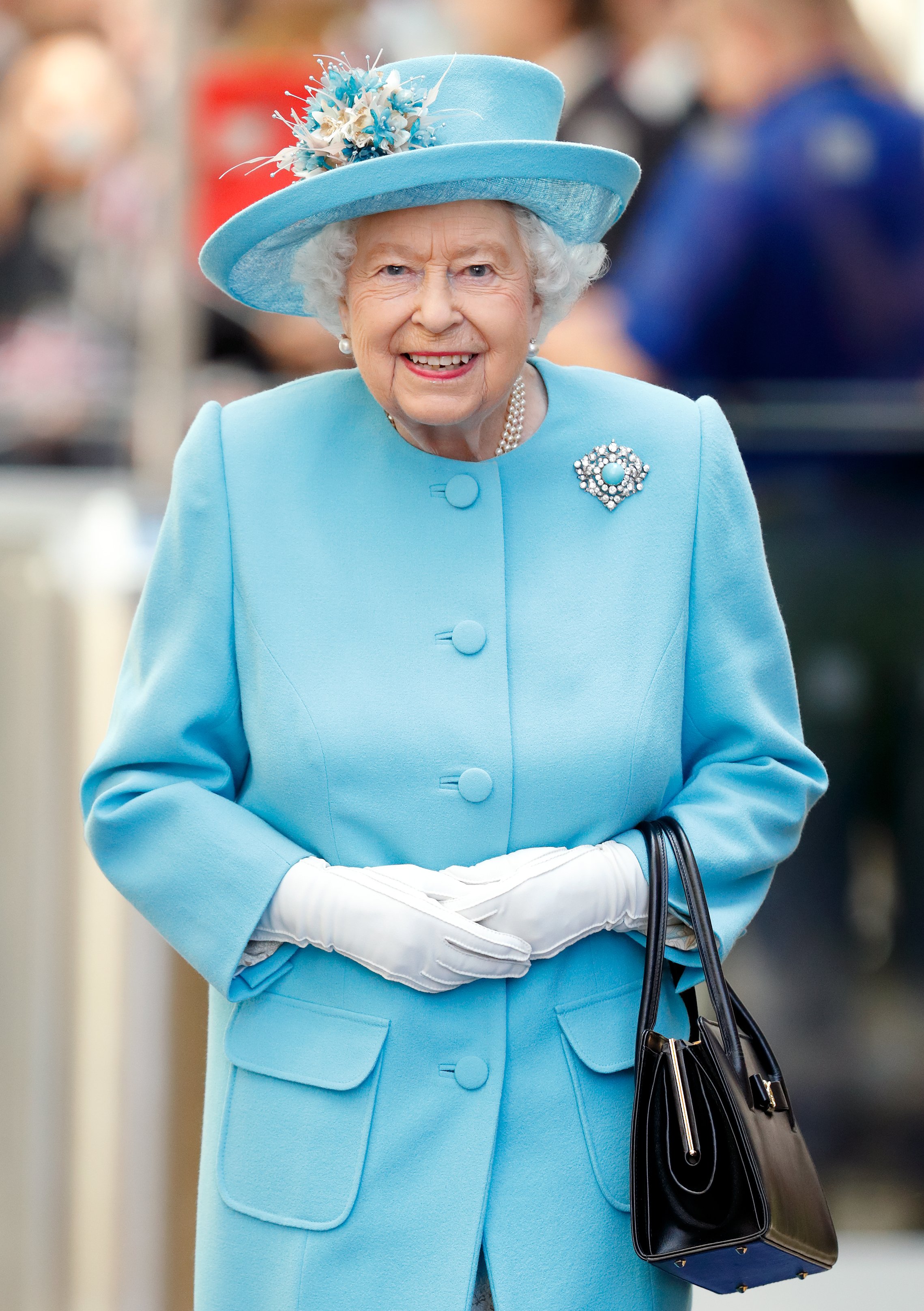 Queen Elizabeth II visiting the British Airways headquarters at Heathrow Airport on May 23, 2019 in London, England. │Source: Getty Images
On the contrary, Prince Harry reportedly has an unbreakable bond with the Queen. He respectfully asked for her permission to name his daughter after her.
But in 2021, BBC royal correspondent Johnny Dymond alleged that Markle and her husband, Prince Harry, named their daughter using the royal matriarch's nickname without informing her first.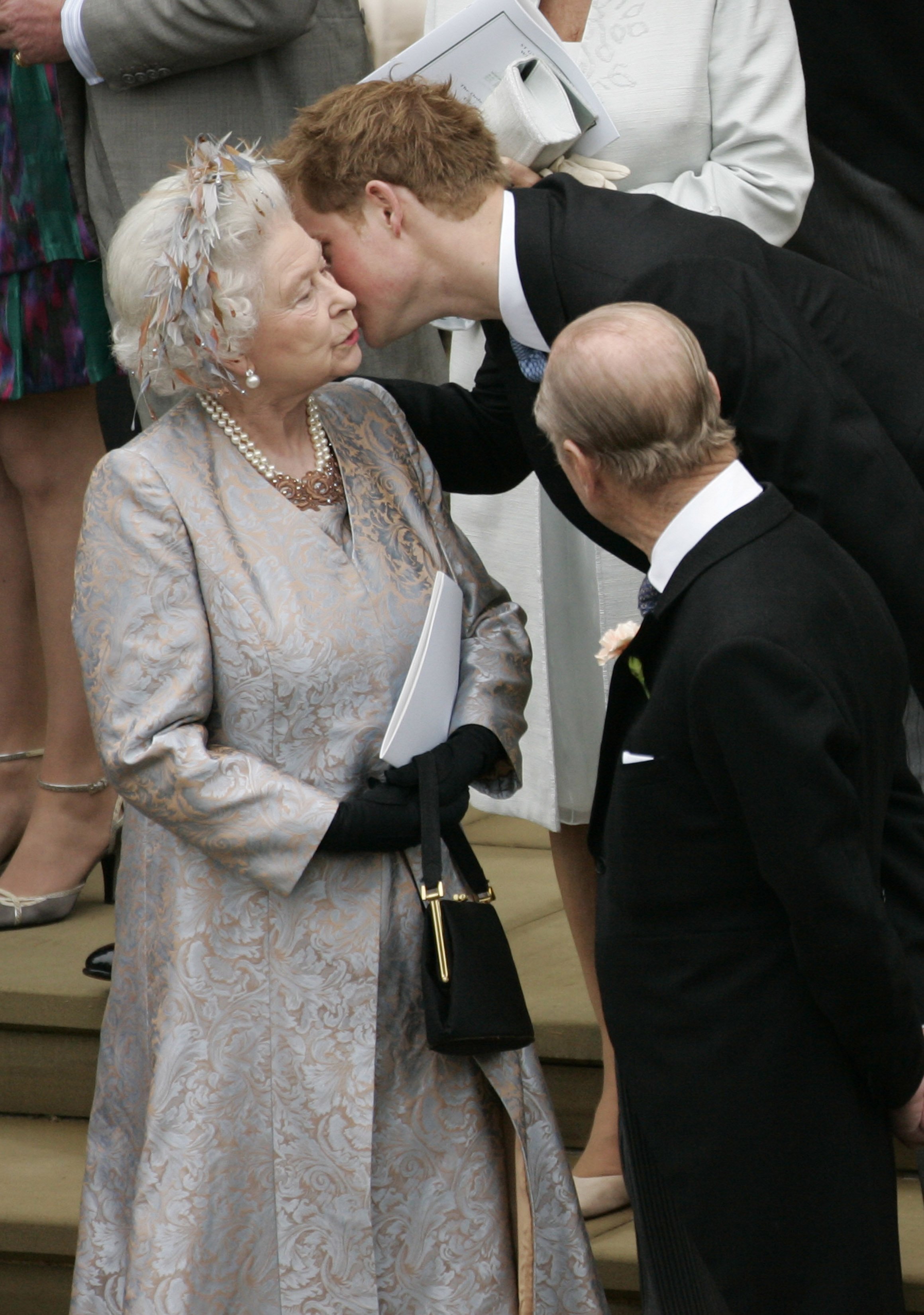 Prince Harry photographed kissing his grandmother Queen Elizabeth II after the wedding of Peter Phillips to Autumn Kelly, at St George's Chapel in Windsor Castle on May 17, 2008 in Windsor, England. │ Source: Getty Images
In response to the claim, the royal couple opened a legal case against BBC, stating the story was "false and defamatory." The duo's spokesman revealed that they did inform the Queen beforehand:
"The Duke spoke with his family in advance of the announcement – in fact, his grandmother was the first family member he called. During that conversation, he shared their hope of naming their daughter Lilibet in her honor."
The spokesman continued to say that had Her Majesty not given her permission, the couple would have avoided using the name.
PRINCE HARRY & THE QUEEN HAVE A 'SPECIAL RELATIONSHIP'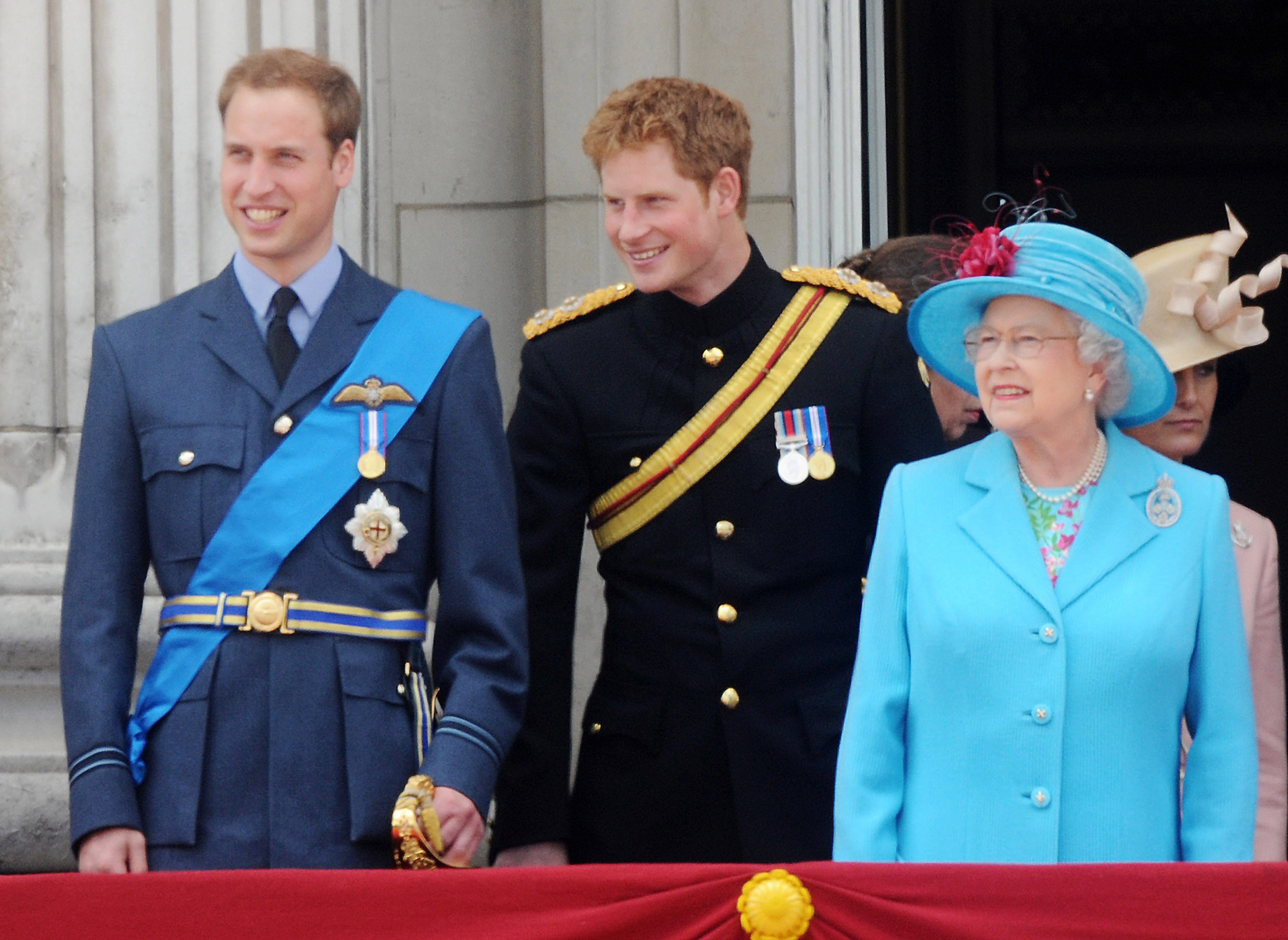 Prince William, Prince Harry and Queen Elizabeth II watching a fly past from the balcony of Buckingham Palace during Trooping The Colour on June 13, 2008 in London, England. │Source: Getty Images
In proving how close the prince is to his grandmother, the father of two once said he always converses with her about things she could not talk to anyone about. He stated that he and the monarch have a unique relationship when talking about what he likes about her:
"Her sense of humor and her ability to see the humor in so many different things. We have a really special relationship. We talk about things she can't talk about with anybody else, so that is always a nice peace to her."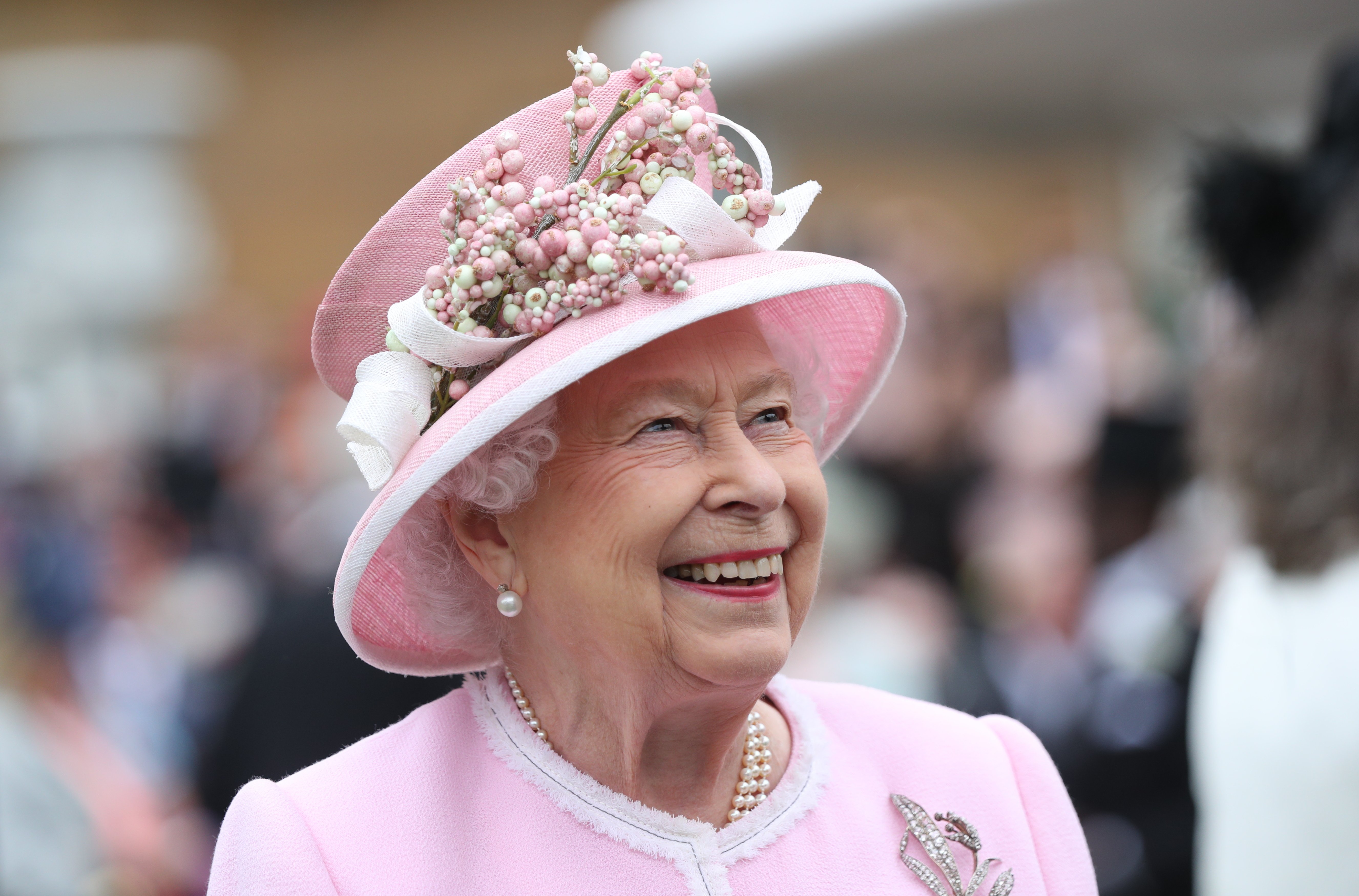 Queen Elizabeth II attending the Royal Garden Party at Buckingham Palace on May 29, 2019 in London, England.│Source: Getty Images
Before attending the Platinum Jubilee celebrations in June 2022, Prince Harry had a chance to catch up with the Queen over tea in a private get-together before he arrived in The Hague for the Invictus Games.
The prince was hosting the tournament in the Netherlands when he told "Today" co-host Hoda Kotb, that being with his grandmother was a refreshing experience. "Being with her, it was great. It was just so nice to see her. She's on great form," said the former pilot.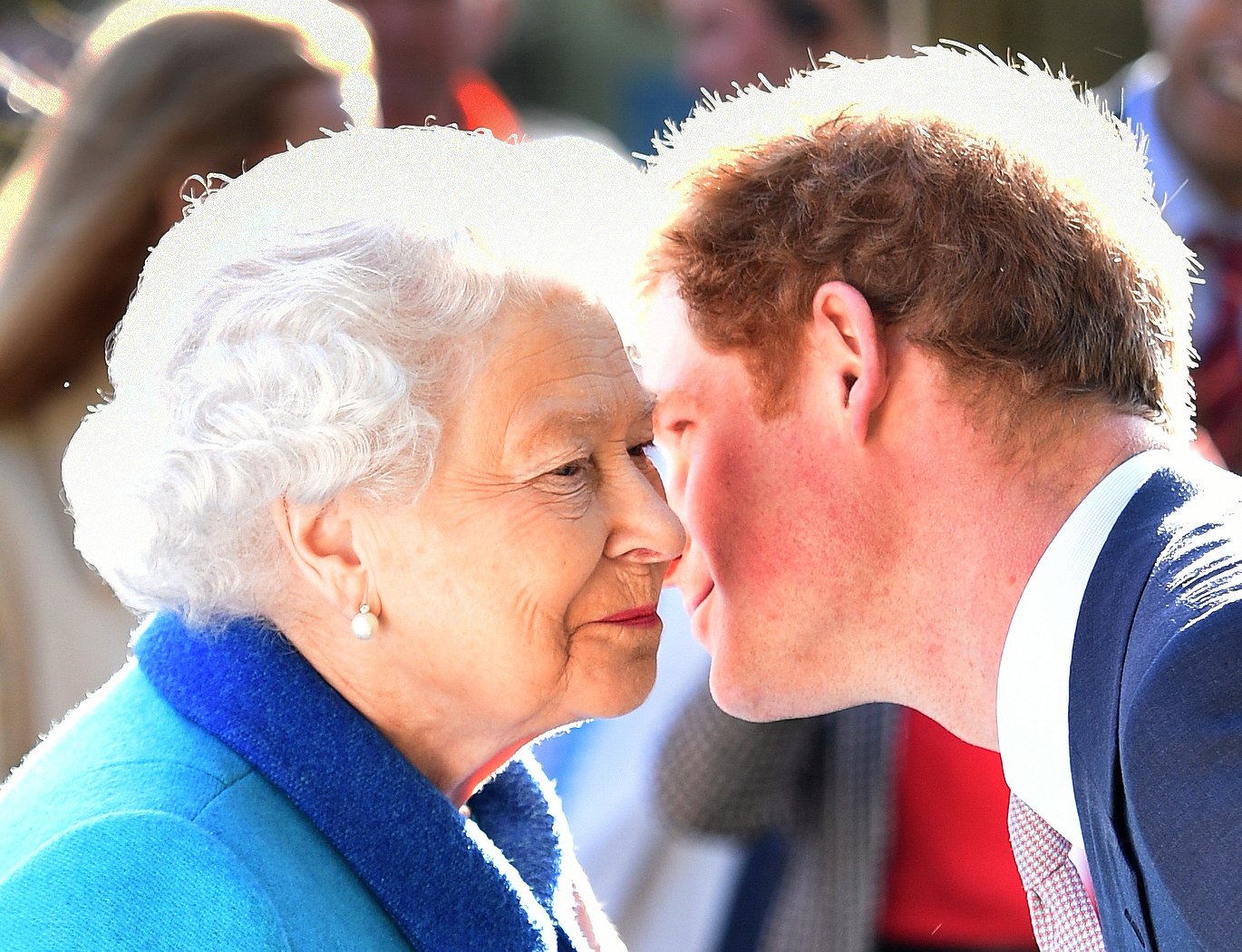 Queen Elizabeth II and Prince Harry attending at the annual Chelsea Flower show at Royal Hospital Chelsea on May 18, 2015 in London, England.│Source: Getty Images
In addition, his daughter met her namesake for the first time during the sovereign's Jubilee celebrations. A source told Us Weekly at the time that Prince Harry and Markle visited Her Majesty at Windsor castle with both their kids, Archie and Lilibet:
"Spending time with her great-grandchildren and seeing Lilibet turn 1 added some light to her day. She thinks they're adorable and gave Lili and Archie gifts."
When the Duke and Duchess of Sussex stepped down as senior royal members in January 2020, their move created a rift between them and other Royal Family members. However, Prince Harry has managed to keep his relationship with his grandmother afloat.
In an interview with People, a royal insider revealed the monarch would always keep her grandson's best interests at heart while remaining committed to ruling Britain. Meanwhile, a friend divulged that the bond between the pair goes beyond:
"If Harry asks, the Queen would say yes – as she adores him."
THE QUEEN ALLEGEDLY WANTS THE SUSSEXES BACK
That said, historian Tessa Dunlop reportedly revealed on the "Royal Beat" podcast that the monarch is taking "baby steps" in flattering the Duke and Duchess of Sussex to return as family members with their son and daughter, Archie and Lilibet.
According to Dunlop, having the family of four attend the Jubilee was a starting point to achieve that, but she also noted that it was not to say the royal couple would be working royals again:
"Not back into The Firm, into the working Royal Family but back into being part of that loving family, which is the persona that the royals have held for decades."
Asked what would become of the monarchy once the Queen passed away, royal author Tina Brown told the New York Times that there would be a "national identity crisis" in England.
She explained that British citizens would no longer know how to be Brits after being led by Her Majesty for seventy years. Moreover, when asked what would happen to Prince Harry and Markle, Brown said the prince would want to return home to "serve his country."
The "Palace Papers" author mentioned that the Royal Family would find a way to persuade the Duke to come back to England. Brown also touched on how he and his wife would navigate the new circumstances if that were to happen, saying they would find a solution to still split their time between the US and the UK.
"And it's possible that Meghan – maybe they will have a commuter arrangement," said Brown. She further explained that since the former actress never liked England, she would not want to return.
Please fill in your e-mail so we can share with you our top stories!