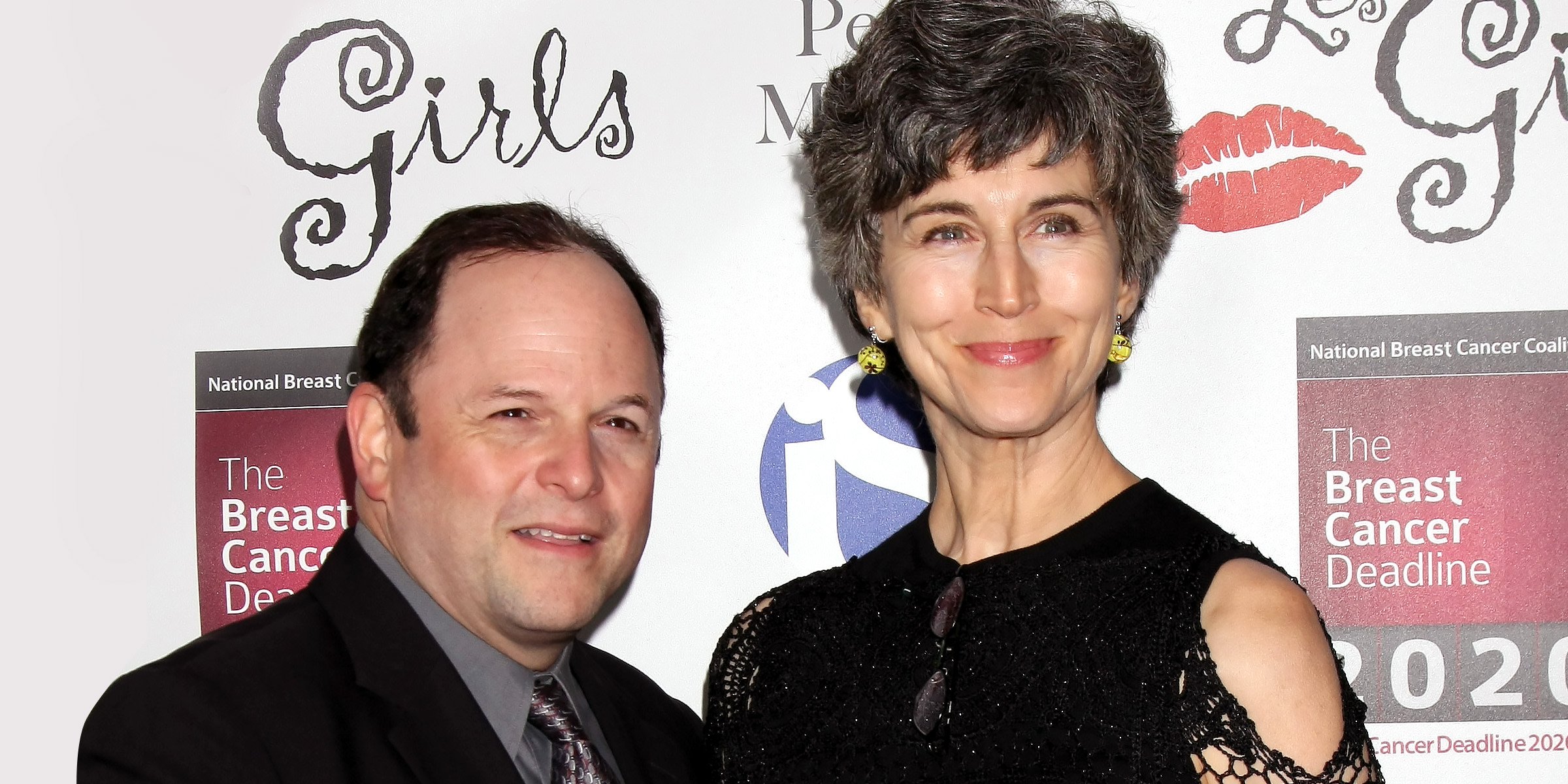 Shutterstock
Daena E. Title: All about Jason Alexander's Wife of 40 Years Who Is a Talented Artist

"Seinfeld" star Jason Alexander might be a famous actor, but he is not the only artist in the family. His wife, Daena E. Title, is a talented painter whose pieces have been displayed in galleries throughout the States.
Divorces are common in Hollywood as not everyone can juggle a successful career in showbiz and a healthy marriage. However, Jason Alexander and Daena E. Title proved that it is not impossible.
They have been married for four decades, and their love story is one of a kind as it involves three failed marriage proposals and a billboard in Times Square.
WHO IS JASON ALEXANDER'S WIFE, DAENA E. TITLE?
Born in New York City on February 14, 1957, Title grew up in Long Island and got a Bachelor of Arts degree in Art History and Theatre Studies from Wellesley College in 1979.
She lived in Manhattan and tried acting but only worked on three projects. Her film debut came in the 1995 film "For Better or Worse," starring Alexander.
Three years later, she had a cameo in "Seinfeld," the TV series that shot Alexander into stardom. In 1999, Title also had a minor appearance in "Just Looking," which Alexander directed.
Title might not be an actress anymore, but she is an artist. She dedicates much of her time to being a painter and social commentator in Los Angeles, where she has lived since the early 1990s.
She describes herself as a feminist and expressionist painter "obsessed" with what being a female is. She focuses her social commentaries on the love-hate relationship between women, societal standards, and self-esteem.
Daena E. Title uses oil paint, mixed media, or acrylics on canvas to show her fascination with modern female icons while exploring society, identity, self-esteem, and sexism.
Jason Alexander's wife uses her social media accounts to show her work and invite people to visit art galleries. Her pieces have been displayed in different New York City, Los Angeles, Brooklyn, and Chicago galleries.
He joked that his job was the only reason Title agreed to go on a date with him.
Although Title has had a successful artistic career, things were not always easy. Shortly after Julia Louis-Dreyfus announced she had breast cancer in September 2017, Alexander revealed Title also had it. He explained:
"My wife went through this a couple of years ago. When we first heard about Julia […] We sent her emails saying 'You must have a huge circuit of people closer than us to talk and share stories."
Alexander learned that breast cancer survivors and their families often pay it forward, meaning they would try to help by listening to other patients' thoughts or sharing advice, contacts, doctors, or whatever they might need.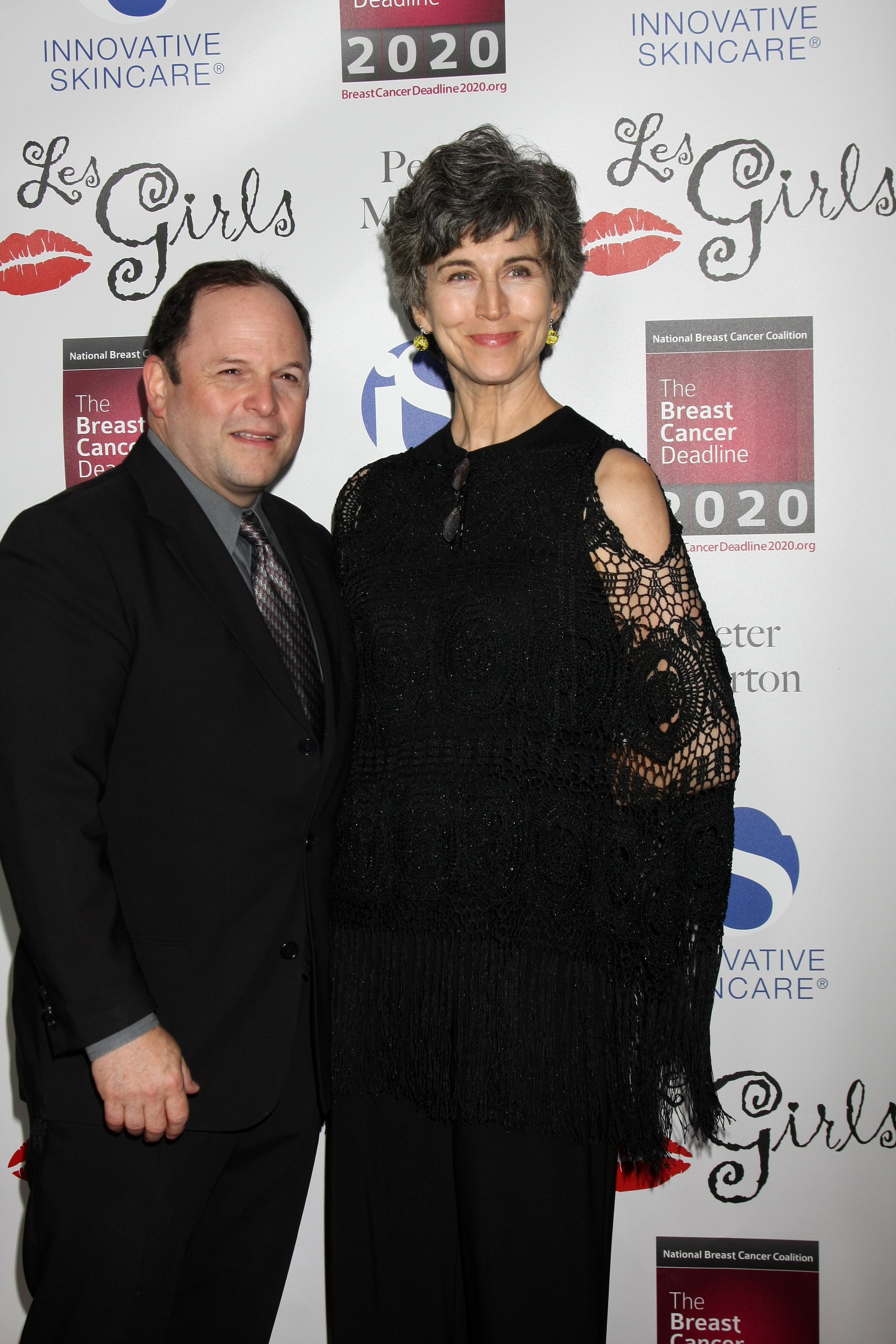 Jason Alexander and Daena E. Title on October 17, 2011, in Los Angeles, California | Source: Shutterstock
HOW LONG HAVE JASON ALEXANDER AND DAENA E. TITLE BEEN TOGETHER?
In most cases, Hollywood stars marry their spouses after they achieve fame and success in the entertainment industry. However, Jason Alexander and Daena E. Title's love story is different.
The couple met when Alexander was 23 years old and worked as a casting agent. He joked that his job was the only reason Title agreed to go on a date with him because she was out of his league.
Although he only had $1,000, he was ready to spend it all to impress her. Fortunately, she was the "cheapest date in the world." They went to Café Centrale (a restaurant in New York that no longer exists) and had Bruce Willis as their waiter and John Goodman as their bartender.
Title and Alexander hit it off immediately. They began living together within three weeks, and he popped the question less than two months into their relationship. However, Title turned him down three times.
The "Hit the Road" actor knew he had to do something special to get a yes, so he rented a billboard in Times Square that read, "Daena, I love you. Please, Marry me. Forever, Jason."
In 1982, before celebrating their first year of dating, Alexander and Daena tied the knot. The couple has supported each other through thick and thin, proving that marriages can last even in Hollywood.
WHAT IS KNOWN ABOUT JASON ALEXANDER AND DAENA E. TITLE'S SONS?
Alexander and Title have two grown-up sons, Noah and Gabe Greenspan. They inherited the artistic gene from their successful parents and became actors.
Noah is the least famous of the two as he has only appeared in the short film "Murray Ghost." His second project, the animated TV series "Girls Dorm," is in post-production.
On the other hand, Gabe has had a more prolific career so far. He made his acting debut in the 2014 short film "For Dad" before landing roles in "Super Man! Two Words!" "The Soul Man," and "Middle School Talent Show."
Gabe's most important project has been the 2020 mini-series "Wayward Guide." However, the show he probably loved the most was "Dinner with Dad," a digital series he and his father co-wrote and starred in.
Their characters are heightened versions of themselves, and they get together weekly to catch up on life. Alexander gives his son supportive but unsolicited advice on life and career in the entertainment industry, but Gabe also asks for his dad's thoughts on specific topics.
Speaking of Gabe, he married a woman named Kristina on September 6, 2020, three years after they began dating. Jason Alexander and Daena E. Title have a lovely and talented family. Way to go!
Please fill in your e-mail so we can share with you our top stories!