Julia Louis-Dreyfus' Husband Brad Hall Was with Her during Her Cancer Battle — Meet Him
Actress, comedian, and producer, Julia Louis-Dreyfus has a husband who shares her passion for the arts. Aside from their similar career paths, Julia's husband, Brad Hall, has stood by her through her most difficult moments, most notably her cancer battle.
Award-winning actress, Julia Louis-Dreyfus has it all! A burgeoning career, outstanding beauty, two adorable children, and a supportive husband to stand by her through thick and thin. 
When her picture-perfect life became threatened in 2017 following her breast cancer diagnosis, the 59-year-old survivor won the battle against the condition, with her husband and soul mate, Brad Hall, by her side.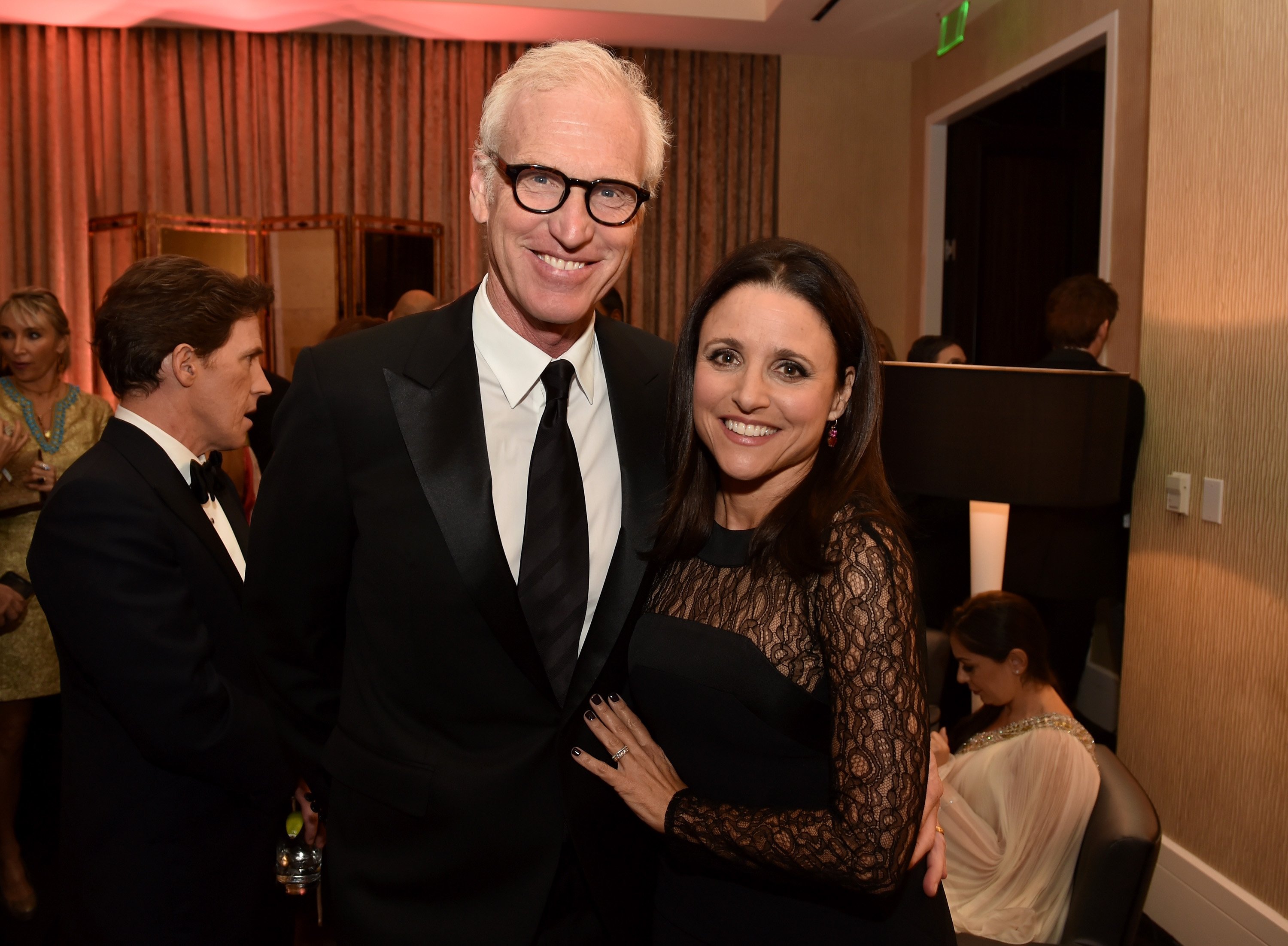 MEET JULIA LOUIS-DREYFUS' HUSBAND
Julia Louis-Dreyfus' husband, Brad Hall, landed the planet on March 21, 1958, in Santa Barbara, California. He delved into entertainment as a young adult and has since become a comedian, actor, director, and writer, with credits in productions like "The Single Guy" and "Watching Ellie."
The Hollywood icon emerged stronger from her battle with cancer and went on to achieve more feats in the movie industry.
The 62-year-old attended Northwestern University, Evanston, Illinois, where he met Julia. In addition to his love for entertainment, Brad has an interest in surfing, which he developed as a child. Brad Hall is a father of two children, Henry and Charles, both from his marriage to Julia.
BRAD HALL AND JULIA'S LOVE STORY
Brad and Julia's love story began with their first meeting at Northwestern University. The pair had their first encounter after Julia joined the Practical Theatre Company, co-founded by Brad Hall.
Soon, SNL writer, Tim Kazurinsky discovered the pair and recruited them into the NBC show, "Saturday Night Live" in 1982. During their time together on "SNL," Julia realized the comedian was the one for her but kept the assertion to herself.
Although the actress quit the show years later due to the toxic, male-centric atmosphere, their connection continued to deepen.
The pair eventually became an item, marking the start of a long-lasting union. After sustaining their relationship for years, Julia and Brad Hall tied the knot on June 25, 1987. The actress was twenty-six at the time, while her soul mate was 29.
Five years into their marriage, the couple welcomed their first son, Henry Hall, born 1992. Their second son, Charles Hall, arrived in 1997, completing the perfect family of four. Over thirty-three years later, Brad and Julia remain steadfast in their marriage.
JULIA LOUIS-DREYFUS' BATTLE WITH CANCER 
Brad and his wife encountered a major hurdle in 2017 after she got diagnosed with cancer. Julia Louis-Dreyfus' first disclosed her breast cancer diagnosis in September 2017, via a social media post.
The actress, who was at the time shooting her hit comedy-drama, "Veep," had to stall the production while battling the condition.
Julia underwent several chemotherapy sessions until January 2018. A month later, she went through a surgical procedure. The icon eventually overcame the life-threatening condition, announcing in October 2018 that she was cancer-free.
While struggling with breast cancer, the star had the full support of her husband and two children. Brad stood by her, encouraging her every step of the way. Julia Louis-Dreyfus's on-screen family were also on hand to see her through her tough times.
JULIA'S CAREER AS AN ACTRESS
The Hollywood icon emerged stronger from her battle with cancer and went on to achieve more feats in the movie industry.
With major roles in series like "Seinfield," and "The New Adventures Of Old Christine", and animated movies like "Planes," and "A Bug's Life," Julia Louis-Dreyfus became one of the most decorated actresses of all time.
BRAD HALL AND JULIA LOUIS-DREYFUS' CHILDREN
Julia Louis-Dreyfus' children with Brad Hall have grown into successful adults. Their first son, Henry, now 28, went on to pursue a career in music as a singer, songwriter, and guitarist. 
Since the onset of his career, he has played with notable bands at Wesleyan and Grand Cousin. However, these days, Henry focuses on growing his music as a soloist, releasing hit tracks like "Proverbial Ice."
Henry's brother, Charles, attended college at his mom's alma mater, Northwestern. While getting his degree, the now 23-year-old played for the school's basketball team, scoring one point during his four-year college basketball career.
Like their parents, both kids have a great sense of humor, making the thought of spending a day surrounded by the Halls a most welcome fantasy.