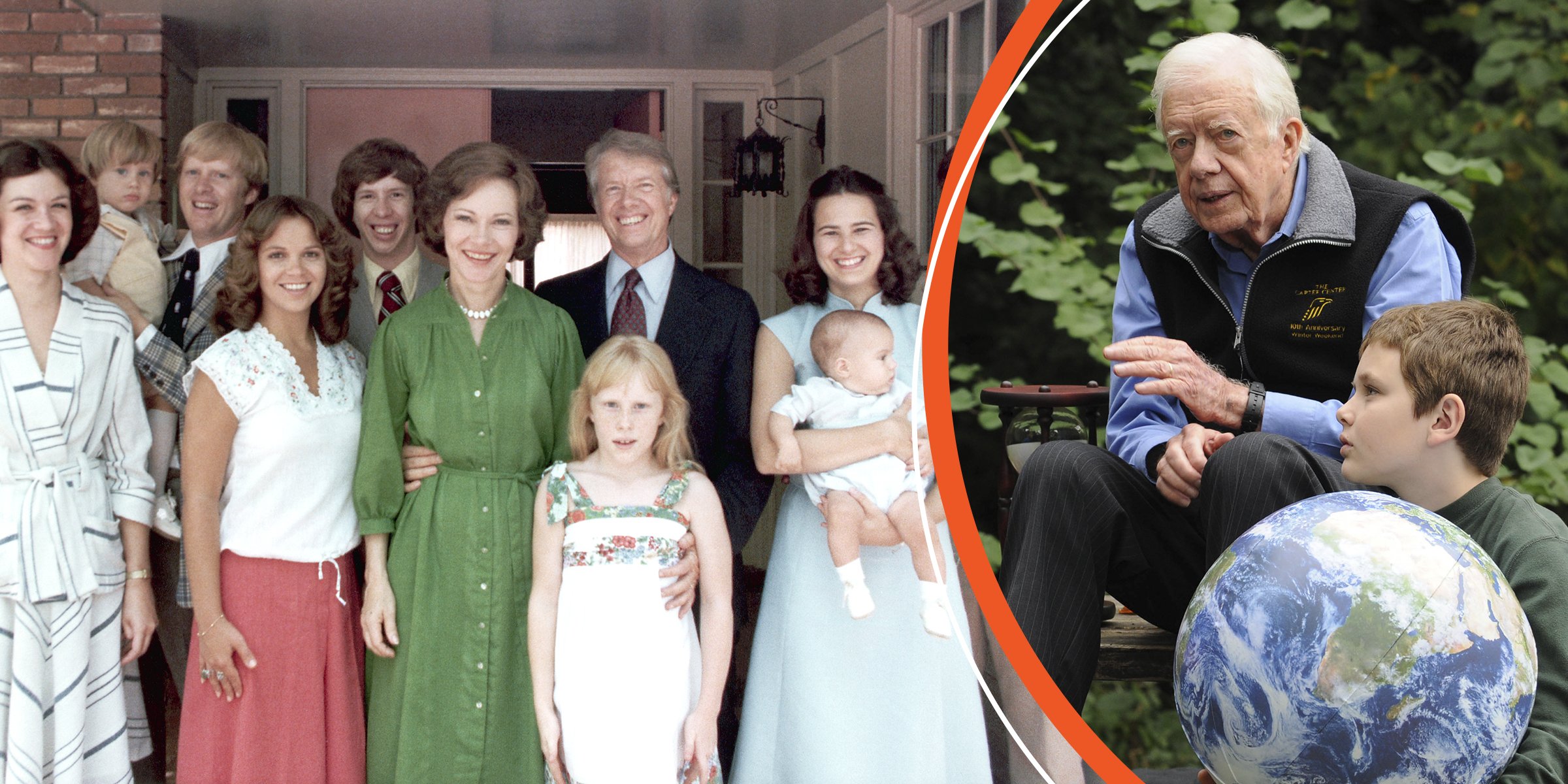 Instagram.com/jimmycarternps - Getty Images
Jimmy Carter Dotes on 43 Grandkids & Great-Grandkids Who Motivate the Retired Star & His Wife of 76 Years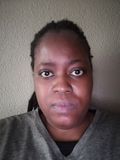 Former US President Jimmy Carter and his wife, Rosalynn, married for nearly eight decades in 2022. The couple was not short of love and attention as their four children helped grow the Carters with over forty family members!
After retiring, former US President Jimmy Carter was now spending the rest of his life enjoying relaxation and peace with his wife of 76 years, Rosalynn. In July 2021, the former politician and his wife gave a glimpse inside their lives as longtime lovers.
Speaking to The Atlanta Journal-Constitution (AJC), Rosalynn was asked if it was true that they still had a tradition where she made him breakfast daily. She revealed it wasn't true because aging had changed things for them.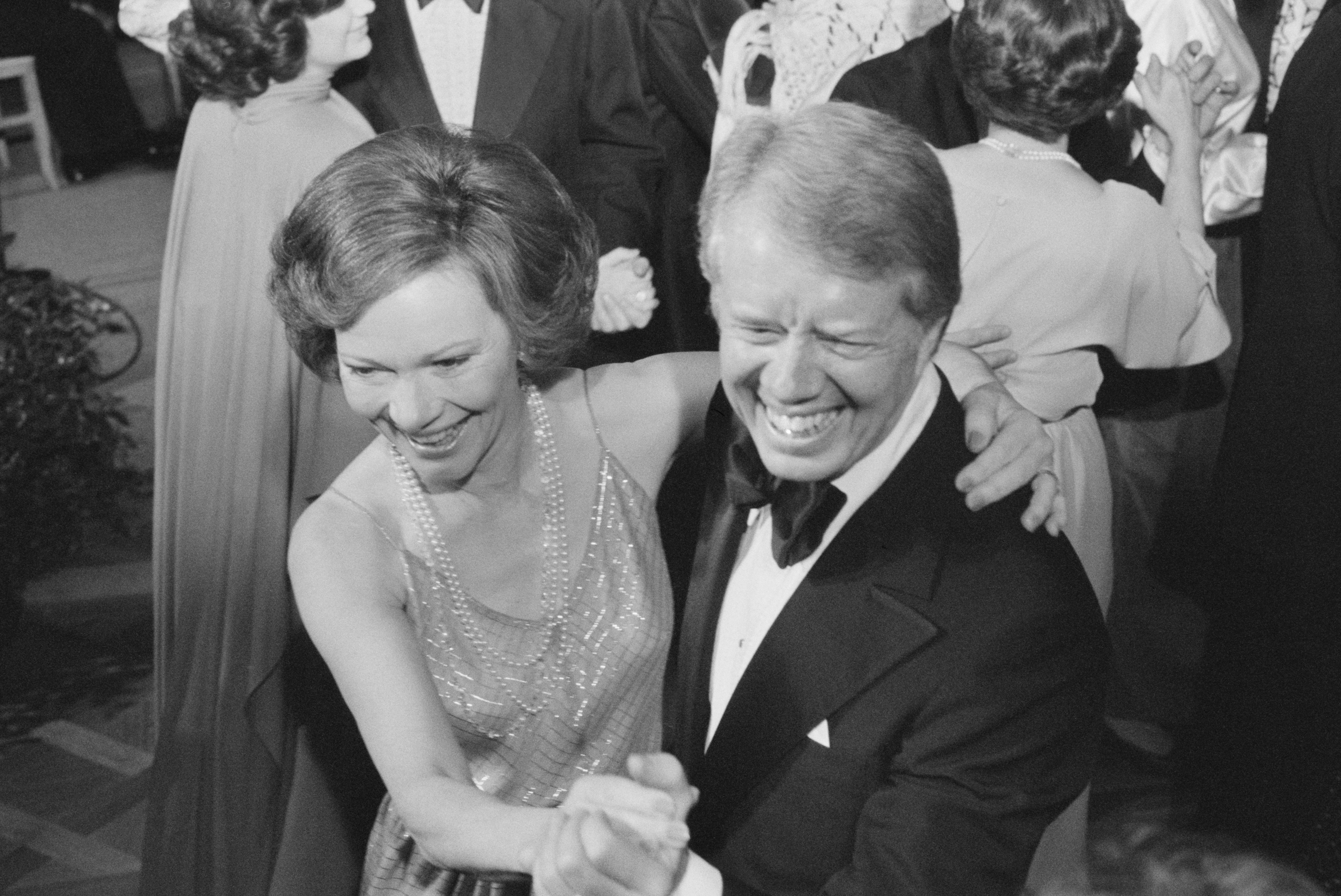 US President Jimmy Carter and First Lady Rosalynn Carter dance at a White House Congressional Ball in Washington, D.C., on December 13, 1978. | Source: Getty Images
The former first lady's husband shared how his wife still tried to make them supper "almost every night." The couple's interviewer noted that it was one of the "loving things" they kept doing as a long-term couple.
The former leader agreed and said in the late afternoon, he could relax while his wife prepared supper, or if she needed his assistance, he would pitch in. The AJC interviewer also wanted to know if the duo still used nicknames after all these years.
Rosalynn revealed that she called her husband "Jimmy," while he lovingly referred to her as "beautiful" or "sweetheart." Besides dedicating his life to his wife after leaving the White House in 1981, Jimmy had other things he devoted his time to.
He's a humanitarian who helps other people with his work for Habitat for Humanity, where he's renovated or built over 4,000 houses. As dedicated as he is to his philanthropic work, Jimmy's biggest priority in life is his big family.
In a 2015 CNN Press Room interview, Jimmy confessed that his wife was "the foundation" of the enjoyment he had in his life. He shared how he'd chosen the right woman and someone willing to give each other space to do their things.
The former president said he and Rosalynn tried to reconcile their differences before heading to bed. They also tried to find things they could enjoy doing together and had many great times with their big family.
The couple's big family stems from their four children, sons Jack, Donnel, and James, and daughter Amy Carter. By 1977, when Jimmy became the US president, his sons were already adults, but his daughter and youngest child spent part of her childhood in the White House.
When it came to his children's homework, Jimmy was the most formidable US president. In the book "First Dads," Joshua Kendall revealed how Jimmy was usually considered a soft and kind man, but his military background made him tough!
When one of the 39th president's sons, James, failed their Latin exam, Jimmy took it upon himself to be his tutor. He was able to help the boy who ended up getting an A in the subject.
Besides retiring from politics, the former president has also taken away some of his responsibilities as a father. He now focused on enjoying life by doting on his grandchildren and great-grandchildren.
JIMMY'S LARGE EXTENDED FAMILY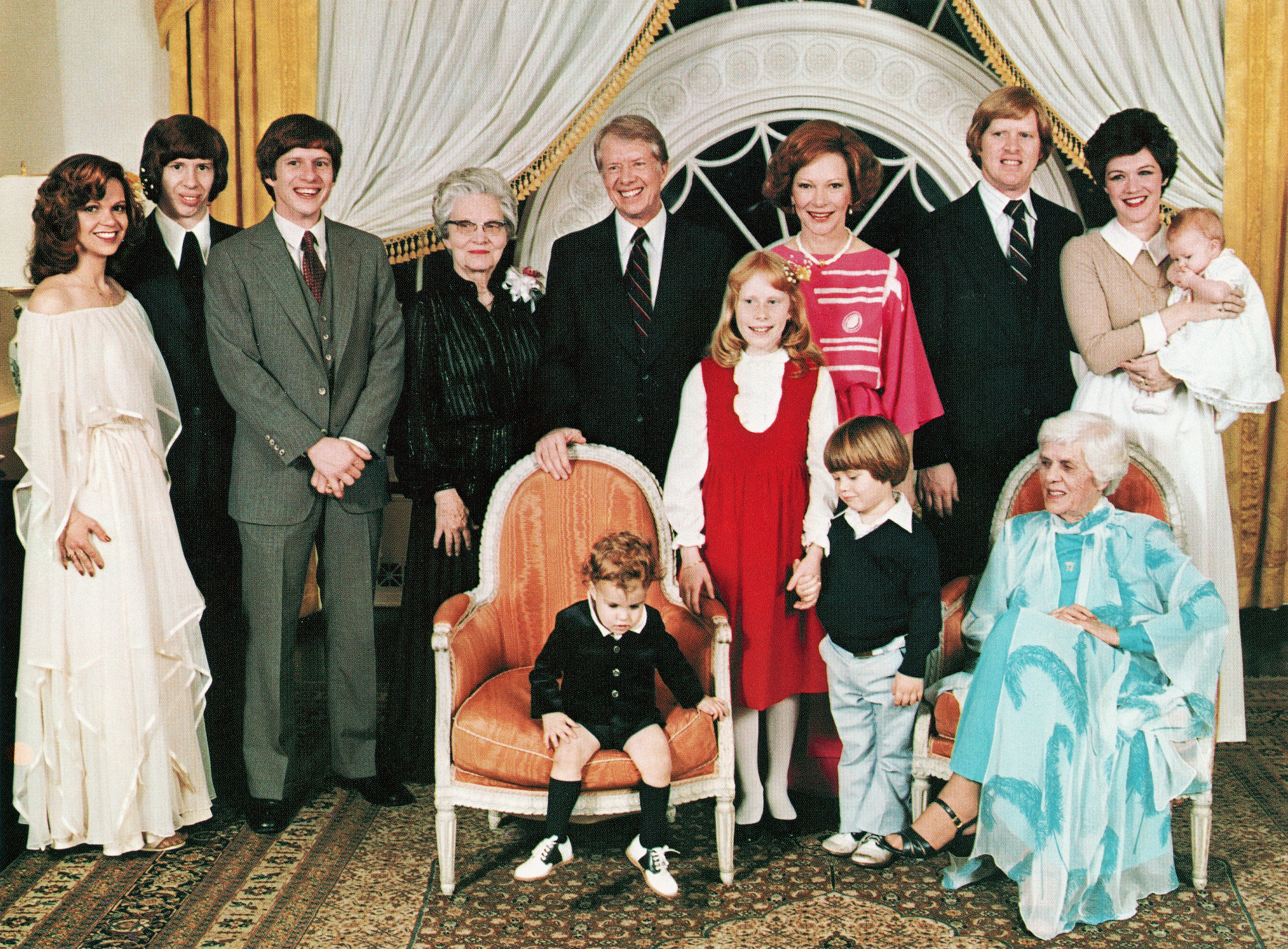 A portrait of President Jimmy Carter and his extended family in 1977. | Source: Getty Images
According to Jimmy's website, Jack William and his wife Elizabeth Brasfield welcomed a son Jason James on August 7, 1975, while their daughter Sarah Rosemary was born on December 19, 1978.
Brasfield also had two children, Sarah and John Chuldenko, from her first marriage. The second Carter child, James Earl "Chip" and Becky Payne had two children, son James Earl IV, born on February 25, 1977, and daughter Margaret Alicia, born on September 23, 1987.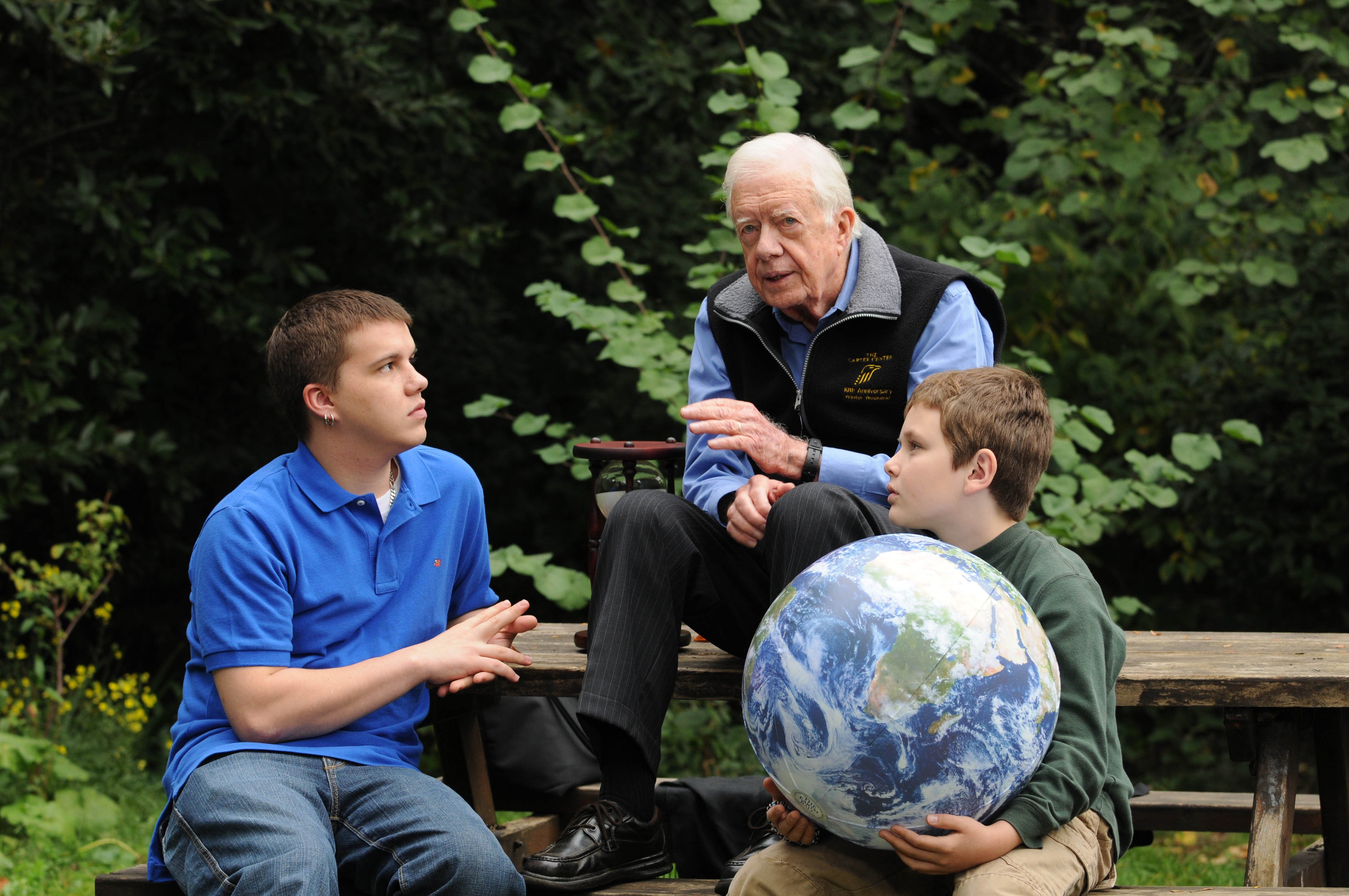 Jimmy Carter with his grandsons Jeremy Carter and Hugo Wentzel during a picnic event on October 31, 2009, in Istanbul, Turkey. | Source: Getty Images
Donnel Jeffrey "Jeff" and his wife, Annette Jene Davis, blessed Rosalynn and Jimmy with three grandchildren: Joshua Jeffrey, born on May 8, 1984; Jeremy Davis, born on June 25, 1987; and James Carlton, born on April 24, 1991.
Jimmy's only daughter, Amy Lynn, tied the knot with James Gregory Wentzel and had one son, Hugo James Wentzel, welcomed on July 29, 1999. By 2015, the Carter's already had 22 grandchildren and great-grandchildren.
The couple, who married in 1946, had three granddaughters, nine grandsons, four great-grandsons, and six great-granddaughters. Sadly, Donnel lost one child in 2015, Jeremy, at age 28.
In 2021, Jimmy's family had grown even more with a significant addition to their grandchildren and great-grandchildren. The former president told AJC who took care of the brood between him and his wife, stating:
"We have about 43 grandchildren and great-grandchildren. Rosa takes care of them mostly, but our interest in our children and grandchildren is one of our motivations."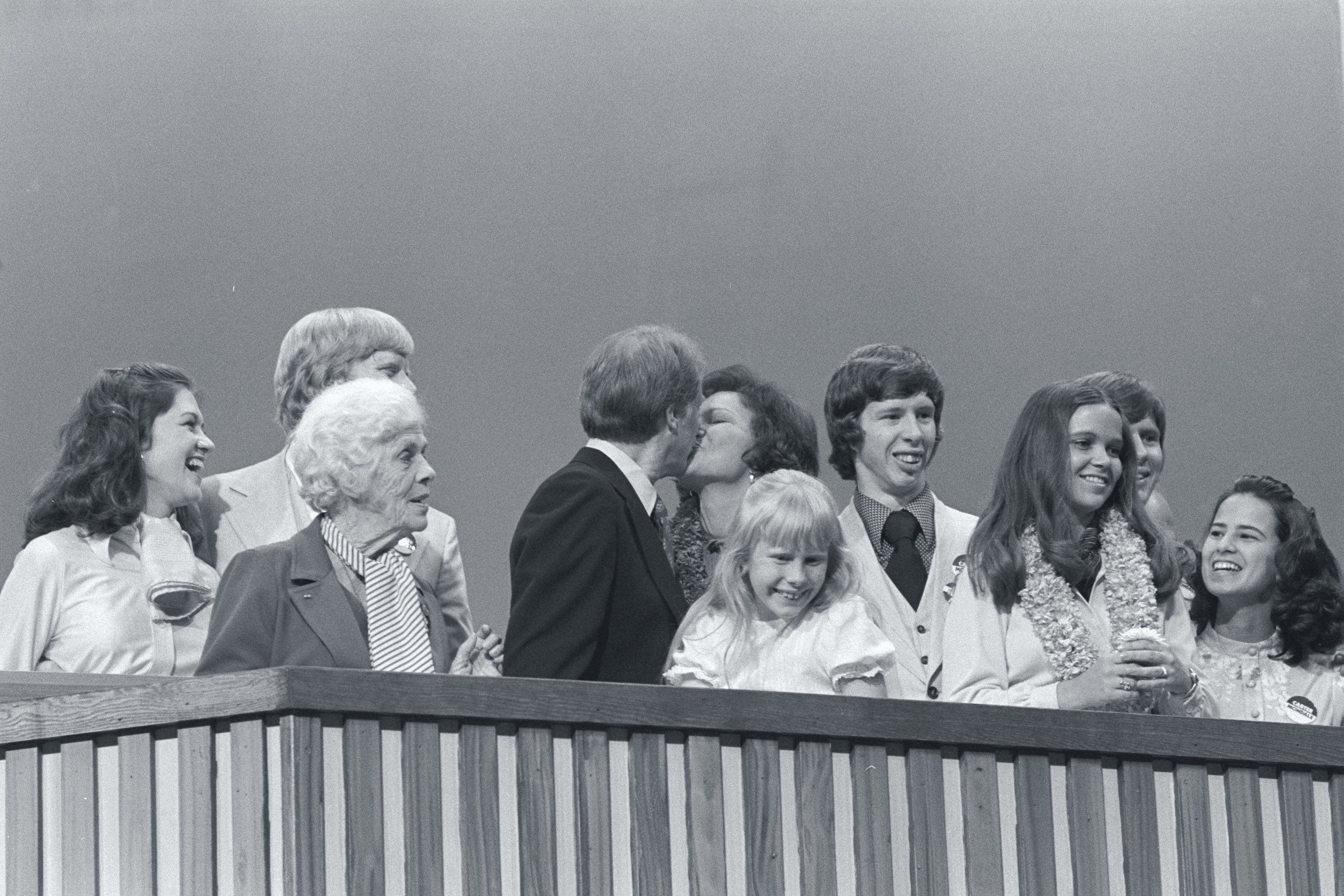 Jimmy Carter kissed his wife, Rosalynn, at the podium with his family by their side at the 1976 Democratic National Convention. | Source: Getty Images
The former first lady shared how she and her husband found things to do with their grandchildren and great-grandchildren. Some of the activities they undertook included fly fishing and bird watching.
His [Jimmy Carter] humanitarian efforts go beyond just building homes for other people and giving back in many ways, he also tends to fly commercial!
The offspring brought life and youth into Jimmy and Rosalynn's lives as the former president revealed how they'd learned to ski together. He also shared that they traveled the world with them!
According to Country Living, the Carters maintained their close bond with their grandchildren, children, and great-grandchildren by taking family holidays together. Over two decades, they'd gone on vacation between New Year's Day and Christmas.
THE CARTER COUPLE'S NORMAL LIVES IN RETIREMENT
In 2018, The Washington Post revealed that Jimmy and his wife lived frugal and everyday lives at the ranch house Jimmy built in 1961. The Plains, Georgia, rural home featured two bedrooms with a $167,000 sale assessment.
The publication noted how the former president's home cost less than the armored Secret Service cars parked outside. The ranch also costs lower than the median Georgia home price of $213,026.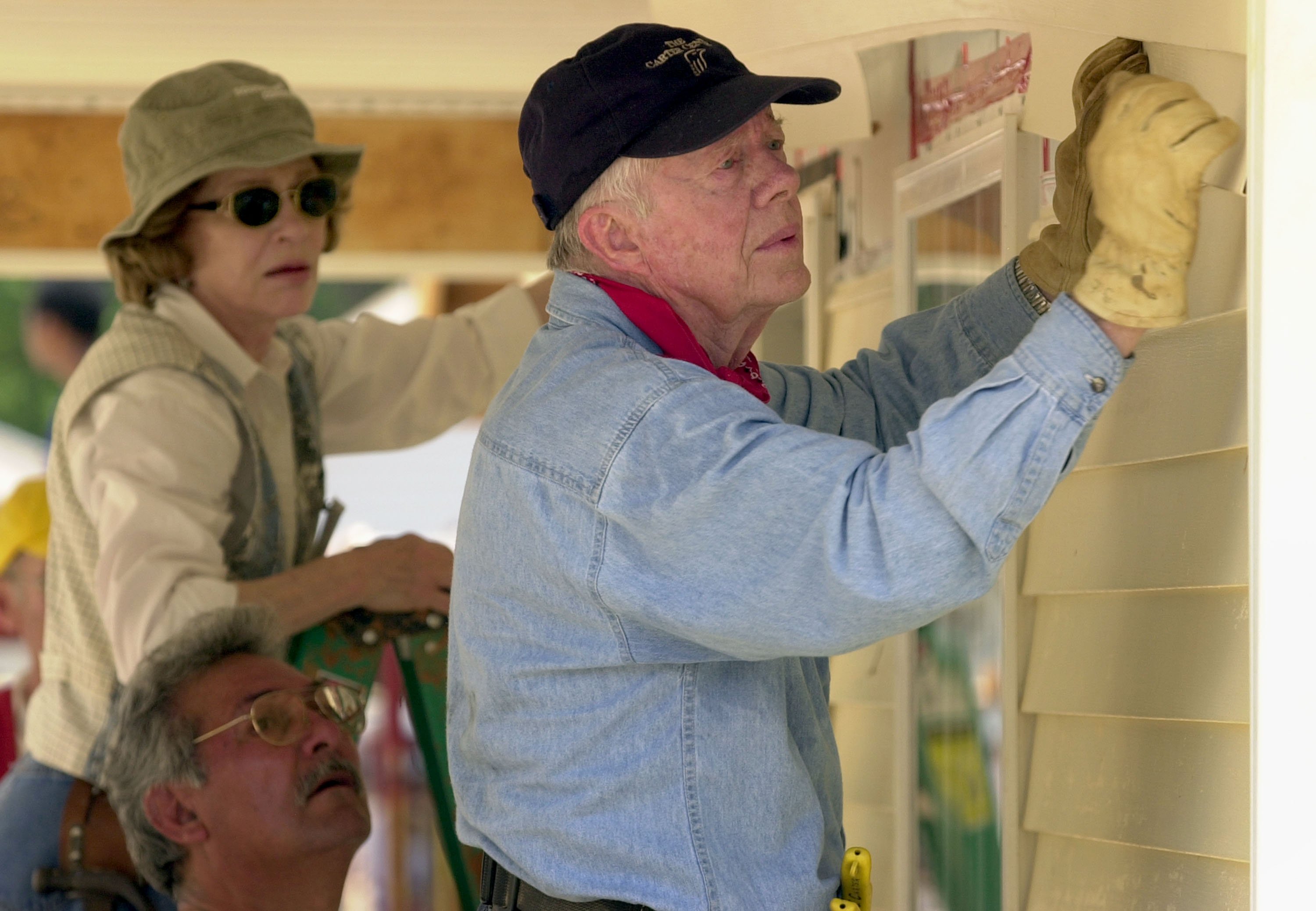 Former US President Jimmy Carter and his wife, Rosalyn, worked on a house for Habitat for Humanity on June 10, 2003, in LaGrange, Georgia. | Source: Getty Images
He might've been a president once, but Jimmy now lives an affordable lifestyle. Rosalynn's husband was so frugal that he'd spend his weekend dining on paper plates and drinking bargain-brand wine with his neighbors!
The Washington Post also claimed the former politician and his wife made their yogurt! In 2011, Rolling Stone revealed that Jimmy tended to buy his clothes at the local Dollar General store.
The former US president appeared for the store's opening in 2004. His humanitarian efforts go beyond just building homes for other people and giving back in many ways; he also tends to fly commercial!
Please fill in your e-mail so we can share with you our top stories!