President Jimmy Carter and Rosalynn Carter's Throwback Photos Prove That Age Is Just a Number
A throwback photo shared on social media proved that President Jimmy Carter and his wife Rosalynn Carter have changed very little over the years.
Sharing an old photo of the couple on July 7, 2020, the official Instagram account of the Jimmy Carter National Historic Site wrote: "Happy 74th wedding anniversary to President and Mrs. Carter."
Jimmy and Rosalynn exchanged their wedding vows on July 7, 1946, in Plains, Georgia. When they got married, Jimmy was 21 years old and Rosalynn was 18.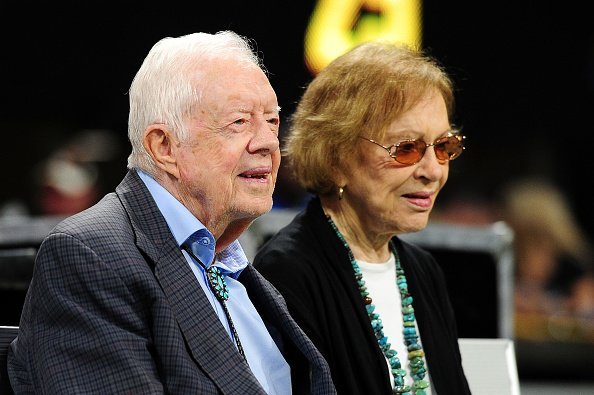 LONGEST-MARRIED PRESIDENTIAL COUPLE
The adorable snap garnered a lot of praise from the pair's supporters. One person commented that Jimmy and Rosalynn have always been a beautiful couple.
In the picture, the couple is seen looking at the camera while smiling. Joy was evident on their faces. PEOPLE reported that Jimmy and Rosalynn made history as the longest-married presidential couple in July 2020.
When they first met in the early 1940s, Jimmy was on break from the Naval Academy. Rosalynn was closest companions with Jimmy's younger sister named Ruth.
The 39th president of the US asked her on a date to the films. In the book titled "What Makes a Marriage Last," which was published in May 2020 by Phil Donahue and Marlo Thomas, Jimmy recalled that he immediately felt compatible with Rosalynn.
For over thirty years, Rosalynn has worked to enhance the quality of life for people worldwide.
"She was beautiful and innocent, and there was a resonance," he shared. Jimmy added that they rode in the rumble seat of a Ford pickup and that he kissed Rosalynn on that first date. He still remembers that moment clearly, he said.
Jimmy and Rosalynn have four children together — sons Jack, Chip, and Jeff, and daughter Amy. The couple's youngest child, Amy, spent part of her childhood growing up in the White House. 
ROSALYNN'S CHARITY WORKS
For over thirty years, Rosalynn has worked to enhance the quality of life for people worldwide. She has been a staunch supporter of various causes, including mental health, human rights, and caregiving.
Through her work at The Carter Center in Atlanta, Georgia, Rosalynn also supports conflict resolution. Outside the center, Rosalynn serves as the president of the board of directors for the Rosalynn Carter Institute for Caregiving (RCI).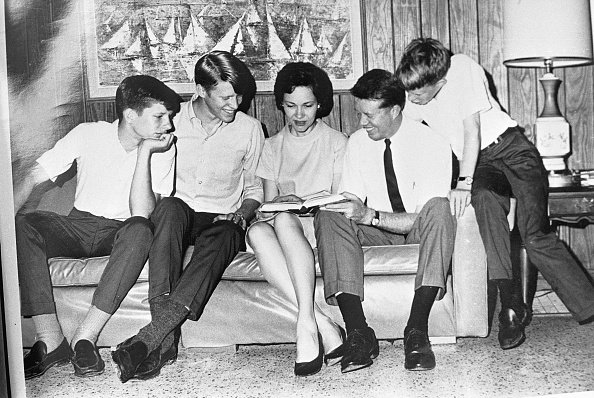 When Jimmy started his political career, Rosalynn, her husband's closest adviser, identified herself as a reflection of Jimmy. However, for her, she is a powerful person in her own right.
Jimmy would say that she is his "secret weapon" while on the presidential trail in the '70s. The former president also revealed that Rosalynn was deeply saddened by his loss to Ronald Reagan in 1980.