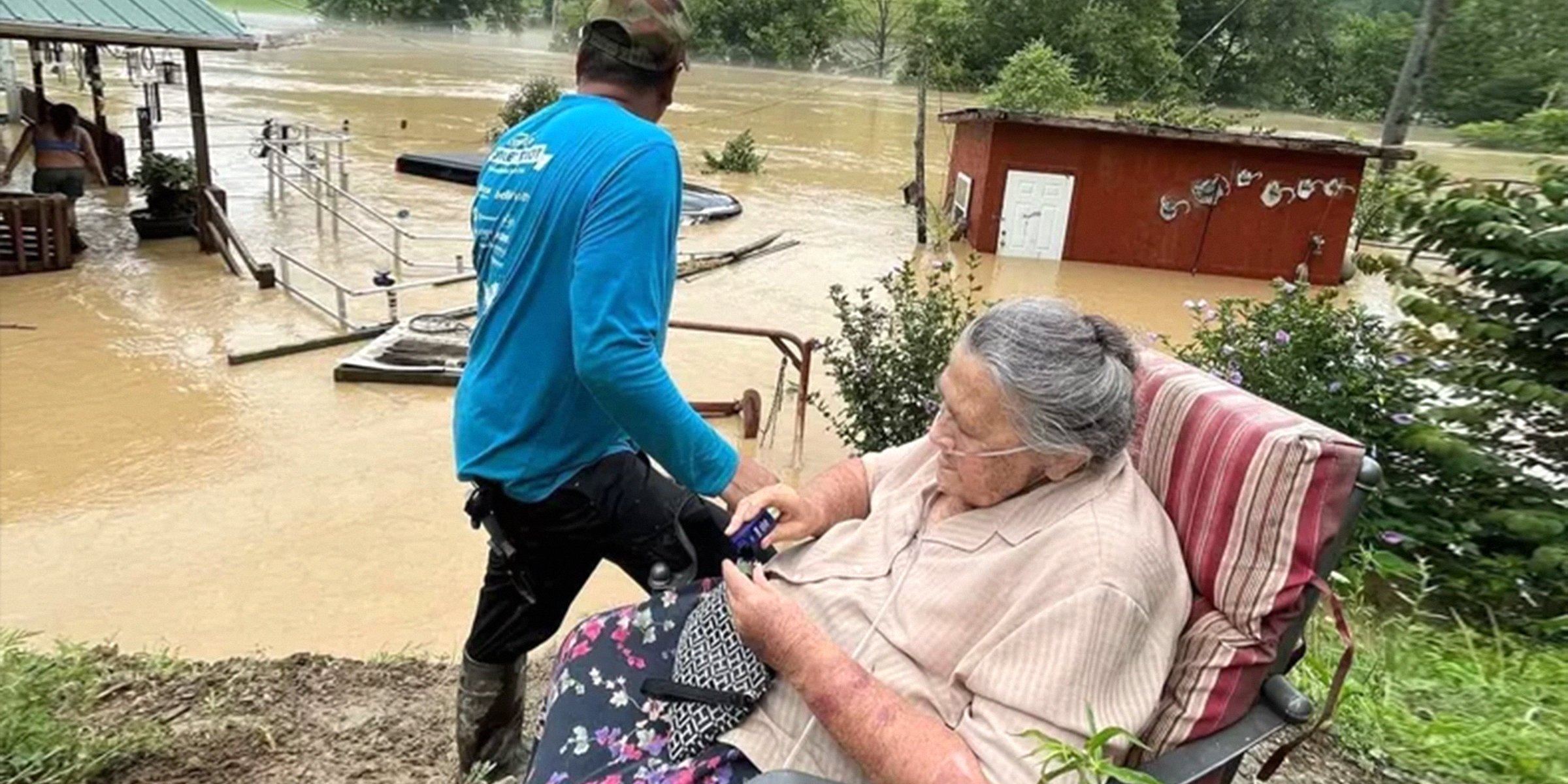 Gofundme.com
Kentucky Grandma, 86, Loses Everything in Flood, Waits for Help amid the Wreckage of Her House
When historic torrential rains struck a region in Kentucky, one woman in her late eighties was in desperate need of rescuing. Read her story and discover why there is much uncertainty surrounding her survival and future.
When tragedy strikes, people rely on their communities and the help of kind strangers. Rebuilding life after absolute destruction isn't easy and weighs heavily on the poor and elderly.
Without kindness and Good Samaritans, many people would be left on their own with no chance of survival—this was the case for one 86-year-old woman.
Jennifer Folino adored her grandmother, Christine Ritchie, and always looked up to her. She described her as a Wonderwoman who was intelligent and strong. She said:
"[My grandma] has worked every day of her life and never once complained about it."
However, even the most resilient people need help from time to time. Folino shared Ritchie's story and revealed that her grandmother's entire world was turned upside down in July.
Devastating floods wreaked havoc on the Eastern regions of Kentucky, leaving people destitute. Folino and her family worried about their beloved grandmother, hoping for news about her safety.
Many homes were destroyed, and lives were lost, so the Folino family feared the worst. They were concerned about Ritchie and how someone her age would cope during the traumatic experience.
The family learned that Ritchie had to be airlifted from her home. They were grateful she made it out of harm's way alive but knew there was a long road ahead before life returned to normal.
Their grandmother lost everything she had spent a lifetime working for, and it broke their hearts. They couldn't stand by and watch Ritchie struggle, so they acted. The granddaughter created a GoFundMe page wherein she shared:
"The Appalachians are resilient people with a rich and vibrant culture, but we need your help now."
HER SURVIVAL WAS UNCERTAIN
Ritchie's fate was uncertain, and without assistance from donors, things were not looking promising. Besides the loss of material possessions, people struggled with emotional trauma.
The ordeal was horrific and caused immense fear and anxiety. The granddaughter wrote:
"Entire families lost their homes and belongings—everything. No amount of money can heal the trauma she and so many others have experienced, but her survival—their survival—hangs in the balance now."
SUPPORT FOR THEIR GRANDMOTHER
Folino vowed to ensure all donations went to Ritchie and other immediate family members affected by the flood. She stated:
"We're asking for your help. Any financial contributions or donations will be used for cleaning supplies, clothes, bottled water, etc."
"As the granddaughter, niece, and cousin, to those who are struggling, I appreciate your support," she added. Friends, family, and strangers heeded the call for kindness. More than $6,500 had been donated by August 4, 2022.
THE RESCUE EFFORTS CONTINUED
While Ritchie and her family focus on rebuilding their lives, rescue efforts have continued in Kentucky. The damage is unimaginable, and Governor Andy Beshear shared:
"It's absolutely devastating out there, it's going to take years to rebuild. People left with absolutely nothing, homes that we don't know where they are ... just gone."
At the start of August, rescue teams were still searching for missing residents. The waiting game has been painful for relatives anxious to know if their loved ones are alive. The ordeal also took its toll on Gov. Beshear. He expressed:
"I was at a breaking point the other night because that happens to all of us -- it's OK not to be OK. We're going to get through it because we have to. We don't have any other choice."
ANOTHER KENTUCKY RESIDENT ESCAPED THE FLOOD
Amid the stories of heartbreak and devastation caused by the floods, there have been hopeful encounters. One teenage girl from Whitesburg, Kentucky, was shocked when strange noises woke her up in the early hours of the morning.
She recalled screaming for help and quickly realized the situation was dire. Chloe Adams was alone and knew she needed to leave her house. The 17-year-old shared:
"I knew I only had two options here. We stay inside and drown, or I take my chances swimming to safety. I knew the dangers of trying to swim in deep and moving water, but I felt I had no choice."
The young resident courageously swam through the violent flood waters, refusing to leave her special friend behind. Adams had a dog named Sandy, and she didn't forget her.
The youngster was terrified by the storm and let out cries for help. Her family lived nearby, but they were too far to hear her screaming, so she came up with a rescue mission quickly.
The teen used a floating plastic container to save her dog as she swam to safety. Her heroic deed is worthy of praise, and her bravery should not go unnoticed.
The citizens of Kentucky have been through a traumatic ordeal, and many are grieving the loss of loved ones, homes, and life as they knew it. Our thoughts and prayers go out to everyone affected as they move forward and rebuild.
Click here for another story about a resident who was saved during the Kentucky floods. The 98-year-old woman was trapped in her home when a stranger broke in to help.
Please fill in your e-mail so we can share with you our top stories!