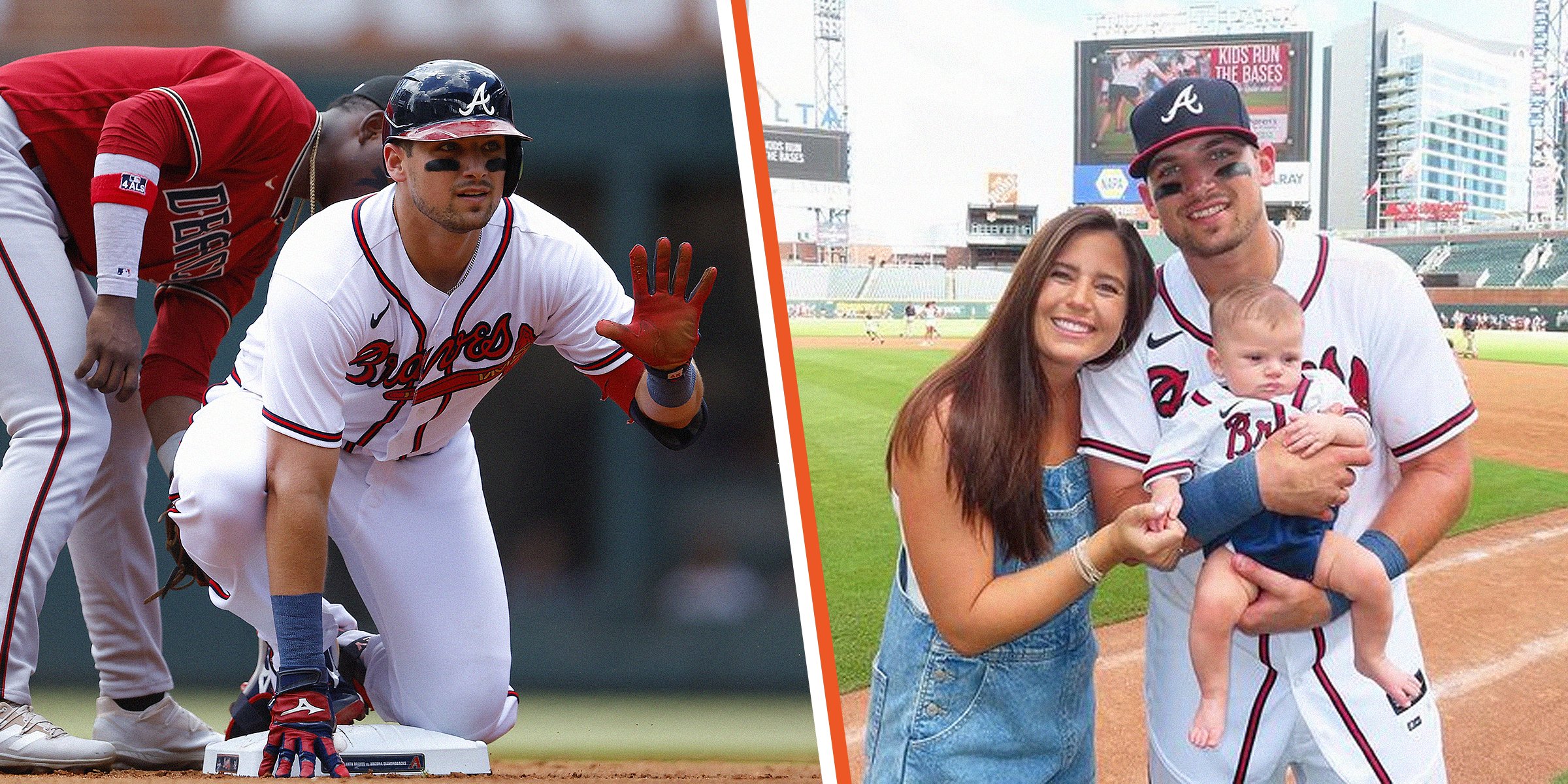 Getty Images
Austin Riley's Wife Anna Riley: Who Is the Mother of Atlanta Braves Star's Son?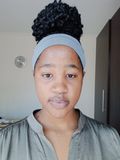 The Rileys seem to be on a winning streak this year, with lucrative deals gracing and securing their lives, and have also been blessed with their bundle of joy.
Third baseman Austin Riley was recently named player of the month in June 2022. He secured a $212 million deal under the Atlanta Braves, which is expected to run for the next ten years, all through the '32 season
Moreover, he and his wife, Anna Riley, welcomed his baby boy just two days before his game against the Miami Marlins. The first half of the year has been gainful for the Rileys.
ANNA RILEY WAS A COLLEGE CHEERLEADER
Anna Riley drew her first breath on March 6, 1996. The 26-year-old is known for being incredibly supportive of her husband. However, despite a consistent social media presence, little is known about her.
Through her Instagram, it is known that she was once a cheerleader for Michigan State University. In the Instagram photo below, she is pictured wearing her cheerleading uniform, holding up a pom-pom, and smiling with her teammates.
Anna's social media also reveals that she has enjoyed spending time with her family and friends and is now a mother dedicated to raising her son. She is also a Harry Potter enthusiast who appreciates he husband for understanding her love for the movies/books.
ANNA RILEY AND AUSTIN RILEY'S RELATIONSHIP
The love birds Anna and Austin Riley often take to social media to confess their intense love for each other. In the Instagram post below, the couple poses for a photo with Austin wearing a black tux and Anna wearing a purple patterned dress with jewelry.
They met in 2015 when they were just transitioning into adulthood. During that year, Austin had posted a photo of himself and Anna on Instagram, captioning it saying:
"Safe to say I had the best date at my sister's wedding! Thanks for joining see ya in 3 weeks"
The couple enjoys celebrating the anniversary of their relationship annually. In 2017, Austin popped the question, and they tied the knot the following year.
The couple celebrated their first wedding anniversary in Pagosa Springs, Colorado. Parallel to Anna and Austin's growing companionship, Austin's baseball career flourished, being a first-round pick for the Atlanta Braves in 2015.
The third baseman player made his major league debut four years later and landed the seventh position in the NL MVP Voting after a stellar performance throughout the season.
Anna has been a remarkable supporter of Austin's career, and Austin has made it his business to share his appreciation for her in the Instagram post above. The couple posed comfortably in their picture, holding the World Series Championship cup.
ANNA AND AUSTIN RILEY WELCOME THEIR FIRSTBORN
On April 20, 2022, Anna gave birth to Eason Micheal Riley - the couple's firstborn son. The new mom excitedly took to social media to express her gratitude and happiness, posting a photo of herself holding her baby with her husband. She wrote:
"April 20, 2022, at 7:35 a.m. we welcomed our biggest blessing into this world and we are so in love! I can not believe he's really ours and we get to love him forever."
Unlike the Atlanta Braves outfielder Marcell Ozuna or Travis d'Arnaud, Austin was the first to welcome his child after his team won the world series.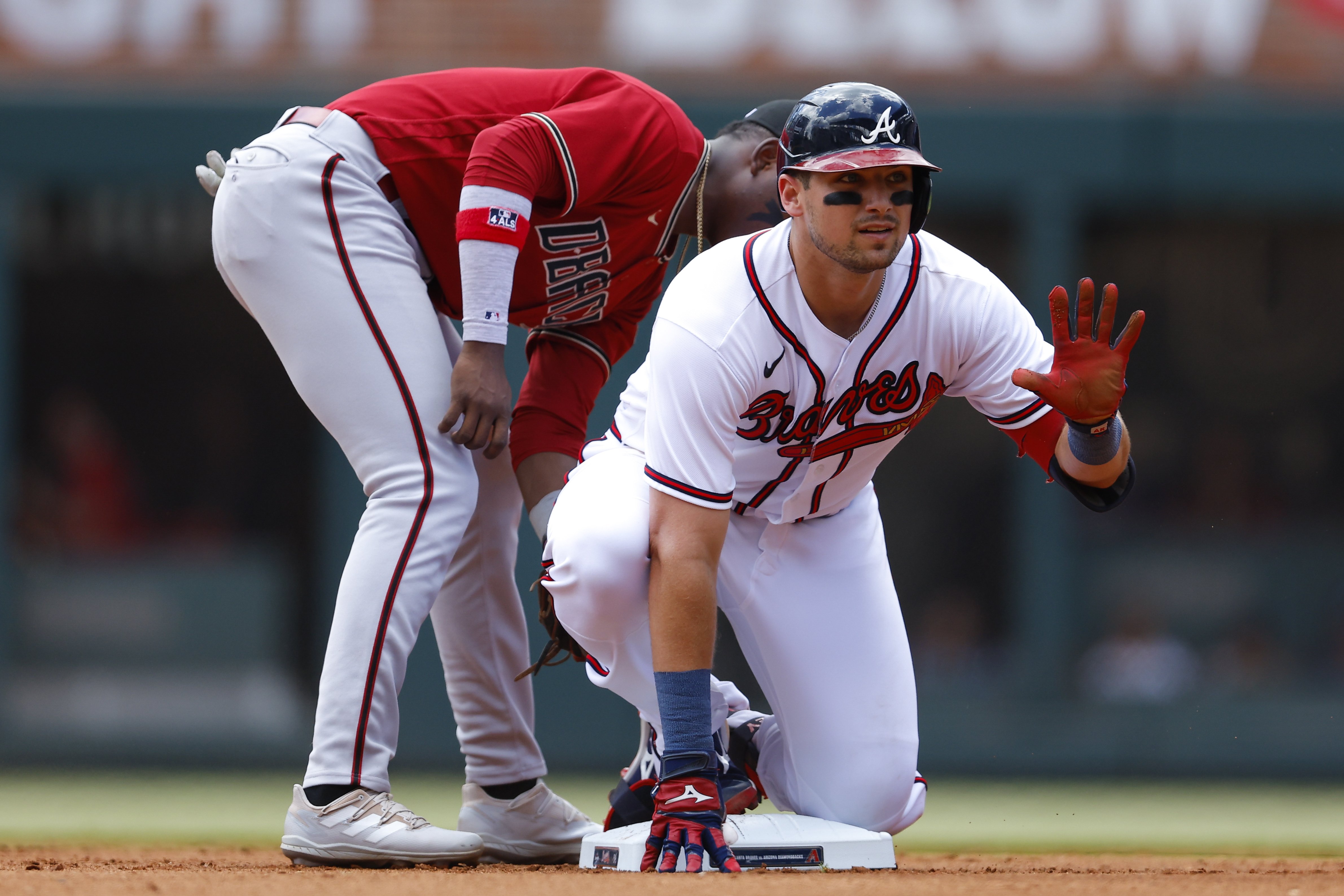 Austin Riley #27 of the Atlanta Braves | Source: GettyImages.
Anna and Austin were very happy about their child's arrival, and they have already started bringing him to baseball games in support of Austin.
Anna Riley and Austin Riley are a beautiful couple who seem to be playing their cards right. The future for them looks promising and fulfilling.
Please fill in your e-mail so we can share with you our top stories!