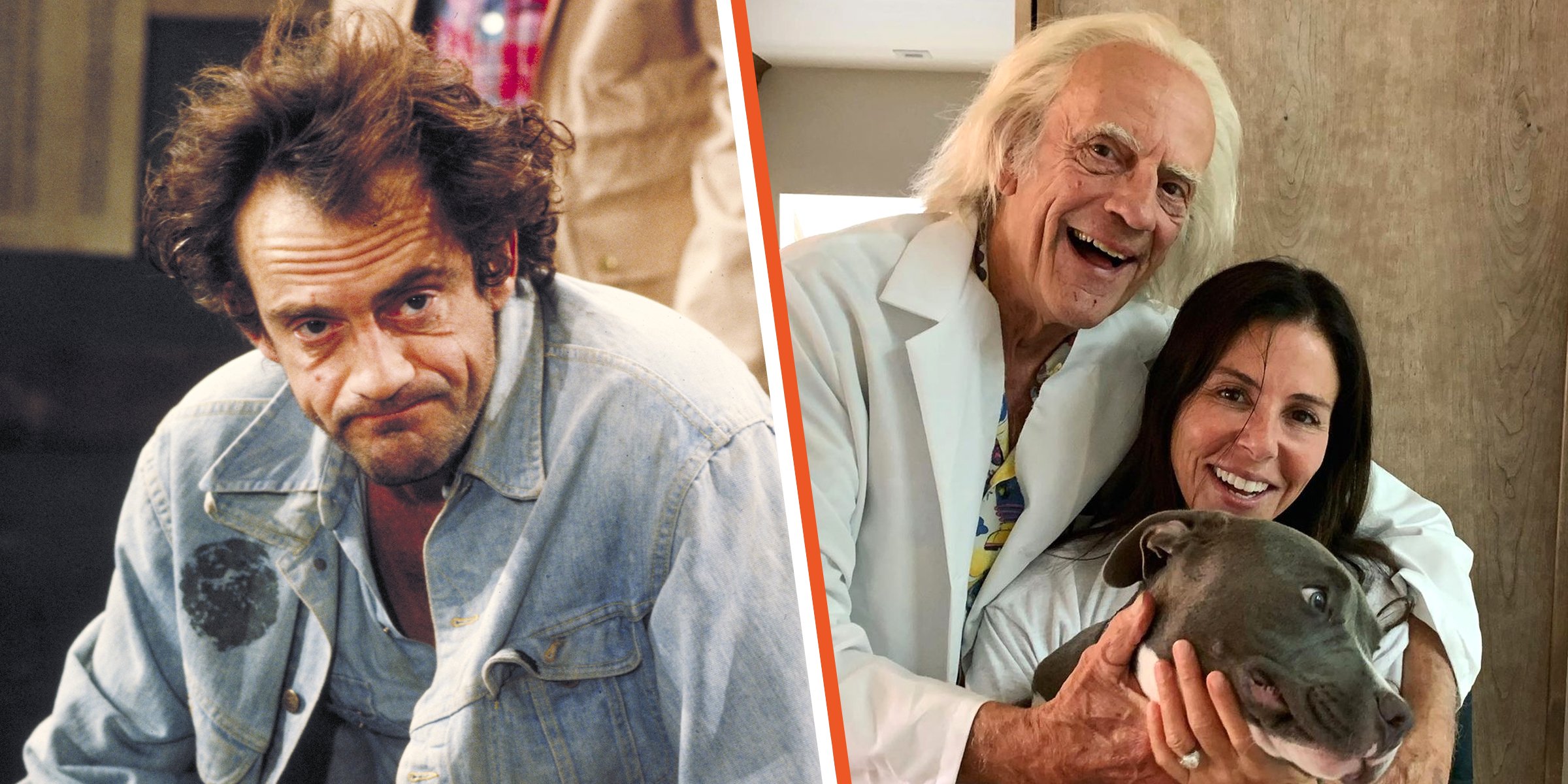 Instagram.com/mrchristopherlloyd - Getty Images
Christopher Lloyd Has Been Married 5 Times — 32-Years-Younger Wife & Ex Are Now Pals & They Quarantined Together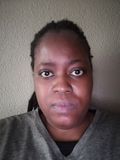 Christopher Lloyd has been through marriage five times now, but the actor still has no children. His current wife is almost four decades younger than him, and she has built a bond with Christopher's fourth wife.
Christopher Lloyd had his second longest marriage with his first wife, Catherine Boyd. The former couple was together for twelve years before their marriage concluded, and he moved on to his second wife.
The "Back to the Future" actor married Kay Tornborg in 1974 and was together for thirteen years. The "Otherworld" actress and Christopher went their separate ways in 1987 without welcoming any children.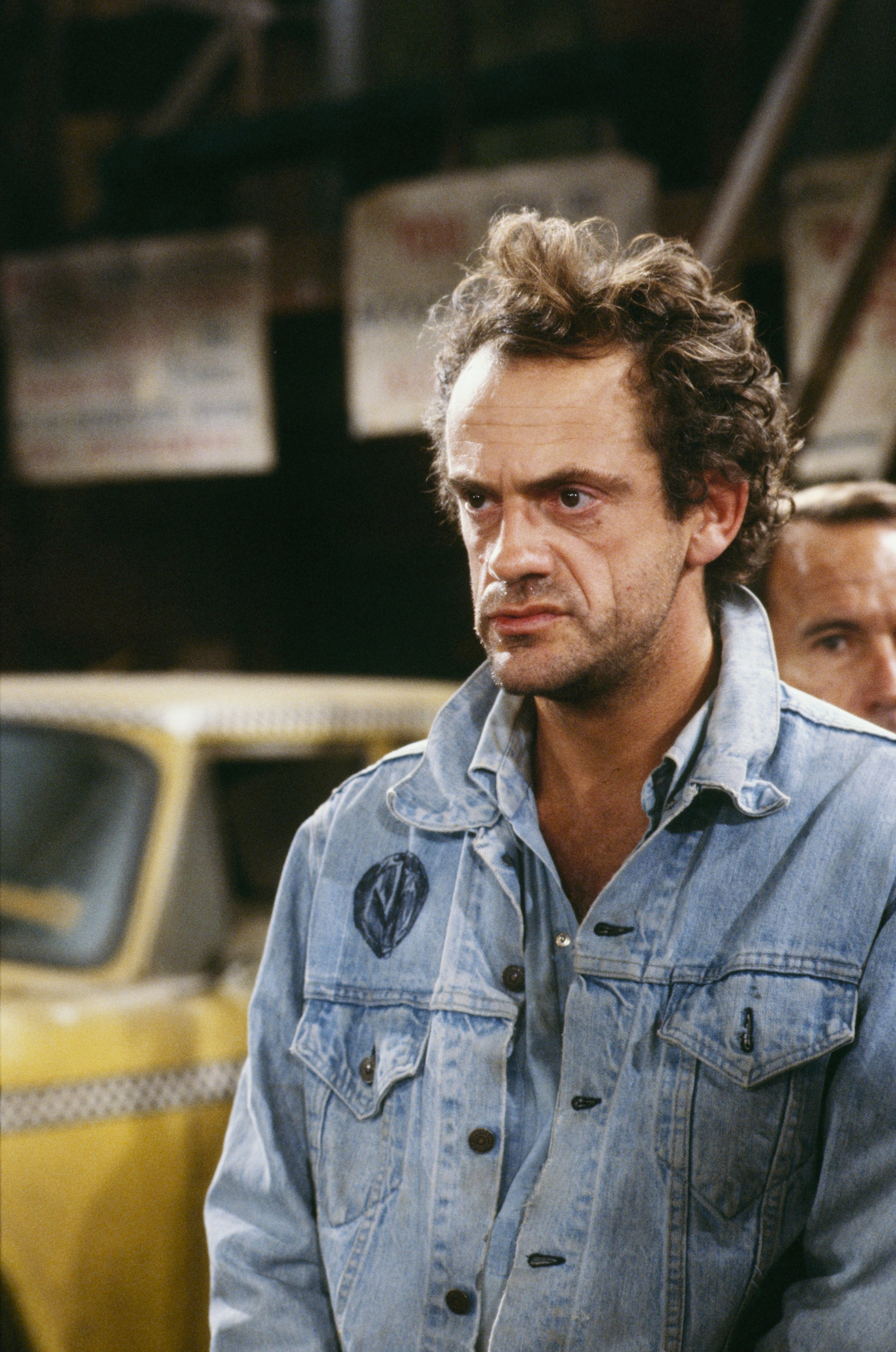 Christopher Lloyd on a "Taxi" episode that aired on October 29, 1981. | Source: Getty Images
Christopher didn't take long to find love again as he married Carol Ann Vanek, his third wife, the year after his marriage to Tornborg ended. Their union was the shortest one as it only lasted for three years.
The star's last and fourth ex-wife was Jane Walker Wood, whom he married in 1992. They remained together for thirteen years and didn't welcome any children until their relationship ended in divorce in 2005.
Carol Vanek and Christopher Lloyd at a Gala Honoring Shelly Duvall on November 12, 1990, in Westwood, California. | Source: Getty Images
The divorce proceedings Christoper had when he left his first wife didn't go as smoothly as he expected. In September 2002, AP News reported that Boyd was suing her ex-husband for unpaid alimony.
She claimed the actor owed her $200,000 under their divorce agreement in 1971. In the Manhattan state Supreme Court filing, Boyd revealed that her ex-husband was supposed to pay her $1,500 monthly until she remarried or died.
Unluckily for Christopher, none of the two had happened yet. Boyd's lawsuit also demanded $1 million of damages from the star's attorney, Judith Lazenby, for slander and libel, and Christopher's then-fourth wife was also affected by the suit.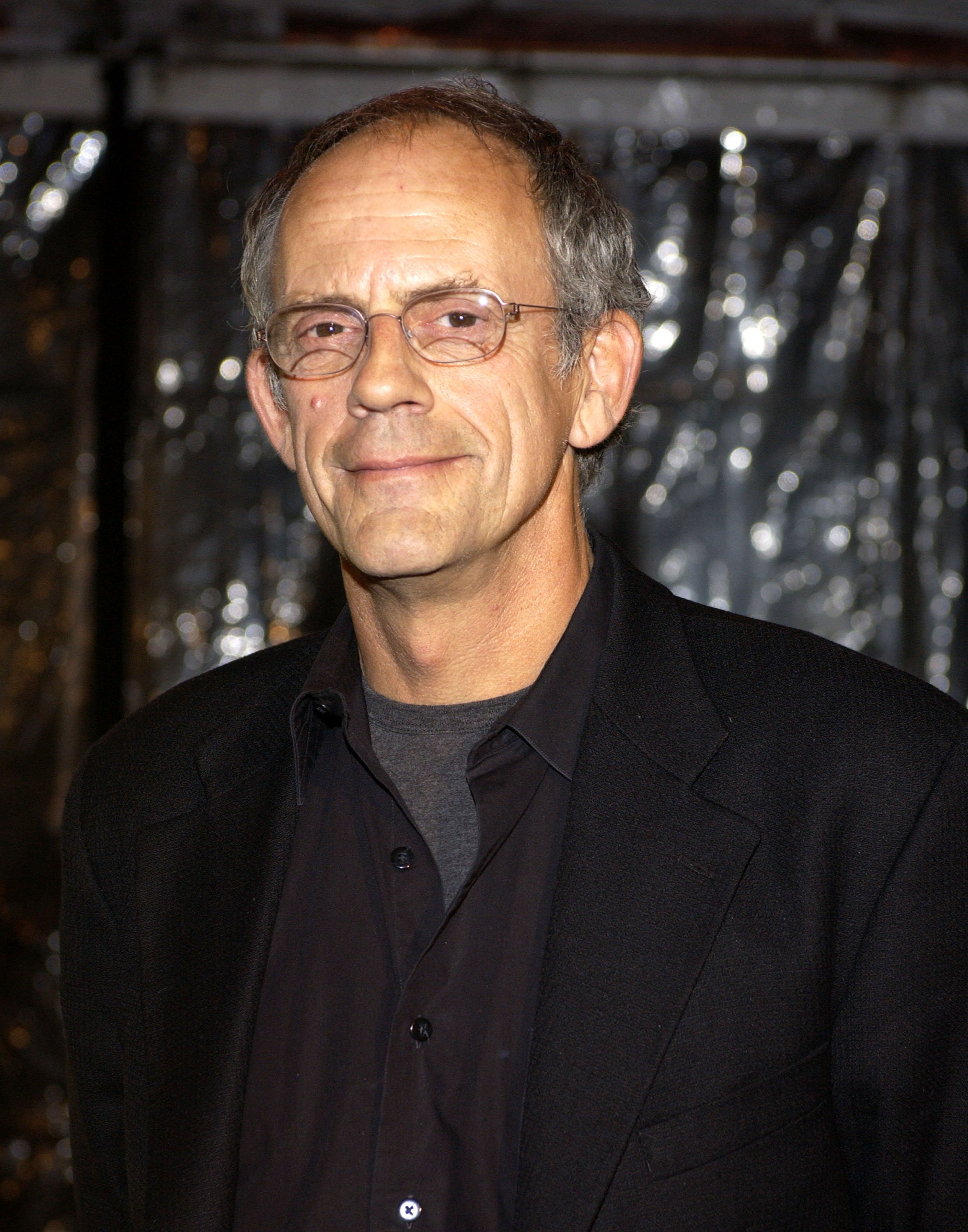 Christopher Lloyd at the "Back To The Future" reunion and DVD launch party in Universal City, California, on December 16, 2002. | Source: Getty Images
Luckily for the actor, he could move on from the lawsuit. The star was now married to his fifth wife, enjoying the bliss of having domesticity and keeping most of his private life out of the spotlight.
CHRISTOPHER'S FIFTH AND FINAL WIFE
Christopher found love again when he married his fifth wife, Lisa Loiacono, in 2016. In the past, the star has taken to social media to share images with Loiacono to wish her a happy birthday.
According to her IMDb page, Loiacono was also an actress whose recent role was in 2012's "The Inn Crowd." When she and her husband aren't appearing together in social media photos, the happy couple attends red carpet movie premieres.
Christopher's current wife was a real estate agent who met the star when she sold the house he shared with Wood. One of "The Addams Family" star's sweet social media posts about his wife was posted on Valentine's Day in 2021.
The post had two images, one of the couple posing together at an event, and the second photo showed the pair embracing each other outdoors. In the caption, Christopher declared his love for his wife, describing himself as her "constant admirer."
When asked by The Guardian in 2021 if his wife was ever bothered when he sometimes returned home in his comedic character, she said, "No, you're amazing." "The Mandalorian" actor joked that she was his "best fan."
Christopher had this to say about Loiacono, "Five is the last," with her adding, "No 5 is sitting right here!" During the pandemic lockdown, the couple enjoyed their time together at their California home.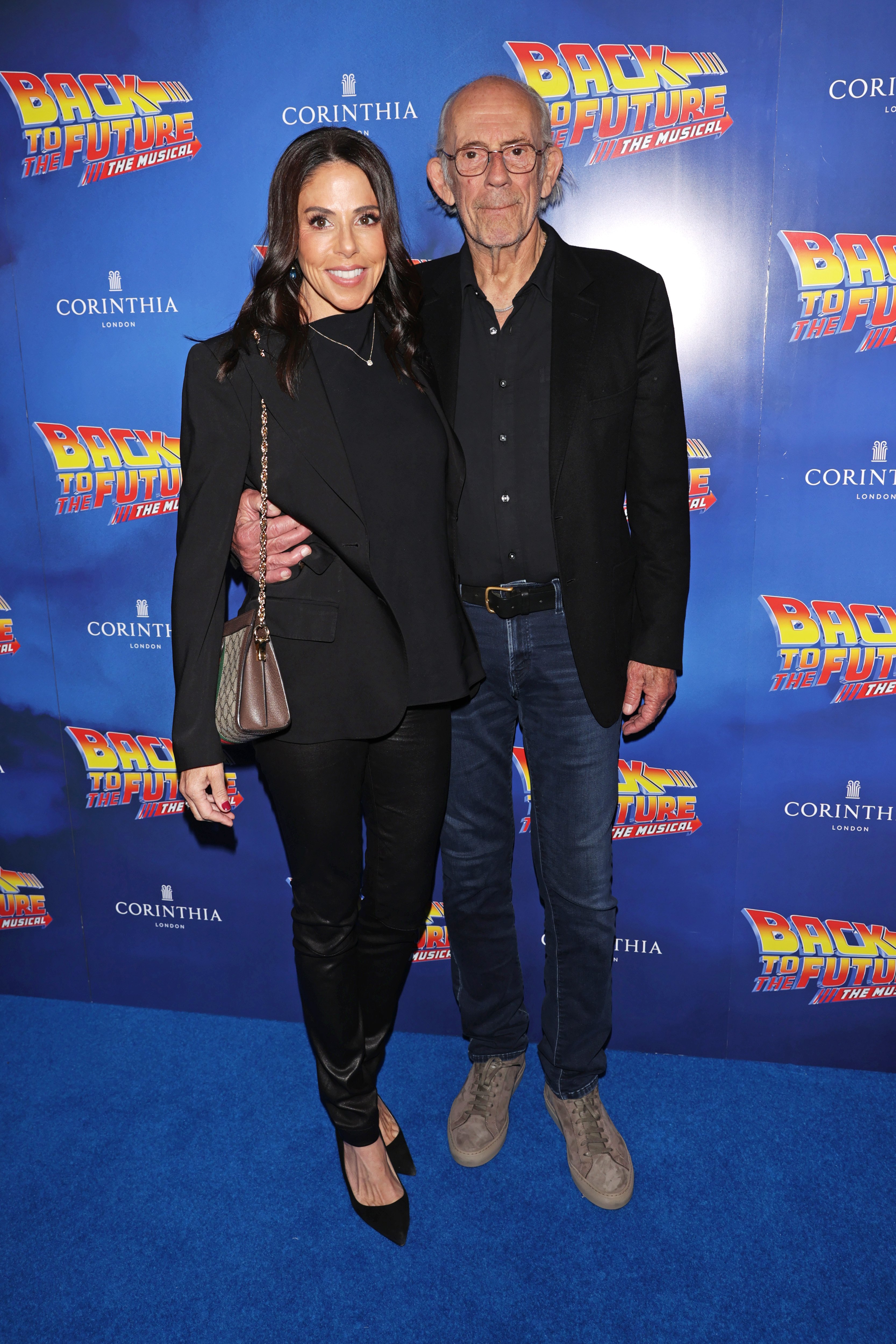 Lisa Loiacono and Christopher Lloyd at the opening night of "Back To The Future: The Musical" on September 13, 2021, in London, England. | Source: Getty Images
​​​​​​The duo had half of 2020 to get more acquainted while the actor wasn't filming. He said they'd had a good time eating dinner that was prepared by his wife, who was 32 years his junior, at home, with the star noting:
"I think we got to know each other more, and better."
THE BOND CHRISTOPHER KEPT ALIVE WITH HIS FOURTH WIFE
Even though Christopher divorced his fourth wife, Wood and Loiacono had a tight bond. The star's fifth wife and his fourth one hiked together each morning, and the actor confessed he didn't mind, adding:
"I can deal with it. And I'm glad they're having fun."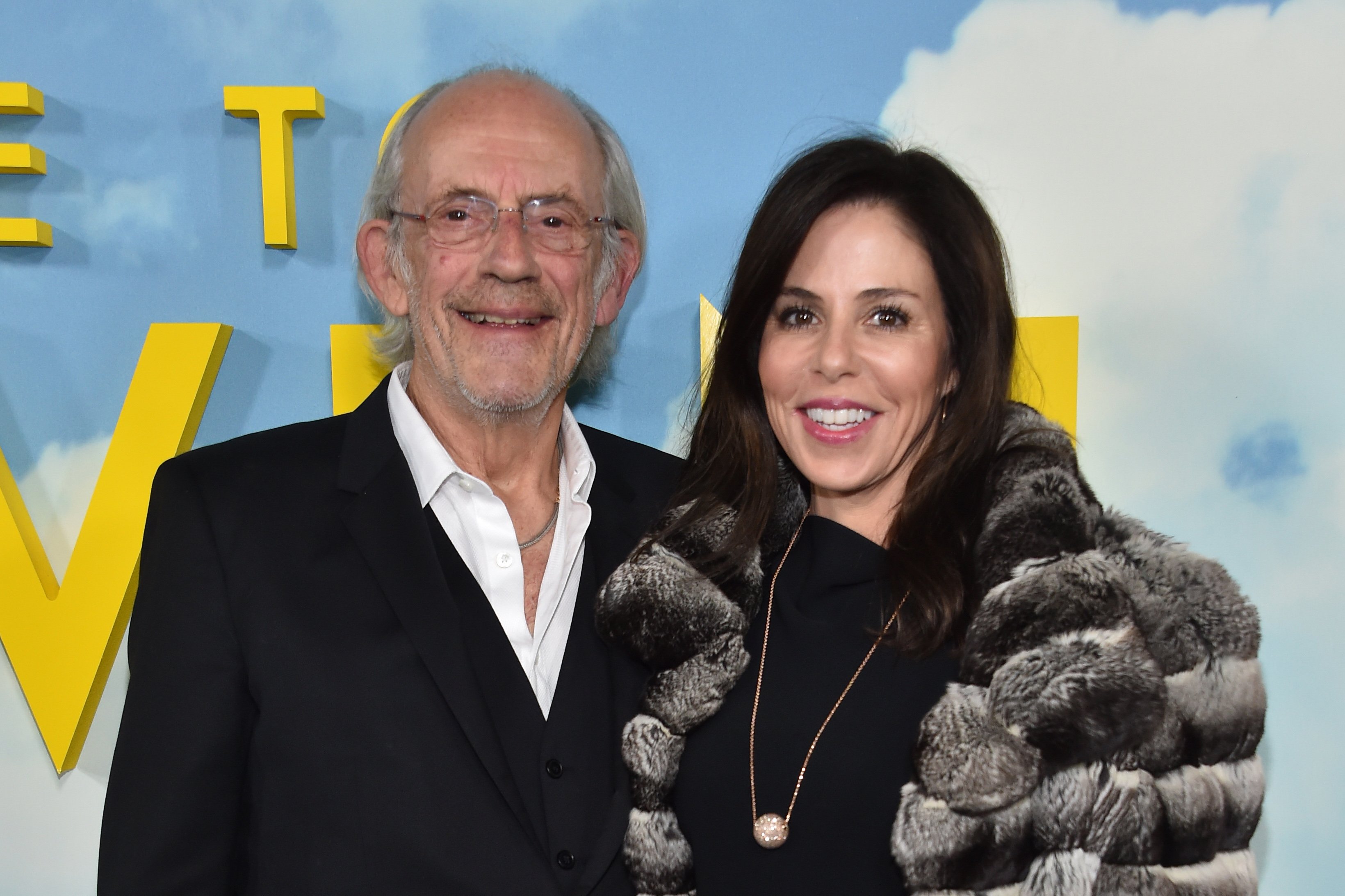 Christopher Lloyd and Jane Walker Wood at the premiere of "Welcome to Marwen" in Hollywood on December 10, 2018. | Source: Getty Images
Christopher wasn't as close with his other ex-wives and only stayed in touch with Wood. The star's ex-wife and her husband regularly ate together with the actor and Loiacono after creating a social bond as couples.
The bond Christopher had with Wood also saw them attending events together. On December 10, 2018, the former couple attended "Welcome to Marwen's" Hollywood premiere at the Arclight theatre.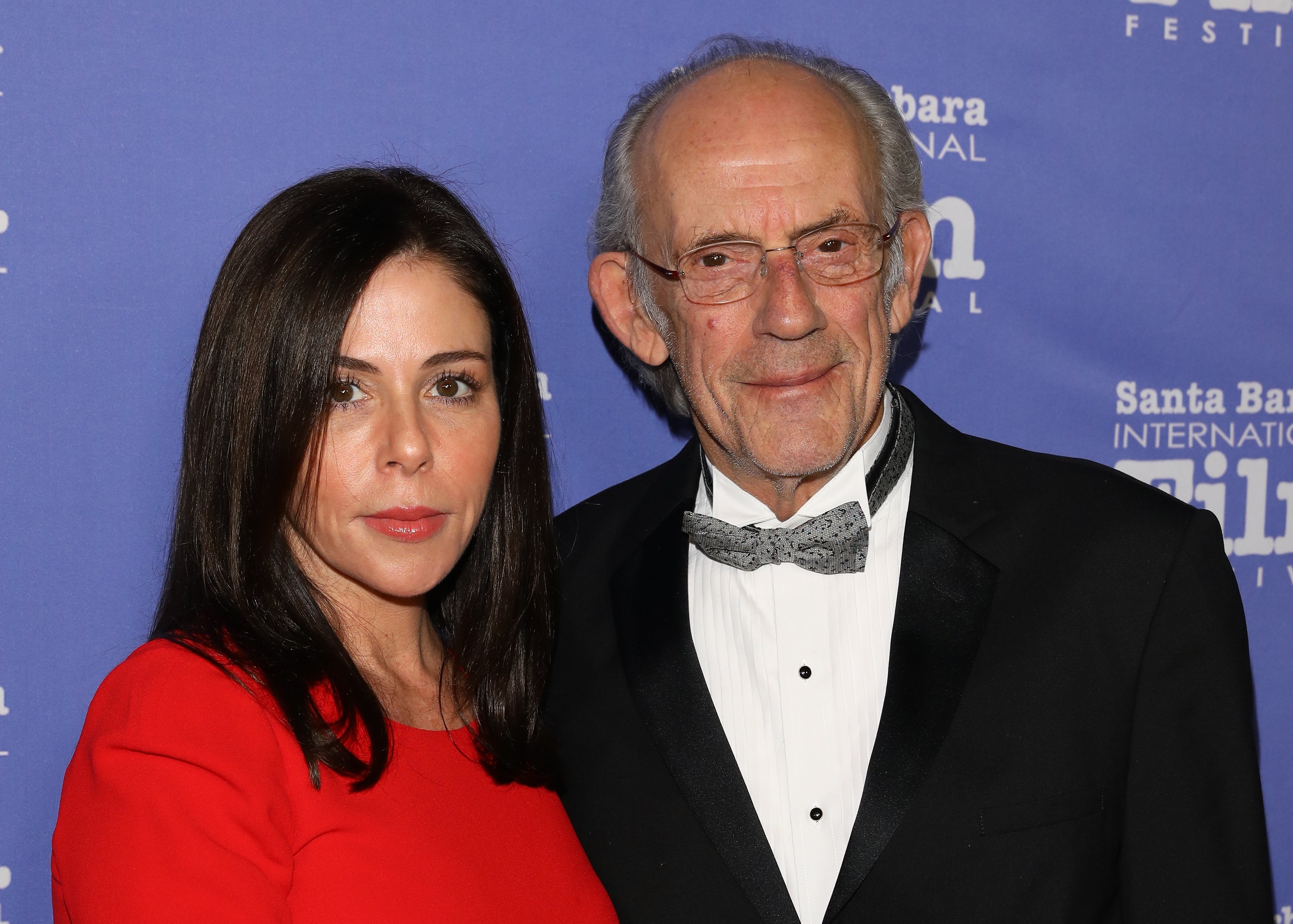 Jane Walker Wood and Christopher Lloyd at the 13th Annual Santa Barbara International Film Festival Honors Hugh Jackman with Kirk Douglas Award For Excellence in Film on November 19, 2018, in Santa Barbara, California. | Source: Getty Images
A month before, on November 19, 2018, the duo attended the 13th Annual Santa Barbara International Film Festival in Santa Barbara, California. At the time, Hugh Jackman was honored with a Kirk Douglas Award For Excellence in Film.
LLOYD NEVER HAD BIOLOGICAL CHILDREN
Although Christopher had love from five different women, he never had any biological children. Despite growing up in a large family where the "Taxi" alum was the youngest of seven siblings, the actor never desired to have his offspring.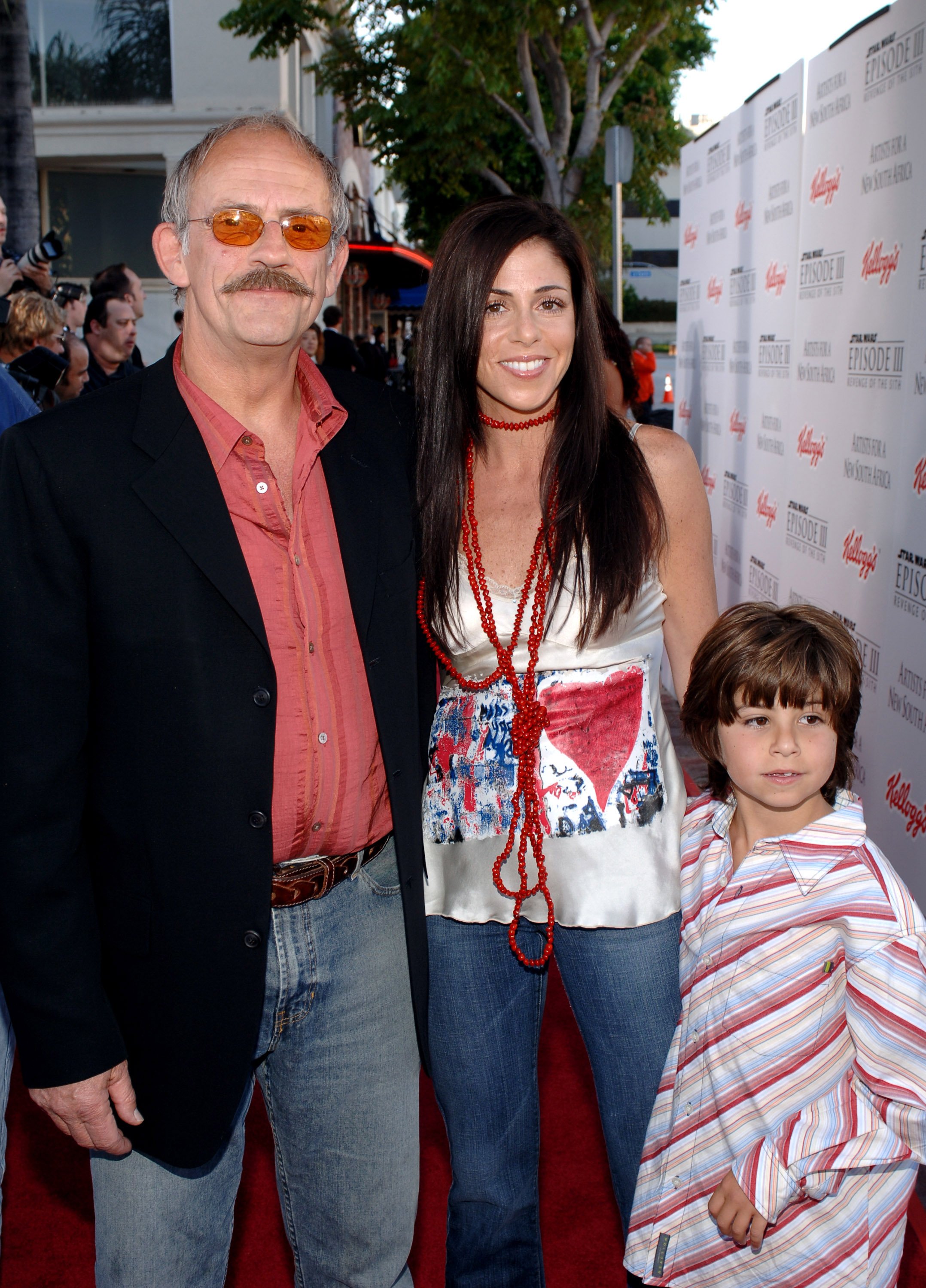 Christopher Lloyd, Jane Walker Wood, and her son at the "Star Wars Episode III Revenge of The Sith" premiere in Westwood, California, on November 19, 2018. | Source: Getty Images
His age gap with his older siblings meant he mostly recalled being with his parents. The Westport, Connecticut-born star shared how his sisters and brothers were primarily absent during his upbringing.
It featured Sam [Lloyd] and his wife [Vanessa Lloyd] and what looked like [Lisa] Loiacono, with Christopher [Lloyd] sharing that Weston [Lloyd] was loved "dearly."
However, he played the role of stepfather to Wood's child, and on May 12, 2005, the trio was seen together. Christopher, Wood, and her son attended the "Star Wars Episode III Revenge of The Sith" Westwood, California premiere.
Although he never had children, Christopher still got to be a doting uncle. In a May 2020 Instagram post, the actor appeared in a post alongside three people whom he posed with for an outdoor picture.
He revealed the heartbreaking news that his nephew, Sam Lloyd, had died that month after battling cancer. The star said Sam left his wife, Vanessa, and their son, Weston, as his survivors.
The image he posted was taken in Weston, Vermont, in the summer of 2018. It featured Sam and his wife and what looked like Loiacono, with Christopher sharing that Weston was loved "dearly."
Please fill in your e-mail so we can share with you our top stories!