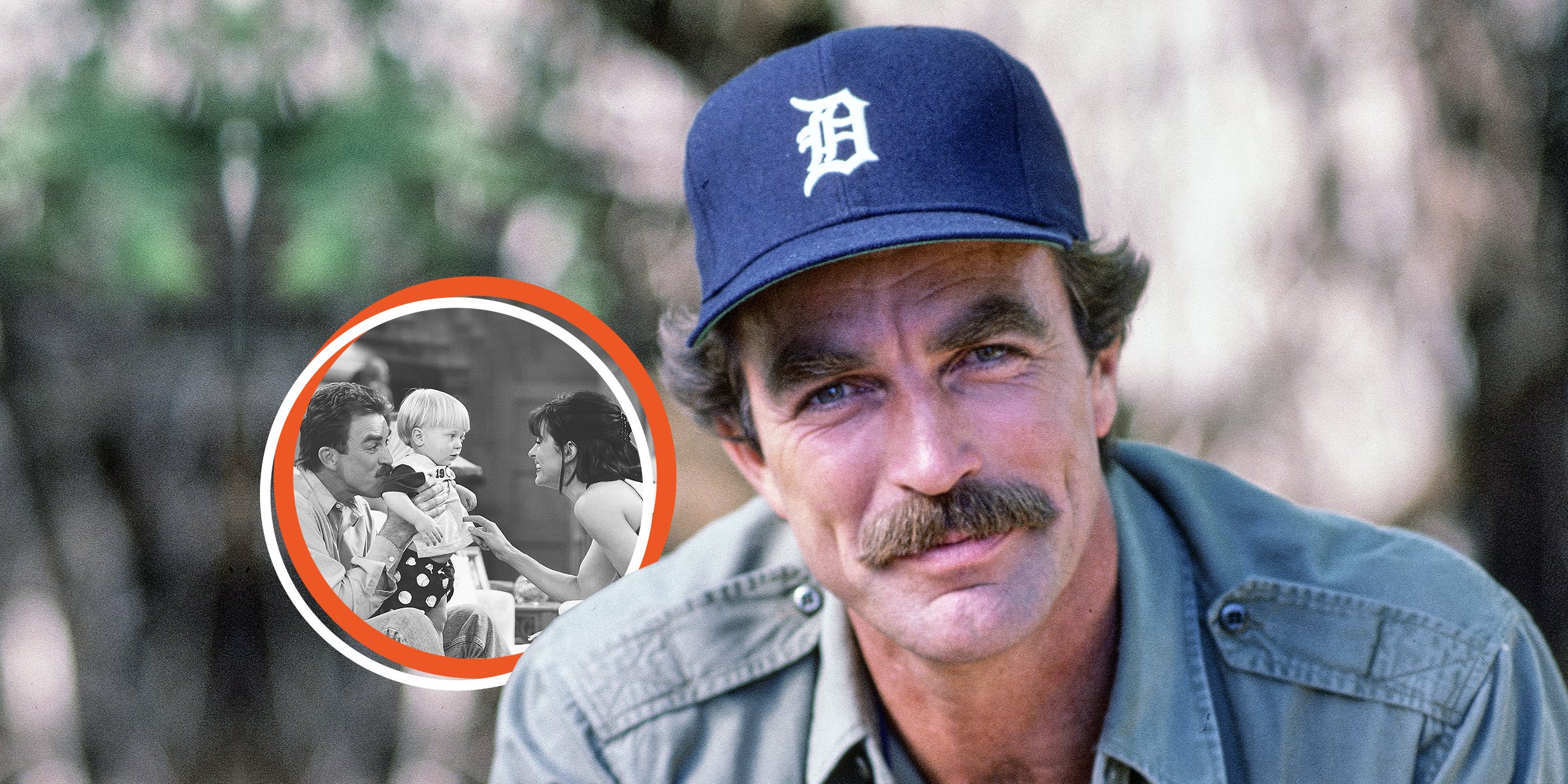 Getty Images
Tom Selleck Took Break From Promising Career & Quit Magnum PI to Raise Kids – He's Now a Doting Dad of 2

Being a parent in Hollywood is something that celebs have been doing for decades. However, Tom Selleck took parenting a little more seriously than most others and took drastic steps to ensure he was there for his children.
Selleck has kept his children's lives quiet despite his role as a Hollywood heartthrob. However, his marriages have been more public. His marriage to Jaquelyn Ray lasted ten years, in which Selleck adopted Ray's son, Kevin.
However, their marriage did not work out. Selleck shared that many people thought he left Ray because of his series "Magnum, P.I." gaining popularity. However, the star revealed they separated six months before he even shot the pilot for the show.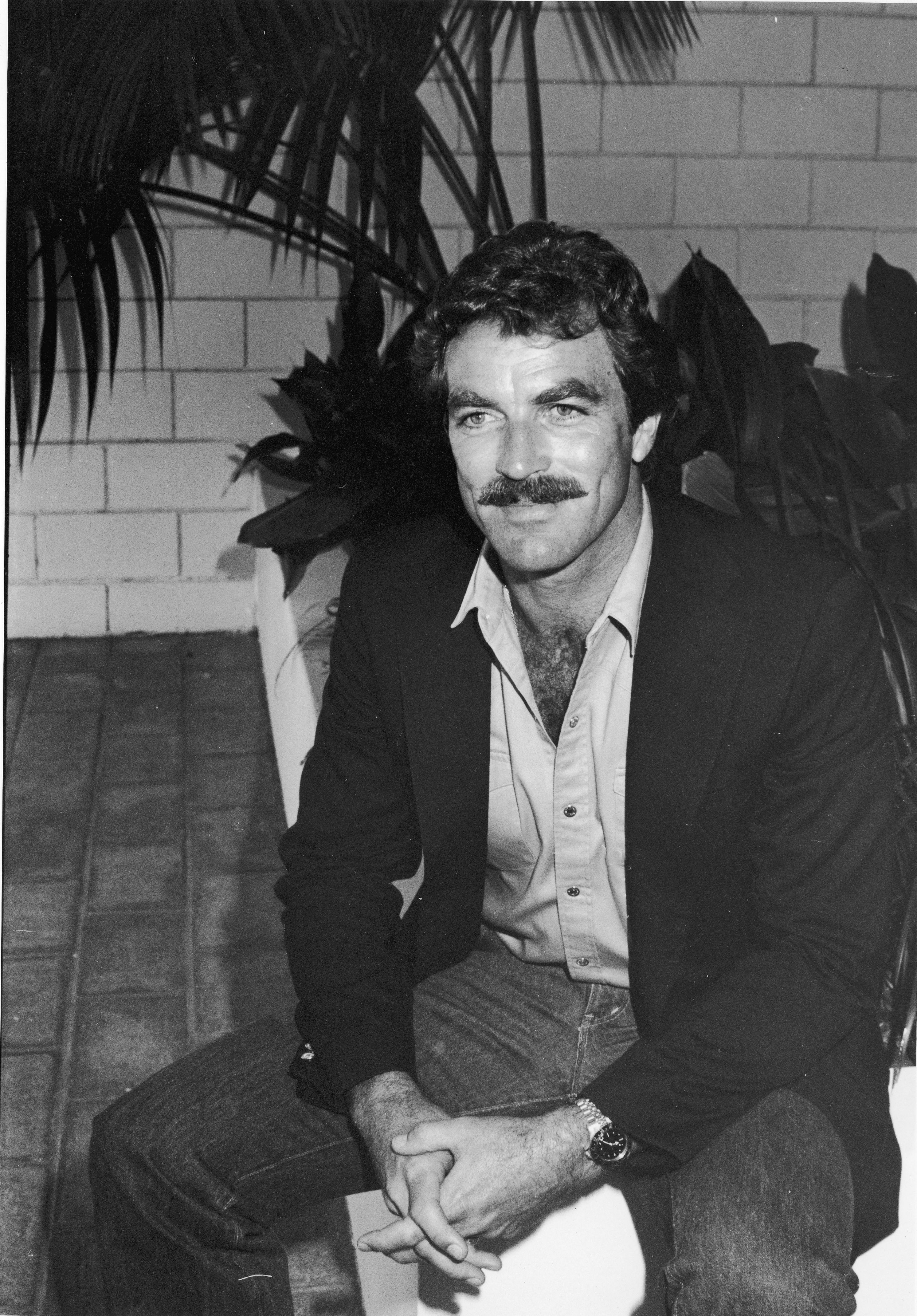 Tom Selleck sits on a patio during a brunch at the Beverly Hilton Hotel, Beverly Hills, California, July 1981. | Source: Getty Images
While Ray and Selleck were married, he built a strong relationship with the model's son, who he eventually adopted. Despite Ray and Selleck getting divorced, Kevin and Selleck remained close as Selleck considered Kevin his "only child."
However, when Selleck and Ray ended their marriage, it took him a while to come to terms with his marriage ending and what it meant to him and his relationship with his adopted son.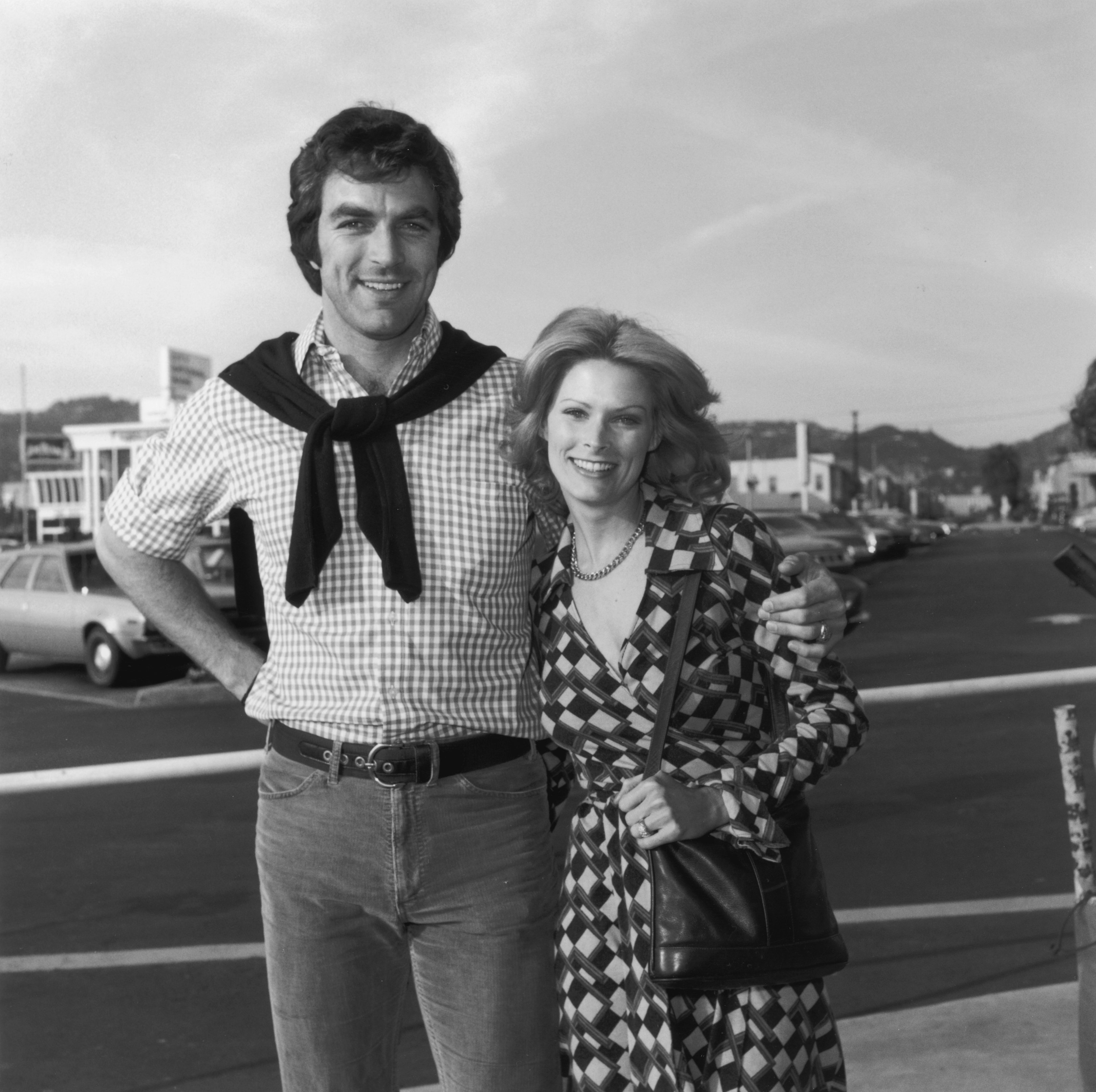 Tom Selleck poses outdoors with his first wife, actor Jacquelyn Ray, Los Angeles, California. | Source: Getty Images
After their divorce, the television star revealed he was not interested in dating again. He confessed:
"With women, I'm somewhat shy and not exactly brimming with confidence."
JILLIE MACK MADE THE FIRST MOVE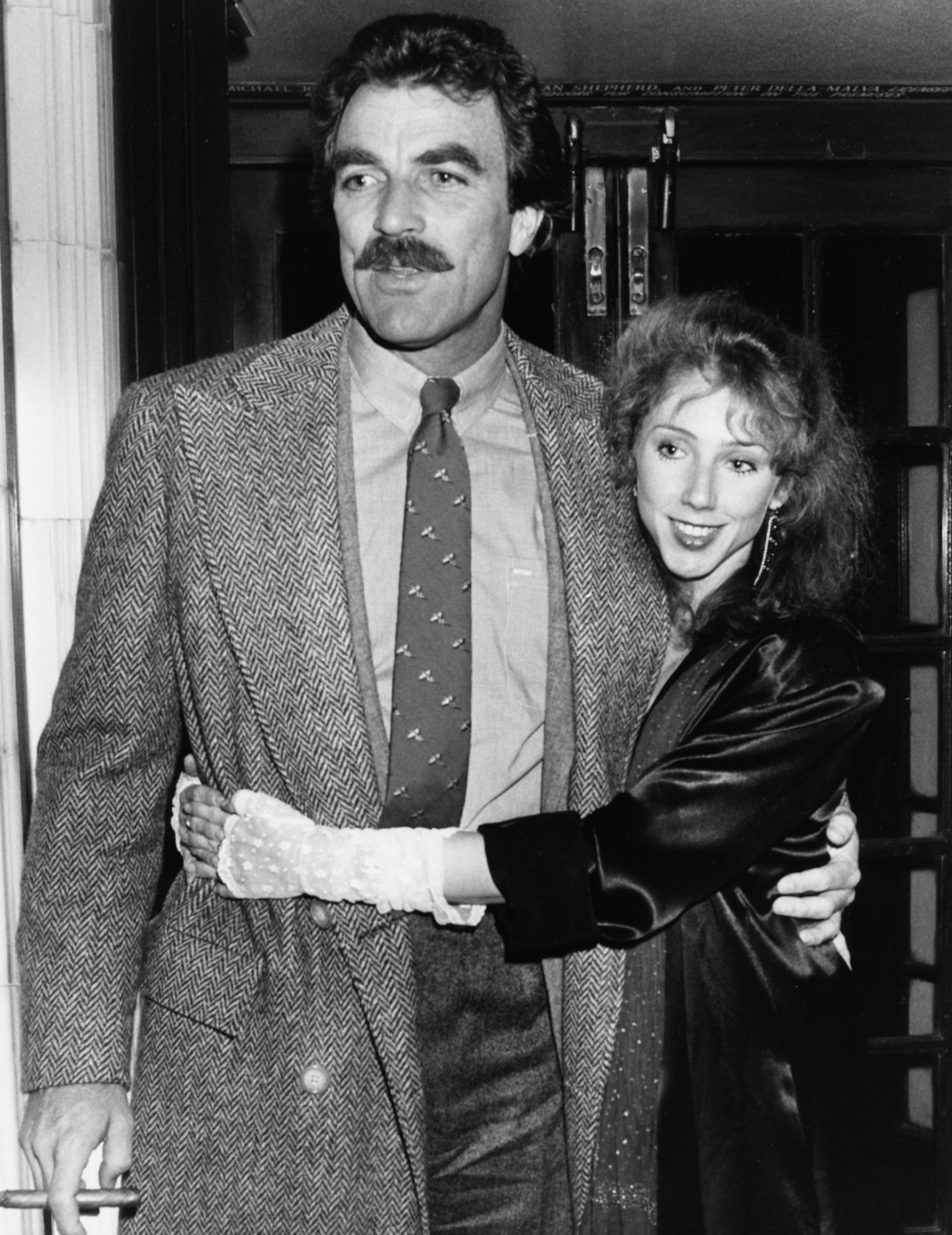 Tom Selleck and Jilly Mack leaving Langan's restaurant in London, April 29th 1985. | Source: Getty Images
Because Selleck found it challenging to speak to women, he was not prepared to approach Jillie Mack when he saw her backstage at a performance of "Cats." However, Mack was more than happy to make the first move.
The story has been told through the eyes of both Selleck and Mack, with a few changes in dialogue each time, but one thing that remains constant is that if Mack hadn't spoken to Selleck, they might not be as happily married as they are today.
Selleck revealed that the then-actress was due to go on stage, and he still had not made his move, so she asked him if he would like to go for a cocktail sometime. He agreed, and the couple was soon in a serious relationship.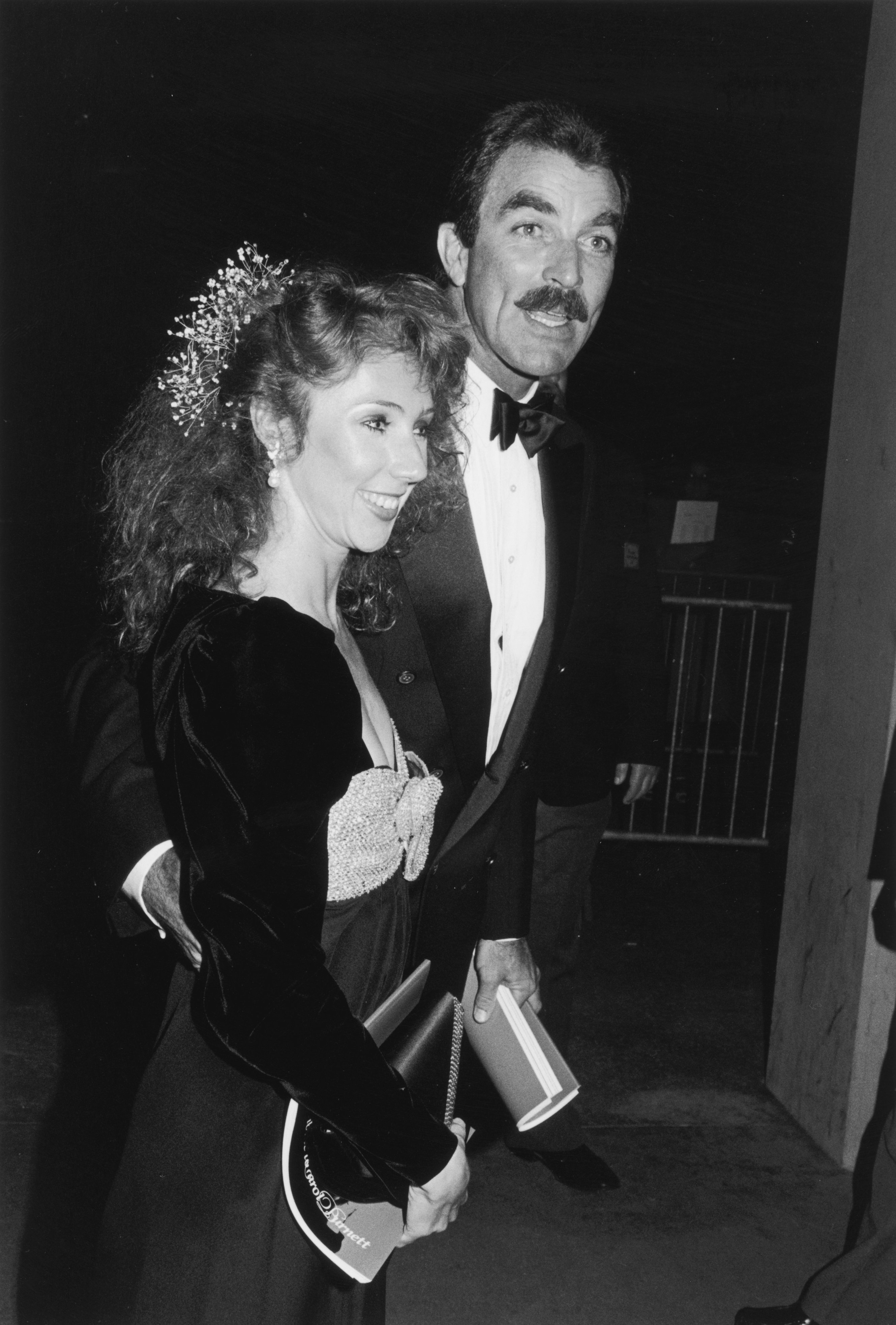 Tom Selleck and Jillie Mack attend a Tribute to Carol Burnett on the UCLA campus, Los Angeles, California. | Source: Getty Images
The couple met in 1983 after Selleck broke off his relationship with Mimi Roger, and by 1987, they had walked down the aisle but managed to keep their wedding entirely secret. The couple got married in a Nevada chapel without telling anybody.
Mack and Selleck managed to keep their wedding a secret by having Selleck's brother handle the wedding planning, using pseudonyms for Selleck and Mack. They arrived at the chapel in casual clothes and then changed into their wedding clothes in separate rooms.
Their altar was covered in white roses, and the couple exchanged their vows in a $75 nondenominational ceremony just hours after Mack picked up a $27 marriage license at the Washoe County Clerk's Office.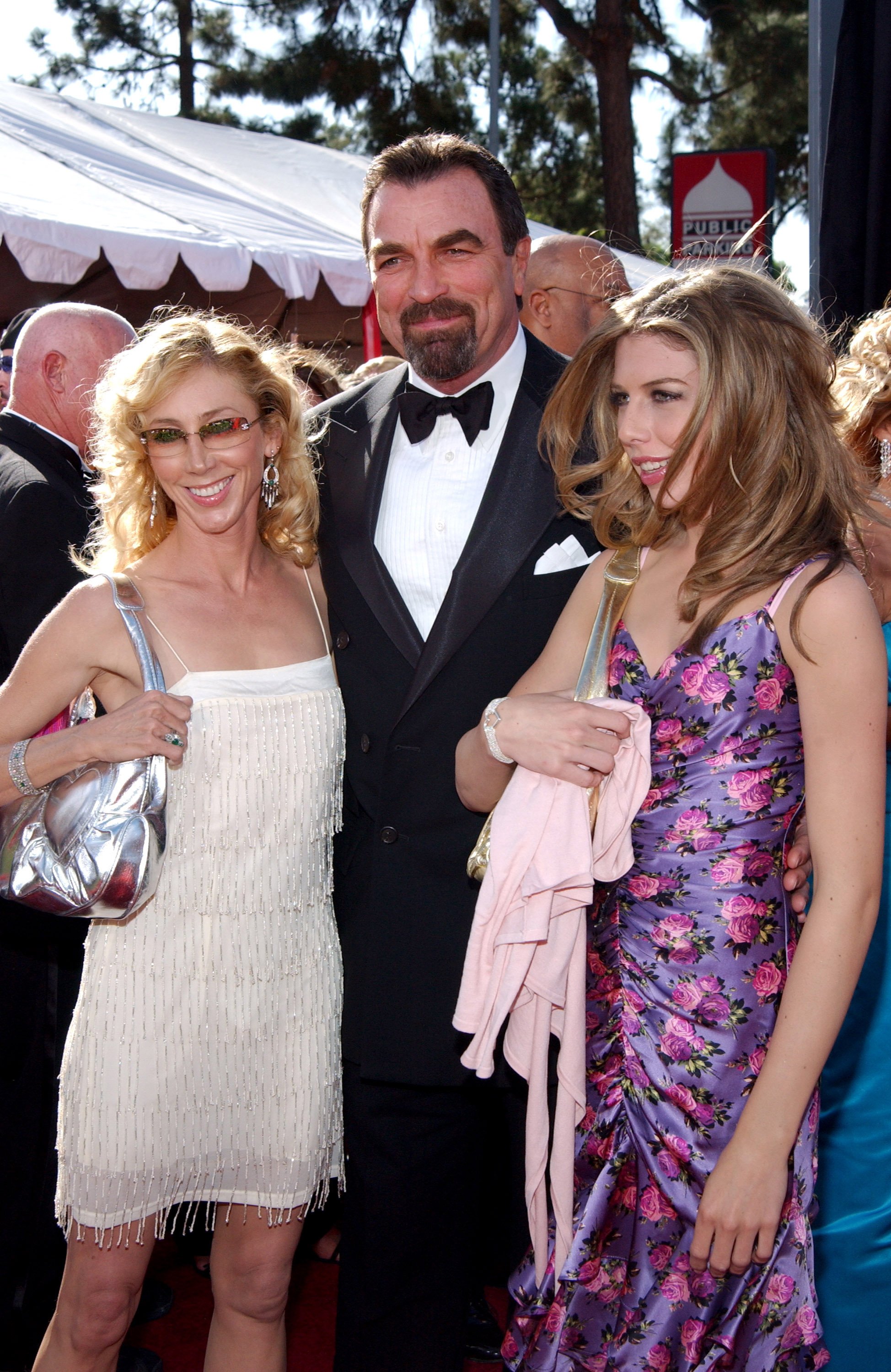 Tom Selleck with Jillie Mack and daughter Hannah during The 56th Annual Primetime Emmy Awards - Arrivals at The Shrine Auditorium in Los Angeles, California, United States. | Source: Getty Images
After his first marriage crumbled, Selleck realized the importance of family and taking time off work to spend quality time with his wife and children. He ultimately decided to quit "Magnum, P.I." to spend more time with his family.
He had planned to take only one year off and return to work. However, he quickly found that he was enjoying the hiatus and extended the time he spent away from the screen.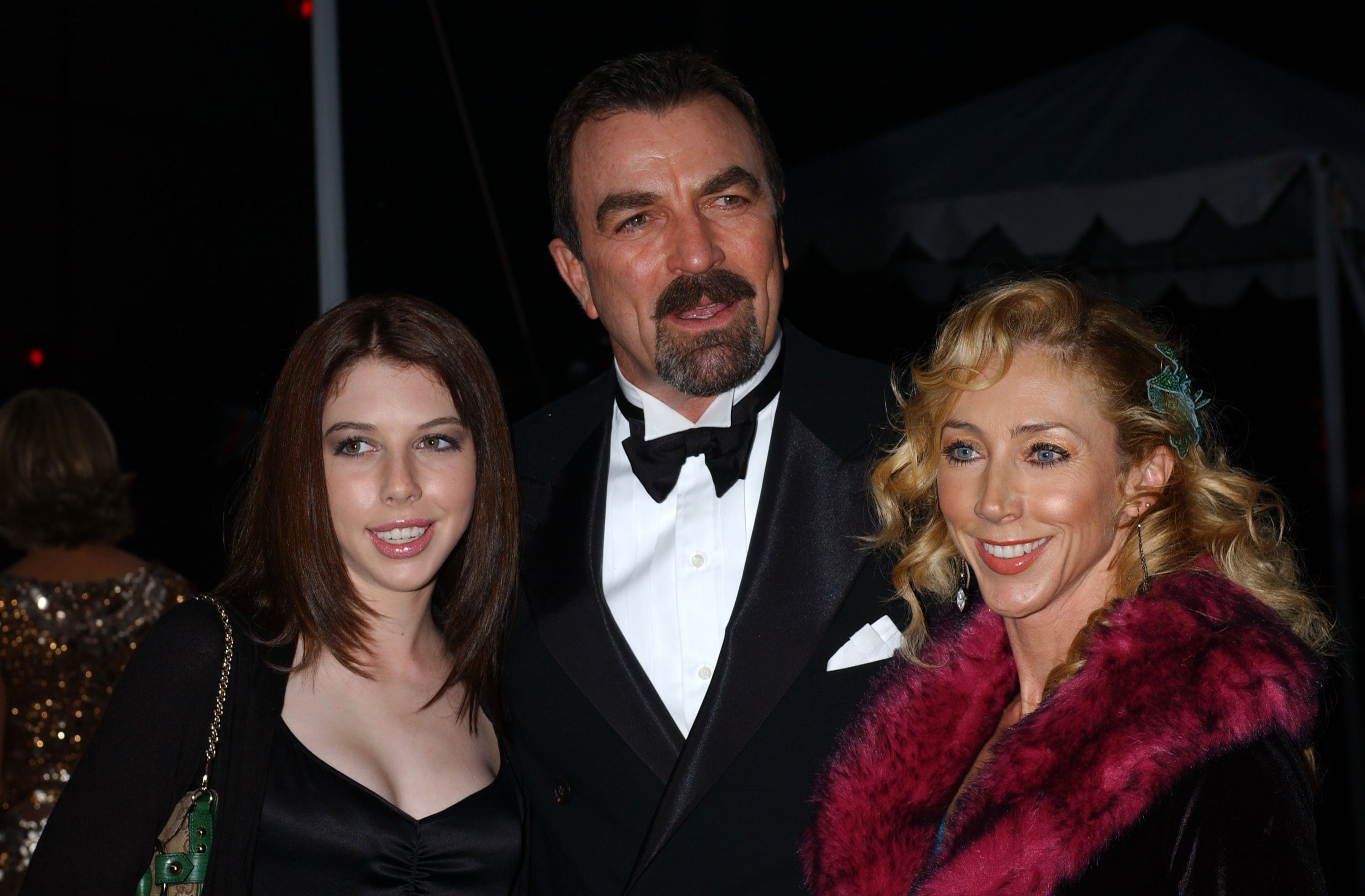 Tom Selleck, daugher Hannah and wife Jillie Mack attend the 31st Annual People's Choice Awards | Source: Getty Images
Selleck shared his thoughts on leaving the television show that made him famous, saying:
"I quit Magnum, not because I didn't like it or I was tired of it," he explains. "I was tired from it. And I wanted a three-dimensional life because I didn't have one."
After quitting the show, Selleck bought a ranch, on which he lived with Mack and welcomed his daughter, Hannah. The ranch sits on 65 acres of land and has a 20-acre avocado farm.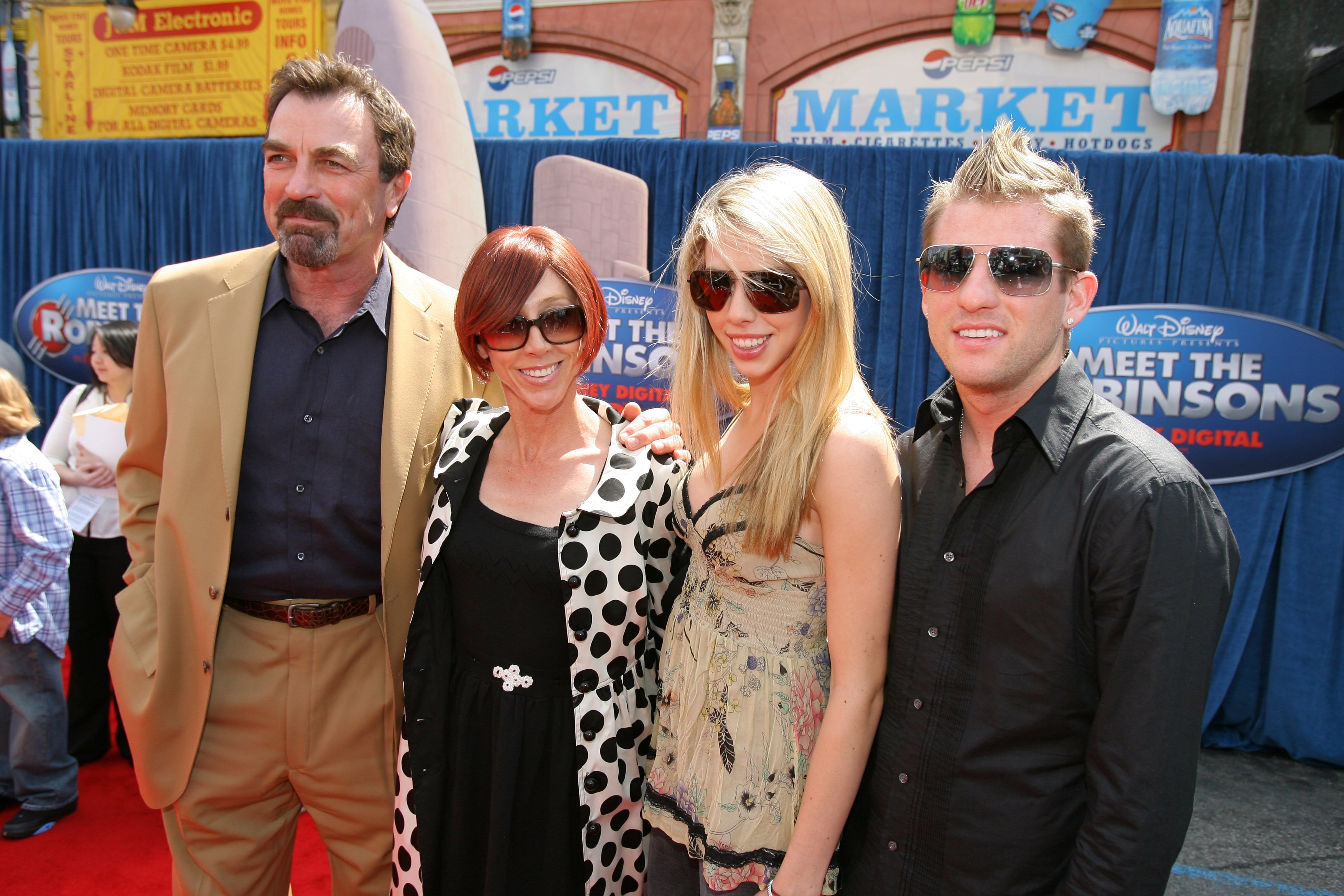 Tom Selleck, Jillie Mack, Hannah Selleck and guest attend the World Premiere of Walt Disney Pictures' "Meet The Robinsons" | Source: Getty Images
He said that it was difficult to find a balance between his home and work life as he was working 90 hours a week and starring in a movie during every production break from "Magnum, P.I.," which is why he decided on the hiatus.
Although Hannah was born into a famous family, her parents wanted her to have a normal childhood. Hannah was raised on the farm and away from the spotlight so that she could experience childhood like any other girl her age.
On the ranch, Hannah was surrounded by nature and developed a love for it. While she loved a variety of things, the thing she was most passionate about was horseriding, which she started at age four.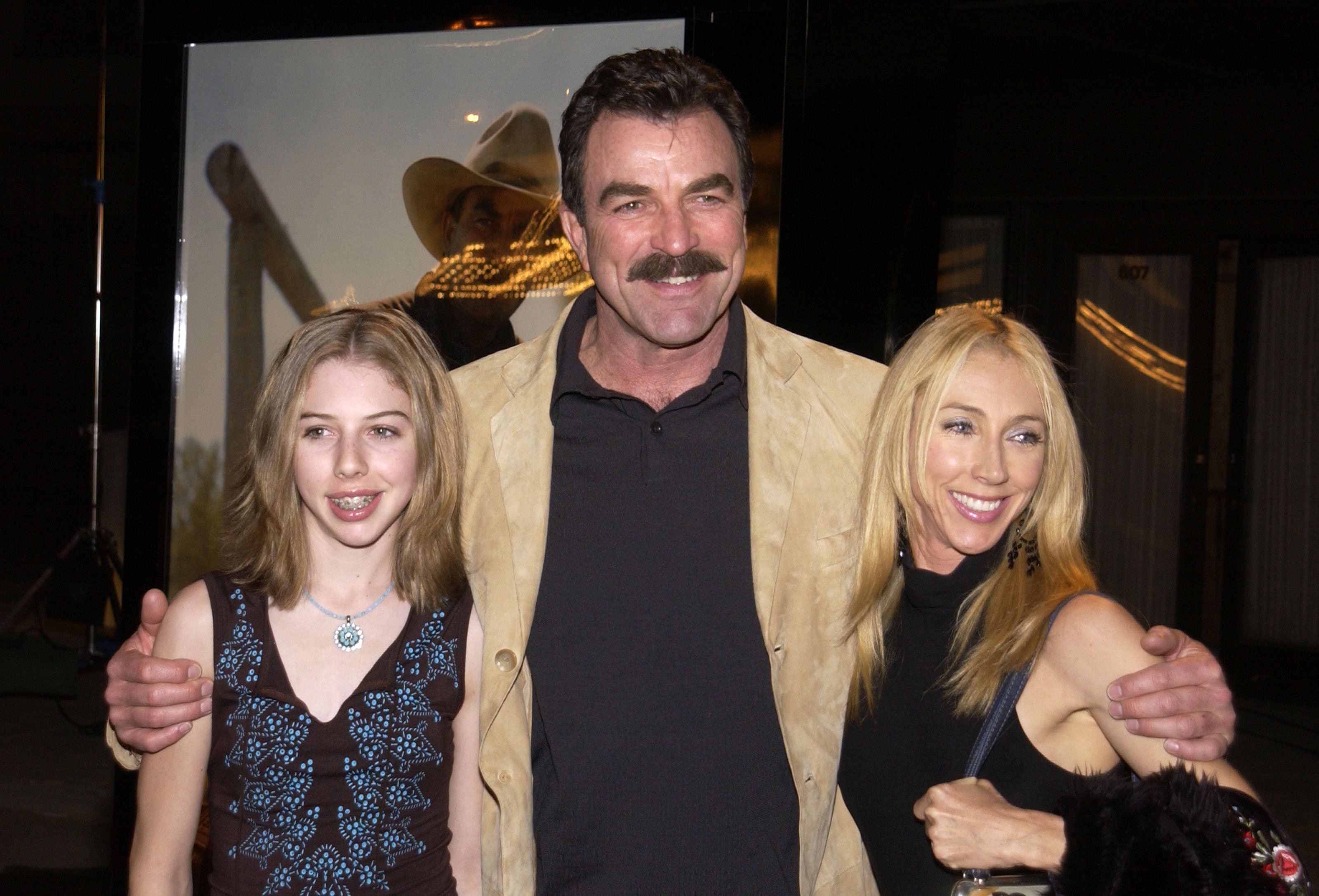 Tom Selleck, wife Jillie Mack and daughter Hannah attend TNT's "Monte Walsh" Premiere January 8, 2003 | Source: Getty Images
By age fourteen, Hannah was showing promise in both ballet and horseriding but decided to give up ballet and devote all her time and attention to her equestrian craft. She now participates in professional equestrian competitions.
SELLECK'S RELATIONSHIP WITH HIS GROWN-UP KIDS
Although Selleck took a break from the screen to raise his children, he eventually returned to star in "Blue Bloods" once his children were grown up. His children, now 56 and 33, have built their own lives and careers.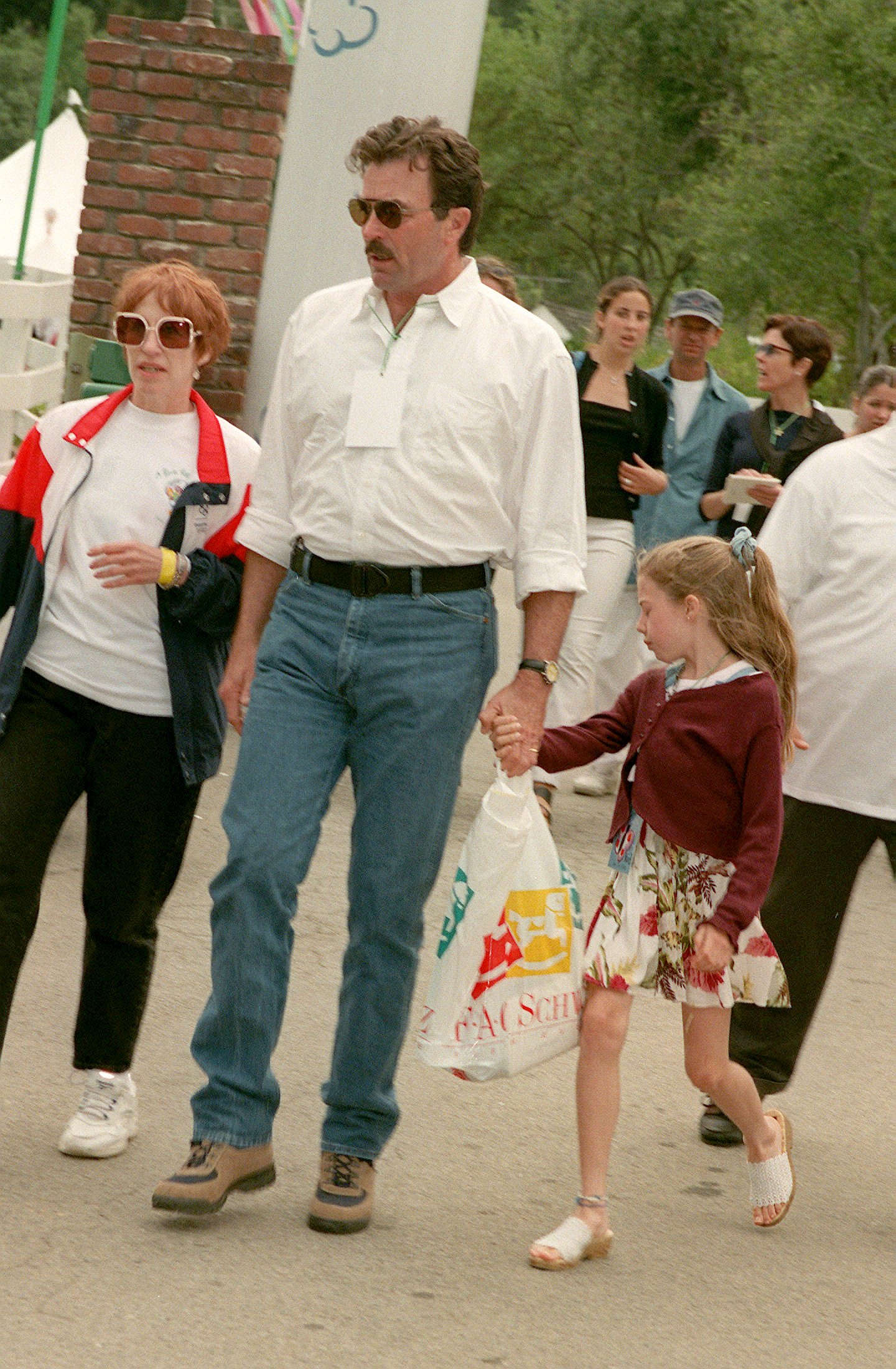 Tom Selleck and his daughter Hannah attend the 9ht Carnival For 'Pediatric AIDS' Foundation | Source: Getty Images
Selleck's adopted son, Kevin, was adopted by Selleck when he was 21. However, that did not stop the young man from developing a strong bond with his adoptive father. He then pursued a career in the entertainment industry as well.
Kevin formed part of a band called "Toxic" from 1993 until 1996, when Kevin quit the band. He then dabbled in the film and series industry, starring in an episode of "Magnum, P.I." and writing the soundtrack for "Scream 2."
Although he has had a successful career, he has battled substance abuse issues. Selleck has never openly addressed these issues and supports his adopted son in everything he does.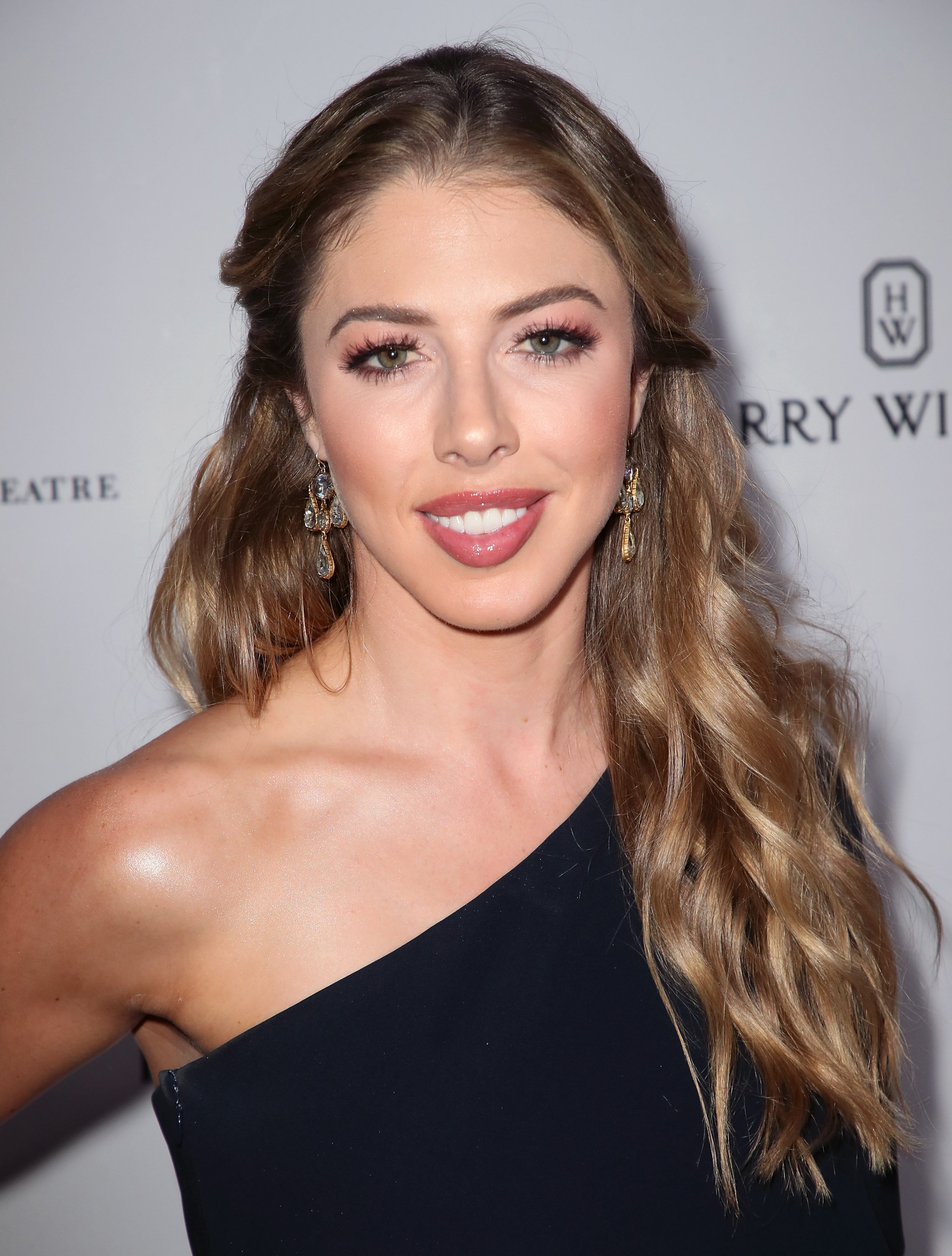 Hannah Selleck attends the American Ballet Theatre's annual holiday benefit dinner and performance at The Beverly Hilton Hotel on December 11, 2017 in Beverly Hills, California. | Source: Getty Images
Selleck also has an excellent relationship with his daughter, Hannah. Hannah has now established herself as a horseriding pro, with a string of titles won in many different competitions.
Hannah revealed that her parents encouraged her to try everything she was interested in but believed that to pursue something truly, you needed to have a passion for it. Hannah channeled this passion into her horseriding.
Although she is not as much in the spotlight as her famous father, the pair have an excellent relationship. Mack and Selleck are still happily married and living blissfully on their ranch.
Please fill in your e-mail so we can share with you our top stories!