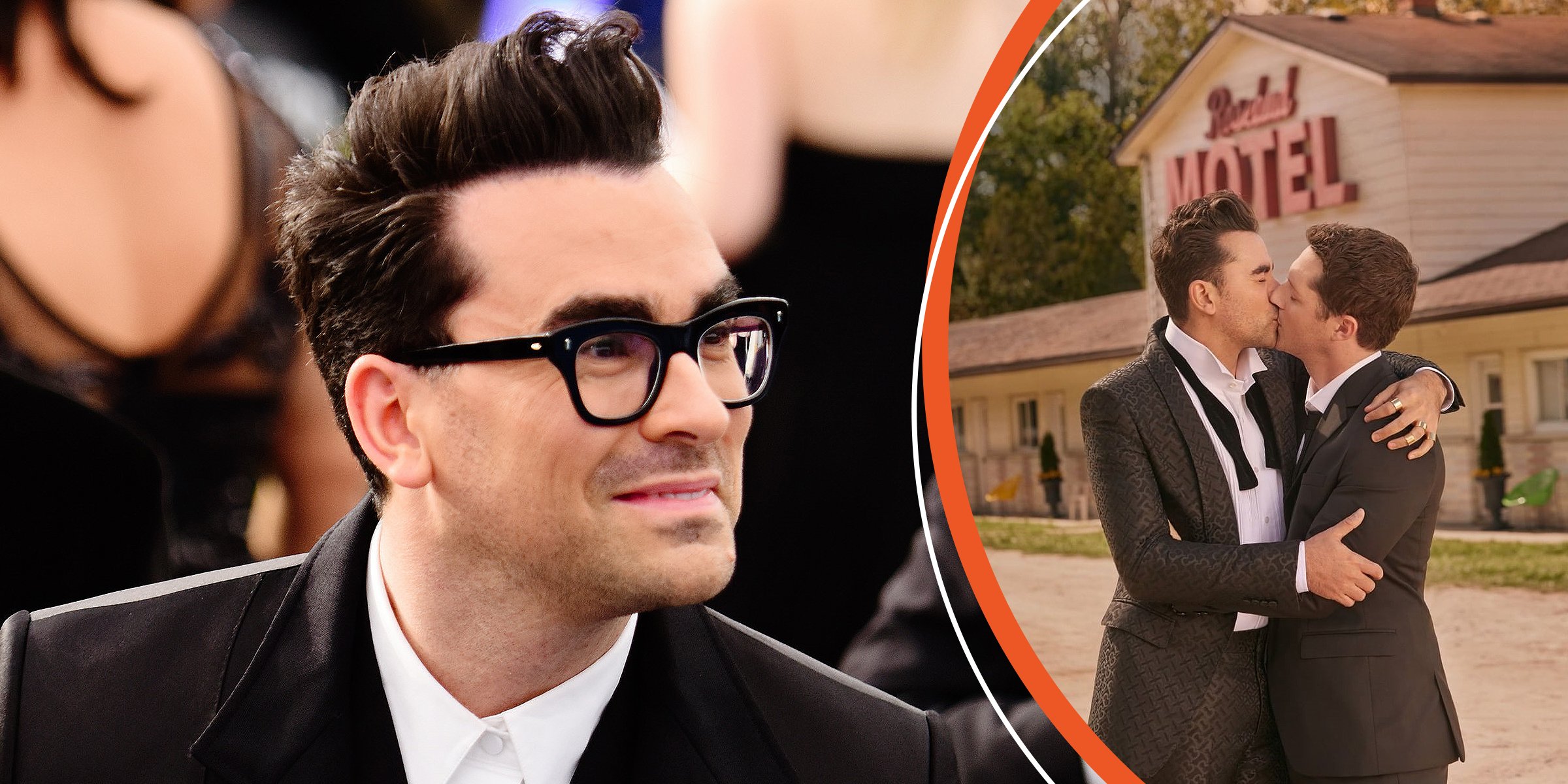 Getty Images | Instagram.com/schittscreek
Is Dan Levy Dating Anyone? A Look inside the 'Schitt's Creek' Star's Love Life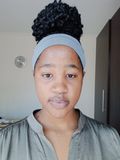 The name Dan Levy has sparked global renown as the critically acclaimed writer, actor, producer, director, and showrunner's talent and passion for telling stories and representing a marginalized group have been well received.
Born to comedy mogul and actress Eugene Levy and Deborah Divine, Dan Levy inherited his parent's prowess for entertainment. He amplified it when he co-created the multi-award-winning show "Schitt's Creek." Levy played the beloved character "David Rose."
With Dan continuing to collect numerous accolades, including over 100 nominations and over 36 awards for "Schitt's Creek," co-hosting and co-producing "The After Show" along with its replicas, and many more, it makes sense to be curious about his love life.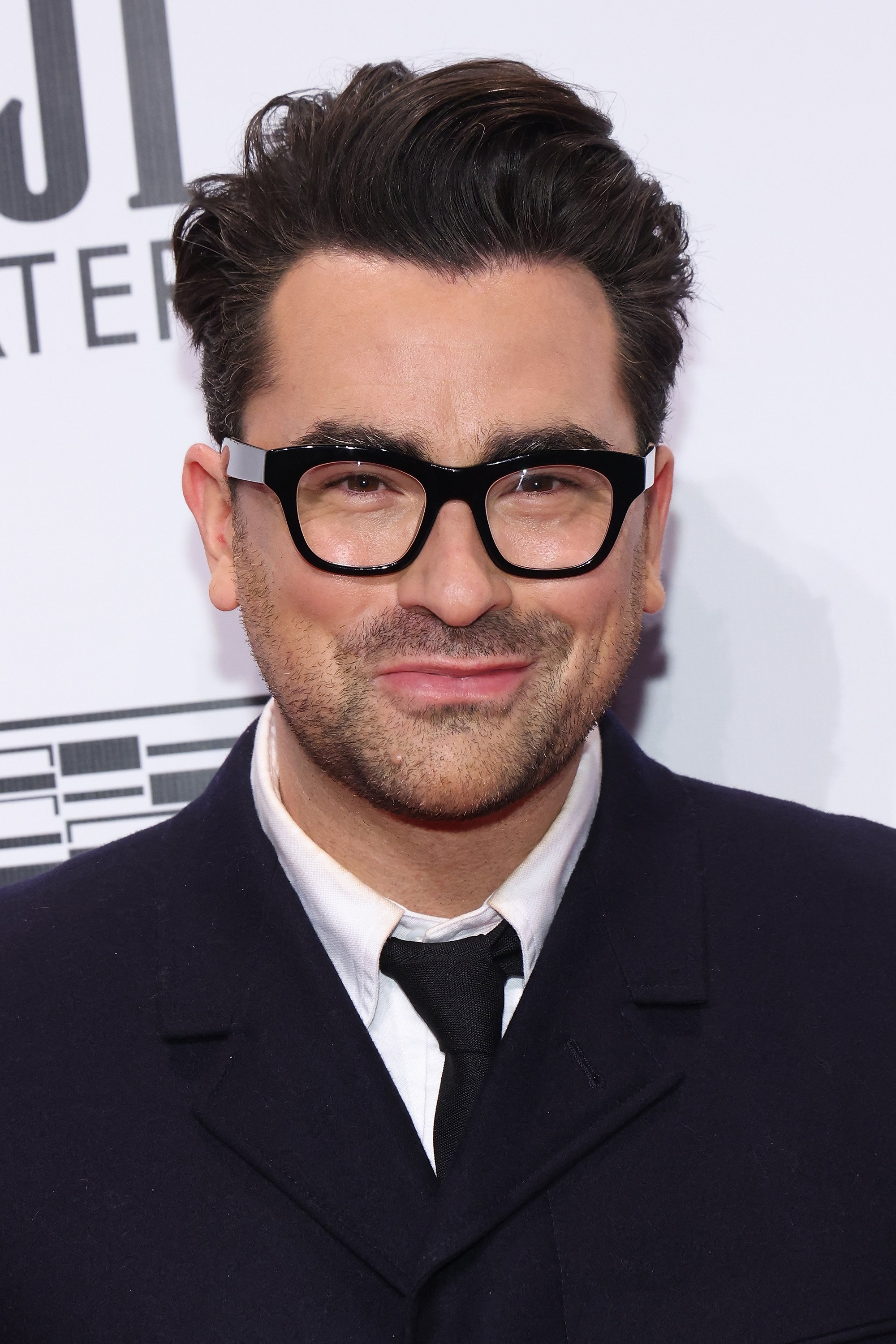 Dan Levy attends the 2021 Gotham Awards in New York City | Source: Getty Images
IS DAN LEVY IN A RELATIONSHIP?
"The Hills: The After Show's" host, Dan Levy, has a dating life indeed; however, the actor has been very private, as nothing is known about any of his past lovers.
On several occasions, though, he has answered a few questions in which he revealed his feelings about his love life, how Levy has handled it before, and what he wishes for in the future.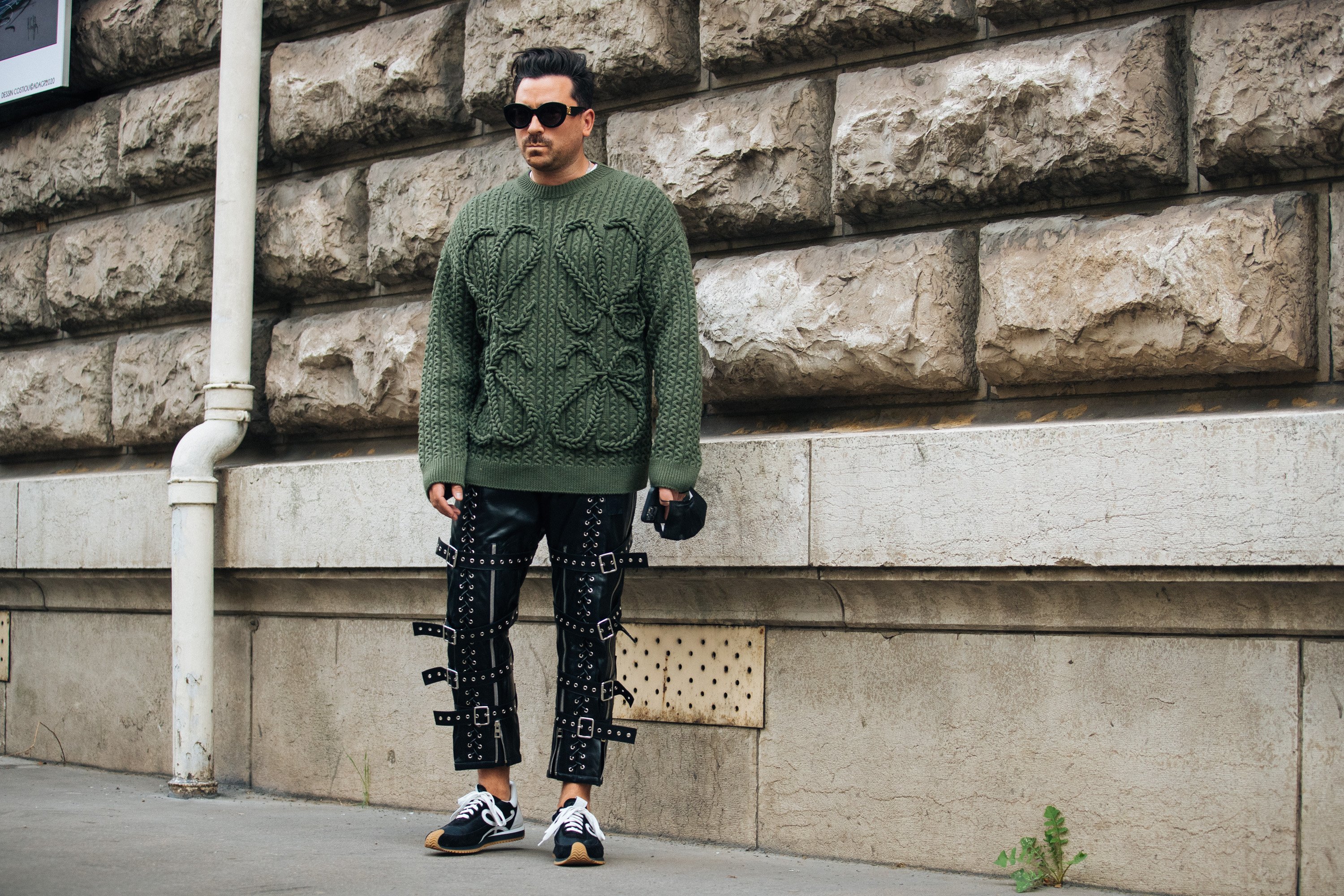 Dan Levy at the Loewe show in Paris | Source: Getty Images
In a 2015 interview, Levy revealed his relationship status as single and shared how strange it was for him. The "Admission" star wondered if closing himself off from dating because of work was a worthy excuse, as he explained:
"I feel like I only get one shot at this. I hope that I can find someone when it's all done, or when things are a little bit more smooth. But the eye has really been on making sure that the show is as good as it can be."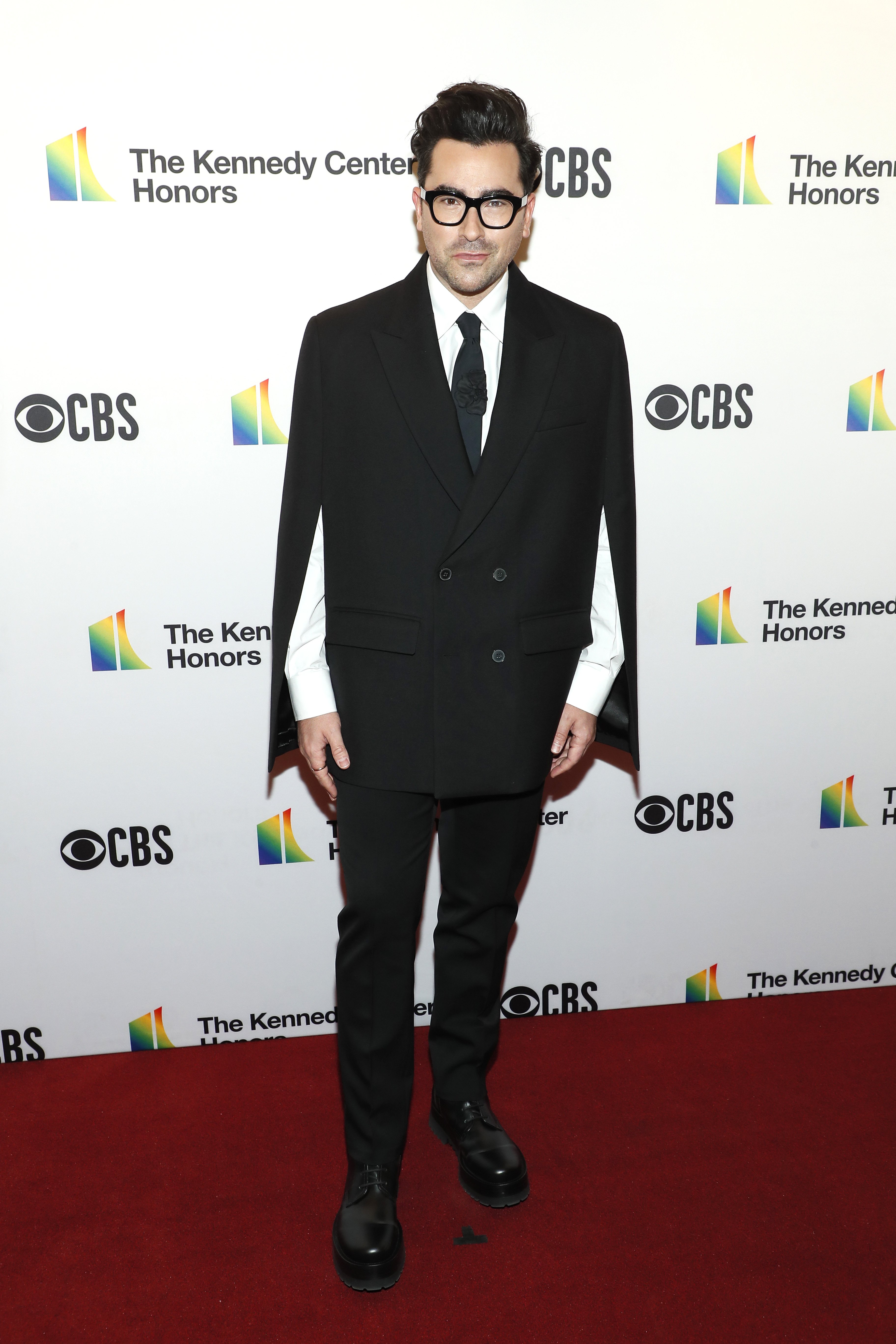 Dan Levy at the 44th Kennedy Center Honors in Washington | Source: Getty Images
2015 was the debut year of his show "Schitt's Creek," which he co-created with his father, Eugene. The actor was more committed to "making the show as good as it can be," and it paid off.
Moreover, Levy seemed to carry a deep appreciation for his friends. During his feature on a Proust Questionnaire episode of Vanity Fair magazine, he revealed that the perfect day for him would be "a sunny afternoon in Tokyo with some of his closest friends."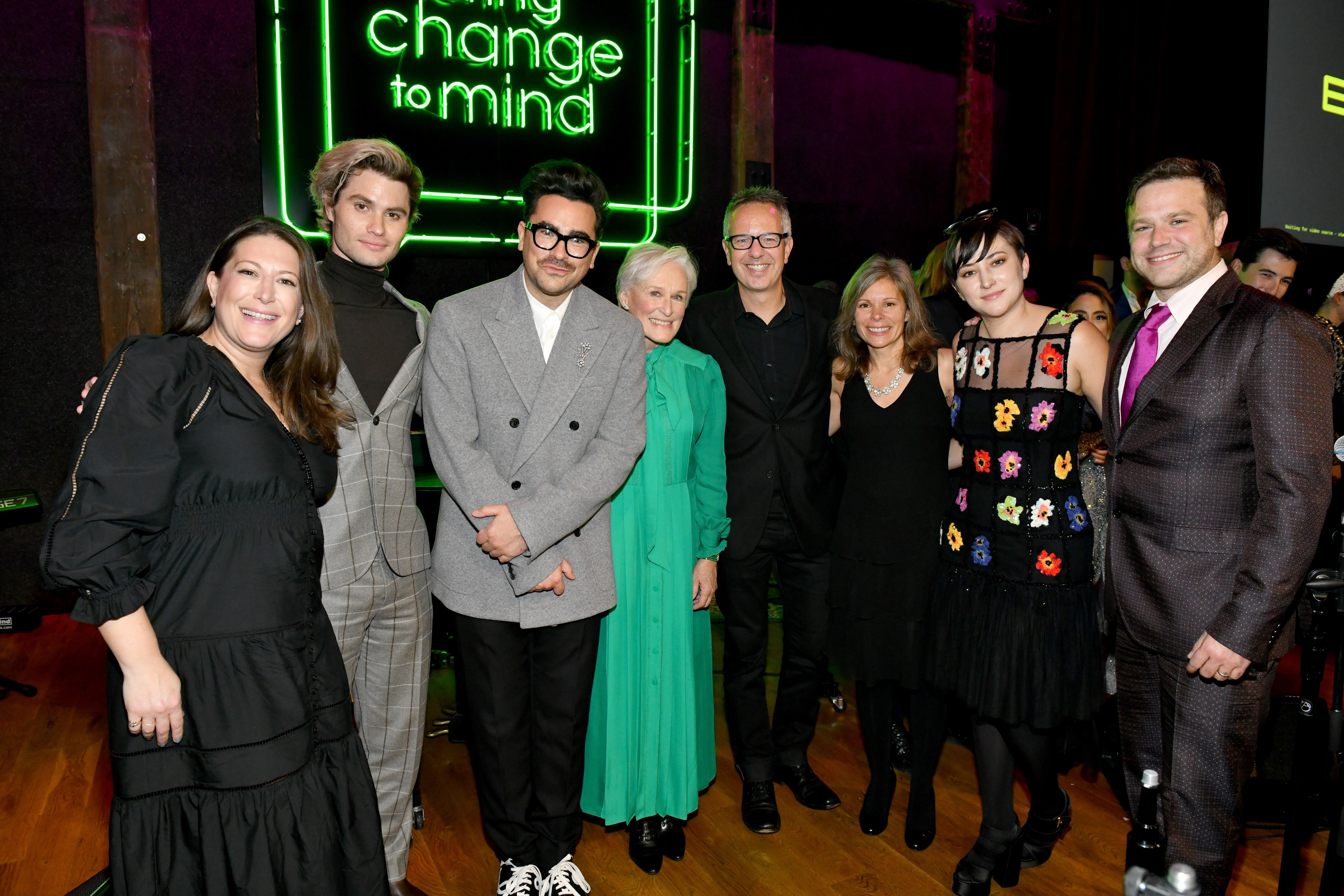 Chase Stokes, Dan Levy, Glenn Close, Zelda Williams, and Zak Williams at the 9th annual "Revels & Revelations" in support of teen mental health in New York City. | Source: Getty Images
When asked who he considered the greatest love of his life, Levy stated that since he hadn't met him yet, it would have to be his rescue dog, Redmond.
In a 2020 interview with Bustle, the "MTV Movie Awards Red Carpet" co-host disclosed that he still had a desire to "date more." Although, he did feel that doing something he loved was more than fulfilling. He explained:
"So to [want to] make space for someone else…in a way, it is the ultimate filter. You're basically saying, do I want to carve out the space in an already full and fulfilled life for this person? And a lot of the time, the answer is no."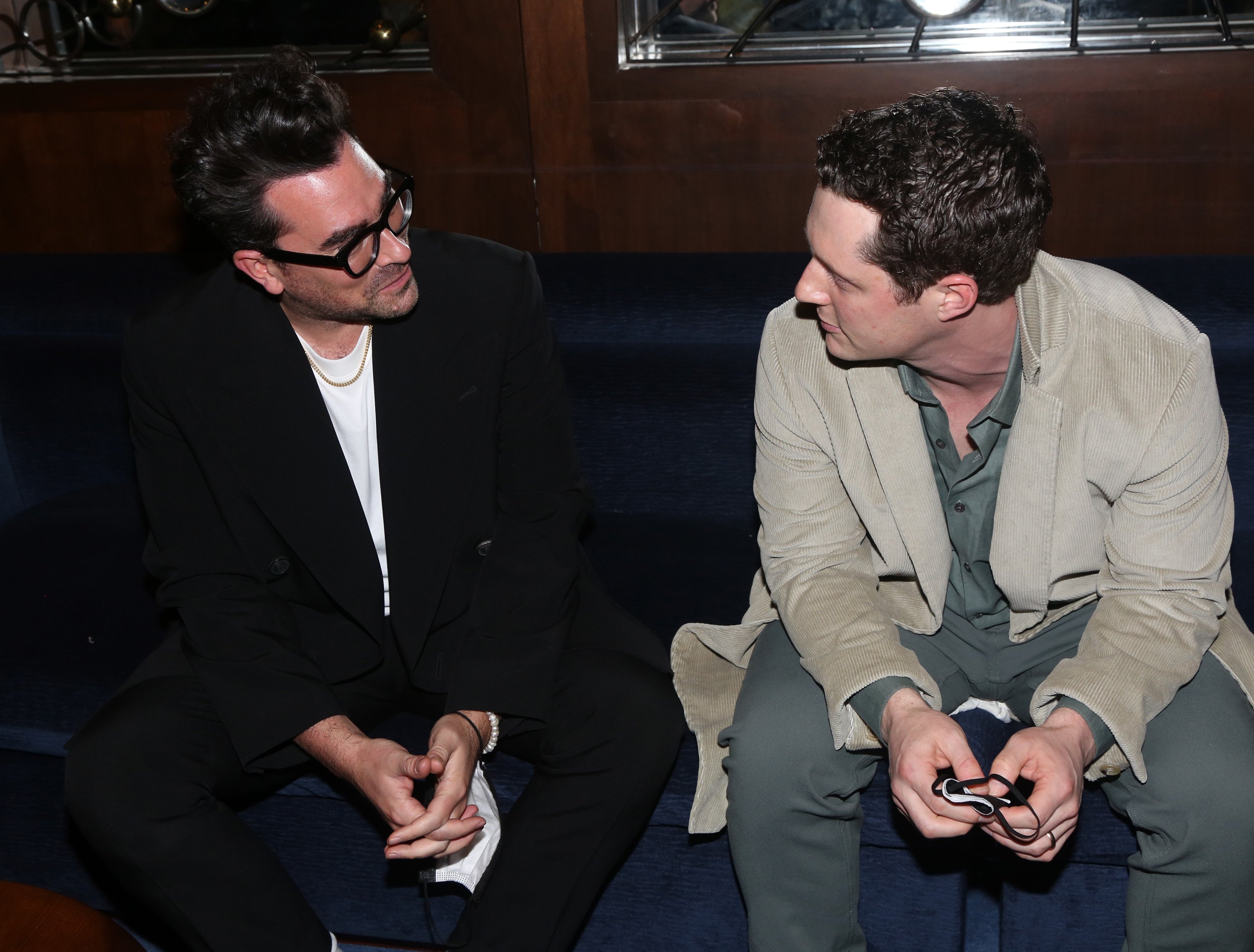 Dan Levy and Noah Reid chatting backstage at the opening night of "The Minutes" on Broadway in New York City | Source: Getty Images
Still, Dan remains hopeful of a committed romantic life despite his all-consuming career. He concluded by saying:
"But it only makes it that much better when the right person comes along."
In December last year, Pure Wow reported that the actor remains single. However, per Vanity Fair, when he revealed his ideal place of residence was London, he admitted that he had gone on a few dates before the pandemic hit the globe.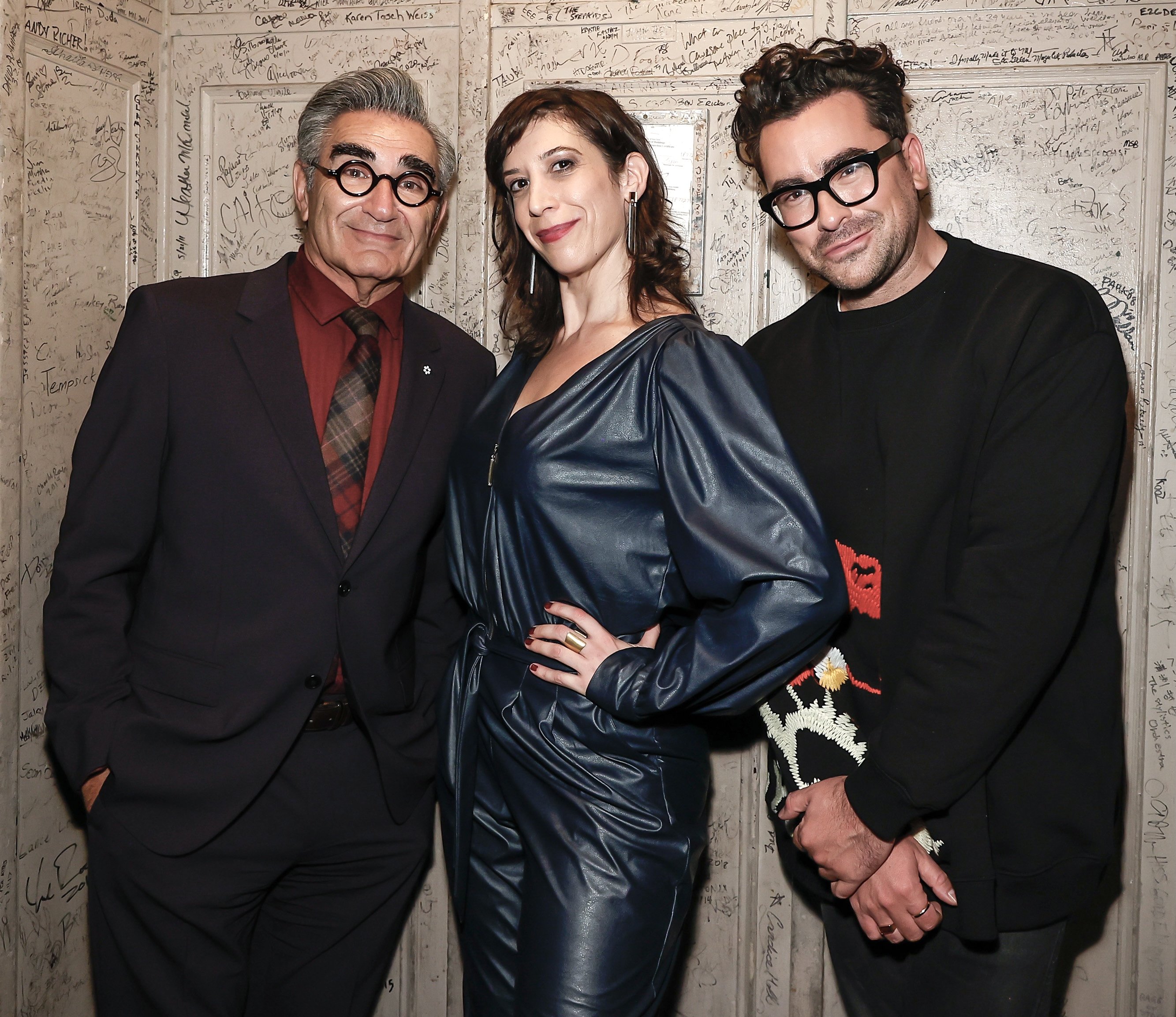 Eugene Levy, Jessica Shaw and Dan Levy are photographed at the "Best Wishes, Warmest Regards" book launch in New York City | Source: Getty Images
In the interview previously mentioned with Bustle, Dan also opened up about his difficult dating life in college, saying that college wasn't a "place of value" for healthy relationships. The actor explained that:
"You then get into these habits where you're dating people who are totally wrong for you because they're seeking out people who are a bit damaged, and you're seeking out people who have one foot out the door so that you don't actually give yourself over in any kind of way."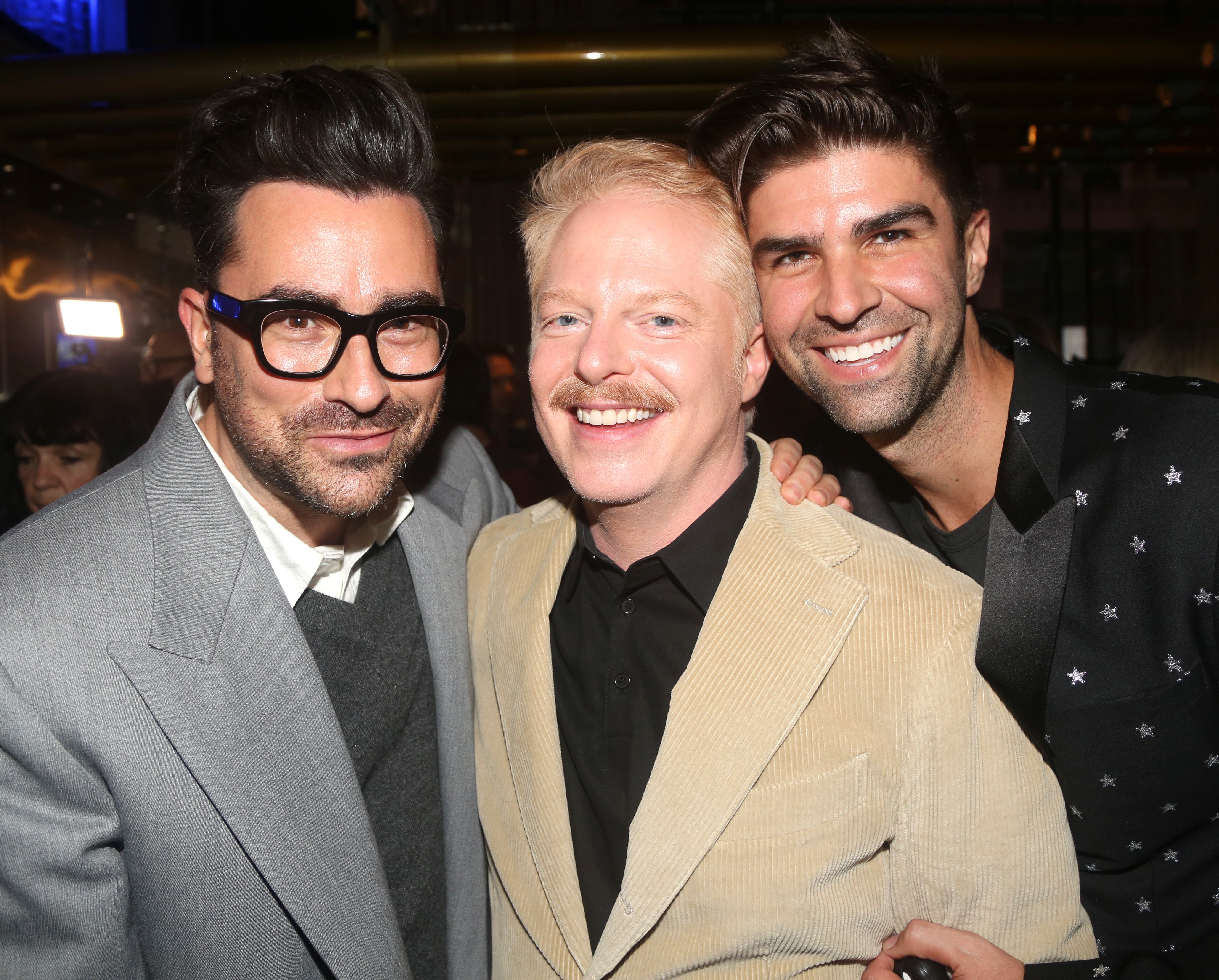 Dan Levy, Jesse Tyler Ferguson, and Justin Mikita photographed at the opening night party for the Broadway Second Stage Theater production of "Take Me Out" in New York City. | Source: Getty Images
He revealed he was too afraid to be fully vulnerable in those relationships. However, he also explained that that wasn't the kind of adult he wanted to be.
Per the Pure Wow issue, it was reported that unlike his character "David Rose" on "Schitt's Creek," Dan has yet to marry. Although he appreciates the quality of humility in men, he hasn't disclosed if marriage is in his books yet.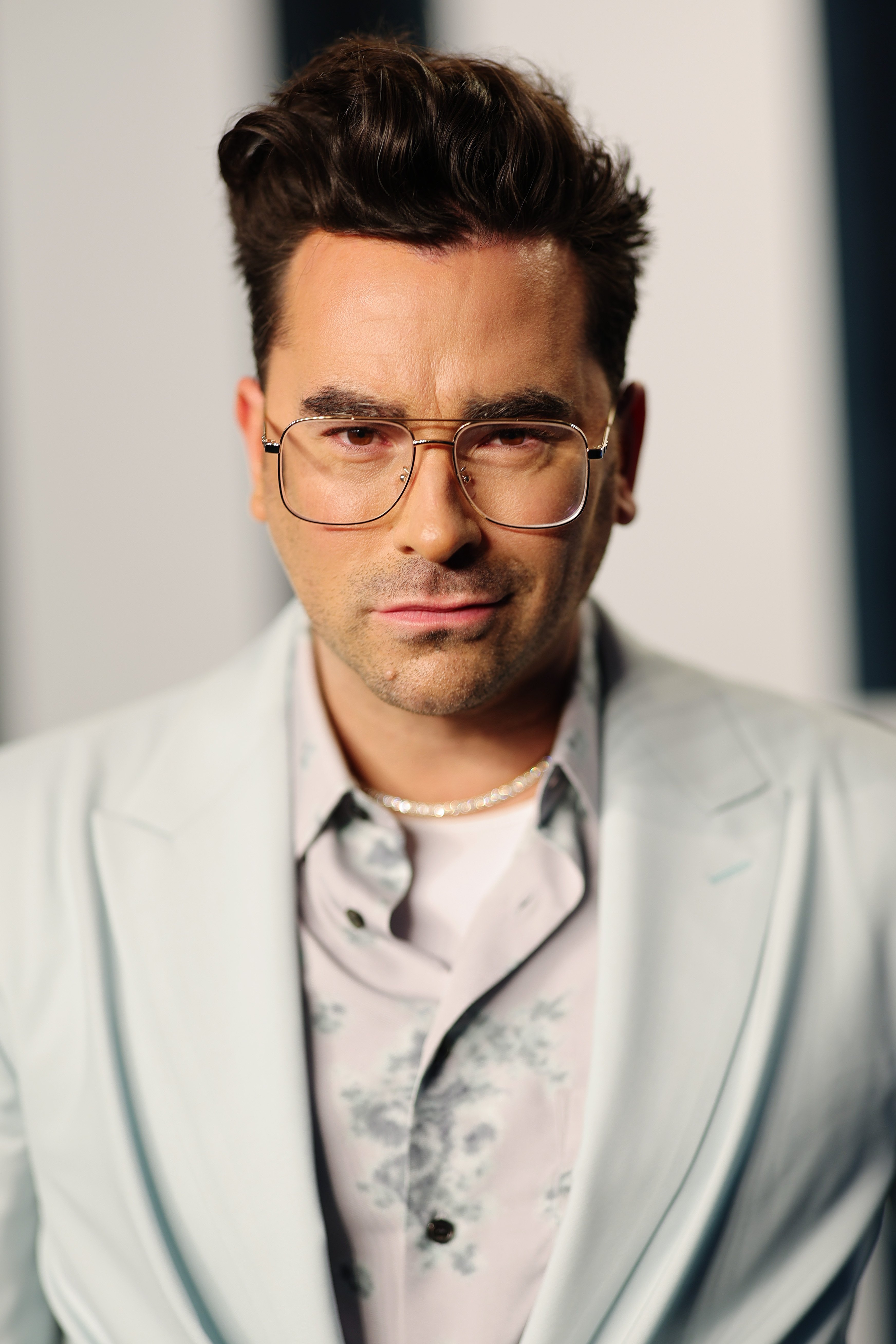 Dan Levy poses the 2022 Vanity Fair Oscar Party hosted by Radhika Jones in Beverly Hills | Source: Getty Images
WHAT DID DAN LEVY SAY ABOUT HIS SEXUALITY AND COMING OUT TO HIS PARENTS?
The X-Factor Pre-Show co-host shared his coming out experience on a 2020 episode of "Watch What Happens Live With Andy Cohen," alongside his co-stars Annie Murphy, Catherine O'Hara, and Eugene Levy as The Hollywood Report wrote.
Levy was 18 years old when it happened, and although he stayed in the closet for that long, his father admitted that he and his mom had already known.
Dan shared how his mom helped him come out and be comfortable with his identity, saying:
"My mom asked me over for lunch one day and I said, 'Yes.' She almost knew. My mom and I have a very close relationship in that sense and it almost felt like she knew that I was ready."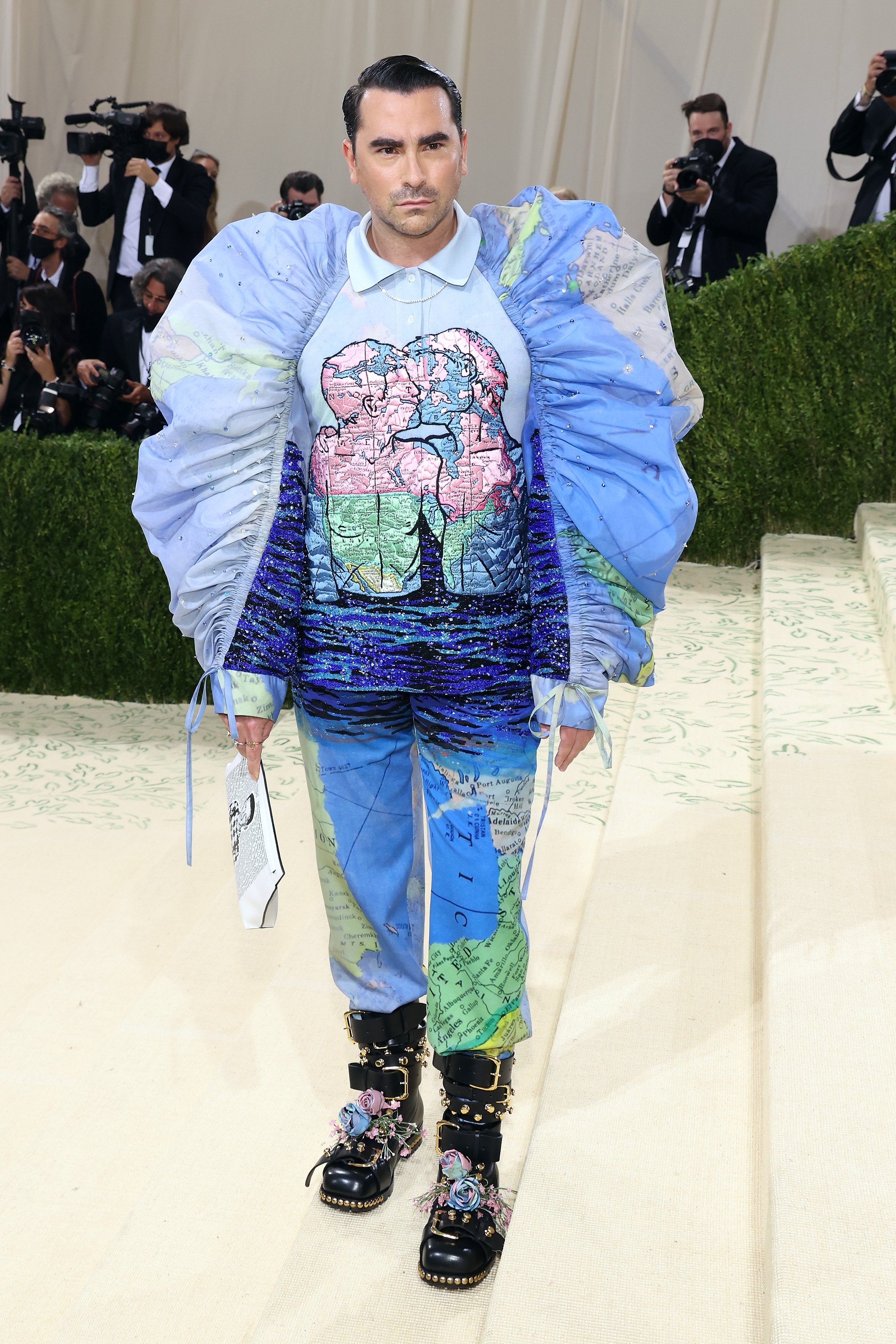 Dan Levy poses at the 2021 Met Gala celebrating "In America: A Lexicon Of Fashion" in New York City | Source: Getty Images
Dan told Attitude about how he felt compelled to represent the LGBTQ+ community as someone with a significantly large platform. He reflects on the opportunity to create a story that would portray some of his and his friends' experiences. He explained:
"It felt in a way kind of irresponsible not to seize that opportunity and tell stories that meant something, and stories that I haven't really seen that much on television."
Dan felt "really proud" of their work and loved the stories that they ended up telling because they gave a voice to the things they felt were important.
Please fill in your e-mail so we can share with you our top stories!