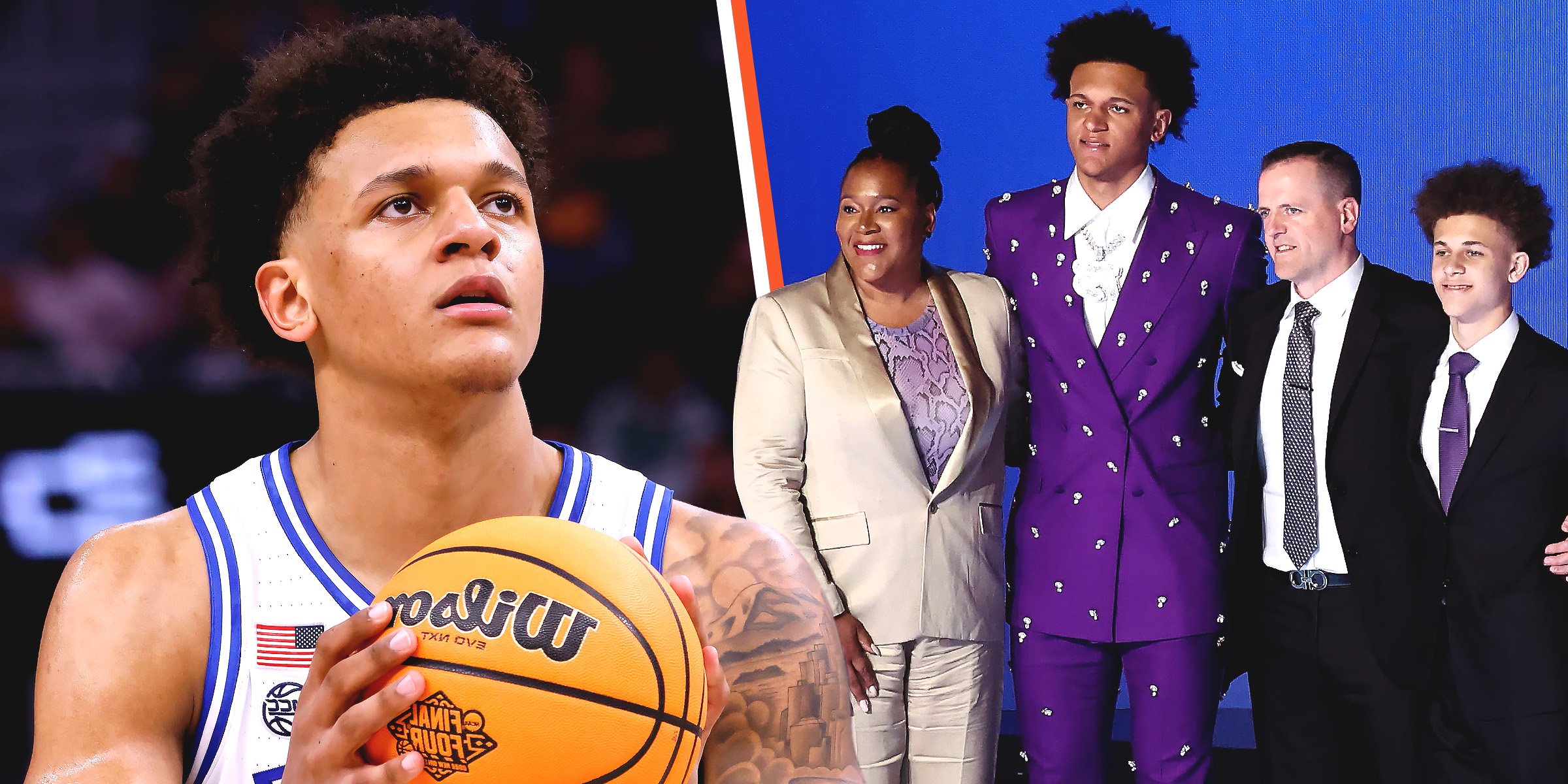 Getty Images
Paolo Banchero's Parents Are Also Associated with Sports: Meet Rhonda & Mario Banchero
Paolo Banchero's Parents, Rhonda Smith and Mario Banchero were both athletes in their younger years and influenced their son's career path. Here's more about them.
Paolo Banchero is only 19 but has already accomplished much in his sports career. In June 2022, the basketball player was drafted number 1 overall by the Orlando Magic.
Before joining the NBA, Paolo became the best player on North Carolina's Duke University's Blue Devils basketball team. As the leading scorer, he was considered one of the NBA 2022 Draft's top three picks. He didn't waste time showing the Magic his skills on the court and was signed in no time.
Behind his success were his parents, Rhonda Smith-Banchero and Mario Banchero, who influenced him significantly. Before welcoming Paolo in Seattle, Washington, on November 12, 2002, his mother was an athlete competing in basketball.
PAOLO BANCHERO'S PARENTS: AN ITALIAN DAD AND AN ATHLETIC MOM
Paolo was born from a biracial relationship between an Italian father and an American mother. His parents were both athletes, influencing his career path and love for sports. Rhonda was a college basketball player on the Washington Huskies Women's basketball team and made significant milestones in her sport.
With a total of 2,948 points and 803 rebounds, she was well on becoming the first Washington player to join the WNBA. In 2000, she became a third-round selection in the draft and was a professional player overseas and in the American Basketball League. She later coached the Holy Names Academy, Seattle.
Rhonda's career was memorable for those who watched her play in her younger years. Although she no longer plays professionally, Rhonda has dedicated her work towards the greater good at a non-profit organization to help homeless people and treat addiction and mental illness.
Meanwhile, Mario was also an athlete who played for the Husky football team. During his college years, he joined the University of Washington's football team but did not pursue an athletic career after. Instead, he had a business, Mondo and Sons Inc., and became a managing partner at 1150 LLC.
Aside from Paolo, Rhonda and Mario also share a son, Lio, and a daughter, Mia, who are both younger than the NBA player.
PAOLO'S MOTHER, RHONDA SMITH-BANCHERO, INSPIRES HIM
Paolo's mother's rigor and support, as well as her past experiences as an athlete, played a significant role in helping her son reach great heights.
"She's always been the one to just be there to humble me," Banchero said. "Like I said, never too high, never too low. If I ever had a good game, she would always give me stuff that I have to work on even though I had a good game."
Although Paolo has never seen his mother play, her talent significantly influenced him. Many would come up to Paolo and tell him how great Rhonda was at the sport.
When Rhonda was a coach, she made Paolo play with the girls. With his experience, Paolo believes that women's basketball needs more recognition in the sports industry.
His mom always watched women's basketball, so naturally, he would watch as well. "I think women play a lot more fundamentally sound brand of basketball, and it's really sometimes better to watch than some [men's] games, you see," he said.
PAOLO BANCHERO IS PROUD OF HIS ITALIAN ROOTS
Although playing in the US, Paolo is proud of his Italian heritage. He was chosen for the EuroBasket 2022 games but did not play for the country's 24-player team. "I am proud to wear the Azzurri jersey," he said. "I have it framed in my room."
He is also proud to have broadened his knowledge of his Italian roots, growing more familiar with the culture daily. Many great players started their careers in the NBA at a young age, including Michael Jordan, who became one of the greatest players of all time.
Please fill in your e-mail so we can share with you our top stories!