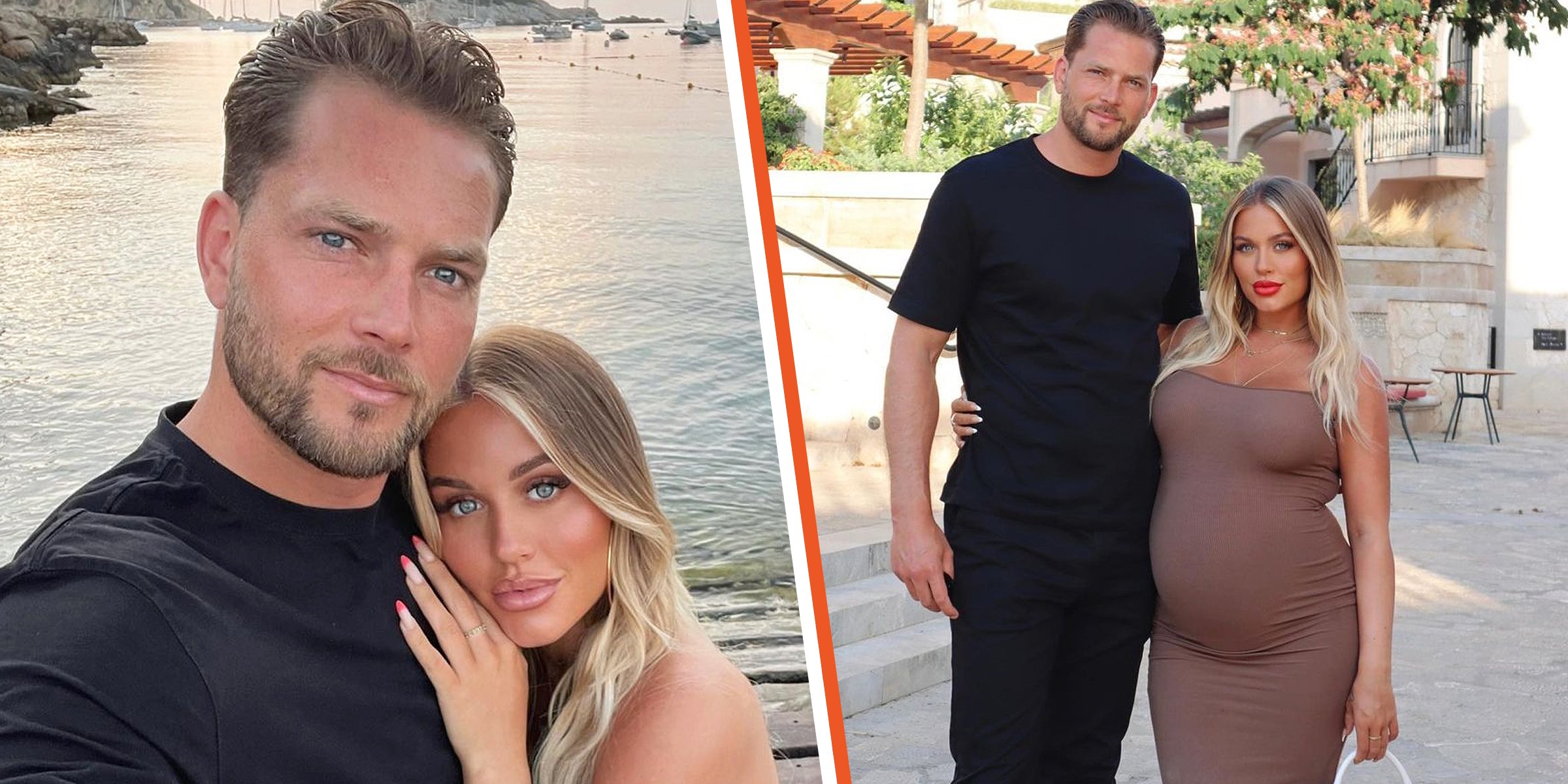 Instagram/mrlewisburton | Instagram/lottietomlinson
Lottie Tomlinson and Lewis Burton Welcome Their First Child: Inside Their Relationship

Lottie Tomlinson and her partner, Lewis Burton, just became parents. Together, they intend to raise their adorable first child, who arrived a few hours ago. Let's delve into their romance.
Makeup artist, influencer, model, and business owner, Lottie Tomlinson just added a new title to her name. The 23-year-old recently became a mother to her first child, which she shares with Lewis Burton.
The new mom, related to "One Direction" singer, Louis Tomlinson, broke the news of her child's birth on Wednesday night. Lottie shared a never-before-seen image of the infant partly wrapped in a shawl.
In the monochrome snap, she cropped the baby's face but revealed his bare chest, cute hands, and legs. Lottie captioned the image with deep and sweet words that read:
"Dreams do come true."
Other family members, including her sister, Phoebe, appeared overjoyed about the news. The latest aunt confirmed that the influencer's child is a boy via her post.
LOTTIE TOMLINSON AND LEWIS BURTON'S FIRST BABY
Lottie and Burton are exceptionally proud of their newborn. So without wasting time, the new mom shared the news of her bundle of joy with thousands of her Instagram followers.
However, she was not the only one celebrating. Burton took to his Instagram stories to share a stunning image of his beau and a caption that read, "Very proud of you; we are both lucky to have you."
Phoebe also gushed over the new family member with a black and white snap of the influencer posing in an all-black ensemble as she rested one hand on the baby bump and another behind her back. Lottie's sister quipped:
"I am so beyond proud of you. He is perfect. Love you both @lottietomlinson @mrlewisburton."
The social media maven revealed she was expecting her first child with 30-year-old Burton in February. Lottie uploaded tons of photos while breaking the news and captured it "Just the three of us."
Following the baby's revelation, the makeup artist and her partner revealed their baby's gender. Then, Lottie updated fans with a video showing her and Burton releasing a cannon of blue confetti and powder.
COUPLE BEFORE BABY
Burton and Lottie announced their relationship in 2020, and their love has only grown since then. The couple even enjoyed a trip to the luxurious destination of Crete in May.
Burton, a former tennis pro, was dating Caroline Flack, but it ended following her untimely death. Six months after the tragedy, he met the influencer. The pair could relate to their grief as they had previously lost someone.
This year, after the news that they were expecting a child, Lottie admitted to fans that she was gearing up to enjoy one last holiday before her son's arrival.
Indeed, the pair went all out to make their "babymoon memories." As expected, the model shared interesting snaps and videos with her online audience.
It included the expectant mom dressed in a stylish outfit, a beige dress, and a leather jacket while at the Gatwick Airport. Fans were later treated with summer snaps and images of a luxury-looking hotel. In the same string of posts, Burton was captured sporting casual attire.
Following every post, fans would chime in their support and loyalty for the couple. Strangers, friends, and family, like her sisters, Phoebe and Daisy, often drop lovely comments.
LOTTIE, ON HER PREGNANCY
Since day one, Lottie has been very expressive about her decisions concerning motherhood. The influencer who chit-chatted with her fans revealed that although the pregnancy was unexpected, she was confident in Burton's abilities and said:
"He's so excited. He's gonna be the best dad, he's been an amazing support to me so far."
Fortunately for the first-time mom, she experienced a peculiar first trimester— free of morning sickness. It was only during the second trimester that she felt tired.
Being pregnant was a great time as it did not entirely affect her schedule; plus, she had a supportive partner every step. Lottie added:
"I feel so full of love, and it's the most amazing feeling growing my baby. I've been excited about doing this for as long as I can remember, so I'm enjoying every minute of it."
The few changes she witnessed were in her diet. The model confessed that she was subjected to cereal cravings, but she included fruits for a healthy diet while at it.
Although Lottie is delighted to be a mom, she explained that they are yet to pick a name for their son. The first-time mom added that she was surprised that the scan revealed one baby, as she thought it would have been twins since it runs in her family.
Speaking of family, the model has lost two of her relatives, first her mother, Johannah Deakin, and then her sister. However, she remains connected to them. Lottie acknowledged that her mom would be so excited about the baby and that she still felt her presence.
Please fill in your e-mail so we can share with you our top stories!