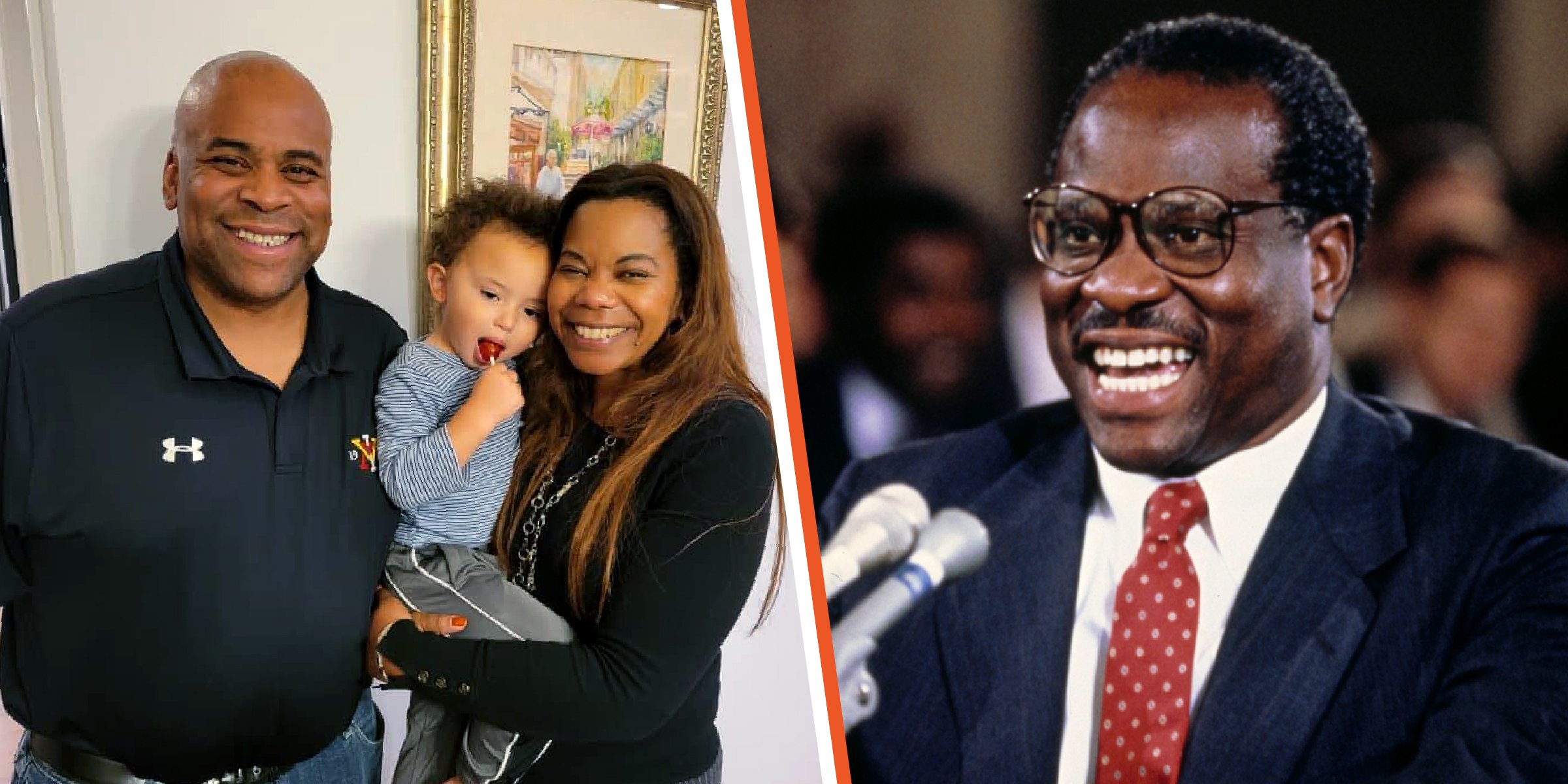 Facebook/jamal.thomas.315 | Getty Images
Jamal Adeen Thomas Then and Now: All about the Life of Clarence Thomas' Son

Jamal Adeen Thomas is a non-public person. The 49-year-old is primarily known as the son of the 74-year-old American Associate Justice, Clarence Thomas.
Jamal Adeen Thomas's father, Clarence Thomas, is an Associate Justice of the United States Supreme Court. He has served in his role since being nominated by former U.S. president George H. W. Bush in 1991.
Due to Jamal's father having such a top position and being so well-known, everyone is curious to know who Clarence's son is. Here's all we know about the life of Jamal Adeen Thomas.
JAMAL ADEEN THOMAS'S EARLY LIFE
Jamal Adeen Thomas was born at Yale New Haven Hospital on February 15, 1973. He's the only child of Clarence Thomas and Kathy Ambush.
Jamal's father said he felt a "profound sense of love and responsibility" when Jamal was born after initially having fears about whether he was ready for fatherhood and the future of his marriage.
The 74-year-old Associate Justice also said Jamal gave him a reason to live due to his maturity and is "forever indebted" to him. He said he would love his son until his "last breath."
Jamal's parents met while they were both in college and eventually married after graduating in 1971. Clarence's mother, grandmother, and aunt Tina were present at the couple's wedding, except for Clarence's father. The pair welcomed their first child, Jamal, a few years after tying the knot.
Jamal's early childhood turned out due to his parent's divorce. Jamal's father soon left the family, and he and his first wife Kathy separated in 1981 but only finalized their divorce in 1984.
Jamal's dad reportedly cheated on his mother with Lillian McEwen, who has since written about the affair in a memoir. There were also claims that Clarence was a heavy drinker, and Jamal's father admitted in the 1980s that he had a drinking problem.
Clarence decided to leave his wife and child during this time and was left with guilt and reminded of his grandfather's words that he would become like his father, who abandoned his family. Speaking about the decision he took to leave his family, Jamal's father said:
"I left my wife and child. It was the worst thing I've done in my life, worse even than going back on my promise to Daddy that I would finish my seminary studies and become a priest. I still live with the guilt, and always will."
Jamal's father had sworn never to allow his son to attend a public school. He had to pay for Jamal's tuition at one time but had no money.
Clarence said something "miraculous" happened at the time. His car got recalled due to a rust problem, and Clarence was paid $2 000. The amount was enough to pay off his car loan and Jamal's tuition fees.
JAMAL THOMAS WENT TO THE MILITARY INSTITUTE AND NOW HELPS THE FATHERHOOD FOUNDATION OF VIRGINIA
Jamal Adeen Thomas has high school and tertiary education. He went to Bishop Ireton High School and Fork Union Military Academy.
Jamal went on to study at Virginia Military Institute in 1996. The Institute was founded in 1839 and is the oldest state-supported military college in the U.S.
Jamal is now a frequent supporter of The Fatherhood Foundation of Virginia. The 49-year-old often posts fundraising information on his Facebook page.
The foundation aims to help men become better co-parents and partners and provide them with the knowledge that will enable them to be more active fathers. They offer coaching and programs for couples and equip dads with skills to be committed fathers. Jamal is on the board of directors of this foundation.
Careerwise, Jamal has held numerous positions. The position he has held the longest in his career is at Wells Fargo Advisors. Jamal worked in different roles from 1997 to 2009.
He was also the Centralized Supervision Associate for Davenport & Company LLC between 2010 and 2011 before working for Wells Fargo Advisors again for two years, from 2011 to 2013.
Another role Jamal held was at BB&T Scott and Stringfellow. Jamal worked as an Overlay Manager at BB&T Scott and Stringfellow from 2014 to 2021. He's currently the Director of Supervision at John F. Van Der Hyde and Associates Network Office of Northwestern Mutual, a role he's held since 2021.
JAMAL THOMAS IS A LOVING FATHER
Jamal Adeen Thomas is already a father and sometimes shares his and his son's posts on social media. Judging by his Facebook page, he tries to spend as much time as possible with his son.
The doting dad also has a partner, and they are on good terms. Jamal's partner Sakina Paige is the Senior Manager of Associate Relations for Capital One. Jamal currently lives in Richmond, Virginia.
JAMAL THOMAS'S FATHER REFUSED CASES INVOLVING HIS SON
Jamal Thomas's father did not take on cases that were related to his son, so there was no conflict of interest.
Clarence recused himself in 1995 in a case involving the Virginia Military Institute, where his son was attending. When Jamal worked at Wachovia Securities, Jamal's father also recused himself from multiple cases involving them from 2004 to 2007.
JAMAL ADEEN THOMAS IS CONFUSED WITH AN ACTOR
Jamal Adeen Thomas shares a similar name with the actor Jamal Thomas. Funny enough, it's for this reason that Jamal is often confused with the actor. They are two different people who have nothing in common, and Jamal Adeen Thomas has never acted in a movie.
Jamal Adeen Thomas may be the son of a well-known man, but he has chosen to live his life his way. He also has a successful career and an adorable son to whom he's giving so much love and attention.
Please fill in your e-mail so we can share with you our top stories!