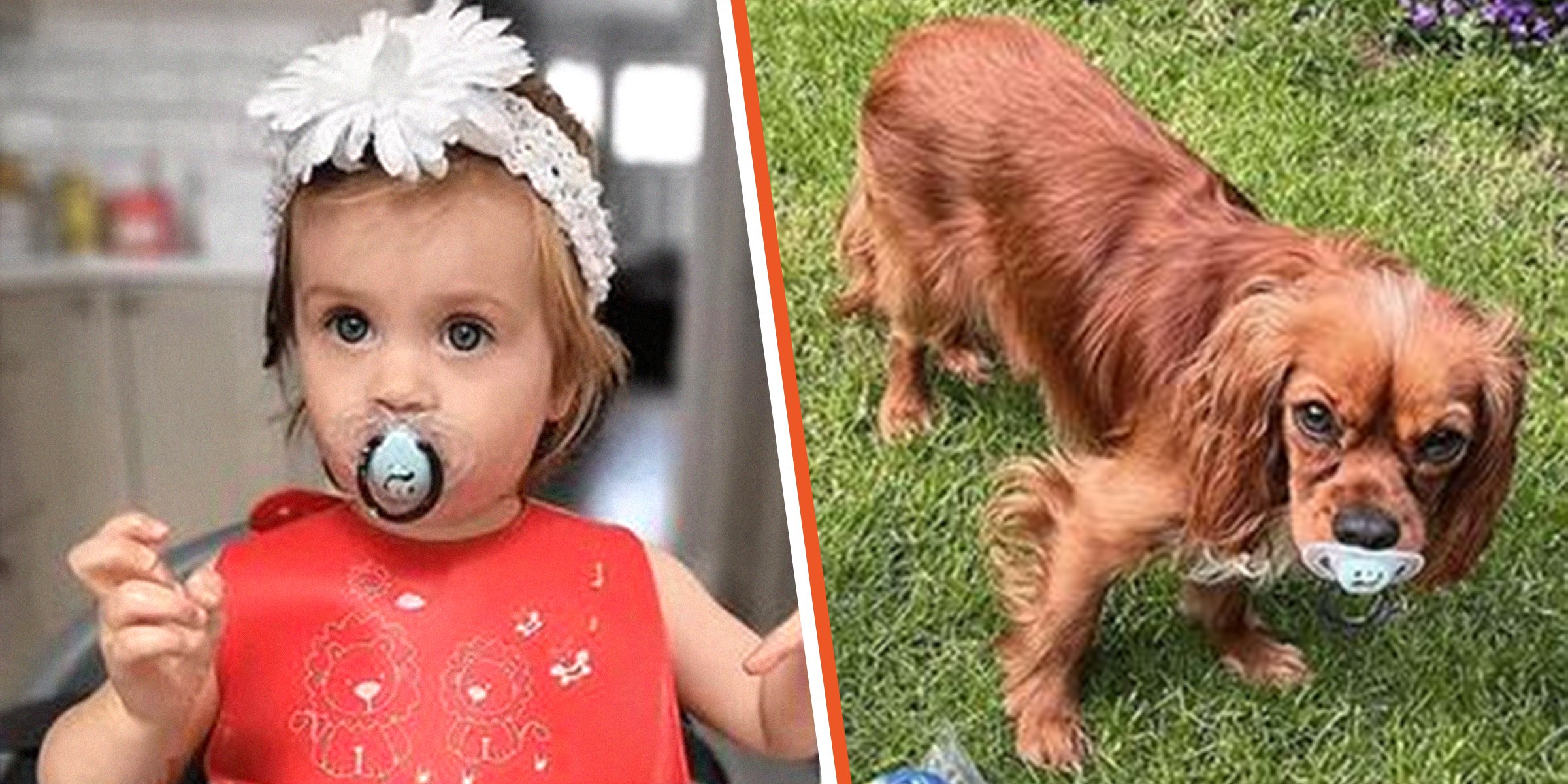 Facebook.com/DailyMail
Mom Shamed for Letting Daughter Share Her Pacifiers with the Family Dog

A mother was left speechless by her toddler, so she shared the unbelievable scenes online. The little one's surprising actions garnered a massive online response, with netizens having mixed feelings about the unique situation.
What is the most ridiculous thing a baby in your family has done? Many parents and relatives have stories about the weird and wonderful things their little ones get up to, and this behavior often leaves many unanswered questions.
One mom from Birmingham, England, was shocked when she saw her sister-in-law's dog carrying a familiar item in his mouth. She looked after the pup weekly but never imagined that the dog-sitting would lead to something strange.
THE TODDLER'S "BAD HABIT"
Gemma Hill loved her 18-month-old baby girl, Bonnie Howards. However, the adorable toddler had a habit that Hill was trying to end — her baby was obsessed with a pacifier.
In 2022, Hill shared that she had tried to wean her little girl off the comfort item for two months, but her efforts failed. Baby Howards managed to find pacifiers to suck on, and she refused to stop.
In a now-viral TikTok video, the mom captured her daughter using a pacifier. She added Ed Sheeran's famous song, "Bad Habits," to the clip, referring to her toddler's dependency. However, there was much more to the video than that.
THE DOG'S NEW FAVORITE TOY
Hill never imagined that dog-sitting their family pooch would affect her baby's pacifier habits, but it did. The mother was speechless after seeing Rafa, the Cavalier King Charles Spaniel, sucking on something that looked oddly familiar.
It was her little girl's pacifier! She was amused and believed the dog had found the item lying around himself. However, this suspicion was quickly disproved. Hill walked in on baby Howards giving her fluffy friend the pacifier. The mother shared:
"'I didn't see the first exchange. It's only been recently where I've walked into a room and found her stuffing one into his mouth. It turns out that she's been secretly giving dummies to Rafa."
THE RIDICULOUS BEHAVIOR
The little girl and dog had grown up together, and Hill was happy about their bond. They shared food and toys and loved spending time together. However, the pacifier-sharing tendencies added an unexpected twist to their relationship.
The dog's behavior was surprising, but there was another element to his actions that impressed the mother.
The mother called the behavior "ridiculous" and didn't know how to put a stop to it. Not only did she need to try and wean her toddler off the pacifier, but she also needed to stop the dog's new habit.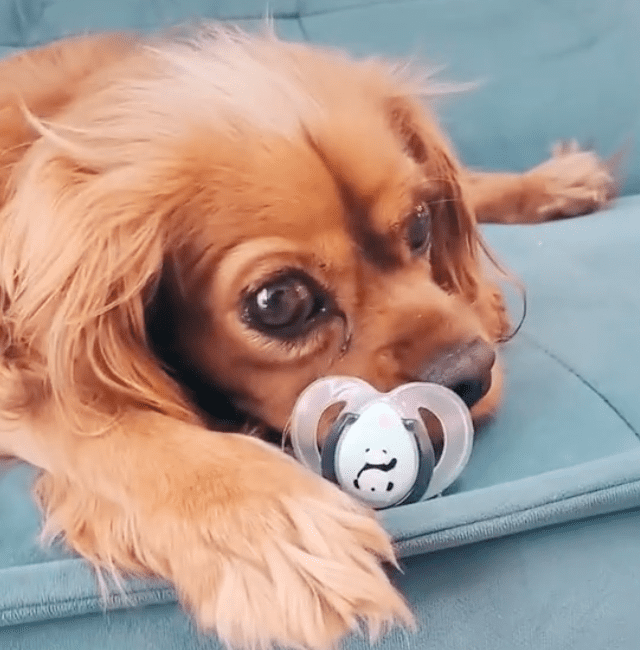 Rafa the dog. | Source: Tiktok.com/radiogemmahill
THE DUO WAS OBSESSED
The mother was shocked by her daughter's sneakiness and secretiveness because she managed to hide pacifiers around the house.
Whenever the mother saw the pair, they were happily sucking on their pacifiers, and it was evident the pup was also obsessed. Hill said:
"[The dog] was crying outside her cot the other day. At first, we thought he missed her, but no, he wanted to get a [pacifier] that was left in there. He's hooked on the [pacifiers] as well."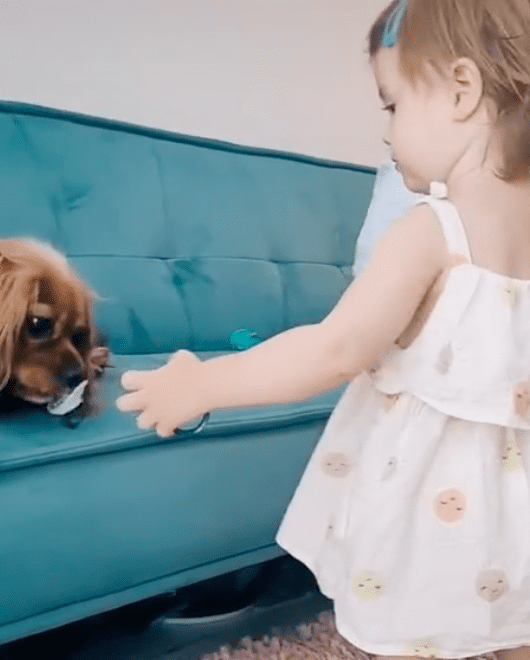 Baby Bonnie Howards and Rafa the dog. | Source: Tiktok.com/@radiogemmahill
THE DOG'S ACTIONS IMPRESSED THE MOM
Hill revealed that her daughter didn't share her things with friends or family. The only one she wanted to share with was the puppy, Rafa. The dog's behavior was surprising, but there was another element to his actions that impressed the mother.
She noted that he was still being trained but displayed admirable traits, including his treatment of the pacifiers. Rafa didn't eat or chew the items. Instead, he sucked them and used them as baby Howards did. Hill added:
"When he's had enough, he'll spit it out, it's quite impressive."
THE BOND WARMED THEIR HEARTS
The mom believed that weaning her daughter off the pacifiers was the solution to their problem because baby Howards was the "root" of the obsession. The toddler was also learning to walk, which meant she could give Rafa a pacifier whenever she wanted.
The family had to chase the dog around the garden multiple times to retrieve the item. Despite the drama, they found the unique encounters and special connection between the duo heartwarming.
CRITICAL ONLINE REACTIONS
The mom received countless comments online, and netizens did not hold back. Many people shamed her for allowing the behavior, and users criticized her parenting:
"That is absolutely disgusting! Why would any sane parent allow this to happen?"

- (Leila Ali Balluza) August 11, 2022
"I know I'm relatively in the minority, but ... heurghhh! ... these people have seen what their darling dog licks, right?"

- (Bonnie Harris) August 11, 2022
"This isn't cute. Firstly, it's just dirty, and secondly, this is an accident waiting to happen! What about when the kid takes the [pacifier] back, and it goes for them?"

- (Ange Hopkins) August 11, 2022
"Sweet but unhygienic. The dog could catch something!"

- (Charlie James) August 11, 2022
SUPPORTIVE ONLINE REACTIONS
Meanwhile, some users offered support for the mother. Several shared kind words and expressed that they found the actions of the baby and dog sweet:
"I don't think anyone has died from doggie kisses. Most dog owners share things with their pets."

- (Lois A. Irwin) August 12, 2022
"Dogs have the cleanest mouths! I had been told that years ago, and I don't think it's any different today!"

- (Elizabeth Kramer) August 11, 2022
"Absolutely beautiful. That's so cute."

- (Elizabeth Reidy) August 11, 2022
"Good way to build up her immunity. [There are] too many germ-free products."

- (Jean Cockaday) August 11, 2022
Hill faced differing opinions from people online. While many questioned her parenting, countless users gushed about the adorable encounter. What do you think about it?
Click here for another story about a mom who faced harsh criticism from netizens. She shared her baby's unique name online, and users did not hold back their nasty comments.
Please fill in your e-mail so we can share with you our top stories!