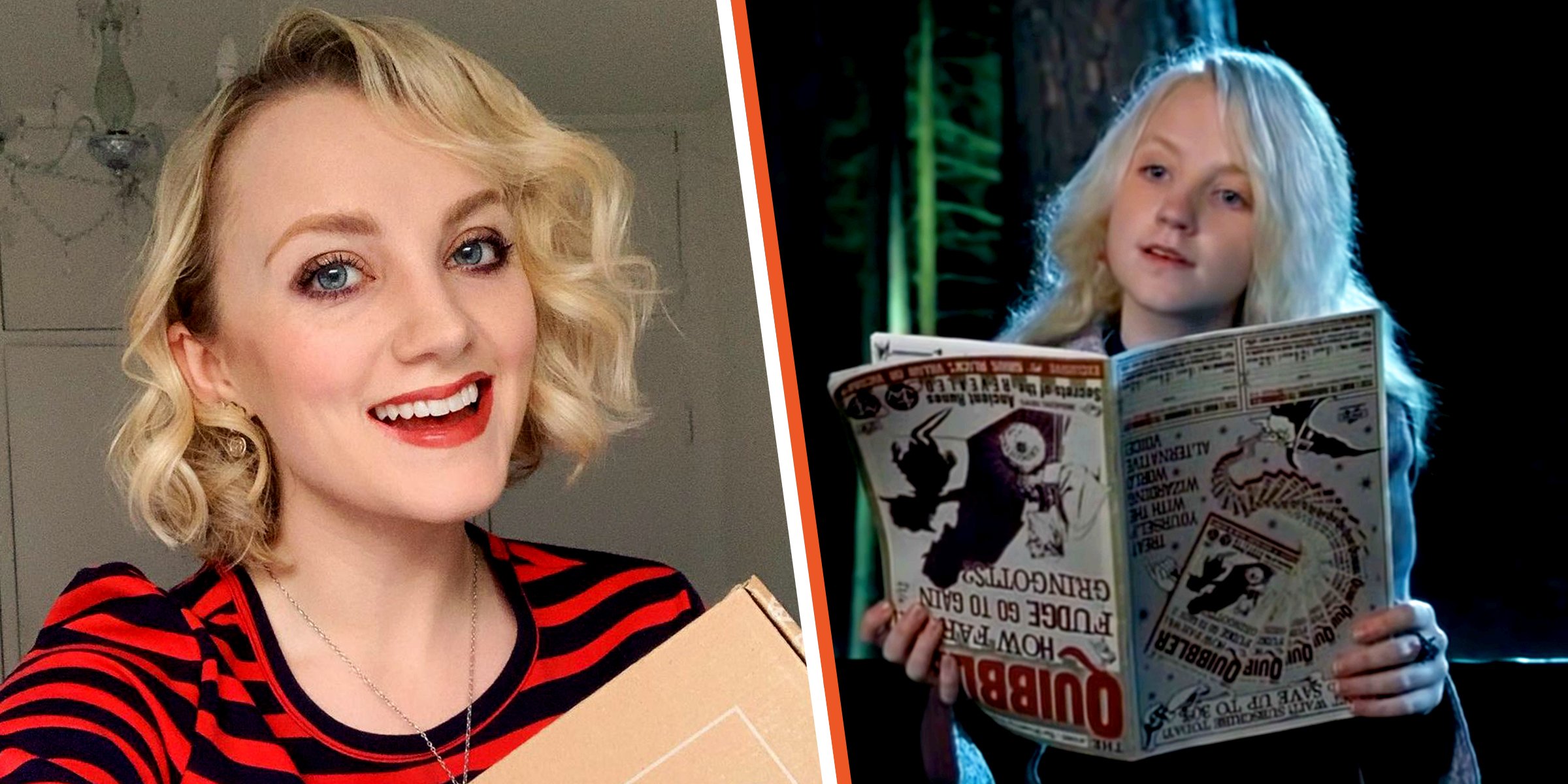 Instagram/evannalynch | Youtube/WizardingWorld
Where Is Luna Lovegood from 'Harry Potter' Now? Inside Evanna Lynch's Life after the Movies

The "Harry Potter" franchise launched the career of many young actors, including Irish actress Evanna Lynch. The Luna Lovegood actress became known after portraying her role in the "Harry Potter" films.
Evanna Lynch's iconic role as Luna Lovegood in "Harry Potter" films made the young actress get noticed -- just like her fellow actors Daniel Radcliffe, Emma Watson, and Rupert Grint.
It has already been more than a decade since the actress played the iconic role. A closer look at where she is now and what she has been up to -- inside the life of Evanna Lynch.
HOW DID EVANNA LYNCH GET THE ROLE OF LUNA?
Born in Termonfeckin, Ireland, on August 16, 1991, Evanna Lynch's acting career began in 2007. This was after she beat thousands of hopefuls and landed the role of Luna Lovegood in "Hary Potter."
Evanna had been open about being a "Harry Potter" fan before she got the iconic role in the fifth film. During an episode of the "Normal Not Normal" podcast by her former castmates, Oliver and James Phelps, Evanna said she spent a lot of time on the film's fan site Mugglenet, where she wrote fan fiction.
Her love for "Harry Potter" was ignited when she was eight after reading the first "Harry Potter" book. The self-proclaimed superfan said in the podcast:
"I got utterly obsessed... It just took over my whole identity. I loved it so much."
Evanna opened up in 2016 about her childhood struggles, especially her battle with an eating disorder. The actress, who is said to be an overachiever, was hospitalized at 11 years old and battled anorexia for two years.
She spoke in the 2016 interview with The Irish Times about how hard it was for her mom and further explained her struggle by saying:
"It was awful for my mum. She wondered: what had gone wrong? Where did this come from? But it wasn't anything like that. It was a struggle for identity. I didn't plan for an eating disorder. But I soon found that it was a way of getting attention that I could control."
"Harry Potter" helped her to overcome it. She further said that as a huge fan of "Harry Potter," she started exchanging letters with J.K. Rowling.
The 30-year-old said Rowling's "books and her kindness really made me want to live again." Getting a role in "Harry Potter" changed her life. She revealed:
"...It proved to me that I could do something, that I had something to offer the world."
There have been rumors about how the actress landed the role in "Harry Potter," one of them being that a "sickly" Evanna was spotted by J.K. Rowling at a book signing and promised her the role if she managed to eat something.
WHAT HAPPENED TO EVANNA LYNCH AFTER THE "HARRY POTTER" MOVIES?
Evanna Lynch has been living a busy and exciting life since her appearance in "Harry Potter." She promotes healthy body image, teaches yoga, loves reading, and is a cat lover.
The Luna Lovegood actress said she felt "strange and lonely" and didn't know what her "worth was outside of being Luna."
She decided to take acting classes and went to numerous auditions. Evanna also moved to LA, which she said helped her to know who she was and gave her "the courage to manifest the opportunities" she wanted.
Since then, the 30-year-old has landed numerous roles. She has appeared in "Danny and the Human Zoo," "Dynamite: A Cautionary Tale," and the TV show "Sinbad."
Evanna once got a dream role; however, the movie was never made. She said she got a role in a movie called "Monster Butler," but the film was never completed due to financing problems.
Evanna is also an activist and also works with UNICEF. In 2014, she went with the organization to the Philippines to assist after Typhoon Haiyan hit it. She said she wanted to "really get my hands dirty" and help those who want "a voice in the world."
Evanna is also an author and has written a book titled "The Opposite of Butterfly Hunting," which she revealed came about due to her love for butterflies.
IS EVANNA LYNCH DATING ANYONE?
Evanna Lynch was in a long-term relationship with Robbie Jarvis. The two met on the "Harry Potter and the Order of the Phoenix" set and started dating in 2007. Evanna and Robbie kept their relationship private for seven years and only went public in 2015 after sharing loved-up posts on Instagram.
Just a year after revealing they were dating, the "Harry Potter" stars ended their relationship after nine years. At the time, the actress confirmed their split with Us Weekly and said that they were still friends.
The 31-year-old is currently dating French musician Andel, who she met in London. The actress revealed she was dating the singer/songwriter in 2017. Evanna said her boyfriend is a "total meat-eater" and described him as her "best friend."
She has since introduced her "shy" partner to her family in Ireland. The actress took the opportunity to allow her love interest to meet her family at her sister's wedding.
Please fill in your e-mail so we can share with you our top stories!