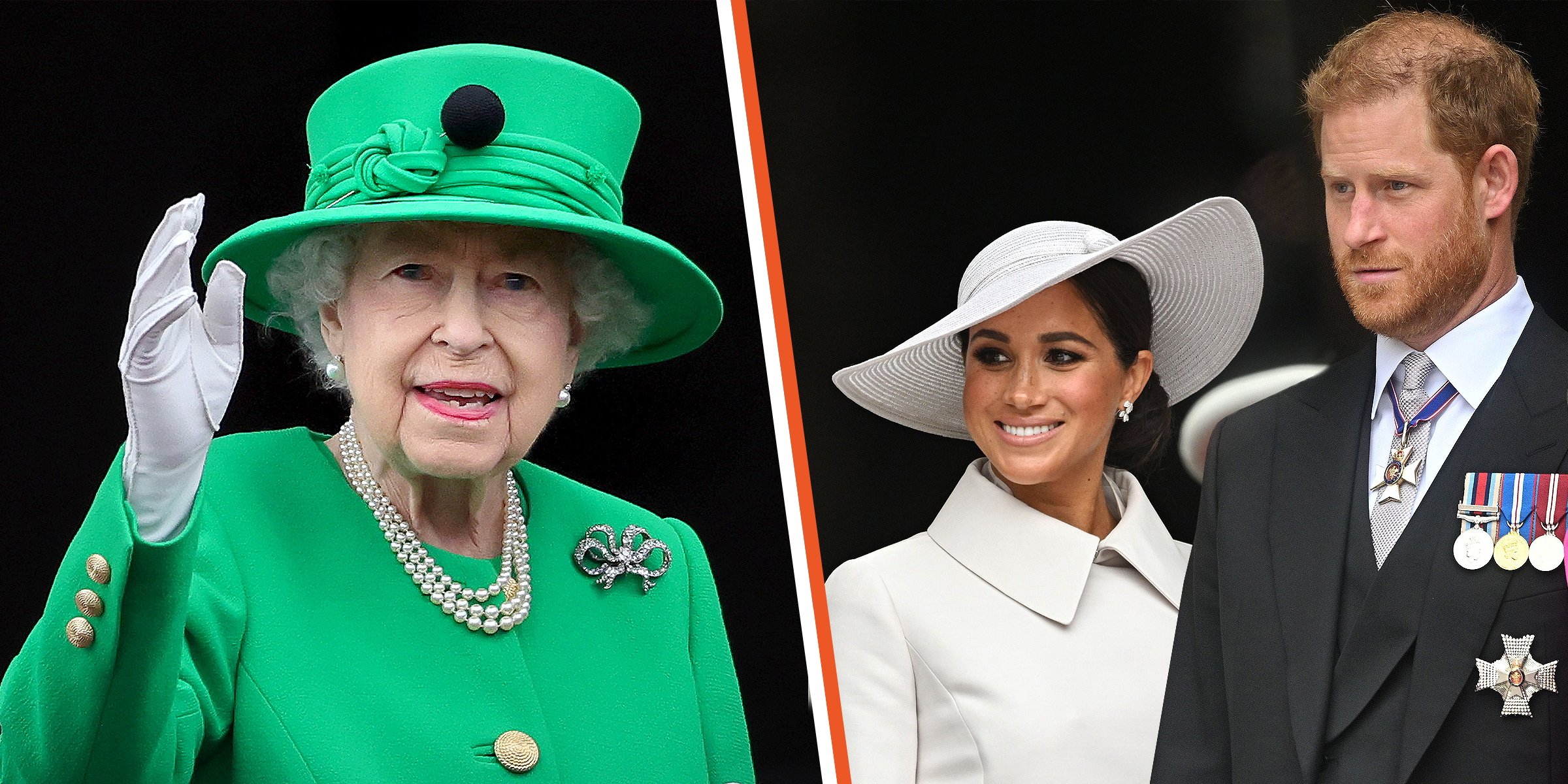 Getty Images
Fans Weigh In on Harry & Meghan's Reasons for Announced Return to the UK after Queen's Health Issues

Prince Harry and Meghan Markle are set to revisit the UK for charity. Since the announcement, fans have weighed in on the couple's reasons for returning. Here is what angry and happy netizens had to say about the news.
The past few months have seen several members of the Royal Family make the headlines for various reasons. In June 2022, Queen Elizabeth was at the peak of attention as she celebrated her 70th-year reign as the British Monarch.
Many Royal Family members availed themselves of the four-day Platinum Jubilee Celebrations, including Prince Harry and his wife, Meghan Markle.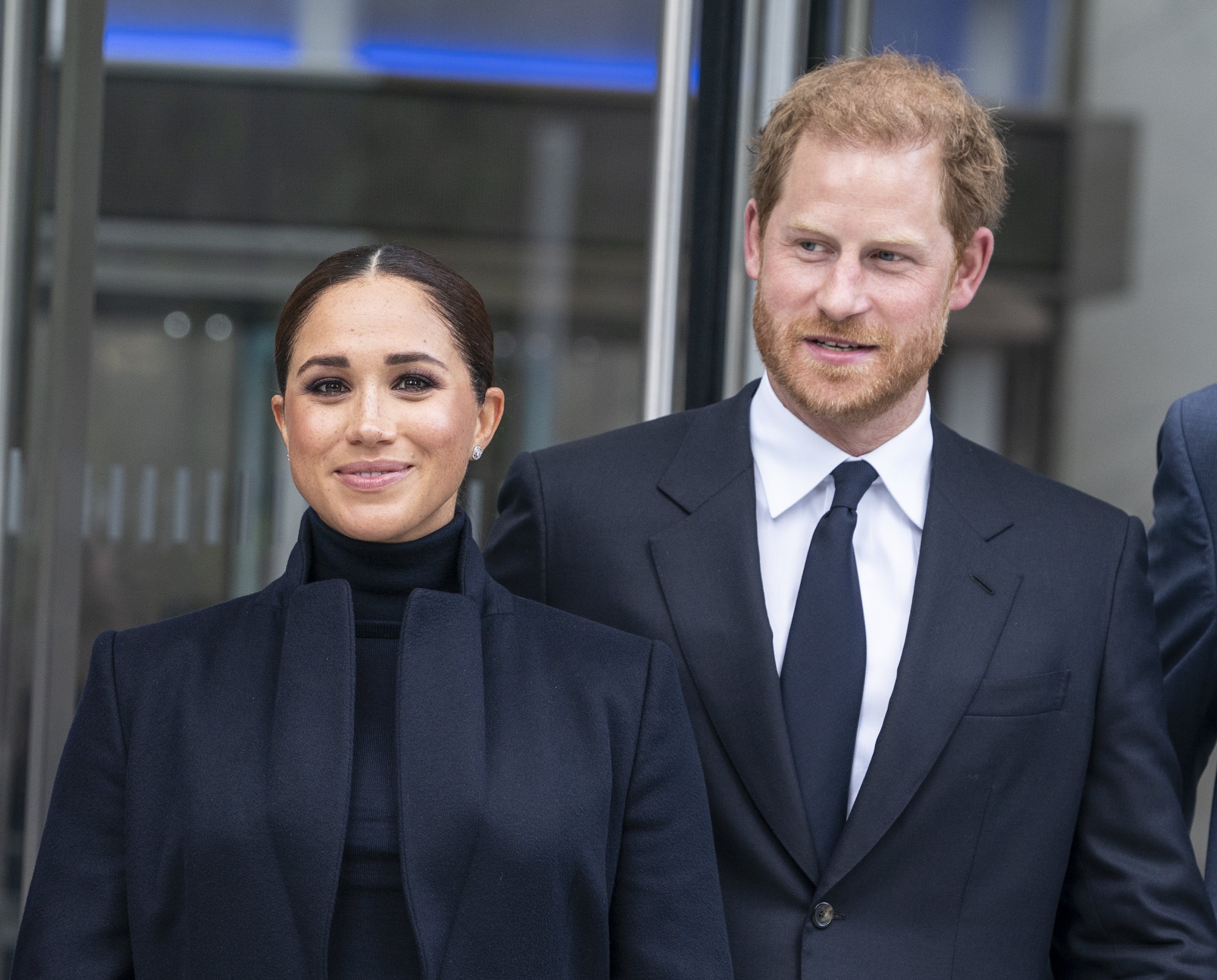 Prince Harry and Meghan visit One World Observatory on the 102nd floor of Freedom Tower of World Trade Center. | Source: Getty Images
Although the Duke and Duchess of Sussex tried to keep an unusually low profile, the duo were in the news after they were spotted at the National Service of Thanksgiving at St. Paul's Cathedral.
The following day, many netizens had hoped to see Harry and Markle appear with the Queen on the Buckingham Palace Balcony for the closing event — Trooping the Colour.
Unfortunately, their expectations were met with disappointment. Only eight members of the Royal Family were privileged to appear with Queen Elizabeth on the balcony, out of which Harry and Markle were exempted.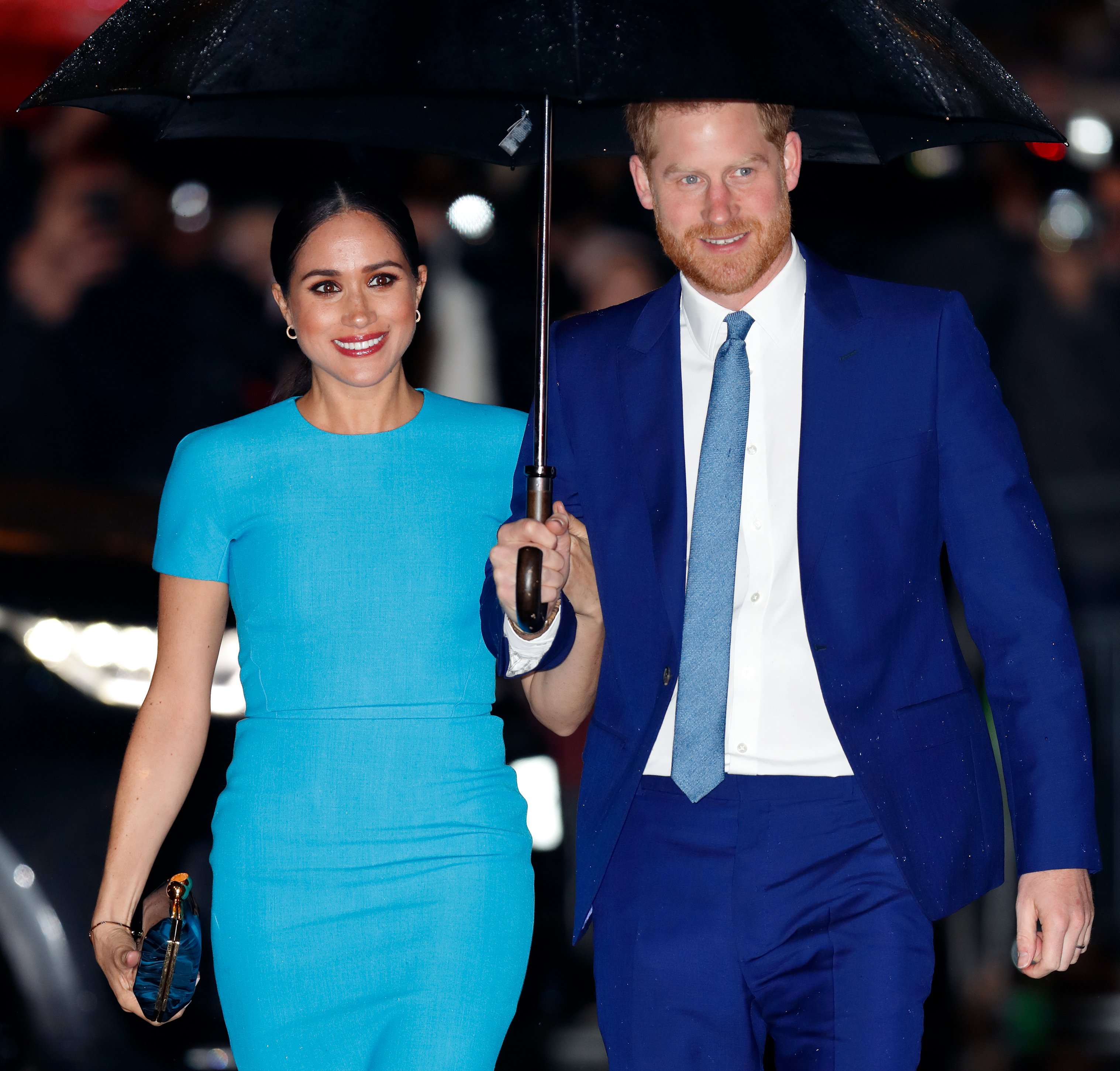 Meghan and Prince Harry attend The Endeavour Fund Awards at Mansion House on March 5, 2020, in London, England. | Source: Getty Images
A statement released by Buckingham Palace revealed that the Monarch had permitted only working royals to accompany her. However, a source would later reportedly reveal that Queen Elizabeth had no part to play in the decision to limit those on the Buckingham Palace balcony to working royals.
According to the source, Prince Charles and Prince William were solely behind Harry and Markle's exclusion from the balcony appearance. An insider confessed (via Marie Claire):
"They feel the Duke and Duchess of Sussex have caused nothing but chaos since moving to America with their endless tell-alls and interviews, throwing shade at the Royal Family."
Furthermore, the insider mentioned that Charles and William thought it hypocritical of Harry and Meghan to act like everything was alright, smiling and waving at the crowd.
QUEEN ELIZABETH AND HARRY'S RELATIONSHIP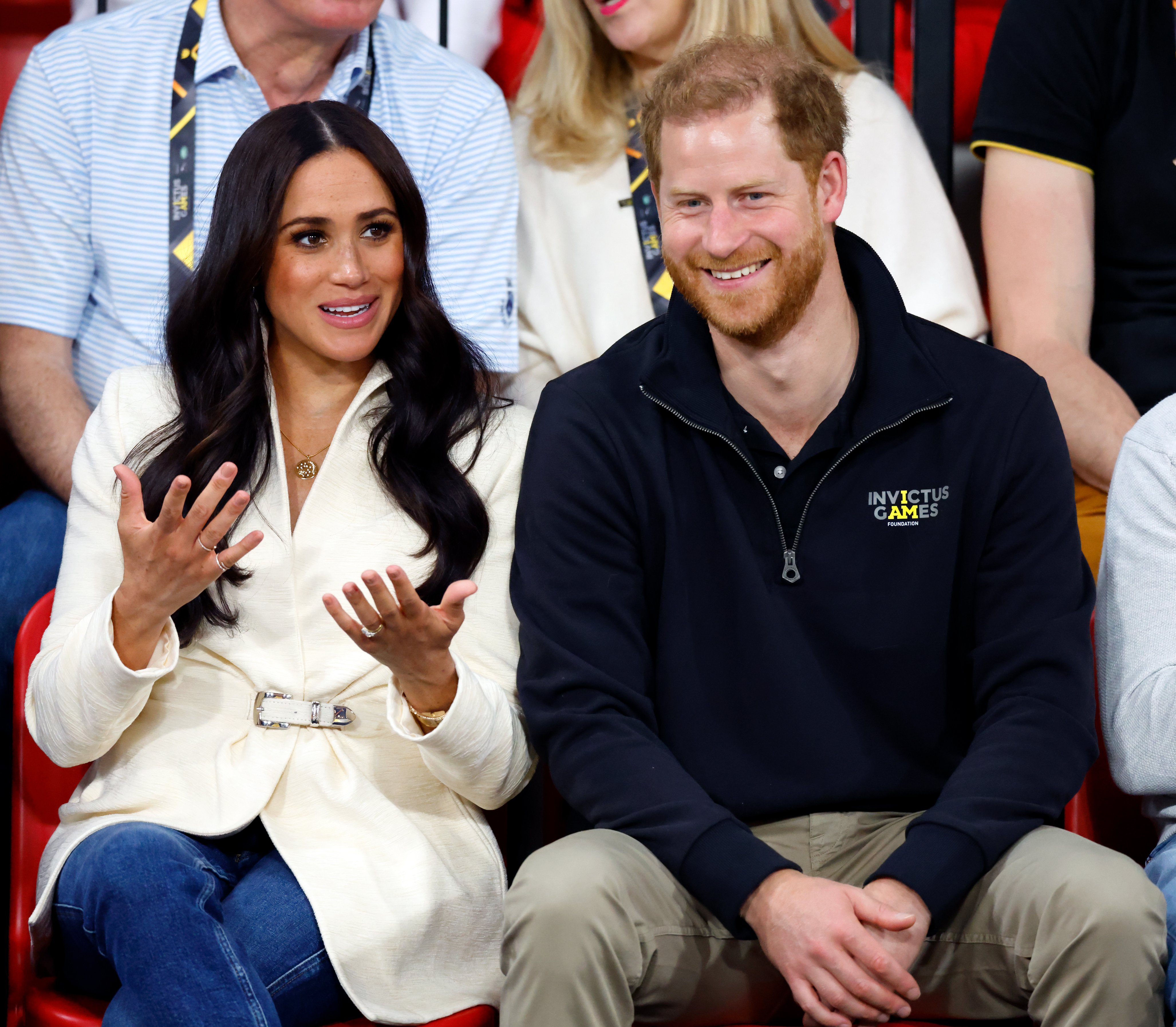 Meghan and Prince Harry watched the sitting volleyball competition on day 2 of the Invictus Games 2020 at Zuiderpark on April 17, 2022, in The Hague, Netherlands. | Source: Getty Images
Since Harry and Markle's bombshell interview with Oprah Winfrey and their big move to America, the pair, especially Harry, has remained estranged from many royal family members.
However, Queen Elizabeth happens not to be on the list. Harry has maintained a great relationship with his grandmother despite all that occurred between him and the Royal Family.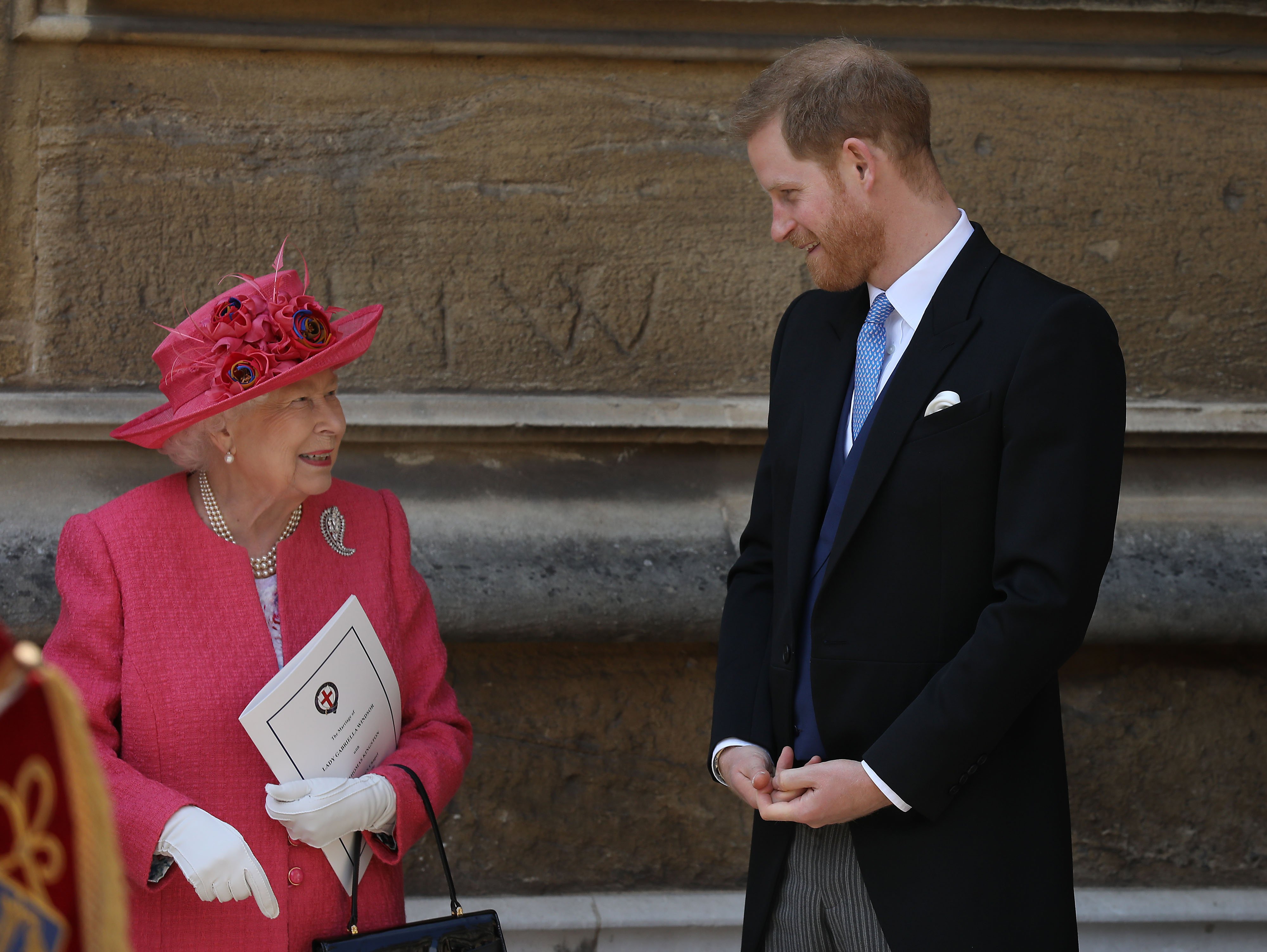 Queen Elizabeth II speaks with Prince Harry as they leave after the wedding of Lady Gabriella Windsor to Thomas Kingston at St George's Chapel, Windsor Castle, on May 18, 2019, in Windsor, England. | Source: Getty Images
The duo shares a tight bond, which Harry has spoken about on different occasions. During one of his interviews, he made it known that he and Queen Elizabeth have a "really special relationship." Harry also noted that they have conversations about things the monarch cannot share with anyone else.
The Duke's claims appear genuine as many have witnessed the cordial relationship between the Queen and her grandson. Harry's friend once revealed that her majesty adores the Duke and would always say yes to any of his requests.
Just recently, Queen Elizabeth's love for Harry became evident again after she reportedly invited him and his family to visit her in Balmoral this summer.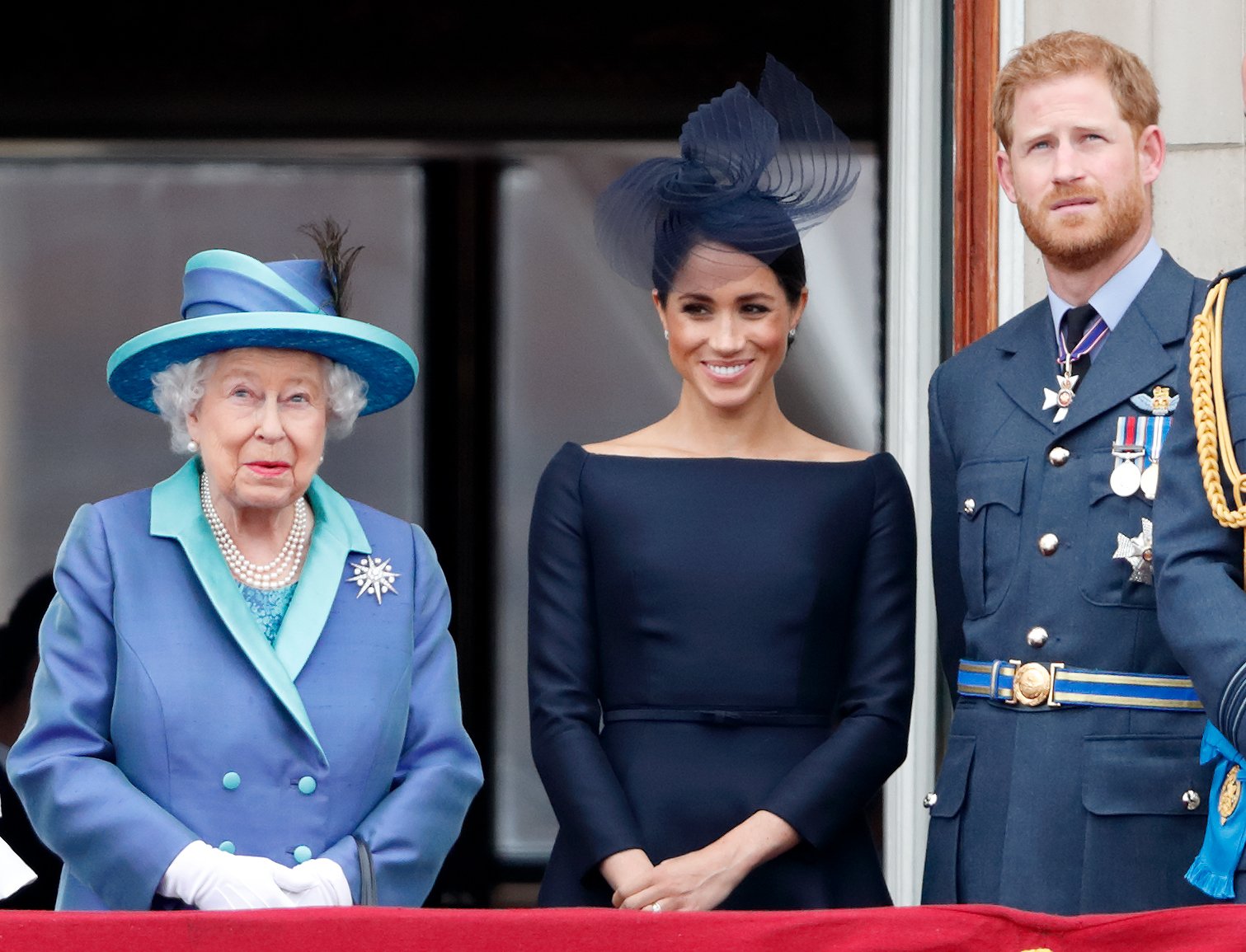 Queen Elizabeth II, Meghan, and Prince Harry watch a flypast to mark the Royal Air Force's centenary from Buckingham Palace's balcony on July 10, 2018, in London, England. | Source: Getty Images
According to a source from the Scottish residence, members of staff were told to expect the arrival of the complete list of royals, including Harry, Markle, and their two kids, Archie and Lilibet.
While many anticipated yet another Royal Family gathering, news broke out that the monarch's traditional welcome to Balmoral castle was canceled due to health issues.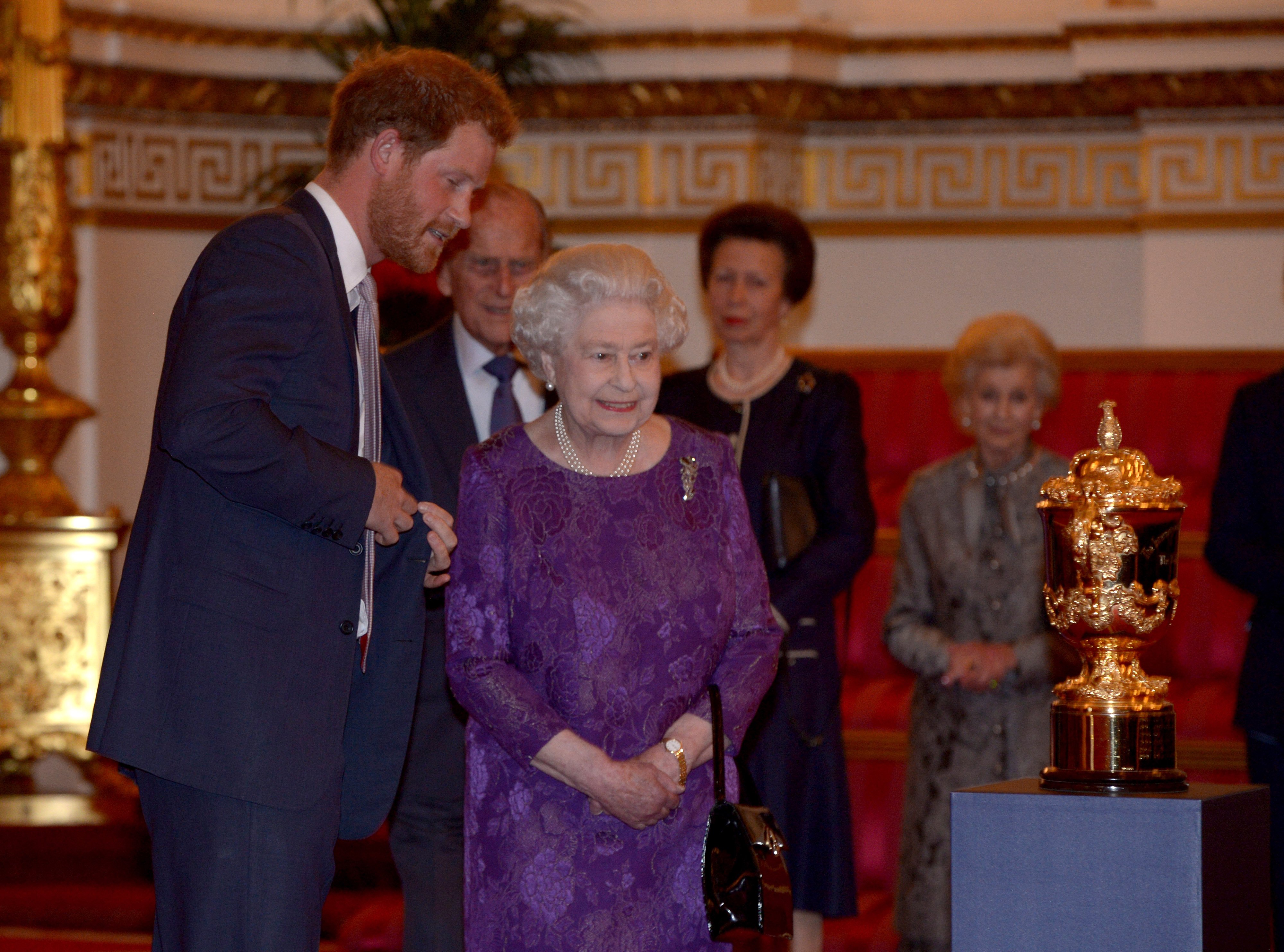 Queen Elizabeth II and Prince Harry look at the Webb Ellis Cup on a plinth during a reception to mark the Rugby World Cup 2015 at Buckingham Palace on October 12, 2015, in London, United Kingdom. | Source: Getty Images
The annual ceremony, scheduled to take place on August 9, 2022, in Scotland, would have seen Queen Elizabeth greet the public at the castle gates.
In addition, her majesty would have also inspected a Guard of Honour from Balaklava Company, 5th Batallion, The Royal Regiment of Scotland.
But unfortunately, the ceremony was replaced with a small private event, which took place inside the castle gates without cameras and the public's observation.
THE SUSSEX'S VISIT TO THE UK/FANS' REACTIONS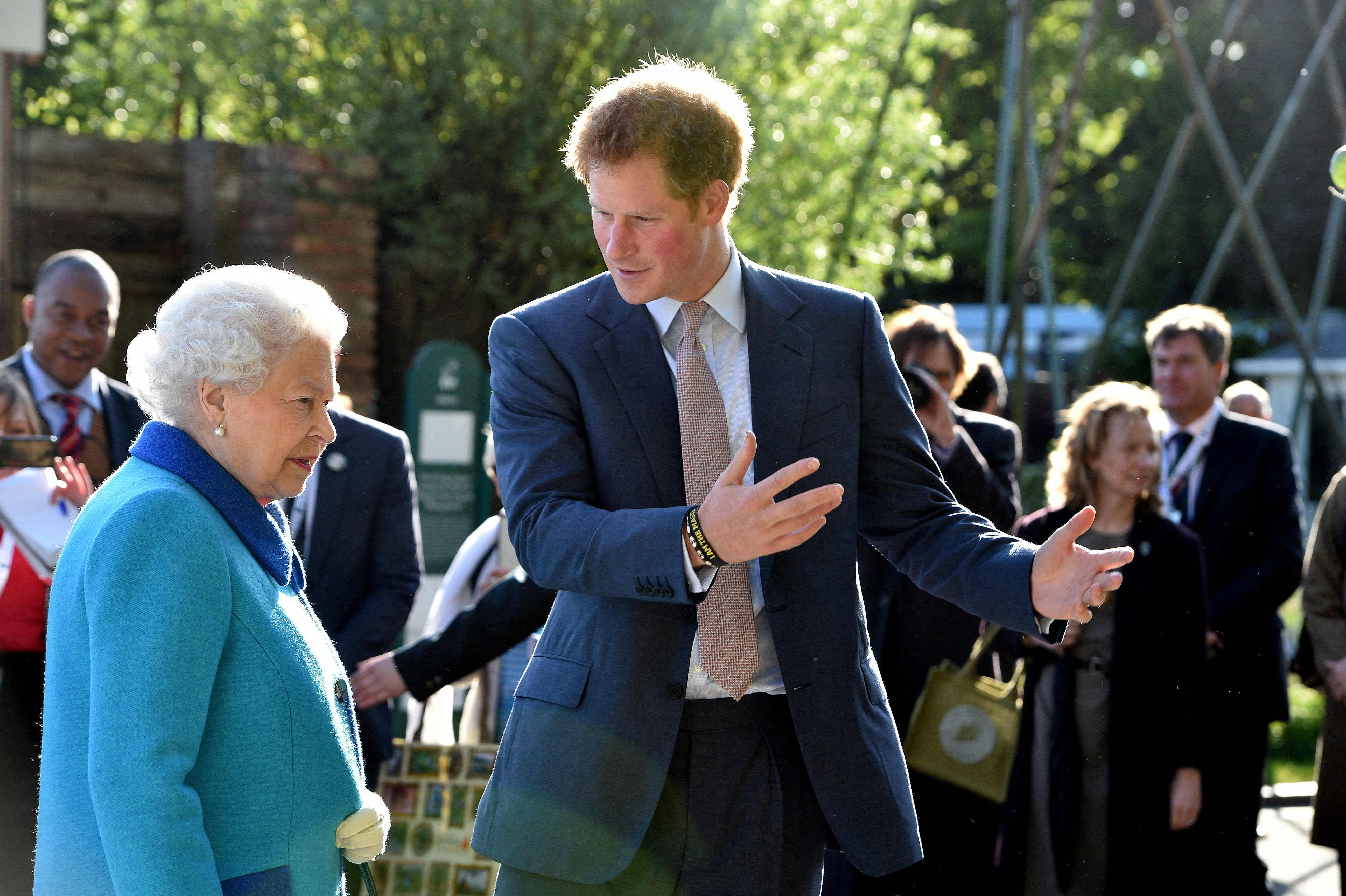 Queen Elizabeth II and Prince Harry attend the annual Chelsea Flower show at Royal Hospital Chelsea on May 18, 2015, in London, England. | Source: Getty Images
On August 15, 2022, the Duke and Duchess of Sussex left tongues wagging after a spokesperson revealed that the duo would be visiting the UK in the first week of September 2022. It is important to note that it will be Harry and Markle's second visit in 2022, all thanks to their charitable work.
According to the couple's spokesperson, the pair will be in the UK on September 5 to attend the One Young World 2022 Manchester Summit. The following day, Harry and Markle will proceed to Germany for the Invictus Games Dusseldorf 2023 One Year to Go.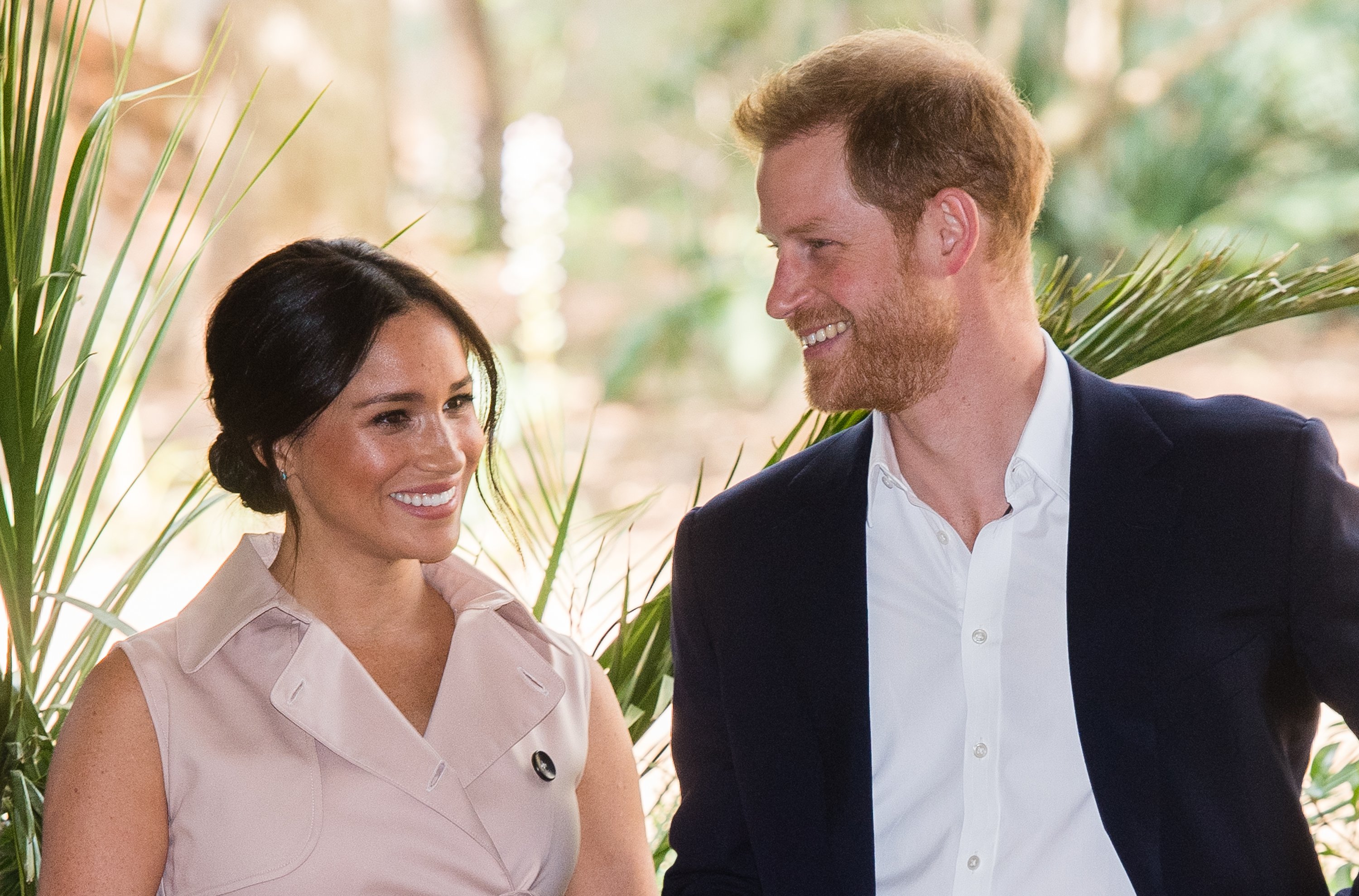 Prince Harry and Meghan visit the British High Commissioner's residence to attend an afternoon reception to celebrate the UK and South Africa's important business and investment relationship, looking ahead to the Africa Investment Summit the UK will host in 2020. | Source: Getty Images
Afterward, the Duke and Duchess of Sussex will return to the UK for the WellChild Awards 2022, scheduled on September 8.
Following the announcement, netizens have taken to social media to share their thoughts on Harry and Markle's anticipated visit.
Some think that the couple is not visiting for charity's sake. According to one Twitter User:
"I think it's all about PR and, therefore, money. They need to attach to royals for Netflix, PR, and image. Nobody wants them here; they don't actually help at all just security and narcissism🤦‍♀."
Another respondent tweeted, noting that Harry and Markle were coming for Netflix footage. The user added:
"They do not represent us, our country, or Monarchy. Despicable pair, or maybe they are coming to beg for money from the Royal Family…either way, not welcome."
A third also wrote:
"No, they are coming to promote his book, that's the real reason. The only thing 'close to their hearts' is their bank balance."
On the other hand, other netizens have shown support and positivity towards Harry and Markle while anticipating their visit. One twitter user wrote:
"Thank you for the Sussexes news. Can't wait to see the award. Are you livestreaming it because there will be a lot of people in the world who would love to see it."
Another noted:
"So excited…looking forward to seeing them do what they do best, serve with all their hearts & impact the lives of people🥰."
A third respondent also wrote:
"👏 Well done 👍 Prince🤴 Harry and Princess👸 Meghan! May God bless your beautiful😍 work!"
Unsurprisingly, there have been mixed emotions about Harry and Markle's forthcoming visit. Ultimately, the world can only wait and see how their visit will unfold.
Please fill in your e-mail so we can share with you our top stories!