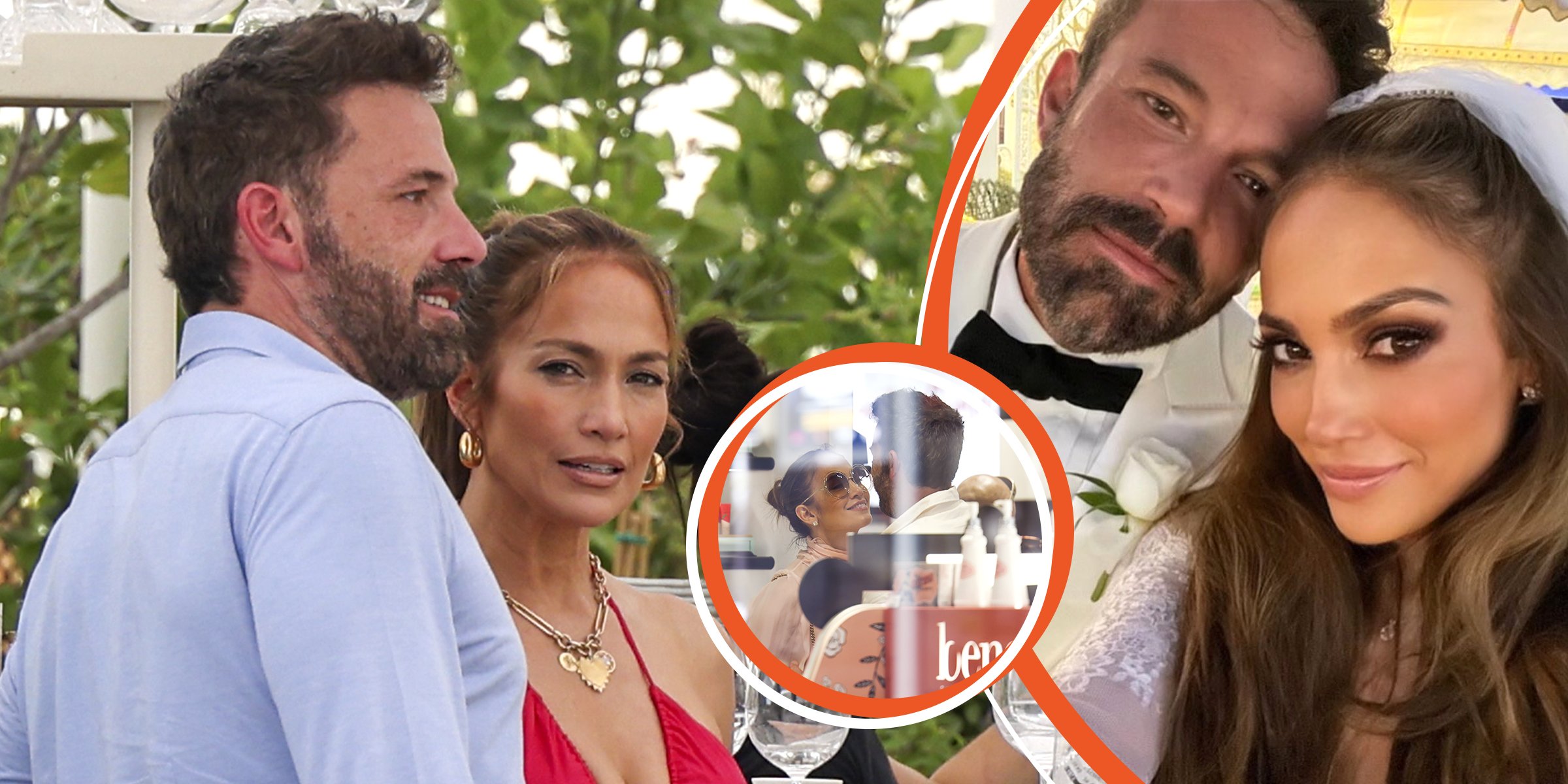 Instagram.com/jlobeauty - Getty Images
JLo & Ben Affleck Are on Romantic Honeymoon Again with Lots of PDA after 2nd Wedding Where She Serenaded Him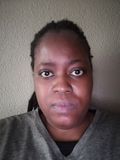 Jennifer Lopez's mother always had described Ben Affleck as her daughter's one true love, with the couple marrying secretly for the first time in Las Vegas. The newlyweds couldn't keep their hands and lips off each other after Lopez surprised the groom with a special gift during one of their weddings.
After having their more private wedding, Ben Affleck and Jennifer Lopez tied the knot again in August 2022, surrounded by family and friends at his Georgia estate. The actress wore a white Ralph Lauren couture gown for her second wedding at the $8.9 million home, while Affleck matched her in a black and white tuxedo.
During their second wedding, the couple also included their children from past relationships with Violet, Seraphina, and Samuel, Jennifer Garner's children, with Affleck attending.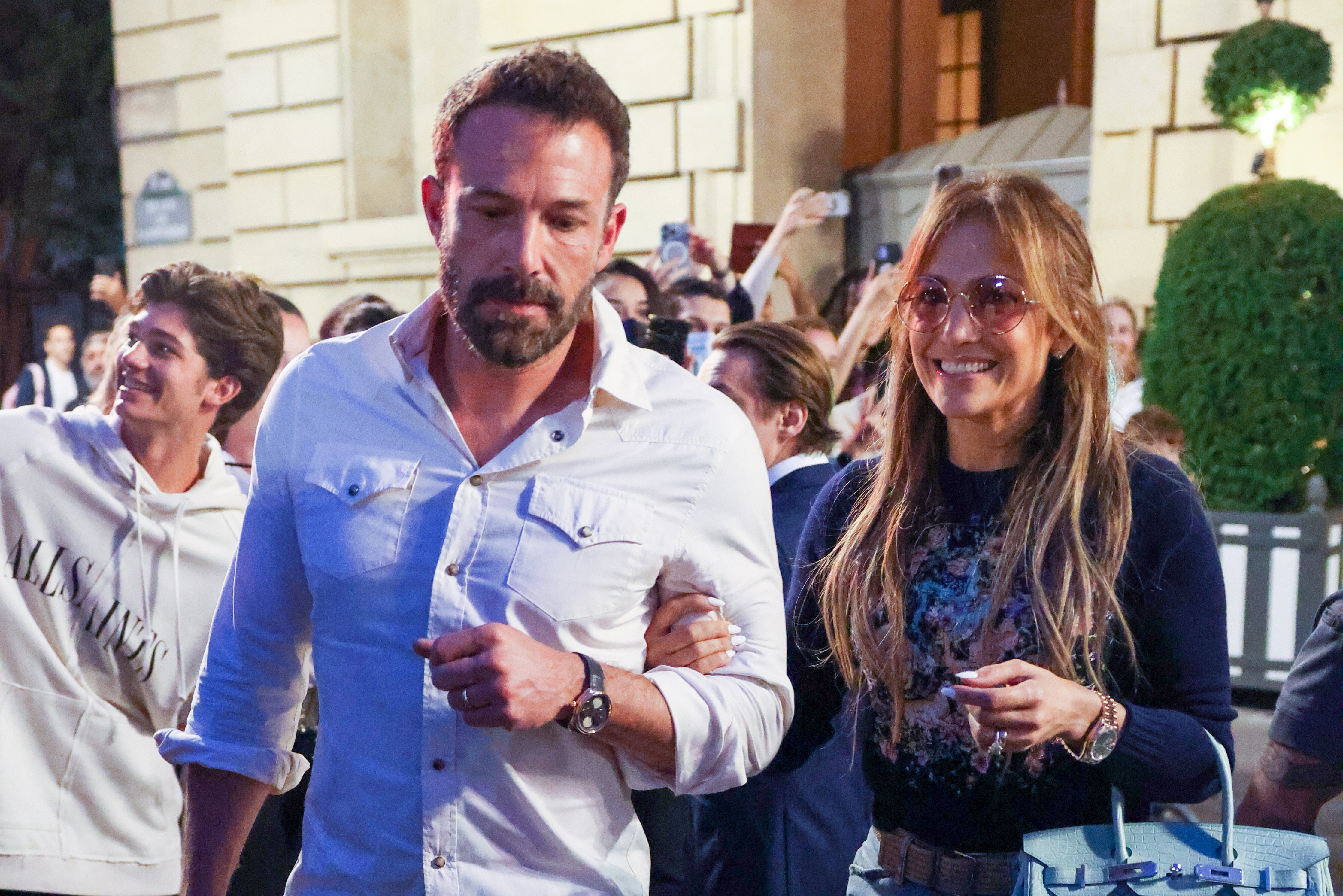 Ben Affleck and Jennifer Lopez seen on July 26, 2022, in Paris, France | Source: Getty Images
Lopez's twins with Marc Anthony, Emme, and Max, were also in attendance. Several celebrities were invited to the festivities, including Affleck's friend, Matt Damon, and his wife, Luciana Barroso.
Kevin Smith, his wife Jennifer Schwalbach Smith, and Jason Mewes were also at the party. Jane Fonda, George Clooney, Jimmy Kimmel, and Renee Zellweger were also expected at the celebrations.
The "Good Will Hunting" star and his bride arrived aboard a private jet at an airfield near the site of their wedding. During the celebrations, Lopez surprised Affleck by serenading him with a new and unreleased song!
She sang and danced for him while he sat in a chair a few steps away from her. In her track, Lopez sang about still being in love, having passion, and not being able to get enough, all while wearing her wedding dress.
The actress was so prepared that she even had backup dancers on singers to assist her! After tying the knot for the second time, the couple also had something special up their sleeves.
While Affleck and Lopez went on a honeymoon when they had private nuptials during their first wedding, the pair also had to have a second honeymoon! This time, their destination was Italy!
JENNIFER AND BEN'S FIRST AND SECOND HONEYMOONS
After their second wedding, Lopez and Affleck were spotted in the streets of Milan. The couple couldn't get enough of each other as they showed plenty of public displays of affection (PDAs).
They were accompanied by bodyguards visiting some of Italy's hot spots. While outside a Cartier window shop, the duo saw something that led to them kissing passionately, causing an awkward moment for one of their bodyguards, who was two feet away.
The poor guard struggled as he tried to look away from the scene in front of him while standing on the sidewalk, but he needed to maintain surveillance. Lopez was dressed in all white, with a brown-colored sun hat, matching shoes, and a bag.
The musician's husband matched her in a white T-shirt and sneakers and wore blue jeans and a blue shirt. Lopez and her new husband were seen dining out in Lake Cuomo on a Saturday afternoon during their honeymoon.
While dining outside, the "Batman" star was spoon-feeding his wife during their romantic meal. This time, Affleck wore a blue and white striped shirt and cream white pants, and Lopez appeared to be wearing a brown embroidered maxi dress.
Love was in the air for the pair as the "Hustlers" actress reciprocated her husband's gesture by wiping Affleck's lips with a napkin. The couple also shared kisses and touched hands while eating.
After sharing a long kiss, the duo went on a shopping spree where they were seen strolling hand in hand. According to sources, when the couple had their first honeymoon in Paris, it coincided with Lopez's 53rd birthday!
Affleck and the songstress enjoyed a dinner date at that time at La Girafe in front of the Eiffel Tower. TMZ got images of the pair during that time, and one of them showed the couple sharing a tender moment.
It appeared Affleck became emotional and teary, causing his wife to hug and cradle his face. Soon enough, the duo was back in top shape as they took a stroll around with the actor smiling again.
Having two marriage ceremonies shows how much the pair love each other after having to call off their original wedding 20 years before. However, they had one thing they weren't ready to share.
ONE THING THAT AFFLECK AND LOPEZ WON'T BE SHARING
According to a Hollywood Life source, Lopez and her husband weren't planning on having children together. The insider said the couple felt they'd passed that part of their lives, with the informant adding:
"J-Lo's connection with his kids makes Ben even more certain that this is fate."
The source alleged that Affleck and Lopez were more focused on having a blended family, and the former's ex, Garner, found that "amazing." The star's former wife reportedly didn't mind when their children spent time with Affleck and his new wife.
When the trio was away, Garner had some alone time, which was a rare occurrence. The publication's insider also noted how Lopez had a special bond with her husband's youngest child, Samuel.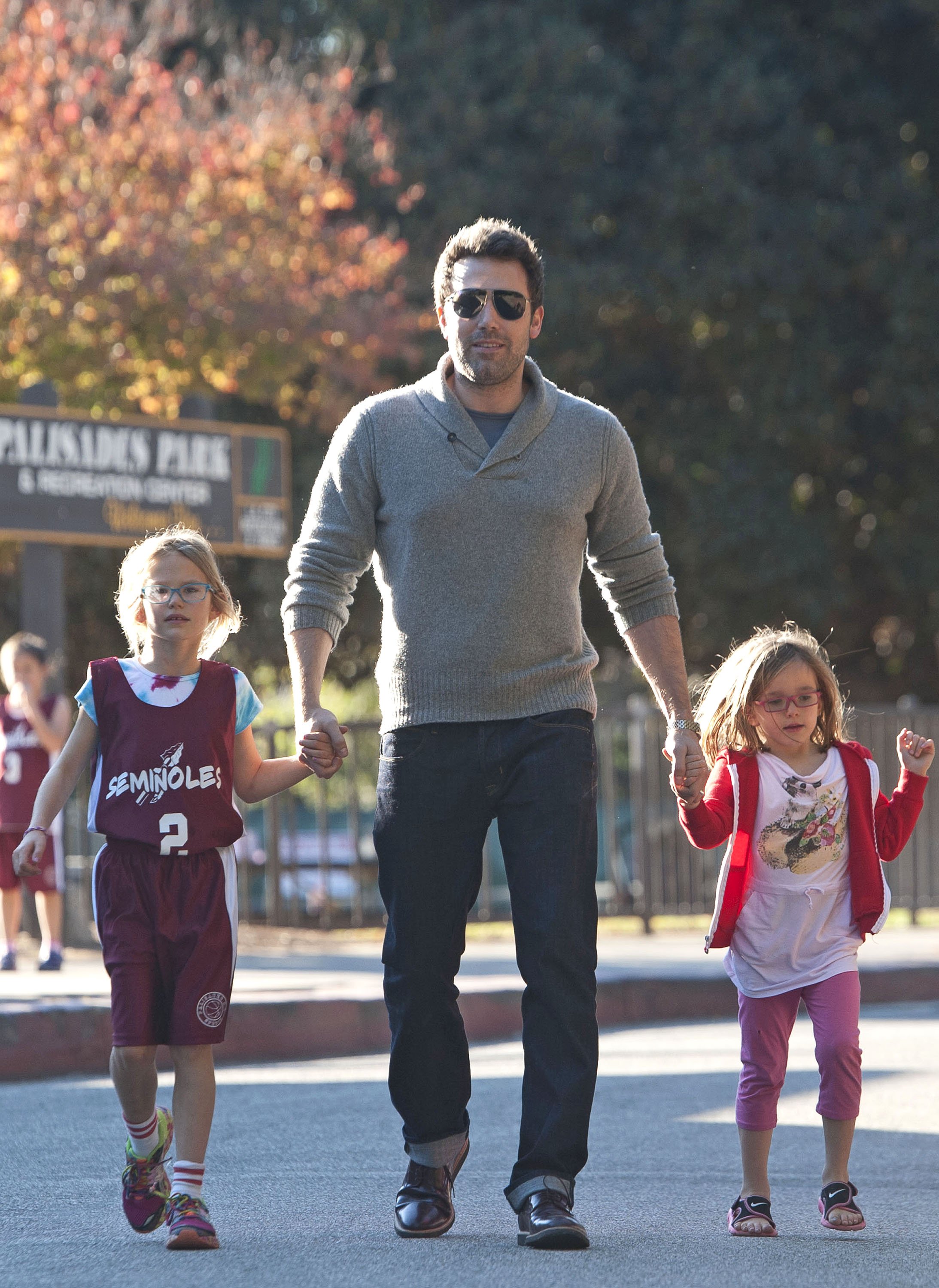 Ben Affleck with his daughters, Violet and Seraphina Affleck, at Pacific Pallisades Park on November 24, 2013, in Los Angeles, California | Source: Getty Images
According to reports, Samuel had his father's personality. The source also revealed how Lopez treated all Affleck's children like her own but continued to respect Garner's place as their mother.
The newlyweds were also quite fortunate because they were blessed with "really good" children. The insider shared that Lopez and Affleck had raised their children to be good adults, and having five offspring between them was more than enough.
In April 2022, before the couple married, they bonded while shopping for lots of rental equipment in Burbank, California. The pair appeared to be setting up for a big party by buying from a store known for renting camera stabilizers and drones.
The couple [Ben Affleck and Jennifer Lopez] would probably spend a lot on their remodel because [Aaron] Spelling's home had a listing price of $165 million!
In early August 2022, TMZ sources claimed Lopez and Affleck were not going to buy a new house together; instead, they would move into the singer's home. The "Love Don't Cost a Thing" singer has owned the estate since 2016.
However, the pair were remodeling Lopez's place and were living in James Packer's $60 million mansion in the meantime. Sources claimed the remodel was so intense that it would take a year or more.
Affleck listed his Palisades home for $30 million. In April 2022, when the pair were still interested in buying a new home, they tried to purchase a $50 million Bel-Air house, but the sale fell through.
At one point, they toured Aaron Spelling's Los Angeles estate, also known as the "Spelling Manor." The couple would probably spend a lot on their remodel because Spelling's home had a listing price of $165 million!
Please fill in your e-mail so we can share with you our top stories!