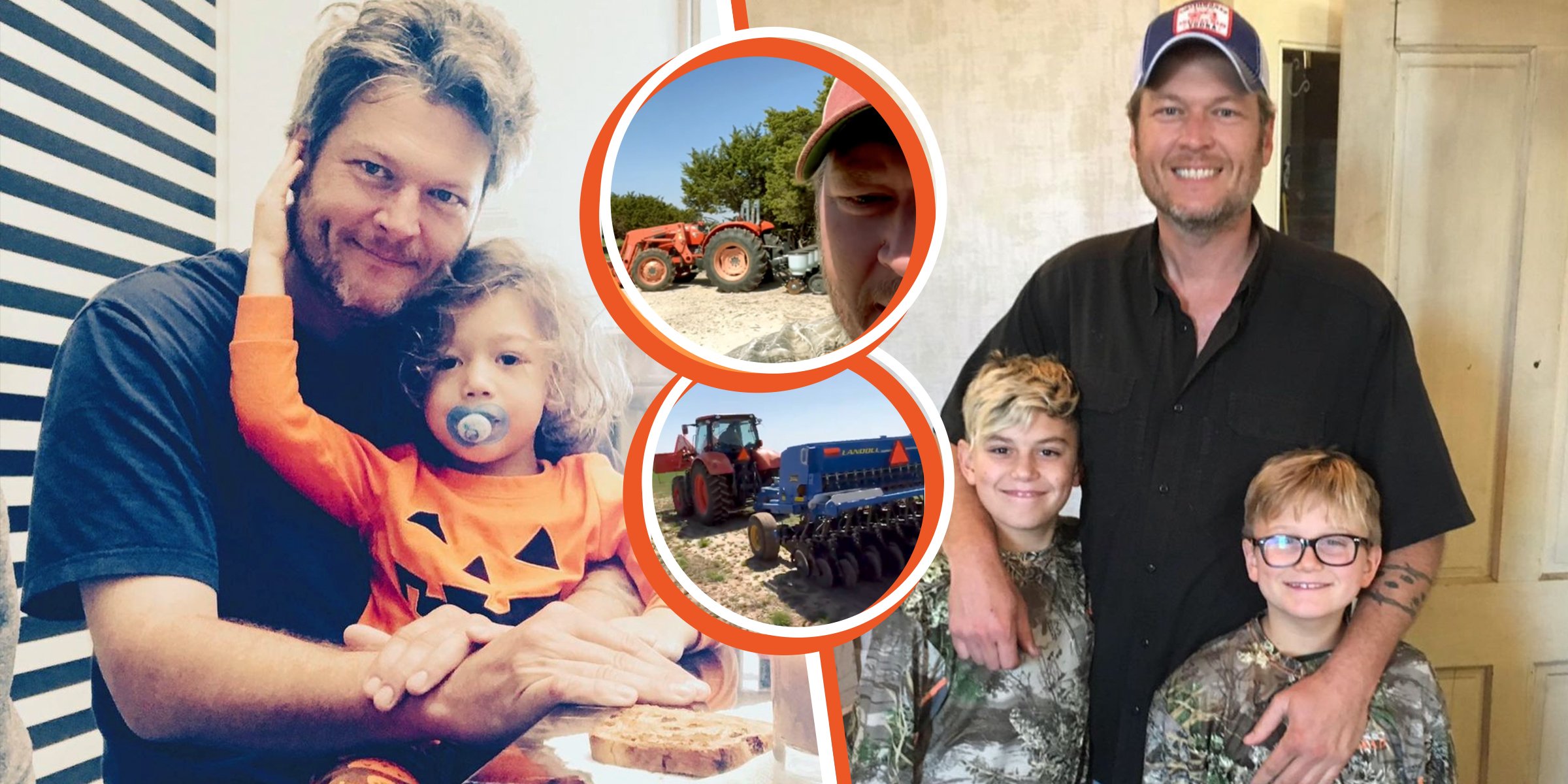 Instagram.com/blakeshelton - Instagram.com/gwenstefani
Blake Shelton Works on a Tractor between Gigs — He Lives on Farm with Stepkids & Wife for Whom He Built Chapel

Blake Shelton may be a megastar, but he leads a typical life, which includes love for his family with Gwen Stefani and working on the farm where they live.
Amid his celebrity status and introduction to a new chapter, the country singer appears devoted to being a family man. Blake Shelton and Gwen Stefani's relationship was something fans did not see coming.
Although the pair have been in the music industry for a long time, Shelton, a country star, and Stefani, a popstar, fashion designer, and rapper, did not meet until they worked as panelists on "The Voice."
The duo was only acquaintances when Stefani joined the show's season seven. At the time, she also welcomed her son, Apollo. However, the "The Voice" judge did not return for season eight.
Shelton believed he would never reencounter the pop star, but fate happened. Not long after her departure, he went through a rocky divorce with Miranda Lambert, his second wife.
During the publicized divorce, the country singer found pity in the eyes of Stefani, whom he barely knew; she returned to the show.
The rapper teared up in front of Shelton, who thought she felt sorry for him. She invited him for a conversation and explained that she understood his predicament. According to Shelton:
"She didn't tell me much, because we didn't know each other at the time, but she said, 'I'm going through something very similar to what you're going through. I understand and I hate it.'"
After the heartfelt conversation, they proceeded to a friendship and, soon, an admirable romance. Years later, Shelton still praised Stefani for saving his life through her compassion.
Indeed, they saved each other with their similar experiences. Two months after Blake divorced Lambert, Stefani split from her husband, Gavin Rossdale. They had been married for two decades.
Although the "Hollaback Girl" singer had kept her marital troubles away from the public, once Blake revealed his to "The Voice" team, she could not help but relate to his struggles.
Stefani confirmed that she reached out to her colleague and poured out her experiences. However, she maintained that it happened naturally and did not set out to start a relationship. A few months later, rumors had it that they were an item.
Indeed, their reps confirmed it to be true. An insider claimed they had supported each other, adding that the pair were delighted that their friendship metamorphosed into a romance. The same source admitted:
"Everyone is thrilled because they are incredibly nice people."
A TIMELINE OF BLAKE AND STEFANI ROMANCE
The duo has been together for six years, and they grew stronger, understanding each other and maintaining their support. This includes agreeing to their priorities. So far, Shelton has been a loving partner.
Following his relationship with Stefani, he became inseparable from her three kids, Kingston, Zuma, and Apollo. Although he never fathered a child of his own, the country star is filling in just fine.
Even his wife understands how much he inputs to parenting her boys. During a Father's Day celebration, she paid tribute to him by sharing snaps of her lover and the kids while thanking him for his presence in their lives.
Although Stefani is more than five years his senior, their romance is ever-green, as Shelton never passes up an opportunity to gush on his youthful wife.
Although Shelton admired the gesture, he confessed that it is a huge responsibility, as he stands as a role model for his stepsons. While speaking on the "Today" show, he mentioned:
"That's a scary moment for me because it's one thing for me to be with the kids all the time and be their buddy, but you do have to consider after a while that they start to listen to things that you say and there's a lot of responsibility that comes with that."
Nonetheless, he is prepared. Since meeting the boys, he has been engaging in different activities, initiating bonding with them. During the 2020 pandemic, they were all quarantined in his Oklahoma ranch.
Blake was very concerned about having her sons on his side that when he felt ready to propose and begin life again with Stefani, he asked for their approval.
Without hesitation, the boys who had grown fond of him gave the go-ahead, and he planned a surprise proposal. Sources confirmed that the engagement was short-term because they would marry soon.
BLAKE AND STEFANI PLAN LIFE AS AN OFFICIAL COUPLE
As alleged, the pair planned a small wedding during the spring, inviting only a few guests, including family and friends. An insider explained that they did not want a loud party.
First, they applied for a marriage certificate through the Johnson County Court Clerk in Oklahoma. Then they planned their ceremony for the summer as they waited for the pandemic to fizzle out, so their guests would be safe.
Eventually, they had their dream wedding, including the people they loved, especially Stefani's sons, who were very involved.
The ceremony was officiated in Shelton's Oklahoma ranch, where he built a chapel, hoping to wed his beloved partner, Stefani.
As expected, the newlyweds were dressed to the nines. The bride stunned in a crisp white sleeveless gown and a long veil fixed on her blonde hair, while her groom looked charming in a black suit.
Stefani's sons also looked dapper in their two-piece suits. Photos online showed them smiling from ear to ear as they posed next to the newlyweds.
Even though the ceremony happened on a ranch, the venue was beautifully decorated. The couple hosted their guest outside the chapel in a white tent and covered tables decorated with flowers.
It appeared that the country singer was prepared for this new phase. On the same property, he constructed a new home for their family.
Like Shelton, his wife is also on board with every plan from day one. Fans would recall that in 2020, an insider shared how they warmed up for a life together.
The source claimed that a few weeks before their engagement, they moved into a Los Angeles home and began the process of a prenuptial agreement. According to the person:
"They have been in prenup talks for a few months. The process has been extremely effortless."
LIFE NOW AS A HUSBAND AND STEPDAD
Following their wedding, Shelton entered a new phase, becoming a husband and role model to his stepkids, with whom he shares his Oklahoma home. Yet, more than one year after their union, he still feels blessed about the setting.
"Look, I love music, and I love The Voice. I love all the cool things I get to do with my job, but those things all take a backseat now to Gwen and the kids, and it's just a new phase of my life," Shelton confessed to ET's Cassie DiLaura.
Undoubtedly, for the "Austin" singer, it is a refreshing stage. Finally, he has a family to return to after a busy day. Thankfully, his clan is always open to welcoming him.
After performing at the CMA awards in January, Shelton went home to his family, who had already begun planning Thanksgiving.
Although Stefani is more than five years his senior, Shelton never passes an opportunity to gush on his youthful wife. While celebrating their anniversary, he shared a throwback image of their wedding and added a heart-melting caption that read:
"Because of you, this year has been the best year of my life. I love you!!!!! Thank you for saying yes!"
Apart from being a doting husband and caring father, the award-winning country star is very thoughtful. He supports his family financially by racking up concerts. Shelton also works on his home's farm with heavy-duty tractors.
Despite how demanding this might be, he does not mind. Instead, Shelton is proud to be a country boy, which he has shown severally via Instagram posts.
Please fill in your e-mail so we can share with you our top stories!