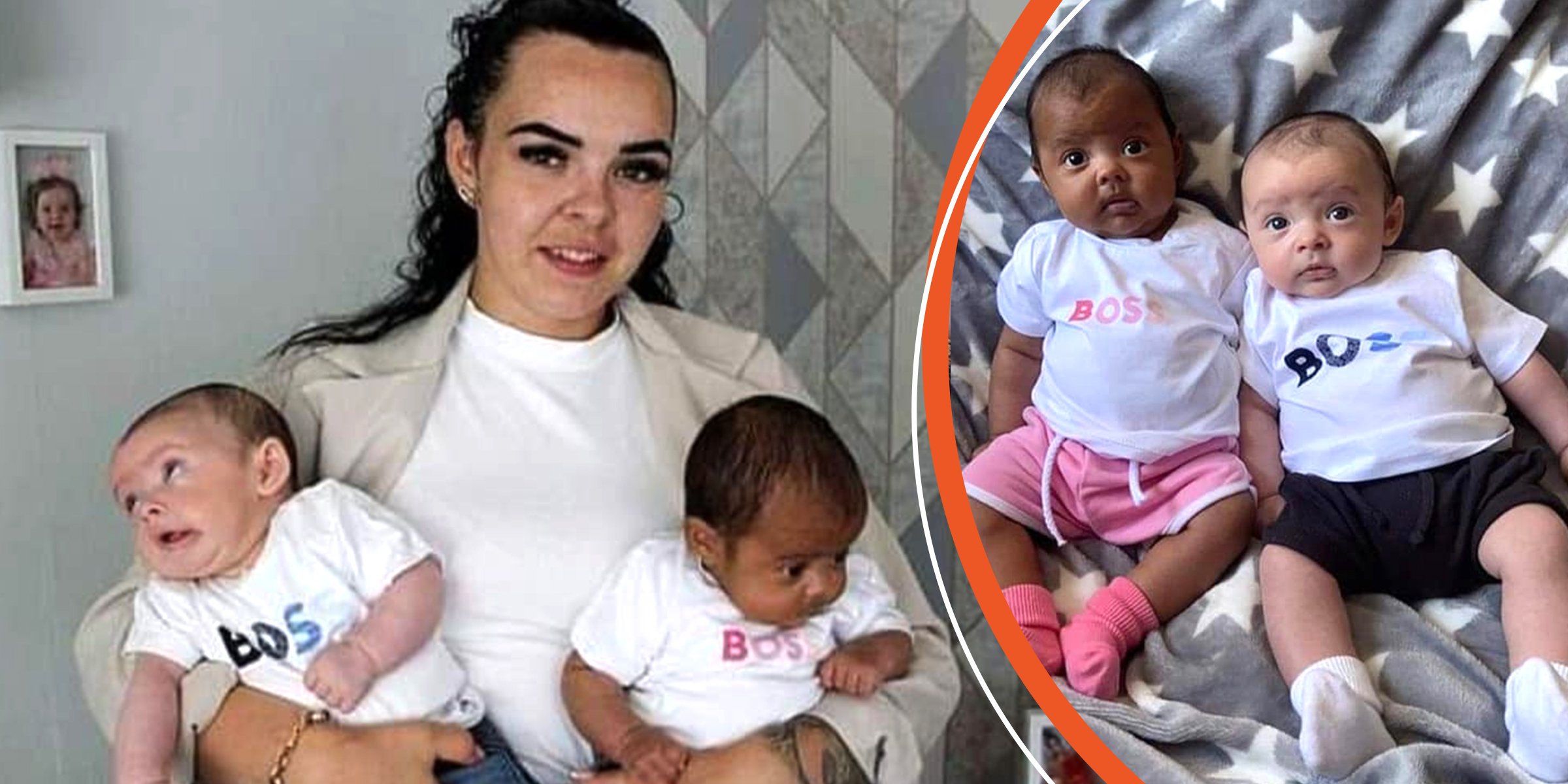 Twitter.com/MailOnline
White Mom Gave Birth to Twins with Different Skin Colors – People Say She Needs to Do a Dna Test

The miracle of childbirth leaves parents around the globe speechless. Welcoming new life is an unforgettable moment, but sometimes the birth presents even more than expected. One mom has a birth story that will leave you stunned!
Anyone who has added new members to their family can tell you about the wonder of it all. Learning more about their unique personalities and watching them grow is a memorable experience.
Every mom and dad might believe their child is one in a million, but this was an undeniable fact for a mother from Nottingham, England. Her newborns were stunningly rare and garnered worldwide attention!
She Was Excited to Meet Her Twins
Chantelle Broughton, 29, was ecstatic when she discovered she was having twins. The mom couldn't wait to meet her beautiful babies, and when she delivered them successfully at Nottingham City Hospital in April 2022, she was thrilled.
Broughton's twins were becoming less and less alike over time — the one-of-a-kind changes left her gobsmacked.
Broughton, who worked as an auxiliary nurse, noticed that her daughter, Azirah was slightly darker than her son, Ayon. However, the difference was subtle, and while she was stunned by it, she didn't anticipate what would happen next.
Her Unique Family
The mother expressed her absolute joy in having such unique babies. She added:
"I'm so glad they came out the way they are - our own unique little family."
Ultimately, she was glad to have two healthy children and adored them regardless of their appearance. However, as months went by, the mother noticed something unexpected.
The Surprising Changes
Broughton's twins were becoming less and less alike over time — the one-of-a-kind changes left her "gobsmacked." She saw her daughter's complexion becoming "darker and darker" and said:
"Azirah was slightly darker at birth, but you couldn't really tell. Now, as weeks have gone on, she has gotten to the point where she's darker than her dad."
People Are Stunned by the Twins
The twins are perfect in their own ways. Ayon's eyes are green, while his sister has beautifully brown windows into her soul. The mother remained in awe of her kids and shared that people frequently asked her about them. She recalled:
"People say 'oh my god,' they look totally different. I've had people ask, 'are they both yours?' A lot of the time, people don't want to mention it, but when we tell them they say it's crazy as you don't see it often."
The mother, who identifies as mixed-race, shared that her background might have played a role in her children's complexions. Her maternal grandfather is Nigerian, and the twins' father, Ashton, is half Scottish and half Jamaican.
It Is Not as Unusual as Expected
While family and friends struggled to make sense of the differences between the children, a professor in evolutionary biology at the University of Nottingham's School of Life Sciences explained the scenario. Professor James McInerney said:
"The twins are not identical twins. They have different genetics. They are as closely related to one another as two siblings. It probably feels quite unusual because they are twins, but in reality, it's not so unusual."
The Siblings Share a Special Bond
While the twins are "totally opposite" in their personalities, their mom revealed that they get along well. The little boy always wants attention while his sweet sister is "laid back and chilled." The proud mom added:
"[Ayon] always wants to be rocked and is constantly babbling along. Azirah doesn't do that very often. But I have noticed they are really staring at each other now and smiling more."
Broughton believed she might see more changes in her twins as they grow. She noted that there was already a contrast in the texture of their hair. She can't wait to see how they develop and wouldn't have them any other way.
The Online Reaction
The twins garnered much media attention, and netizens didn't hold back when commenting on their uniqueness. A few people even suggested the mom do a DNA test:
"DNA test should put this matter to rest."

- (Francis Njenga) August 19, 2022
"She might have two ovaries, do the DNA. I have seen it before, and they were for two different men. Well, some might say why DNA if the parents don't care. As a Jamaican, he should care ..."

- (Dee Seck) August 22, 2022
"They look the same except for the skin tone. Why would they need a DNA if parents not questioning results? (sic)"

- (Vivian Green) August 19, 2022
Praise for the Twins
The online community also shared love and admiration for the one-in-a-million set of twins. The beautiful miracle of their birth touched many hearts:
"Beautiful children. An incredible God really does amazing things when He creates! He took bits and pieces of generations of family members' DNA to create this masterpiece!"

- (Kathy Pittman) August 22, 2022
"They're all gorgeous, and I am certain there's a ton of love in the family!"

- (William Winchester) August 19, 2022
"Omg! This is perfect. Congrats. Wow, can't say daddy didn't contribute there. So very happy for you and again I have to say, this is perfect. Enjoy your little miracles."

- (Carol Campbell) August 19, 2022
The twins are undeniably beautiful and indeed a gift to their family. We wish them many years of happiness and love together!
If you enjoyed this story, here is another about a baby with a lighter complexion than his mother's. The woman faced many questioning remarks but didn't allow them to affect her.
Please fill in your e-mail so we can share with you our top stories!