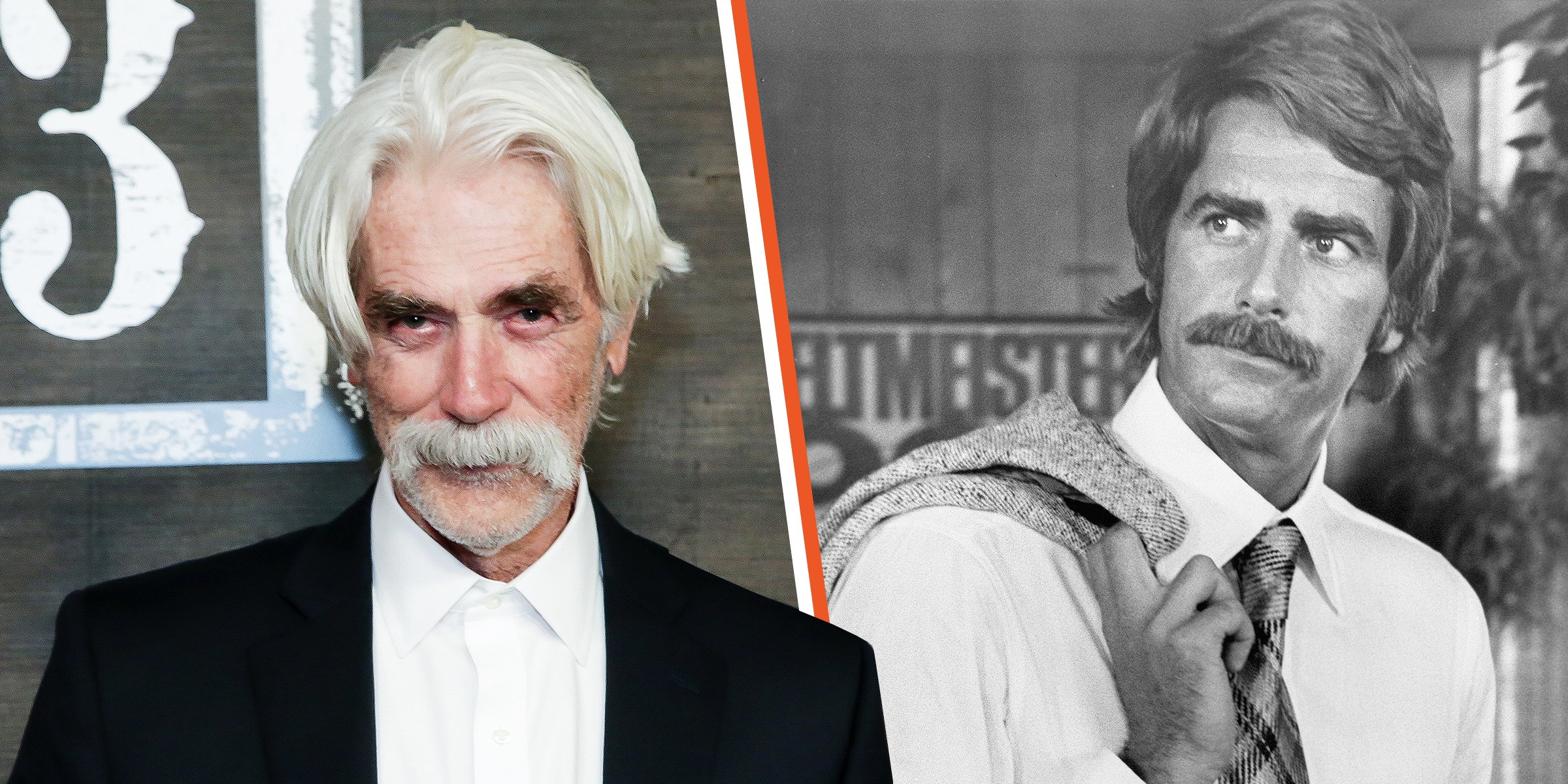 Getty Images
Sam Elliott Recently Celebrated His Birthday & Fans Claim He's Hollywood's Most Handsome 78-Year-Old

Recently, film legend Sam Elliott turned 78, and his fans could not keep calm. The actor, who has been in the industry for decades, received tens of compliments for his good looks, drawling voice, and signature mustache. And while he appreciated the love and admiration, he did not understand the fuss.
A slender build, impressive mustache, and an intense resonant voice are some traits that describe award-winning actor Sam Elliott, but underneath his tall frame and silver hair lies a man pumped with experience and wisdom.
Since he started his film career over five decades ago, the "Road House" actor has graced the industry with years of playing various roles such as a biker, military, and gun-slinging cowboy in cult favorites. He is also a fan favorite for his iconic voice.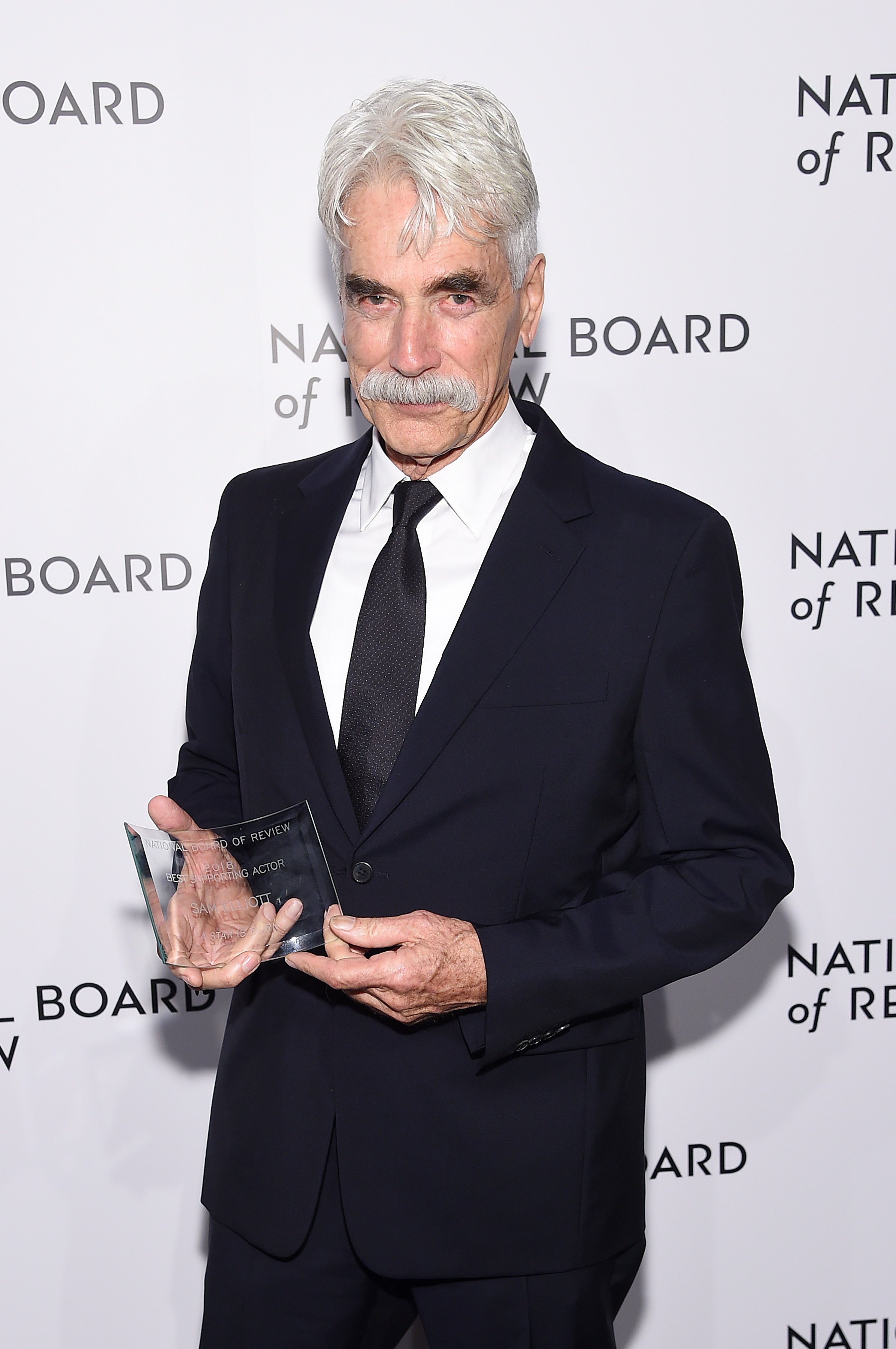 Sam Elliot poses backstage with the Best Supporting Actor award for A Star Is Born during The National Board of Review Annual Awards Gala at Cipriani 42nd Street on January 8, 2019 in New York City. | Source: Getty Images
The actor has appeared in some of our most-loved films, winning him numerous accolades and subsequent success in the film industry. Besides his career success, the actor had plenty more to celebrate this August after he hit the 78-year mark.
Sam Elliott's Career through the Years
Elliott knew from a young age that he wanted to be an actor. However, his father, a predator control specialist, did not share his dreams. In an interview years later, Elliott shared how his father had disregarded his desire to become a star by telling him he did not have the slimmest chance at it.
His father died when Elliott was 18, with the actor admitting that his father's demise may have been a double-sided sword. It was hard on him, but at the same time, it made him more focused on his resolve to build a career in film, maybe in a bid to prove his dad wrong.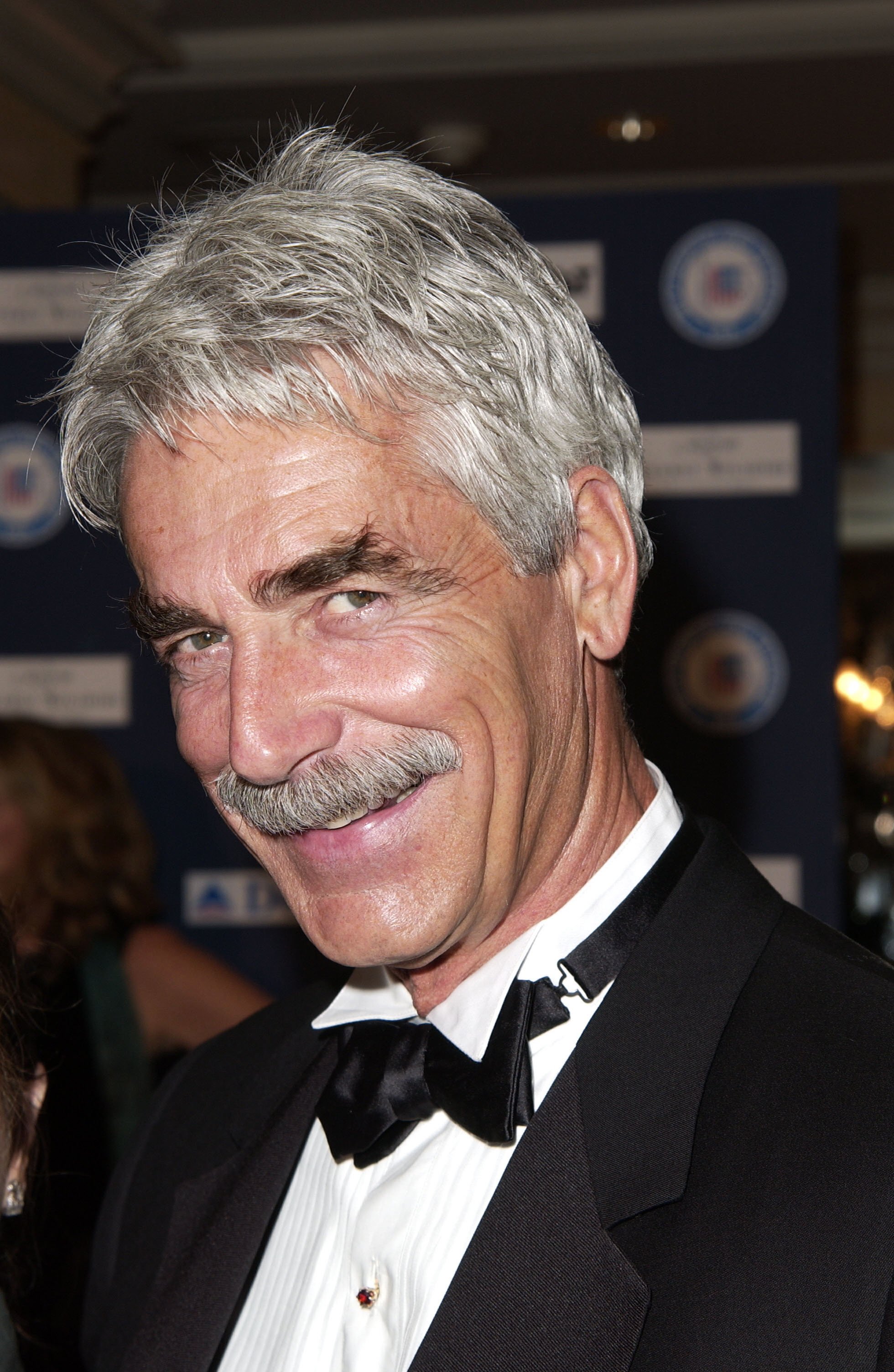 Actor Sam Elliot attends the 8th Annual American Veteran Awards at the Regent Beverly Wilshire Hotel on November 22, 2002 in Beverly Hils, California | Source: Getty Images
And prove him wrong, he did! The actor made his film debut in 1967, appearing in "The West Way," followed by his somewhat less prominent role as a card player in the 1969 film "Butch Cassidy and the Sundance Kid." He has not slowed down since.
The '70s held an entirely different stake for the actor. He slowly began climbing the ranks with his appearances as a guest star in the Western film "Gunsmoke". He later starred as Pickett Smith in the 1972 "Frogs" before landing his breakthrough role as Rick Carlson in the 1976 drama "Lifeguard."
The '80s only saw him cement his iconic roles with appearances in the miniseries "Murder in Texas" alongside his future wife, Katharine Ross. Other acting credits in the '80s include playing Gar alongside Cher in "Mask".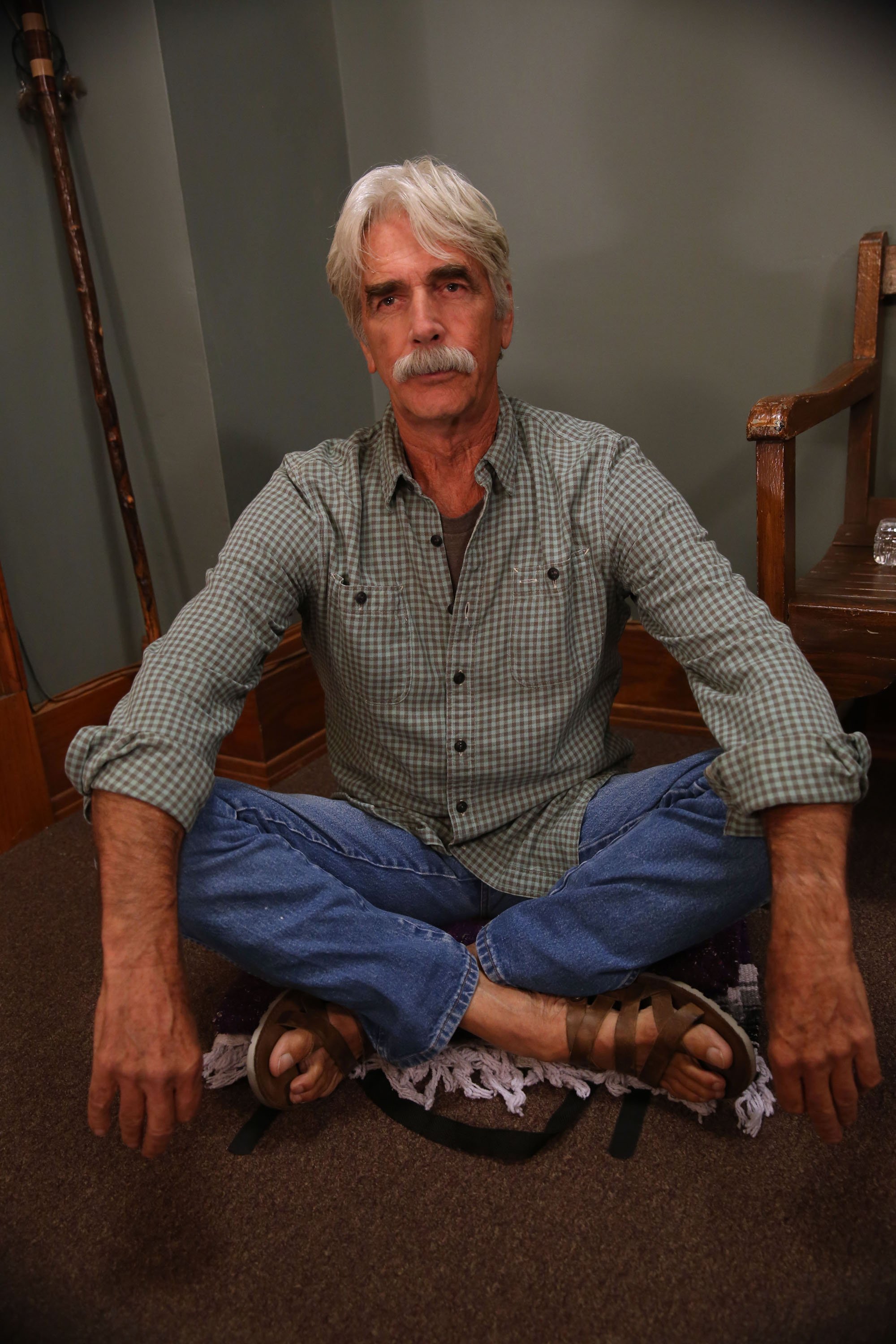 Sam Elliot as Eagleton Ron on Season 6 of "Parks and Recreation" on August 22, 2013 | Source: Getty Images
In 1989, he played a hard-nosed, rough-around-the-edges but ultimately sympathetic father figure in the Christmas film "Lancer," adding to his unending list of hit films.
In the '90s, Elliott climbed a notch higher when he won himself the first Primetime Emmy Award for his role in "Buffalo Girls," where he played Wild Bill Hickok. The part also saw him get nominated for the outstanding supporting actor in a limited series or movie category.
In the late '90s, he dabbled in voice roles, narrating the story of "The Big Lebowski," and in the early 2000s, the actor continued making history with supporting roles as Command Sergeant Major Bail L. Plumley in "We Were Soldiers," and as General Thaddeus Ross in "Hulk."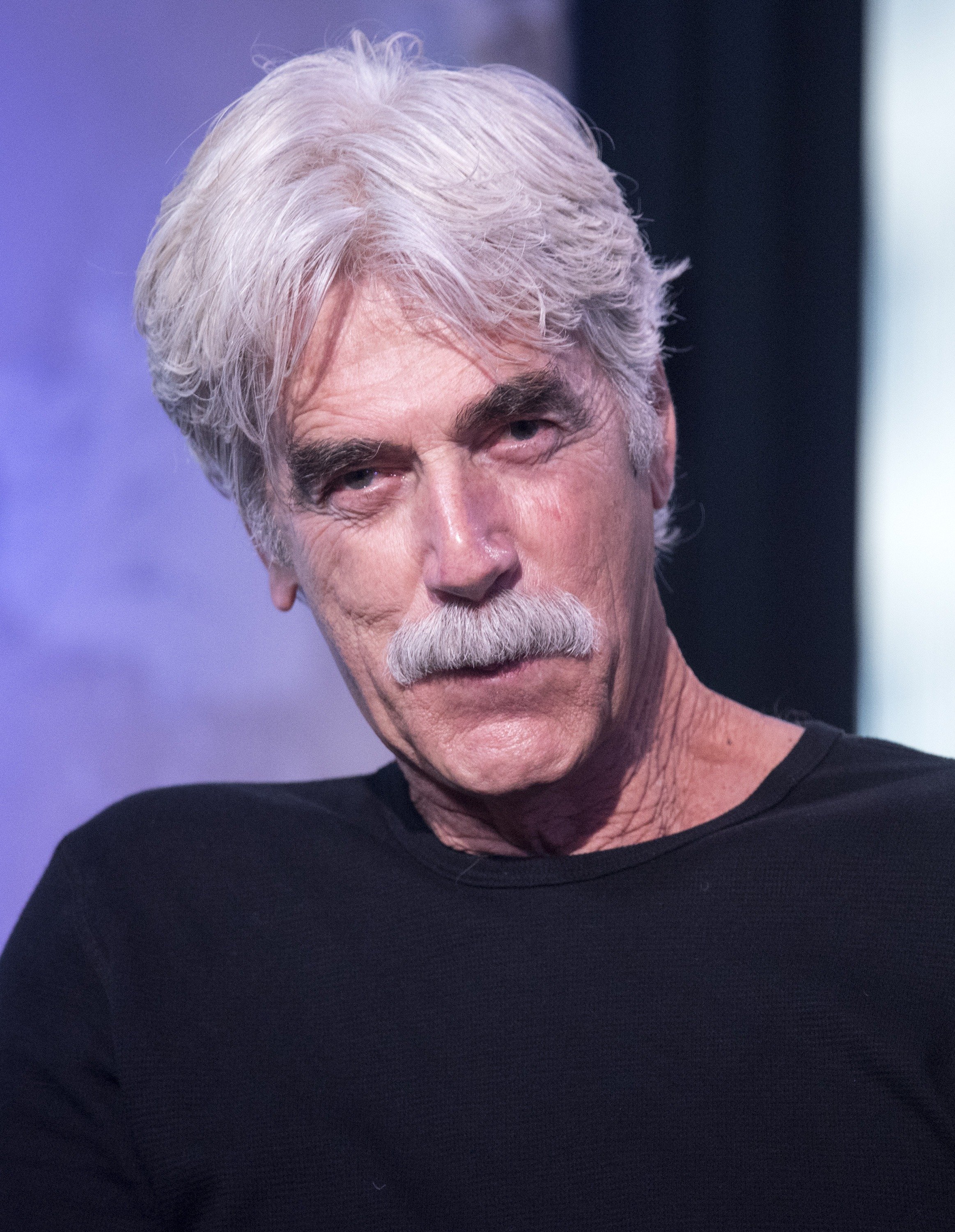 Actor Sam Elliot speaks at the AOL BUILD Speaker Series Present: "Grandma" at AOL Studios In New York on August 18, 2015 in New York City. | Source: Getty Images
In 2015, director and filmmaker Brett Haley cast Elliott as Blythe Danner's character's love interest in his film "I'll See You in My Dreams." Elliott and Haley bonded so well that the director soon created a film for Elliott titled "The Hero," which features many scenes that parallel the actor's life outside of acting.
The film icon has continued to pave the way in the Hollywood scenes and has appeared in numerous more movies, including "The Man Who Killed Hitler and Then the Bigfoot" and "A Star Is Born."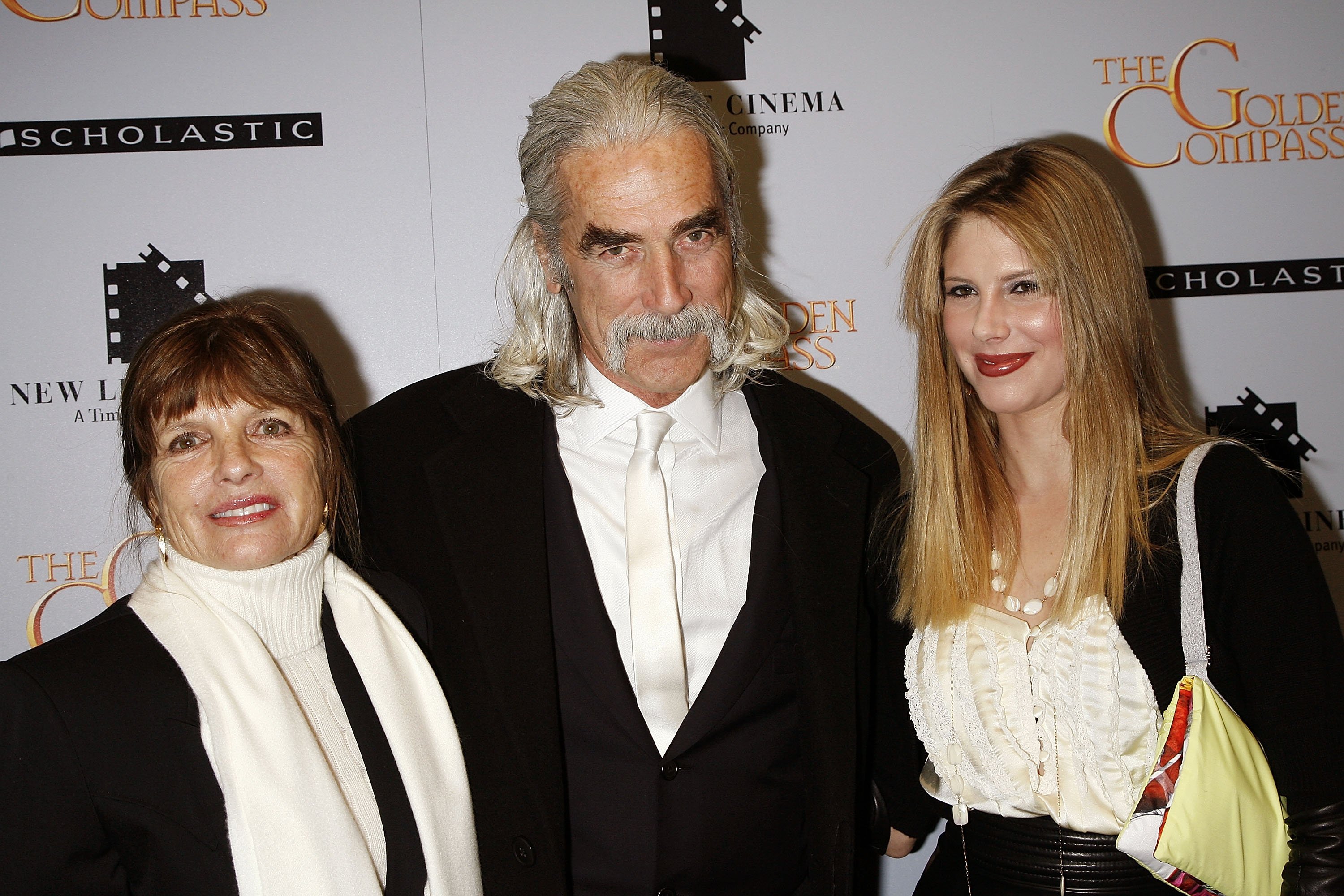 Katherine Ross, actor Sam Elliot and Cleo Rose Elliott arrive at "The Golden Compass" premiere at the Ziegfeld Theater on December 2, 2007 in New York City | Source: Getty Images
Even with such an illustrious career, Elliott maintains that family is more important to him. The actor has been married to "The Graduate" actress Katharine Ross for over four decades and is father to their only daughter Cleo Rose.
Fans Celebrate the Actor's 78th Birthday
On August 9, 2022, the actor celebrated his 78th birthday. Fans who have known him and followed his work over the years celebrated the icon, calling him the most handsome 78-year-old in Hollywood.
Commenting on a Facebook post to commemorate the actor's big day, the fans took to the comment section to praise the actor for looking so good at his age.
One fan shared that Elliott was, indeed, one of the most handsome 78-year-olds today. They went on to wish the actor a happy birthday and a great day.

A fan compliments Sam Elliott on his birthday | Source: Facebook/Aunty Acid
A second comment alluded to Elliott being more handsome now than he ever was and hoped he had a blessed day, while a third fan noted that the actor had the sexiest voice ever.
Age notwithstanding, most of the fans that commemorated his big day agreed that the actor's looks and voice were some of his most elegant features, in addition to his undeniable talent in acting. His looks and voice aside, the actor's most distinctive feature is his mustache.

A fan compliments Sam Elliott on his birthday | Source: Facebook/Aunty Acid
The facial hair, which he's grown for years, saw him become inducted as a distinguished member of the International Mustache Hall Of Fame.
Others in the list include big names such as the 26th U.S President Teddy Roosevelt, American writer, and humorist Mark Twain, and civil rights movement activist Martin Luther King Jr., among others.

A fan compliments Sam Elliott on his birthday | Source: Facebook/Aunty Acid
While many may not consider a mustache such a big deal, Elliott has, on numerous occasions, found himself a topic of discussion due to his facial hair.
During an interview with Vanity Fair, he disclosed that someone once came up to him and showed him an online contest of who had the best mustache between him and Tom Selleck.

A fan compliments Sam Elliott on his birthday | Source: Facebook/Aunty Acid
Elliott also had a scene in "The Hero" where a fan comes up to him and tells him that she loves his facial hair. While the actor takes the compliments well, he does not understand the fuss behind his mustache. "It's an odd thing, isn't it? The whole mustache thing is a mystery to me." He confessed.
Please fill in your e-mail so we can share with you our top stories!