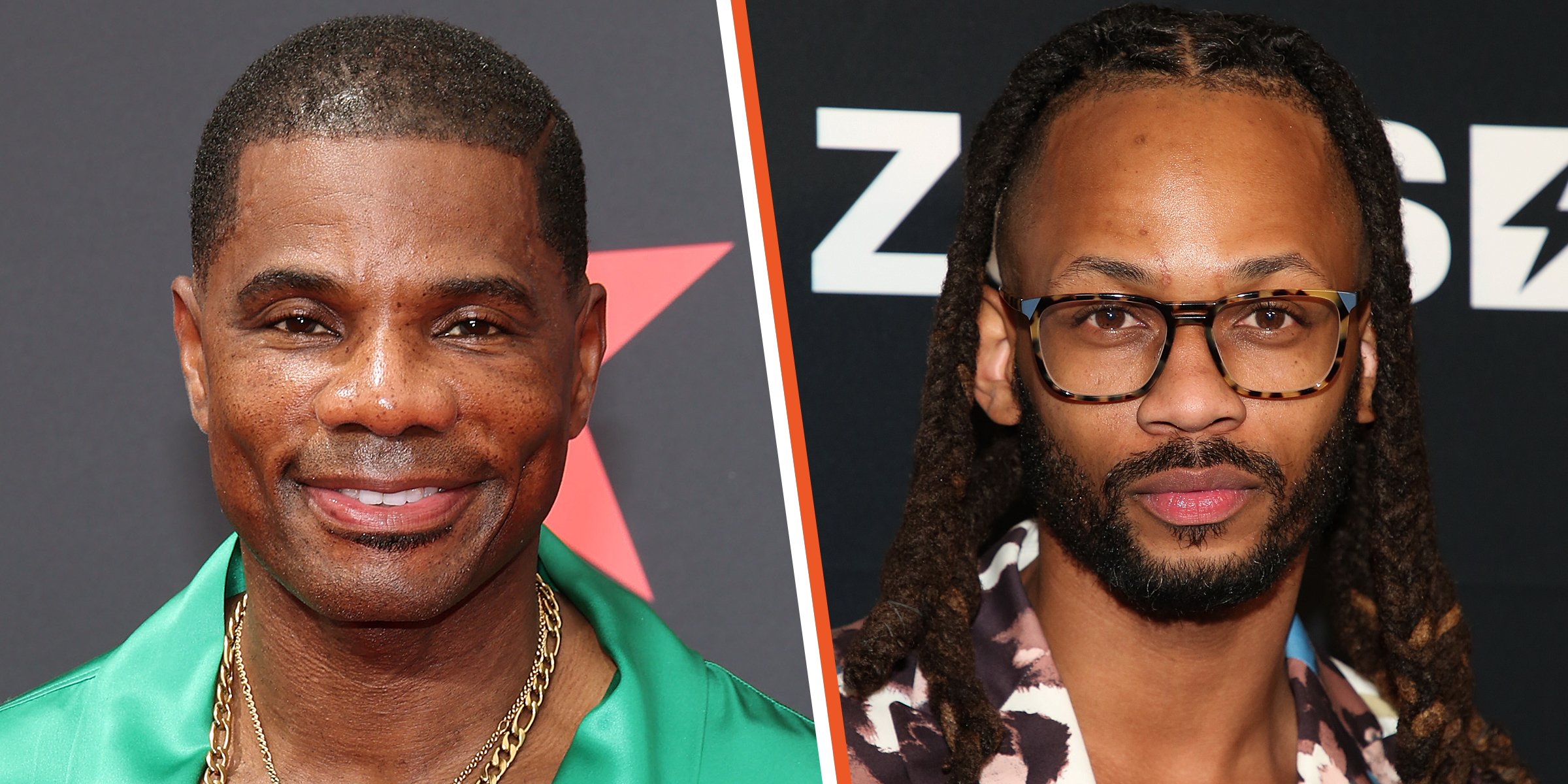 Getty Images
Kerrion Franklin Has Had a 'Toxic' Relationship with His Family – Facts about Kirk Franklin's Son

Kerrion Franklin is mainly known as the son of choir director and gospel star Kirk Franklin. The 34-year-old doesn't have a good relationship with his father, but who is Kirk Franklin's son?
Kerrion Franklin is a reality TV cast member who is multi-talented. Still, most people know him as the son of 16 Grammy-award-winning gospel singer and choir director Kirk Franklin.
The 34-year-old and his father haven't had a good relationship in a long time. The father and son's relationship has been described as "toxic," and the rift between them seems to widen.
Kerrion Franklin came into the spotlight after he released private audio of a fight with his father in March 2021. His relationship with the rest of his family is also not great; here are other facts about the gospel star's son.
Who Is Kerrion Franklin?
Kerrion Franklin's birth date is on May 7, 1988. The 34-year-old is similar to his father as he pursued a career in the arts after studying at Santa Monica College, just like Kirk.
He's involved in various fields and has worked with famous singers like Christina Milian. Kerrion worked as a director of photography with Christina's clothing brand. He has also worked for different production companies, such as Evidence Productions, and started working for Revolt Media & TV in 2016.
Kerrion has shown that he's multi-talented, as that's not all the photographer is involved in. He's also a sound designer and has earned the nickname Swank Frank for his great work. The multi-hyphenate is also an actor and camera operator and describes himself as a filmmaker and video creator on his Instagram account.
According to his LinkedIn profile, Kerrion is a cinematographer, producer, and director of photography. He attended Abilene Christian University, where he studied film/video and photographic arts. In 2007 he went to Santa Monica College to obtain a qualification in the same field.
Kerrion is known for his roles in "Mike, Guy Who Takes Everything Too Literally" and "Words of Advice from Van Corona," both from 2014. He's also known for "Cartwheels and Backflips" in 2015.
He's also part of the reality show "Bad Boys: Los Angeles," where he appears alongside reality star Milan Christopher, Instagram stars Andrew Caldwell and Relly B, and celebrity hairstylist Jonathan Wright.
Kerrion Franklin Came Out as Bisexual
Kerrion Franklin came out as bisexual on the show "Bad Boys: Los Angeles." This was after his co-stars Milan and Moolah repeatedly bullied and eventually pressured him to reveal his sexuality.
In one of the episodes, Kerrion was asked by Moolah if he liked men or women, and Kerrion was hesitant to answer the question initially and deflected by saying men hit on him all the time and that he "can't control who's attracted" to him.
Eventually, he opened up that he was polyamorous, preferring non-monogamy, which he said would probably spark controversy. After being prodded further by Milan, the 34-year-old expressed, "Okay, I'm bisexual. Call me that."
Regarding how he decided to respond, he said on social media that it was about time he showed his co-stars "what it really means to keep it real." He also said after their conversation; he hoped they could move on and stop putting him on the spot.
Who Are Kerrion Franklin's Parents?
Kerrion Franklin is the first son of Kirk Franklin and Shawn Ewings. The cinematographer's stepmother is Tammy Collins, his father's second wife. Kirk and Shawn had Kerrion when they were teenagers. The two went through hard times but are trying to co-parent their son.
The three seem to get along in parenting, and his father once mentioned that they had to get Kerrion help when he was a teenager. Kirk said Kerrion's mom, he, and his wife started noticing that Kerrion needed counseling.
He said Kerrion started therapy and counseling and continued for more than 20 years. The gospel artist further said their son's level of disrespect "became more aggressive" as he got older.
Kerrion Franklin's Relationship with His Father Is Far from Ideal
Kerrion Franklin's family tried to keep their problems private. Over the years, the rift between father and son has gotten more profound, and they have experienced many problems.
On one occasion in 2018, Kerrion claimed in a since-deleted post on Instagram that Kirk was trying to kill him. He also revealed in other posts that he has been estranged from his family for 14 years. Also, he noted that he has repeatedly refused invites from his family to dinners and holiday gatherings.
One of his posts from 2021, which went viral, was a recording he leaked on Instagram. The since-deleted video was a heated argument between father and son, with both of them heard going back and forth before Kirk ends the call abruptly. Kerrion expressed after his father ended the call, "I'll break your neck? Is that a threat?"
After the video was posted, Kirk shared a video on social media where he referred to his family's relationship with Kerrion as "toxic." The singer expressed that their relationship has been rocky for years, and he has tried to fix it through therapy and counseling. He said they had attempted therapy for many years to keep the matter private.
Kirk further spoke about the video leaked by saying he felt "extremely disrespected" during the recorded conversation and lost his temper. He said he sincerely apologized for the inappropriate words he said. The choir director revealed that his son didn't play the whole conversation they had and that a family therapist later joined them in their call.
Kirk Franklin's son, in turn, responded with a follow-up post asking people to please "not crucify" his father. He further said he wasn't there to "bash him across the board."
His mother said her son isn't hurting from her and Kirk being teenage parents. Shawn further said, "no one abdicated their responsibility" towards Kerrion and revealed:
"You are loved, Kerrion Franklin... We support you then. We support you now. We support you tomorrow. But there's a way to deal with it."
Kerrion's mom further stated that they have tried as parents to "work through the issue, get our son to the point of being a productive citizen in society as well as having a good life."
She said; however, things didn't happen that way, and they won't use the video without understanding "the true history of counseling, therapy, godly counsel, holding Kerrion responsible, holding Kirk responsible, holding myself responsible."
Kerrion Franklin's Arrest
Kerrion Franklin was arrested in April 2022 after he was allegedly caught by police driving a car belonging to a woman who was reported missing and presumed dead.
The 34-year-old denied having any connection to the missing woman or owning the firearm discovered in the car. He was later released from prison on June 2022 and thanked his father, mother, and stepmother for their prayers.
Kerrion Franklin Is Not Kirk Franklin's Only Child
Kerrion Franklin may be Shawn Ewing's only child, but Kirk Franklin has other kids. His younger siblings are Carrington, Kennedy, and Caziah. Kirk and his second wife, Tammy Collins, married in 1996, only have two kids together. The pair had a child from previous relationships when they met, Kerrion and Carrington.
Carrington Franklin-Nakwaasah, born in 1989, was adopted by Kirk and lives in Dallas, Texas. The 33-year-old works in marketing and branding, and she has been married to Maxx Nakwaasah since 2016, and the couple has a son, Shiloh, born in April 2020.
Kennedy Franklin is Kirk and Tammy's first child together. She was born in 1997, and according to her Instagram profile, she's a cheerleader. The award-winning gospel singer's youngest child is Caziah Franklin. He's 21 and often posts himself singing or playing music on Instagram, with his posts including him playing the guitar and drums.
They are close to his father and even defend him from Kerrion's questioning. Kerrion Franklin's sister Kennedy took to Instagram Live and defended Kirk, saying she "would go to war" for her dad and understood his frustrations. Part of Kennedy's post said, " You don't gaslight people and expect them to be nice to you...and then be mad when they respond."
Please fill in your e-mail so we can share with you our top stories!