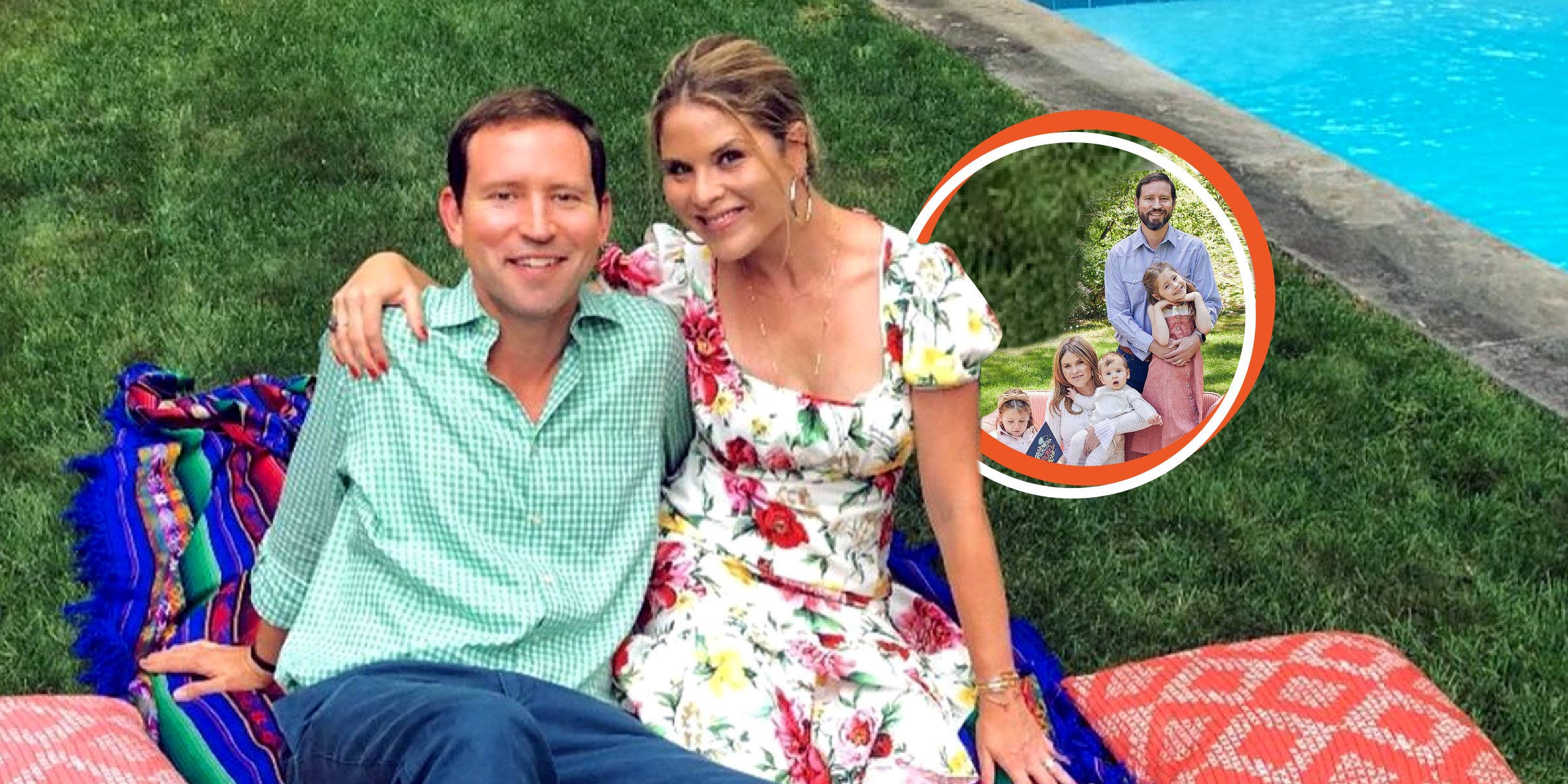 instagram.com/jennabhager/
Jenna Bush Hager Always Wanted to Have a Big Family & Now Raises Her 3 Kids like Parents Taught Her

Jenna Bush Hager is a woman who wears many hats. She is an author, TV personality, and journalist, yet she yearned to have a large family. Her prayers were answered, and now, she raises her three children following what she learned from her famous parents.
First, Jenna Bush Hager was the First Granddaughter when her grandad, Geroge H.W Bush, became the president of America; she and her twin sister, Barbara, were in first grade.
A few years later, their dad, George W. Bush, sat in the same seat, alongside their mom, Laura, as the First Lady. The sisters were nineteen at the time.
In her 2020 publication, "Everything Beautiful in Its Time: Seasons of Love and Loss," Jenna shared how their low-key lifestyle witnessed a 180-degree change following her dad's installment as president.
The former First Daughter admitted that when their granddad was the president, her childhood maintained a sense of normalcy, but by 2001, once the younger George became the president, her childhood vanished, and things changed.
Jenna admitted that she and her twin were never ready for it. In her words, "we just knew the scrutiny that could come with living as teenagers during that time." She added:
"We weren't really prepared. I mean, obviously Barbara and I made mistakes and publicly, which I'm so proud of my parents for allowing us to do."
The "Today" show co-anchor, who penned down a support letter to the Obama sisters, explained that she could relate to how they felt, as they were the same age as them when their dad became the president.
She added that most kids would love to enjoy their childhood with all the freedom they could get, but being under scrutiny makes it more challenging, as they give up such benefits.
Amid the struggles of being a public figure, Jenna is grateful to her family for having some memorable moments that involved family bonding.
She emphasized that they enjoyed their grandparents' and parents' presence, especially on special holidays, like Christmas. Thankfully, her "grandparents are so humble; they just wanted uninterrupted time with their family, they just wanted us to be around."
Apart from spending family time together, Jenna's dad was intentional about the lessons she learned. He taught her how to handle rejection and therefore developed her resilience.
When addressing how she managed a public life despite internet trolls and the naysayers, she sweetly credited her parents, saying, "I watched as my parents took on stuff and would say to us 'Baby, it didn't matter. We know we're not like that. We know we're not that person.'"
On one occasion, when she showed her dad a comical yet insulting comedic sticker that read, "A village in Texas is missing its idiot!" the former president laughed because he felt confident in himself.
Jenna Finds her Prince Charming
During a partially tell-all interview about her first meeting with Henry Hager, her husband and dad to their three kids, Jenna told her colleague, Hoda Kotb, they were set up by mutuals.
The couple celebrated their union in Crawford, Texas, in front of about two hundred guests invited to the family's private ranch.
Henry worked for her dad and was later invited to watch a football match by his intern, who acted as Jenna's friend, and they kissed. Later, the pair went on their first date, but according to the former First Lady, it was a crowded affair. They also had a slight minor collision. She recalled:
"My worst first date involved the Secret Service. Let's just leave it at that. It was with Henry (Hager), and his car ran out of gas and went backward and hit the Secret Service."
Expectedly, in 2005 the media caught wind of who the country's First Daughter was dating. They asked the First Lady about their romance, and she explained that it was not a serious relationship while complimenting the young man.
But that was far from the truth. It felt like a genuine relationship from the start, and three months after their relationship began, Jenna asked her lover to marry her.
Henry, though in love, turned her down; according to him, she was young. However, five years later, he went down on one knee to pop the question of a lifetime!
In 2007, they were engaged following a beautiful proposal during a getaway to Cadillac Mountain in Acadia National Park. This happened after Henry sought permission from her dad, who excitedly gave the nod to their engagement. In a refreshing interview, the former president revealed:
"So the guy comes to see me and says, 'I want to marry your daughter.' I said, 'Done deal.'"
The following year, at age 26, Jenna became Henry's bride. The couple celebrated their union in Crawford, Texas, in front of about two hundred guests invited to the family's private ranch.
Their ceremony lasted for the entire weekend. The couple enjoyed a kickoff lunch on a Friday with only thirty invitees. Jenna later hosted a house party in Salado's Inn, and she attended a rehearsal dinner at Henry's parents' home. Finally, on Sunday, they enjoyed a wedding that was free of official protocols.
Jenna, As A Family Woman
Jenna, who felt smitten by her husband at first sight, has managed to maintain the same energy, and the longer their years as couples, the stronger the bond.
The pair welcomed their first child, Mila, five years after their wedding. In 2015, their second daughter, Poppy, was born, and finally, in 2019, they became parents to their only son, Hal.
Despite the big family, Jenna and Henry still prioritize their romance. The TV personality is very expressive onscreen and via social media about her love for her husband.
For 2019's Valentine, she wowed her audience on the "Today" show after reading a heart-melting letter for her husband. The author described his love as "simple and solid and thoughtful."
Having a bunch for a family can be tasking, especially since both parents are career driven, yet, this has always been Jenna's wish, and she knows how to make memories with them. She once shared:
"I appreciate life much more as a mom and feel so lucky. I know how wonderful motherhood is and that makes it so much sweeter. I want a big family. We'll see what happens."
The former First Lady is effortlessly replicating the principles learned from her parents, as she constantly gives her attention to her family. When not working, Henry and his wife rock funny outfits and bond indoors with their brood.
Mila, their firstborn, was born in April 2013. Shortly after her birth, Jenna resumed working as an elementary teacher. She explained that she would love to inspire her daughter to believe that a woman can do it all, but not at once.
The new mom admitted it was not easy, as she had to reschedule work to attend to her child whenever needed; however, work and motherhood never clashed with her.
As mentioned earlier, Poppy joined the bunch two years after her sister, and in 2019, the couple welcomed their only son. Even though the family became bigger, she continued to juggle work and motherhood, and so far, she has done incredibly well.
Henry described her as a "very strict mother," Jenna is also big on letting her kids have the freedom she enjoyed during childhood. The journalist recalled how her mom allowed her and Barbara to run unmonitored around their home. In June, she revealed that she would love wild and free kids as they would become quickly independent. She admitted:
"I want free-range kids. You know, wild and feral. I want feral children."
Indeed, Jenna is the mother of the year! Apart from teaching her kids vital life lessons, she ensures they have a formidable relationship with their grandparents, the Bush family. In 2020, as soon as the pandemic relaxed, they visited her parents on their Texas ranch.
Ultimately, Jenna is passing down the generational bond she shared with her grandparents while still employing similar parenting principles as her dad and mom.
Please fill in your e-mail so we can share with you our top stories!