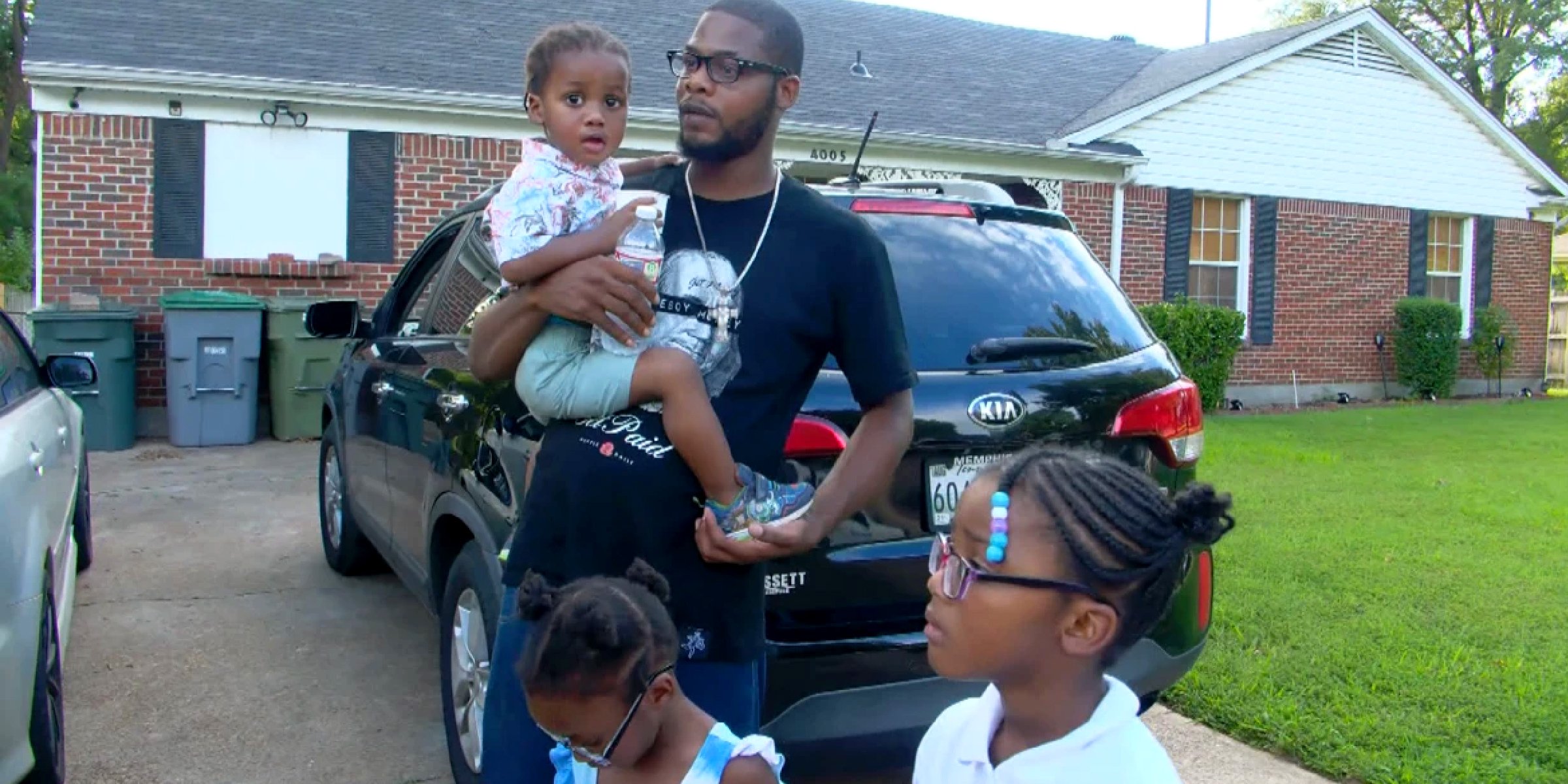 Facebook.com/today
3 Siblings Get Kidnapped By a Car Crash Victim Their Selfless Dad Stopped To Help

The phrase "crime doesn't pay" is well-known in society, but one father's experience suggested that being a do-gooder also doesn't come with any rewards. Read his shocking story and discover why he urged people to pray for their cities.
The world is filled with Good Samaritans, who have often revealed that helping someone in need fills their hearts and souls with joy and gratitude. However, giving back doesn't always deliver the consequences one would expect.
Sometimes, the recipient of the generosity doesn't appreciate the gesture. A Memphis, Tennessee dad was in utter disbelief when his kindness resulted in shocking actions.
The Dad Helped A Stranger
Dad Bryon adored his kids, two-year-old Brandon, four-year-old Chloe, and six-year-old Olivia. The three siblings meant the world to him, and he would do anything to protect them.
In September 2022, he found himself in an unusual situation. The dad saw a car crash victim who needed help, so he didn't hesitate to lend a hand—he never imagined what would happen next.
The children were undoubtedly startled, and Bryon's worst nightmare became a reality.
Bryon stopped his car near the accident scene and noticed that the driver of a white KIA had visible injuries. The victim told witnesses he needed to leave, but nobody felt comfortable taking him away.
The Shocking Incident
While waiting for medical services and law enforcement, the crash victim did something shocking. He jumped into the driver's seat of Bryon's brown Toyota Avalon and sped off. However, the carjacking wasn't the worst part of the ordeal.
Bryon was traumatized because his three kids were still inside the vehicle. He shared:
"I stopped to help and almost lost everything. I got carjacked. I stopped to help, and I got carjacked."
A Parent's Worst Nightmare
The children were undoubtedly startled, and Bryon's worst nightmare became a reality. Neighbor Derick Taylor saw the man drive off with the kids and the car — a scene that left him stunned.
Bryon and Taylor got into his truck and chased after the suspect. Taylor added:
"The world we live in is just ridiculous now. You can't even offer help. It's ridiculous."
Miraculously, the three kids were dropped off in front of a house without any injuries. The dad was relieved and expressed: "It could have been much worse. I'm just glad I got my babies."
Everything Can Change Instantly
Bryon noted that these criminal acts needed to end and indicated God was watching over him and his kids. He was aware that "everything can be gone in the blink of an eye" and shared:
"I'm going to pray because God was on my side. I'm going to pray for our city because the young ones don't have any guidance, and they need guidance."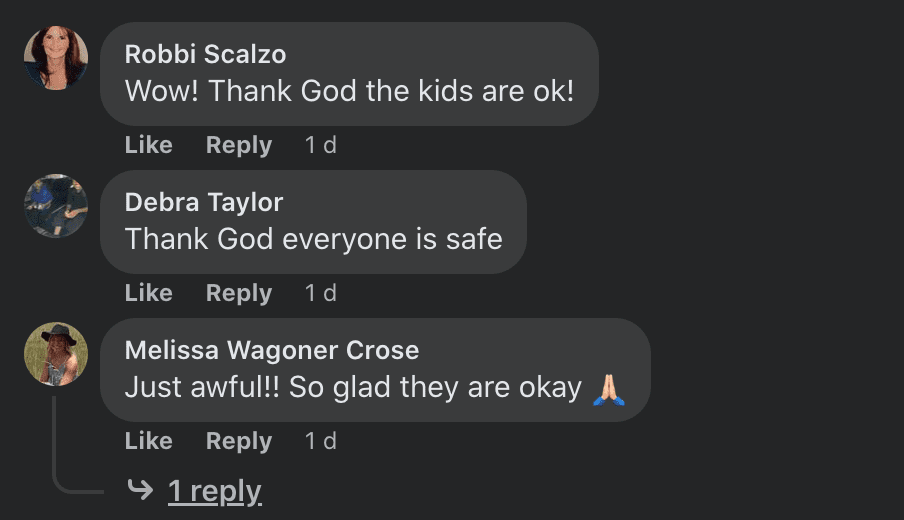 Comments from netizens. | Source: Facebook.com/today
Never Stop Doing Good
Taylor hoped that Good Samaritans wouldn't suffer in the future and stated that it was still necessary to offer help and spread kindness. Byron also indicated that the incident wouldn't stop him from doing good. He said:
"You can't help your heart. If your heart tells you to help somebody. you're going to help somebody. God had me. So, I'll leave it at that."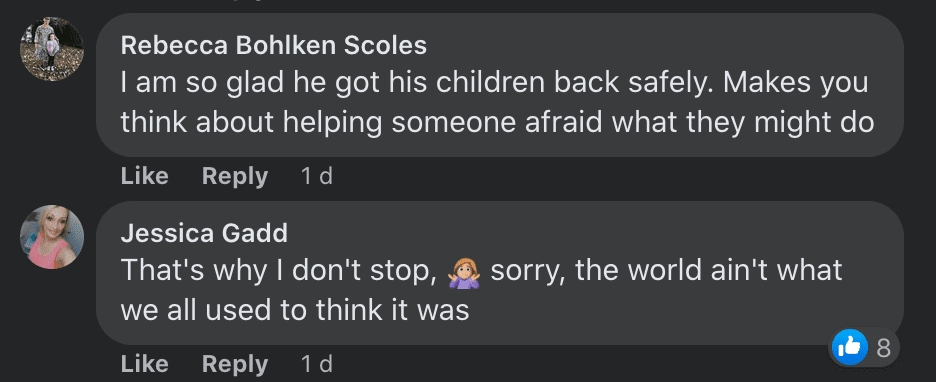 Comments from netizens. | Source: Facebook.com/today
The Online Reaction
Netizens were shocked by the ordeal, and many offered the father and his family well wishes. They were glad the kids were safe and shared their opinions about the crash victim's actions:
"Being a nurse, I've stopped to help several times, but that's always been one of my biggest fears. With the way our world is now, I second guess stopping at all. I'm happy his children are safe."

- (Aaliyah Harris) September 3, 2022
"God bless you for your heart This was a horrible incident, and I am glad for the outcome. In my heart, I believe most people are good, and you did the right thing by helping an accident victim. I am sorry this happened to you."

- (Becky Slone Eaves) September 3, 2022
"Don't ever grow weary of doing good. The one who matters sees it and will reward you."

- (Bonnie-Bob Moberly) September 3, 2022
"This is why I will absolutely call 911 for people, but if I'm alone or my kids are with me, I would never stop. You really just don't know anymore."

- (Becky Kegg) September 3, 2022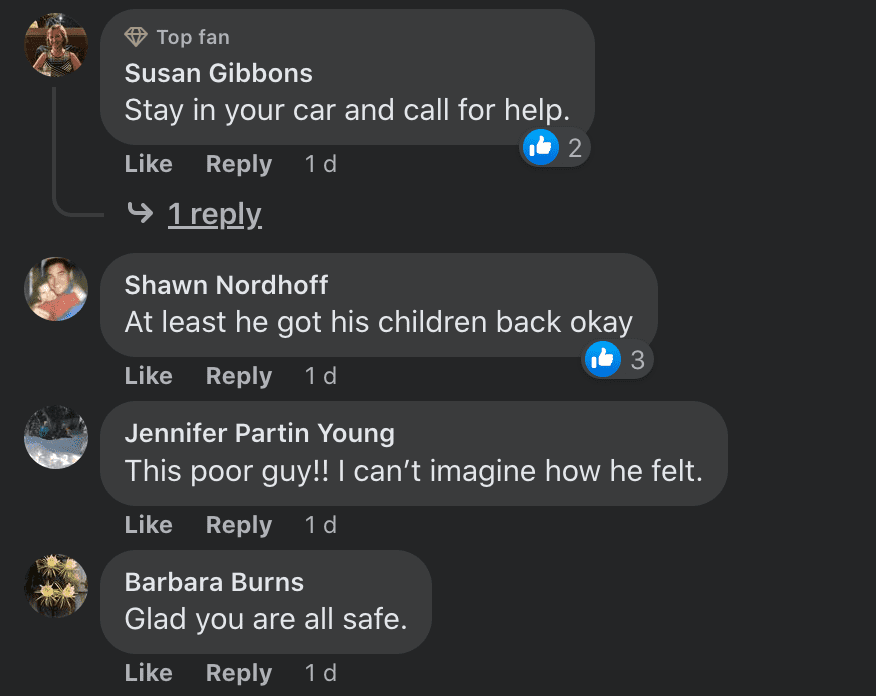 Comments from netizens. | Source: Facebook.com/today
Thankfully, Byron was reunited with his children quickly, and all three were safe. We wish them many more happy years together.
What do you think about stopping on the side of the road to lend a helping hand to someone in need? Is it something you would do or have done?
Click here for a story about a car crash victim. Tragically, someone hit the little boy, and the child's family released an important message for the car driver.
Please fill in your e-mail so we can share with you our top stories!