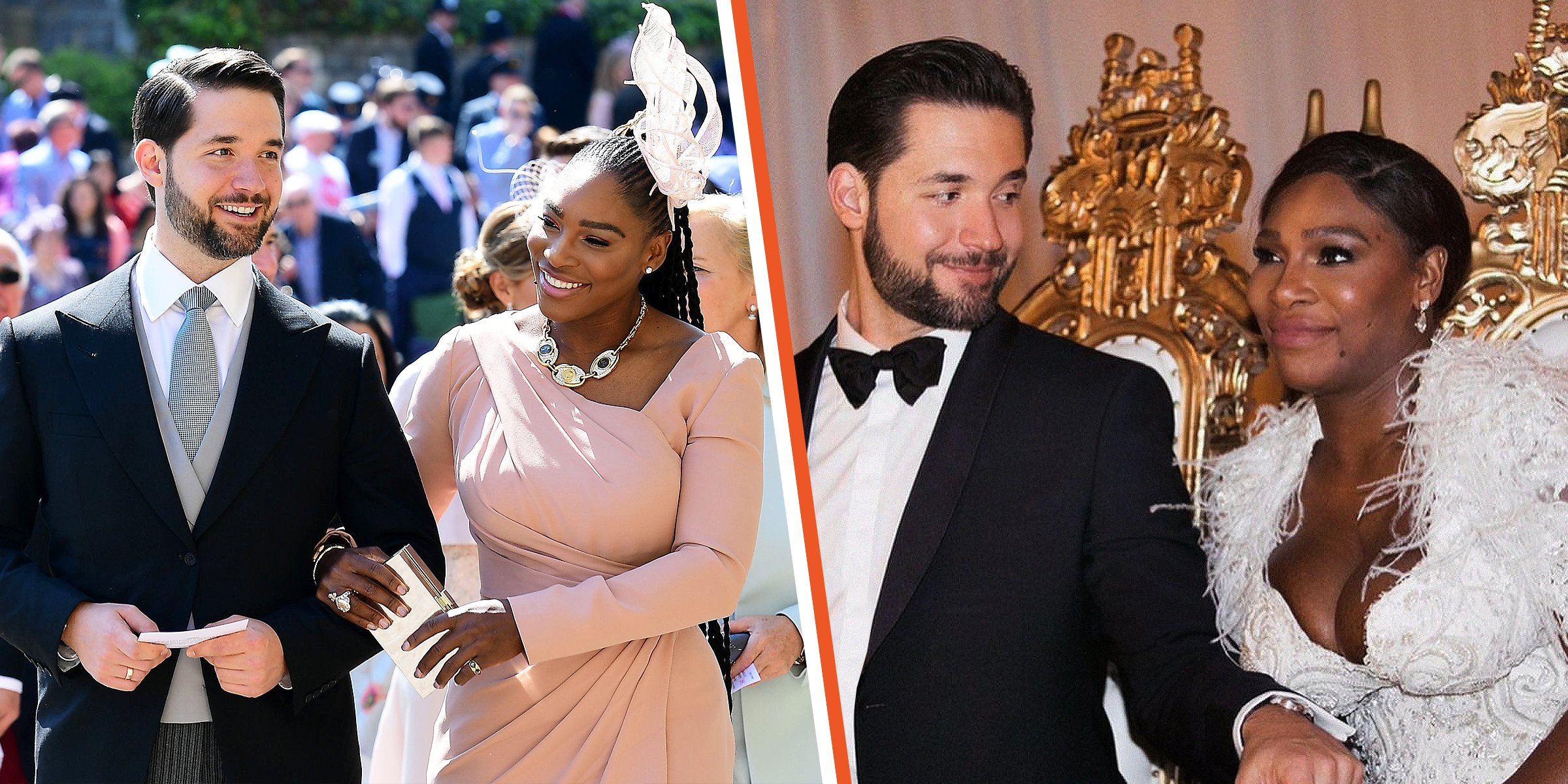 Getty Images - Instagram.com/serenawilliams
Serena Williams Tried to Drive Away Husband at 1st Meet — They Show Marriage Can Be 'Bliss' amid Her Retirement

Tennis pro Serena Williams found love when she least expected it, and on her first meeting with her present husband, she considered his presence a bother.
It has been nearly a decade since they met, and they prove marriage can be wonderful five years after. Here's a timeline of the sweet couple's romance.
Although the beginning of Serena Williams's love story possessed the qualities of any fairytale, it happened by chance. Also, she soon became acquainted with her prince charming a few hours after meeting, but it also has a peculiarity. At first sight, rather than butterflies stirring in her stomach, she felt irritated and tried to drive Alexia Ohanian, her now husband, away.
Not that he approached her at first; in fact, he was alone but happened to be in her face at the pool area of an Italian hotel. In May 2015, the two were visitors to the Cavalieri Hotel in Rome.
Williams, who was scheduled to play her first match at the Italian Open a few hours later, wanted to have a buffet alongside her team, which included longtime agent Jill Smoller and business developer Zane Haupt.
On the other hand, Alexis, who had been in town for the Festival of Media Global Conference, also headed to the poolside for breakfast following a hangover.
Somehow, Alexis, a computer geek and co-founder of Reddit, pulled a chair next to Williams's group. He was focused on eating his food and working on his laptop. But this passed across as a distraction to the tennis champion.
Haupt, an Australian native, did not hide her feelings; she tried to drive him away by scaring him with rats. The business developer lied that there was a rat under his table, but this only made Williams burst into laughter.
The 23 grand slam title holder confessed that there were no rats, adding that their real intention was to make him leave. In response, Alexis joked that he was not scared of rats; in his words:
"I'm from Brooklyn. I see rats all the time."
He was later invited to their table, and their beautiful friendship kicked off. Alexis, an ardent football and basketball fan with no interest in tennis, knew that his new friend was a tennis legend.
The duo continued a warm conversation; Williams inquired about his visit to Rome while he told her about his Reddit website. At first, the grand slam winner thought he was interested in someone on her team. However, she still gave him her number.
Following an invitation, Alexis joined the spectators for the evening tennis match, but he was absent for the celebratory dinner; Williams had won the game.
A few weeks later, he honored the athlete's request to the French Open. The tennis champion wanted him to witness her play better than the first time. Even though he did not have any expectations, Alexis traveled to France.
In the end, they had a great time. Williams felt comfortable spending more time with Alexis. They took an Uber trip and visited a zoo called Le Ménagerie and, later, a candy store.
They meandered through the beautiful city of Paris for six hours. This was where their love story began, in the city of lovers!
Alexis, a skilled traveler, while Williams, a celebrity player who did not have many opportunities to enjoy such trips, made a good team touring all over the place.
Alexis Changed Serena's Plan with His Surprise Proposal
A year after their first meeting, Alexis and Williams had become inseparable. They were in a romantic affair that involved sacrificing some beliefs. Williams, who practiced the Jehovah's witness faith, did not believe in birthday celebrations.
Still, that year, she reached out to her lover via Facetime, wishing him a happy birthday, while he went out to dinner with his grandparents.
Williams assured herself that she was ripe and ready for marriage but did not learn the hard truth until she became married in 2017
Apart from their bond, Alexis had become convinced that she was his soulmate and that he wanted to marry her.
For him, it was beyond happiness or compatibility. Instead, the tech pro was overwhelmed by Williams's work ethic, which pushed him to become a better man, and a fastidious go-getter. According to her:
"I felt like a door had been opened to a person who made me want to be my best self. I just want to be better by simply being around her because of the standards she holds."
Shortly after the birthday call, Alexis got to work. He joined forces with her close workers and friends, including Smoller, and her executive assistant, Dakota Baynham.
In December 2016, the Reddit co-founder scheduled a surprise proposal at the same place they first met, thanks to Wiliams's team! The tennis champion was slated to play in India, but Smoller encouraged her to stop in Italy and camp at Cavalieri Hotel.
Although she knew there was no reason to go to Europe, especially since she needed to train for the Australian Open, she agreed.
Williams was upset when she boarded the plane in the opposite direction, but she soon understood that Alexis had decided to give her a lifetime surprise. Finally, at 35, she felt ready! She had been told that her lover wanted them to spend time together.
Alexis booked the same room, had the poolside cleared, and in a romantic way, recounted the story of their first meeting while alone with his beau. He even added some humor by placing a plastic rat on their table. Eventually, he proposed!
Marriage Is Not Bliss, but It Can Be
Williams assured herself that she was ripe and ready for marriage but did not learn the hard truth until she became married in 2017. Thankfully, her reality is inspiring and allows the younger generation to know that such a relationship is effort-based.
While describing what she discovered following her marriage, she said, "Marriage is not bliss, but it can be if you work at it."
Simultaneously, marriage has also taught her about love. "I learned that love is an amazing feeling, and if you have an opportunity to feel it, then it's a special thing," she added.
Amid her admissions, Williams wants her young fans to realize that "heartbreak is a part of life" and that whatever the pain it causes, it heals with time.
To round off the interview, the tennis pro admitted that her deal breaker in any relationship is not showing loyalty. Today, Williams is not only a happily married woman but also a mother to an adorable daughter, Olympia Ohanian, whom she shares with her husband.
Serena's Retirement Is Just a Beginning
Since her teenage years, Williams has been racking up trophies, and now, after turning 41, she has decided to drop the mantle by retiring from her first love, tennis.
On September 3, she played the first game of her last U.S Open. This comes after her retirement announcement in August. The 23 grand slam title holder revealed that she never wanted to choose between her sports and motherhood, but ultimately, one had to give way.
Following the hard decision, the tennis legend explained that things could have been different if she was a man. She wrote:
"I wouldn't be writing this because I'd be out there playing and winning while my wife was doing the physical labor of expanding our family. Maybe I'd be more of a Tom Brady if I had that opportunity."
Despite her confessions, Williams claimed to bask in her femininity but was hesitant to agree that she could not continue playing tennis while seeking to expand her family.
The topic is never up for discussion in her home; she labeled it "a taboo," adding that she does not like talking about it even with her parents, as it makes her emotional.
Williams, who played for a few months while pregnant with Olympia, explained that it has to be different this time. She quipped.
"I don't want to be pregnant again as an athlete. I need to be two feet into tennis or two feet out."
Over the years, fans have witnessed one of the world's best tennis players task herself to earn her titles. Apart from sports, she is business-oriented, owning a clothing line and other businesses like Serena Ventures, which makes millions annually.
So instead of using the word "retirement," the mother-of-one chose to go with "evolution." To her, it means she is evolving into different phases of her life.
Thankfully, she is on this journey with a loving and caring husband who is always willing to show his support on and out of the tennis court.
During her recent game, Alexis, who watched with their daughter, was seen with teary eyes. He was fixated on the tribute video played to honor the athlete's career.
Alexis's unwavering support and Williams's consciousness of putting effort into their relationship have been the couple's recipe for their successful marriage. They are proof that onscreen romance can happen in real life!
Please fill in your e-mail so we can share with you our top stories!