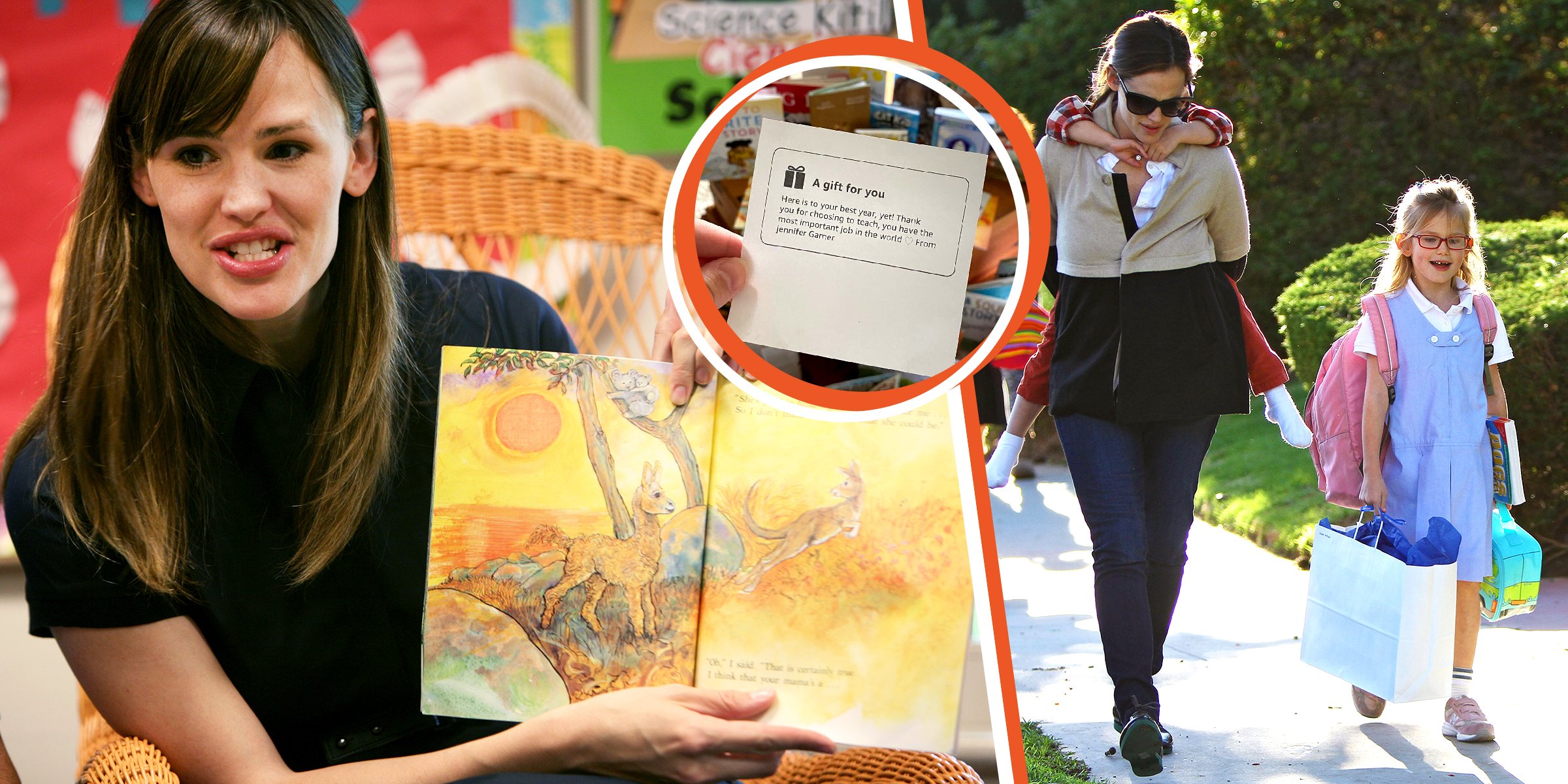 Jennifer Garner | Jennifer Garner, Seraphina Affleck and Violet Affleck | Source: Facebook.com/erin.fuller.545 | Getty Images
Jennifer Garner Bought 10 Boxes of Books for Elementary Teacher after Heartfelt Message to School Staff

Jennifer Garner knows the importance of education and has proven it many times. She once wrote an emotional message to school staff in 2021. Almost a year later, she gave a West Virginia teacher a one-year supply of school books. Here are more details about the actress, whose children's education is as important as her career.
American Actress Jennifer Garner has made the headlines countless times for various reasons, including her thriving career and love life. Recently, the Hollywood star gave news outlets yet another reason to talk about her after she exhibited a simple act of kindness and appreciation.
On August 14, 2022, Erin Fuller-Wellman, a teacher from Garner's home state, West Virginia, took to Facebook to reveal how she got a shocking gift from the actress.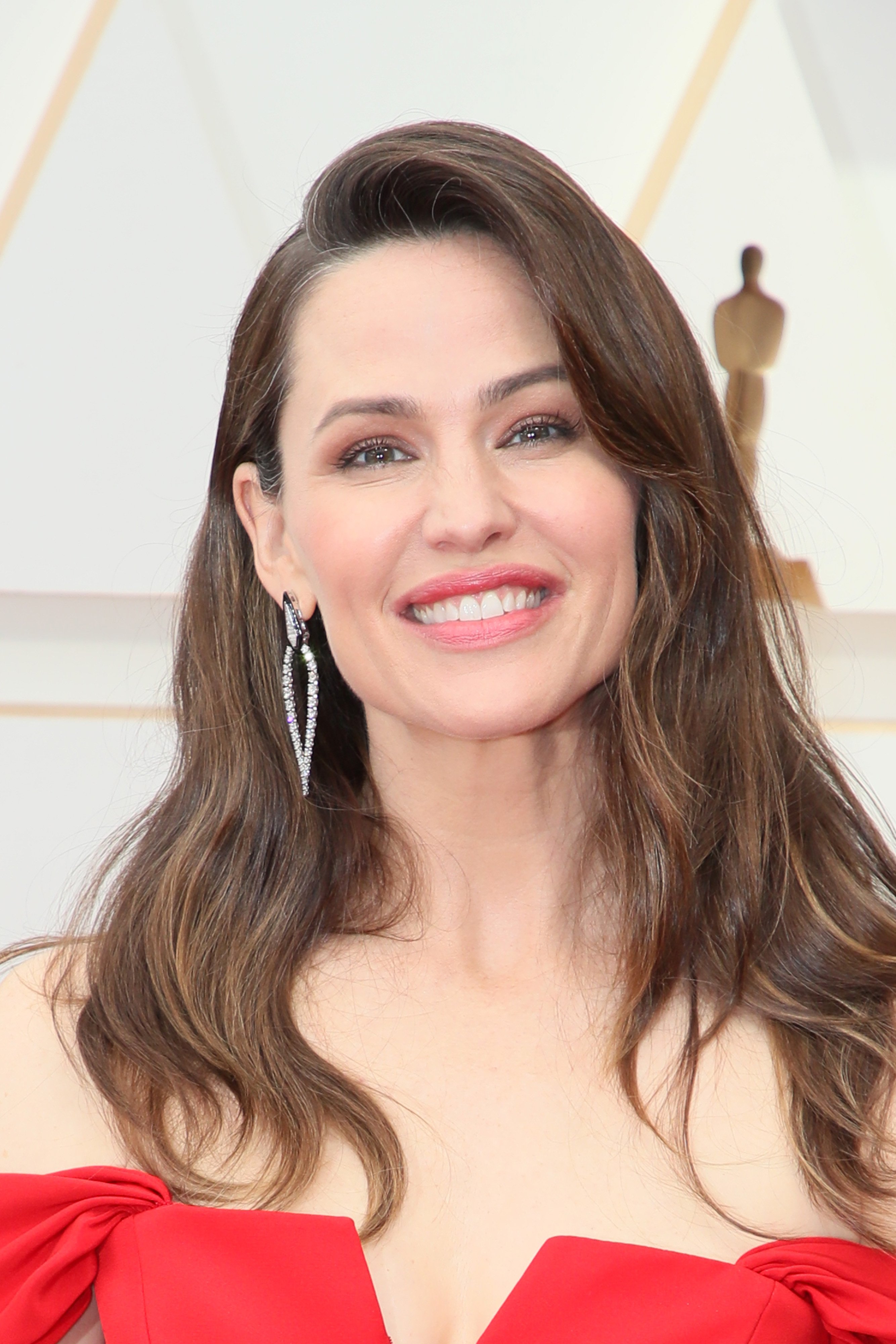 Jennifer Garner attends the 94th Annual Academy Awards at Hollywood and Highland on March 27, 2022, in Hollywood, California. | Source: Getty Images
According to Fuller-Wellman, she went outside only to be greeted by ten boxes on her porch. Then, she opened the first box, and to her greatest surprise, it was filled with books she needed to teach the kids at her school.
The teacher wondered who the gifts were from and eventually got an answer after reading a note attached to the bottom of the box. In the letter, Garner wrote:
"Thank you for choosing to teach. You have the most important job in the world 🤍 from @jennifer.garner."
After reading the message, Fuller-Wellman revealed that she was stunned. According to the teacher, she, alongside many other teachers, had posted their amazon wish list on a site, but surprisingly, Garner picked hers. Fuller-Wellman could not have been more grateful, adding that the actress was one of a kind. The teacher further confessed:
"I'm proud to say I'm from the same state as her."
Thanks to Garner, the teacher mentioned that her first graders would have the absolute best year. Garner's kind act would not be the first time the "Miracles From Heaven" star shared her gratitude for teachers.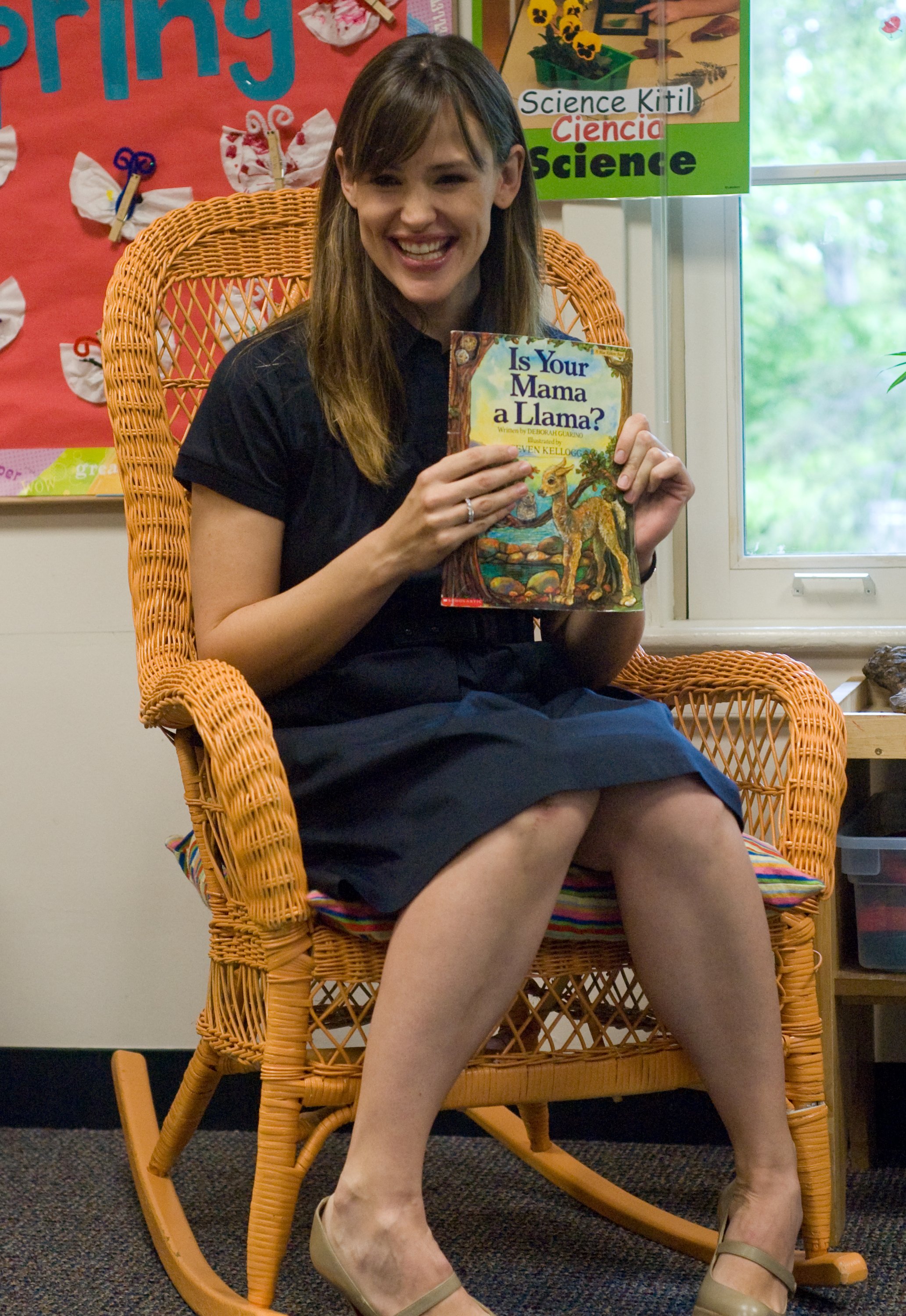 Jennifer Garner reads a book with her mother Pat(L) to a group of Head Start children to help launch the 2009 State of the World's Mothers Report at the Rosemount Center on May 5, 2009, in Washington, DC. | Source: Getty Images
As a mom of three, the actress worries about her children and other kids' education. So, when she sees teachers who put in much effort, the "The Adam Project" actress is always grateful for them.
Garner's Childhood Memories
Garner is one Hollywood actress who enjoys telling stories about her amazing childhood to remind herself of her humble beginnings. She is proud and honored to have experienced such beautiful memories.
Despite being a career woman, the actress still does things for her kids without the help of nannies.
Jennifer Garner and parents at the The Shrine Theater in Los Angeles, California. | Source: Getty Images
But on the contrary, it was not the same for her parents, especially her mother. In October 2020, Garner opened up about her mother's struggle with poverty in "Tell Me More With Kelly Corrigan."
Garner said her mom, Patricia Ann, grew up very poor in Locust Grove, Oklahoma, on a farm. At some point, Patricia earned only a dollar a day for babysitting a family living down the street. But even though the money was minimal, she managed to save up and eventually left the farm.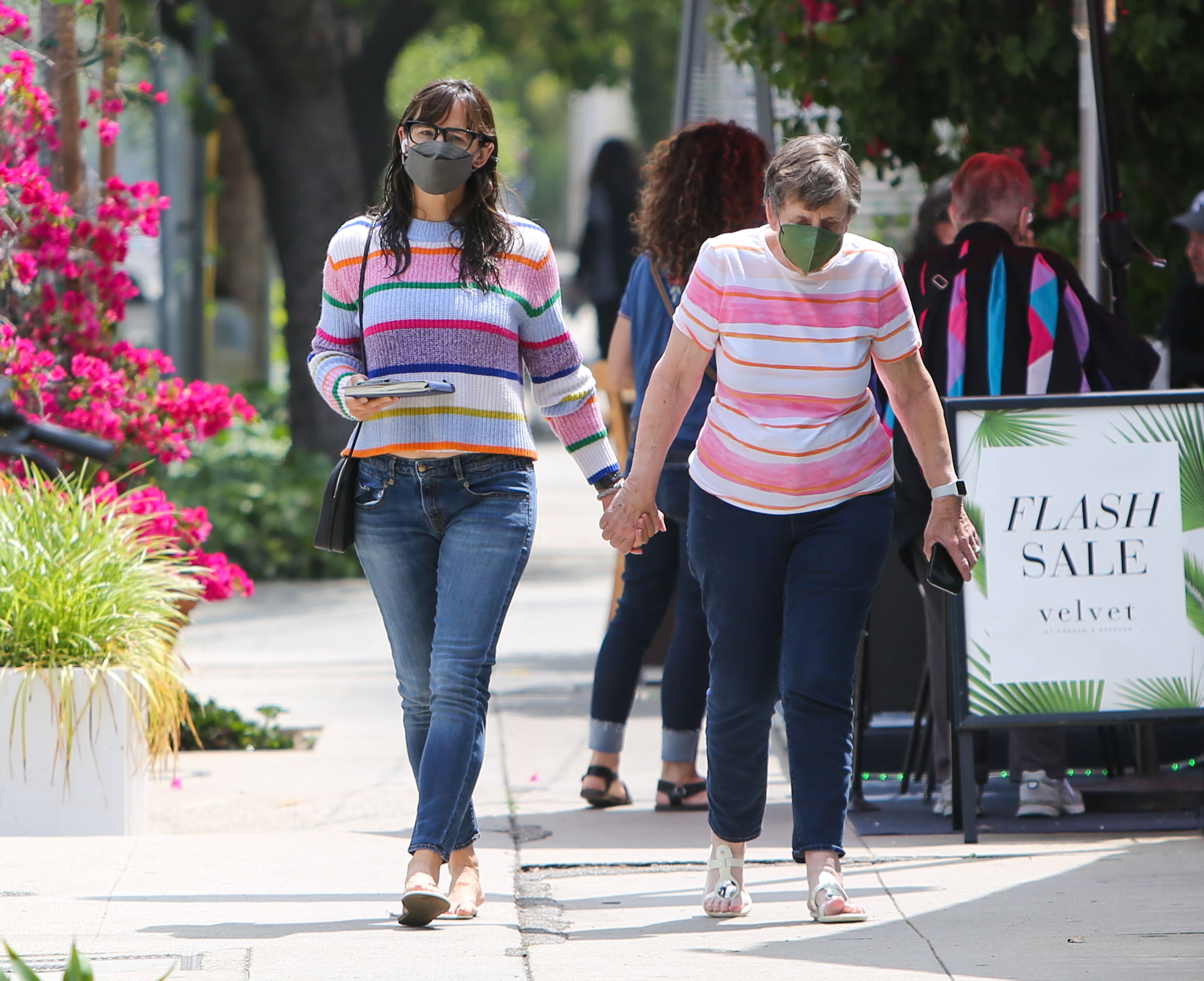 Jennifer Garner and her mother, Patricia Ann Garner, are seen on May 28, 2021, in Los Angeles, California. | Source: Getty Images
Then, she married Garner's father, Billy Jack, and later welcomed their beautiful daughter. The couple raised Garner in West Virginia, and even though things were not very great financially, Patricia and Billy tried to give the actress a pleasant childhood.
Garner recalled her mom returning to school to study for her graduate degree when the actress was still little. Undoubtedly, Patricia and Billy made endless sacrifices to ensure their daughter had beautiful memories.
Many years later, Garner still posts pictures from her childhood on social media. For example, the actress once took to Facebook with a throwback picture of herself as a little girl sitting on a swing. The starlet captioned it:
"My mom called me Ragamuffin when I was little. Yup. I see it."
In another post, the actress shared a picture of herself at age seven and a half, alongside a beautiful poem she had written at that little age. Another social media post also showed a young Garner on a farm with her cow named Jennifer.
Overall, the show business star is grateful for their time spent in West Virginia, especially during her school years. During that period, Garner gained knowledge in various spheres, including music. She once posted a school picture of herself at six.
The Hollywood star joked about taking violin classes for six years without getting any better at it. She wrote that her mother offered to pay her five dollars to stop playing the violin. However, Garner used this funny detail about herself to bring awareness to the importance of education, especially for younger girls.
Garner, a Devoted and Responsible Mother
Garner is a mother to three children, whom she shares with her ex-husband, Ben Affleck. Due to her parents' proper example of parenting, it is not surprising that the actress is a devoted and responsible parent.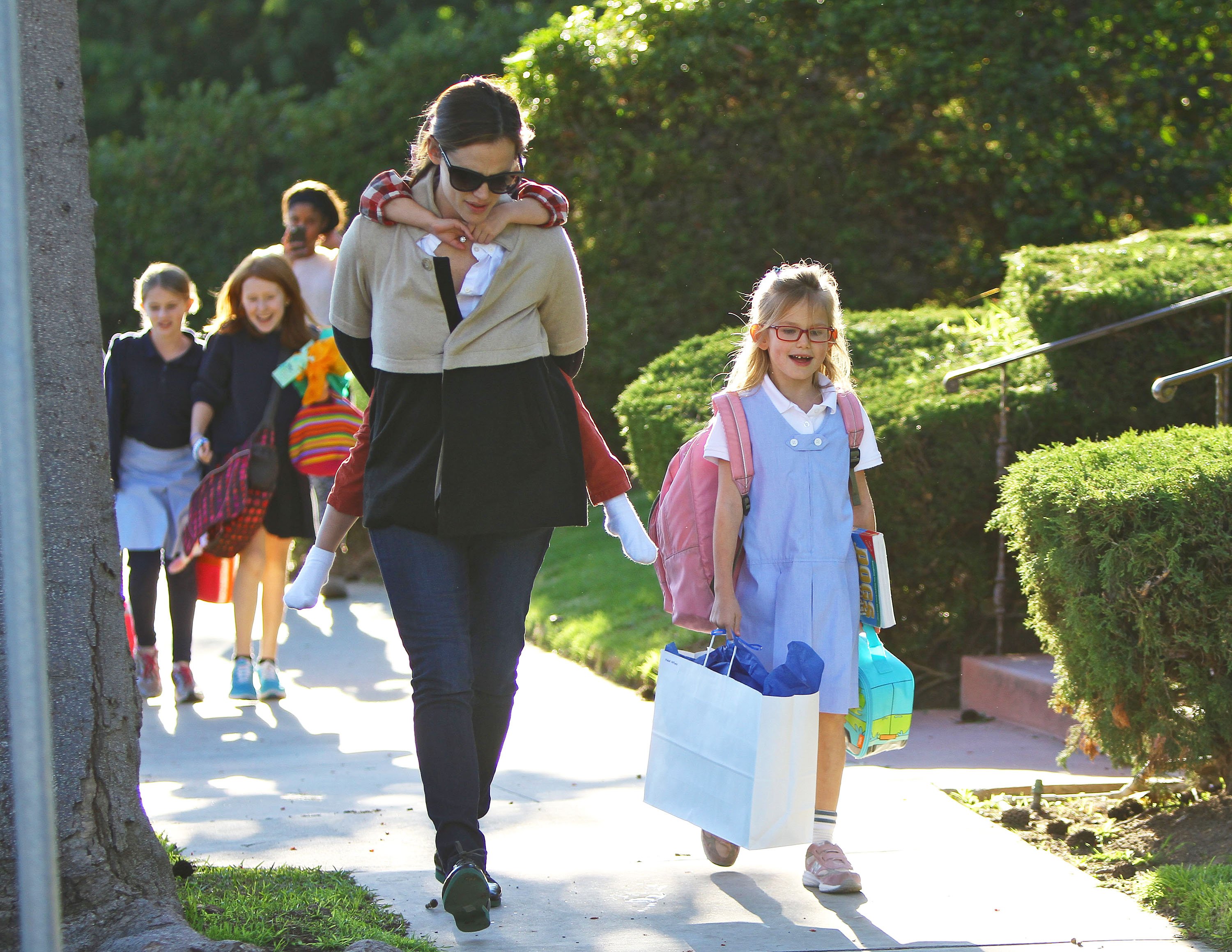 Jennifer Garner and her daughters Seraphina Affleck and Violet Affleck are seen on December 19, 2012, in Los Angeles, California. | Source: Getty Images
In August 2021, the "13 Going On 30" actress was photographed while on mommy duty, shopping for supplies with two of her kids and getting them ready to head back to school.
Keeping it casual for her outing with her 12-year-old daughter, Seraphina, and her 9-year-old son, Samuel, Garner donned light-colored jeans, a black shirt, and sneakers. She paired the look with oversized sunglasses and a hot pink face mask.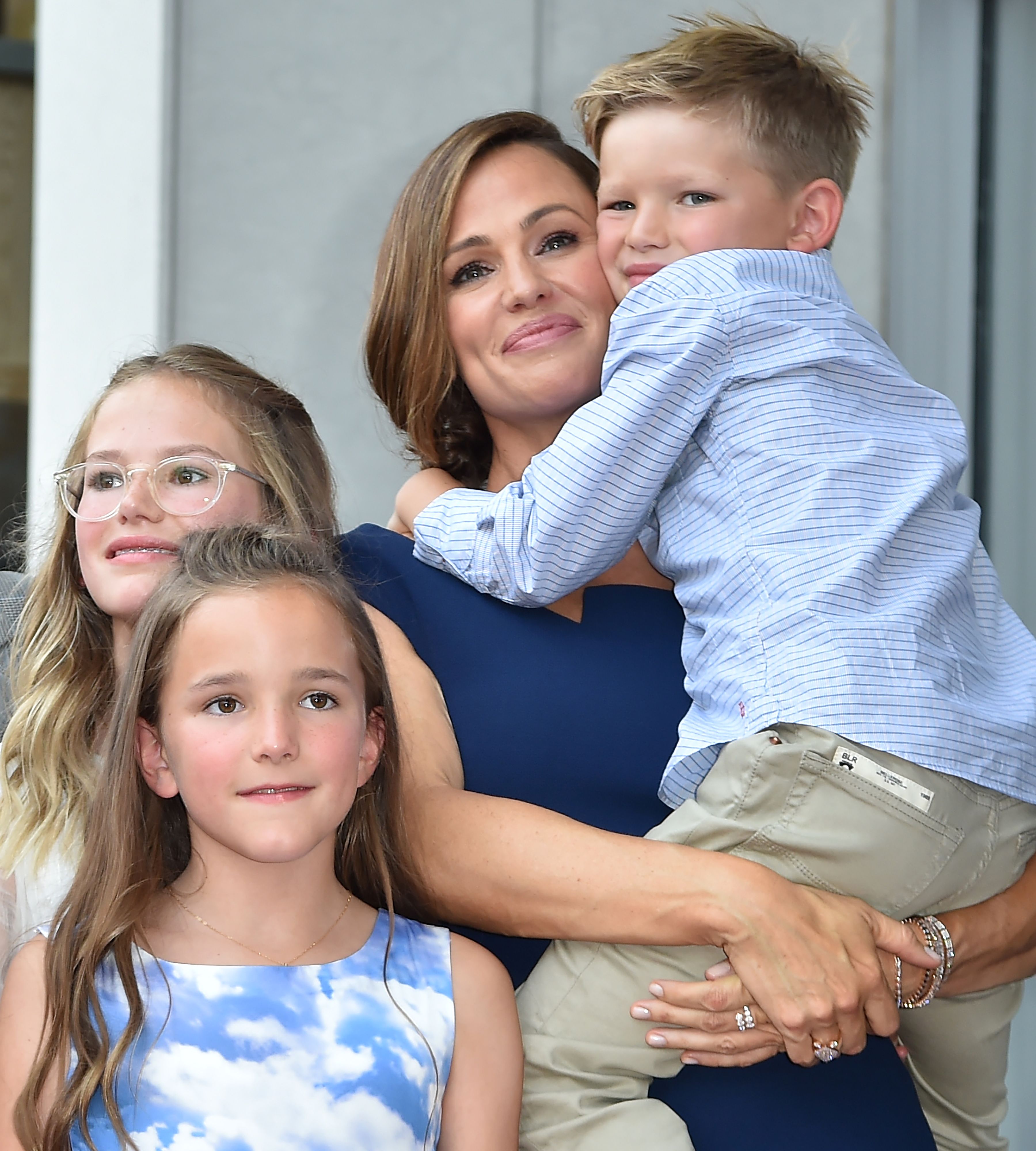 Jennifer Garner poses with her children Violet Affleck, Seraphina Rose Elizabeth Affleck, and Samuel Garner Affleck at her star on the Hollywood Walk of Fame, August 20, 2018, in Hollywood, California. | Source: Getty Images
The actress and her kids headed inside Staples in West Los Angeles, and after spending some time in the store, the trio was spotted coming out with four bags full of school supplies, including notebooks and binders.
A few weeks later, Garner was finally ready to see her kids return to school. In an emotional Instagram post, the actress penned a sincere speech to school staff. She wrote:
"Thank you teachers, thank you, administrators, thank you, school staff — for being on the receiving end of a year and half of feelings (kids' and parents') — big and loud, quiet and deep."
Even though Garner was happy to see her children back in the classroom, the Golden Globe award winner confessed that she was nervous about sending them to school. She told People:
"I'm just so happy for them. And I'm nervous and hopeful and grateful."
Garner Motherhood despite Thriving Career
Time and again, Garner has proven that a busy schedule is not enough to stop her from being a typical good mom.
Despite being a career woman, the actress still does things for her kids without the help of nannies. For example, she ensures that her kids prepare each night for school the following day. In her words:
"We're big on having everything packed the night before. Clothes are laid out. The backpacks are by the door. Backpacks with computers, there's a charging station by the door. Backpacks, computers, everything's already in there and charged for the bigger kids."
Garner has also been spotted holding hands with her youngest child and carrying his messenger bag while dropping him off at his school in Brentford.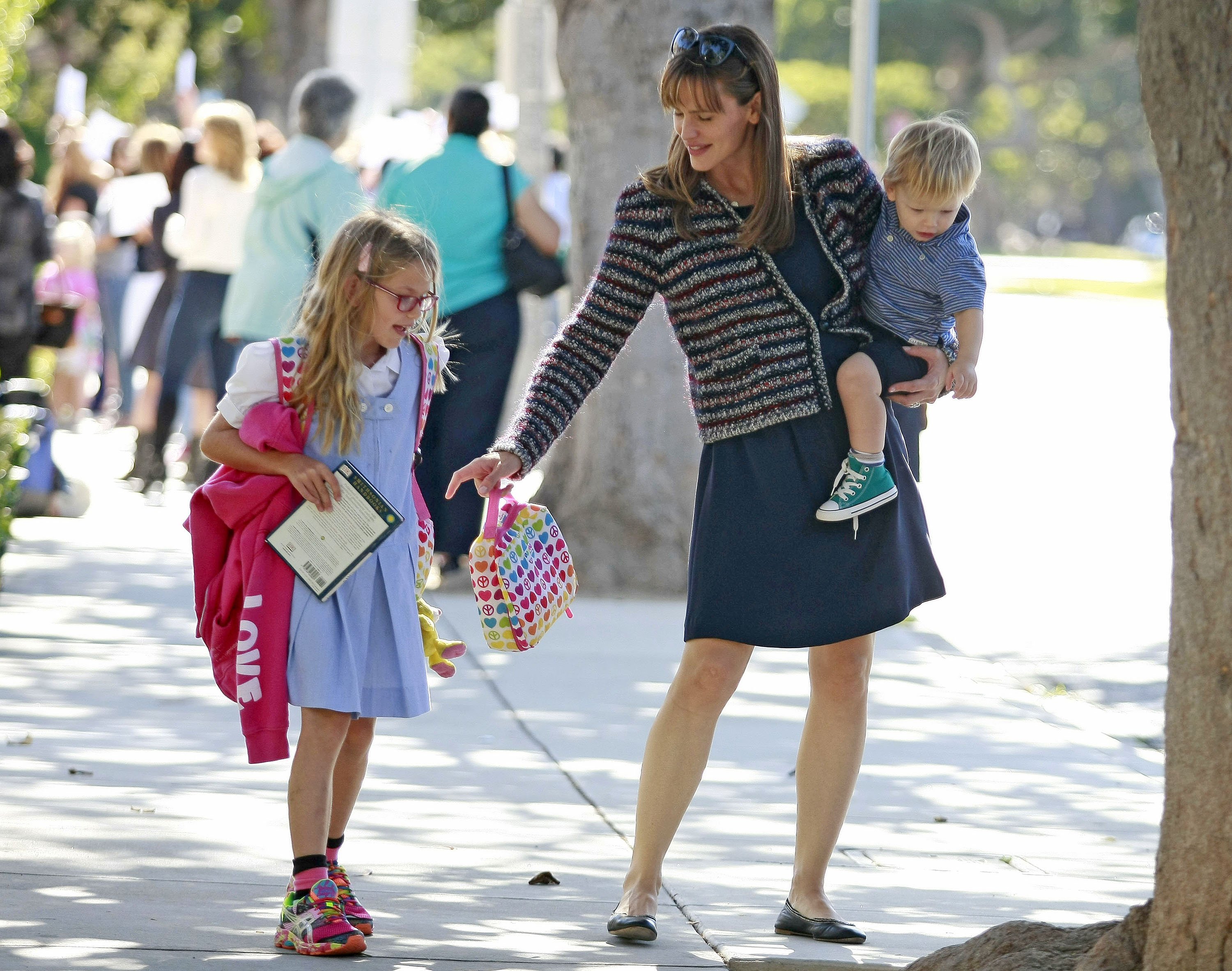 Jennifer Garner, son Samuel Affleck, and daughter Violet Affleck on September 26, 2013, in Los Angeles, California. | Source: Getty Images
Ultimately, due to her role as an amazing mother and an actress, Garner's kids and the other child studying under the West Virginia teacher, Fuller-Wellman, will have access to quality education.
Please fill in your e-mail so we can share with you our top stories!