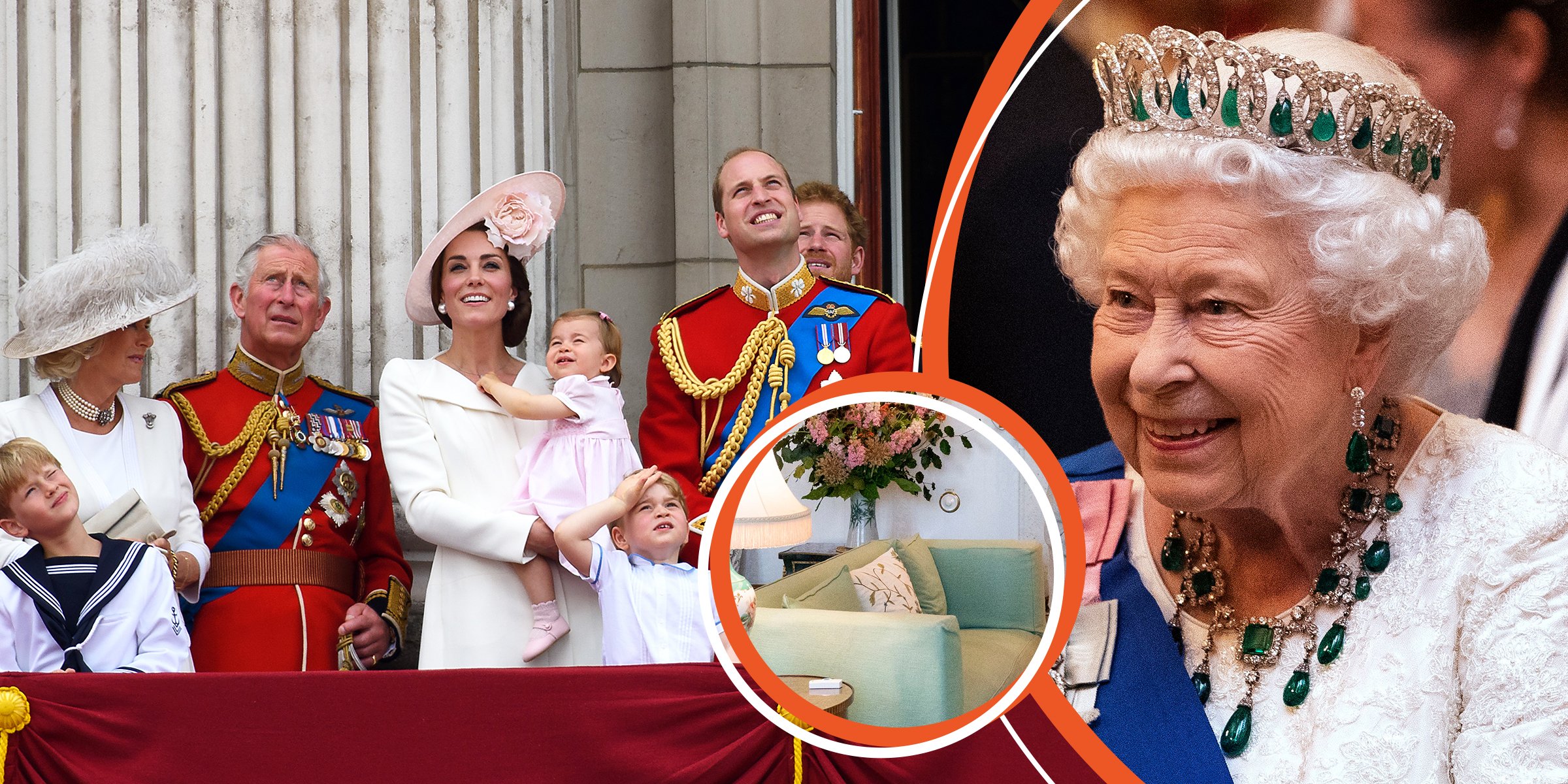 Queen Elizabeth II and Senior Royal Members | Balmoral | Queen Elizabeth II | Source: Getty Images
Queen Elizabeth II Has Died — Devoted Family Rushed to Her Bedside & Stayed with Her till Last Breath

Queen Elizabeth II has died. She passed away on Thursday, September 8, 2022. She was surrounded by her family, who rushed to her side as soon as they found out she was under medical supervision at Balmoral.
The Queen was at her Balmoral estate in the Scottish countryside when news broke that she had had a health scare just days after she was seen smiling as she appointed Liz Truss, Britain's new Prime Minister.
She died with all her children around her, who took care of her in her last moments as she had cared for them for their whole lives. She had good relationships with her family and was an excellent mother and even better grandmother and great-grandmother.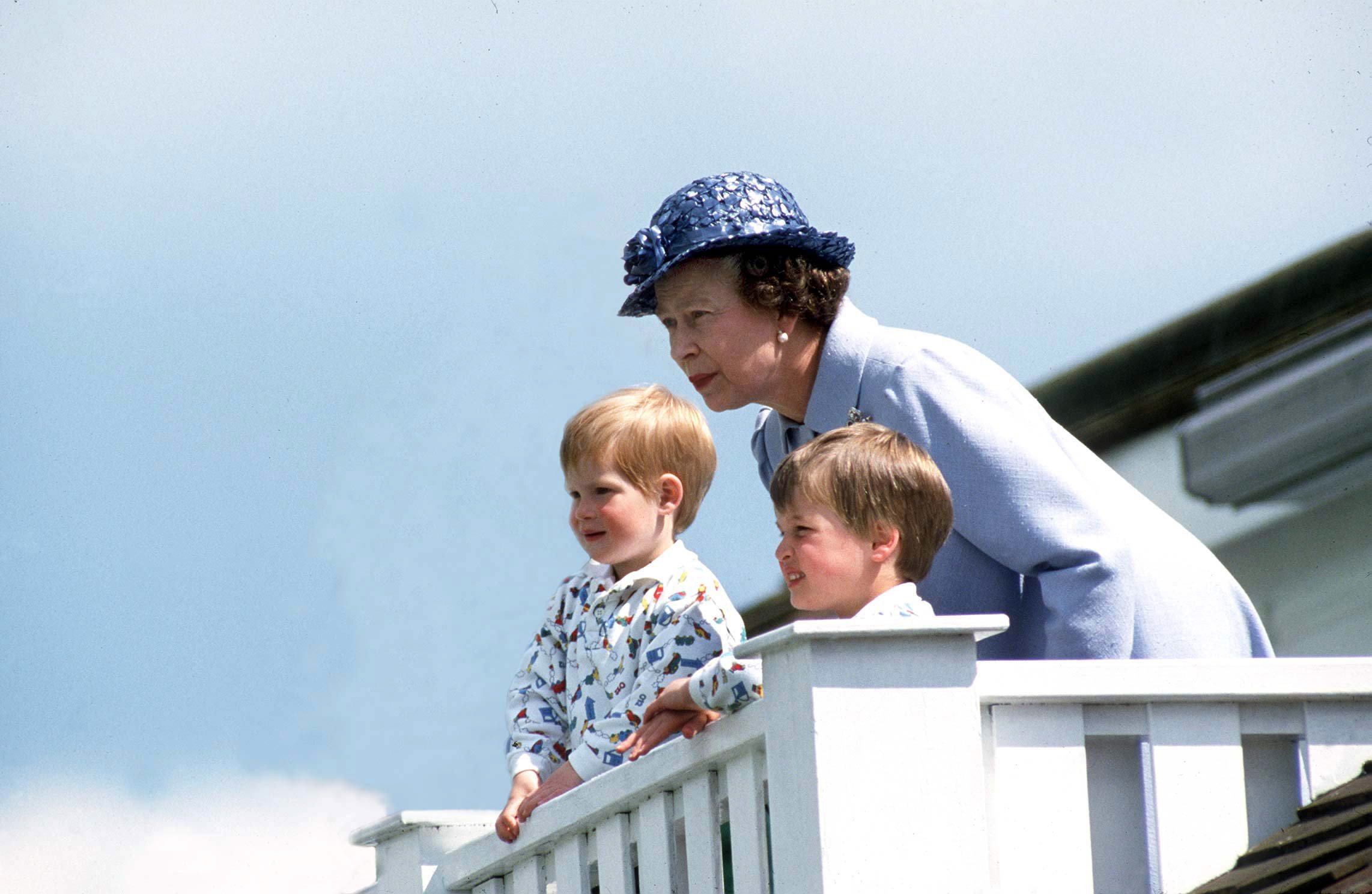 Queen With Prince William & Prince Henry At Polo. June 14, 1987 | Source: Getty Images
To the world, she was Queen Elizabeth II, a woman to be respected and admired. However, to her family, she was simply their matriarch and someone who they could all turn to when they had problems in their lives.
Queen Elizabeth Had Special Bonds With Her Family
While she was publicly stoic, when she was around her family, she was a different person. For her grandchildren and great-grandchildren, she was not known as "Your Majesty" or "Ma'am." The children simply called her "Gan-gan," as reported by "The Sun."
"The Sun" reported that the Queen derived much pleasure from spending time with her grandchildren and even loved teaching them how to swim and choosing presents for each of them.
The publication mentioned that when she ascended the throne as a young mother, she did not have much time to spend with her children, but that all changed when she became a grandma. "The Sun" reports that she "doted" on her grandchildren.
Queen Elizabeth II Laughs With Her Grandsons Prince William And Prince Harry On The Balcony Of Buckingham Palace After The Trooping The Colour Parade. June 13, 2003 | Source: Getty Images
It was also said that although she shared close bonds with her grandchildren, she doted even more on her great-grandchildren. The children paid the Queen regular visits at Windsor Castle, and she enjoyed having them there.
For all those close to the Royal family, it was clear how much the Queen enjoyed spending time with her family. A former courtier for the family spoke to "The Sun" about their experience with her, saying:
"The Queen is extremely fond of her family and loves having them around her, particularly the grandchildren and great-grandchildren as they get a little older."
Her Family Took Care of Her As She Did When They Were Young
In June 2022, "Us Weekly" reported that Prince William and Duchess Kate were setting up to move from their home at Kensington Palace to Windsor so they could be closer to the Queen if she needed them.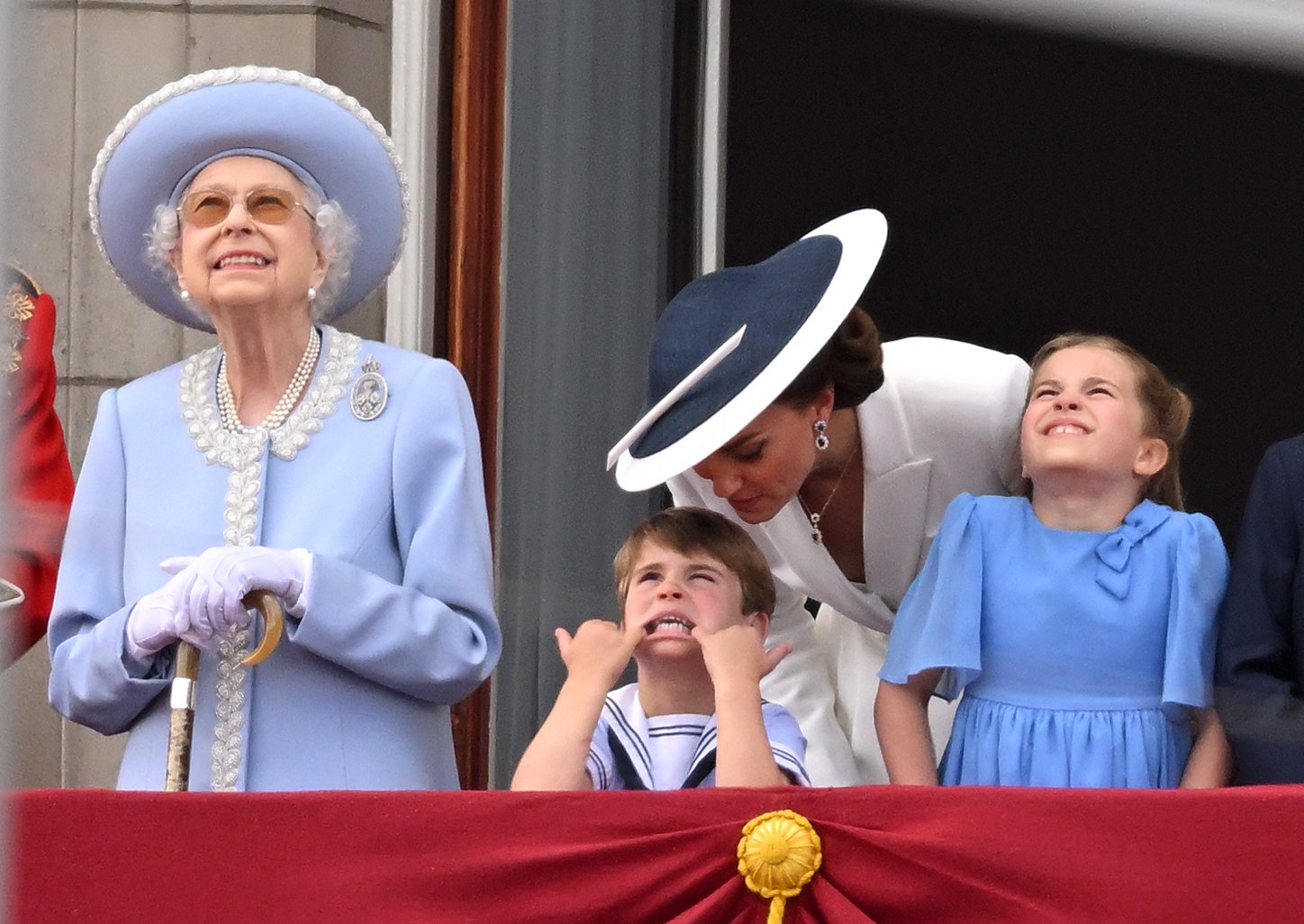 Queen Elizabeth II, Prince Louis, Catherine, Duchess of Cambridge an Princess Charlotte during Trooping the Colour on June 02, 2022 in London, England | Source: Getty Images
In August 2022, the couple moved into a cottage at Windsor, as revealed by "BBC News." The cottage they moved into, Adelaide Cottage, was reportedly a 10-minute walk from the Castle.
"Us Weekly" reported that Prince William and Duchess Kate believed the move would be good for their children. A source shared:
"Charlotte can go horse riding in the open air, and George can play football on extensive grounds. Louis loves being close to his great-grandma, and he's going to take tennis lessons this summer."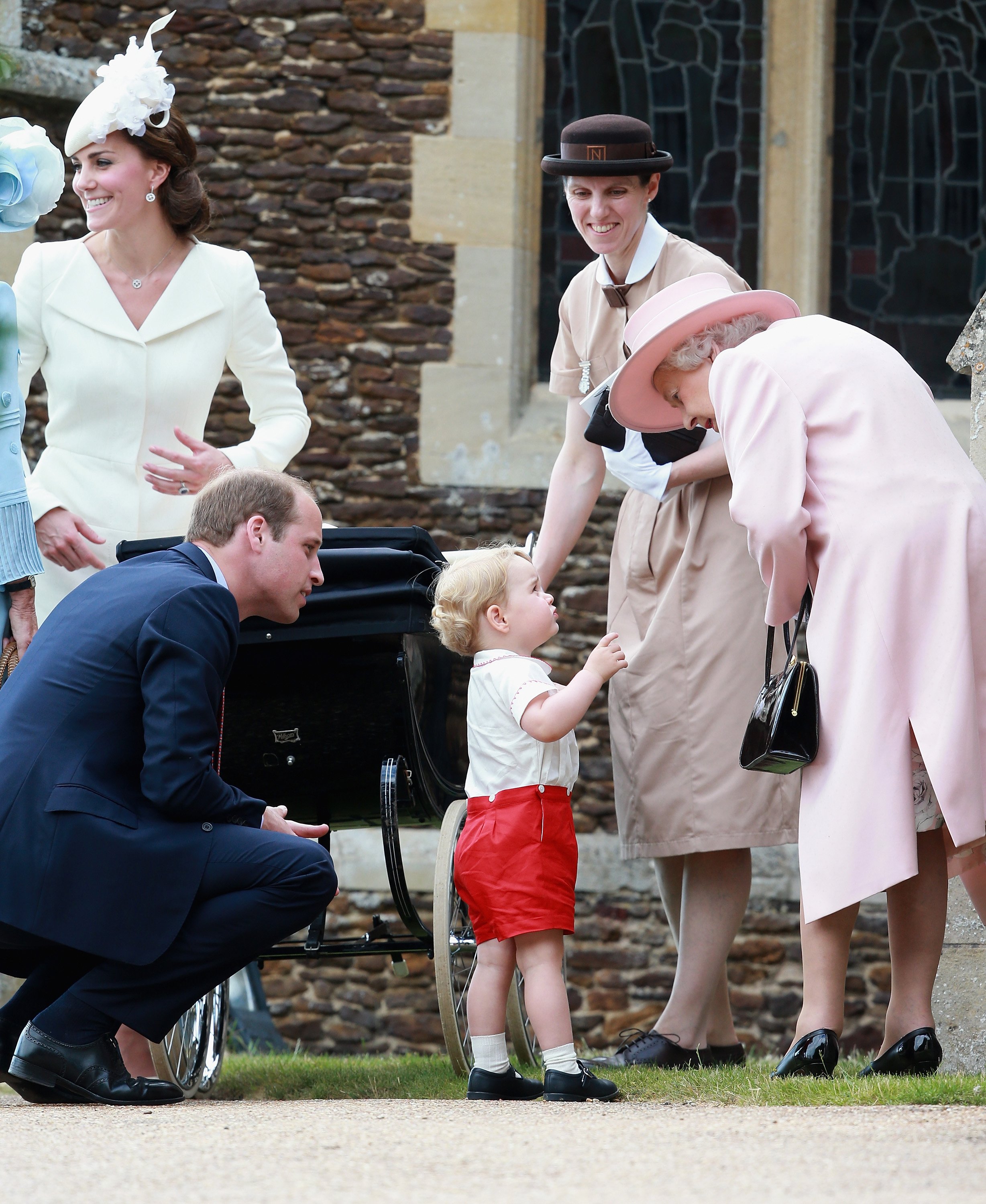 Catherine, Duchess of Cambridge, Prince William, Duke of Cambridge, Princess Charlotte of Cambridge and Prince George of Cambridge, Queen Elizabeth II and Prince George's nanny, Maria Teresa Turrion Borrallo leave the Church of St Mary Magdalene on the Sandringham Estate for the Christening of Princess Charlotte of Cambridge on July 5, 2015 in King's Lynn, England | Source: Getty Images
Although Prince William and Duchess Kate moved closer to the Queen, when she was placed under medical supervision, she was once again far away from her children. They were at Windsor, and she was in Scotland at Balmoral, "Reuters" reports.
When the family got news of the Queen's health issues, they all began traveling to Scotland, as mentioned by "BBC News." Her son, Prince Charles, and his wife, Camilla, arrived at the Scottish residence and were soon joined by many other family members.
All senior members of the Royal family were with the Queen at Balmoral, some having traveled together, "Reuters" reported. "The Telegraph" revealed that it was just after 5 p.m. on Thursday, September 8, when the first flowers were laid outside Buckingham Palace.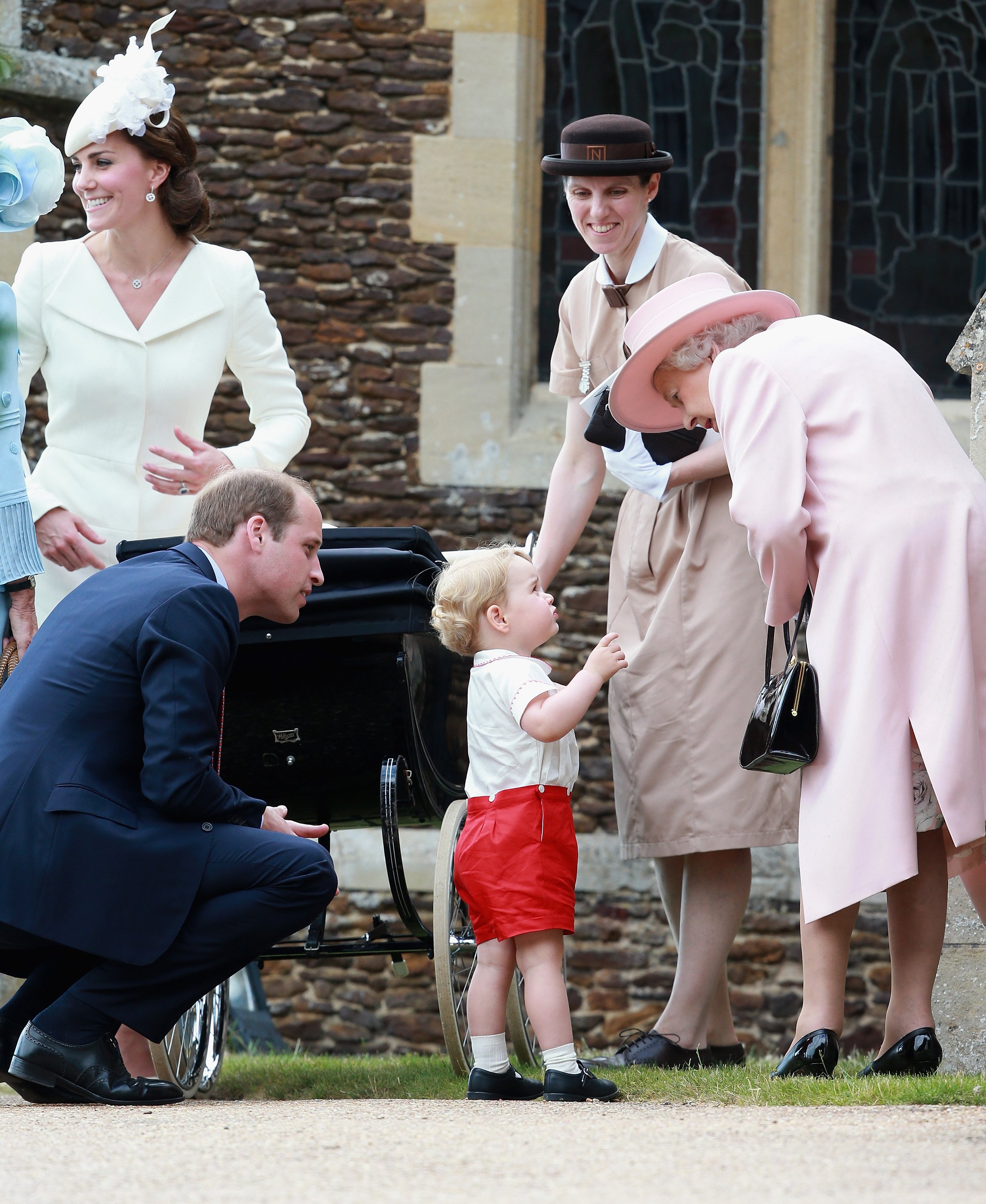 Queen Elizabeth II and Prince George of Cambridge stand on the balcony of Buckingham Palace following the Platinum Pageant on June 5, 2022 in London, England | Source: Getty Images
It was not only her family thinking of her at the time of her death; it was her country as well. "BBC News" reported that Liz Truss, Britain's new Prime Minister, tweeted that the country's thoughts and prayers were with the Queen.
Not long after her health scare was announced, the Queen passed away surrounded by her loved ones. Rest in peace to an icon.
Please fill in your e-mail so we can share with you our top stories!