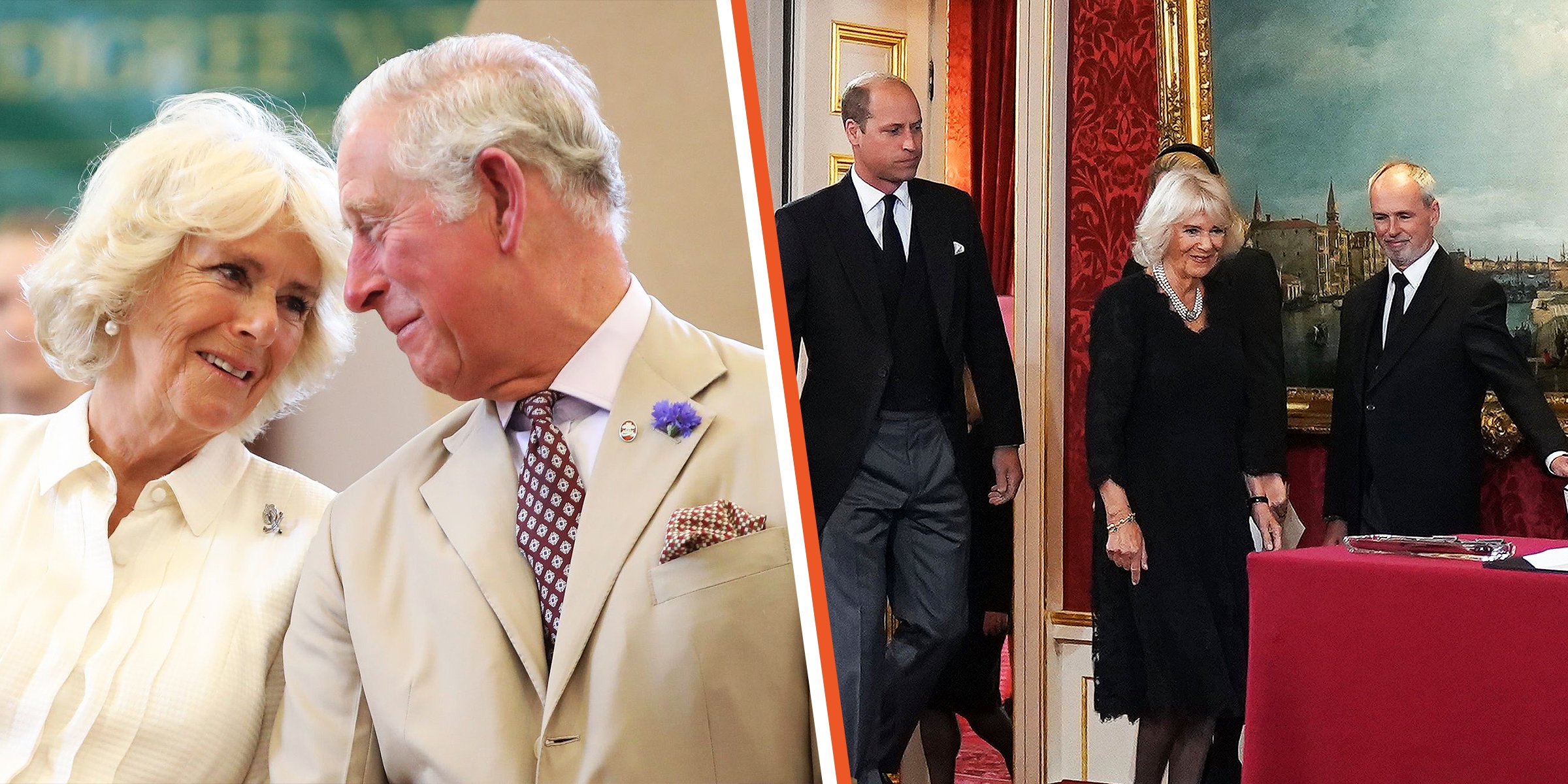 Camilla Queen Consort and King Charles III ┃Prince William and Camilla Queen Consort ┃Source: Getty Images
Prince William Offered Queen Consort Camilla Support When She Tripped Onstage After He 'Shouted' at King Charles

Prince William and his stepmother, Camilla, Queen Consort, seem to be on good terms following their interaction at King Charles' proclamation. The prince offered Camilla support when she almost fell on stage. However, their relationship was not cordial a few years ago.
Per Express, Prince Willam and Camilla, the Queen Consort, were queueing to read the proclamation declaration recognizing Charles III as the new King.
As Camilla walked up the stage, she had her foot stuck in the carpet and nearly fell forward. Luckily, her stepson noticed the sudden movement and instantly put his hands on her arm to prevent her from falling.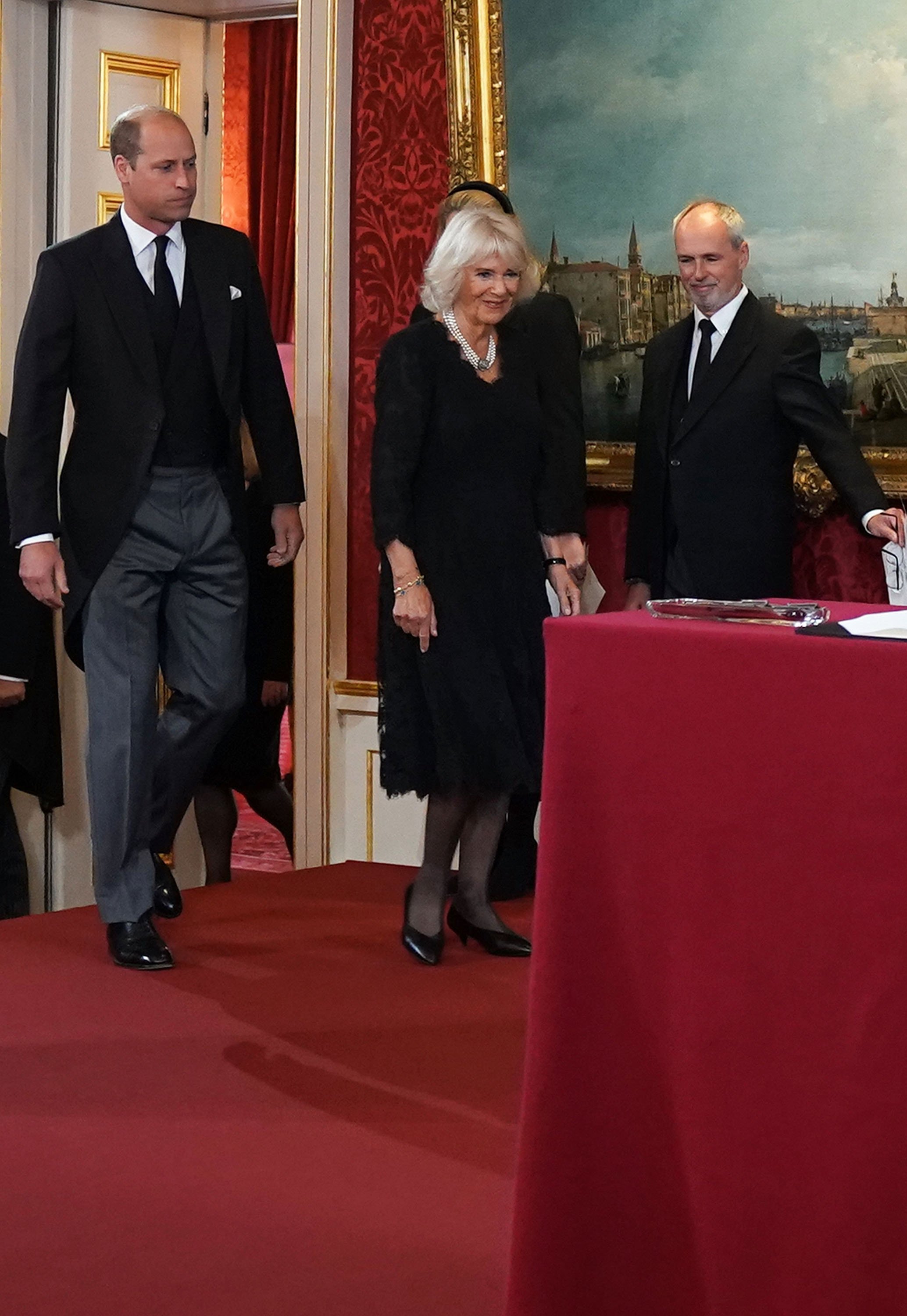 Prince William, Camilla, Queen Consort, arrive at the Throne Room during the Accession Council ceremony at St James's Palace for the proclamation of King Charles III on September 10, 2022 in London, United Kingdom ┃Source: Getty Images
He was the first to sign the proclamation declaration, followed by her. Six former prime ministers, politicians, and bishops shouted, "God Save The King," during the ceremony.
When Camilla and King Charles tied the knot, their relationship heavily affected his sons, Prince William and Prince Harry.
Camilla Queen Consort's Relationship with Prince William
The couple first went public with their relationship in the early 2000s – years after Princess Diana's death – but the royal brothers were not pictured with her until 2001.
A palace source revealed in the book "Prince William: Born to be King, by Penny Junor, that although Prince William and Camilla's relationship appears at best, it was not the case before because they found it difficult to co-exist:
"I think they found it hard. To be fair to Camilla, she never tried to be mommy, but she was the 'other woman, and she was there and taking daddy's time."
After Camilla married into the Royal Family in 2005, he got the shock of her life when she witnessed the young prince having a fit with his father. Per the Express, Robert Lacey discussed the incident in his 2020 book, "Battle of Brothers."
Lacey said that it was no secret that Prince Harry had a temper at times, but that side of Prince William was not well-known:
"Camilla has recounted to her own family and close friends her surprise at discovering this unexpected side to Prince Charming - 'the boy's got a temper!'"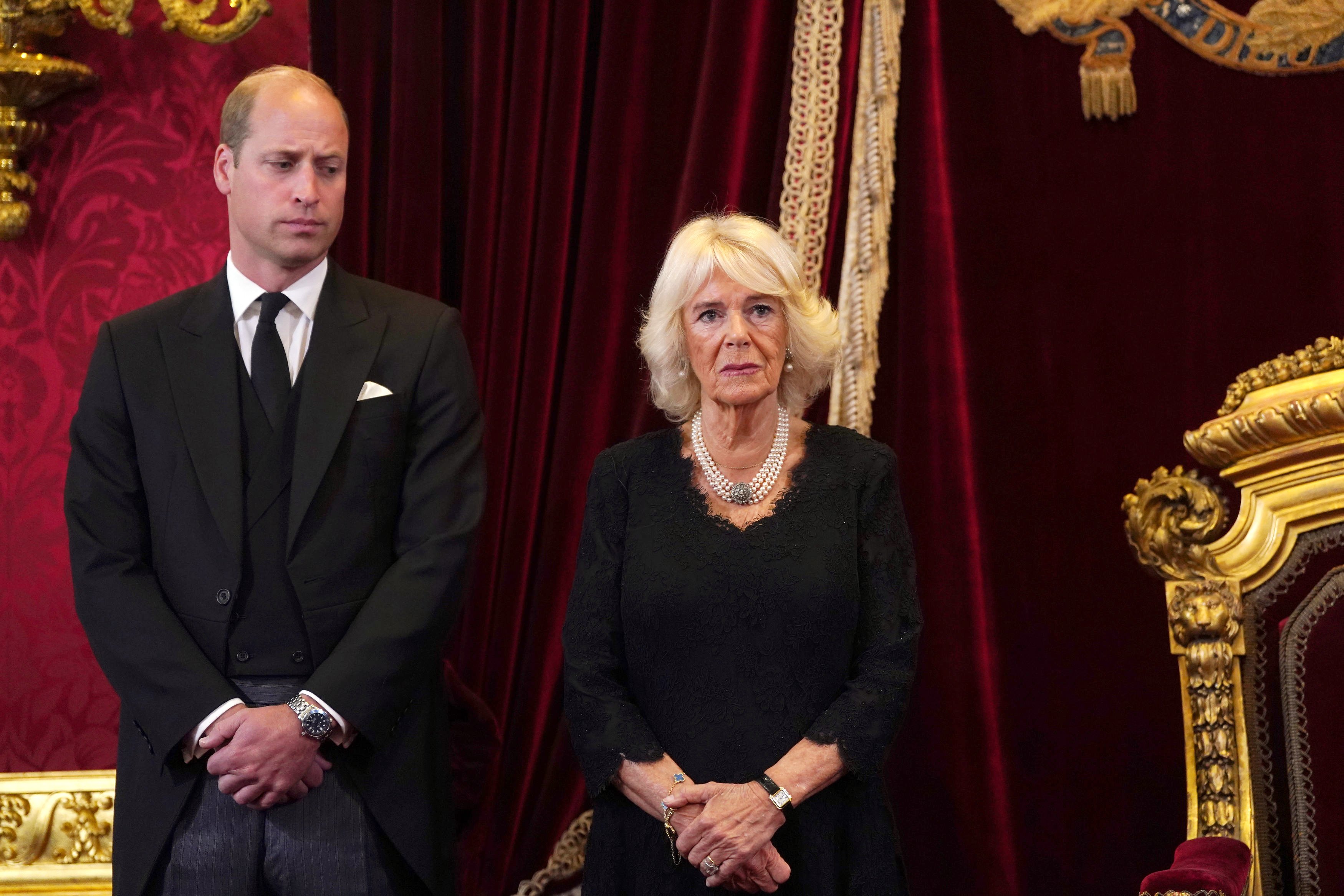 Prince William, and Camilla, Queen Consort during the accession council on September 10, 2022 in London, United Kingdom ┃Source: Getty Images
"Charles's wife had been horrified at the ranting and raving that on occasion William had unleashed against her husband in her presence," Lacey revealed.
He disclosed the rants from the young prince became worse, and his father gave in to them. Lacey added Prince William zeros in on his dad whenever he voices concerns. The father and son duo had an uneasy relationship back then.
However, today, the pair are said to have a much easy-going relationship that is "built on love, affection, and respect."
Camilla, Queen Consort and Prince William attend the Platinum Pageant on The Mall on June 5, 2022 in London, England ┃Source: Getty Images
The person responsible for the reconciliation is Prince William's wife, Kate Middleton. She helped ease communication and invited her father-in-law to spend more time with his grandkids, Prince George, Princess Charlotte, and Prince Louis.
The father and son nowadays share a passion for climate change, and the Prince of Wales once sang the King's praises for his commendable work in this area.
Prince William was also said to be "happy" after the late Queen Elizabeth gave Camilla her blessings to be Queen Consort once her son ascended the throne.
Although the prince played no part in the discussions for Camilla to be given the title, he was "respectful" of his grandmother's decision.
Queen Elizabeth Wished for Camilla to Be Queen Consort
Her Majesty expressed her wishes in a message marking the 70th anniversary of her reign, saying that it was her "sincere wish" she be granted the title once the time came.
The Queen was the first British monarch to celebrate a Platinum Jubilee after beginning her reign at age 25 following the passing of her father, George VI, in February 1962.
In a message written for the Britons, Her Majesty expressed immense gratitude to the nation for their unwavering support, loyalty, and continued affection they showed her.
Moreover, she noted special thanks to her beloved husband, Prince Philip, with whom she was married for 73 years. It was her first Platinum Jubilee without the Duke of Edinburgh, who passed away on April 9, 2021. Sadly, the Queen also died on September 8, 2022.
Please fill in your e-mail so we can share with you our top stories!