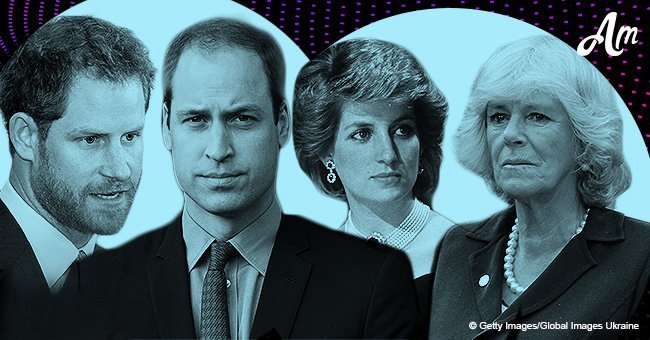 Prince William & Harry had a furious reaction to Camilla after Diana's death, new book reveals
The Duchess of Cornwall wasn't always adored by the Queen nor by the two Princes.
When Camilla Parker Bowles' secret affair with Prince Charles blew up, a lot of people were both shocked and devastated.
Of course, Princess Diana would have taken it the hardest, but the affair also took its toll on her two sons, Prince William and Prince Harry.
All Cute All The Time revealed that the two royal siblings were greatly affected by their father's infidelity.
The site claimed that after learning about the affair, Prince William and Prince Harry reportedly avoided Camilla, as well as their father, as much as they could.
It was then when they leaned on their mother the most for love and support.
A year after Prince Charles' divorce with Princess Diana had been finalized, the People's Princess tragically passed away.
By that time, Princess Diana's sons had grown to resent Camilla even more.
A recent autobiography about Prince Charles entitled Rebel Prince revealed that the two boys chose not to speak to Camilla and avoided her at all costs.
They supposedly refused to be in the same room as her. In fact, they would resort to passing through the servant's doors just so they can avoid Camilla.
Allegedly, when they were younger, Prince William and Prince Harry refused to let Camilla into their lives.
As for their grandmother, Queen Elizabeth, she also reportedly greatly avoided her new daughter-in-law. She refused to interact with Camilla back then.
The Queen did not even attend her own son's 50th birthday party because she knew that Camilla would be present during the celebration.
As what they say, only time can heal wounds. Eventually, they all have forgiven Camilla.
The Queen, Prince William, and Prince Harry have maintained a civil relationship with Camilla through the years.
Please fill in your e-mail so we can share with you our top stories!