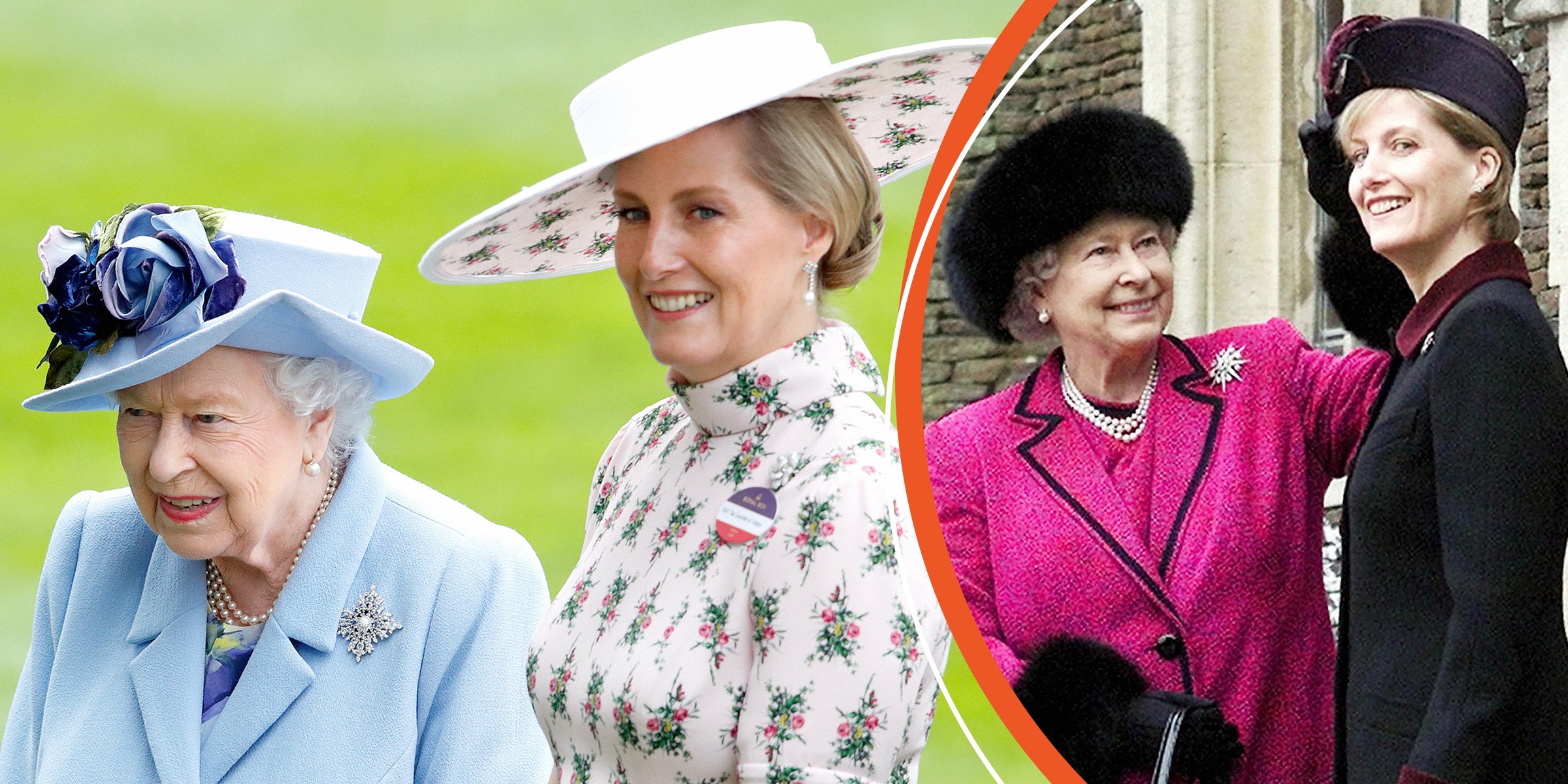 Queen Elizabeth II and Sophie, Countess of Wessex | Source: Getty Images
Sophie Wessex Is Girl from Middle-Class & Became 'Rock' & 'Favourite' Child of 'Mama' Queen Elizabeth II

The royal family may not always be totally united, but there are bonds within the family that are impenetrable. One such bond was between Queen Elizabeth II and the Countess of Wessex, the wife of the Queen's youngest son, Prince Edward.
The pair are reported to have been very close during Sophie's time in the royal family, even though she originally came from a middle-class background. They got along famously and offered one another support when they needed it.
On the day the Queen passed away, her family traveled to Balmoral Castle to be with her as she took her last breaths. While her children's and grandchildren's wives did not all attend, Sophie did.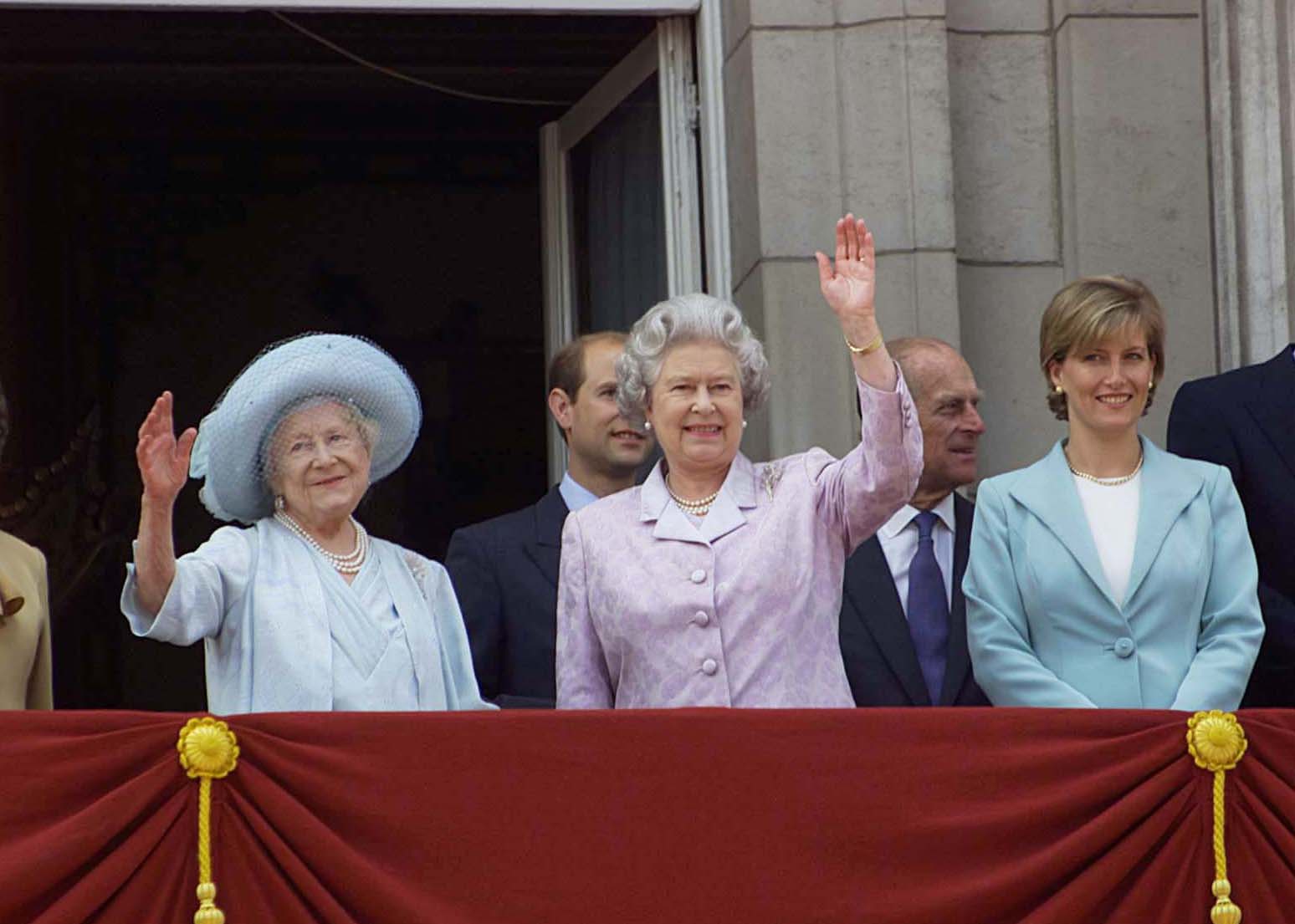 Britain's Queen Mother (L, blue hat & dress) celebrating her 100th birthday with daughter Queen Elizabeth II (C, in lavender), Prince Edward (C, obscured) w. wife Sophie, Countess of Wessex (R) in green & Prince Philip (2R) at Buckingham Palace. August 4, 2000 | Source: Getty Images
In recent years, "The Sunday Times" reports that Sophie has been dubbed "the Queen's favorite". The two became extraordinarily close in the past couple of years, and it has been reported that Sophie even traveled in the back seat of the Rolls Royce with the Queen to attend church.
Only two royal wives attended Balmoral on September 8 after Queen Elizabeth II was placed under medical supervision. Queen Consort Camilla was one, and Sophie was the other, reports "People". Reports, including one from "The Sunday Times", said that Sophie's face appeared "stricken".
Queen Elizabeth's coffin was transported from Balmoral to the Palace of Holyroodhouse at 11 a.m., reports "Express". As the coffin went into the palace, it was Sophie who placed a caring hand on Princess Anne's back.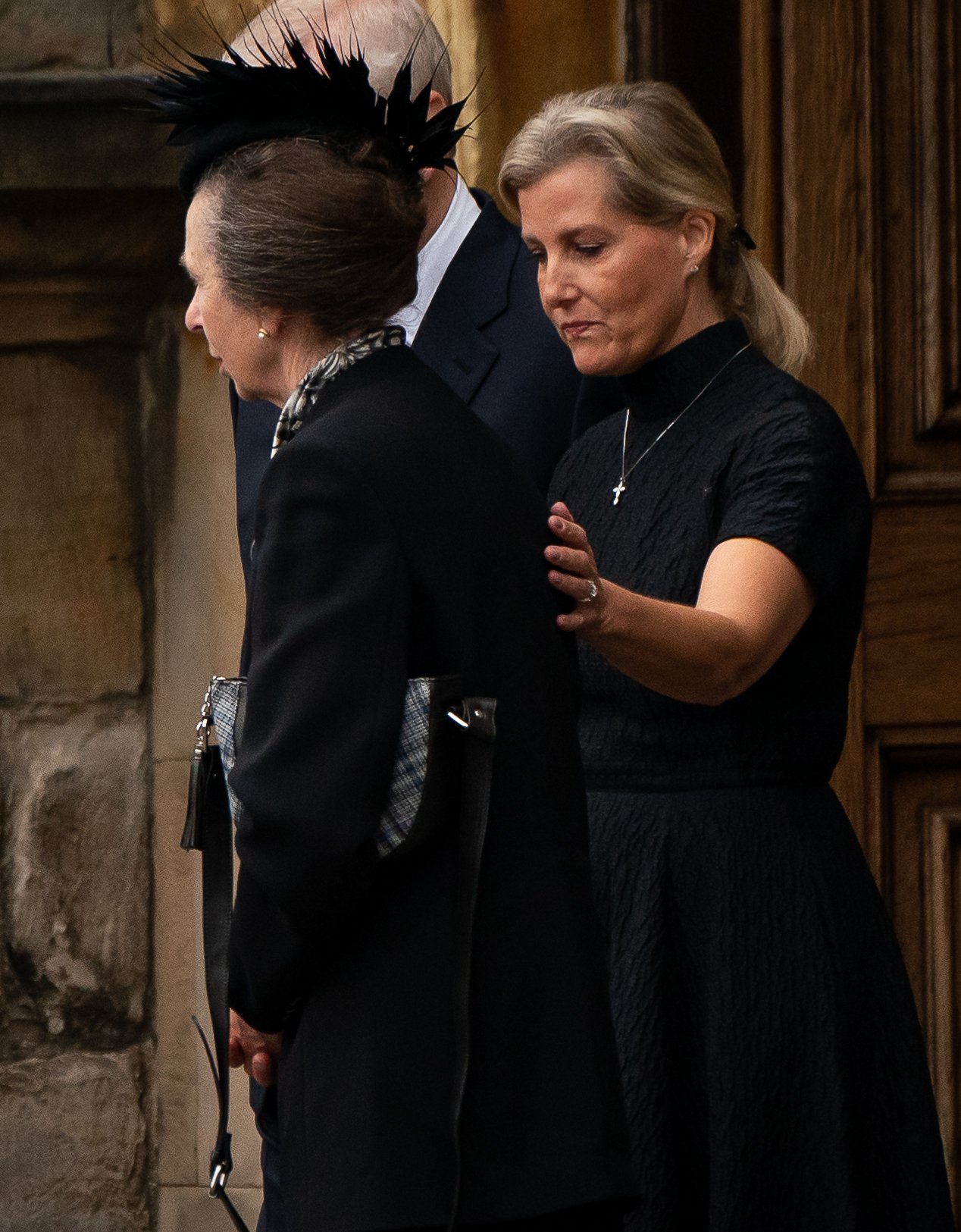 The Princess Royal is comforted by the Countess of Wessex as the coffin of Queen Elizabeth II, draped with the Royal Standard of Scotland, completes its journey from Balmoral to the Palace of Holyroodhouse in Edinburgh. Sunday September 11, 2022 | Source: Getty Images
Princess Anne reportedly drove with the coffin as it traveled through Aberdeen, Dundee, and Perth. She then stood at the gateway to the palace, where Sophie was the only one to offer her comfort.
Because Sophie became so close with the Queen and has seen Princess Anne through a difficult time, she earned a name for herself from the royal courtiers at Windsor Castle.
"The Sunday Times" reports that as the Queen aged and slowed down her schedule in recent years, she left royal duties to other more agile members of the royal family. Prince Andrew was cast out of the family because of his scandals and could not take enough responsibility.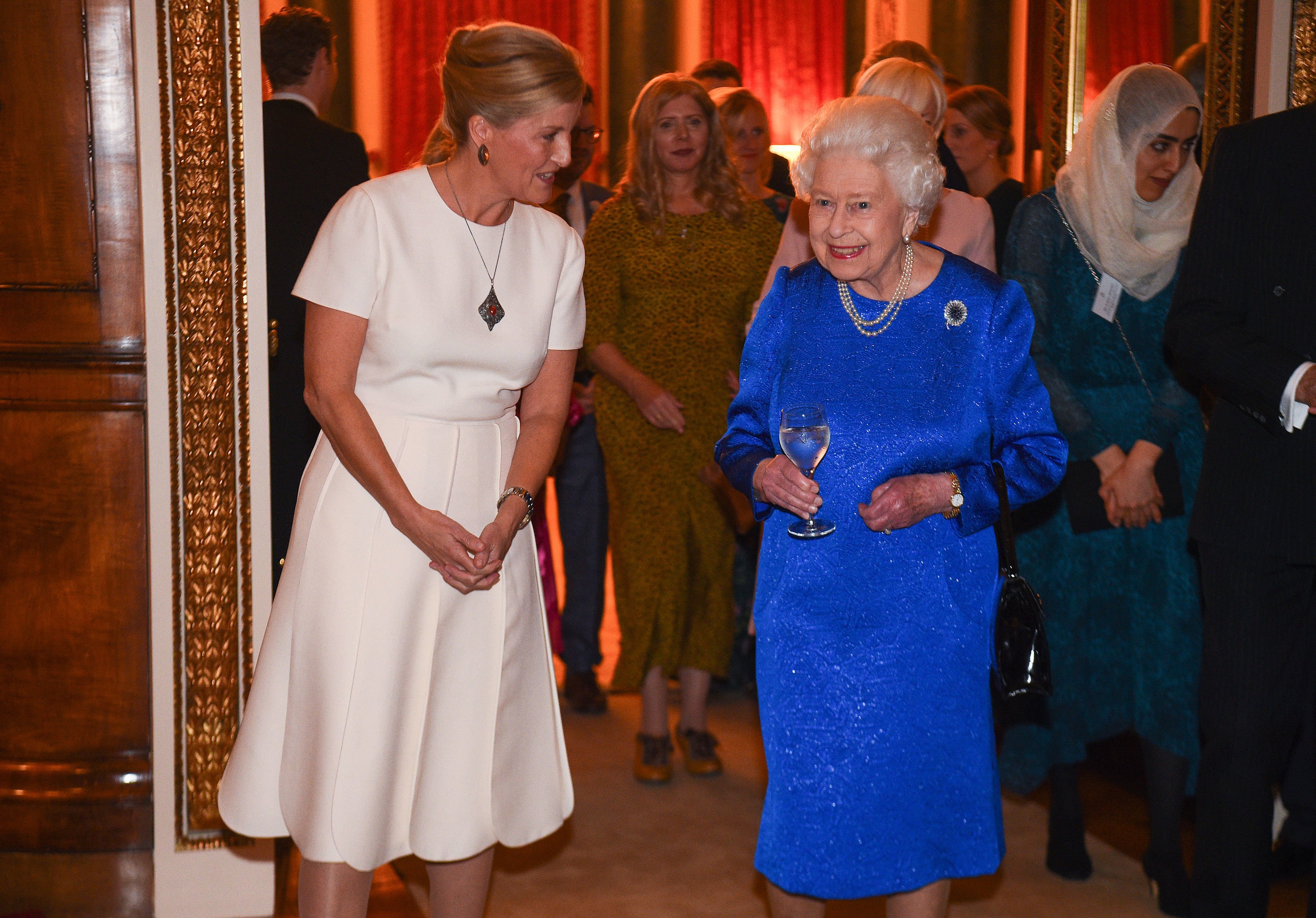 Queen Elizabeth II and Sophie, Countess of Wessex attend a reception to celebrate the work of the Queen Elizabeth Diamond Jubilee Trust at Buckingham Palace on October 29, 2019 in London, England | Source: Getty Images
Added to this was the fact that Harry and Meghan left The Firm entirely to move to California. However, royal courtiers mentioned that the royal family had a "secret weapon" in Sophie, who took a lot of responsibility.
The Countess of Wessex and The Queen Bonded
Christina Lamb, a "The Sunday Times" journalist, reported on her experiences when she spent time with Sophie in South Sudan. Lamb interviewed Sophie about many things, and one of the questions she asked was about her relationship with the Queen.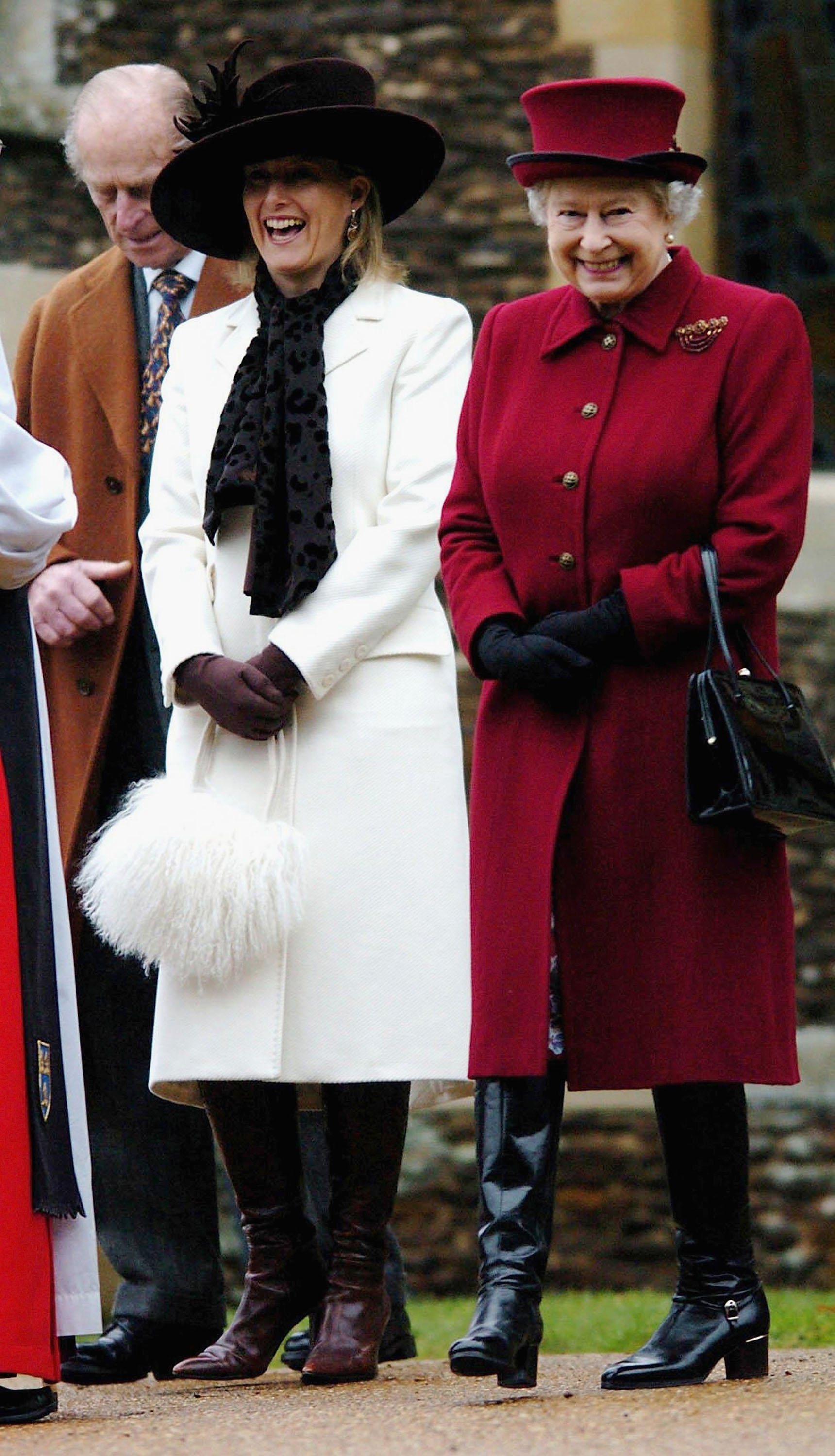 Queen Elizabeth II, smiles as she leaves St Mary Magdalene Church, alongside Sophie, Countess of Wessex and the Duke of Edinburgh on January 1, 2006, at Sandringham, England | Source: Getty Images
After the pair spent time in the wartorn country, Lamb spoke to Sophie about the royal family. She revealed:
"We'd had a tough day visiting survivors of harrowing attacks in a hot, smelly, and overcrowded camp, but her face lit up when I asked her about the Queen".
Lamb said that Sophie spoke fondly of the Queen and explained that they had bonded over a shared interest in military history. Sophie also mentioned to Lamb that the Queen was always excited to hear about the places Sophie had visited when she returned to the UK.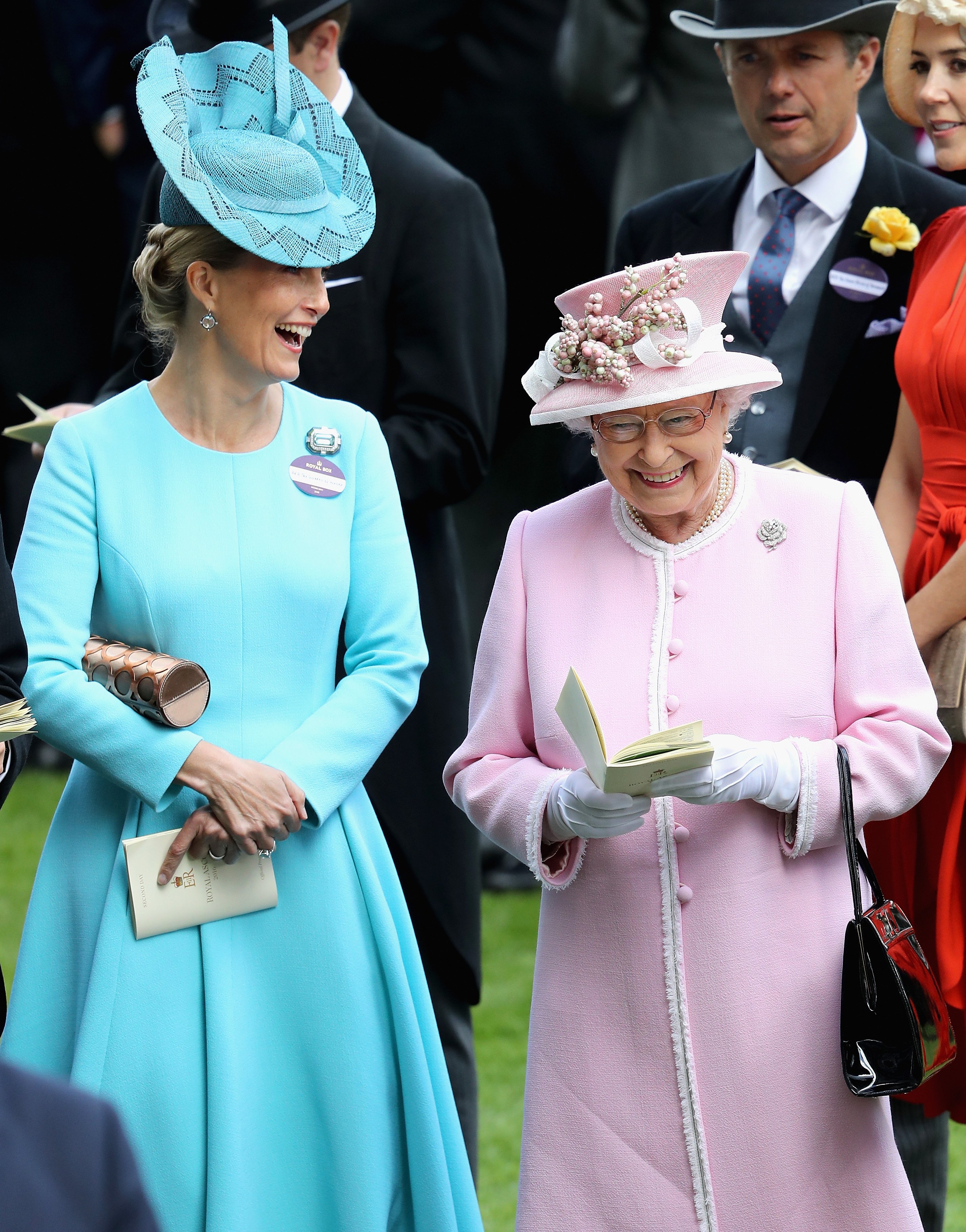 Queen Elizabeth II and Sophie, Countess of Wessex attend the second day of Royal Ascot at Ascot Racecourse on June 15, 2016 in Ascot, England | Source: Getty Images
The pair were so close that Sophie even called her "Mama", as Lamb claims in her article where she references a 2019 speech made by Sophie. She also asked Sophie what she thought the royal family's role was in the 21st century.
Sophie invited Lamb to Bagshot for tea when they returned from South Sudan, and while Lamb was there, Sophie addressed the question, answering:
"I would hope the consistency of us being there, the Queen being such an amazing monarch as she has been for so long, I hope we can carry on being able to do the same".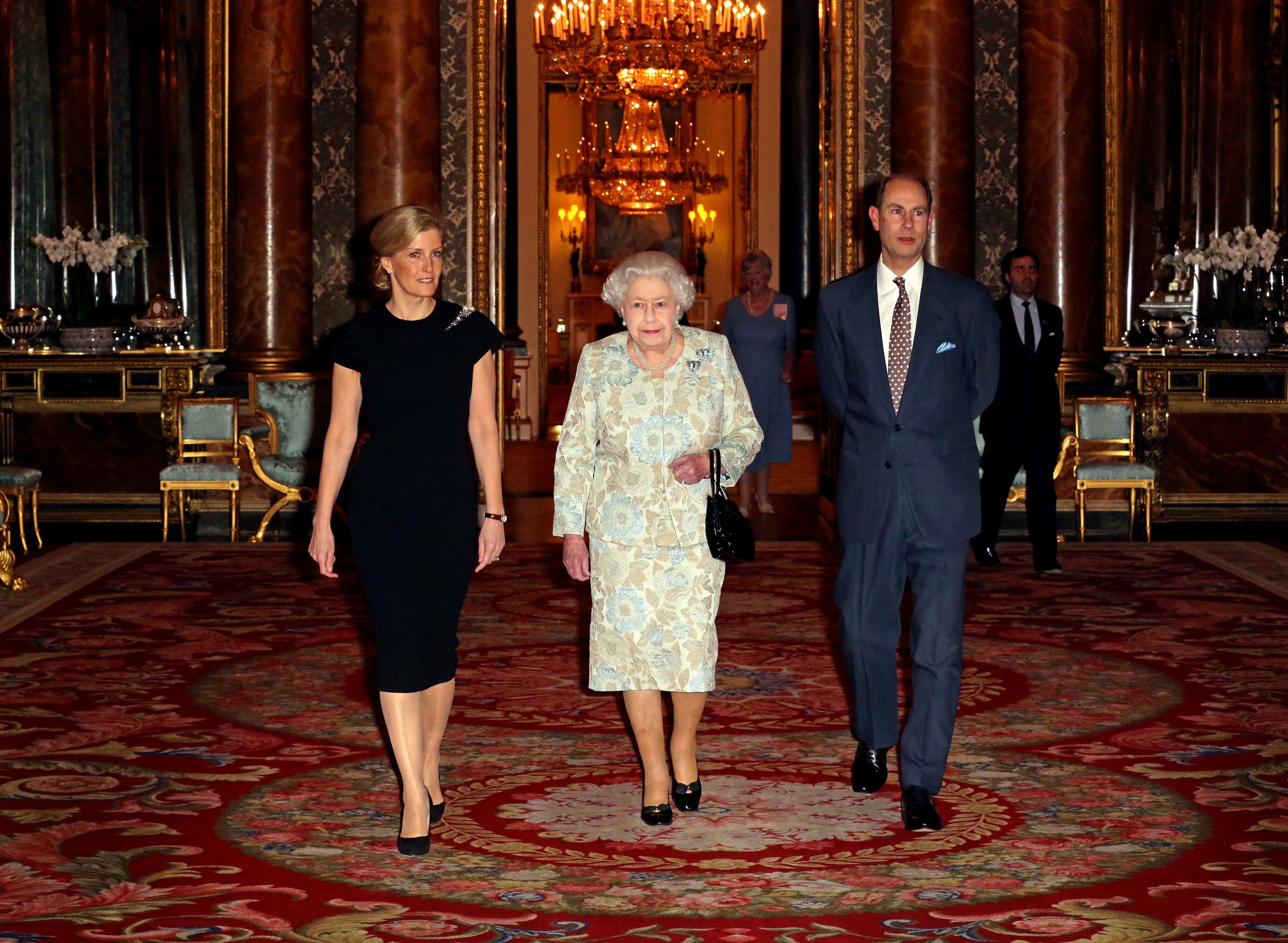 Queen Elizabeth II (R) with Sophie, Countess of Wessex (L) and Prince Edward, Earl of Wessex during her reception to celebrate the patronages & affiliations of the Earl and Countess of Wessex at Buckingham Palace on February 10, 2015 in London, England | Source: Getty Images
Although Sophie and the Queen had always been close, it was only when Prince Philip passed away that the pair became more closely bonded. Lamb reported that Sophie was the first to talk about his death publicly, showing that the Queen trusted her.
In an interview that Sophie did with "The Telegraph" in June 2021, she openly wept as she talked about how hard it was for her to lose her father-in-law. She even compared it to losing her own mother.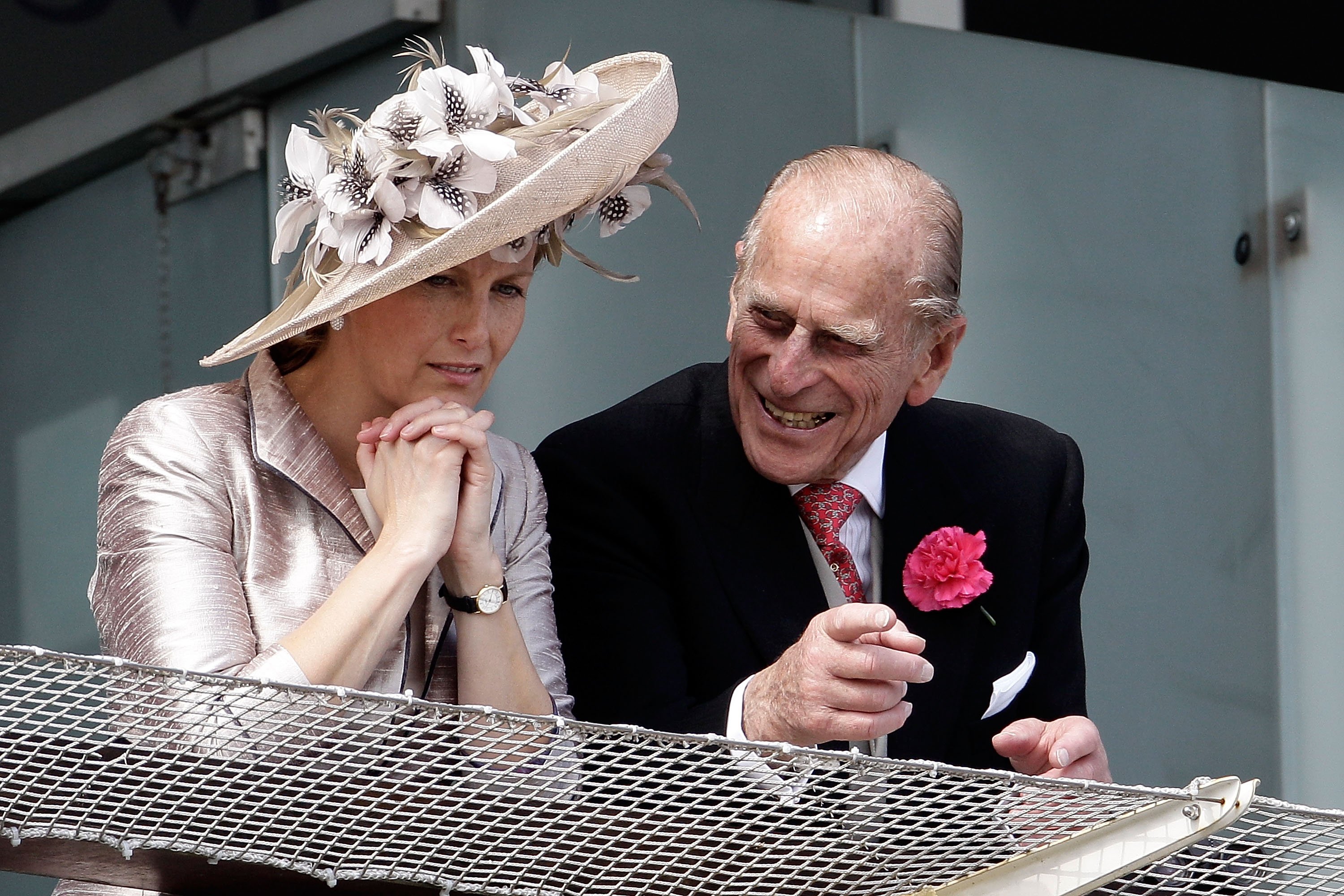 Prince Philip, Duke of Edinburgh and Sophie Rhys-Jones, Countess of Wessex wait for the start of the Epsom Derby at Epsom Downs racecourse on June 4, 2011 in Epsom, England | Source: Getty Images
Speaking to "The Telegraph", just after Prince Philip passed away, a source clarified the relationship between Sophie and the Queen, saying:
"Their bond is very like mother and daughter, and the feeling of love and respect is quite mutual. It is very special".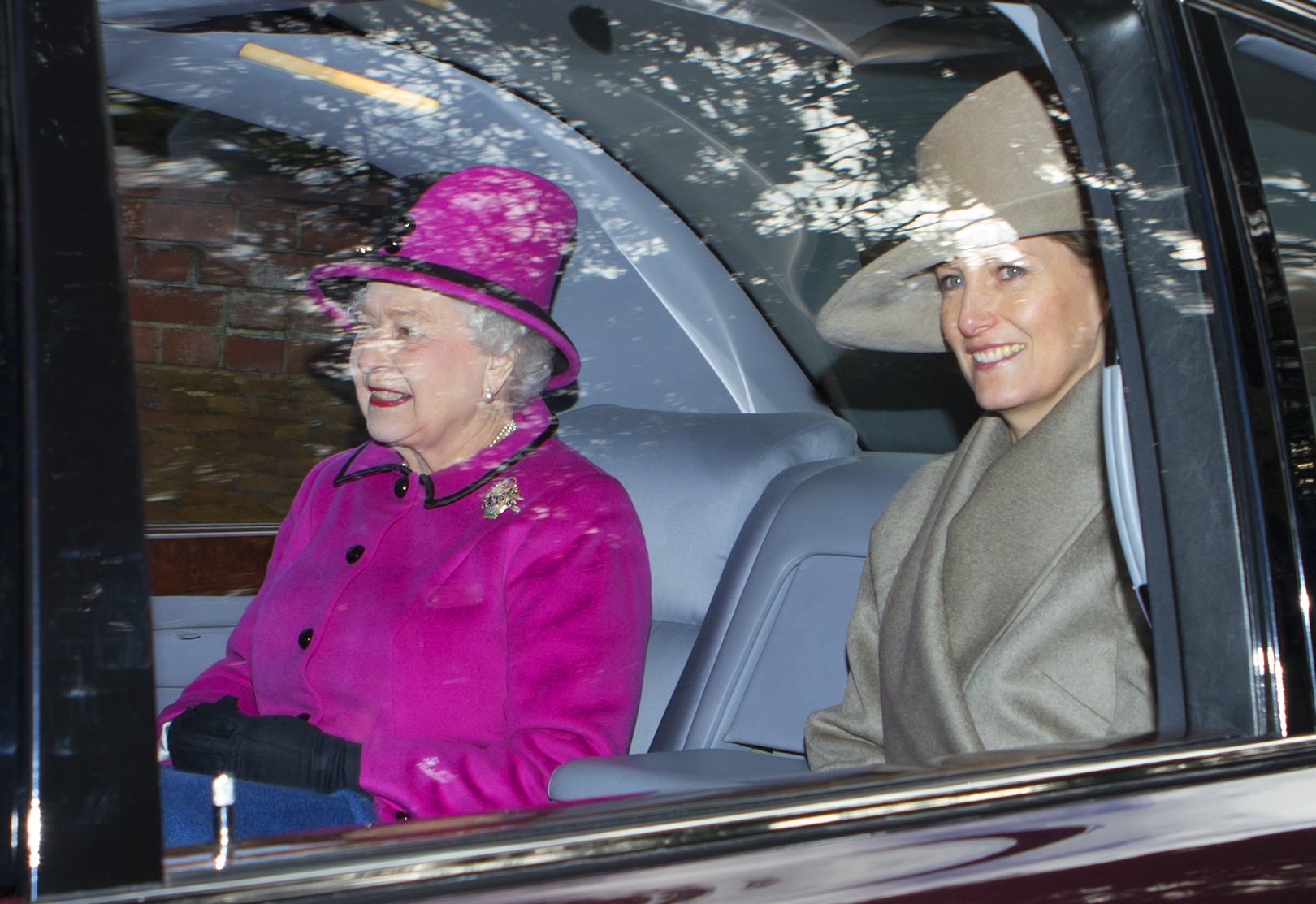 Queen Elizabeth II and Sophie,Countess of Wessex leave St. Mary Magdalene Church, Sandringham in Queen Elizabeth's Bentley car after attending Sunday service on December 30, 2012 near King's Lynn, England | Source: Getty Images
In her article, Lamb claimed that Sophie became the Queen's "rock" after some pandemic restrictions were lifted and Prince Philip passed away. Sophie would go for regular walks with the Queen to support her.
Sophie Had To Get Used To Being A Royal
Sophie and Prince Edward were not always full-time royals. Prince Edward had a production company, and Sophie managed a PR firm. However, they ran into trouble a few times, reports Lamb, and decided to give up their work to become full-time royals.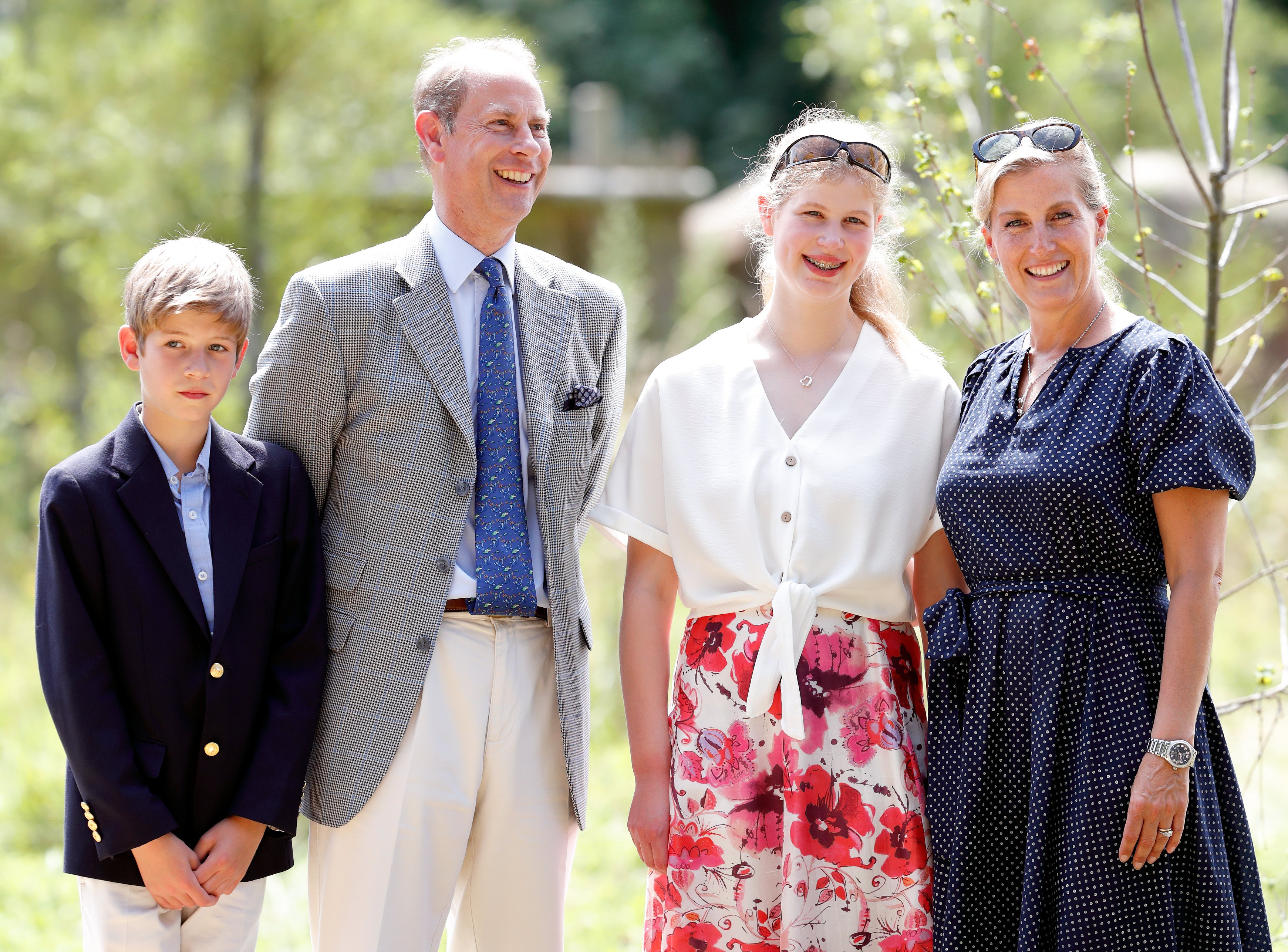 James, Viscount Severn, Prince Edward, Earl of Wessex, Lady Louise Windsor and Sophie, Countess of Wessex visit The Wild Place Project at Bristol Zoo on July 23, 2019 in Bristol, England | Source: Getty Images
However, Lamb claimed that Sophie admitted she found royal life difficult initially because she was used to living a middle-class life and was not used to the royal duties she was expected to carry out.
Sophie told Lamb that under the Queen's guidance, she learned how to manage her royal duties and was grateful to have met the people she had while working as a full-time royal. Lamb said Sophie admitted:
"Certainly, I missed it [her career] to begin with. Certainly, it took me a while to find my feet".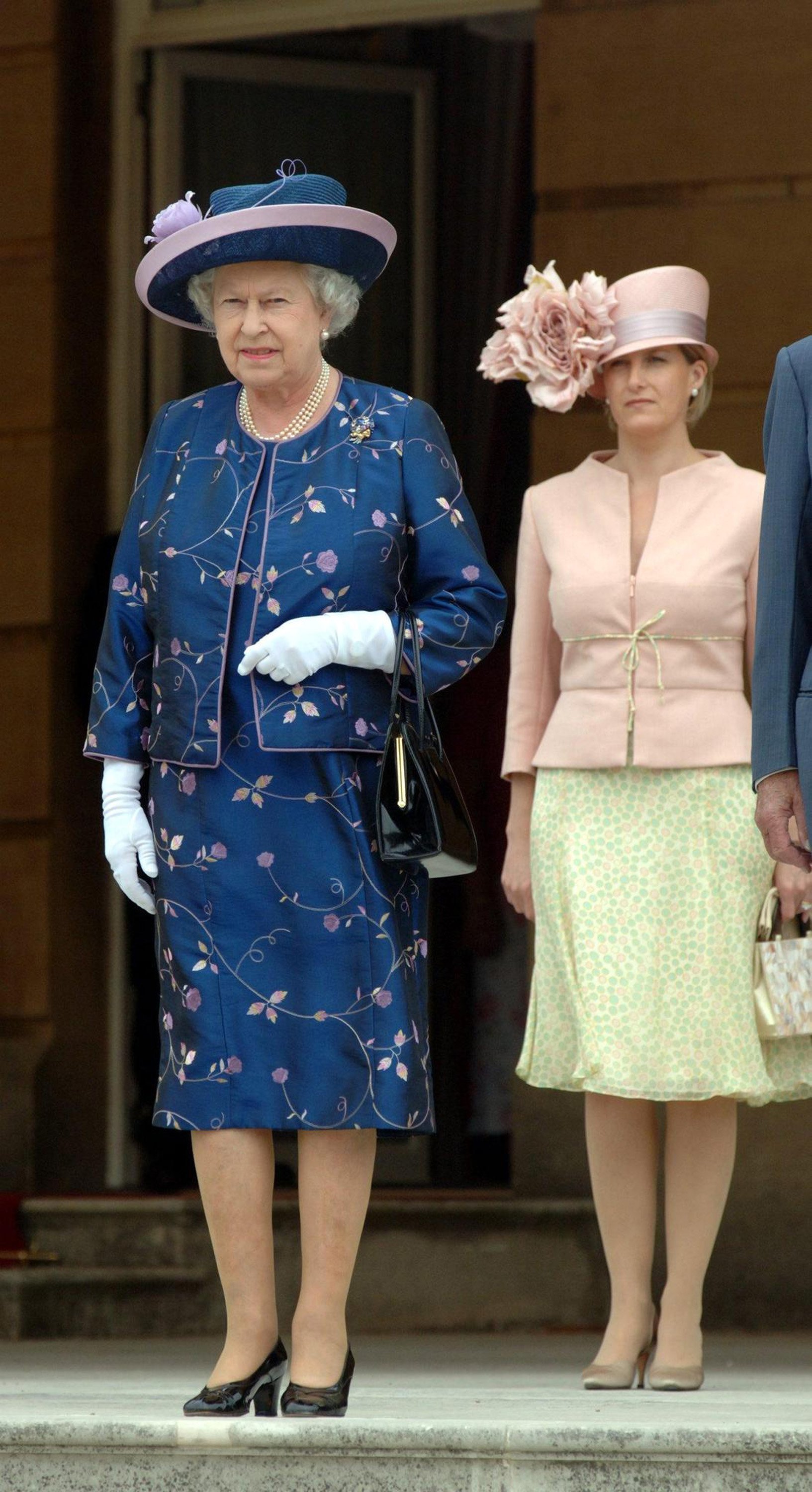 Queen Elizabeth ll and Sophie, Countess of Wessex attend a Royal garden party to celebrate the 50th anniversary of the Duke of Edinburgh's Award scheme on July 13, 2006 | Source: Getty Images
Lamb also claimed that Sophie and the two children she shares with Prince Edward regularly visited the Queen at Windsor while the children were growing up, which further solidified the bond between the Queen and Sophie.
"Mirror"
said
that Sophie and Prince Edward's titles are meant to change, and they will likely assume the Dukedom of Edinburgh that King Charles gave up when he took the throne. However, there has been no change yet.
Please fill in your e-mail so we can share with you our top stories!