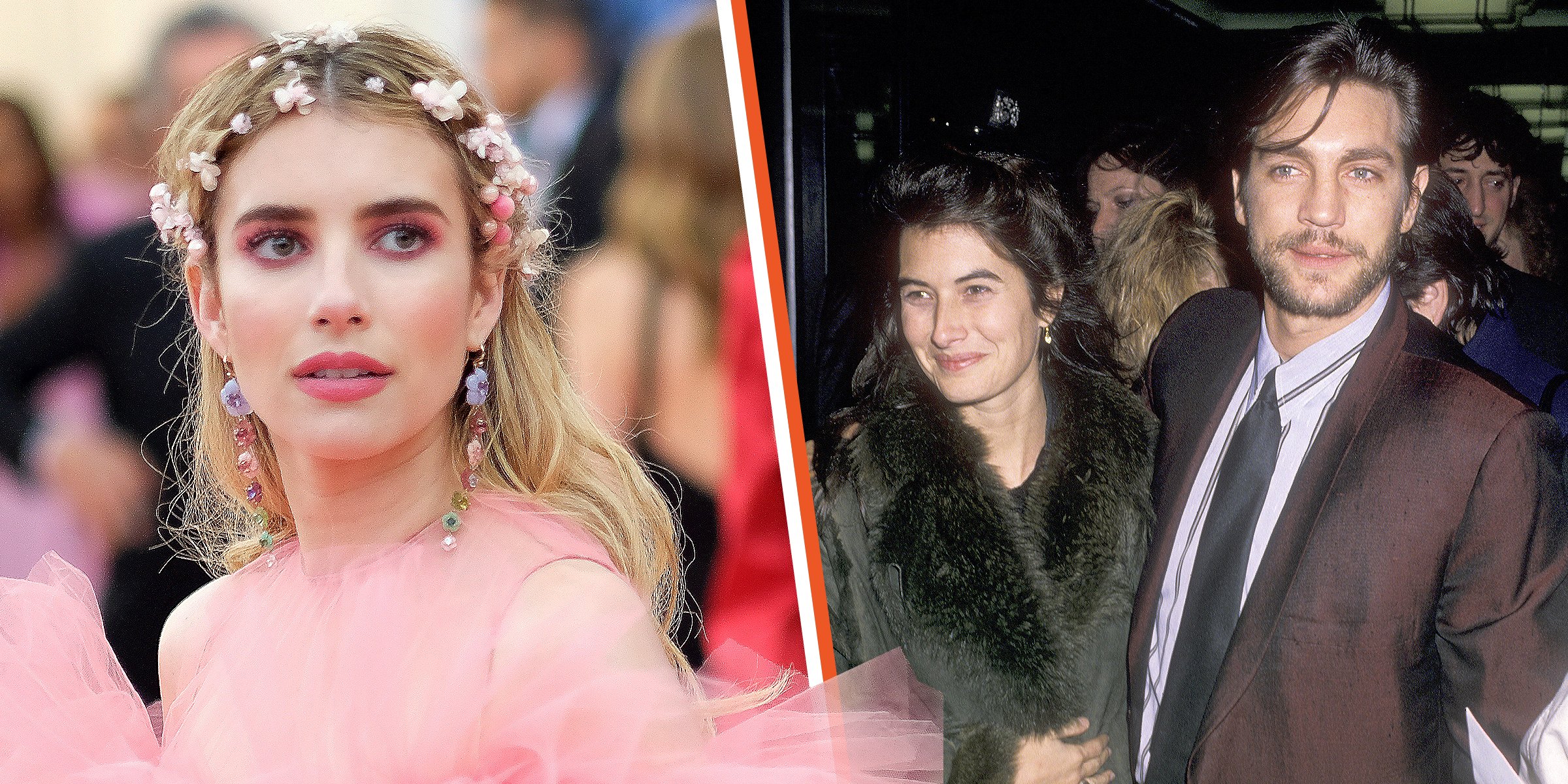 Emma Roberts / Eric Roberts and Kelly Cunningham | Source: Getty Images
Emma Roberts' Parents Separated Shortly after Her Birth - More about Her Mother Kelly and Father Robert

Emma Roberts' parents, Eric Roberts and Kelly Cunningham, separated shortly after welcoming their first and only child together. They were involved in a custody battle, which ended with Cunningham taking Emma under her care. As of writing, Emma is still not close to her father.
Flashing lights and prying eyes are things within Emma Roberts' normal days, coming from a celebrity-filled family and as a child actress.
Her parents, Eric Roberts and Kelly Cunningham were public figures thanks to Eric's job in the entertainment industry.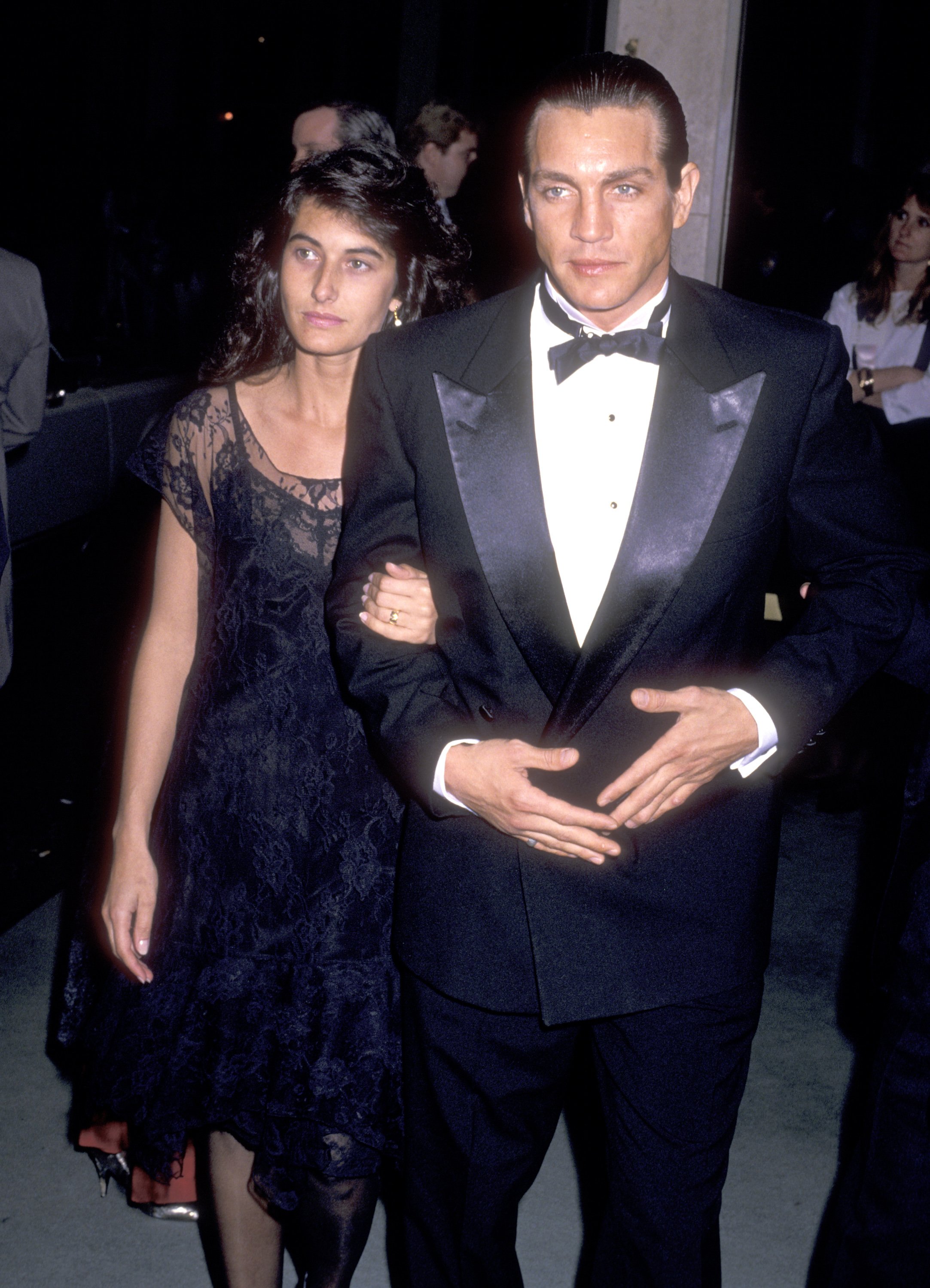 Eric Roberts and Kelly Cunningham during the 46th Annual Golden Globe Awards on January 28, 1989 at Beverly Hilton Hotel in Beverly Hills, California. | Source: Getty Images
Emma's aunt is also A-lister Julia Roberts, who starred in several blockbuster films and influenced the young Roberts' career, auditioning since she was eight years old. The "Unfabulous" star grew up in the public eye with her environment.
Emma's Parents Were Never Married
Although never married, Eric and Cunningham separated when Emma was only an infant. They welcomed her on February 10, 1991, in Rhinebeck, New York, and split shortly after.
The couple became legal enemies from being live-in partners in an ugly custody battle. Surprisingly, Eric's sister, Julia, was against his custody of Emma. She even funded Cunningham's lawyers, who fought to have Emma under her mother's care.
Years later, Eric revealed that he struggled with drug addiction in the past, which was why his sister did not support him in having Emma during the custody battle.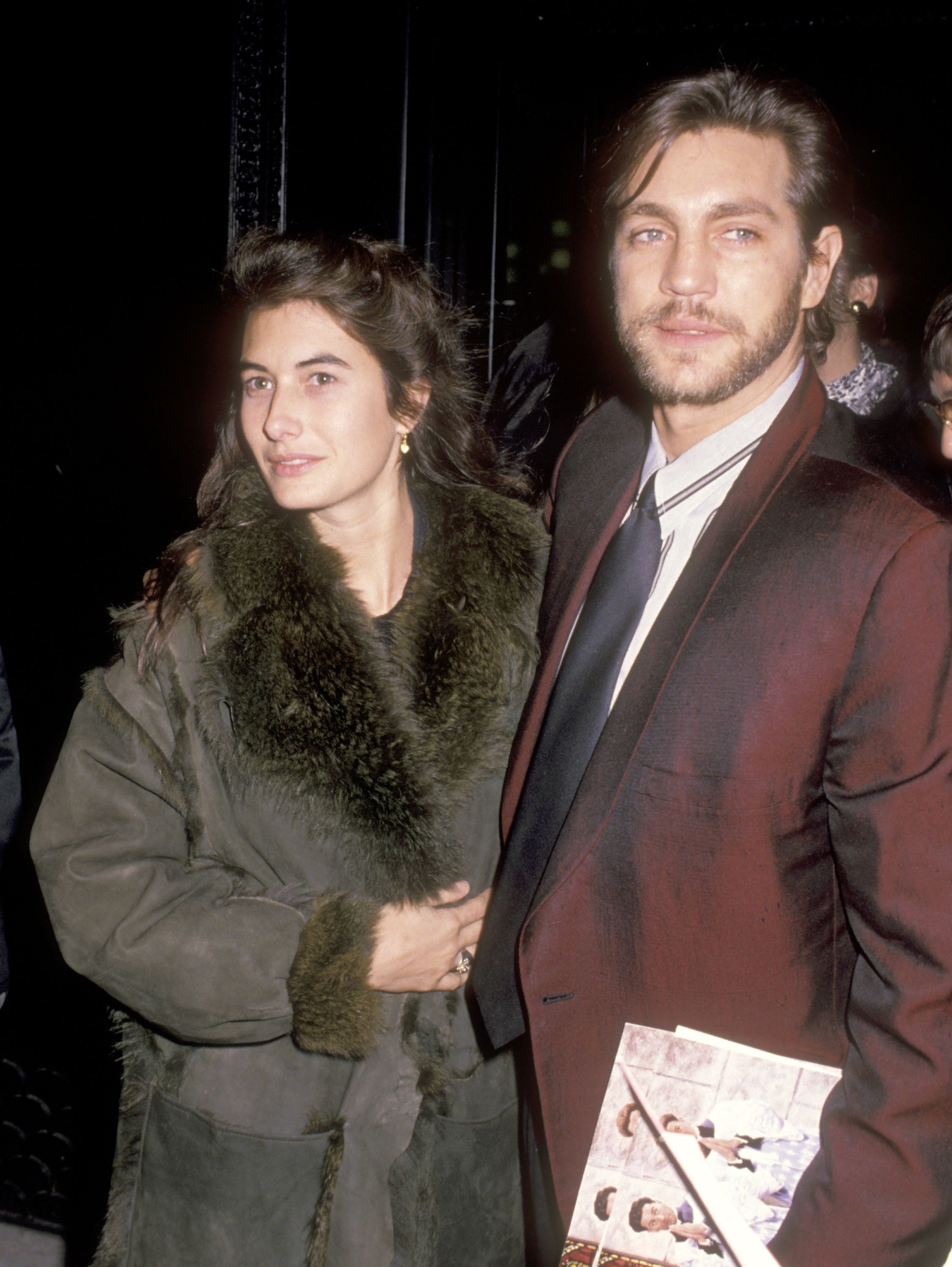 Eric Roberts and Kelly Cunningham during the 'We're No Angels' New York City Premiere on December 13, 1989, at Loews 19th Street Theater in New York City, New York. | Source: Getty Images
"The hardest person to protect yourself from is yourself", he said, as reported by The Things. "I was exhausted to be around. Company, blamey, unable to enjoy enjoyment. Everyone in my world needed a break sometimes, and that must have included Julia".
After Emma's parents separated, she ended up under her mother's wing and spent most of her growing years in Los Angeles. The actress isn't on the best terms with her father, but she has had constant love and support from her mother.
"People are very split on whether children should act, but it was my passion," Emma said. "My mom recognized that which I admire because I'm sure she took judgment from some people".
Emma's Father Is a Famous Actor
Emma followed in her father's footsteps as an actor. Eric is famous in the entertainment industry and has been recognized for his on-screen work. He had an Academy Award and Golden Globe nomination for his performance in "Runaway Train" and two more Golen Globes for "King of Gypsies" and "Star 80".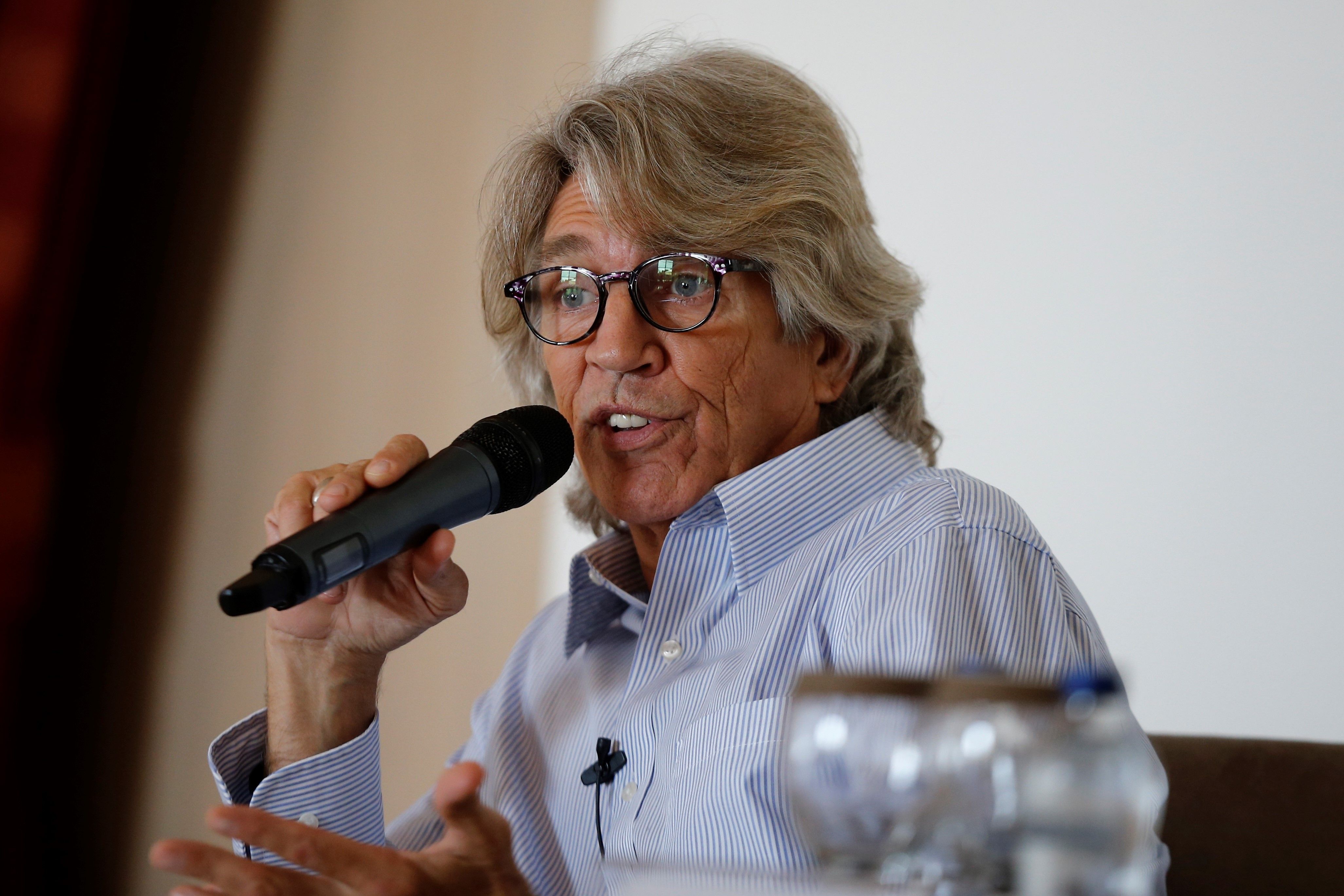 Eric Roberts during the 55th Antalya International Film Festival in Antalya, Turkey on October 05, 2018. | Source: Getty Images
Sadly, despite his success as an actor, Eric did not triumph as a father to Emma, with whom he does not have a good relationship. According to Emma, they are not close.
After calling it quits with Emma's mother, Eric married Eliza Roberts on August 16, 1992. Although they did not have their own children, he became a stepdad to Keaton and Morgan Simons, his wife's children from a previous marriage. Emma remains his only biological child.
Emma Roberts' Mom Has Been Supporting Her All Her Life
Emma's mother, a former teacher, has significantly influenced her daughter's life, especially now that the "Wild Child" star is a mom. "My mom makes being a mom so easy and joyful, and I thought, 'I want that'", she said.
The "American Horror Story" star even credits the "Runaway Bride" for inspiring her to become an actress.
Before Emma got a chance to tell the world about her pregnancy, her mom had a slip-up that leaked the news. The "American Horror Story" star revealed that she got her mom an iPhone for Mother's Day after years of using a flip phone.
All was well until Cunningham joined Instagram and responded to a fan's Instagram comment, asking if Emma's pregnancy was true, which she confirmed. Emma said:
"It was a disaster, and I found out on a plane, so I couldn't get to her. Like, I couldn't call her or attack her. I could just iMessage her and DM her and ask her to please stop".
Emma ended up blocking her mom after a series of back-and-forth messages. "She texted me at 2 a.m., 'Queen, did you block me? Sad face'. I was like, 'Yes, I did block you'. Then I unblocked her", Emma said. "It's been an Instagram war with my mother that I never saw coming".
Cunningham has been by Emma's side since she gave birth to Rhodes. She remains present in her grandson's life and takes care of him so the actress can continue filming for "About Fate".
Apart from being a new mother, Emma is also an older sister. When her mom remarried Kelly Nickels, a bass guitar player featured on several albums, they welcomed a daughter, Grace Nickels.
She often features her two precious girls, Emma and Grace, on her Instagram profile, constantly sharing photos of them. Emma also has her fair share of posts about Cunningham. She once said on Instagram:
"I'm the luckiest that you were born today #lucky13 so cute that you always would let me blow out the candles on your cake. You are the best mom and the most amazing Grandma to Rodeo here's to the next adventure!"
Emma Roberts Became an Actress Thanks to Her Aunt Julia
Emma is also on good terms with Julia, who she has a close relationship with and looks up to when it comes to acting. The "American Horror Story" star even credits the "Runaway Bride" for inspiring her to become an actress.
As a child, Emma would be on the set of her aunt's films and "hide in her [Julia's] makeup trailer". At a young age, Emma would audition for roles. Then in 2001, she landed her first part in the movie "Blow". She was ten at that time.
It wouldn't take too long before she landed her breakthrough role in Nickelodeon's "Unfabulous", which made her famous amongst kids and teenagers. She also starred in "Wild Child" and "American Horror Story".
Although some people believe Emma is in business because of her family, she says otherwise. According to the star, it has been her passion to act since she was a child.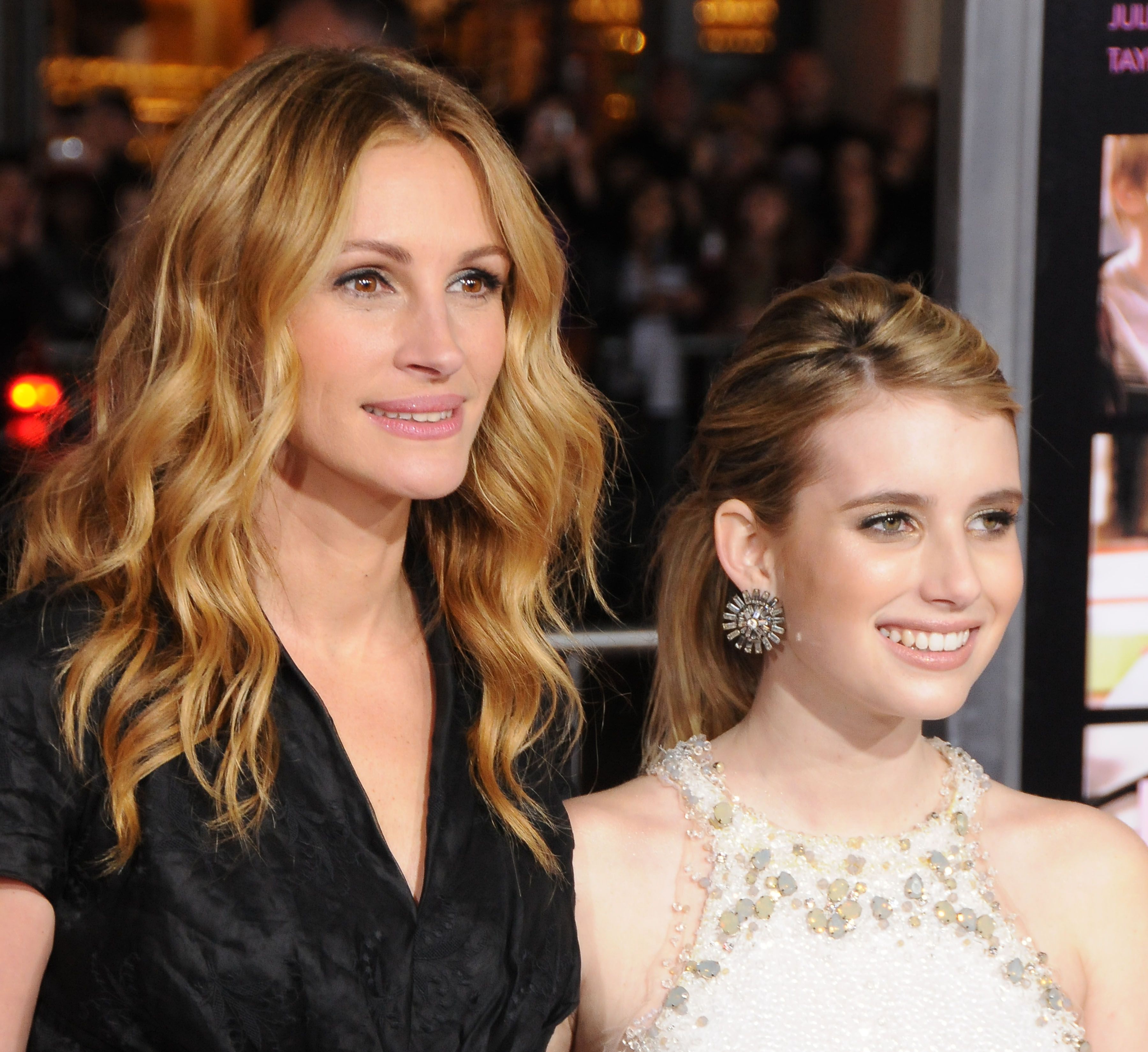 Julia Roberts and Emma Roberts during the "Valentine's Day" Los Angeles Premiere at the Grauman's Chinese Theater on February 8, 2010 in Hollywood, California. | Source: Getty Images
In her late 20s, the actress discovered that the condition affected her fertility.
"There have been a lot of parts I've been up for that I haven't gotten. I don't get everything handed to me like some people think. I mean, people say, 'Oh, do you feel like you're living in Julia's shadow?' I don't at all", she said.
Emma has been trying to make a name for herself in the industry and has succeeded with hard work and talent. Her aunt was but an inspiration for her to achieve all that she has.
In 2021, Roberts turned 30 and celebrated her life and successes. Apart from her career wins, she also celebrated becoming a mother to her son, Rhodes Roberts Hedlund, who she shares with Garret Hedlund.
However, her journey to motherhood wasn't always incredible. Admittedly, Emma Roberts had always been scared of infertility after her endometriosis diagnosis as a teenager. In her late 20s, the actress discovered that the condition affected her fertility.
Her doctors even recommended that she freeze her eggs. Things changed when she got pregnant – suddenly, fertility was no longer an issue.
Her life has come full circle with the newest addition to her family. She also remains strong, knowing that others suffer from the same medical illness, and knows that the probabilities of things change every day.
Please fill in your e-mail so we can share with you our top stories!