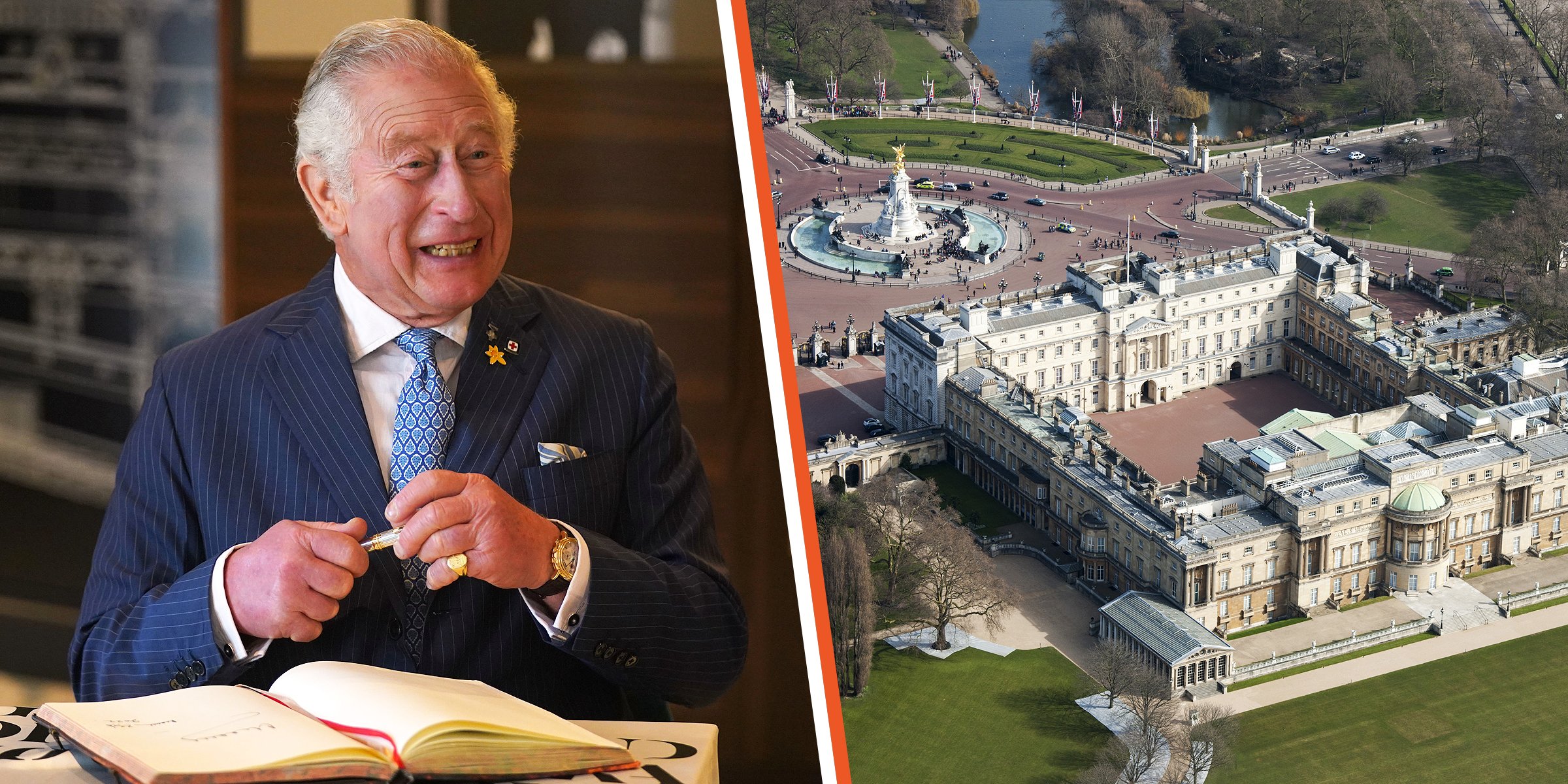 King Charles III | Buckingham Palace | Source: Getty Images
King Charles Loses Cool While Signing Papers — Tens of People Could Be Fired as He Moves to Buckingham Palace

"Oh God, I hate this." King Charles lost his temper when signing the visitors' book.

He's quick to anger, but he's kind," an expert claims.

100 people may lose their jobs as King Charles takes over the throne.
Once again, Britain's new monarch, King Charles III, has made headlines following an overwhelming moment before putting his signature on a document. Moreover, the monarch is said to let go of former royal staff who worked for his now-late mother, Queen Elizabeth II.
Per The Guardian, King Charles III has been taped expressing frustration on camera during a ceremony twice in four days while in Northern Ireland.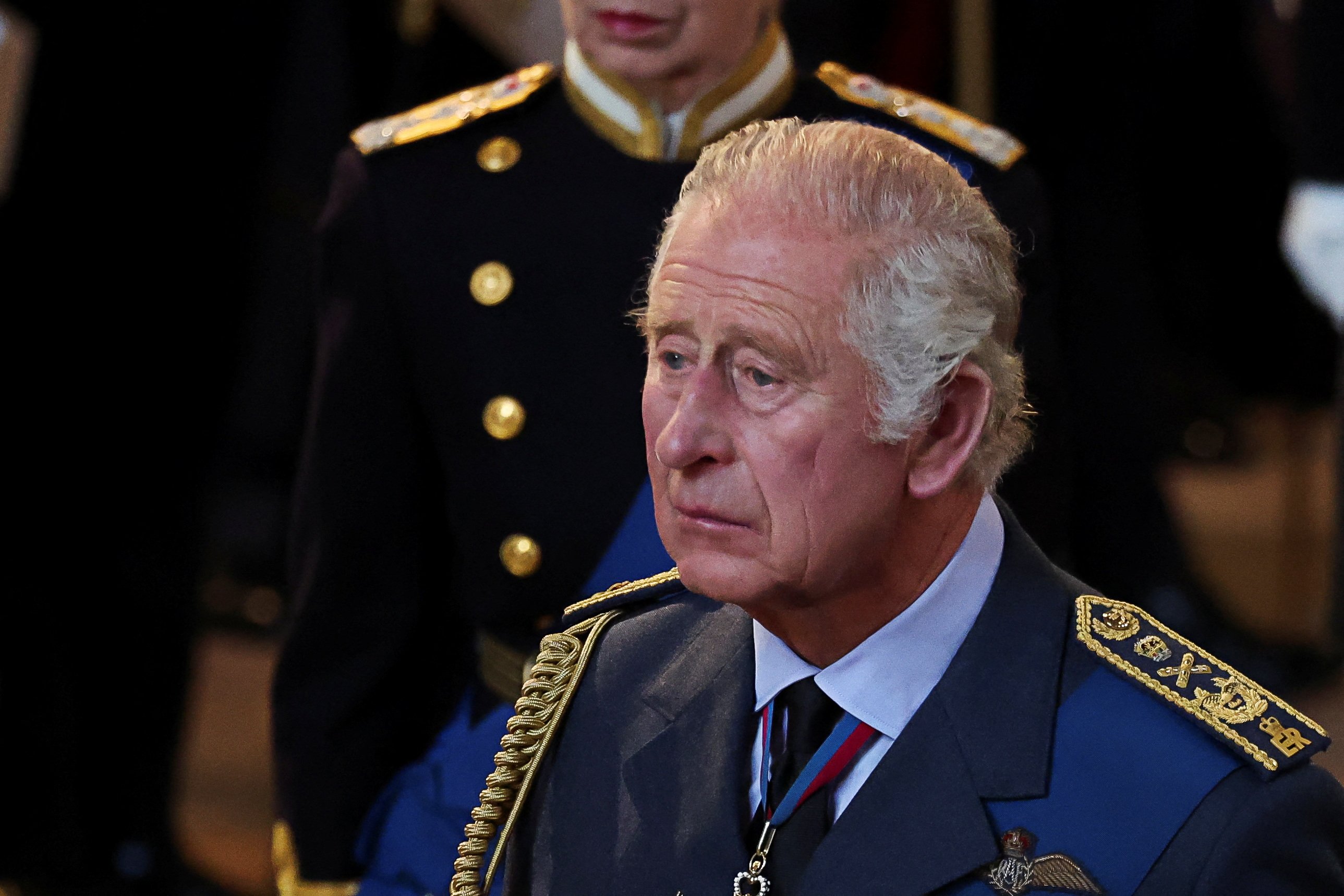 King Charles III during the procession honoring the coffin of Queen Elizabeth II as it arrives at Westminster Hall from Buckingham Palace on September 14, 2022 in London, United Kingdom | Source: Getty Images
His Majesty was captured signing a visitor's book live on camera at Hillsborough Castle near Belfast. When the pen he used leaked on him, he reacted.
"Oh god, I hate this (pen)!" the King said as he stood up, handing the pen to his wife, Camilla, Queen Consort. As she held on to the pen, the royal added, "Oh look, it's going everywhere," while her husband wiped his fingers.
As the sovereign walked away, he stated: "I can't bear this bloody thing...every stinking time." Amid his dismay, King Charles also jotted down the wrong date before checking with an aide who corrected him.
"Is it September 12?" the royal asked the aide. When told it was the 13th, the King admitted that he wrote down the wrong date. "Oh God, I've put the wrong date down." His spouse then told him that he had written down the 12th earlier.
King Charles is currently in Northern Ireland on a royal tour in the UK as part of his introduction to his nation as the new head of state.
During his proclamation ceremony as the new reigning monarch of England, His Majesty had another viral moment similar to the one mentioned earlier.
Moments before he signed the Accession Proclamation – which marked his official ascension to the throne of the British Commonwealth – the King gestured for an aide to clear the desk where he was supposed to sign his name on the documents.
He frantically pointed at a pen box and an inkwell, both of which had reportedly been gifted to him by his sons, Prince William and Prince Harry.
Social media users joked about the video, and one person noted that it was their highlight during the event. The said ceremony occurred at St. James's Palace in Westminster, London.
King Charles' constant irritation likely stems from his time of grief, as he may be going through emotional turmoil following his mother, Queen Elizabeth II's death.
In addition to this, the monarch still has to face the fact that he may be firing former staff who worked for Her Majesty.
Queen Elizabeth Lies at Buckingham Palace One Last Time
The Queen passed away at Balmoral Castle, Scotland, on September 8, 2022, at the age of 96. Per Express, the royal matriarch's coffin arrived at Buckingham Palace and was welcomed by huge crowds outside the palace who cheered.
Royals, including King Charles, Camilla, Queen Consort, Princess Anne, Prince Andrew, Prince William, Kate Middleton, Prince Harry, and Meghan Markle, had an intimate family gathering.
Overall, the private ceremony was attended by Her Majesty's four children, grandchildren, and their respective spouses. It is where the Queen will lie for the last time before her state funeral.
Following the monarch's burial, significant changes are set to occur as King Charles and his wife move to their new residence, Buckingham Palace. This means that His Majesty's former employees at Clarence House will be jobless.
Per Us Magazine, King Charles notified his Clarence House staff that they could lose their jobs when he and the Queen Consort relocate to London. The said employees were reportedly alerted during a service for the late Queen at St. Giles' Cathedral in Edinburgh on September 12, 2022.
The sovereign's top aide, Sir Clive Alderton, read a letter from King Charles stating that services previously offered by royal household staff at Clarence House would no longer be required:
"The change in role for our principals will also mean change for our household. The portfolio of work previously undertaken in this household supporting the former Prince of Wales' interests, former activities, and household operations will no longer be carried out."
However, per the message, there is an exception for those who provided "direct, close, personal support and advice" to King Charles as they would retain their roles.
Still, those who face the possibility of being laid off will be provided with an "increased redundancy payment," including help in finding new job opportunities.
Alderton acknowledged that he was bearing sad news to royal staff but wanted to inform them that they had support from the Firm in carving out new paths.
Royal Expert Defends King Charles Following His Public Outburst
Since his mother's passing, King Charles has been scrutinized for airing his frustrations on live broadcasts. However, per Express, Lady Colin Campbell, best known as Lady C, slammed people who have been criticizing him for showing displeasure while signing the visitors' book on cameras.
When Campbell appeared on "Dan Wootton Tonight," she was asked about the online frenzy regarding King Charles. GB News presenter, Dan Wootton, mentioned that people were merely giving the monarch a hard time amid the loss of his mother, adding the royal was probably overworked.
He stated that the King only had a "moment of lapse" and that the flack he received "has been uncalled for." Campbell agreed with him, saying the backlash has been "preposterous."
The royal author noted that those who criticized him had never probably used a fountain pen in their life, hinting they quickly talk about something they do not know. She continued to defend King Charles, saying:
"Yes, he is quick to anger, but he is very kind and loving."
Campbell said if the monarch can publicly show that he is annoyed, then it means that he is a genuine person who is "forthright and forthcoming".
She emphasized that they would have reacted the same if they had been in his position. "Besides the fact he is dog tired, I know this from people who are close to the situation; he is totally run out," the socialite revealed.
Please fill in your e-mail so we can share with you our top stories!