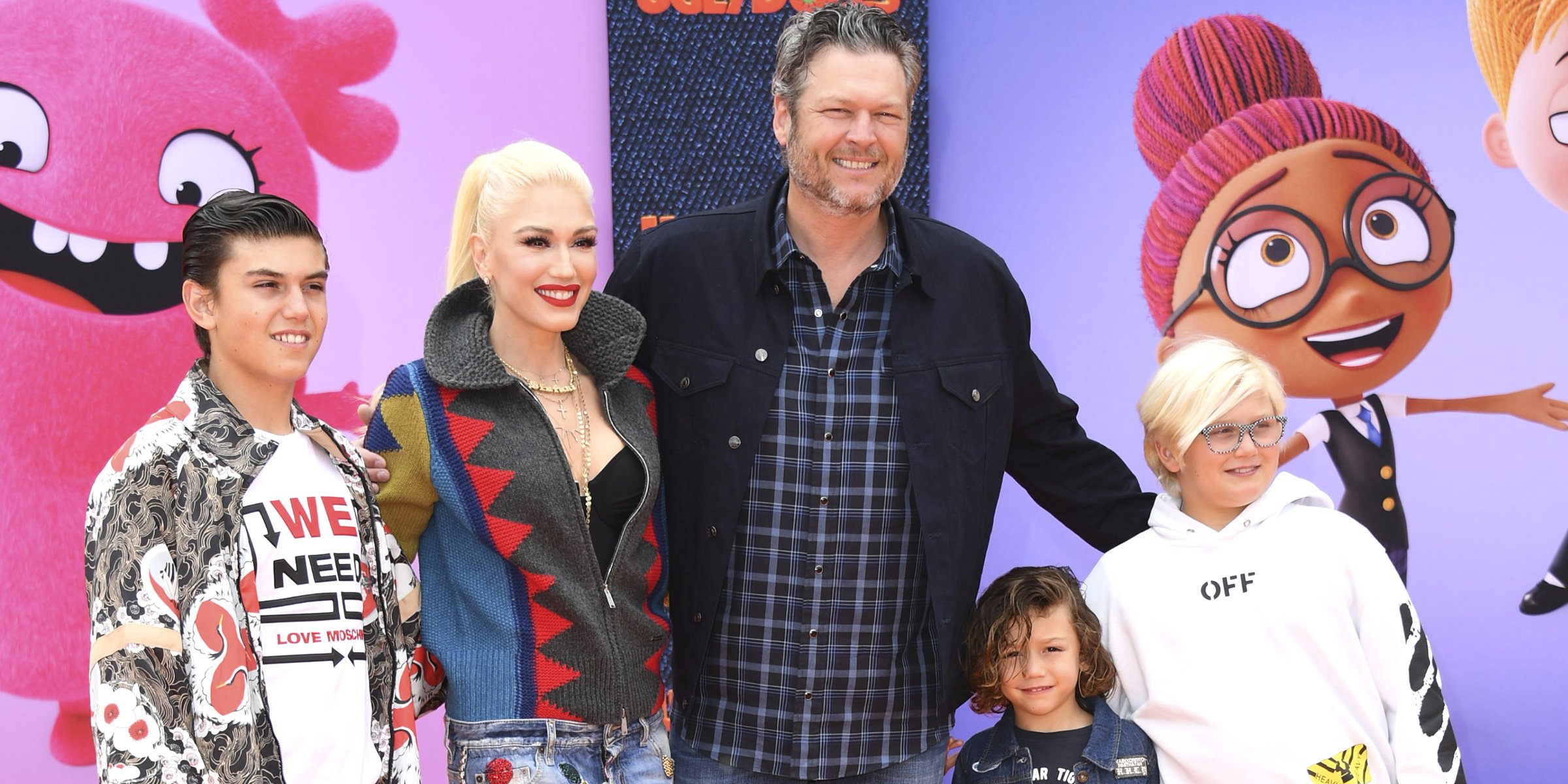 Gwen Stefani and Blake Shelton, together with Stefani's three sons Kingston, Apollo, and Zuma. | Source: Getty Images
Gwen Stefani Would like to Have a Daughter with Blake Shelton Who Is a Committed Stepfather to Her Kids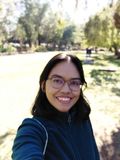 Blake Shelton and Gwen Stefani have been married since 2021. Despite having been married twice before, Shelton has never had children of his own, particularly a girl. However, a young woman claimed to be Blake Shelton's daughter.
Since tying the knot, Gwen Stefani and Blake Shelton continue to prove to the public that they are meant to be together. Stefani is known for pop songs, while Shelton is in the world of country music.
The couple created beautiful music together. They recently performed at Nashville's Grand Ole Opry together, impressing thousands of spectators. Stefani admires Shelton not only for his musical abilities but also for how he cares for children.
Gwen Stefani Would like to Have a Daughter with Blake Shelton
According to Hollywood Life, Stefani had expressed interest in having another child with the award-winning country singer. A source reportedly told the online publication that Stefani wanted to have a little girl in the family. The source added:
"It's no secret that Gwen wants a daughter; she's spoken very publicly about it and having a baby is something that she and Blake have discussed".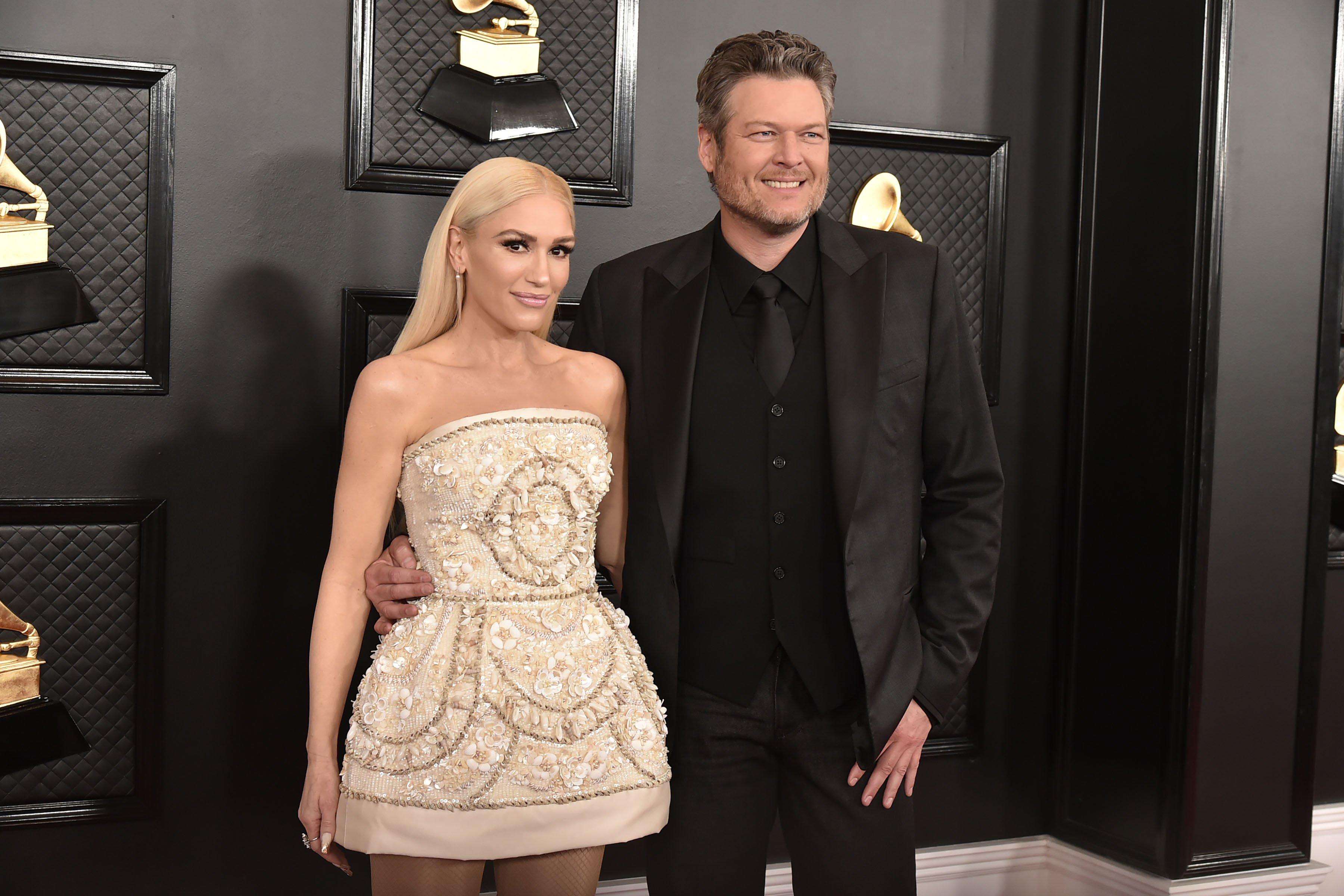 Gwen Stefani and Blake Shelton at the 62nd Annual Grammy Awards on January 26, 2020, in Los Angeles, California. | Source: Getty Images
Another source stated that Stefani believes that having a daughter would be an incredible addition to the family, considering that she is already the mother of three boys.
While Shelton enjoys his role as a stepfather and is said to want to have a child with Stefani, a young woman named Sophia Bollman once claimed to be the country singer's daughter.
Blake Shelton Is Trying to Be a Good Stepdad
Stefani is the proud mother of three sons, Kingston, Apollo, and Zuma, whom she shares with her ex-husband, British singer Gavin Rossdale. She filed for divorce from Rossdale in 2015, and the divorce was finalized in 2016.
The "Hollaback Girl" hitmaker found her second chance at love while working as a coach on "The Voice," where she met Shelton, who was going through a divorce from fellow country singer Miranda Lambert at the time.
She and Shelton developed chemistry and eventually began dating. Amid the pandemic, the couple married in July 2021 at the acclaimed country singer's ranch in Oklahoma.
The Oklahoma wedding was intimate, with only the couple's immediate families and close friends in attendance. Stefani's three adorable sons were also present on the couple's special day.
Stefani and Shelton have released songs together, including "Happy Anywhere" and "Nobody But You." They also performed at Nashville's Grand Ole Opry and earned two standing ovations.
Shelton opened up about his life as the stepfather of Stefani's children nearly a year after they exchanged wedding vows in January 2022. From his previous marriage, the country music icon had no children.
Shelton has worked hard to be a good stepfather to his stepsons, and being a stepfather entails giving in to their wants. He recalled his first Thanksgiving with his new family when the kids insisted on cooking a bacon-wrapped turkey.
Despite Shelton's hectic schedule, he did not waste time figuring out how to get exactly what the kids' requested. He said he never talked them out of it and that it was the "greatest picture" he had ever seen.
Sophia Bollman Calls Herself the Daughter of Blake Shelton
While Shelton enjoys his role as a stepfather and is said to want to have a child with Stefani, a young woman named Sophia Bollman once claimed to be the country singer's daughter.
Bollman explained in an interview with Talent Recap that since she didn't know the real identity of her biological father, she looked up to the country crooner as a father figure for much of her life.
The aspiring singer also showed a magazine she was featured in, and the magazine's cover also featured Shelton. She then realized that maybe it was another way of telling her to audition for "The Voice" and meet the country superstar.
During the auditions of the 13th season of "The Voice" in 2017, Bollman sang a powerful track of Kelly Clarkson's "Invincible." Pop singer Miley Cyrus and Shelton turned their seats for Bollman, who later revealed herself to be Blake Shelton's daughter.
Shelton was amused by the aspiring singer's hilarious remark and joked that she might be his daughter. However, the playful banter ended with Bollman ultimately choosing Cyrus' team over Shelton's team.
The young singer's time on the show was eventually short when another singer, Brooke Simpson, defeated her in the show's battle rounds. Bollman was a familiar face in singing competitions.
In 2019, Bollman competed on "America's Got Talent." Despite being aware of her moniker as Blake Shelton's daughter, Simon Cowell, one of the show's judges, rejected her audition as a solo artist but suggested she would do better in a music group.
Blake Shelton Scared Carson Daly's Daughter
Shelton enjoys spending time not only with his wife's children but also with his friends' children. He has no problem wearing silly costumes for fun. For example, he dressed up as an Easter bunny for Easter this year.
It was supposed to be entertaining, but Daly's 2-year-old daughter Goldie didn't seem to enjoy it. Shelton also terrified Goldie with his Easter look, as shown in a hilarious Easter snapshot Daly posted to Instagram.
In the photo, a beaming Shelton wore a pink fuzzy onesie with bunny ears. On the other hand, Goldie appeared to be sobbing and wailing as she tried to extricate herself from Shelton's embrace.
Clearly, the little girl was not keen on smiling for the camera and posing for a lovely photo with the country superstar. Blake Shelton seemed pleased with his Easter Bunny outfit, however.
The "Boys 'Round Here" singer strutted down a hall in his pink onesie and posted a video of it to Instagram and TikTok. Off-screen, people can be heard laughing when they see his costume.
Please fill in your e-mail so we can share with you our top stories!