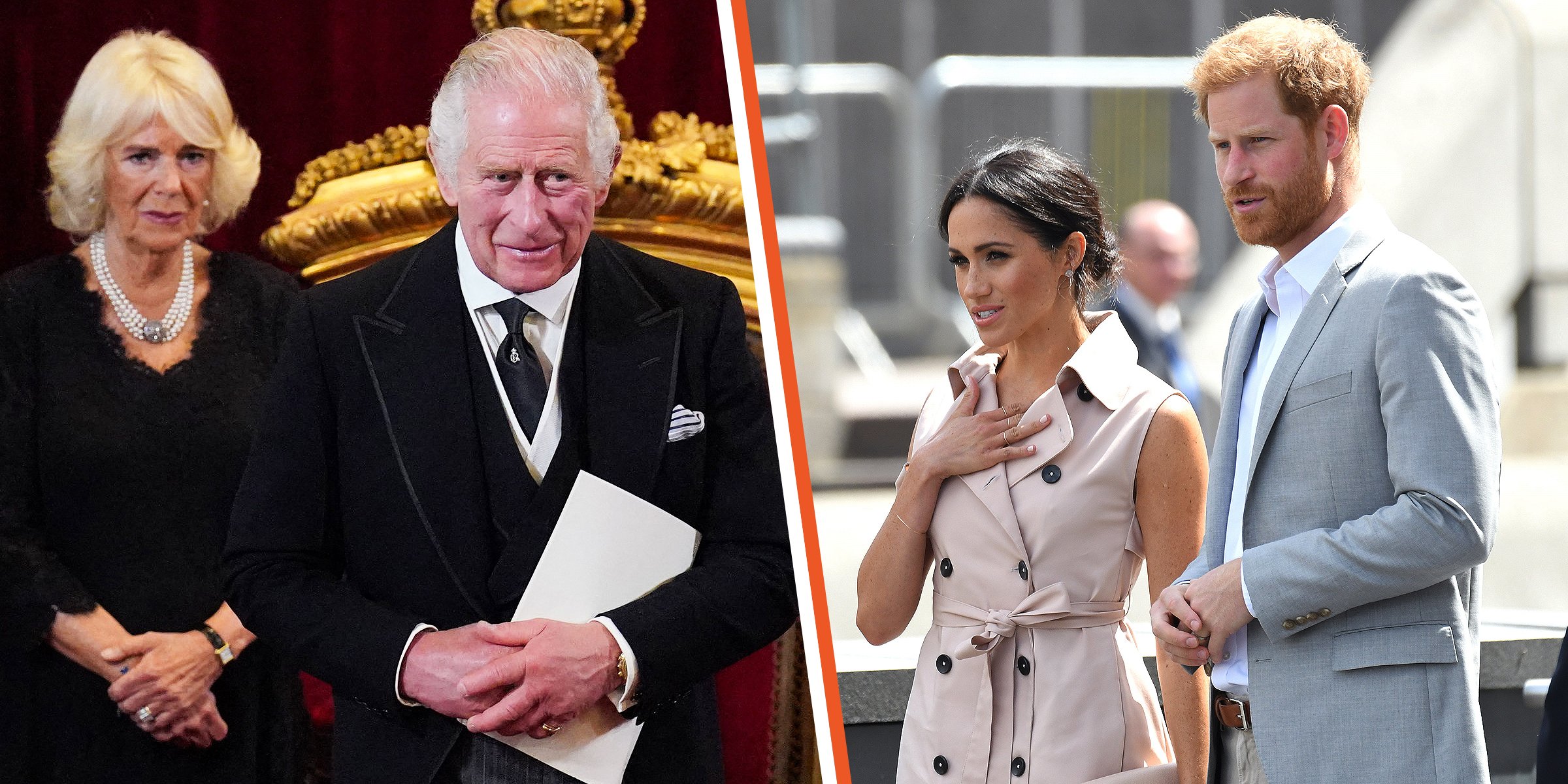 Camilla Queen Consort and King Charles III | Meghan Markle and Prince Harry | Source: Getty Images
Archie & Lilibet Not Given Prince and Princess Titles Yet as Charles' Decision on the Matter Is Pending

King Charles extended "an olive branch".

New order succession titles were updated hours after the new sovereign's speech.

A special condition prevents Archie and Lilibet from receiving their Prince and Princess titles.
The new order of succession was instantly updated within hours after King Charles became Britain's new monarch. Prince Harry and Meghan Markle have to wait ten days to find out whether their two children, Archie and Lilibet, would be given royal titles or not.
King Charles III has been pictured with the Sussexes, Prince Harry and Meghan Markle through Buckingham Palace windows for the first time since Queen Elizabeth II's death and March 2020.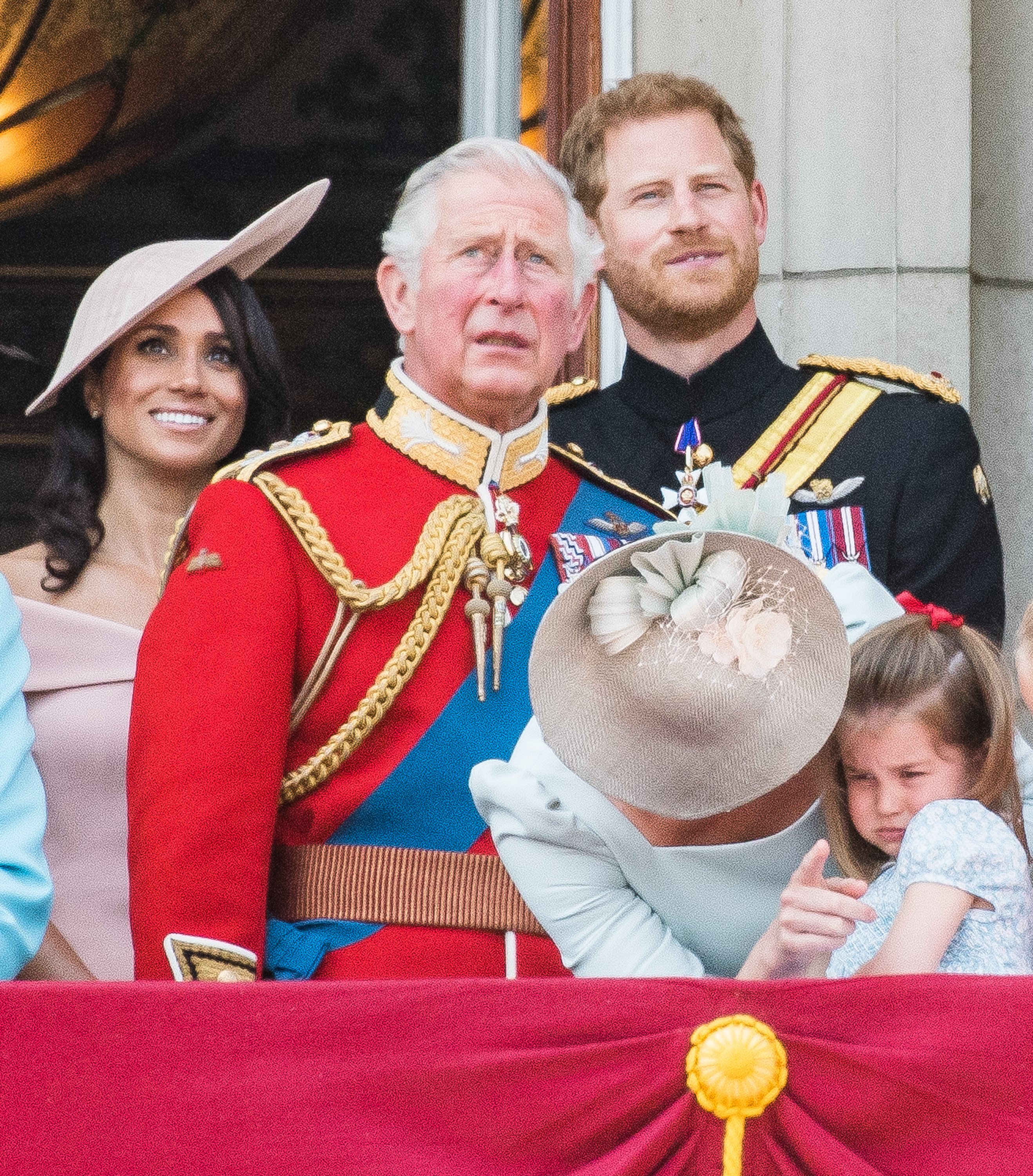 Meghan Markle, Prince Charles, Prince Harry, Kate Middleton and Princess Charlotte on the balcony of Buckingham Palace during Trooping The Colour 2018 on June 9, 2018 in London, England | Source: Getty Images
The royals were waiting to receive the coffin of Her Majesty when the royal couple appeared somber before taking the first photo with King Charles. His Majesty was captured in front of the Duke and Duchess on the lower staircase. The royal couple stood behind him and looked tense.
According to 7News, the last time the monarch saw his son and daughter-in-law was at the Commonwealth Day Service in 2020. Since then, the relationship between the Sussexes and the King has been somewhat estranged after they stepped down as working royals in January 2020.
The Queen's coffin was greeted by crowds awaiting in heavy rain on September 13, 2022. The hearse passed through London's streets in a slow procession to allow Britons to see the coffin passing by.
Prince Harry and his wife reportedly traveled from Windsor Castle to join other royal members at Her Majesty's London residence while her coffin was transported from RAF to Northolt. The sovereign passed away on September 8, 2022, at Balmoral Castle, aged 96.
The royal matriarch's coffin will lie in Westminster Hall until the day of her official state funeral, set to occur on September 19, 2022.
On September 12, 2022, the Duke and Duchess reunited with the Prince and Princess of Wales, William and Kate, while viewing flowers outside the gates of Windsor Castle and greeting well-wishers.
Formerly dubbed the "Fab Four," the royal couples showed a united front during the walkabout and climbed the same vehicle at the end – with Prince William behind the wheel. The foursome headed to Prince Harry and Markle's Frogmore Cottage. The Prince of Wales' invitation was reportedly not an order from the King.
When the Prince of Wales accompanied his uncles, Prince Edward and Prince Andrew, to Scotland amid the Queen's health scare, Prince Harry traveled alone to Balmoral.
Per the Daily Mail, media reports speculated that the Duke of Sussex initially wanted his wife to accompany him but was told his sister-in-law, Kate Middleton, would not be there to support his brother.
He then traveled alone on his private chartered plane but sadly did not arrive at Balmoral Castle on time. Instead of joining his sibling and father, who stayed put at the King's home in Birkhall, Prince Harry remained at Balmoral Castle after, where his uncles had joined his aunt, Princess Anne.
King Charles Extended an Olive Branch to the Sussexes
When King Charles made his first speech as the new monarch, he publicly extended an olive branch to Harry and his wife following a royal conflict in recent years.
In a moving national address, King Charles said he wanted to "express my love for Harry and Meghan as they continue to build their lives overseas."
Meanwhile, the monarch still needs to decide regarding the couple's children, Archie and Lilibet's royal titles.
Per Express, on the royal website, the King's eldest son, Prince William, and his daughter-in-law, Middleton's titles have already been changed as Royal Family members move one step up in the line of succession.
The couple is now known as Prince and Princess of Wales, making Middleton the first royal woman to be known as such since the passing of Princess Diana.
However, the Sussexes' children remain plain Master and Miss on the royal website despite them technically being now Prince and Princess since their grandfather's ascension to the throne.
A spokesman for the Palace told the outlet that the titles would be updated on the website when they receive the go-ahead. The Duke and Duchess of Sussex or Buckingham Palace have yet to confirm whether the royal siblings would use their titles.
The spokesman further divulged that it would take approximately ten days to receive confirmation from The Firm when asked if Archie and Lilibet would be given their titles:
"At the moment, we're focused on the next ten days, and as and when we get information, we will update that website."
Per CNN, following the Queen's death, the Duke and Duchess' kids automatically become His Royal Highness Prince Archie of Sussex and Her Royal Highness Princess Lilibet of Sussex.
The change is a result of conventions created by George V in 1917 – who ruled that grandchildren of the sovereign automatically receive royal titles.
Meanwhile, according to the royal website, Prince William and Middleton's children are now called Prince George of Wales, Princess Charlotte of Wales, and Prince Louis of Wales.
British journalist Omid Scobie highlighted on Twitter that while the Prince and Princess of Wales had their titles updated, Archie and Lilibet were still "listed with their original stylings."
Markle's Revelation Regarding Archie's Title
The Sussex kids did not initially qualify as the Queen's great-grandchildren. Markle previously suggested during a televised interview with media mogul Oprah Winfrey that her son was denied having a title because of his race.
The Duchess disclosed she was told Archie would not get police protection because he did not have a title and insinuated that The Firm decided on that because of his mixed race.
She and her husband stated they expected their first child to receive a title when his grandfather became King but was informed that protocols would be changed.
This came after then-Prince Charles alluded that once he became the monarch, he would trim down the monarchy – meaning Archie would be excluded from becoming an HRH and Prince.
To achieve that, King Charles would have to issue a letters patent amending his grandson's right to be a Prince and his granddaughter's right to be a Princess.
When Markle was asked during the interview whether it was important to her for her son to be referred to as Prince, she agreed in the sense of him having police protection; something extended royal relatives are not privy to:
"If it meant he was going to be safe, then of course."
Since the Queen's passing, there have been new developments concerning titles involving Markle and Prince Harry's brood.
The Sun reported on September 15, 2022, that King Charles agreed to issue a letters patent to confer the Prince and Princess titles to his grandkids, Archie and Lilibet. However, the royal siblings will not get HRH status from their grandfather.
That decision left their parents unsettled, complaining that it would mean their family had no adequate security. In addition, their children will not be able to use the style of address.
The royal couple reportedly pointed out that Princess Beatrice and Princess Eugenie have HRH status but are not working royals. An insider revealed the Duke and Duchess were concerned about security, and having their kids as Prince and Princess brings them some level of "royal security".
The source added there had been more talks since the Queen died, and the pair remained that their son and daughter are now Prince and Princess.
"But they have been left furious that Archie and Lilibet cannot take the title HRH," said the insider, who added it was agreed that the youngsters could be Prince and Princess but would not have the HRH status because "they are not working royals".
Please fill in your e-mail so we can share with you our top stories!