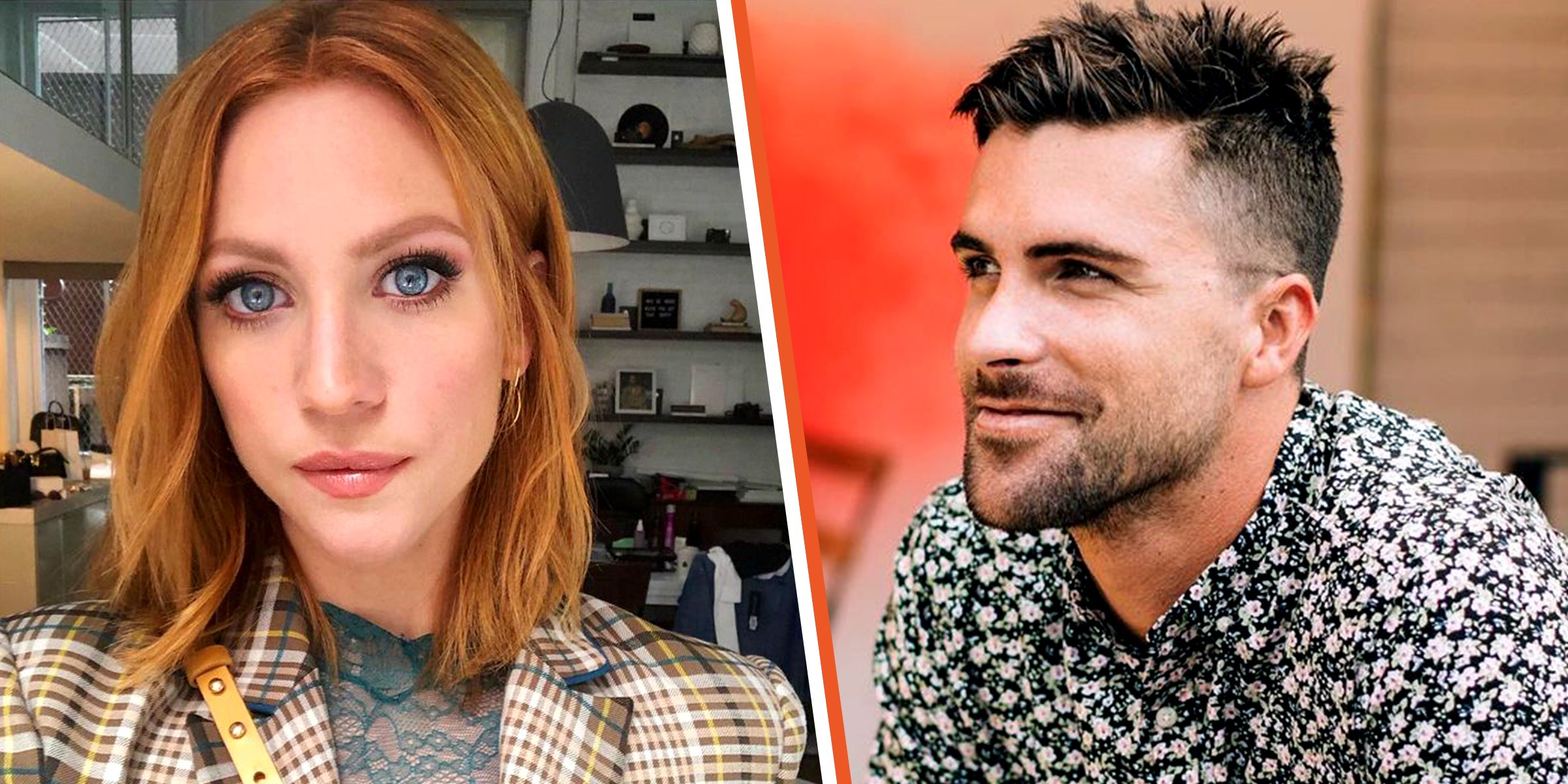 Brittany Snow | Tyler Stanaland | Source: Instagram/brittanysnow | Instagram/tylerstanaland
Inside Brittany Snow and Her Husband Tyler Stanaland's Love Story and Split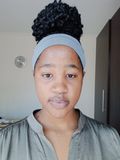 Pitch Perfect alum Brittany Snow found her Prince Charming in famous realtor Tyler Stanaland. The pair became best friends, fell in love, and tied the knot just before the Covid-19 pandemic swept the world. Unfortunately, their fairytale ended with the couple announcing their split recently.
Brittany Snow and her husband Tyler Stanaland released a joint statement on Instagram, announcing their amicable split. Snow once shared that her relationship with Stanaland was the first she chose to make public, as she had previously kept her romances private.
Although their statement expresses that their decision to go separate ways was mutual, reports suggest Snow and Stanaland's relationship was on the rocks. These reports follow a few incidents involving Stanaland and his reality show co-star. However, the pair is yet to confirm or deny them.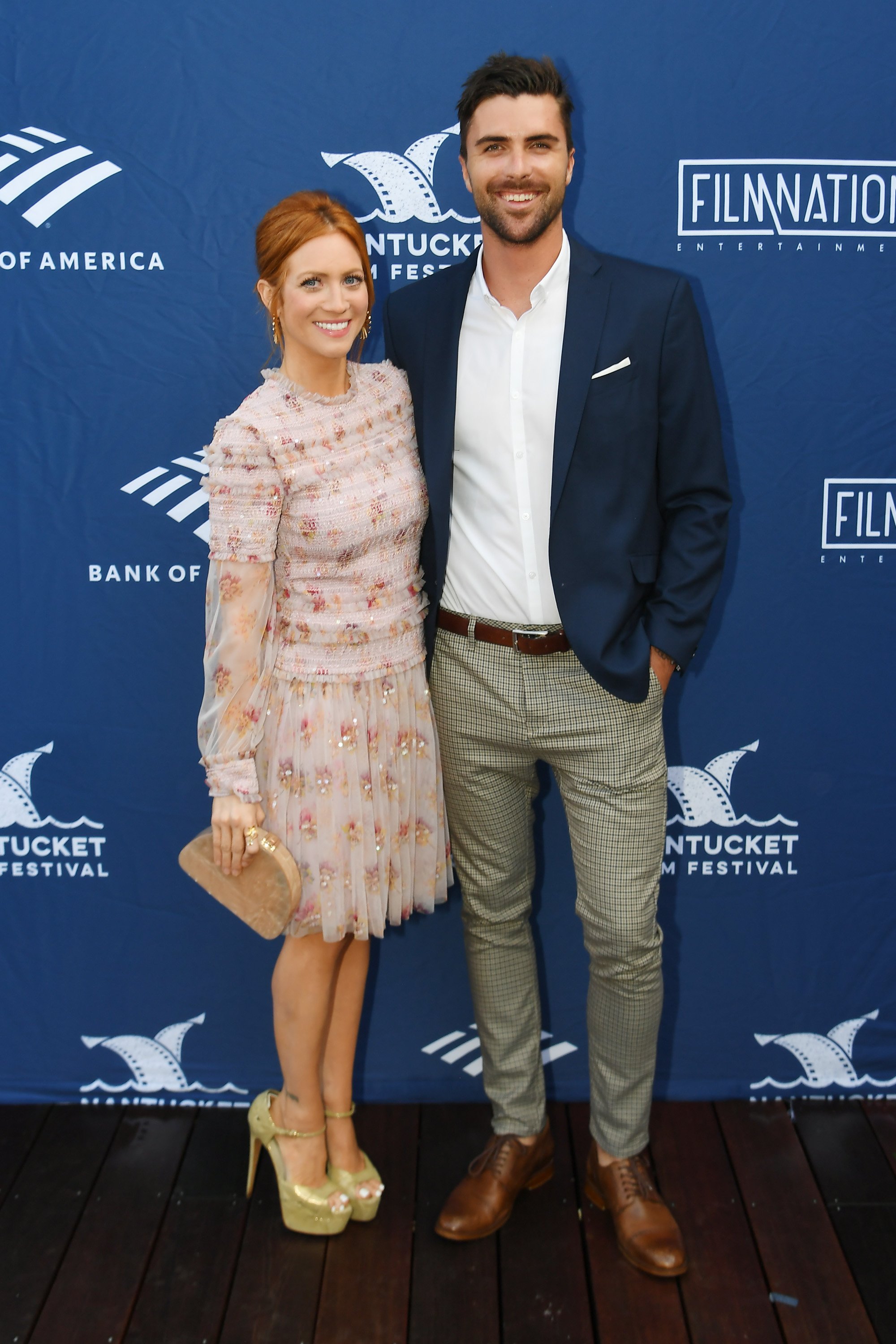 Brittany Snow and Tyler Stanaland pose at the Screenwriters Tribute at Sconset Casino during Day Four of the 2019 Nantucket Film Festival on June 22, 2019, in Nantucket | Source: Getty Images
How Long Have Brittany Snow and Tyler Stanaland Been Together?
Before Brittany Snow and Tyler Stanaland's romance ensued, they were eyeing each other on social media; yet neither TV star thought they had a chance. Moreover, Stanaland kept up with the movies in which Snow starred, and his friends would tease him about his "unattainable crush." According to US Weekly, the realtor shared:
"As a man, I used to watch Pitch Perfect with friends and [thought] 'Brittany Snow… One day.' But never thinking it would ever happen."
Until one day, he decided to message Snow via social media, using what he called the most embarrassing dad joke. Snow concurred when she shared that she and Stanaland had mutual friends. She recalled their first interaction, revealing that her husband messaged her on Instagram with a "really lame pick-up line."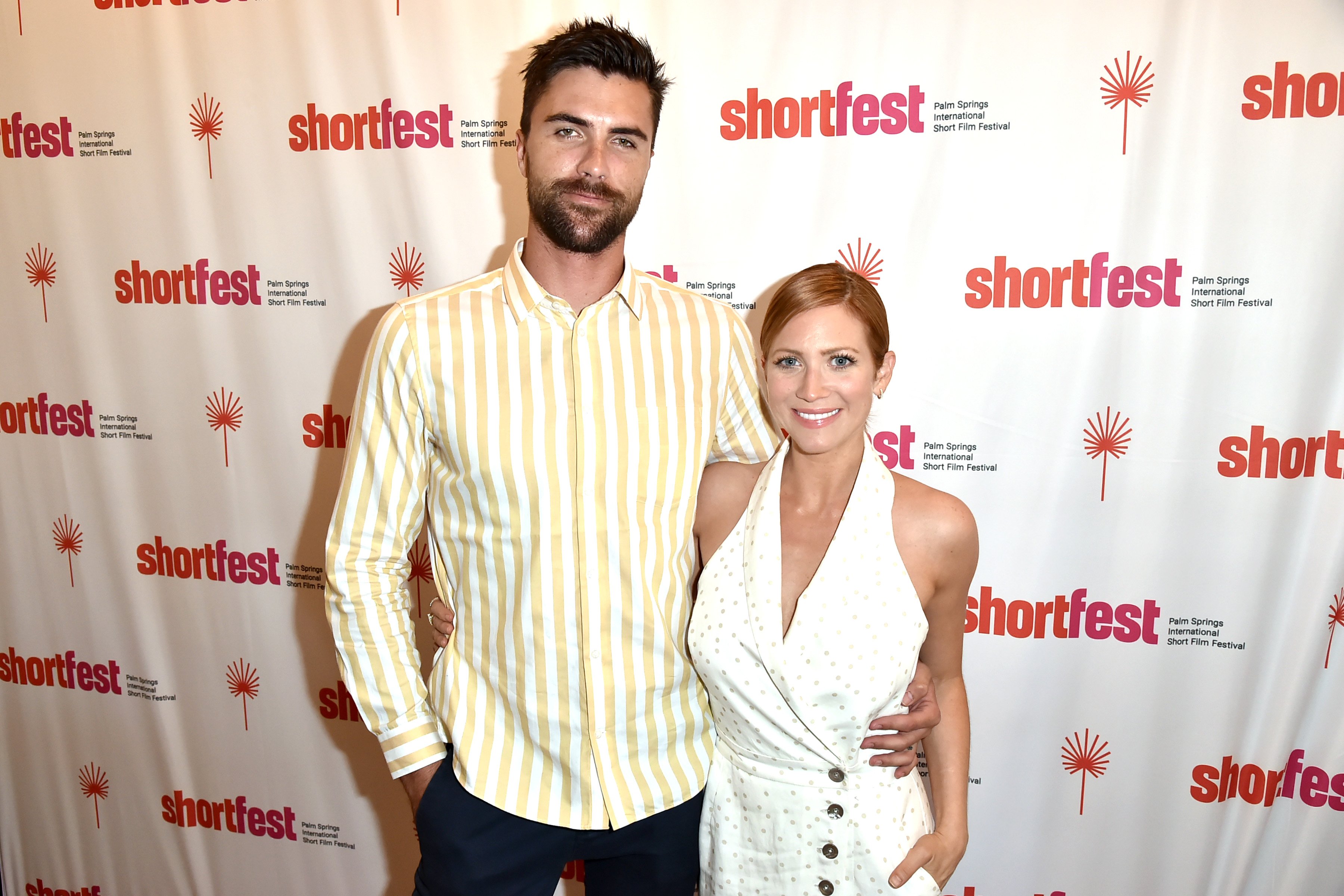 Tyler Stanaland and Brittany Snow pose on Day 3 of the 25th Annual Palm Springs International ShortFest at Camelot Theatres on June 20, 2019, in Palm Springs | Source: Getty Images
Although the "Almost Family" actress found her husband's opening lame, she agreed to go on a date with him afterward at a California-based Mexican restaurant. Stanaland recounted their first time out together and described how awkward it was at first, saying:
"We got tacos after years of being infatuated with one another and forgot how to speak entirely."
However, the surfing enthusiast later revealed that after having some tequila, the conversation flowed smoothly, and their chemistry was ignited. It's unclear when the couple met precisely, but by September 2018, Snow was ready to open up about her relationship with Stanaland.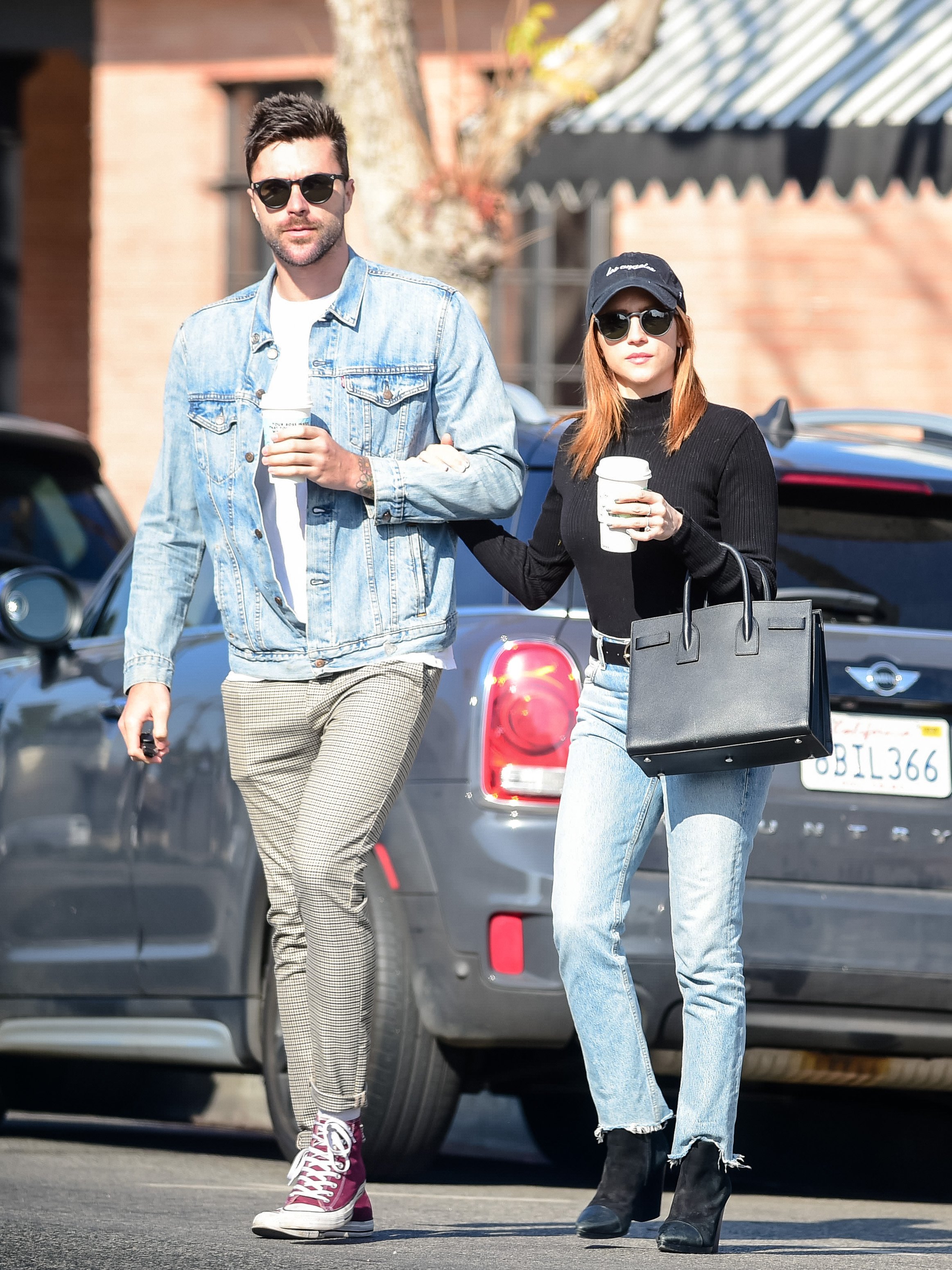 Tyler Stanaland and Brittany Snow are photographed as they walk together in Los Angeles, on January 13, 2020 | Source: Getty Images
Snow disclosed that her decision to publicize her relationship with the "Selling The Ocs" star was a conscious one and explained that she was trying not to be so hard on herself. However, she admitted to finding the experience quite strange, as she had always kept her personal life hidden from the limelight.
Regardless of that peculiarity, Snow and Stanaland were already sharing pictures of their trips, such as the one they took to Las Vegas that September, per US Weekly. The actress also firmly expressed her ironclad privacy because she valued the "magic" in her relationships. She worried:
"I keep things very to myself because I feel like the magic gets lost if you promote it too much, but I don't know! When you're in love … I just don't want to think about it too much anymore."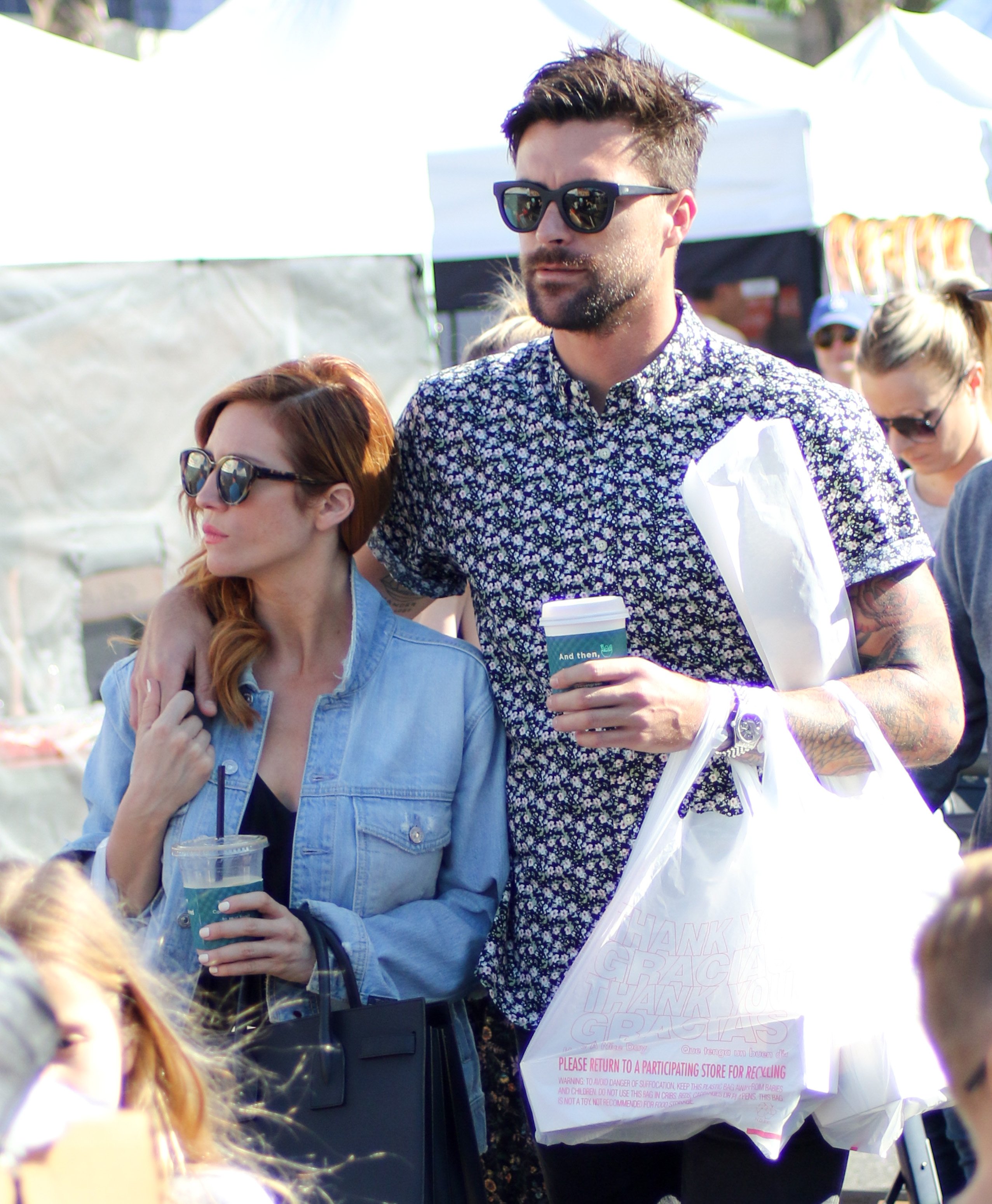 Brittany Snow and Tyler Stanaland are photographed in Los Angeles, on November 18, 2018 | Source: Getty Images
The following year, in February 2019, Snow announced via an Instagram post that Stanaland had asked for her hand in marriage, and she agreed a million times over. However, she revealed in the caption that her husband had popped the question a few weeks prior.
The "John Tucker Must Die" co-star gushed about the new turn her life was about to make, expressing her gratitude to the stars. The actress added that she had already celebrated with friends and family, but since her decision to give her supporters a glimpse of her personal life, she wanted to share the good news with them too.
Before marrying, the pair decided that after a day of fun with their friends separately, they would have a joint bachelor and bachelorette party. Snow explained that she felt she would miss her Prince Charming and saw no reason to spend the traditional pre-nuptial event away from each other.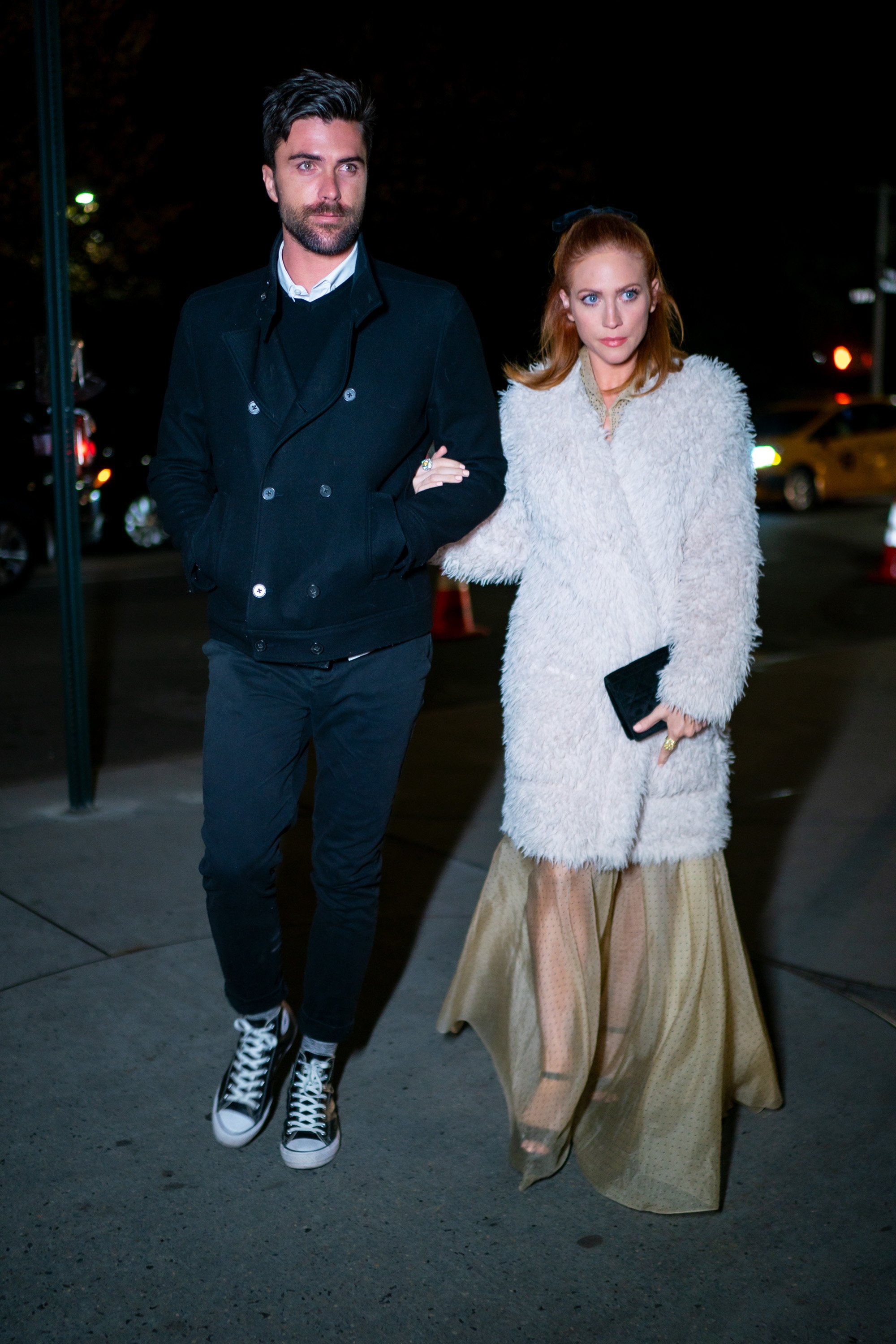 Tyler Stanaland and Brittany Snow photographed as they arrive at the 2019 Guggenheim International Gala in New York City, on November 13, 2019 | Source: Getty Images
Snow and Stanaland collaborated with The Knot as they planned their wedding. The couple bonded over planning their dream day together and found that they had quite a lot in common regarding preferences for food and cutlery, which Snow enjoyed, as she shared:
"I didn't think that we would have the same taste in cutlery, but the vibe you're creating [at a wedding] is a symbol of your relationship."
Snow had the same feelings about the food she and her husband would provide at the ceremony. The actress stressed how much she wanted her guests to enjoy themselves and only remember having the best night of their lives at her wedding reception. Hence, the vibe of their menu would be "very much comfort food," as Snow stated.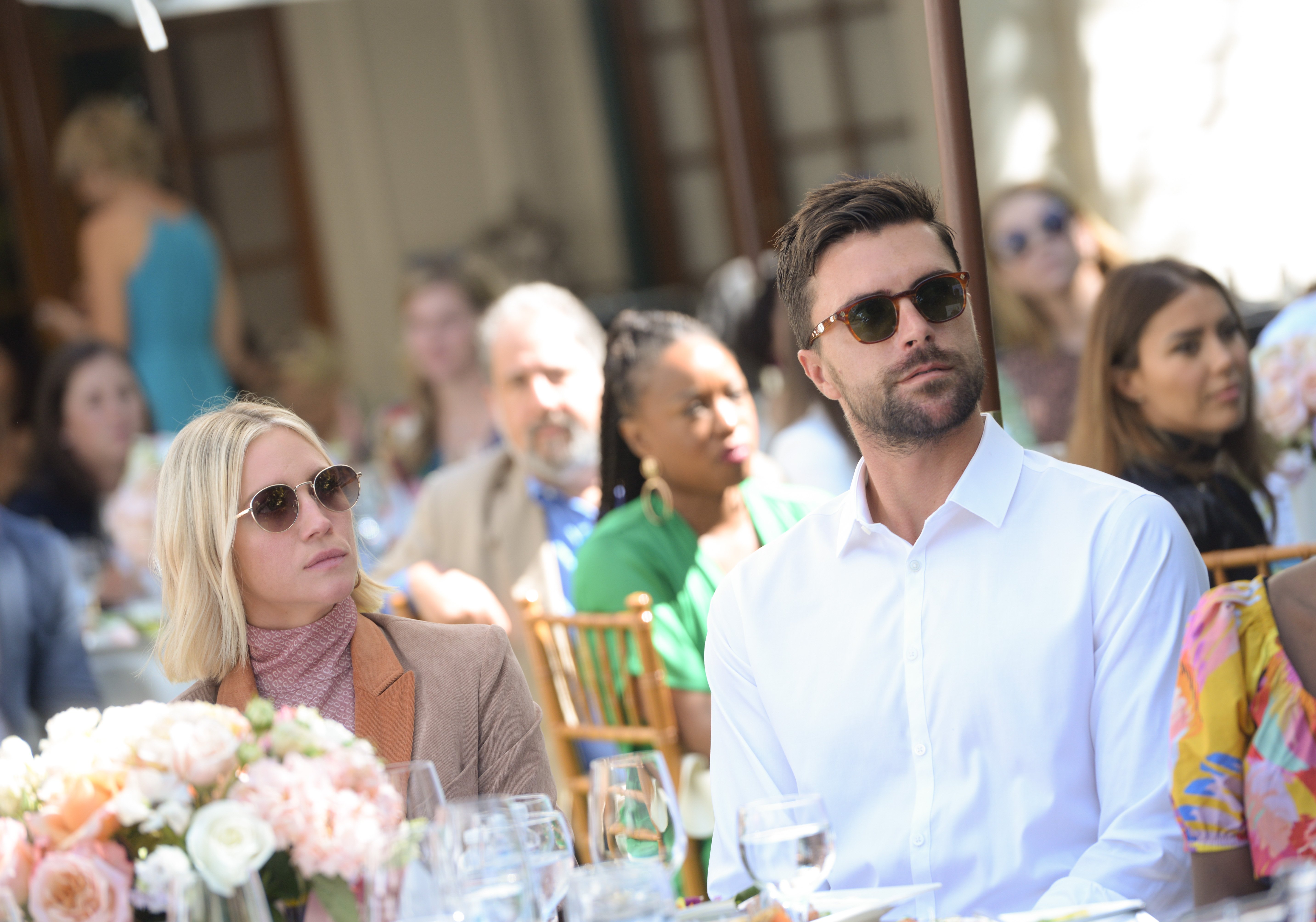 Brittany Snow and Tyler Stanaland are photographed at The Creative Coalition's Seventh Annual Television Humanitarian Awards in Los Angeles, on September 18, 2021 | Source: Getty Images
On March 14, 2020, the couple exchanged their personalized vows and became husband and wife. Approximately 120 guests joined them in Malibu, Southern California, and the "Hooking Up" producer wore a custom-made gown by Johnathan Simkhai. However, the couple was said to have been shy about having a large bridal party.
Nonetheless, they eventually gave in and included nine bridesmaids and eight groomsmen. Snow shared how she and her realtor husband consistently stayed on the same page regarding what they wanted for their big day. She affectionately added how she's never felt more like herself after meeting Stanaland, saying:
"I think meeting him and falling in love and everything that's happened after have been the best moments of my life. Everything seems to, like, always fall into place after [...]."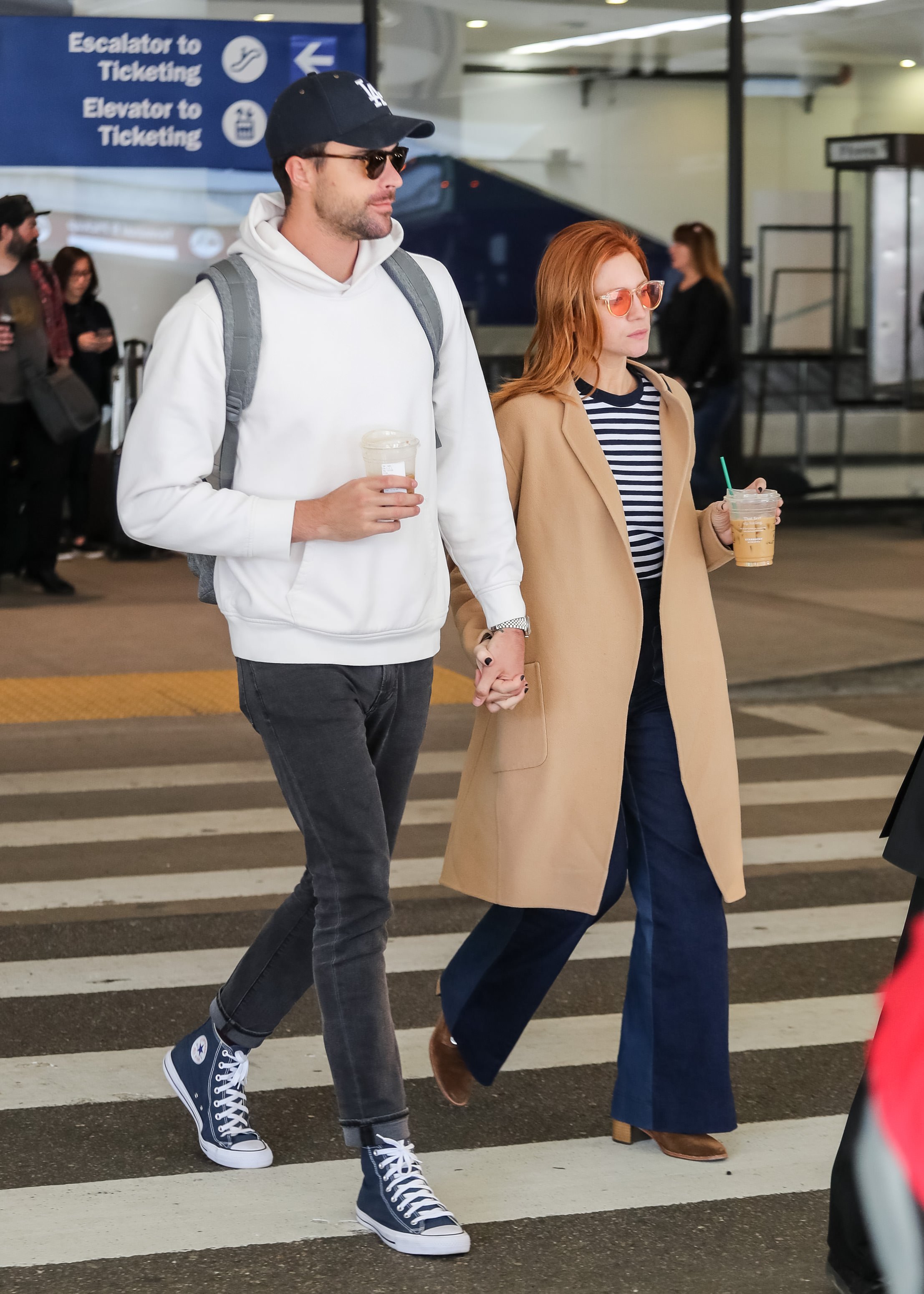 Brittany Snow and Tyler Stanaland are photographed at LAX airport in Los Angeles, on February 05, 2020 | Source: Getty Images
Why Did Brittany Snow and Tyler Stanaland Break Up?
On September 15, Snow and Stanaland shared identical posts announcing their separation in their captions. The statements reveal that their decision took some time and consideration, but it was mutual. They also stated that although they won't be romantically involved any longer, the pair will remain friends for their dog, Charlie's sake.
The couple added the reason for their split, elaborating:
"This decision was made with love and mutual respect for one another. We have realized we need to take some time and make sure we are each living our most fulfilling and authentic lives."
Although their announcement clarifies, People reported a few insiders claiming other reasons for Snow and Stanaland's separation. One source claimed that Tyler Stanaland joining the reality show "Selling the OCs" was the couple's most significant issue - among others - in their relationship.
Furthermore, the source alleged that Snow was unhappy about Stanaland joining the show, but the surf enthusiast was "adamant." The source also added that publicizing their marriage contributed to "breaking them." Moreover, Snow struggled to find a suitable time to file for divorce while maintaining her much-valued privacy.
According to People, another insider added that the women in the show were swooning over Stanaland. Although he tried to be respectful as a married man, it still took a toll on his relationship with Snow, who never appeared on "Selling The OCs," but still tuned in to support her husband.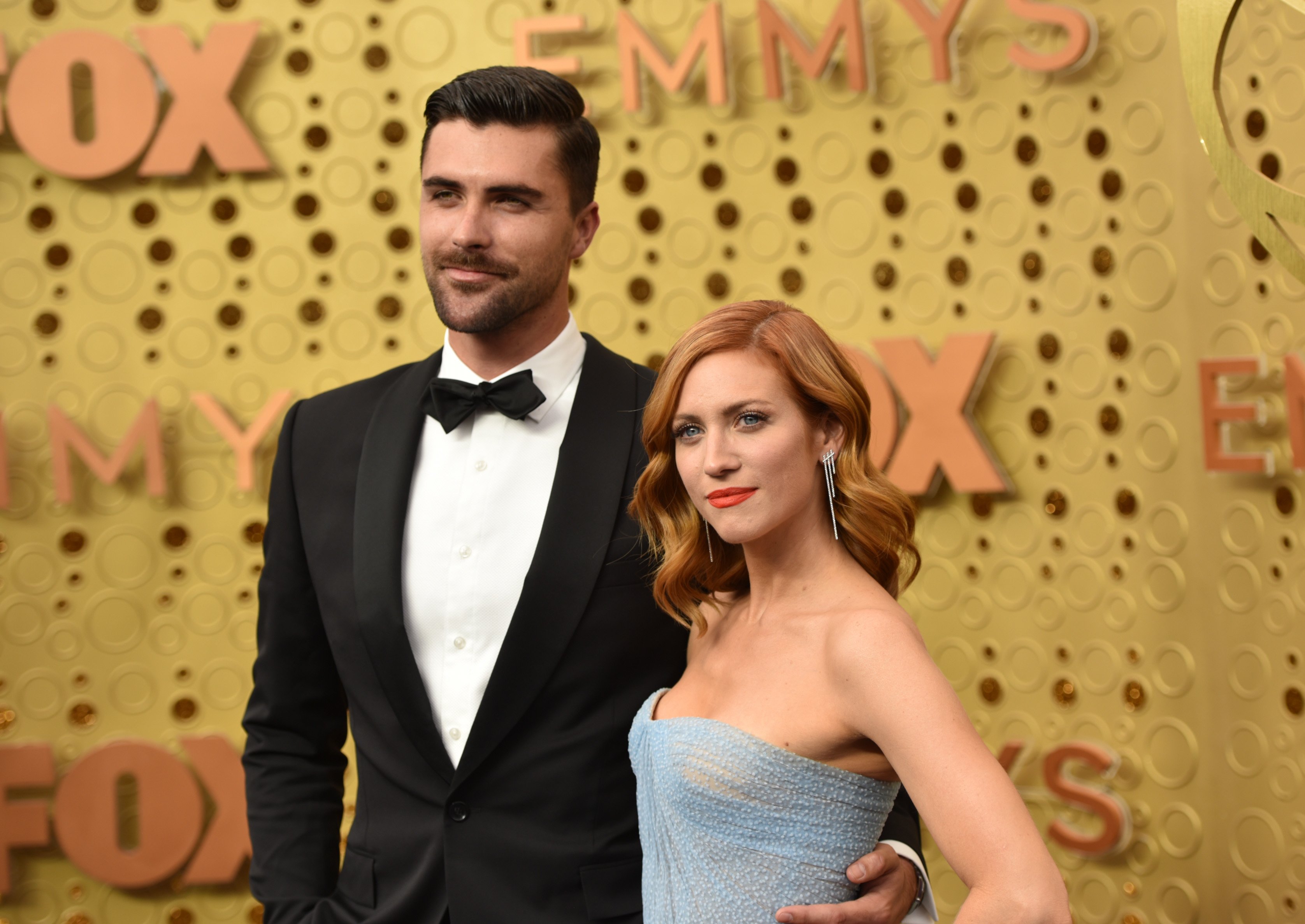 Tyler Stanaland and Brittany Snow pose at the 71st Emmy Awards at Microsoft Theater in Los Angeles, on September 22, 2019| Source: Getty Images
Stanaland also opened up about two incidents in which one of his co-stars, Kayla Cordona, tried to kiss him. The realtor added that they happened off-camera and wanted to brush them aside to avoid a spectacle. But he understood from those incidents that he needed to set clear-cut boundaries among himself and his fellow realtors.
When Cordona was confronted, she admitted to her actions and apologized, saying she would've never tried to kiss Stanaland while sober. Stanaland also apologized for blurring the lines of his personal and professional life with his colleague.
How Other Stars Who Reacted to the News about the Couple's Separation
Brittany Snow and Tyler Stanaland's Instagram announcement garnered a comment section full of supportive remarks from their fans and colleagues. Snow's "Pitch Perfect" co-stars Anna Kendrick and Rebel Wilson expressed their love for their friend. Other celebrities, such as Vannessa Hudgens and Katebosworth, did the same.
Please fill in your e-mail so we can share with you our top stories!