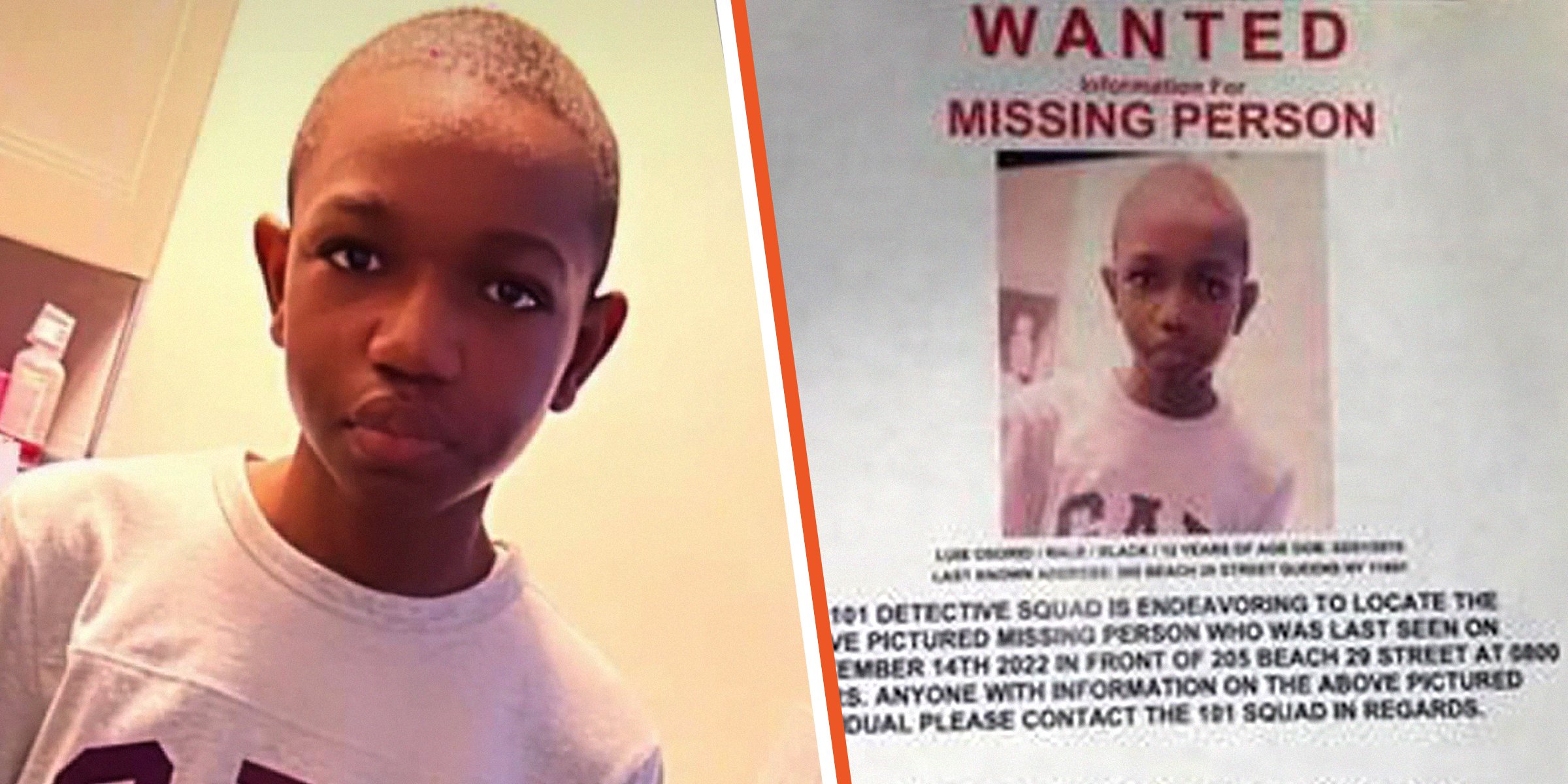 Luis Osorio | The 'Missing Person' Notice for Luis Osorio | Source: Facebook.com/latoya.reneeb | Facebook.com/CBSNewYork
New York Schoolboy, 12, Missing from Home – Family Reveals Last Messages He Sent Just before Disappearing

When their young boy didn't come home ten minutes after school closed, his family couldn't help but worry. While digging for information on their son's possible whereabouts, they discovered a thread of messages he had sent before he went missing.
Have you ever wondered how much your family loves you? Indeed, there's no way to measure a parent's unconditional and never-ending love and affection for their kids because they can only be felt from the heart. A parent's soothing embrace is equivalent to a safe haven that a child can go running to at any time.
One of the many roles parents happily embrace is taking care of their little ones and keeping them safe and protected. Even the mere thought of seeing their kids in trouble can haunt them for the rest of their lives. The family in today's story faced a similar dilemma with their sweet boy.
An Unlikely Occurrence
Luis Osorio from Queens, New York City, was loved dearly by his family. According to his relatives, Osorio's school was only a short distance from his apartment complex, and he usually covered the small journey on foot.
It seems Osorio's family isn't the only one going through a difficult time while looking for their boy.
But on Wednesday, September 14, 2022, something unusual happened that Osorio's family wasn't prepared for and had certainly never seen coming.
Nowhere to be Found
Nearly ten minutes had passed since his school's dismissal, but young Osorio didn't show up. LaToya Benjamin, Osorio's cousin, shared that his mother was worried sick when he didn't come home. She added:
"At 2:30 she went to look for him — he wasn't answering his phone. Time passed, he's not home. Everyone's calling, he's not answering. Then she called police (sic)."
Not knowing what else to do, the youngster's family contacted the police, who reviewed the surveillance video from the neighborhood and drove around looking for him.
Benjamin, 35, revealed that her cousin, who had mild autism, had never done something like that before and had always steered clear of trouble. "He's a good kid, We just want him to come home," expressed Benjamin.
A Strange Discovery
While trying to find any information that could lead them to their boy, Osorio's family found his Discord account — a social media platform where people could send instant texts and join groups that matched their interests.
After going through the messages on his profile, the youngster's family discovered he was a member of a train enthusiast group. Osorio and other group members reportedly agreed to meet on a train. His family believed that he skipped school on Wednesday morning for the meeting.
However, according to the conversation thread on the social media application, Benjamin said her cousin never met the community members. She also stated that Osorio's mother was heartbroken and stressed out, not knowing where to find her sweet boy.
As of September 16, police are still on the lookout and have requested people to call them immediately with any leads. The 12-year-old boy was last spotted near his home and school in P.S. 43 on Beach 29th Street on Far Rockaway on the morning of September 14.
Heartfelt Messages of Support
He was seen wearing a black Adidas jumpsuit, a white polo shirt, and a navy blue Nike backpack. Benjamin shared a Facebook post on September 15, asking people to help find her missing cousin. Several netizens shared messages of support and encouragement and prayed for Osorio's safe return:
"Praying. Lord let no hurt harm or danger overtake this."

— (@deborah.hopkins.92372446) September 15, 2022
"Praying he comes home safely."

— (@jessica.thitry.7) September 15, 2022
"May god bring him home back asap (sic)."

— (@ronnen.gurarie) September 15, 2022
"God protect him, and bring him home safe."

— (@mary.gilliganderosa) September 16, 2022
"Lord Please find this Boy and bring him home to his Family that Love him Place your healing hands upon him and protect him from any and all harm in your Blessed Name Amén (sic)."

— (@patti.martinez.710) September 16, 2022
Another Missing Child
It seems Osorio's family isn't the only one going through a difficult time while looking for their boy. In other news, a four-year-old boy, Lucian, disappeared from Sarg Hubbard Park, Yakima, Washington.
The little boy was last seen in blue shorts and a blue shirt with a shark on it on Saturday, September 10, 2022, around 7:15 p.m. in the evening. On Sunday, September 11, over 100 people helped find the boy using divers, boars, dogs, and drones.
Anyone with information on Lucian's whereabouts should contact Yakima Police or call 911. We hope that Osorio and Lucian are found safe and unharmed and can be with their loving families as soon as possible. Please spread the word to help find the two missing children.
Please fill in your e-mail so we can share with you our top stories!