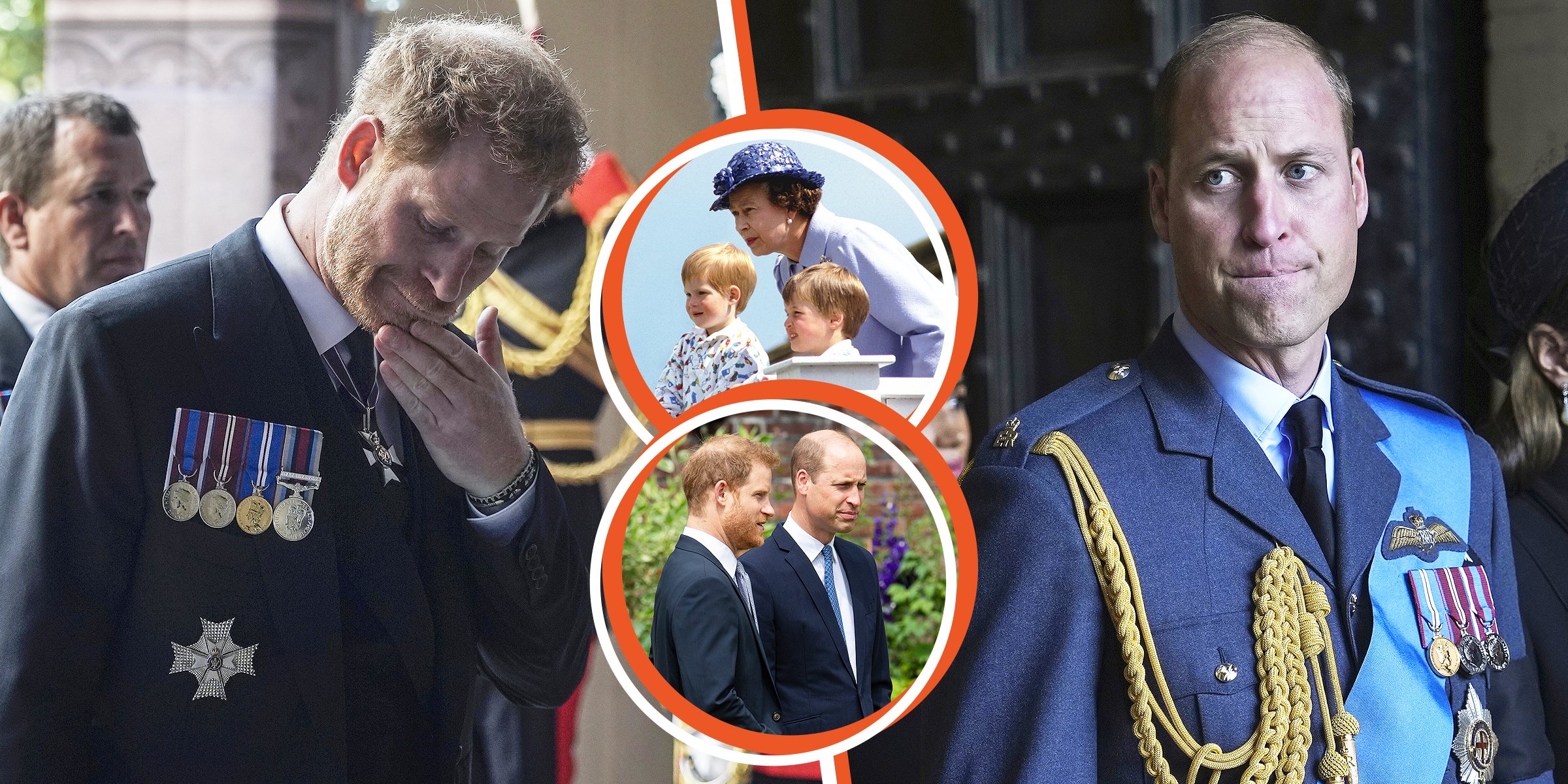 Prince Harry | Prince Harry and William with the Queen [Inset] | Prince William | Source: Getty Images
Harry & William 'Uncomfortable' with Each Other Yet Trying 'Their Best' after Death of 'Grannie,' Says Report

Princes Harry and William have had "awkward" moments in the past week as they mourn their grandmother, the Queen.

The brothers have seen more of each other in the past week than in the two and a half years since the Sussexes quit their royal life and relocated to the US.

Harry and William's relationship shows different signs of development.

Harry and Meghan need to "acknowledge the pain they've caused" before "the fab four" can think of starting the healing process.
Last week, the royal family came together to mourn the family monarch, Queen Elizabeth II, after her unfortunate death on Thursday, September 8.
While that was expected, the sight of William, the Prince of Wales, and Harry, the Duke of Sussex, united in their grief and walking shoulder to shoulder behind the Queen's coffin shocked many.
The brothers have been feuding for years, and seeing them come together during this challenging period has been a breath of fresh air to both their family and other royal observers.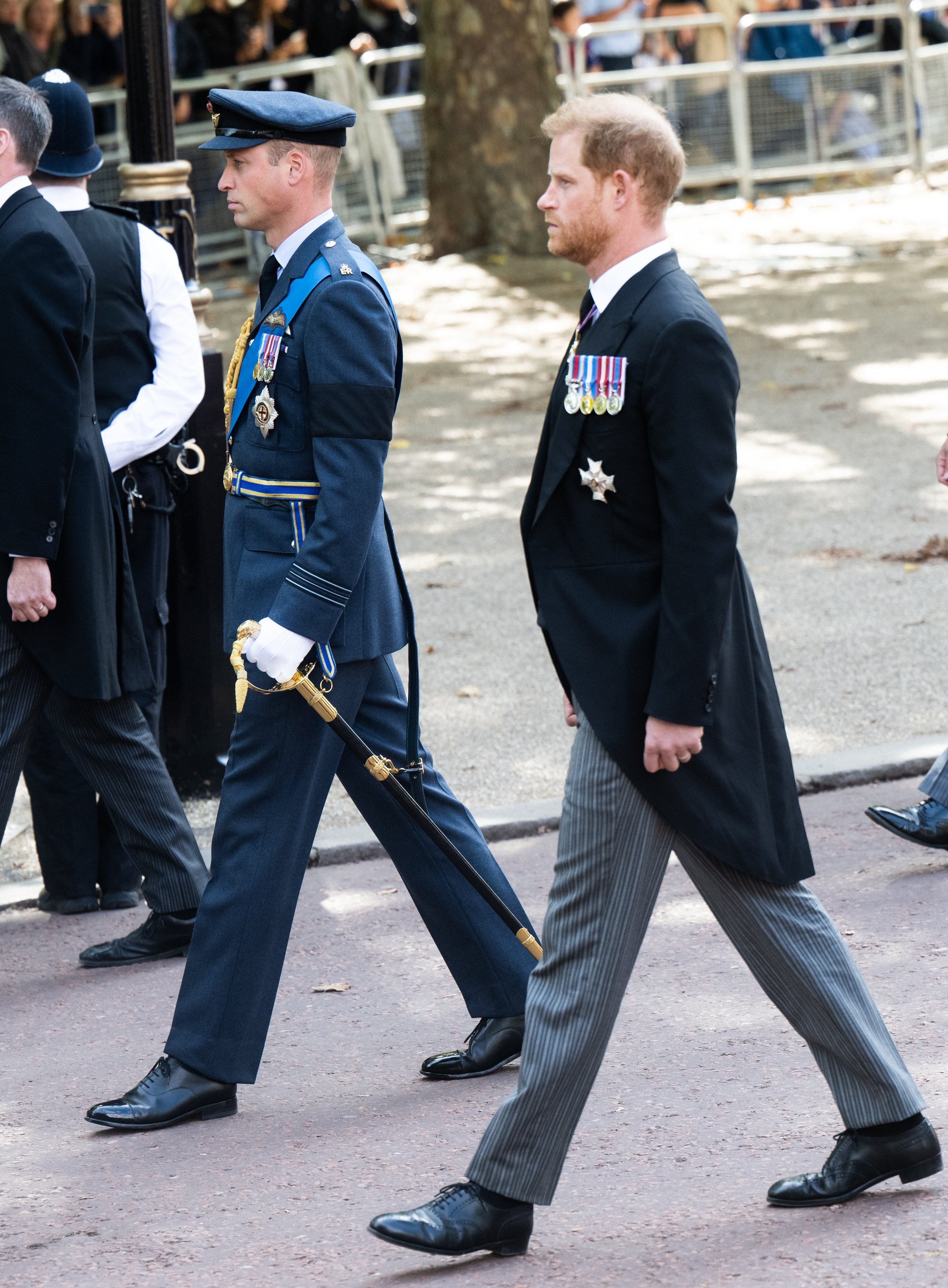 Prince William and Prince Harry walk behind Queen Elizabeth II's coffin on September 14, 2022 in London, England. | Source: Getty Images
Despite their differences, their united front is a reminder of their 25 years of shared grief after losing their dear mother, Princess Diana in 1997. Unfortunately, their grief over the loss of their grandmother has not been enough to erase the bad blood between them entirely.
The brothers' separate arrivals at Balmoral, where the Queen died, indicate they are still not on good terms. There has also not been any meaningful progress in trying to mend fences between the two, and reconciliation still appears as far away as the east is from the west.
All does not seem lost, though. On Thursday, the two brothers shared a bonding moment during a chance encounter at Windsor.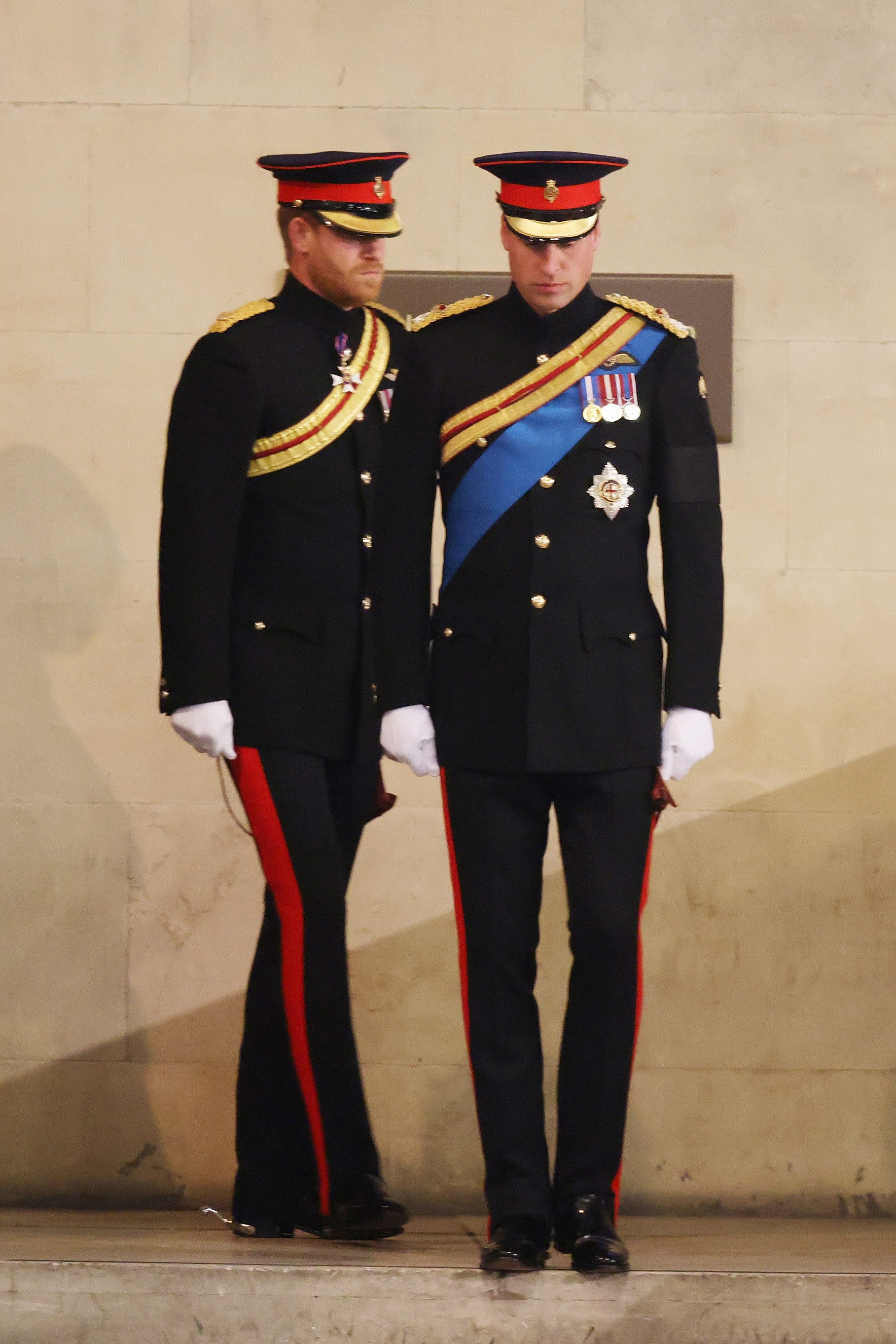 Prince William, Prince of Wales, Prince Harry, Duke of Sussex arrive to hold a vigil in honor of Queen Elizabeth II at Westminster Hall on September 17, 2022 in London, England | Source: Getty Images
William was returning to Windsor after picking his children, Prince George, Princess Charlotte, and Prince Louis, up from school when they passed Harry and Meghan, driving in the opposite direction. After driving past each other, they stopped, reversed, wound down their windows, and chatted for a while.
That same day, when the Princess of Wales joined her husband at Sandringham, one of King Charles III's royal estates, she shared that the royal family was "sticking together and sharing each other's grief and helping each other cope."
A friend of the brothers says that their joint appearance was a prior understanding that they had to show solidarity, more as a sense of duty than a deeper meaningful rapprochement.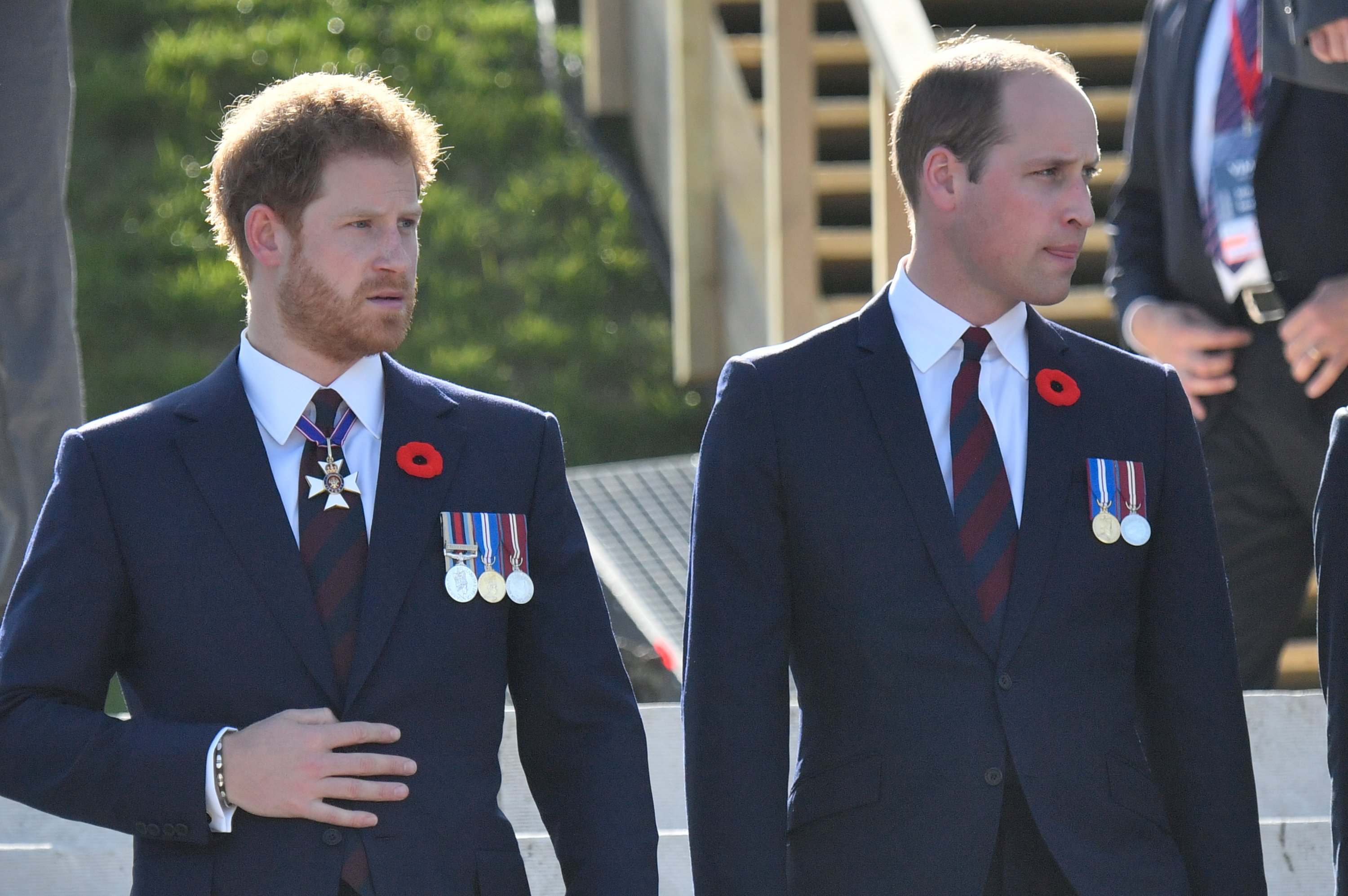 rince William, Duke of Cambridge and Prince Harry attend the commemorations for the 100th anniversary of the battle of Vimy Ridge on April 9, 2017 in Lille, France | Source: Getty Images
It is noteworthy that the brothers have seen more of each other in the past week than they have for the past two years since the Sussexes quit royal life and relocated to the US.
The Brothers' Relationship Now
The past week has seen the brothers attempt to show a united front as they mourn their beloved grandmother, and for the most part, have been successful. However, there have been moments of awkwardness between the two.
It takes a lot of effort for the two to stay gracious toward each other, but despite how awkward and uncomfortable the situation has been, they have been trying their best to maintain peace between them.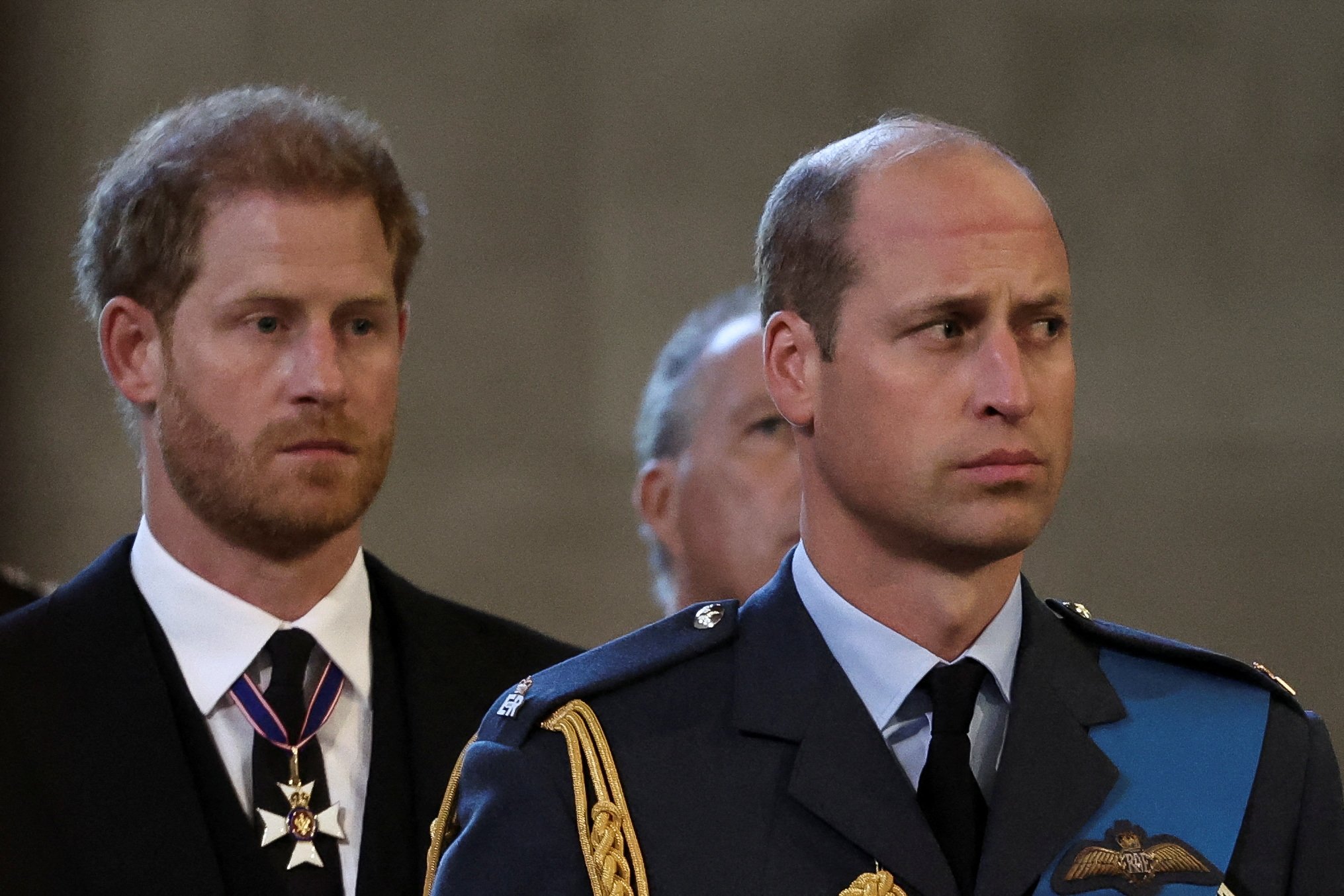 Prince Harry and Prince William reacts as the coffin of Britain's Queen Elizabeth II arrives at the Palace of Westminster, following a procession from Buckingham Palace, in London on September 14, 2022. | Source: Getty Images
A friend of the brothers, Winfrey, says she is disappointed as she hoped there would be a reconciliation between the brothers. However, royal sources say that a reconciliation would be impossible as there are potential bombs still waiting to be detonated.
The Sussexes reportedly still have a lot to say if Meghan's recent interviews and Harry's memoirs are anything to go by. And as long as the other royals remain in the dark about what Harry is yet to disclose in his books, they fear their relationship will only deteriorate. A friend of the two says:
"We know there are other things that will come out in the future that will be very damaging."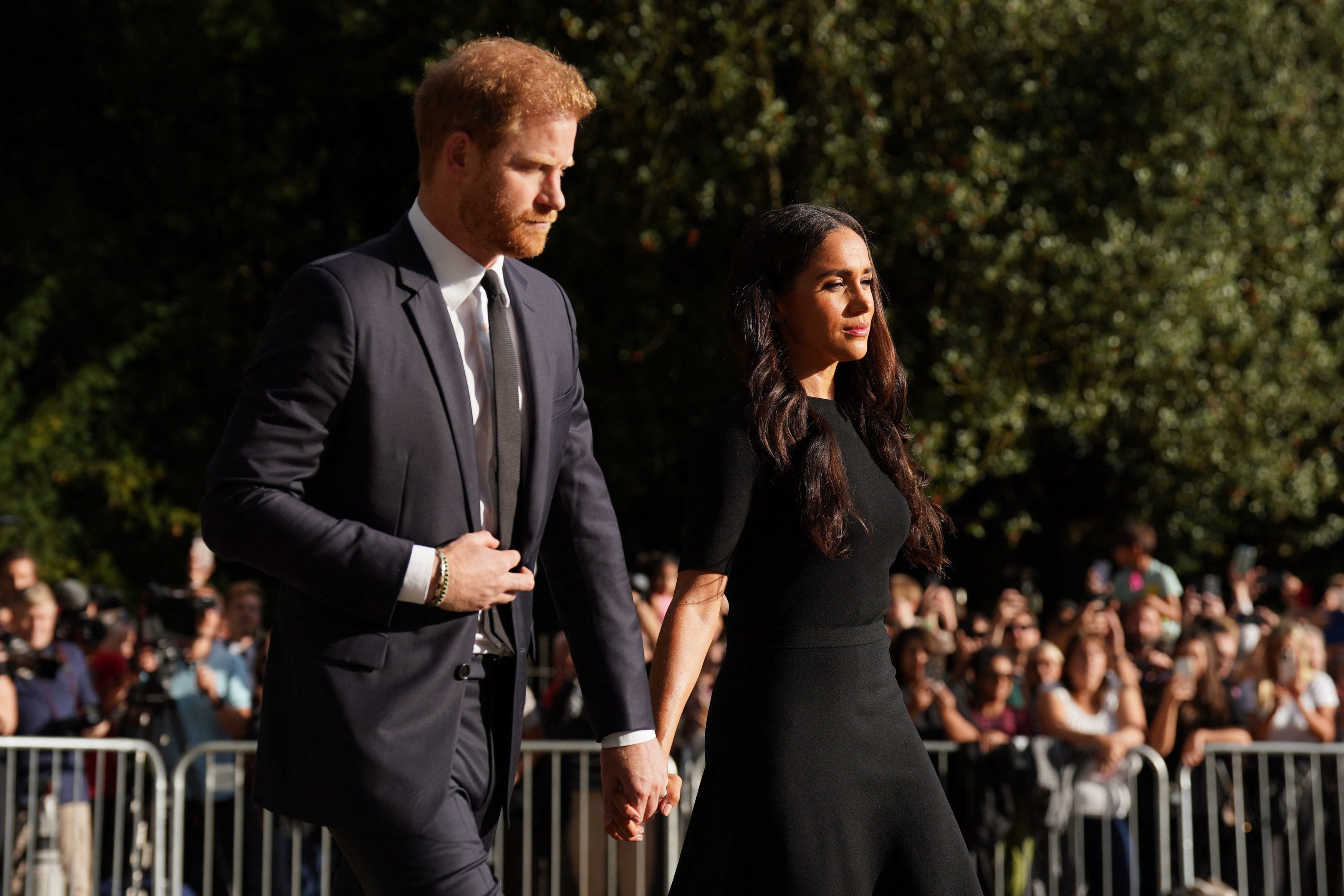 Prince Harry, Duke of Sussex and Meghan, Duchess of Sussex arrive to look at floral tributes on the Long walk at Windsor Castle on September 10, 2022 | Source: Getty Images
According to The Times, William is solely focused on honoring his grandmother and processing his grief and is not in a position to sit and wallow over his relationship with his brother.
The father of three is adamant that people should be more focused on doing right by the Queen, and nothing should distract them from that. Harry seconded the sentiments, saying:
"People need to just stop talking about all this stuff and focus on my grandmother."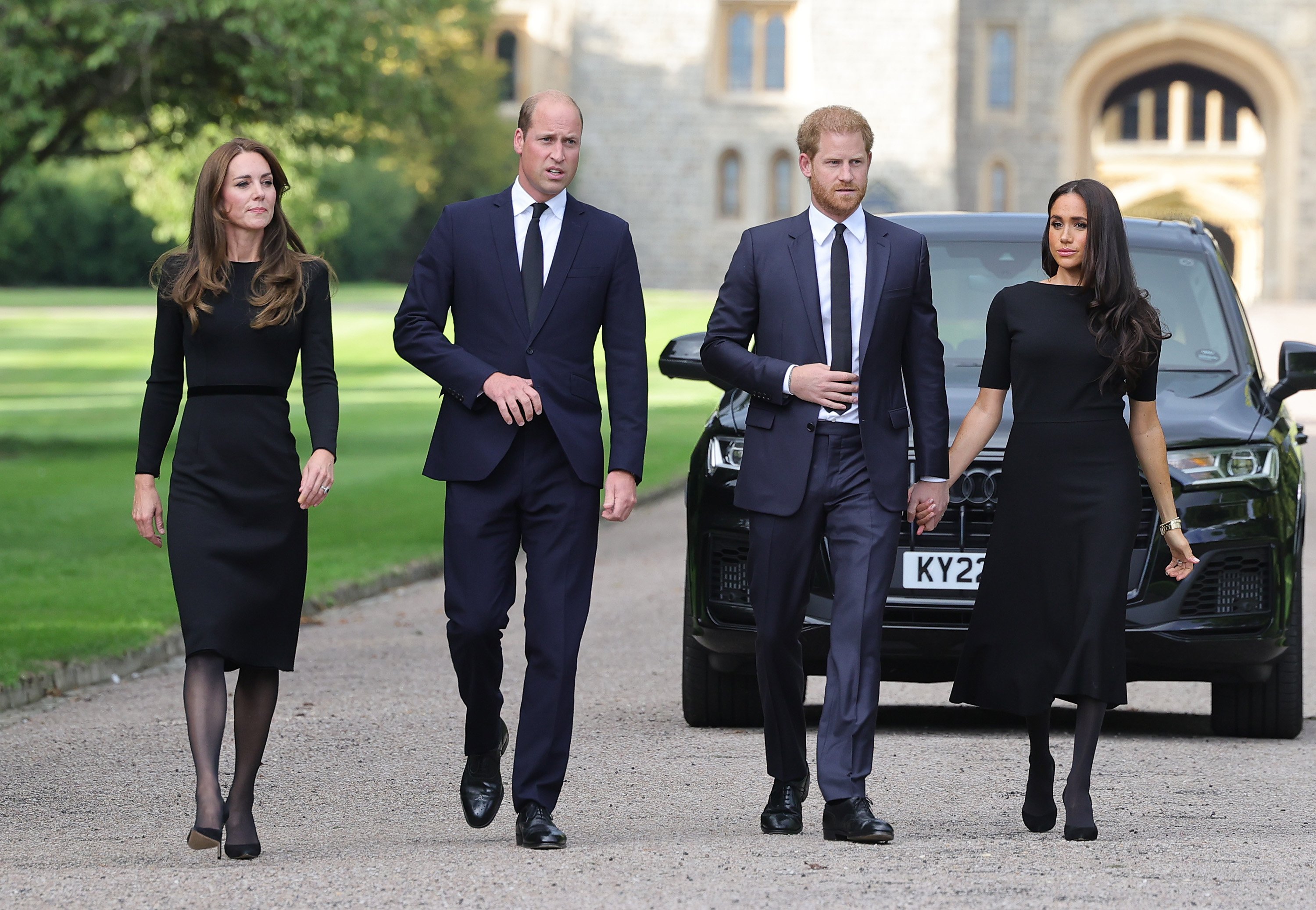 Catherine, Prince William, Prince Harry and Meghan, on the long Walk at Windsor Castle arrive to view flowers and tributes to HM Queen Elizabeth on September 10, 2022 in Windsor, England. | Source: Getty Images
While the public remains fixated on the brothers reconciling, the question remains whether they want that for themselves. Decisions about their relationship are hard to make due to the public pressure of what their relationship should be whenever they are together.
Harry and Meghan Reportedly Have to "Acknowledge the Pain They've Caused"
The feud between William and Harry reportedly took root shortly after Harry and Meghan started dating and became even more pronounced after the pair walked down the aisle in 2018.
However, Harry and Meghan's interview with Oprah in March 2021 appears to have cemented the dispute, and the brothers grew further apart. William and Kate felt Harry and Meghan had crossed the line with the tell-all interview.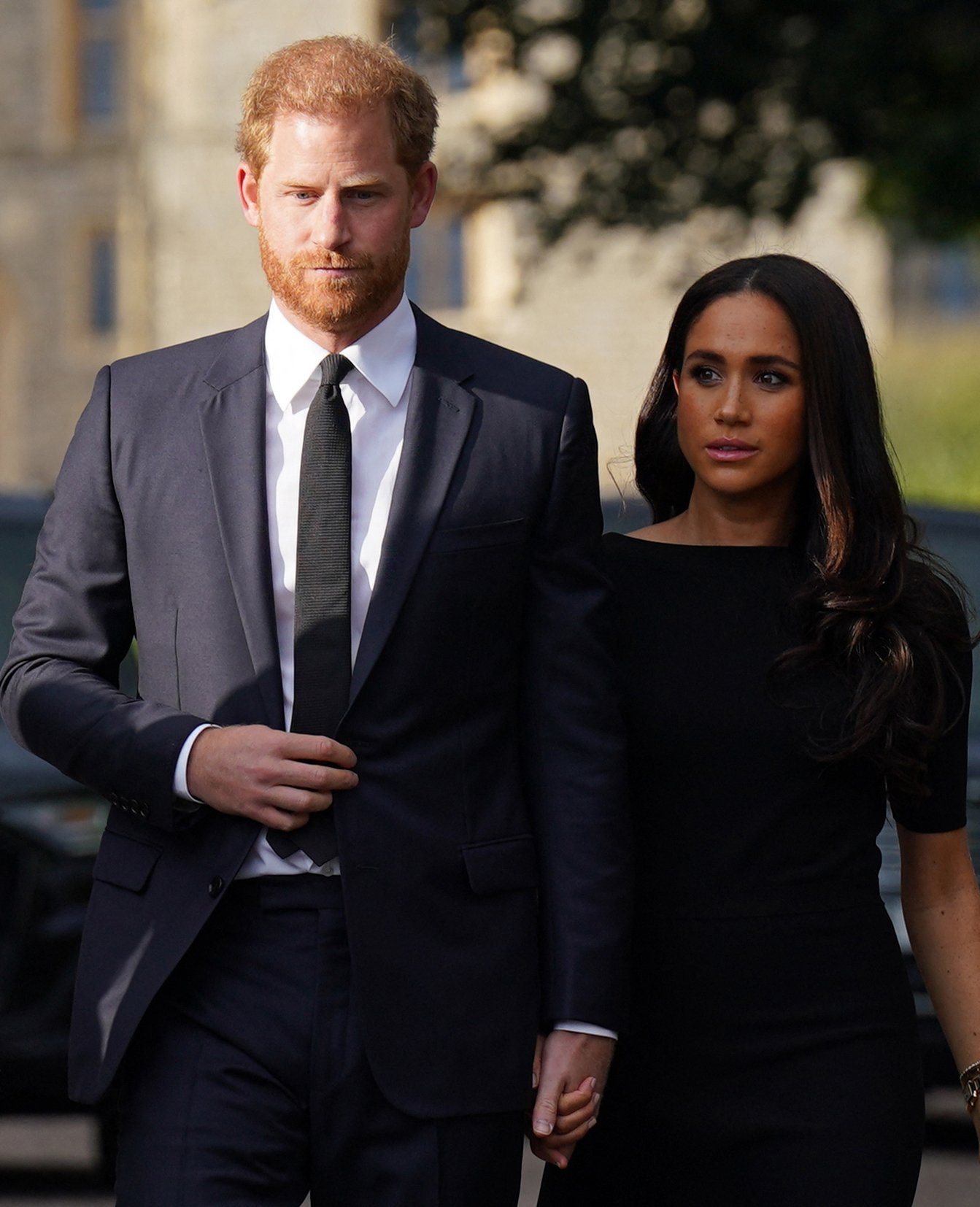 Britain's Prince Harry and Meghan, Duchess of Sussex on the long Walk at Windsor Castle on September 10, 2022 | Source: Getty Images
A royal source says that before the Prince and Princess of Wales can think about starting the healing process between them and Harry and Meghan, the Sussex should acknowledge the pain they have caused.
William and Kate are adamant that no one should say such hugely upsetting stuff without acknowledging its effects on the people that matter. Sources say the Sussexes should bear the consequences of their actions and apologize for putting their family on the spot before hoping for a reconciliation.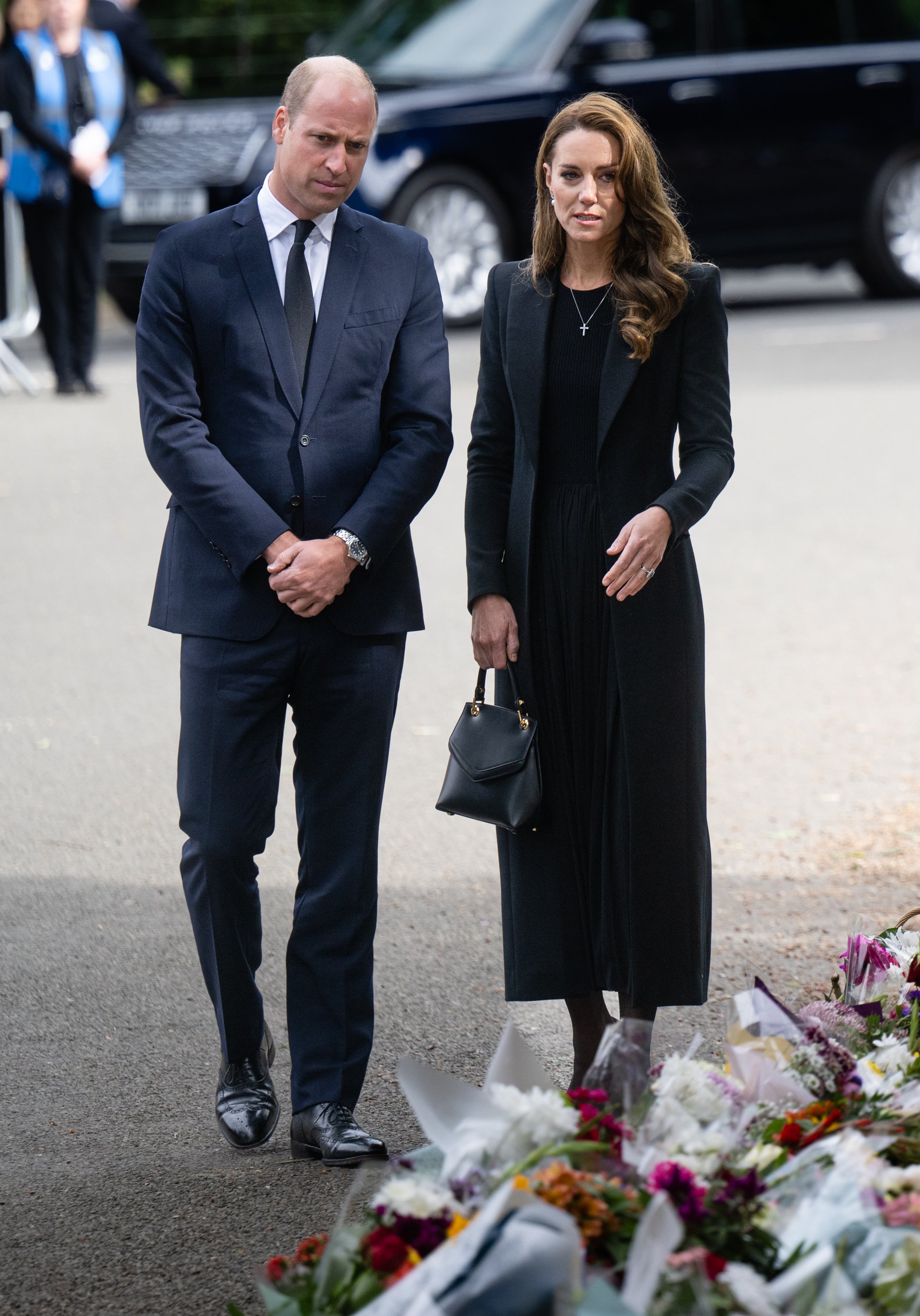 Prince William, Prince of Wales and Catherine, Princess of Wales view floral tributes at Sandringham on September 15, 2022 in King's Lynn, England | Source: Getty Images
For the brothers to heal and restore their trust in each other, they will have to move in the same direction and be mindful of their grandmother's words during a 2014 Christmas broadcast when she said: "It is through this lens of history that we should view the conflicts of today, and so give us hope for tomorrow," adding:
"Although we are capable of great acts of kindness, history teaches us that we sometimes need saving from ourselves."
It is, understandably, difficult for William to bond with his brother, knowing that Harry is writing a book about him. With the absence of trust between the two, a potential reconciliation seems very far out of sight and as it stands, only time will tell what direction their relationship takes.
Please fill in your e-mail so we can share with you our top stories!