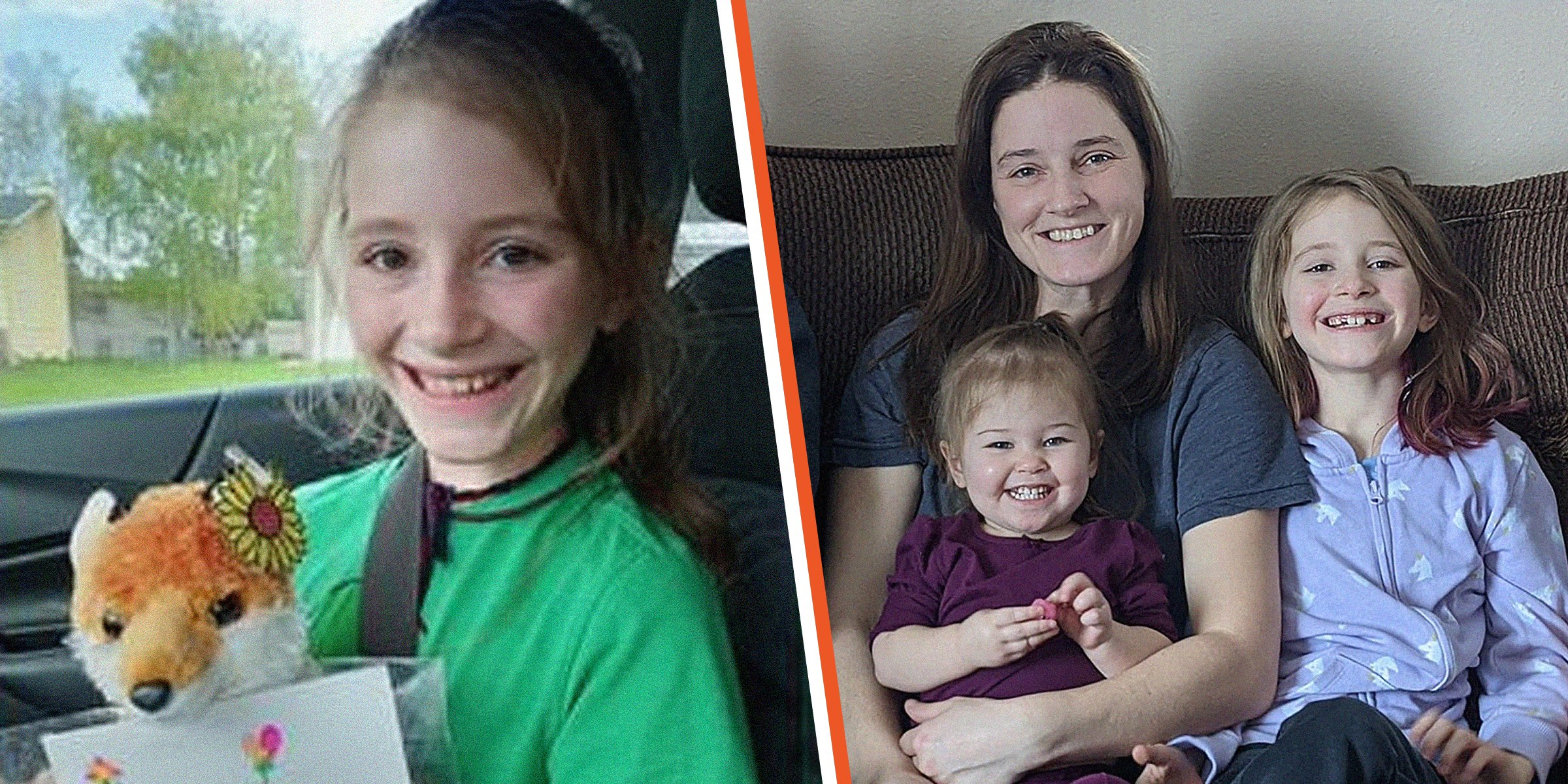 Alanah Barnett | Alecia Barnett, Aurora, and Alanah Barnett | Source: Facebook.com/KFYRtv | Facebook.com/aly.barnett.14
Parents Forced to Take Daughter, 9, off Life Support – Mom Decides to Spend Last Night with Her

When a nine-year-old girl suddenly collapsed after having dinner, her mother had to call the paramedics for help. Little did she know that her daughter would never sit at the dinner table with her again.
Sometimes, life puts us in difficult situations which are out of our control. One of the things that humans aren't prepared for is death. None of us know when we, or our loved ones, will breathe our last.
The mother in today's story had never thought she would witness the devastating moment of her daughter's death. Everything was going well until the day her little girl struggled to breathe soon after having dinner.
The Dinner
Alanah Barnett was a fourth-grader at Ben Franklin Elementary School, Grand Forks, North Dakota. Not only was she the center of her mother's attention, but her friends were also very fond of her.
Her mother, Alecia Barnett, loved feeding little Alanah delicious turkey sandwiches and ice cream. The Barnetts lived a good life until the day when things took a turn for the worse.
It all began when Alanah, who had asthma, had difficulty breathing after having dinner on September 9, 2022. Alecia's heart raced after seeing her daughter in pain, and she immediately called the paramedics for help.
Inside the Hospital
Alecia couldn't understand why her daughter had suddenly fallen unconscious. Soon, the paramedics arrived and tried reviving Alanah, but she didn't open her eyes. It took them 40 minutes before they got a response from the little girl.
As soon as Alanah responded, the paramedics airlifted her to a hospital in Fargo. Over there, the doctors told Alecia that her daughter would stay in a coma for some days. The worried mother prayed for Alanah's quick recovery, but fate had other plans.
The following day, Alanah's health deteriorated. She wasn't responding to medications, but the doctors didn't give up. They expected her to fight back and get better in a few months.
No Progress
The doctors were optimistic about Alanah's recovery until her condition worsened on September 12, 2022. They kept her under observation to monitor her symptoms, but there was no improvement. Her MRI scan still showed the same results.
Alecia was living a nightmare while her daughter was in the hospital. All she could do was cry and pray for Alanah's recovery. When the doctors told her that Alanah's condition was quickly deteriorating, she called her family to say their final goodbyes.
On the afternoon of September 13, 2022, the doctors declared Alanah had no brain activity. At that point, Alecia had to make the most challenging decision of her life ― to take Alanah off life support.
The Last Night
Alecia spent the last night with her daughter before allowing the doctors to pull the plug on September 14, 2022. The devastated mother recalled:
"I laid with her in bed. I sang her songs and played her favorite music. And I let her go."
Alecia cried her eyes out after Alanah breathed her last. Her heart raced as she realized she would never see Alanah get creative with her Legos or ride her skateboard like a pro.
A Loving Girl
"Super sweet, charismatic little girl who's super silly, always made people smile and laugh when she was by them. Just her mere presence," Alecia recalled. The single mother had lost the girl who made her smile on her worst days.
Alanah's family set up a GoFundMe page to help the Barnetts with the funeral expenses. The organizer, Leanne Miller, wrote a heartwrenching description of what happened to Alanah. Miller said:
"She [Alanah] was a little girl with many silly faces and a jack of all trades."
The Comments
Apart from Alanah's family and friends, strangers on the internet also felt terrible after hearing about her sudden death. Here are some of the comments from KFYR-TV's Facebook post:
"Dear Mom, I can only try and imagine what you are going through. Your description of how you are feeling was very vivid. You are so hurting. And I am so sorry for your loss!"

― (@Edie Cole) September 19, 2022
"I am so very, very sorry you have lost your daughter. No one should have to bury their child."

― (@Joan Koenig) September 19, 2022
"There is no greater pain in this life than that of losing one's child and no sound more heartbreaking than a mother wailing over the said child."

― (@Justin Nachatilo) September 18, 2022
We extend our heartfelt condolences to Alanah's family and friends, who are dealing with the unimaginable pain of her death. We pray the little angel rests in peace.
Click here to read another story about a four-year-old girl who died a few hours after spending a happy morning at the beach with her family.
Please fill in your e-mail so we can share with you our top stories!
The information in this article is not intended or implied to be a substitute for professional medical advice, diagnosis or treatment. All content, including text, and images contained on news.AmoMama.com, or available through news.AmoMama.com is for general information purposes only. news.AmoMama.com does not take responsibility for any action taken as a result of reading this article. Before undertaking any course of treatment please consult with your healthcare provider.