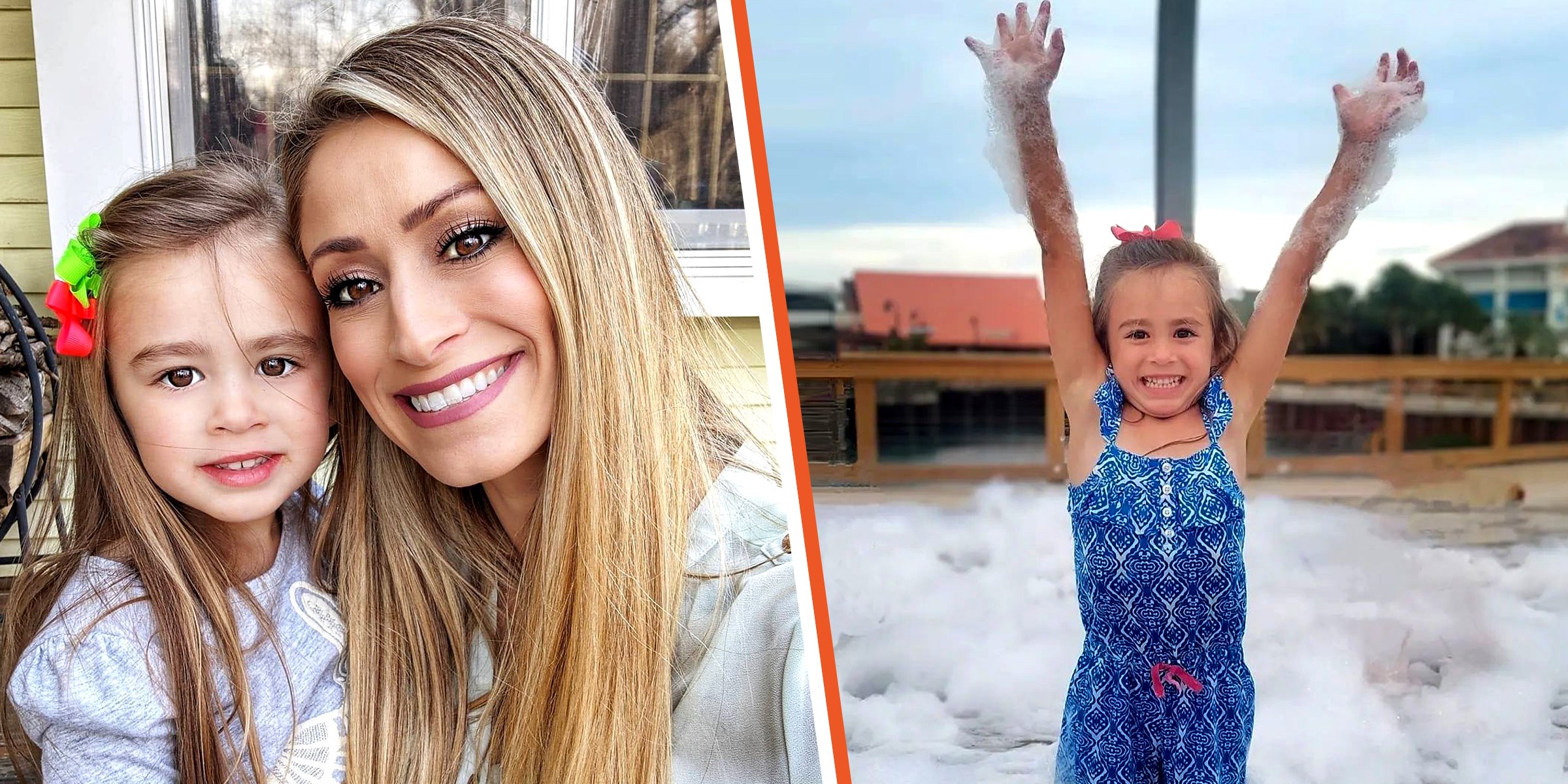 Ava Aurelia Doyle and Mom Karisa Rae Doyle | Ava Aurelia Doyle | Source: facebook.com/karisa.rae.5
4-Year-Old Girl Dies Just Few Hours after Spending a Happy Morning at the Beach with Her Family

The sad truth about tragedies is that they almost always strike in the middle of ordinary days, crippling loved ones with shock and heartbreak. This was the case for a family from Midland, North Carolina, after their vibrant little princess was taken from the world unexpectedly.
Children develop unbelievably complex personalities early on, and their uniqueness leaves moms and dads in awe. One couple adored their vibrant little girl and couldn't wait to see her become the woman she was destined to be.
Filled with joy and endless imagination, the sky was the limit for the one-of-a-kind girl. Tragically, her light was blown out too soon.
Making Memories
Four-year-old Ava Aurelia Doyle, affectionately called "Bean" by her loved ones, was a little girl filled with passion and laughter.
She loved playing with makeup, dressing as a princess, and picking flowers from her home garden. The sweet girl was described as a dancing queen who enjoyed putting on a show for friends and family.
It was the perfect day, and no one could've imagined tragedy was waiting around the corner.
Painting at her table or hosting tea parties were just a few of the ways Ava busied herself. The mother regularly updated friends and family, sharing their heartwarming memories with their daughter.
In one post, Karisa wrote: "I asked her what she thought she'd look like when she grows up, and she laughed and replied, 'mommy ... like you, of course, because we are twins. We have the same face.'"
A Loving Big Sister
In August 2022, her mother, Karisa Rae Doyle, shared a heartwarming Instagram post featuring Ava with her baby sister, Ainsley. The proud mom was in awe of Ava's love for her sibling, writing:
"I hope these two grow up always loving each other as much as they do today. It's almost as if [Ava] was born to be a big sister. Caring for Ainsley comes so naturally, and Ava loves every minute."
Their sisterly bond grew every day, and Karisa said it was something incredible to see. She imagined the precious girls supporting each other through the various phases of life and couldn't wait to see them grow.
An Electric Life Cut Short
On a warm day in September 2022, the family took a trip down to the beach. Ava played in the waves, collected shells, and built sandcastles.
The family documented the special memories and mom Karisa shared footage of her husband and two girls enjoying the splashing water and having fun in the sun.
It was the perfect day, and no one could've imagined tragedy was waiting around the corner.
A Parent's Worst Nightmare
The family shared shocking and unexpected news—their beloved Ava died in a "tragic accident." A morning at the beach quickly turned into a nightmare day for the Doyle family. Ava's mom and dad, Zack, expressed:
"It is with absolute shattered hearts that we are sharing this ... Ava has gone home to the Lord. She is already so deeply missed. We are trying to figure out how to navigate our lives without this shining star."
An Eternal Missing Piece
The Doyle family's world was turned upside down, but they found comfort knowing their angel was in a better place. Karisa said:
"We know she is in heaven riding unicorns ... and asking Jesus all the questions we couldn't answer."
Their longing for their unique little girl would never disappear, and the family acknowledged this. She would always be a missing piece in their lives, but they refused to let her passing be in vain.
Leaving a Legacy
The Doyle family started a GoFundMe campaign on behalf of their precious child. They vowed to use the donations for a cause that their daughter would have supported and suggested the possibility of starting a non-profit organization. They stated:
"Over the coming months, we will be moving forward positively to spread her love and joy to the world in any way we can. This was her purpose, and this is only the beginning."
Hug Your Loved Ones
The family was immensely grateful for the support from their community and people they didn't know. It was comforting to read kind messages and know they were not alone. The mom said:
"We know so many of you are hurting with us ... there is comfort in knowing how loved [Ava] was."
Ava's grandfather also shared the devastating loss online and expressed his feelings of brokenness and helplessness. He used the opportunity to encourage his friends, urging them to hug their loved ones "every chance" possible.
The Doyle family has a long road of grieving and healing ahead. While the loss of a child will always stay with them, their plans to create a legacy on behalf of Ava will ensure memories of her joy are never forgotten.
We also send our heartfelt condolences and prayers to the family. May their little angel rest in peace.
Click here for a story about an eight-year-old boy who was full of life and ready to reach his dreams and potential. The unimaginable happened while he was going to school, just like any other day.
Please fill in your e-mail so we can share with you our top stories!