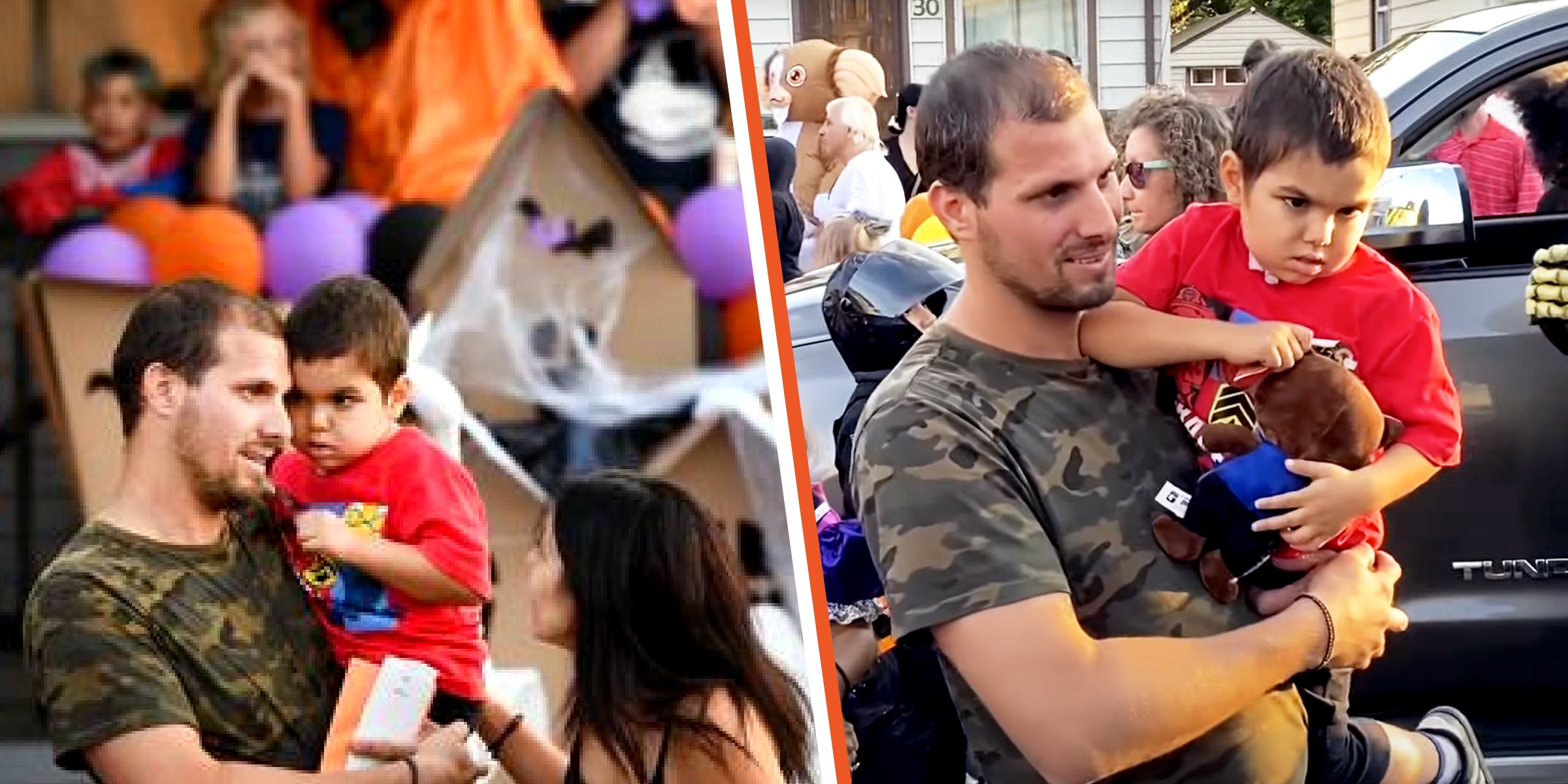 Nick Hurdakis, Kira Hurdakis, and Alex | Nick Hurdakis and Alex | Source: Youtube.com/TheSpec | Facebook.com/hamiltonspectator
5-Year-Old Given Weeks to Live Asks to See Monsters for the Last Time – Neighbors Fulfill His Last Wish

When a terminally ill boy expressed a strong desire to enter a haunted house and see monsters for the last time, his family knew they had to do something. Surprisingly, hundreds of monsters lined the street outside their home in a festive parade not long after to fulfill the boy's last wish.
Nick and Kira Hurdakis lived in Hamilton, Ontario, Canada, with their three children, Kostas, Alex, and Eireen. When the couple welcomed their second kid, he appeared to be a typical baby, achieving all his milestones and being an adorable little brother to his older sibling.
But when Alex turned 11 months old, he fell ill, after which his parents took him to a walk-in clinic, where they were told he had a viral infection. Several days passed, and his condition didn't improve, after which the Hurdakises took little Alex to a local hospital. Still, they were told that it was a virus that would go away with time.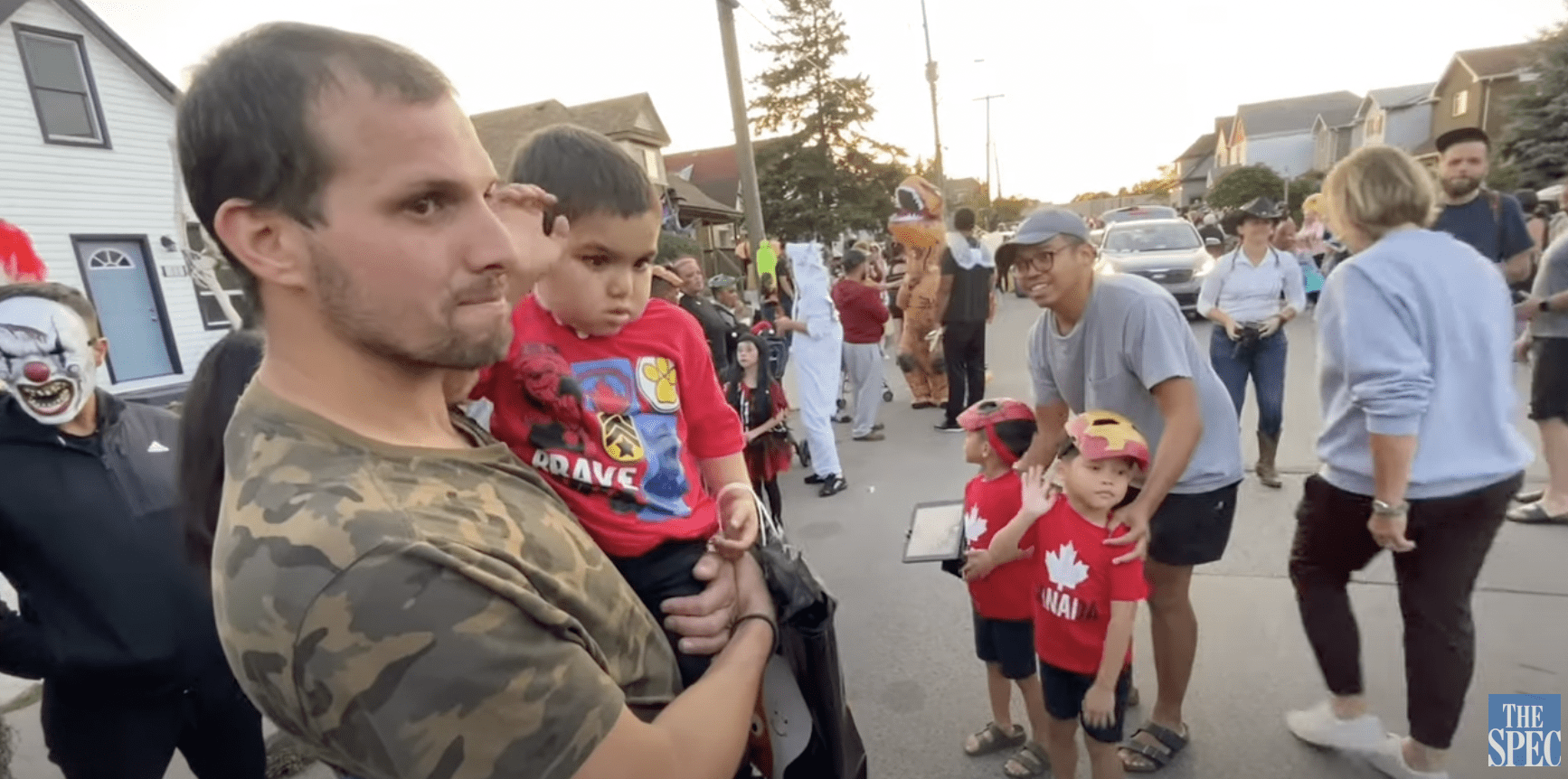 Nick Hurdakis holds his son, Alex Hurdakis. | Source: YouTube.com/TheSpec
The Diagnosis
Finally, Alex's parents decided to take him to Toronto's Hospital for Sick Children, but the doctors told them the same thing — their son had a viral infection. Something didn't feel right to Nick and Kira, so they contacted their pediatrician in Greece, the country from which they had moved to Canada two years before Alex's birth.
Much to Anderson's surprise, her post gained traction, and the most heart-melting surprise came to pass in a little less than two days.
After a video call with their doctor in Greece, the couple was told to go back to the hospital and get a CT scan. On May 3, 2018, the Hurdakis couple's life changed drastically after receiving the test results. Little Alex was diagnosed with a brain tumor the size of a walnut and needed immediate surgery.
A True Fighter
The youngster underwent surgery to remove 95% of the tumor, and his parents were told the rest would be reduced with radiation and chemotherapy. But on May 11, Nick and Kira learned another shocking news — their son had brain cancer.
As Alex began his treatment, the doctors told his family that he would never walk, speak, or eat orally. Parents Nick and Kira were even told that the tumor could grow back, which was sadly what happened. But through it all, their faith and love for little Alex never wavered.
A Ray of Sunshine
According to a family friend, Paula Tzouanakis Anderson, Alex fought like a warrior and remained courageous, despite his terrifying ordeal. Anderson stated:
"Nothing stops this kid from lighting a room! He has proven them wrong many times over, he walks or runs sometimes, he plays with his siblings. He touches the lives of everyone he meets (sic)."
Nick and Kira's struggle to get the best treatment for their child and tend to his growing needs was anything but easy. Still, they remained hopeful and strong amid the difficult time, never complaining about the unlikely circumstances that turned their lives topsy-turvy.
A Heart-Shattering Revelation
In the second week of September 2022, the Hurdakis family received a piece of heart-shattering news: the experimental treatments that had helped Alex for over four years had stopped working. In other words, their lovely little boy had a short time left with his loved ones.
While parents Nick and Kira were shattered by the sudden revelation, they knew they had to be strong for little Alex and their other children. At the same time, they wished to make the most of whatever time they had left with their sweet boy.
Anderson noted that five-year-old Alex's family was ready to do anything to make all his wishes come true. When she visited his house on September 11, Anderson said that little Alex expressed a desire to go to a haunted house in Niagara Falls. However, his doctors suggested that he stay near his home.
A Beautiful Surprise
To help fulfill Alex's innocent wish, Anderson began looking for inflatable Halloween decorations so that she could construct a haunted house in the family's backyard. When she discussed the idea with one of her friends, they told her to contact the Crown Point community page on Facebook.
Much to Anderson's surprise, her post gained traction, and the most heart-melting surprise came to pass in a little less than two days.
Halloween came early to Argyle street outside Alex's home as the sun set on Wednesday, September 14. The entire street was closed down, and a massive festive parade was afoot.
Expecting the Unexpected
The whole street was flocked with neighbors, including kids and adults who came together for little Alex. A group of volunteers had set up stalls for face painting, popcorn, and cotton candy. Nick carried his boy through the crowd to witness the beautiful scene. He expressed:
"We never expected so many people to help out. It was something else. There are no words."
Meeting His Favorite Monsters
Meanwhile, Anderson was taken aback by the overwhelming response and thanked everyone who helped bring a smile to Alex's face. She shared:
"I knew it was going to be big, but I didn't know it would be this big. [Alex] was waving to every single person in the crowd. He knew it was for him…. You could see the love in his eyes."
Amongst the many monsters that crowded the Hurdakis family's street were zombies, witches, Ghostbusters, and Rubble from Paw Patrol. Several others showed up to greet Alex and shower him with love and affection. Nobody had seen it coming, but the little Hamilton boy had a party he would never forget.
Supporting the Family
Nick, who worked for a construction firm, extended heartfelt gratitude to everyone who made his son feel special. Anderson created a crowdfunding page to help the family with Alex's treatment and other expenses and support them when they needed it the most.
As of September 20, over 56,000 CAD (approximately $42,000) have been raised on the GoFundMe page, and more donations continue to pour in.
We are glad Alex had a wonderful time with his favorite monsters and enjoyed the true spirit of an early Halloween party. Please keep this little boy in your heartfelt prayers.
Please fill in your e-mail so we can share with you our top stories!
The information in this article is not intended or implied to be a substitute for professional medical advice, diagnosis or treatment. All content, including text, and images contained on news.AmoMama.com, or available through news.AmoMama.com is for general information purposes only. news.AmoMama.com does not take responsibility for any action taken as a result of reading this article. Before undertaking any course of treatment please consult with your healthcare provider.