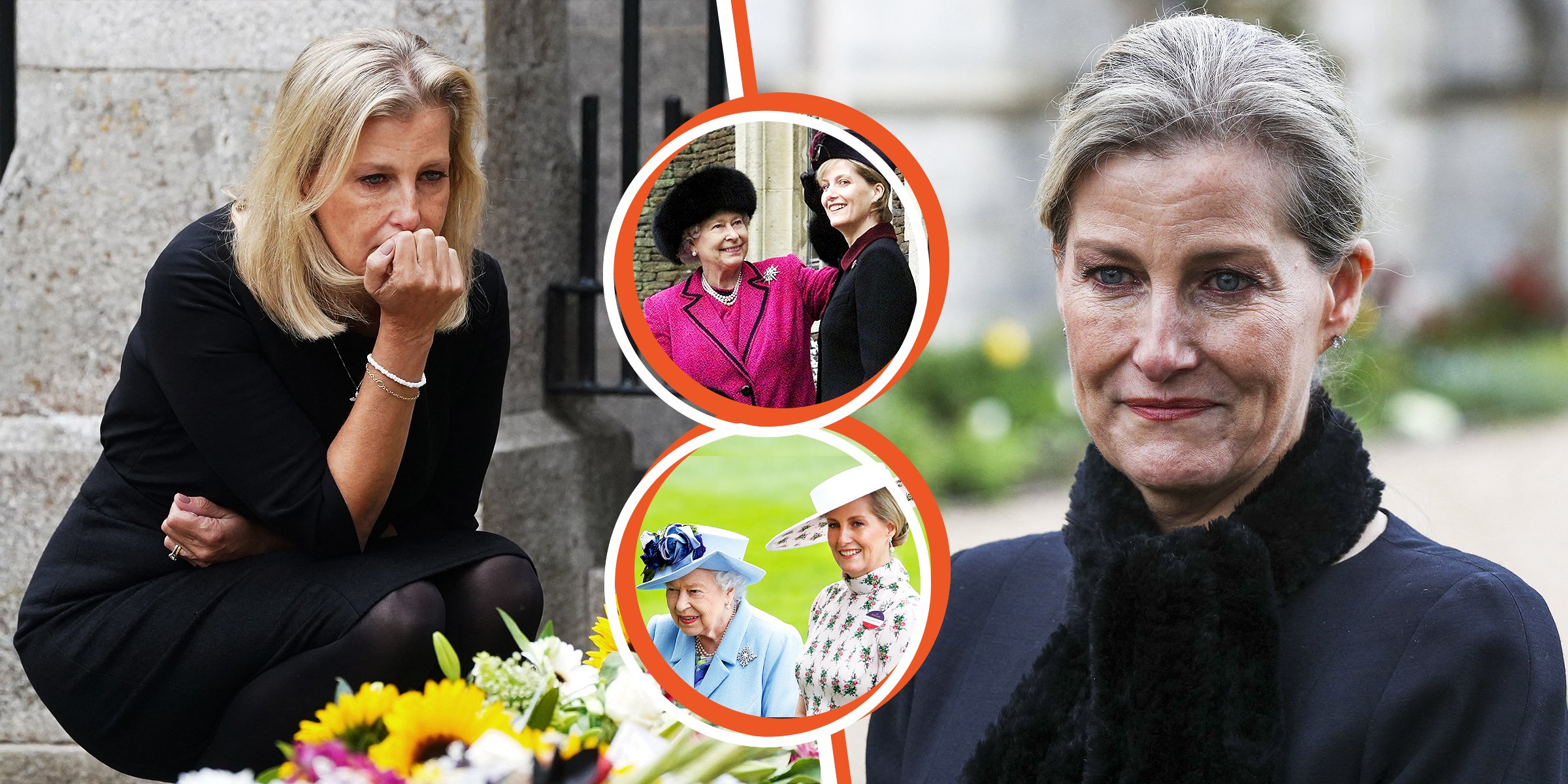 Queen Elizabeth II and Sophie Wessex. | Source: Getty Images
Queen's 'Favourite' Sophie Wessex Wipes Eye at Her Mom-In-Law's Funeral: 'Unimaginable Void'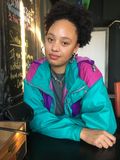 Prince Edward's emotional tribute to the Queen said her death left "an unimaginable void."

Countess of Wessex, Sophie was the Queen's "rock."

Sophie was also "the Queen's secret weapon" when faced with challenges.
Monday, September 19, 2022, was Queen Elizabeth's state funeral and the day her friends and family had to say their last goodbyes to the monarch.
Queen Elizabeth II was a historical figure and will forever be remembered, but her family will remember her differently as a parental figure and an advisor.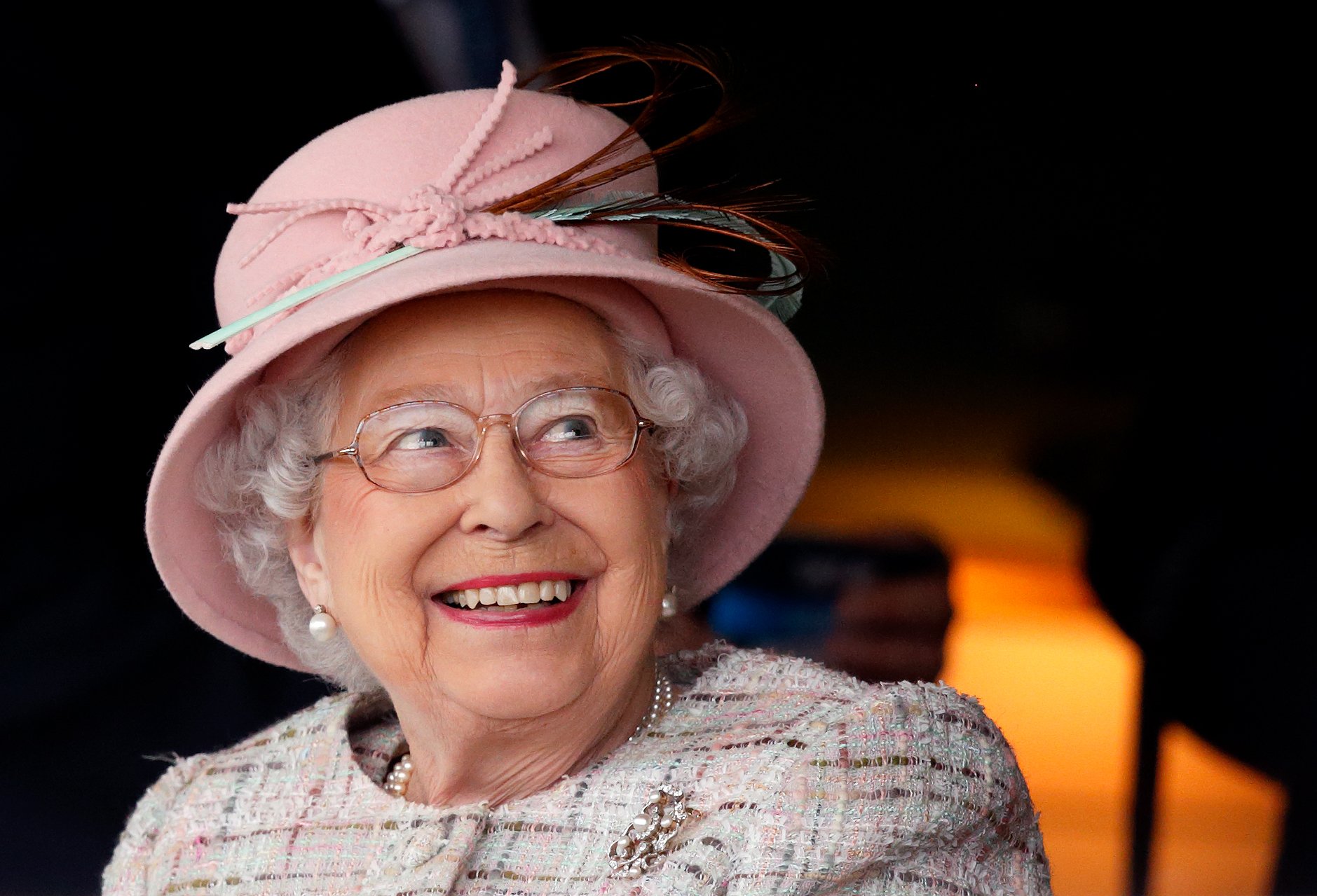 Queen Elizabeth II in Newbury 2017. | Source: Getty Images
Officials from all over the world attended the Queen's final send-off, but this day brought all kinds of emotions to her family. As reported by Express UK, the Queen's youngest son Prince Edward shared an emotional message on Friday.
Prince Edward expressed how happy and grateful he was that his children, Lady Louise Windsor and James, Viscount Severn, have taken after their grandmother and grandfather, Prince Phillips's passions and hobbies.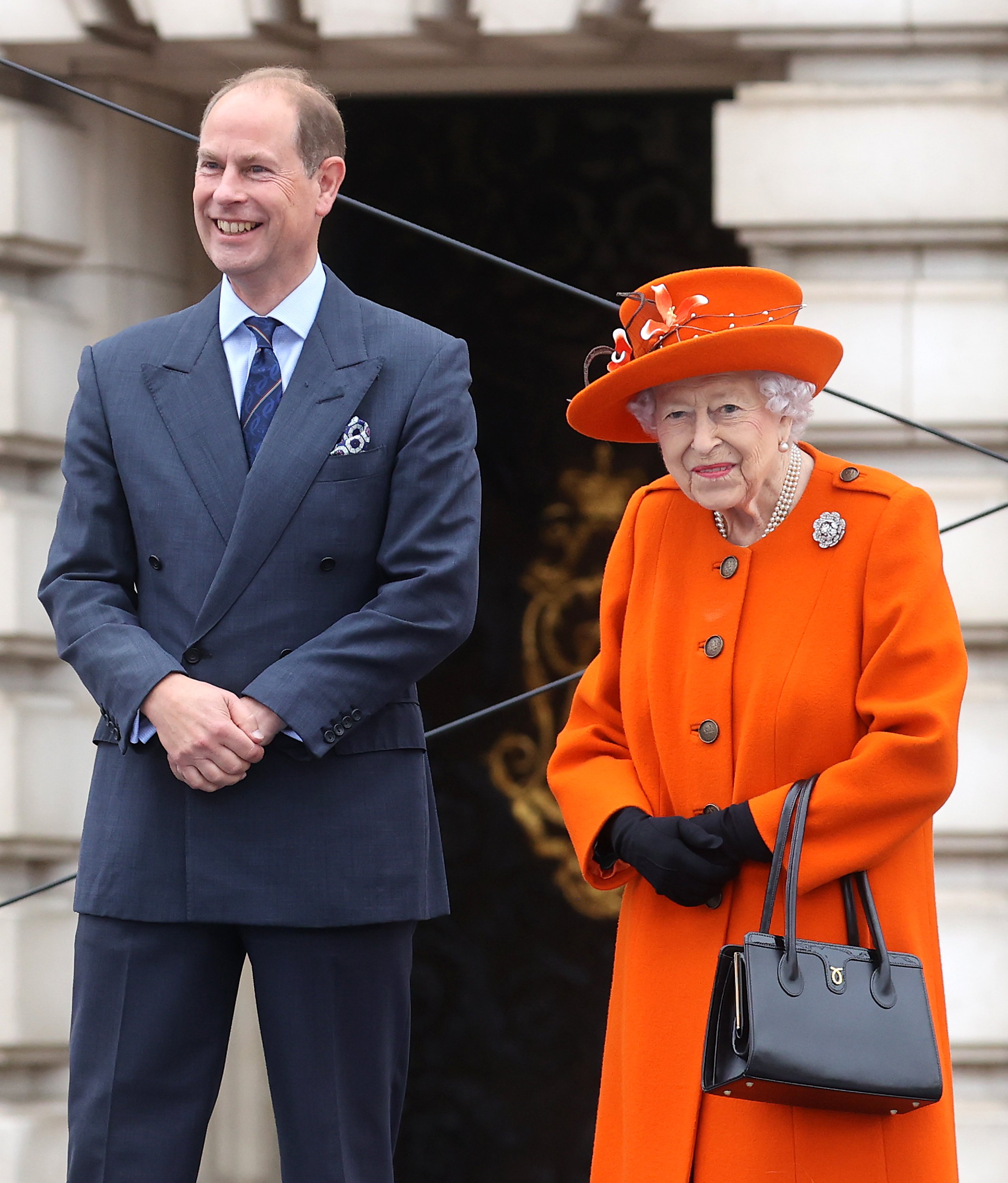 Prince Edward and Queen Elizabeth II in London 2022. | Source: Getty Images
The Earl of Wessex wrote how he believed his mother enjoyed seeing her grandkids grow into their passions because of the time they spent together; he said:
"Given that my mama let us spend so much time with her, I think she also enjoyed watching those passions blossom."
Above all else, Prince Edward admitted that his mother's death had left "an unimaginable void" in their lives. On the other hand, Prince Edward's wife, Sophie, Countess of Wessex, was also reportedly close with Her Majesty.
According to The Telegraph, Sophie was one of the royal members who publically displayed their grief and pain of losing the monarch.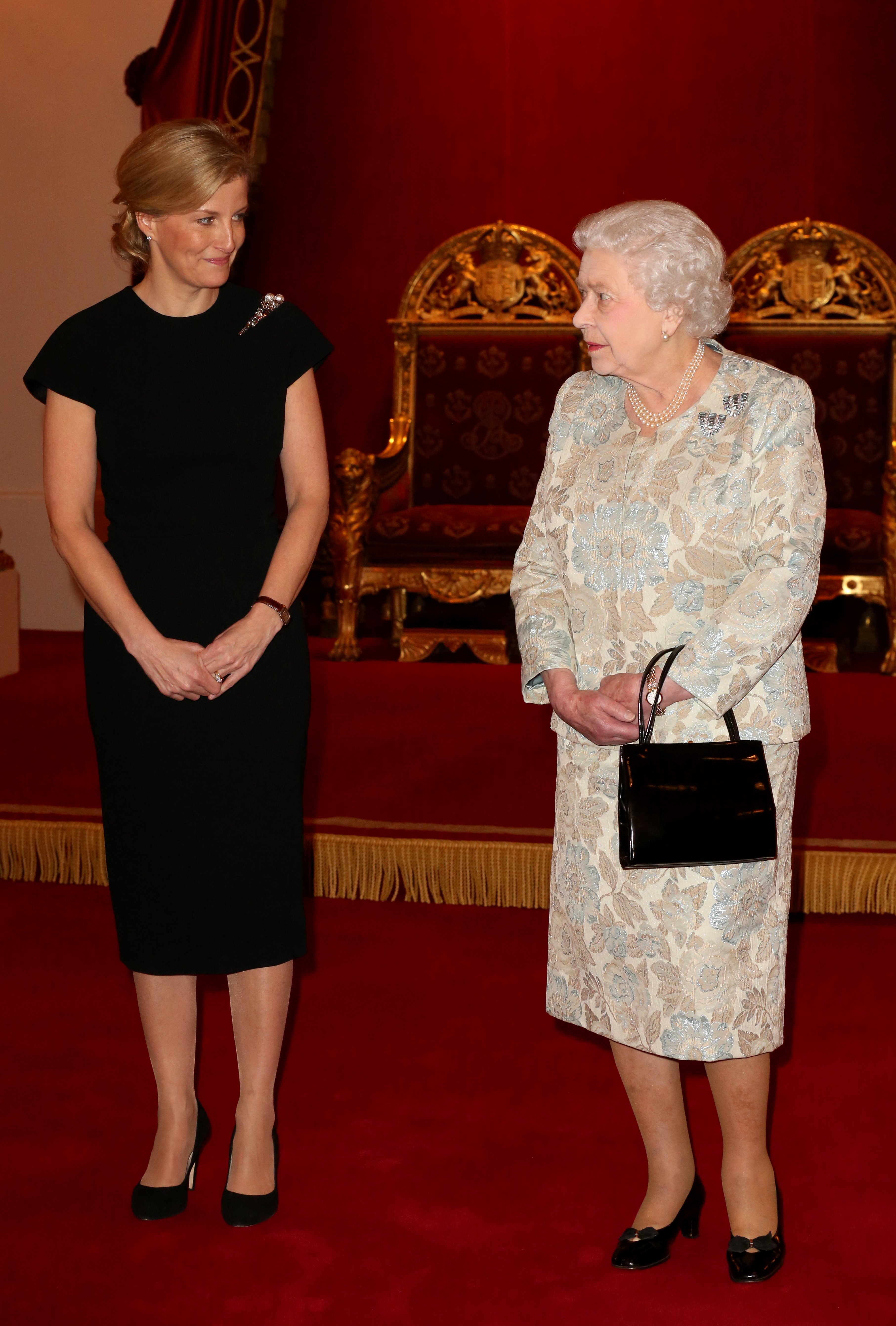 Queen Elizabeth II and Sophie Wessex at Buckingham Palace in 2015. | Source: Getty Images
Over the two decades, Queen Elizabeth II and Sophie have grown closer, stated the Telegraph. The two women reportedly supported each other through their shared loss of loved ones, which turned their relationship into a mother-daughter connection.
According to The Telegraph, the Queen was there for Countess of Wessex when she lost her mother to stomach cancer at 71 in 2005.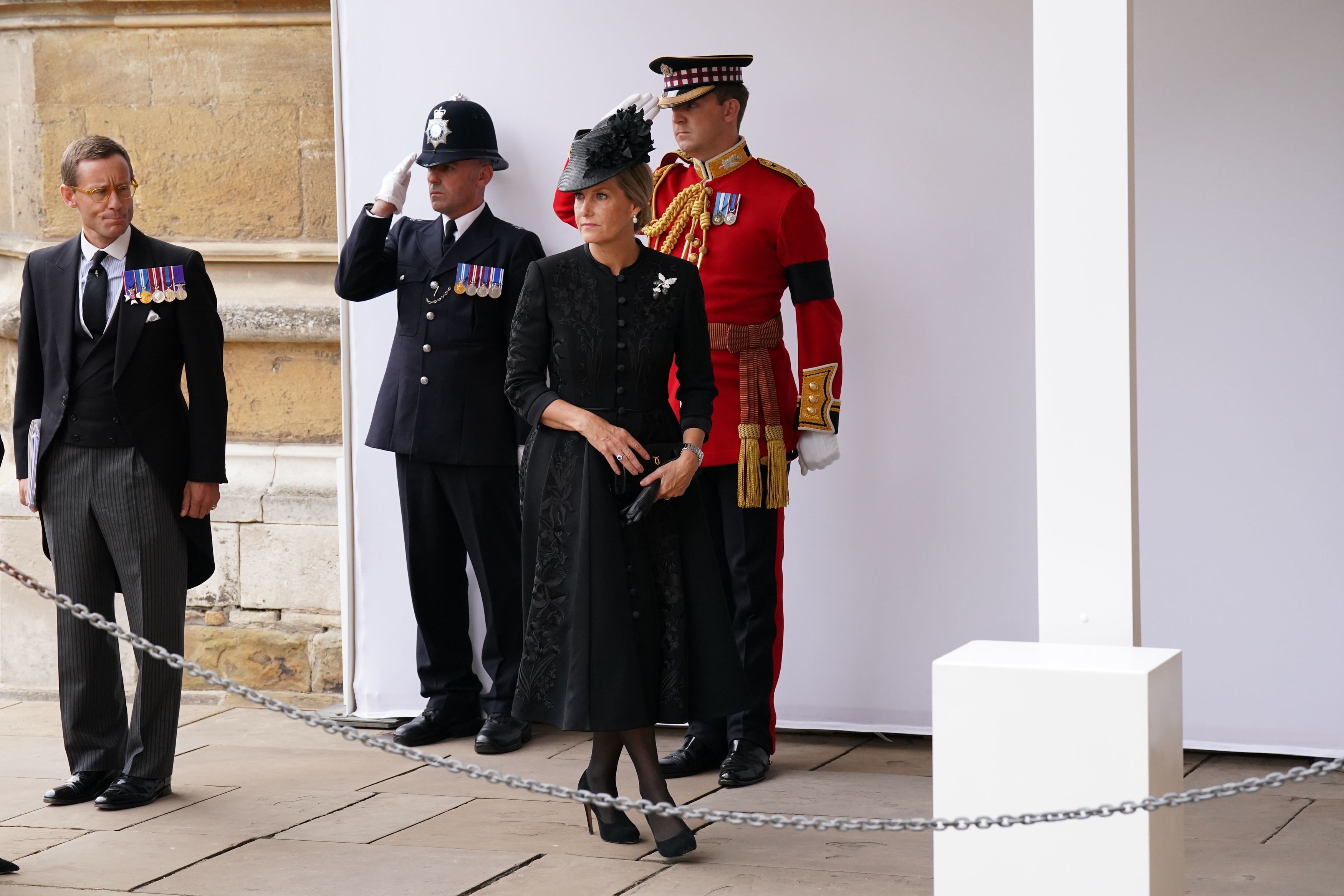 Sophie Wessex at the Queen's state funeral at Westminster Abbey in 2022. | Source: Getty Images
When her Majesty lost her husband, Prince Phillip, she reportedly turned to Sophie for comfort, and the Telegraph stated that the countess had been described as "the rock" of the family.
Sophie is also reported to have been the go-to person for the Queen whenever she needed a person to go to church. The Daily Mail stated that Sophie's presence soothed the Queen, and she preferred to be calm before church.
Close sources to the royal family also told the Telegraph that the two women have mutual love and respect for each other. The countess grew so close to the Queen that she reportedly called her "mama".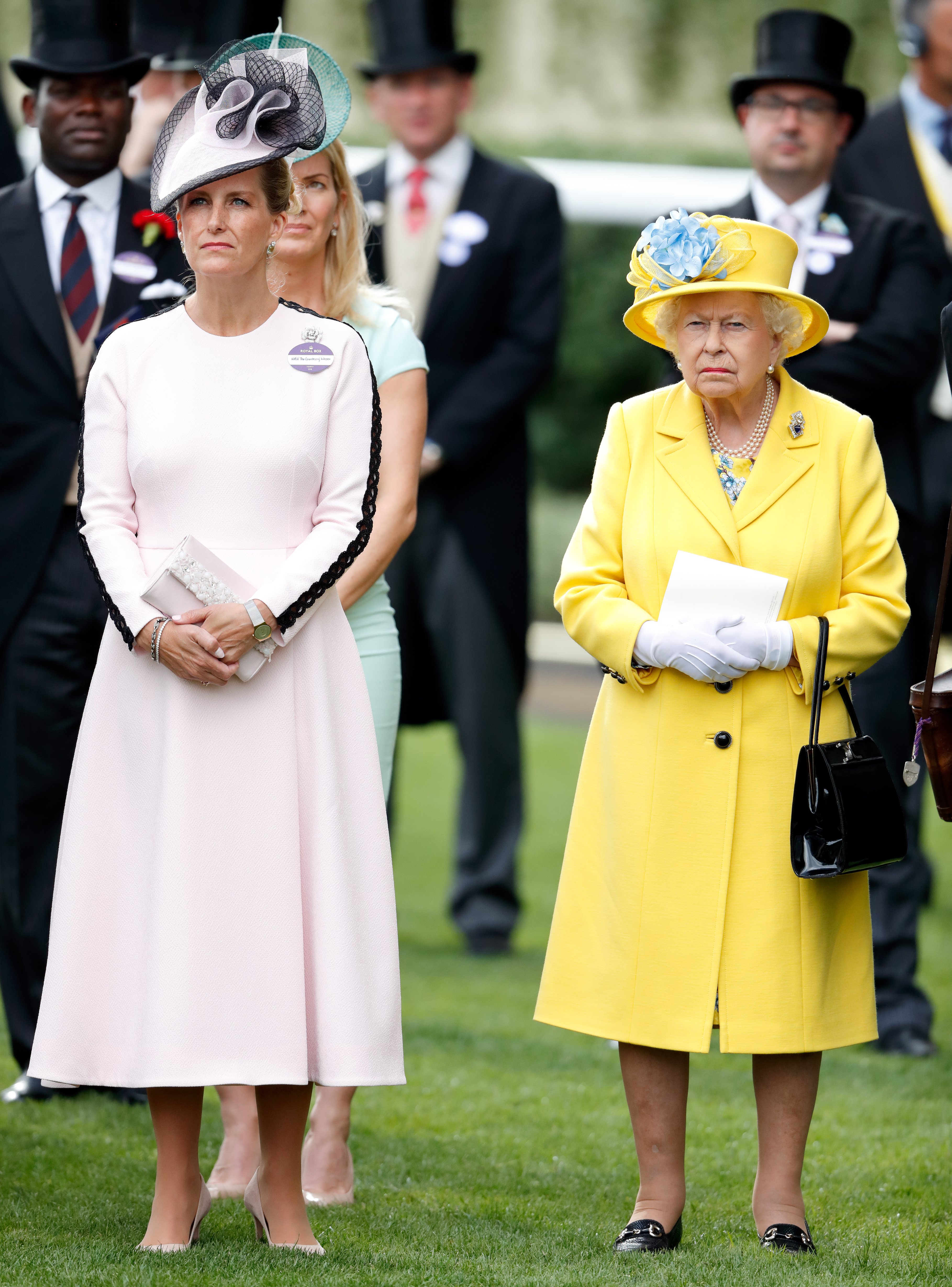 Queen Elizabeth and Sophie Wessex in Ascot, England in 2018. | Source: Getty Images
Not only that, but according to The Daily Mail, Queen Elizabeth thought Sophie and Prince Edward were the safest hands in the royal family because they had sustained a solid marriage for over two decades without any divorces.
Sophie, the Countess of Wessex, Teared Up at the Queen State Funeral
As reported by The Daily Mail, the Earl of Wessex joined his older brothers, King Charles and Prince Andrew, along with his nephews Prince William and Harry, and sister Princess Anne as they walked behind the Queen's coffin during her procession.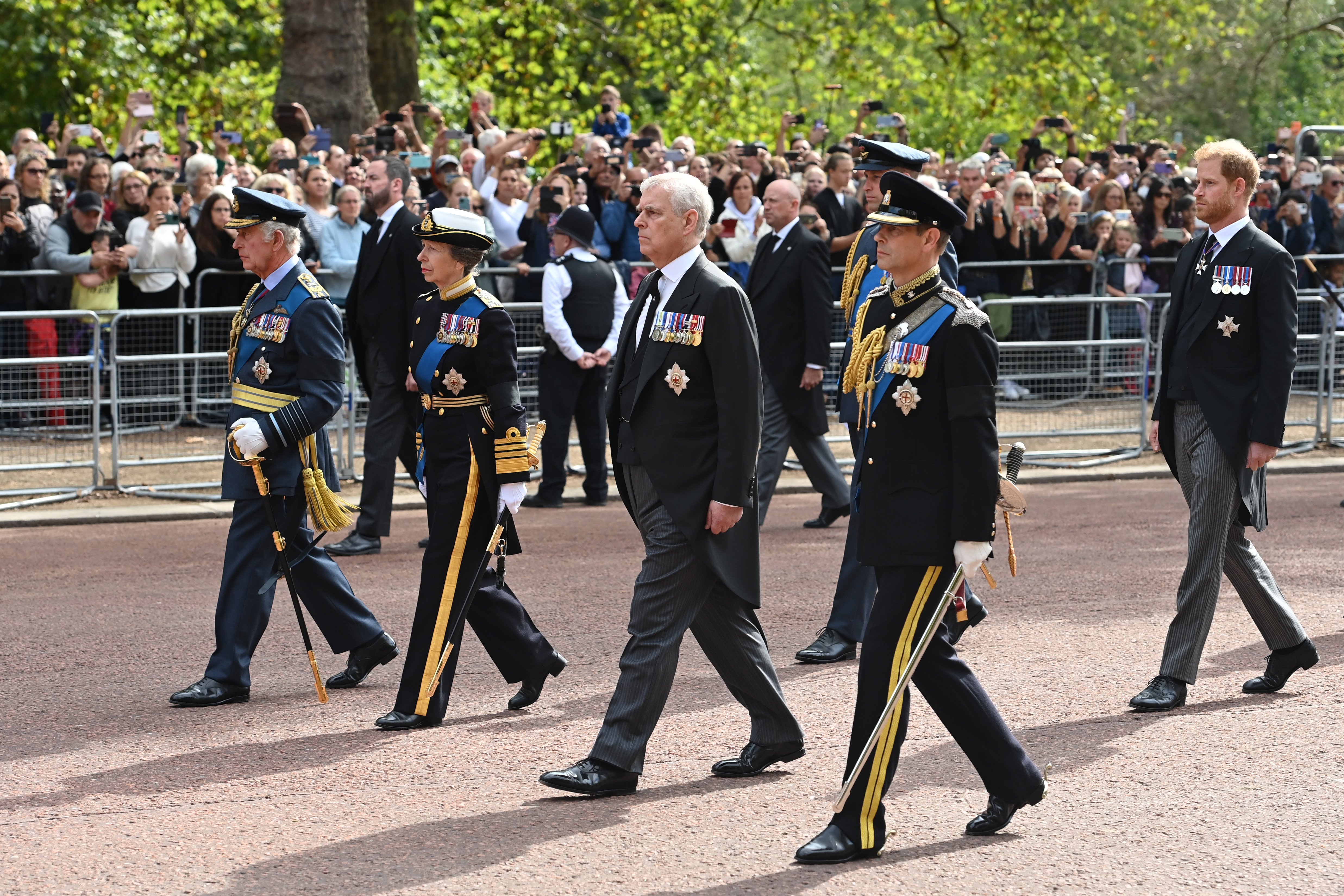 King Chalres III, Prince Edward, Princess Anne and Prince Harry at the Queen's procession in London 2022. | Source: Getty Images
His wife Sophie had Meghan Markle by her side. However, the Earl and countess of Wessex were visibly distraught and emotional during the ceremony, stated The Daily Mail.
Sophie was reportedly captured wiping her tears with a white handkerchief a few times during the ceremony and as she drove away to Westminster Abbey. She even extended a reassuring hand to Prince George.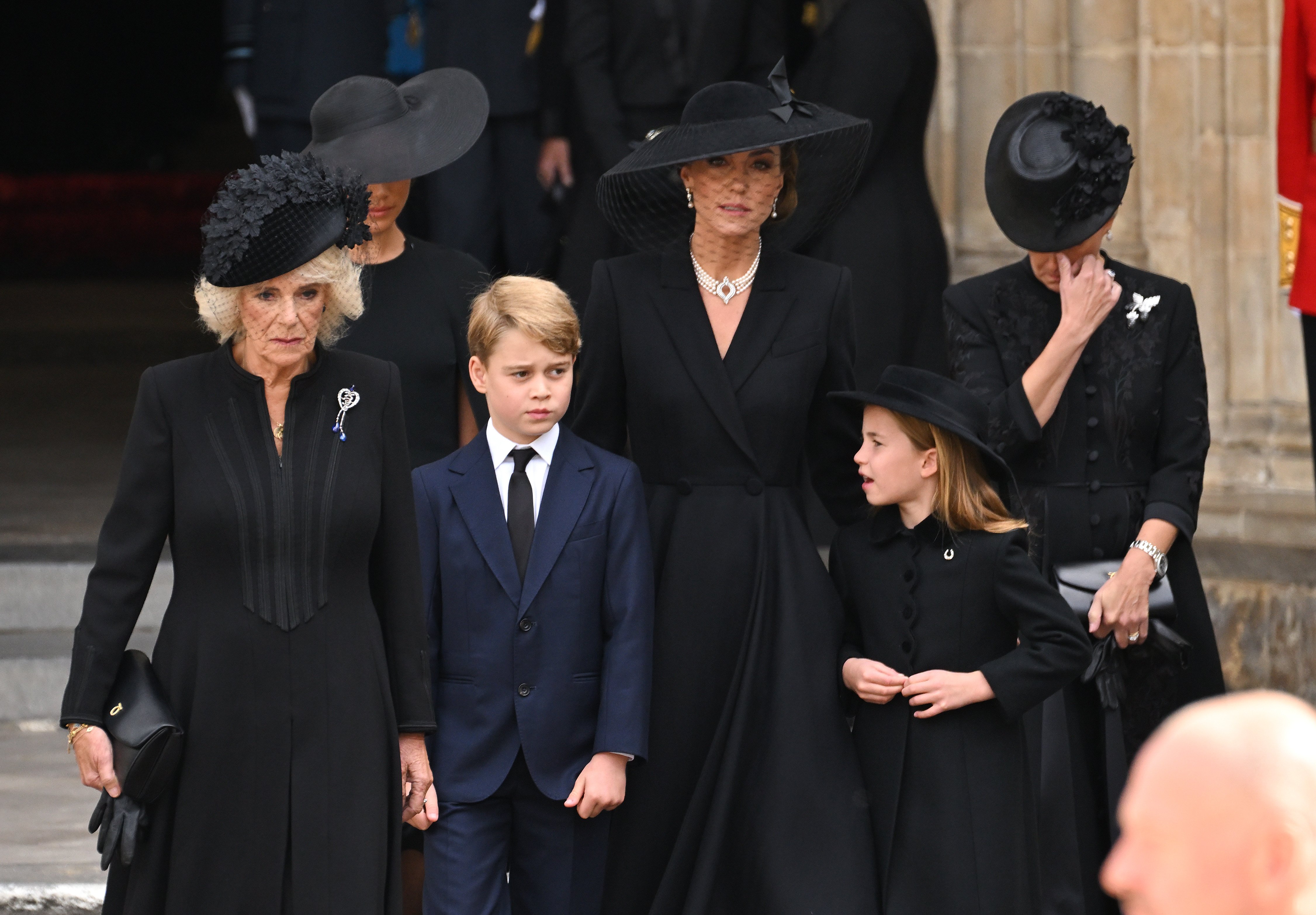 Camilla, Queen Consort, Prince George of Wales, Kate Middleton, Princess Charlotte and Sophie Wessex during the State Funeral of Queen Elizabeth II AT Westminster Abbey in 2022. | Source: Getty Images
The countess sent off her mother-in-law in fashion, wearing a beautiful but simple black dress embroidered with flowers and a fascinator with the same flower detail. Express UK reported this as a nod to Her Majesty's love for nature.
Prince Edward also seemed to be having a difficult time during his mother's ceremony, reported to The Daily Mail. The Earl of Wessex was visibly emotional as he looked over the Queen's coffin.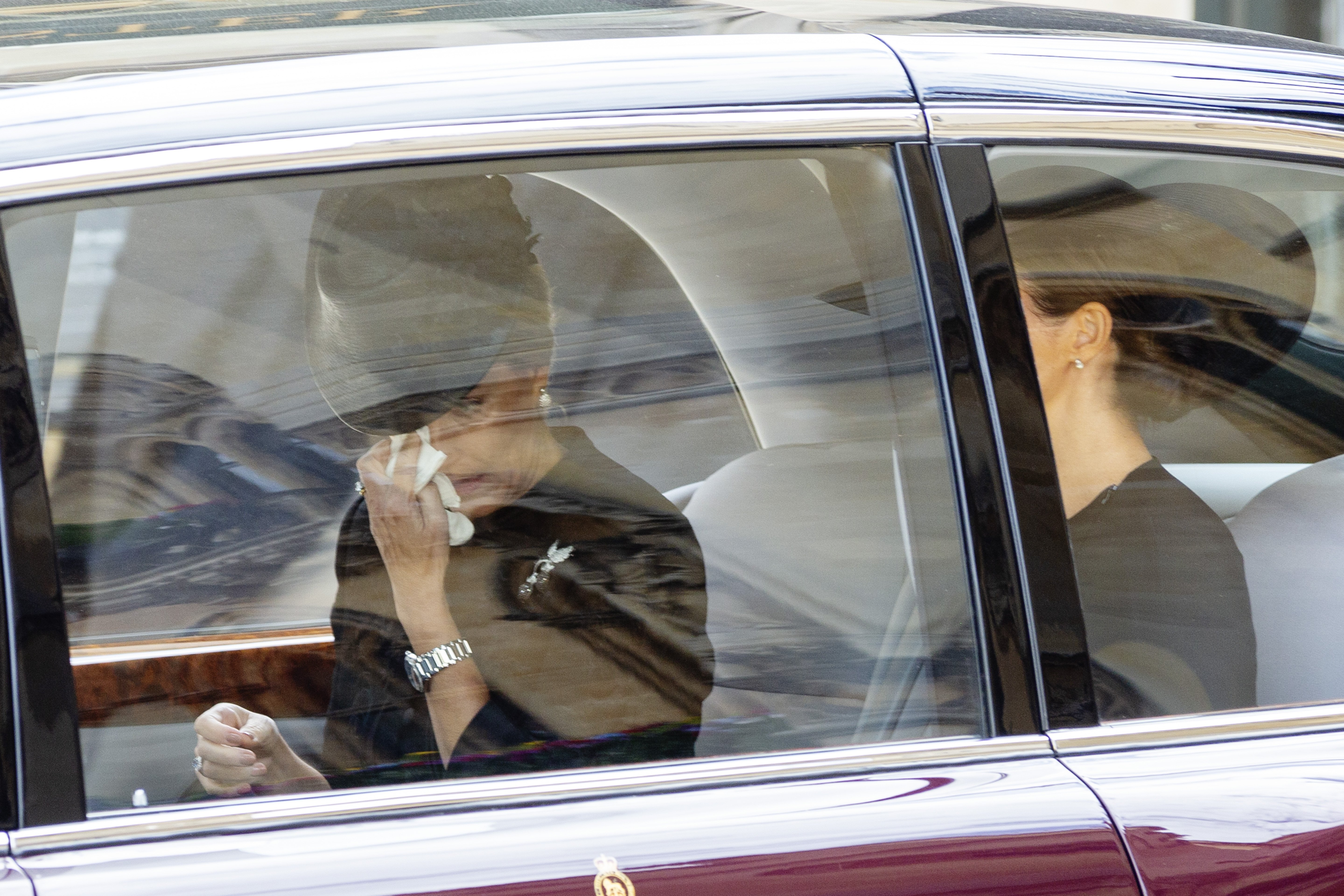 Sophia Wessex leaving for the Queen's funeral at Westminster Abbey in 2022. | Source: Getty Images
There is no doubt, that the Wessex family held the Queen very dear to their hearts, and her death genuinely affected them. We wish them strength as they mourn the monarch.
The Countess of Wessex Was the Queen's Secret Weapon
Queen Elizabeth was married to Prince Philip for an astonishing 73 years; understandably, his death took a toll on the monarch.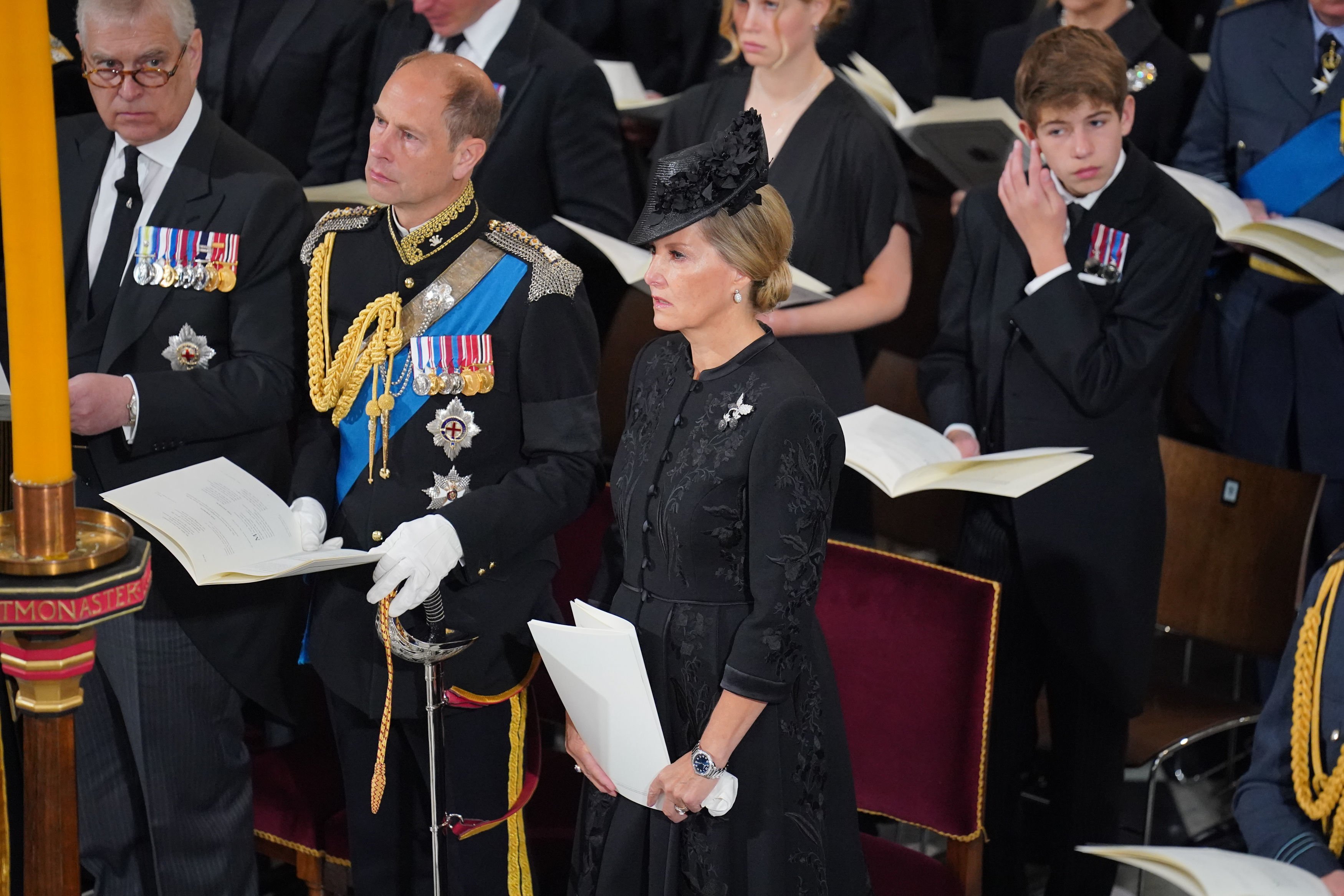 Prince Edward and his wife Sophie Wessex during the Queen funeral ceremony at Westminster Abbey in 2022. | Source: Getty Images
As many reports have stated, Sohpie was the Queen's favorite daughter-in-law, and during the mourning of her husband, she was the one the Queen leaned on.
I-news reported that Prince Edward and his family lived close to the Queen in a manor called Bagshot Park. The proximity to the Queen made them grow fond of each other, but most importantly, Sophie was the Queen's biggest supporter during Prince Philip's sickness, stated i-news.
Sophie Wessex and Queen Elizabeth II in London 2015. | Source: Getty Images
The special connection between the monarch and Sophie was evident when she reportedly chose an image captured by the countess for Prince Philip's funeral.
According to i-news, the image showed the Queen and her husband having a picnic in the Scottish highlands in their most relaxed state. I-news even declared that Sophie was the Queen's secret weapon during this challenging time in her life.
It is also evident that the connection between Sophie and the Queen was deep and enriched with love because the Sun UK reported that a royal commentator Duncan Larcombe said that the countess made it her mission to ensure that the Queen was taken care of at all times.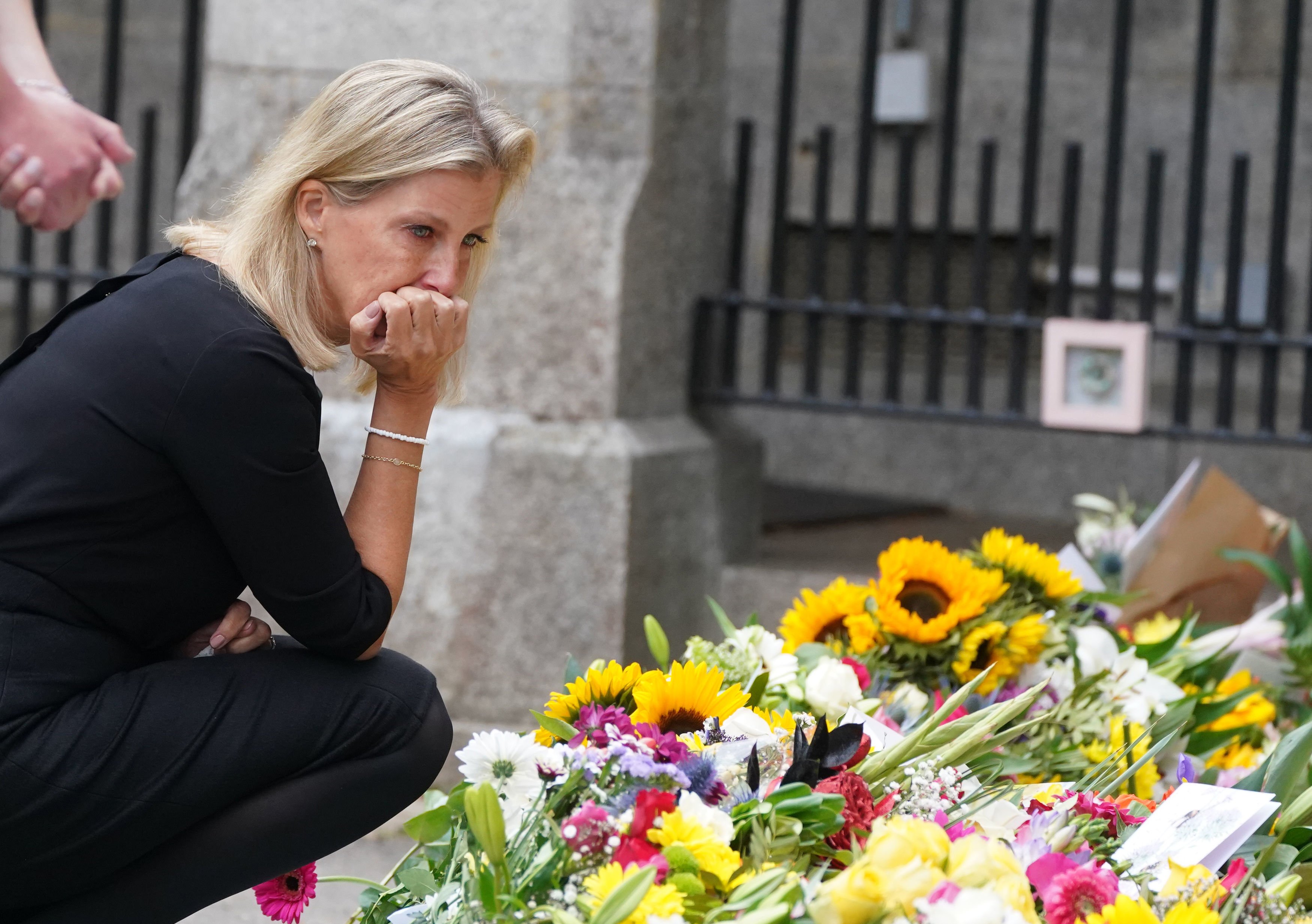 Sophie Wessex looking at tributes in Crathie, United Kingdom 2022. | Source: Getty Images
Therefore, the tears during Her Majesty's funeral were justified because this might have felt like the loss of yet another mother for the countess.
Even though Queen Elizabeth lived such a long life, the special bond the monarch and her daughter-in-law shared indicated that time spent on earth with a loved one would always be valuable. Whether it is short or long, it still hurts when a close relative passes.
Please fill in your e-mail so we can share with you our top stories!