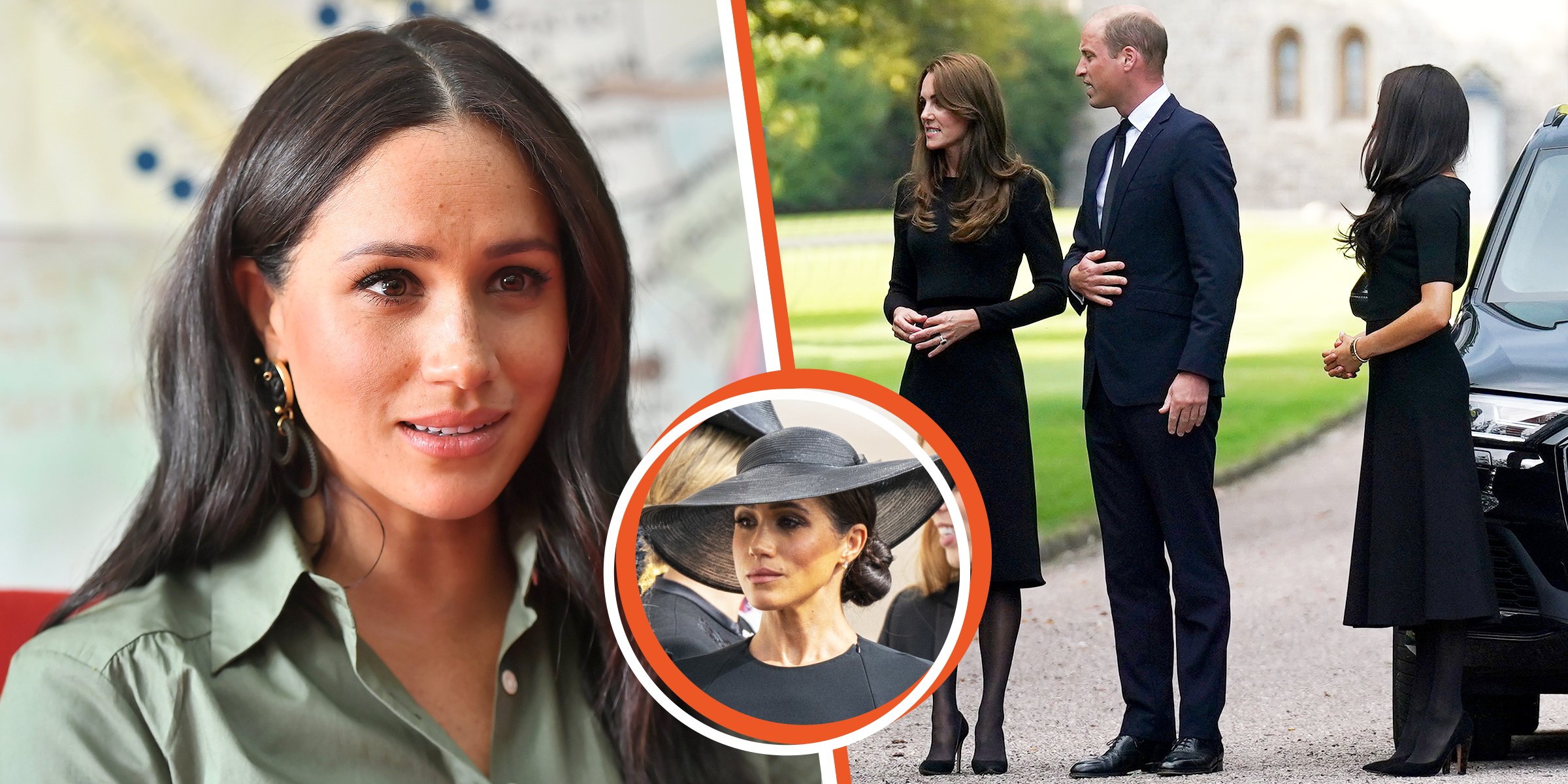 Meghan Markle┃Kate Middleton, Prince William and Meghan Markle ┃Source: Getty Images
Meghan Was like 'Fish Out of Water' as She Covered Face While Royal Family 'Expected' Distance, Claims Expert

Prince Harry and Meghan Markle were away from their kids for 3 weeks instead of three nights.
The royal couple was "ordered to apologize for Oprah comments before the funeral".
A royal expert said Markle was like a "fish out of water" during the Queen's funeral.
The Duchess of Sussex, Meghan Markle, appeared lonesome during Queen Elizabeth II's funeral. Experts have weighed in on her appearance at the monarch's state funeral and believe she was purposefully isolating herself.
Moreover, in September 2021, the Daily Mail reported Markle and her husband, Prince Harry, visited New York City, making their first public outing since moving to the US.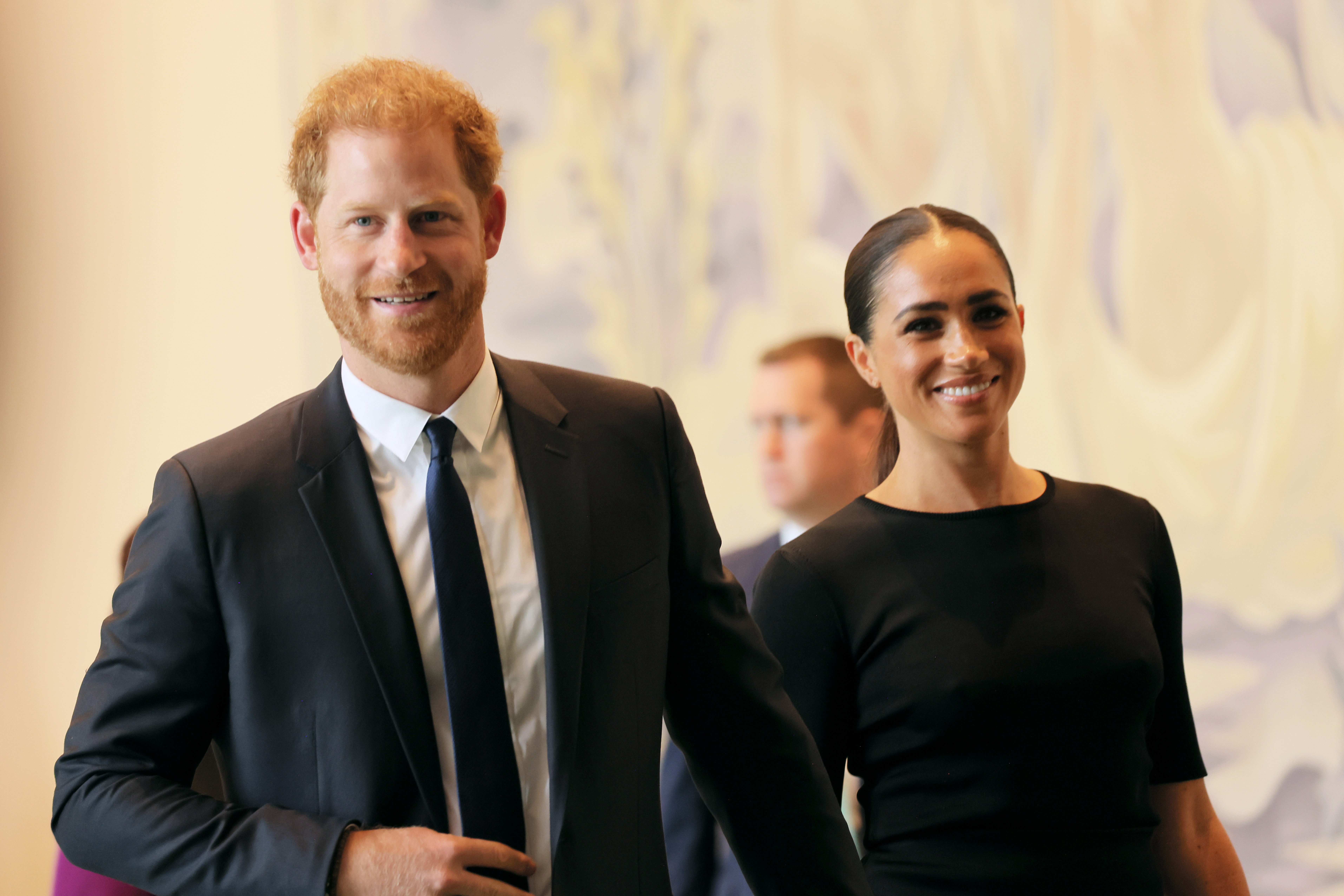 Prince Harry and Meghan Markle arrive at the United Nations Headquarters on July 18, 2022 in New York City ┃Source: Getty Images
The royal couple visited the Big Apple to attend a Global Citizen event in Central Park. They jetted to NYC for the long weekend, leaving their two kids, Archie and Lilibet, behind in California.
The Duke and Duchess of Sussex were supposed to be away for three days, the longest time they had been away from their daughter since she was born in June 2021.
At the time, it remained unclear who was looking after the couple's brood in their absence. Notably, Markle's mother, Doria Ragland, had assisted the pair with child care in those past months.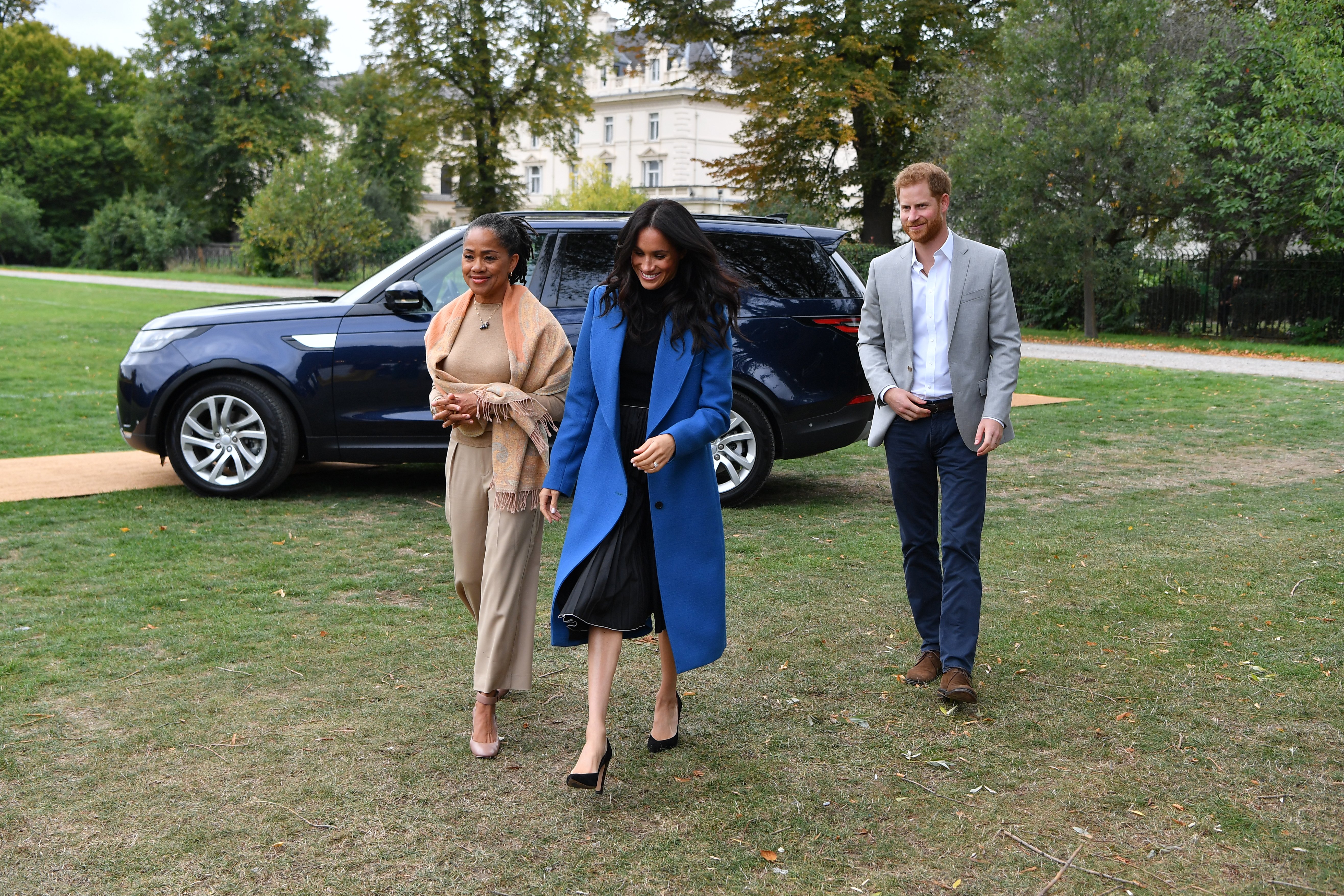 Doria Ragland arriving with her daughter Meghan Markle and son-in-law Prince Harry to host an event at Kensington Palace on September 20, 2018 in London, England ┃Source: Getty Images
Before Lilibet's arrival, Prince Harry and his wife had left their son several times. Only three days after Archie's birth in 2019, the father of two traveled to The Hague.
He and Markle then traveled to London for their farewell tour in January 2020 and left their then-one-year-old child in Canada in the care of the Duchess's friend, Jessica Mulroney. At the time, the duo was away from Archie for five days.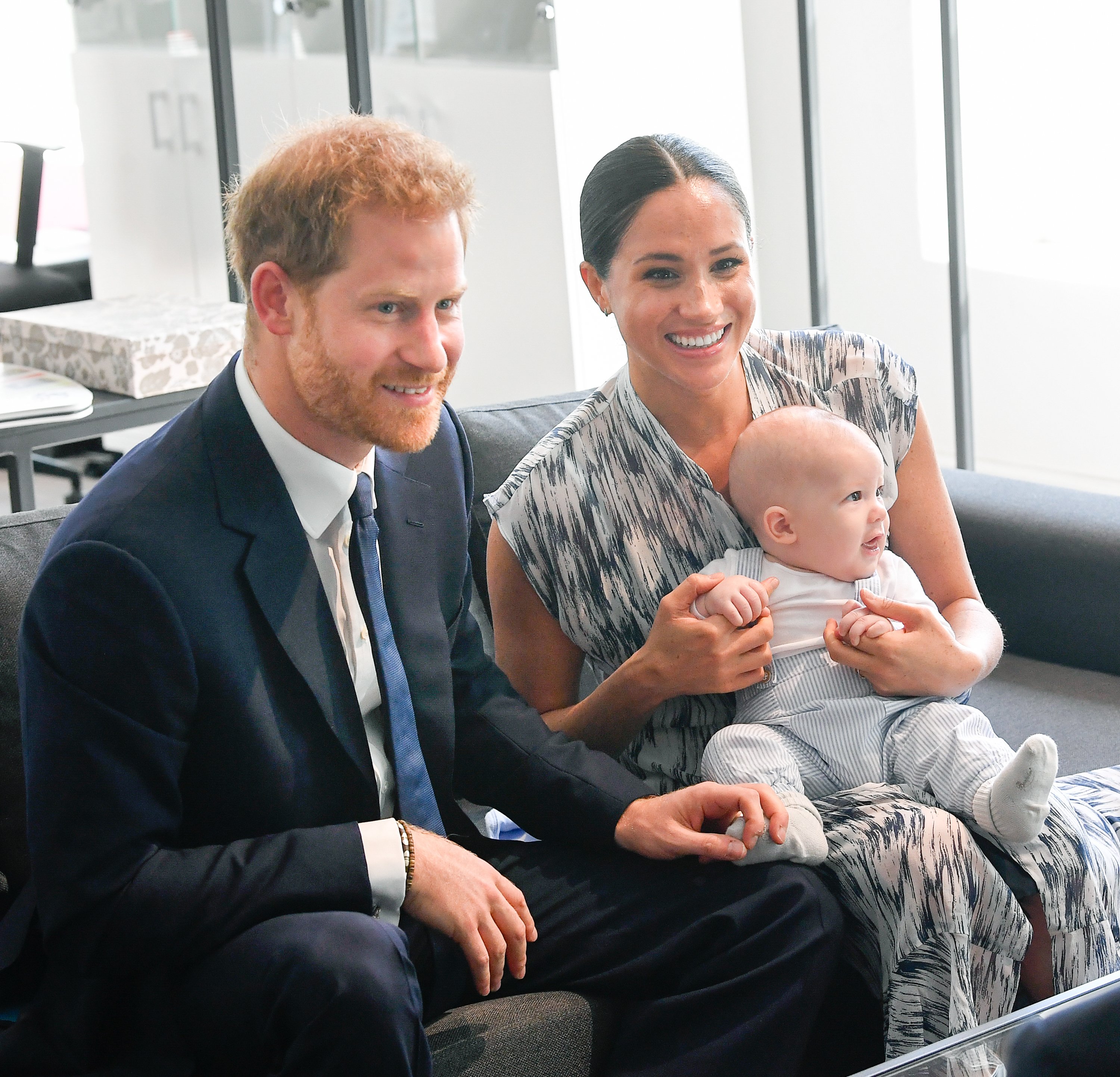 Prince Harry pictured with his wife Meghan Markle and their baby son Archie Mountbatten-Windsor during their royal tour of South Africa on September 25, 2019 in Cape Town, South Africa ┃Source: Getty Images
In recent events, Prince Harry and Markle attended Queen Elizabeth II's state funeral on September 19, 2022, in the UK and left their kids in the US.
Us Weekly reported on the day of the burial that the royal couple was expected to depart from England shortly after the monarch's farewell in a rush to go and see their children whom they had been separated from for more than two weeks. An insider revealed to the outlet:
"It's the longest amount of time they've been apart from their children."
The Duke and Duchess flew to the UK on September 4, 2022, to speak at a series of philanthropic events. They planned on spending less than a week in Europe but had to extend their stay after the sovereign's death on September 8, 2022.
The prince and the former actress had to reunite with the Royal Family to grieve the passing of Her Majesty. Since laying her to rest, they had been missing their son and daughter incredibly, said a source:
"They've missed the kids like crazy and have been Face Timing them every day but can't wait to see and hold them again after poignant few weeks."
The Sussexes Were 'Ordered to Apologize' by the Royal Family
Despite the Sussexes sacrificing their time with their children to reunite with the Royal Family in a time of grief, they were reportedly "ordered to apologize" for the comments they previously made during their interview with Oprah Winfrey in March 2021.
Per Hindustan Times, the royal couple was instructed to resolve their rift with Prince William and Kate Middleton following their controversial interview with the media mogul, UK media reports said.
The Duke and Duchess reportedly "crossed the line" with the televised interview, which left the Prince and Princess of Wales upset, said a report.
Per the Mirror, Markle and Prince Harry were told to apologize ahead of the Queen's funeral and "acknowledge the motives behind" the interview.
A source close to the Prince and Princess of Wales revealed to The Telegraph that Winfrey went overboard during the infamous interview and caused damage. Hence the Sussexes were supposed to issue an apology to Prince William and Middleton – who felt they should not get away with driving a rift within the Royal Family:
"They feel they've had to be steely to send a message that you cannot just say this hugely upsetting stuff without there being consequences."
During the bombshell interview, the Duke and Duchess discussed their exit as senior working royals. Markle revealed a royal member raised "concerns" regarding her then-unborn son's skin color.
Moreover, her husband disclosed that his father had stopped taking his calls since their exit from the Royal Family. Markle also divulged that she had been suicidal and had asked for help from The Firm but was let down. In addition, the duo shared they secretly wed before their royal wedding in May 2018.
Since that interview, tensions have been high between the Sussexes and the Royal Family in recent years, and it appears the rift is still ongoing.
Royal Experts Unpack Markle's Demeanor at the Queen's Funeral
When the couple attended the monarch's state funeral at Westminster Abbey, all eyes were on them. Per Fox News, body language expert Dr. Robi Ludwig explained that Markle displayed signs of "disconnect" from the family and was forced to grieve independently.
The human behavior expert added that the Duchess seemed like a "fish out of water" and may have used fashion to shield herself by wearing an oversized black hat to avoid engaging with mourners entirely.
According to Ludwig, that presentation style differs from her past public appearances. The royal also looked down "because she feels the disapproval and it out of her element," said the psychotherapist.
However, one royal expert thought otherwise regarding how the Duchess carried herself during the sad event, stating that she did "well". The expert said the "Suits" alum did not appear as if she was "trying to come over and muscle in on anything."
Royal expert, Duncan Larcombe, said the American native only went there to do whatever is expected of a mourning individual, adding she even won over some people in the UK.
While leaving the funeral, Markle's exit behind Middleton, Princess Charlotte, Prince George, Sophie, Countess of Wessex, and Camilla Queen Consort, was closely watched.
Ludwig stated her stance stood out as there was harmony with the Royal Family, but she still appeared saddened and faced forward, which indicated that she was present in the moment.
Moreover, royal commentator, Shannon Spence, noted that the distance between the Duchess was no surprise seeing there has been turmoil within the Royal Family.
Spence pointed out that since Markle and the prince left England, she had not held back publicly on how she felt about The Firm and how they treated her. Spence added the royal isolated herself, which was noticeable given all that had happened.
Please fill in your e-mail so we can share with you our top stories!