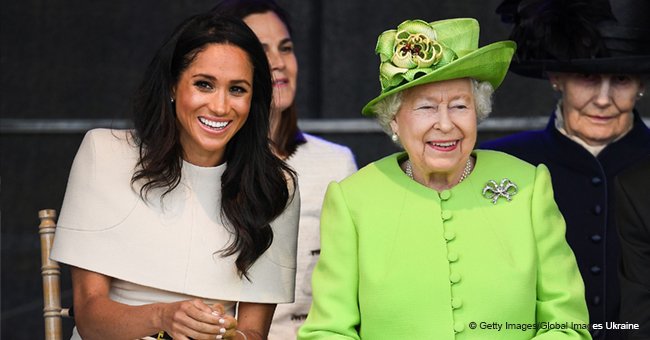 Exciting Facts on Meghan Markle and Queen Elizabeth's Relationship
Meghan Markle and Queen Elizabeth have a loving relationship despite coming from very different backgrounds.
The Duchess of Sussex has developed a close bond with the 92-year-old monarch, sharing laughs each time they're together, as reported by US Weekly.
Like Meghan, Prince Harry also has a passion for serving various causes, one of which is combating AIDS.
"Meghan and the queen come from two very different backgrounds and generations. But there's a warmth between the two that is genuine and loving," US Weekly quoted an unnamed royal confidant as saying.
"Whenever they're together, they always have a giggle," the source added.
According to the source, the Queen is quite impressed by how Prince Harry's 37-year-old wife has been using her influence to make a difference in the world. The couple, who tied the knot in May 2018, has gone on international trips as goodwill ambassadors.
INTERESTED IN MEGHAN'S THOUGHTS
The source added that the Queen "seems really interested in hearing Meghan's thoughts on the world."
The former "Suits" actress is expecting her first child with Prince Harry, 34, later this spring. The source continued that the Meghan's "enthusiasm towards living a life of service and humanitarianism excites the queen and it's just the type of vim and vigor she likes to see in someone."
Like Meghan, Prince Harry also has a passion for serving various causes, one of which is combating AIDS.
The royal is continuing the work of Princess Diana, recently announcing an AIDS initiative with Sir Elton John.
TACKLING AIDS
During a plenary session at the 2018 International AIDS Conference in Amsterdam, the Duke of Sussex partnered with Elton John to announce the launch of the MenStar coalition.
"Inspired by the growing alarm at the rate of new HIV infections among young women, the MenStar coalition is bravely tackling the root cause of this problem—the lack of awareness of HIV prevention amongst hard-to-reach young men," Harry said.
"And it will be guided by listening to and respecting the voices of the young men the coalition is trying to reach," he added.
Please fill in your e-mail so we can share with you our top stories!